After five years, we re-examine our GoalZero lithium portable power station and share our current take on these versatile products. Are portable power stations a breakthrough for truck campers, or a redundant battery gadget? One accessory tipped our perspective.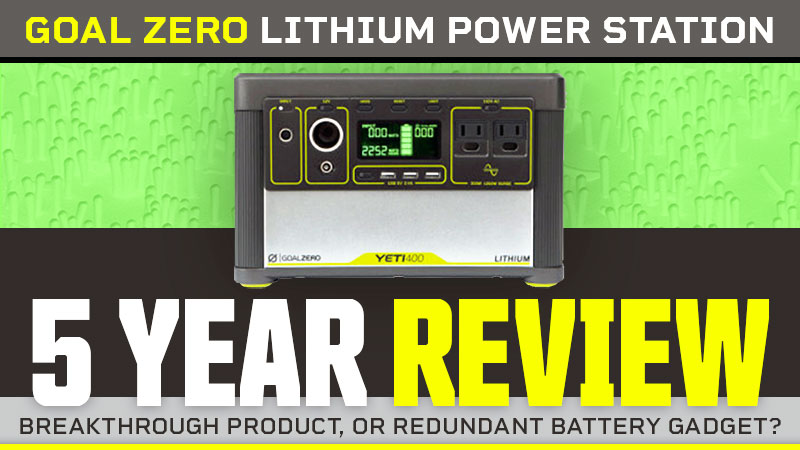 Five years ago we published, "Portable Lithium Goes Truck Camping"; our first in-depth look at the then-emerging concept of power stations and their potential application with truck camping.
At the time, GoalZero had firmly established itself as the market leader. When GoalZero announced the Yeti 400 Lithium in early 2017, the size, weight, and power advantages pushed our interest into overdrive.
Beyond our own road testing and use case experiments, we showed the GoalZero at rallies and brought it to fellow truck campers for feedback. It was fun to watch folks come to terms with exactly what this new product concept was, and what they could use it for.
"So this thing has a lithium battery and a 110-volt inverter?" Yep.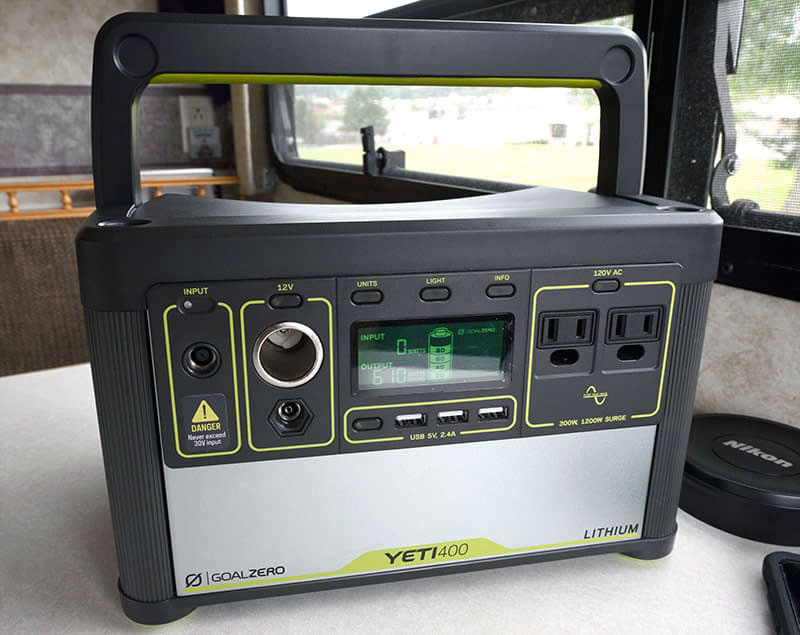 Above: Our GoalZero Yeti 400 Lithium power station
We used the GoalZero to charge our phones, laptops, and camera batteries. We also used it to power our camper's 110-volt television and a Blu-ray player.  Heck, I even had it powering a small vacuum tube amplifier for a sublime off-grid stereo system. If it had a 12-volt, USB, or 110-volt power plug, we tried it on the GoalZero. Long story short, we were impressed and excited to continue finding uses for this new product.
Using the GoalZero Beyond Camping
Perhaps the biggest surprise of GoalZero ownership is how often we've used the product outside of truck camping. For example, we have used the GoalZero to power our home television during particularly bad lightning storms. No need to risk having the television blow up from a lightning strike. We were also able to use the GoalZero to charge our phones and computers during electrical outages. That meant we were able to keep working.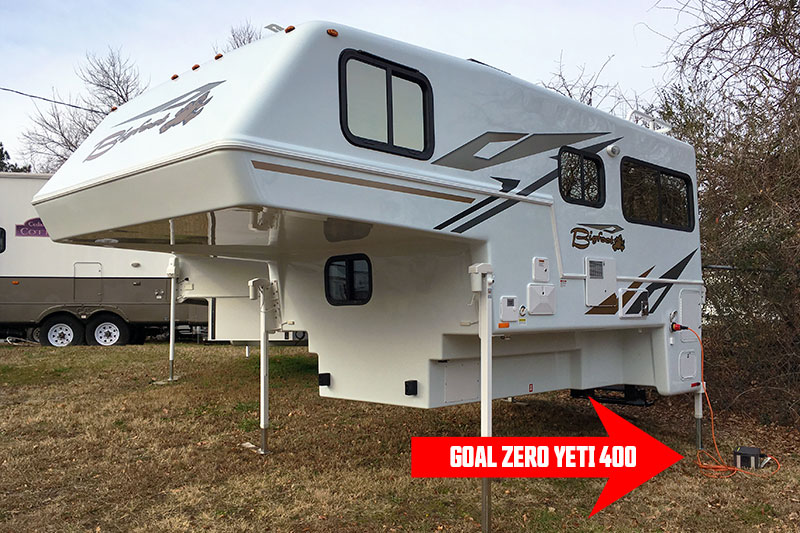 Above: The GoalZero Yeti 400 has powered entire campers for photo shoots
The Bigfoot 10.4 review was done at a dealership that did not have a nearby 110-volt power source. I simply retrieved the GoalZero, slapped a 110-volt adapter on the 30-amp cord, plugged that into the GoalZero, and turned on the internal lights and fan. The GoalZero Yeti 400 Lithium could not simultaneously power the refrigerator, water heater, and jacks, but it was more than enough to get the LED lights and Fantastic Vent to operate. That was huge.
During interviews with fellow truck campers and industry leaders, we have the GoalZero on desks and tables to plug in cell phones or laptops that might get low. During video production, I used the GoalZero to charge camera and light batteries on location. I have used the GoalZero to see what the electrical draw is of various appliances and components. And on, and on.
The point is whenever there's a short-term power challenge, most of the time the GoalZero has been the easy and convenient answer. Whether we're truck camping or at home, the GoalZero has been our go-to power source in countless situations. Its versatility is unmatched.
Two Dead MacBooks
The number one use of our GoalZero continues to be for charging our laptops with pure-sine wave power while dry camping, but that use has taken a whole new level of significance over the past five years. After losing two MacBook computers while using 12-volt to USB-C adaptors, we now only charge our computers on the GoalZero Yeti 400 Lithium.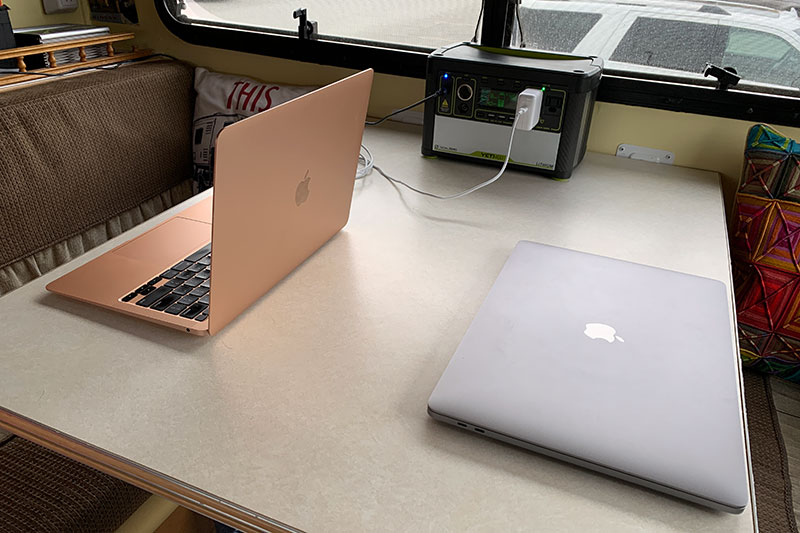 Above: While traveling, we charge our computers with the GoalZero
This ensures our sensitive (and expensive) computers are getting pure sine wave 110-volt AC power. No surges. No brownouts. No data catastrophes. Even when we have shore power running to our camper, we only plug our computers into the GoalZero. With the cost and importance of these machines, it's our safest charging option.
Public service announcement: back up your computers regularly and often.
12-Volt Car Charging Cable
After losing two laptops, we first switched to charging our computers directly from our 600-watt inverter (also with pure sine wave power), but the inverter drained our camper batteries after a couple of days of work.  We also had to be very careful to not leave the inverter switched on. Many a camper battery system has expired this way.
The obvious solution is to directly connect the GoalZero to our solar panel system for charging. Several truck camper manufacturers are producing units with this capability and it would simplify and improve our setup.
That remains the long-term plan but, along the way it was suggested to us – by Mikeeee Tassinari – to plug the GoalZero directly into our 12-volt system. After Charlie Coushaine installed the new 12-volt outlet in our dinette, this approach made sense. Even better, GoalZero makes a 12-volt Charging Cable for their Yeti Lithium series.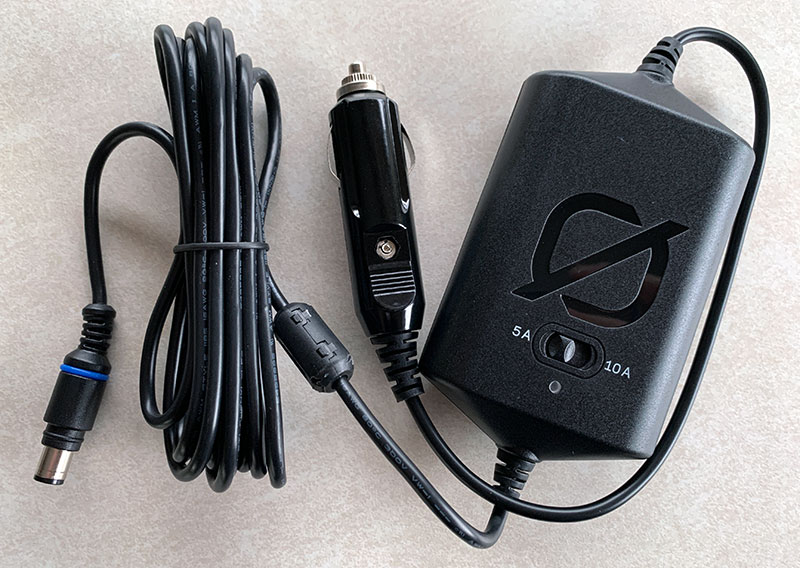 Above: The GoalZero Yeti Lithium 12-volt Car Charging Cable
We purchased the cable at REI, plugged it into the 12-volt outlet and GoalZero Yeti 400 and watched the charge. To our amazement, this cable has kept the GoalZero charged week after week this summer. Even better, the GoalZero is able to be charged while it's powering our computers. Better still, if the sun was shining there's no real hit to our camper battery levels. It's been a fantastic solution and a game changer for our needs.
An Invaluable Tool: For Us
Our five-year old GoalZero Yeti 400 Lithium is always with us. It has worked flawlessly despite the rigors of off-road travel and thousands of pavement bumps and potholes. And we do not baby this product.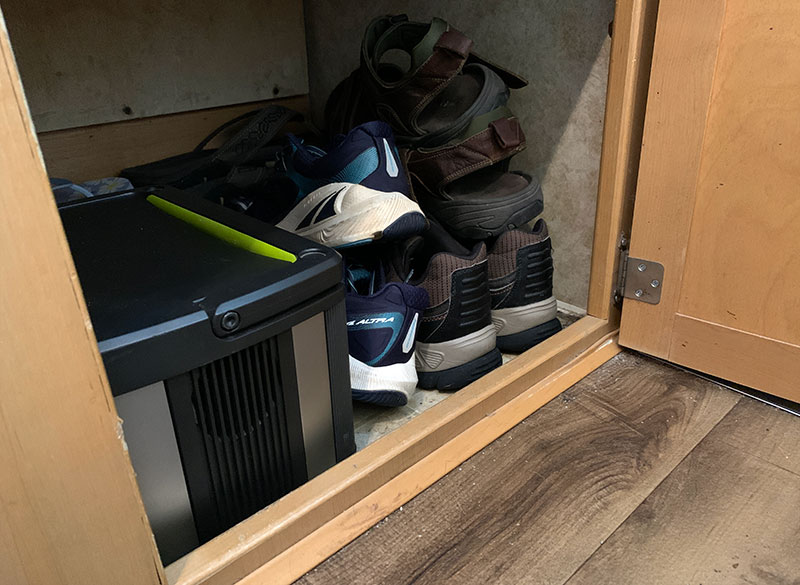 During travel the GoalZero is stowed under the rear-most dinette seat, aka our shoe compartment. Many pairs of shoes have come and gone, but the GoalZero keeps going.
Most importantly, the GoalZero is in constant use. We have used it multiple times per week when we're home, and nearly every day when we're truck camping. During our work days, the GoalZero often sees six hours or more of use. That's thousands of hours total; often simultaneously charging and powering vital electronics. If it died tomorrow, we would get the current version; a GoalZero Yeti 500X.
That doesn't mean you need a portable power station. I wrote this article to share how well our GoalZero has worked over the past five years, and to re-inject the versatile capabilities of these products into our community. For most truck campers, the factory battery bank and outlets will be more than adequate for charging phones, tablets, and other devices. However, some of you may have special applications or needs for which a portable power station is a game changer. It certainly has been for us, for more reasons than we would have expected. I wouldn't leave home without our GoalZero.
All that said, I have one personal gripe about our GoalZero. When in use, a fan comes on periodically to cool the unit down. The fan noise is audible, but acceptable, and doesn't last more than a few minutes. It's good that the unit has a way to cool itself down.
What bothers me is the odd chemical smell that emerges. When the fan goes on, I always open the windows for cross ventilation. When I asked GoalZero about this, they answered, "With new electronics, it is normal to have this chemical-like smell for the first few uses. It is not dangerous at all." Well, it still stinks five years later. I would love to know what the smell is.
Owner Poll: Portable Power Stations
Do you use a portable power station (GoalZero, Jackery, Ecoflow, Anker, Bluetti, etc.) while truck camping?  If you do, click here and tell us which brand and model you have, and how you use it on the road.