The truck camper production team at Palomino surprised management with a new dry bath, slide-out truck camper model. This is the first time we've heard of a production team designing a camper. Based on the new HS-3210, we hope it's a trend.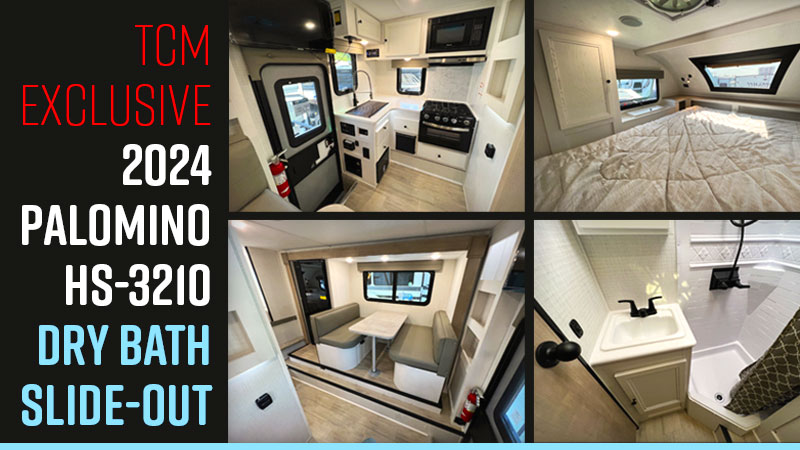 Years ago, an old friend, Tom Emerick, told us about how he trained his factory production team at Allan Organ Company by having them work in the service department. That way they could experience first hand what worked and what didn't, and then improve their design and manufacturing accordingly. It's not always possible to have team members work in different positions throughout a company, but the potential benefits are staggering.
This story instantly went through my mind when Ben Meloche, General Manager of Palomino RV, told me the origin story of their new HS-3210. In a nutshell, the truck camper production team took it upon themselves to design a new model. In doing so, they made design and production choices that streamlined the manufacturing process, while simultaneously making a very fresh camper for Palomino.
That's not where the story of the Palomino's HS-3210 ends. After the design and prototyping work, the Palomino truck camper production team presented the product to management, engineering, and sales, and made further improvements from their feedback. The result is one of the most alluring truck campers we've ever seen from Palomino. I would bet a stack of Stones LPs that this camper will bring Palomino customers who never before considered the brand. It definitely started us up.
For more on the HS-3210 and to take a deep dive into the camper, we talked to Ben Meloche, General Manager of Palomino RV.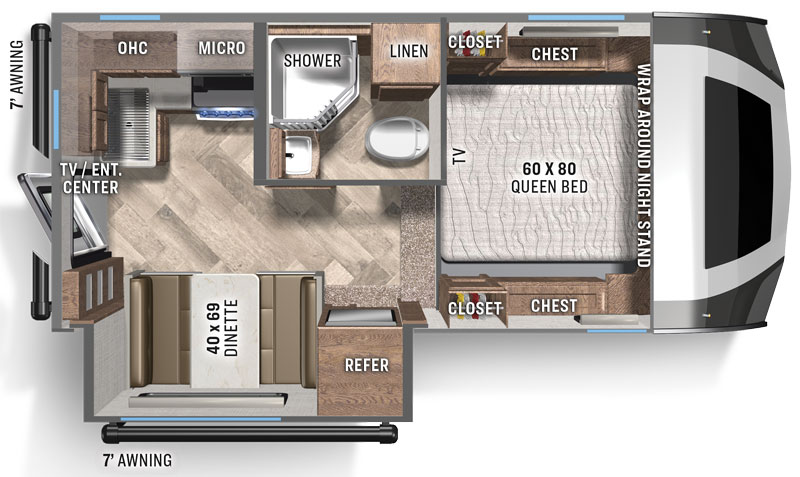 Palomino HS-3210 Specifications
The 2024 Palomino HS-3210 is a hard-side, single-slide, dry bath truck camper for long bed trucks. The interior floor length of the Palomino HS-3210 is 10′, the width is 8'2″ and the interior height is 6'10". Palomino RV is reporting the standard build dry weight of the HS-3210 at 3,460 pounds.
The 2024 Palomino HS-2912 has 45-gallons of fresh, 20-gallons of grey, and 20-gallons of black. The camper has room for two Group 31 batteries and has one vertical thirty-pound propane tank. The MSRP for a standard-build Palomino HS-3210 is $48,000. Click here to request more information about the Palomino HS-3210.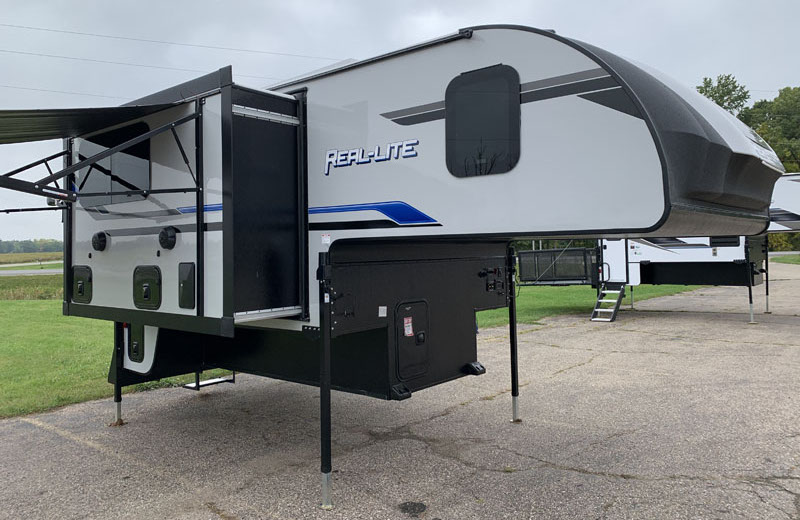 Above: The Real Lite RL-2114 is identical to the Palomino HS-3210
Tell us the story of how the HS-3210 came to be.
We have an amazing production team in our truck camper plant. They were looking for a challenge and asked, "What else can we do?" Truck camper sales have been doing better than the rest of the industry, and they wanted to do more; something different. This doesn't normally happen, but we were excited to see what they developed.
Palomino hasn't had a dry bath in a truck camper since the Winter Creek line back in 2008 and 2009. With that focus, the wheels started turning. The production team began with a HS-2910 floor, and designed a floor plan, built the walls, and essentially completed a new model.
Our production team wants to grow. There's a lot of trust and respect in their group. That culture is different than we see in a lot of Elkhart plants. As an industry, we can get comfortable with what we do and not challenge ourselves. Our production team really bucked that trend with this project.
I have to thank Josh Tyler (Operations Manager), Lyle Schwartz (Group Leader / Roofs), Simon Bontrager (Group Leader / Floors), David Hostetler (Final Finish Inspector), and Rudy Bontrager (Truck Camper Plant Manager) for doing an amazing job on the HS-3210. This is their camper.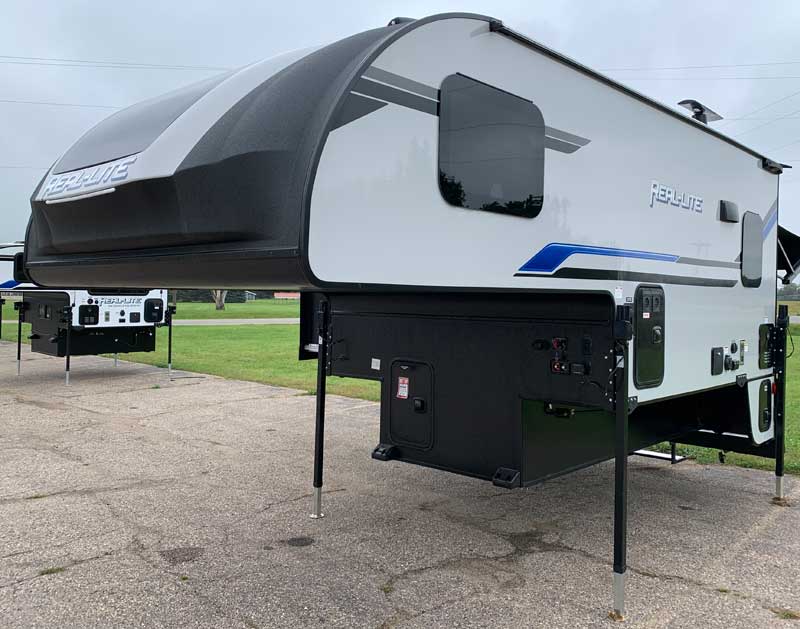 To say this is a highly unusual way for new campers to be designed is an understatement. Did the team leads have management's full support?
Yes. We had 100-percent confidence in our team to let them run with it. They did eventually bring in Engineering and Sales, but it really was their project. The production team laid out the floor plan, designed the camper, built the prototype, and then brought in the rest of the groups to contribute their expertise and feedback. That's not typically how we start a new camper, but it worked beautifully.
Engineering did put the HS-3210 into CAD and checked for code compliance and other details. Engineering wasn't required prior to these steps due to the fact that the HS-3210 was built on the previously engineered HS-2910. We had the basement, walls, floors, and ceiling. We were not building from scratch.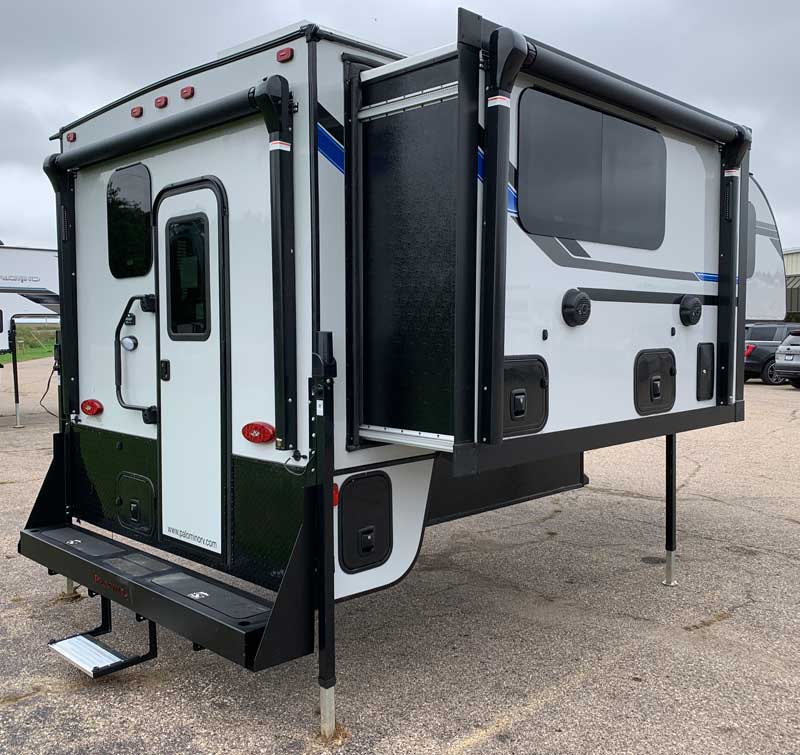 Once completed, were there changes to the first HS-3210 prototype?
The team mostly made changes prior to building the first prototype. The first design of the HS-3210 was a rear bath design. That's when they changed to a mid-bath. The second prototype had an improved transition to the front bed area. They also put the exterior baggage door for the battery compartment.
When all of that was settled, they built a ground-up prototype. That's what we brought to the Elkhart Open House this year; the very first mid-dry bath, rear kitchen truck camper in our history.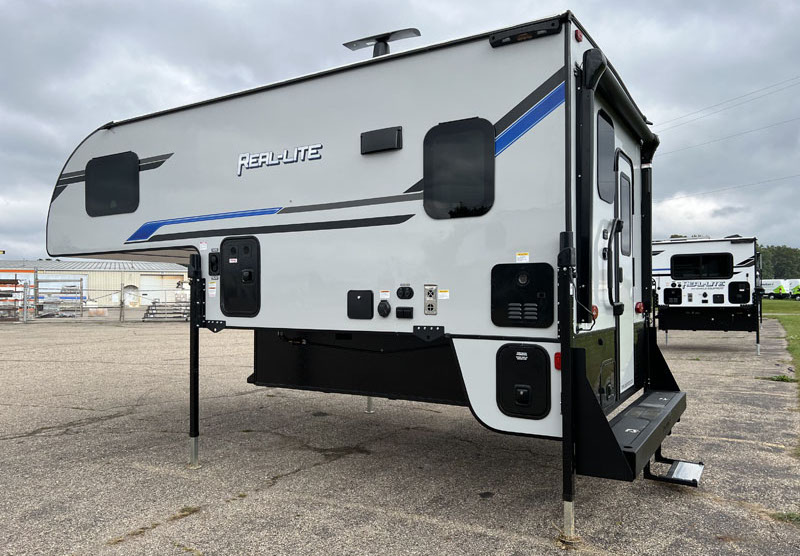 You completely surprised us with a new model. Do you see the team leads developing additional floor plans in the future?
Yes, I do. The guys really had fun with it. The production team really works well together. And we were able to come back from the Elkhart Open House and tell them that our dealers loved it. That was rewarding for them. It's already a success.
It definitely was a show-stopper at the Elkhart Open House. Are there any production advantages to having the Production design a camper?
That goes back to the importance of having a good working relationship between Production and Engineering. We have great communicators on both teams. That doesn't mean they always agree, but that conversation is an important part of the process.
We don't have a lot of big heads here. Everyone has the same goal to build a good product that performs well in the marketplace. Having a good working relationship between the different departments makes my job as General Manager easy.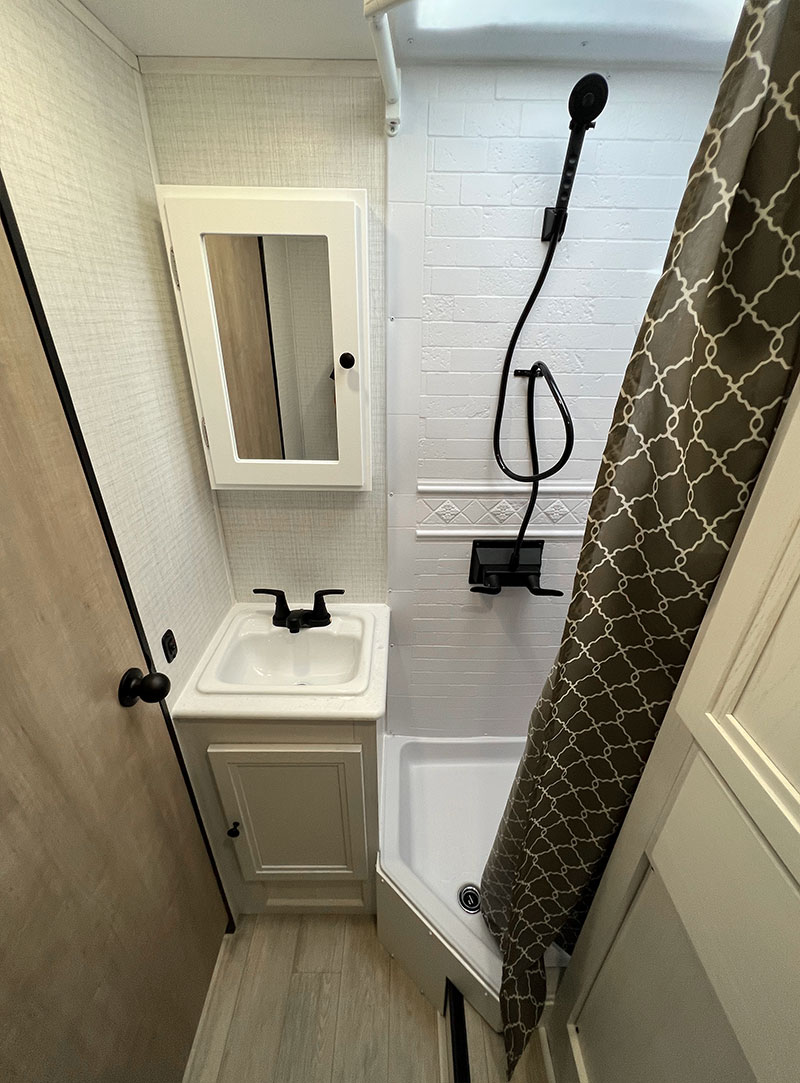 Why was the dry bath a priority for the HS-3210?
It wasn't. The production team's focus was, 'What can we do differently?' For the past 15 years, we haven't offered a dry bath in our truck camper line. If someone wanted a dry bath, we automatically lost that customer. Looking to offer something different, it was clear that we should provide a dry bath for those customers.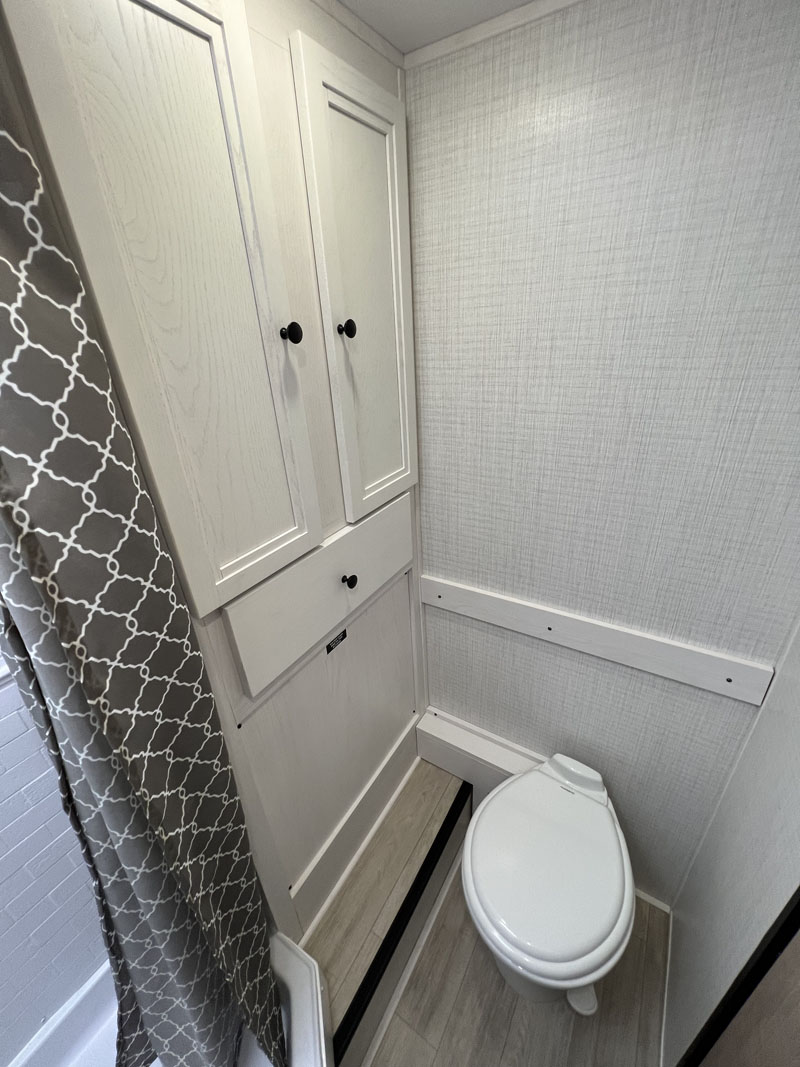 The dry bath design and features look a world different than other Palomino models. Was the dry bath design inspired by Palomino towable models?
Yes. A majority of our group leaders have come from other manufacturers within Forest River, and all of them have experience with trailers. They pulled one of our current shower surrounds from a travel trailer and designed a dry bath around it.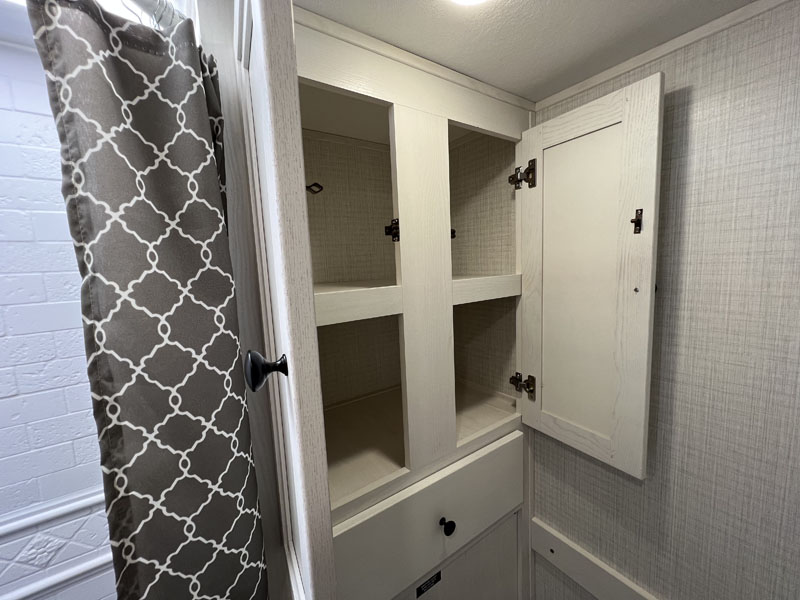 Above: Bathroom storage in the HS-3210
What's the story behind the dry bath door and how it uniquely hinges open?
That was something we did for the prototype, but we're moving to a traditional hinge door for the production HS-3210. That change came from the Elkhart Open House when we realized, after adjusting the layout, that we no longer needed the bar hinge.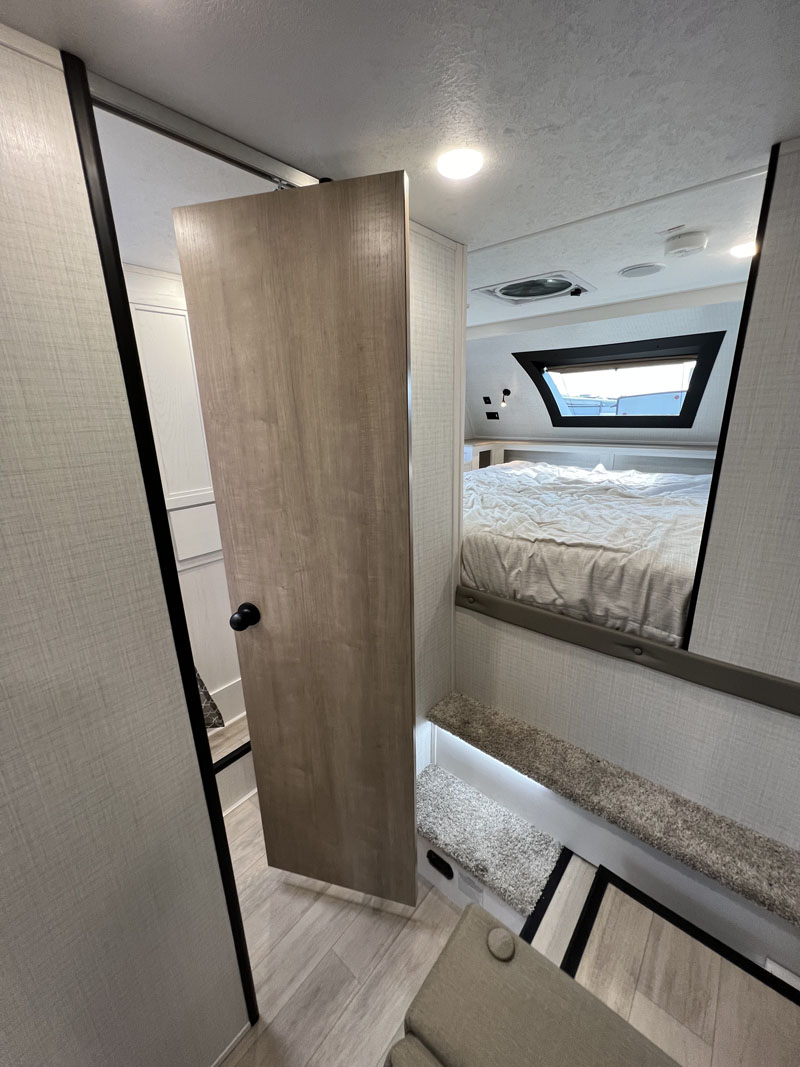 Above: The bar hinge door in the prototype; the production model will have a traditional hinged door
Is the HS-3210 aluminum-framed and vacuum bond laminated like the rest of Palomino's hard side camper line?
Yes. We have a full aluminum cage, and vacuum-bonded side walls, roof, and floors. We use foam block insulation, and Azdel composite on the exterior walls.
All Palominos use Azdel exterior walls for 2024. We have used Azdel on our travel trailer line for over a year. It's perfect for truck campers to reduce weight and improve lamination strength. Azdel won't swell from water intrusion and cause a delamination. Due to the available surface area, the Azdel weight savings on an SS-550 pop-up camper isn't the same as a 30-foot travel trailer, but it's still significant. We are staying with Luan for our interior walls as we get better screw retention.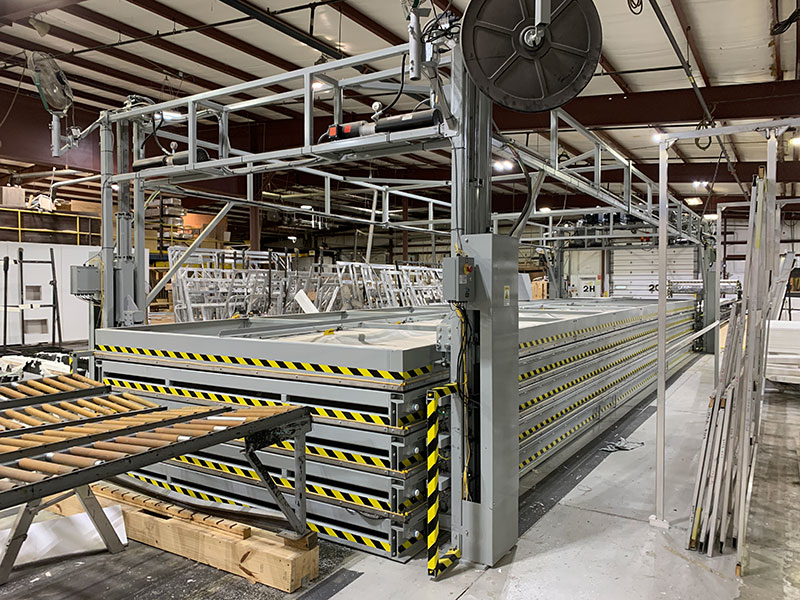 Above: The new lamination machine at Palomino RV
Tell us about Palomino's new lamination machine.
Our new lamination machine (pictured above) was a big investment, and it's been a game changer for us. For example, it's computer controlled, knows how much adhesive to use, and how to spread it evenly. This allows us to laminate two camper walls at once greatly increasing our efficiency.
Our old lamination machine was a dinosaur. It would sometimes clog and cause issues that wasted entire sets of walls. That meant we had walls that needed to be redone. The new lamination machine has made production much more efficient and has greatly improved our lamination quality.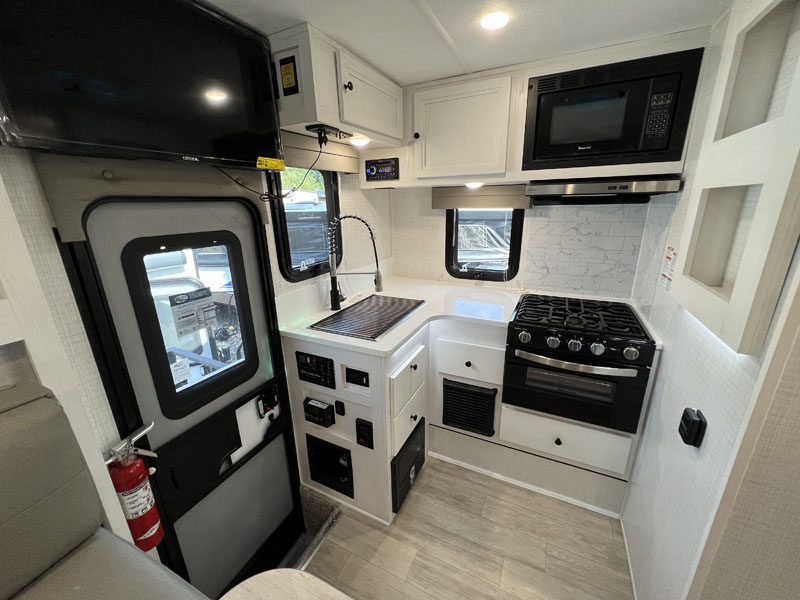 The interior decor of the HS-3210 is light, bright, and mostly white with grey accents. Where did this new decor come from?
Because we have two plants here (truck campers and travel trailers), there are a lot of things we carry between the two plants. The truck camper line might try something from the travel trailer line, and vice versa. We have the ability to go back and forth.
The white cabinetry is from our trailers. The initial response we got from dealers and customers was positive. From that feedback, we thought, "Let's build a prototype all white to see what it looks like".
Feedback from the plant and dealers who have seen the HS-3210 has been overwhelmingly positive. The HS-3210 isn't yet in the marketplace, but we believe customers will ask to get white cabinetry in our other models. Right now it's only available in our Palomino Max series; HS-2901, HS-2902, HS-2910, HS-2912, and HS-3210. If the white cabinetry is a success in those models, we may expand it across our camper line.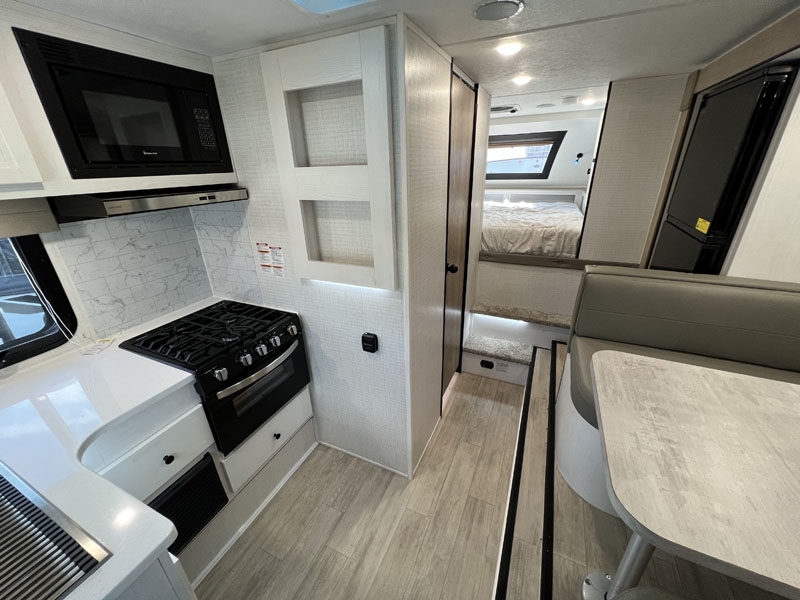 That's a big decision for a company that normally offers one interior per year.
Yes, it is. And our current maple interior is a safe color that nobody seems to love or hate. It just works. That's one concern I have about going with all while. Some people might love it. Others might not.
The bathroom and kitchen countertops in the HS-3210 are solid surface. What solid surface material are you using?
The countertop was also pulled from our trailer line. It's an AIA brand countertop from a large supplier in the RV industry. It's not thick like a residential solid surface, but it adds more weight than traditional alternatives. That said, it's going to last forever and looks incredible. We believe the benefits outweigh the weight.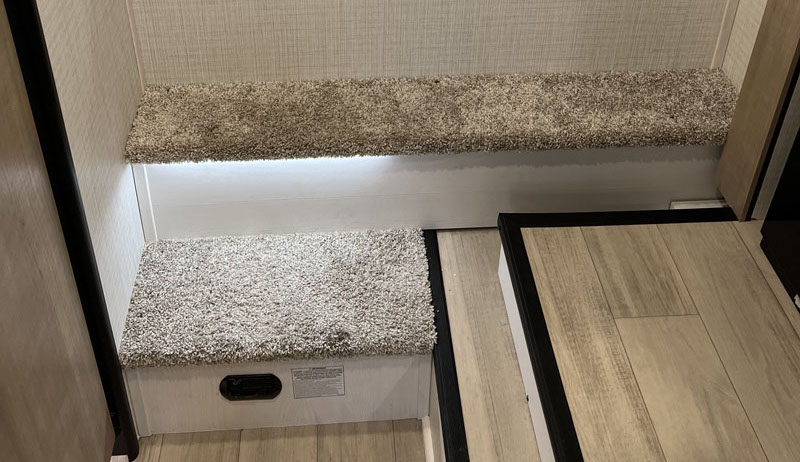 Above: There's accent lighting throughout the main living area of the camper
The accent lighting inside the rear wall storage, under the kitchen countertops, under the bathroom wall cabinet, and under the cabover step looks fantastic. Is that standard on the HS-3210?
It is. We have tried to incorporate more of what we call night lights. If you're sleeping and need to get up, the night lights will be enough to see without turning on the main light.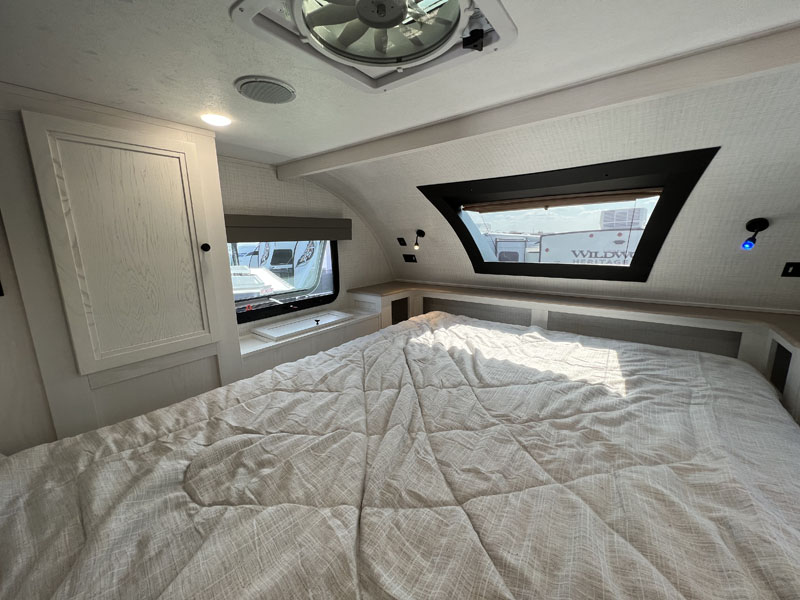 Other than the white cabinetry and mid-bath wall, the cabover for the HS-3210 looks nearly identical to the HS-2910. Is that accurate?
Yes. It's the same layout, measurements, bed size, storage, and front cap.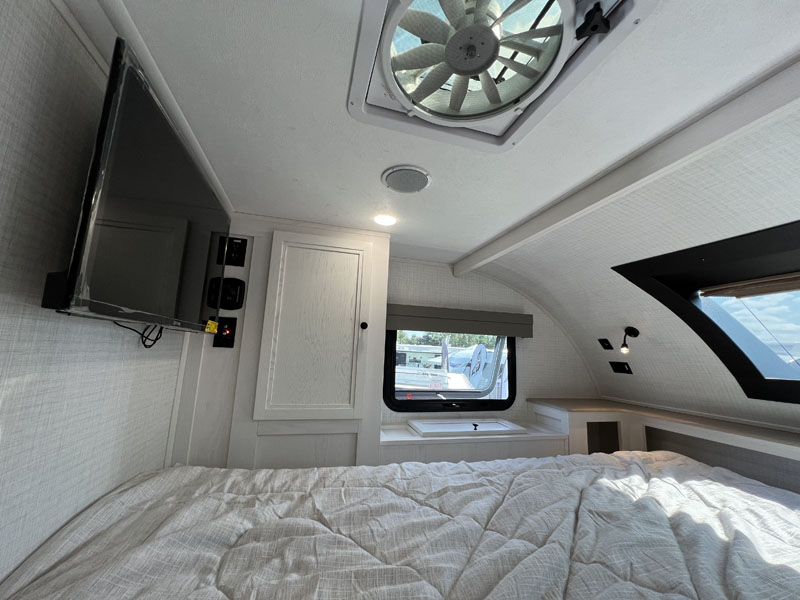 With the mid-bath wall, were you able to fit a larger optional television into the cabover?
Yes, we were able to fit a 32-inch television in the cabover. Customers are requesting bigger TVs and that wall allowed us to go bigger.
There's another 32-inch television in the kitchen/dining area. Both are standard.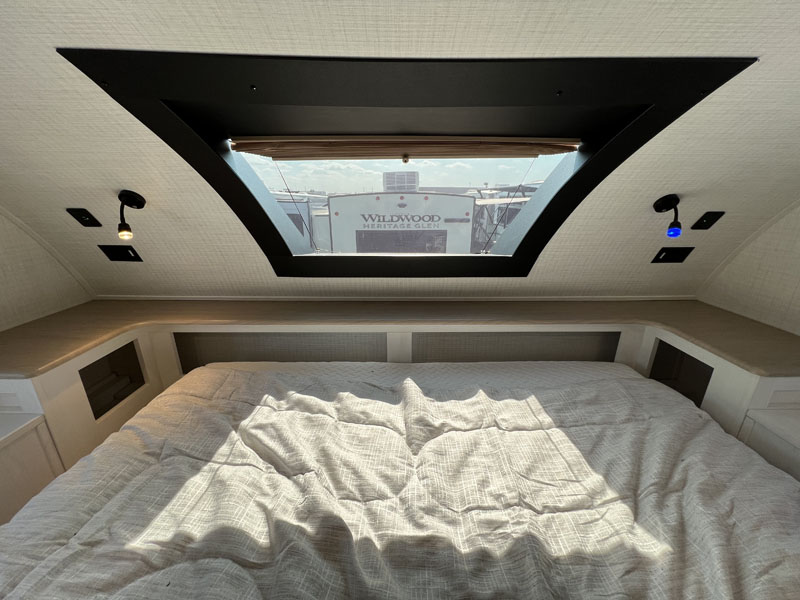 Palomino has had fiberglass nose caps and automotive glass front windshields since late 2014. Now approaching 10 years, how has the front windshield performed for Palomino truck campers?
We've had very few issues with the front windshields. The biggest problem we've had is handling the caps and windshields prior to their installation. Once the caps and windshields have been installed, they've been fantastic.
Front windshields are very common in the RV industry; especially travel trailers. On travel trailers, the main front window concern is with rock chips, but that's not a problem with the height and position of a truck camper's front nose.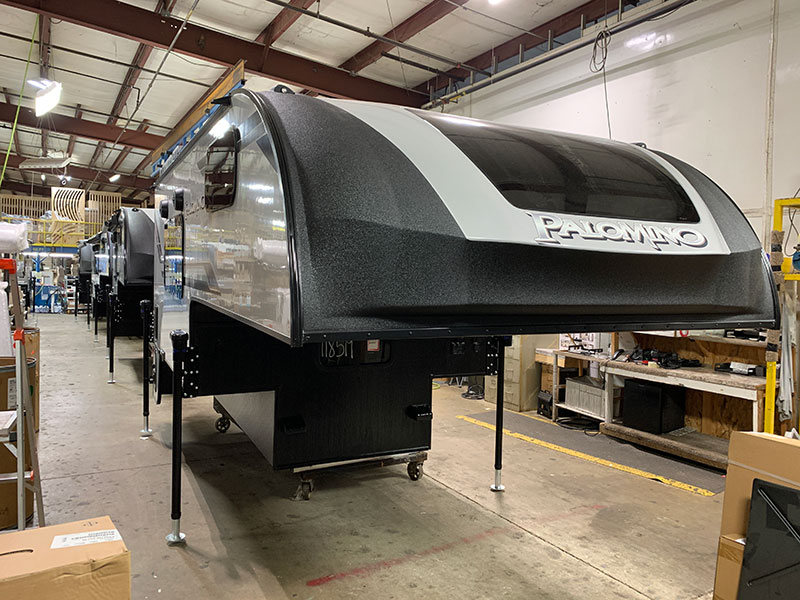 Above: The Palomino dedicated truck camper line (photographed after hours)
To further improve the strength of our front fiberglass nose, we spray them with LineX. This is overkill for truck campers, but it looks great and protects the cap from spider-cracking. If we can save on a potential warranty claim, and improve the lifespan of the product, we do it.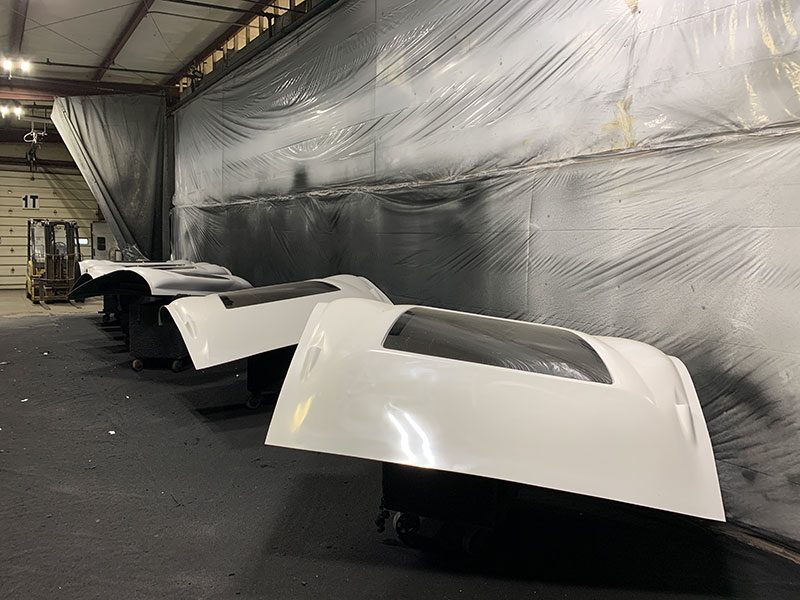 Above: Palomino's LineX spray booth is located just off the camper production line
We have our own LineX spray booth in-house and do our own LineX coatings. LineX is tougher than the alternatives and our team has become experts at installing it. Doing the LineX in-house allows us to inspect the fiberglass nose caps prior to application, and reject any caps that aren't perfect.
The automotive glass front windshields open up our cabovers allowing owners to look out at the scenery from almost any spot in the camper. Our customers love it.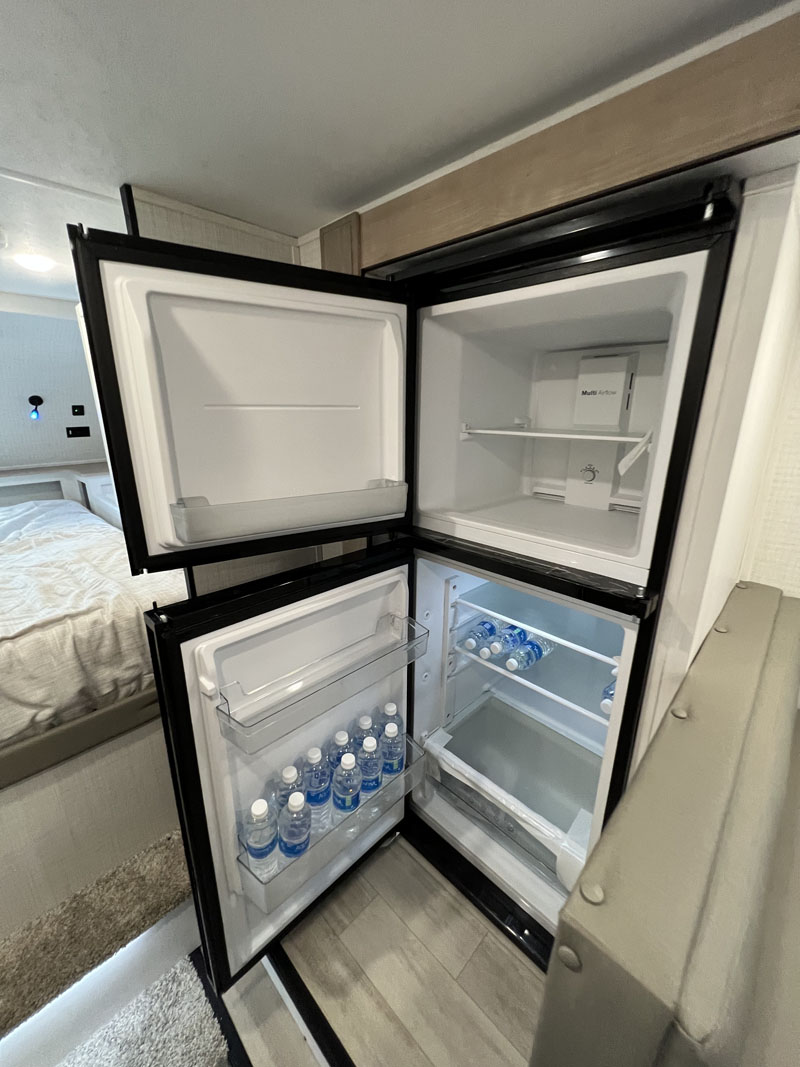 The refrigerator in the HS-3210 is a monstrous 11 cubic foot 12-volt DC Ever Chill WD-282FWDC-6. Why did Palomino decide to go to an 11-cubic-foot refrigerator in the HS-3210?
There are several answers to this question. First, the RV industry is getting away from 2 and 3-way refrigerators. With this trend, it makes sense to go to a 12-volt and add more solar and lithium batteries.
Second, there are now fewer and fewer 2 and 3-way refrigerators to choose from. For efficiency, we need to be consistent with our purchasing across our product lines. If we can no longer order two-way refrigerators for our smaller units, we need to move to 12-volt refrigerators across the board.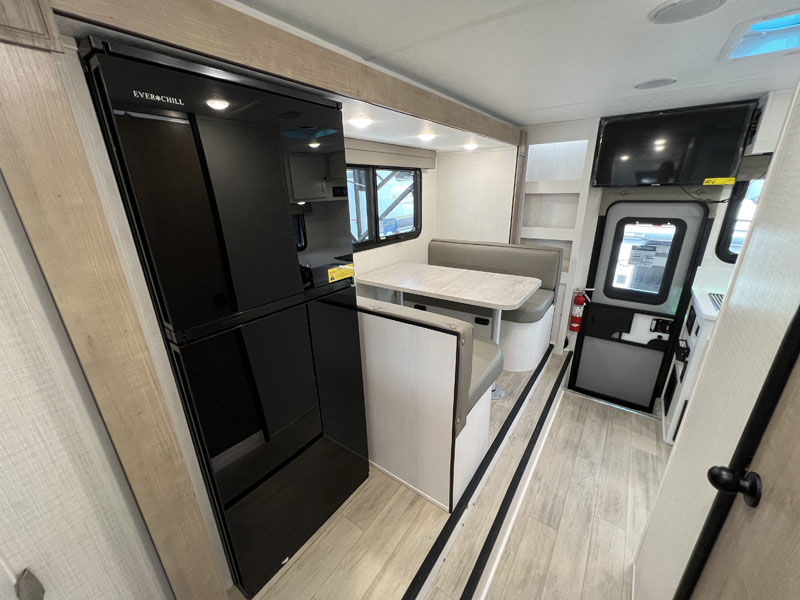 Third, the new 12-volt refrigerators offer more capacity than the outgoing 2 and 3-way models. For essentially the same space as a propane unit, you get more food storage capacity in a 12-volt refrigerator.
The 11-cubic-foot 12-volt DC Ever Chill is a huge refrigerator, but it fits into our Max series and our HS-8801. The door hinges open from both sides. This feature was designed for travel trailers, but it makes perfect sense in a truck camper.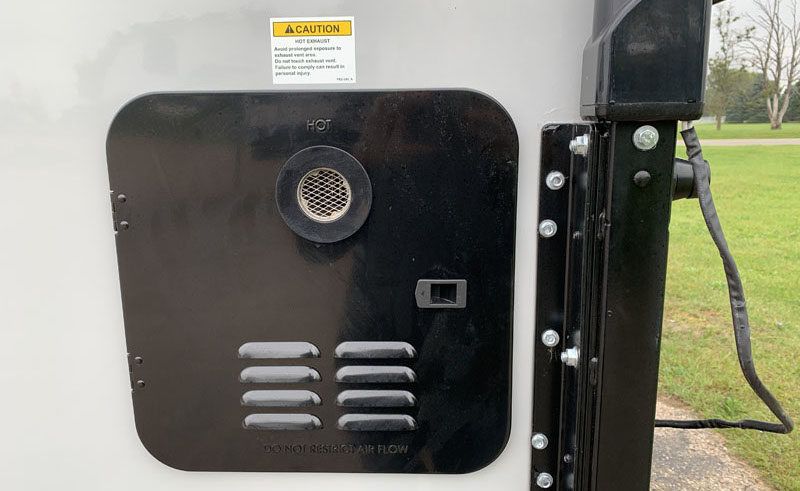 Are you using a Girard GSWH-2 tankless water heater on the HS-3210?
Yes. Girard water heaters have performed great for us. Every week we have a production meeting and our service department goes through areas that need to be addressed. I can't remember the last meeting when the Girard water heaters were discussed. There are occasionally issues with proper winterization but, as far as performance, they have done well for us.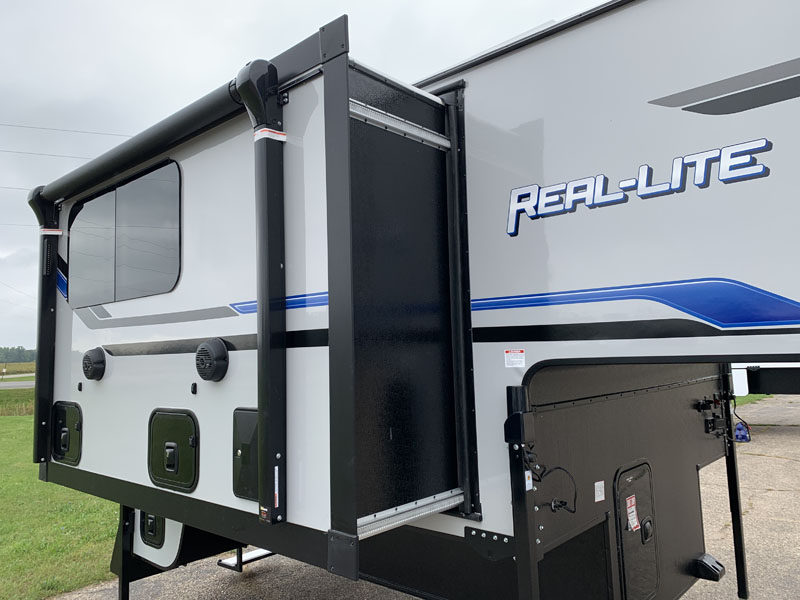 What slide-out mechanism did you select for the HS-3210?
It's a Schwintek slide-out mechanism.
Rather than equip the HS-3210 with a built-in ladder, you are installing a ladder prep. What is ladder prep, and how does it work?
This is a new product through Lippert. We are no longer installing ladders on our campers but rather offering this ladder prep feature that connects to a portable telescoping ladder. The result is a safer ladder that reaches the ground. It's definitely safer than hanging one off the back wall.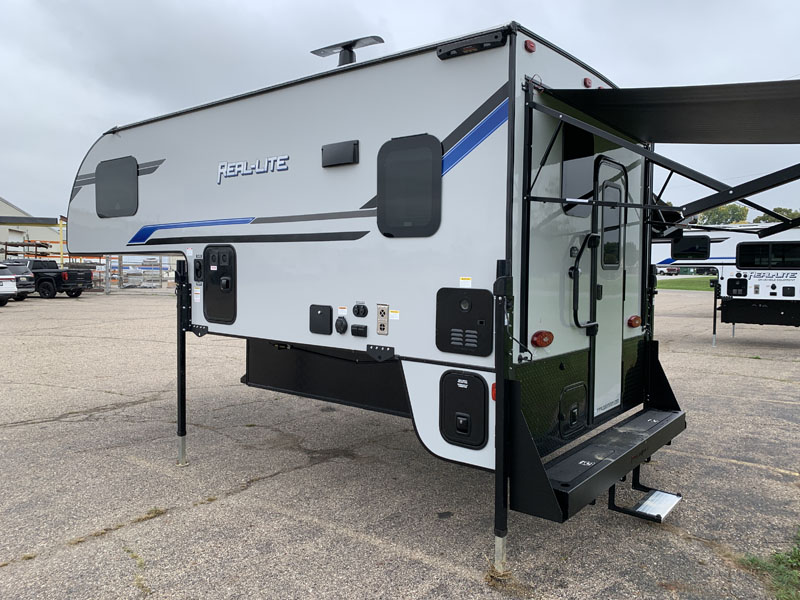 Above: Ladder prep is shown on the top right corner of the side wall
Due to differences between truck and camper heights, we do not supply the ladder, nor do we make it an option. However, our dealers are stocking different ladders and can help you find the right one for your truck and camper height.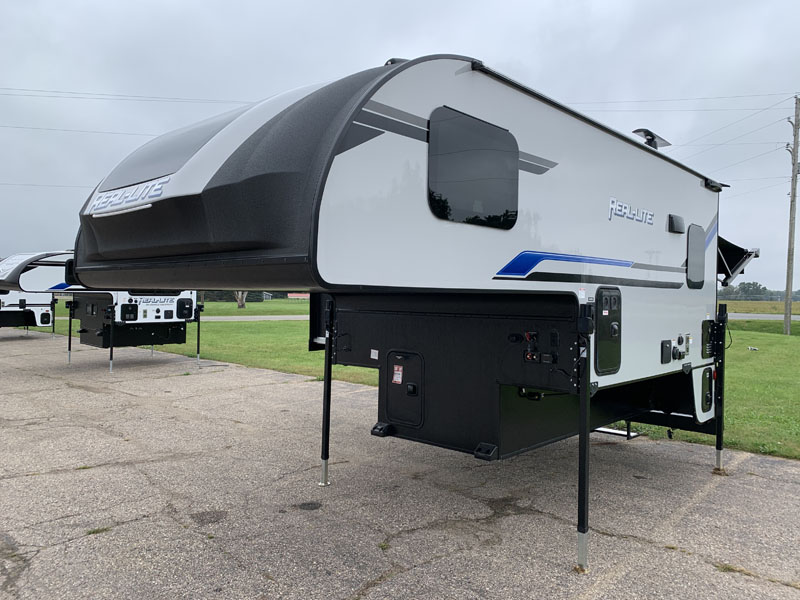 What type of windows are standard; single pane or double pane thermal?
The HS-3210 comes with frameless, double-pane insulated windows.
The holding tanks are 45 fresh, 20 grey, and 20 black. For a fresh tank, 45 gallons is perfect for a camper this size, but why not make the grey and black tanks larger?
It comes down to space limitations. The fresh tank runs the length of the camper basement, and the grey and black tanks are using the space around the new dry bath.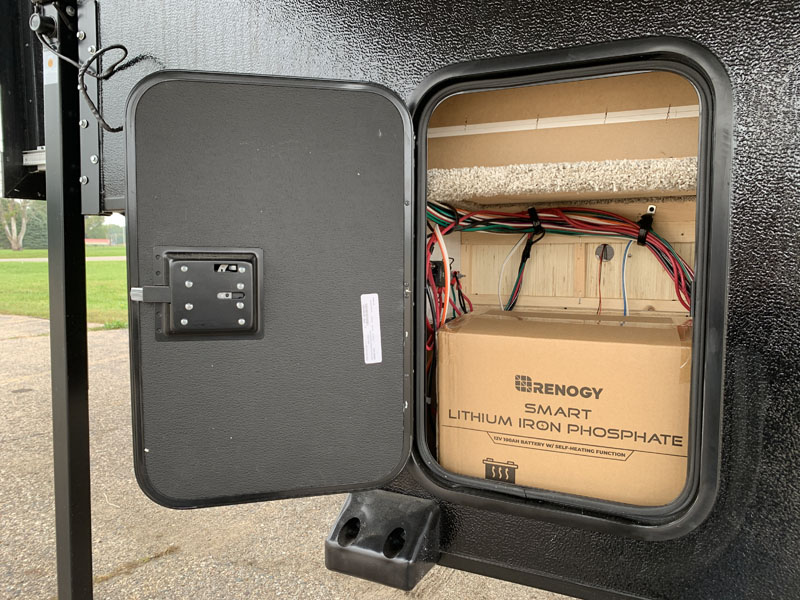 How many batteries does the Palomino HS-3210 have, and where are they located?
For 2024, one Renogy 100Ah lithium battery is standard. There is space for a second, and we recommend adding a second lithium battery to support the 11 cubic foot, 12-volt refrigerator. Campers with smaller 12-volt refrigerators will be fine with the single 100Ah lithium battery.
The batteries are located under the step to the cabover bed area. For 2024, all of our Max series have an outside baggage door on the front of the camper to reach the battery box. This is a change from previous years when the batteries were only accessible from inside the unit.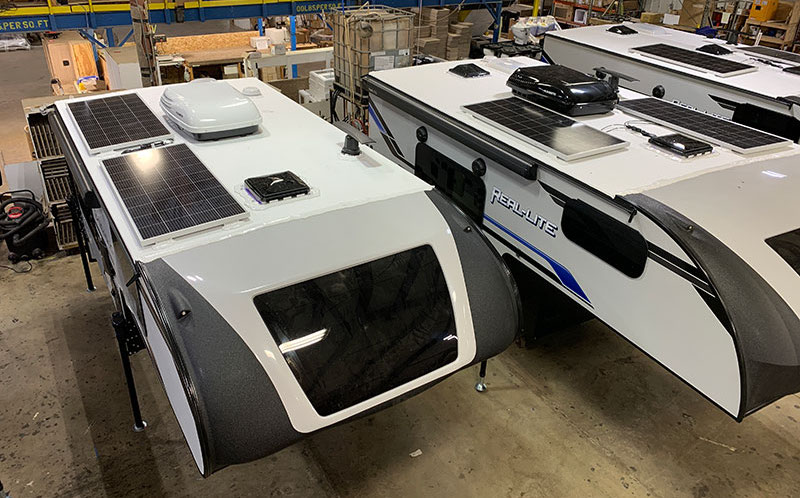 How many watts of solar panels are standard on the HS-3210?
All 2024 truck camper models will have two 200-watt solar panels for a total of 400-watts standard.
What are the propane tank sizes, and where are they located?
The HS-3210 has one 30-gallon propane tank. The tank is located on the driver's side toward the rear of the camper.
What air conditioner did you select for the HS-3210?
We're using a Dometic 11,000 BTU low-profile model.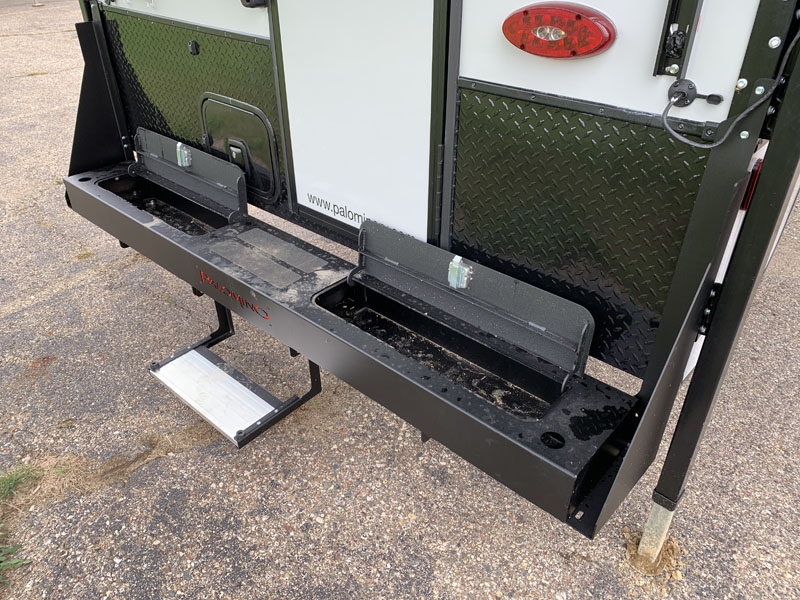 Tell us about the standard bumper and entry step system for the 2024 Palomino HS-3210.
All of our bumpers are coming from L&W. Our old bumper was more integrated with built-in taillights and was unit-specific. We asked L&W to give us the benefits of the old bumper (built-in storage, step mounting, deeper landing), but without the lights and model-specific design.
The L&W design is easier to ship, easier to stack, and easier to remove. If customers are towing and need to remove the bumper, they can. That was our goal; to have the benefits of the older design, with more versatility, and an easier removal process.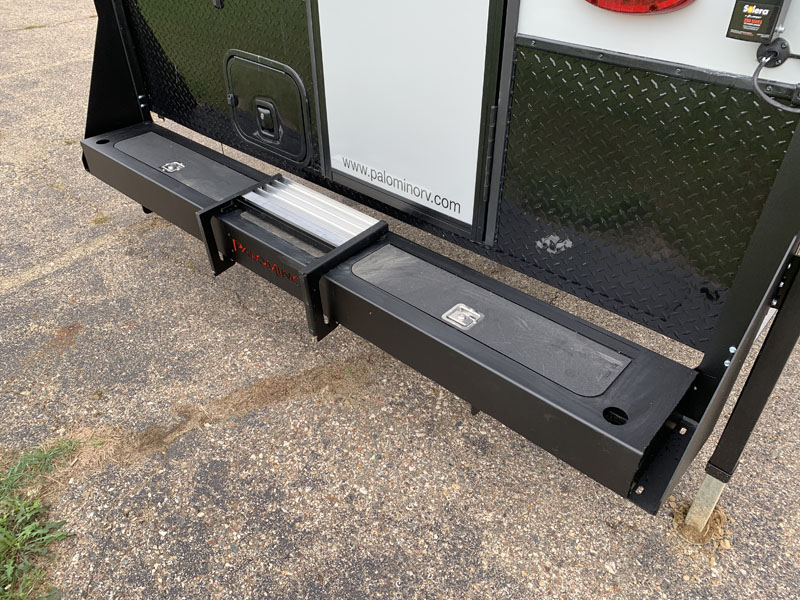 What does the 2024 Palomino HS-3210 weigh with standard build features?
The HS-3210 prototype with an optional air conditioner is 3,460 pounds. We expect the final production version to be at or under this number.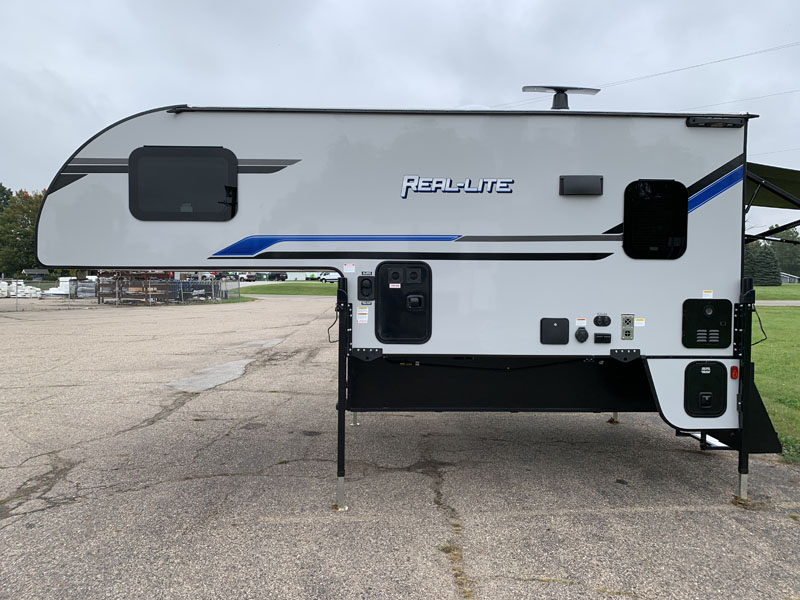 Where is the center of gravity on the 2024 Palomino HS-3210? Is that from the front wall?
The center of gravity is 45 inches from the front wall.
What is the MSRP for the 2024 Palomino HS-3210 with standard build features?
The MSRP is $48,000 USD without options.
What is the warranty for the 2024 Palomino HS-3210?
Just like all Palomino products, our nose-to-tip bumper warranty is one year. Components have warranties of two to three years. The roof membrane has a 15-year warranty. Our fiberglass has a 3-year warranty.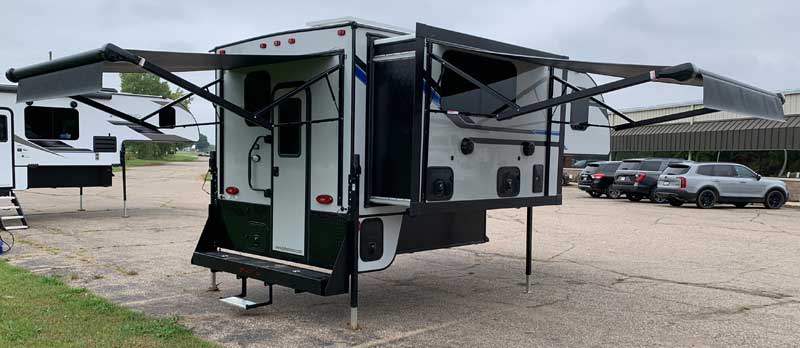 Above: The electric rear and side awnings fully extended
When will the 2024 Palomino HS-3210 be available?
The HS-3210 is available to purchase now. The first HS-3210 campers will be coming off the line in late November. Customers can see them at Palomino dealers in late December or early January. It will also be at the Tampa RV show and will be in some of the spring shows.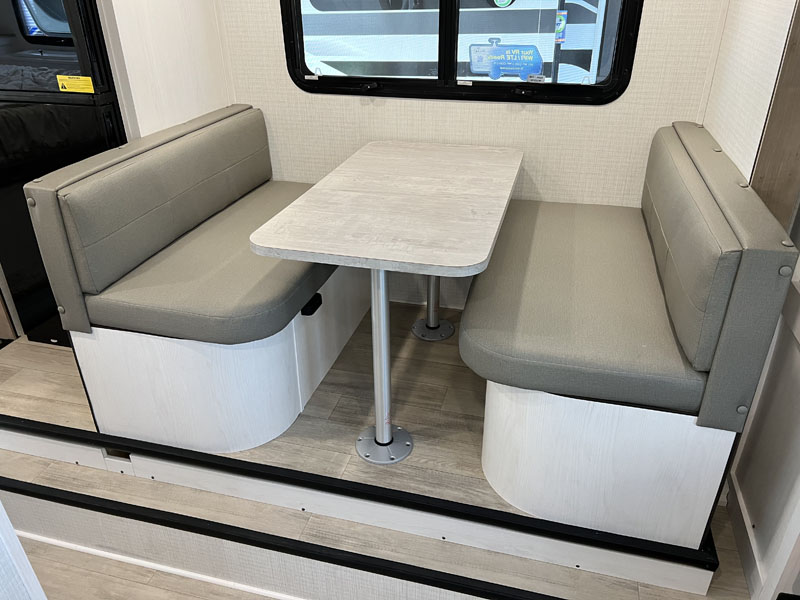 Above: The full-booth dinette in the HS-3210; theater seating will also be available
Is there anything about the 2024 Palomino HS-3210 that you would like to add?
We didn't talk about the dinette. First, it can be made into a bed. Second, customers can option in theater seats if they don't want a dinette.
The new theater seats have kidney-shaped tray tables that are better than the small square tables we had before. That's a big improvement. The new tables allow you to have more table space. We'll have pictures of the HS-3210 with theater seats in the next few weeks.
Looking at the HS-3210 floor plan doesn't do it justice. The HS-3210 camper feels open. It doesn't feel like a truck camper in the back.
Are there any other new model announcements coming from Palomino in 2024?
There will be a new style awning on our pop-up campers soon. We will keep you posted.
For more information about Palomino truck campers, visit their website at palominorv.com. Click here to request a free Palomino brochure.