Truck Camper Magazine makes first contact with Lance's all-new front nose caps and UltraSTEP Plus system.  Are these new features worth it?  We step up to find out.

You can't actually experience a physical product online.  Anyone who shops for a car or a house on the internet and then goes out to see the real thing learns this lesson quickly.  To really know what you're looking at, you've got to put the screen down (desktop, laptop, tablet, and phone), and go check it out for yourself.  I know you can do it.
As a magazine covering companies from all over the United States and parts of Canada, we often "see" products and features for the first time online.  Through pictures and words from the manufacturers, we get a good idea of what they've built, but know better than to pass judgement until we've seen their efforts first hand.
Above: The new sofa in the 1172, Roadster decor
This past September we returned to the Elkhart Open House to actually experience what the attending truck camper manufacturers were presenting for 2017.  Lance Campers brought a few truck campers featuring their new for 2017 decors and features.

Above Left: Passage decor in the Lance 825 and Right: The Roadster decor in the Lance 1172
Above: The new interior cabinetry, new sink, and new stainless steel appliances in 2017 Lance Campers
The new for 2017 TPO nose caps for the Lance 825 and 865, and the Lance UltraSTEP Plus system were also on display.  Both were formally introduced earlier in the month in an article cleverly titled, "2017 Lance Camper Announcements".
Lance 825 and 865 Nose Caps
For 2017, Lance has adapted the TPO front nose cap originally developed for the 650 to fit the 825 and 865.  Essentially, it's the same nose cap design, just resized.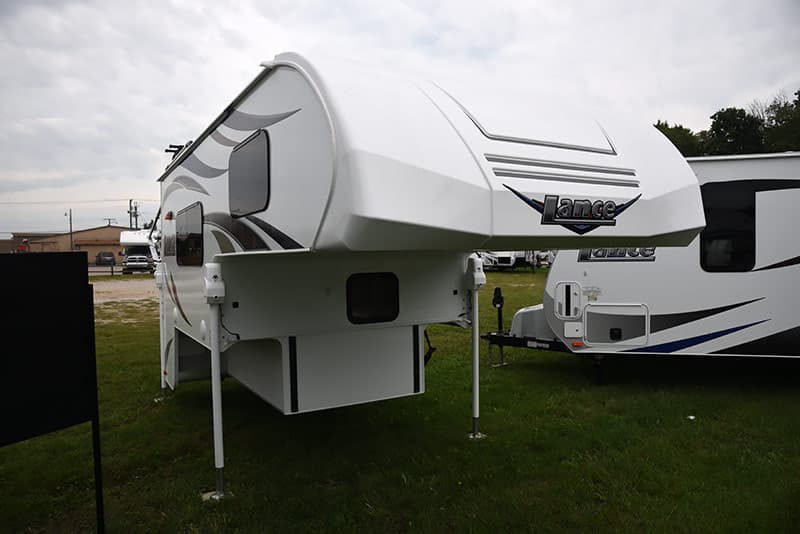 In fact the caps are so similar looking that we actually mistook the 825 as a 650 when we first approached Lance's display in Elkhart.
With its wrap around design, the newly adapted TPO front cap was developed to improve the weather seal, aerodynamics, and overall appearance of the 825 and 865 non-slide campers.  The new cap should also improve the durability of the cabover nose.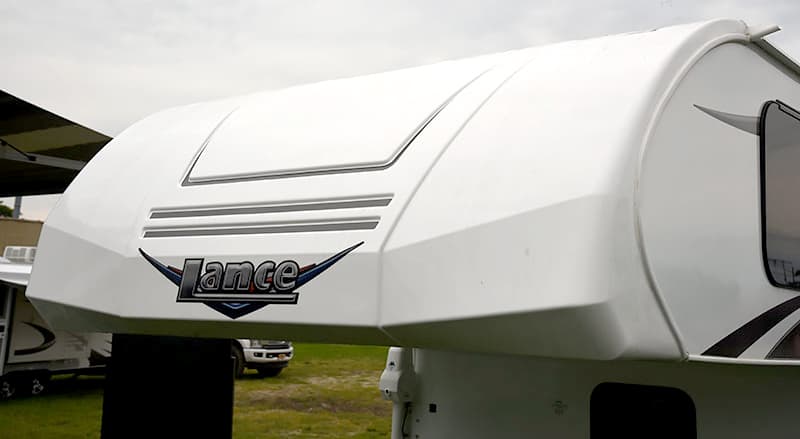 Our only nitpick with the new nose cap is with the Lance decal.  On the 825 at Elkhart, the upper most points of the decal were already pulling away from the TPO cap.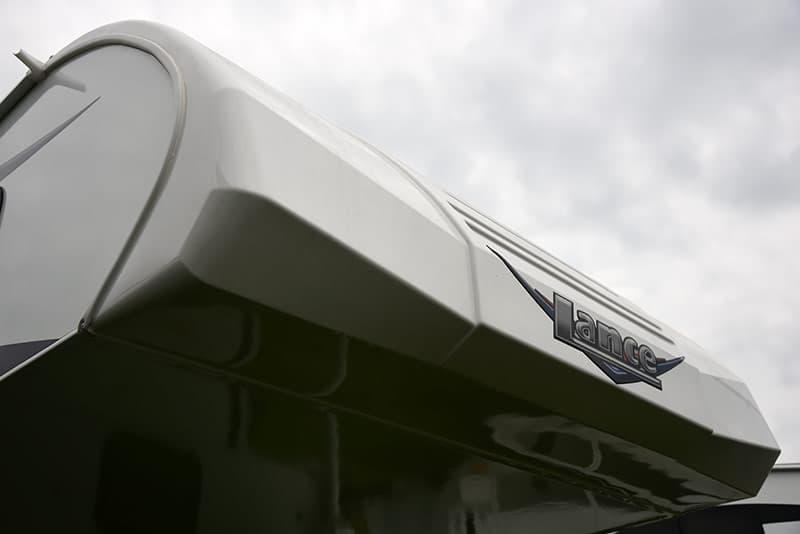 Since debuting nose caps on their larger truck camper models in 2012, we have heard nothing but positive reports on the performance of this feature.  Initially there were concerns about the strength of the TPO material (especially in cold temperatures), but we have had no reports of Lance nose cap issues.