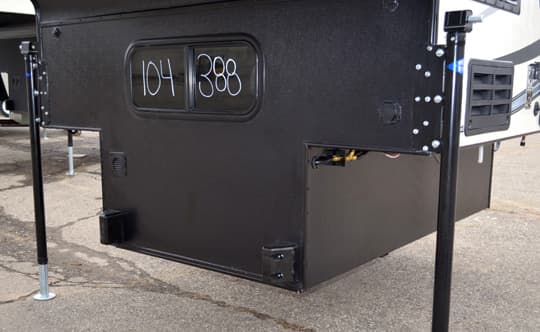 Above: The Line-X underbody and a 48″ wheel well width
TCM: It would be neat to see under bed storage on a hard side.  No one does that anymore.  Were there any adjustments needed once the prototype was completed?
Pat: We actually had some significant changes.  The biggest change is the wheel well width.  The prototype had a 40" wheel well width.  Our dealers told us that the SS-550 was a little too heavy for a Toyota Tacoma or smaller truck and suggested that we go to a wider 48" wheel well width and aim the camper at full-size trucks.
The standard build for the SS-550 now has a 48" wheel well for half-ton trucks and above.  Customers can special order the 40" wheel well as part of a Tacoma option, but we always advise our customers to carefully match their trucks and campers.  Not every Tacoma has enough payload capacity for the SS-550.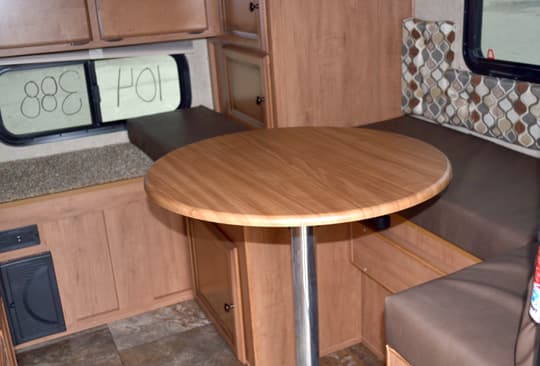 Above: The Palomino SS-550 sports a round table
TCM: Tell us about the new table and dinette in the SS-550.  That looks like a large dinette for a seven foot camper.
Pat: The camper features a round table specifically made for the SS-550.  We wanted a user friendly dinette that two people can sit around easily.  Our typical long rectangular table made it less convenient to get in and out of the dinette and wasn't as comfortable to sit around.  The custom designed round table works well.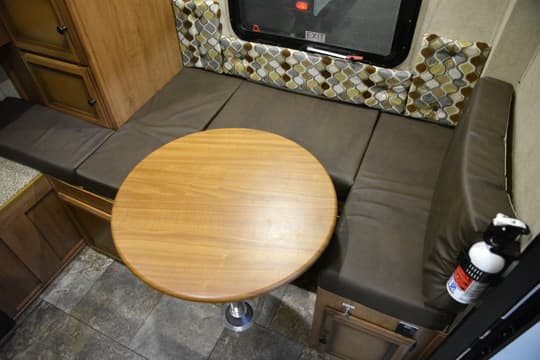 Above: The dinette can be made into a bed
The dinette can also be made into a bed using the slide-out gaucho sofa.  The camper comes with a section of wood to cover the center of the dinette seating and an extra cushion to complete a seven foot long bed.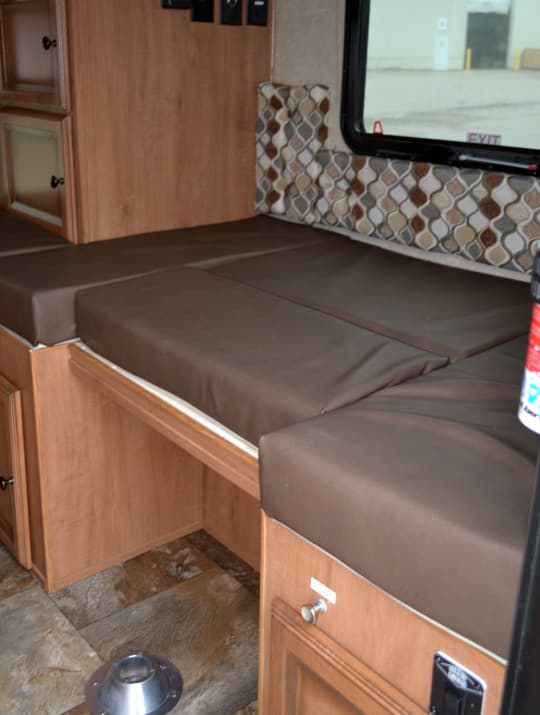 Above: The dinette made into a bed
TCM: A seven foot long dinette bed?
Pat: Yes.  The dinette and resulting bed goes from the front wall to back wall of the camper.  That was another requirement of the SS-550 design.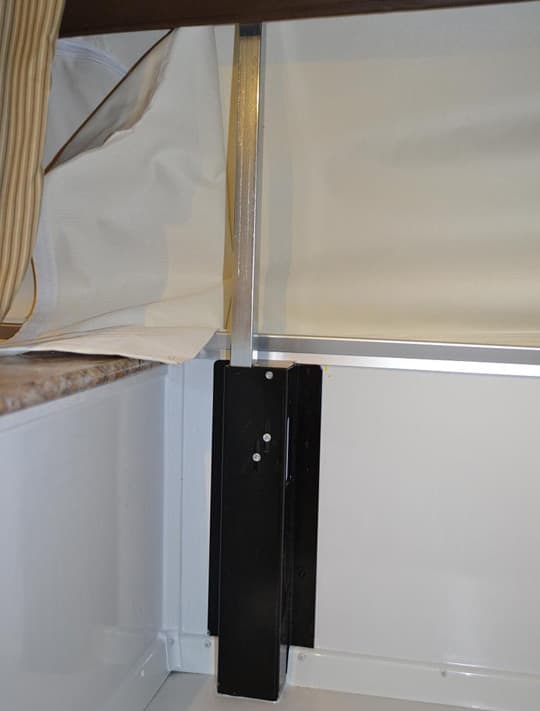 Above: The Rieco-Titan electric roof system is now available in Palomino pop-up campers
TCM: Tell us about the new pop-up roof lift mechanism and roof on the Palomino SS-550.
Pat: In the 2014 Palomino Announcement article we recently did with Truck Camper Magazine, we introduced our all-new Rieco-Titan electric lift system.  With the new Rieco-Titan system, you simply push a button to raise or lower the roof automatically.  There is also an optional key fob remote that lifts and lowers the roof.