Palomino announces two new truck camper models and their most extensive list of pop-up truck camper updates ever.  Don't miss the Rieco-Titan electric remote pop-up roof.  It's fob-u-lous!

For months it's been all-quiet on the Palomino front.  Despite emails, texts, phone calls, smoke signals, and a small flock of white pigeons released in their general direction, we hadn't heard much from the Colon, Michigan crew.
You know the old saying, "Be careful what you wish for.  You might just get it."  Well, after begging, pleading, and holding up signs that said, "Will work for Palomino truck camper updates" at various high-traffic freeways, it finally happened.
Only the response wasn't the typical, "We have a few updates" kind of message.  This was more of a, "Reboot your computer, clear your hard drive, and stand back to receive a deluge of data" kind of deal.  It seems the people at Palomino have been quite busy.
What follows is a transcript from the interview with Pat Hines, Director of Truck Camper Marketing at Palomino RV.  At Pat explains, Palomino is not only about to unleash two brand new truck campers, but also the most extensive list of updates in the history of Palomino's pop-up truck camper line.
But before we get to all that, we first bid farewell to Bronco, and Maverick.
TCM: Are there any Palomino RV truck camper models being discontinued for 2014?
Pat: We have discontinued the Bronco 1250 and Maverick 1000 models.  We are also re-branding Palomino truck campers for 2014 and no longer using the Bronco and Maverick names.  From now on, all Palomino truck campers will simply be branded as Palomino.  The hard side Palomino truck campers are the HS, for hard side.  The pop-up Palomino truck campers are the SS, for soft side.
TCM: Are there any new Palomino RV truck camper models being announced for 2014?
Pat: Yes, we have a new soft side and a new hard side camper for 2014.  The new Palomino SS-550 soft side model is our first pop-up with a North-South cabover.  The SS-550 is also our first pop-up designed for 5'5" foot and 6' foot short beds.
The new Palomino HS-2911 Max is our first double-slide hard-side truck camper model.  The HS-2911 Max is a ten foot floor plan designed for long-term truck camping.  It's based on our popular 2910, but with a kitchen slide.
Both the SS-550 and HS-2911 Max are currently in production.  We'll give Truck Camper Magazine the exclusive once they come off the line.
TCM: Are there any standard feature updates for 2014?
Pat: We have an extensive list of 2014 new features and updates, especially for our soft-side pop-up models.
Our new Rieco-Titan roof lift system is very impressive.  We approached Bob McCarthy, President of Rieco-Titan, about ten months ago about our desire to take Palomino soft-side truck campers to the next level.  We feature Rieco-Titan camper jacks on all of our products and have had nothing but good experiences with them.
With their design and engineering expertise, we now have a push button, fully-automatic, electric lift.  In thirty seconds the roof is up or down.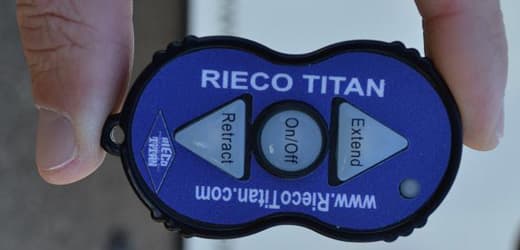 Above: The new Rieco-Titan key fob remote
Another neat feature of this roof system is the optional key fob wireless remote.  Now you can stand back, push a button on the key fob and, thirty seconds later, your camper roof is popped-up or down.
The key fob is the same size as an automotive key fob.  You can put it on the same key chain with your camper and truck keys.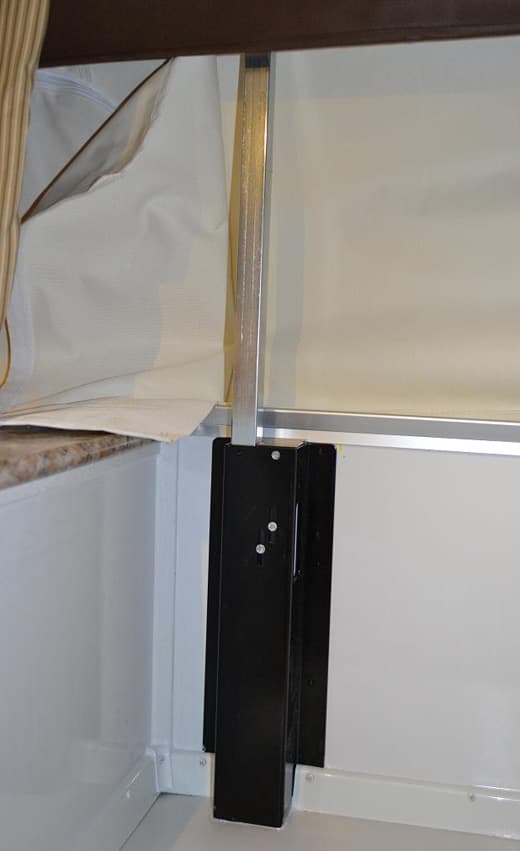 Above: The new Rieco-Titan lift system from the inside of the camper
TCM: The key fob sounds really neat.  And it's definitely a truck camper industry first.  Is this new pop-up roof lift system standard on all 2014 Palomino soft side truck campers?
Pat: Yes, the new lift system is standard on all soft side campers.  The key fob is an option.  We are very excited about the new lift system and fob.
TCM: How did Rieco-Titan and Palomino go about testing this new roof lift system?
Pat: Rieco-Titan built a timer into the system that can be set to automatically lift and lower the roof every 180 seconds.  We actually set the timer and had the new lift system go through over 2,000 lift and lower cycles before we gave the system the green light.
We also put the camper at different angles, positioned the camper off center, and loaded the roof with additional weight at various times during the test.  We put the lift system through the ringer because we don't want to put something out to our customers that could fail.  Based on our testing, the new system is rock solid.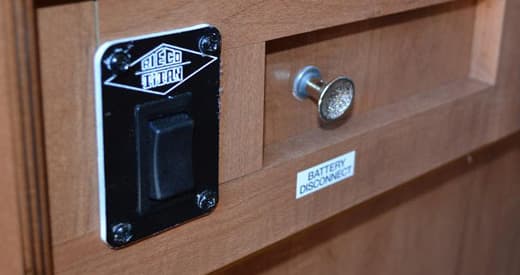 Above: The Rieco-Titan lift control and the now standard battery disconnect switch
TCM: What about if you lose the key fob or the battery is dead?
Pat: There is a permanent switch inside the door to raise and lower the roof.  There is also direct access to the battery from the power port on the side of the unit.
TCM: Is there a manual override in case the electric lift fails?
Pat: Yes, the campers come with a flex screw that allows you to lower the roof without electric power.  From there you can get the lift system repaired.
TCM: When will the new lift system be available?
Pat: It's available on all 2014 Palomino soft-side truck campers right now.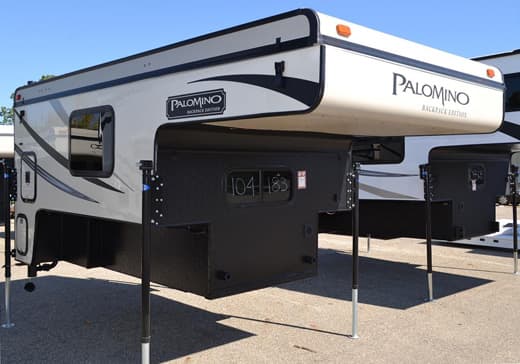 Above: The new lower profile pop-up roof
TCM: Do 2014 Palomino pop-up campers also feature a new roof?
Pat: Yes, we have a new pop-up roof for 2014.  It's a one-piece vacuum bonded pebble fiberglass roof with one-inch block foam insulation.
The main difference with the new roof is a much lower profile.  The sides of our pop-up roofs were eight to nine inches from top to bottom.  The new pop-up roof profile is about four inches.
TCM: Is it a full-walk on roof?
Pat: We don't promote our pop-up roofs as full-walk on roofs, but they have a weight rating of 300 pounds.  Customers can install an aftermarket roof rack for carrying kayaks, storage pods, and bikes, as long as the total weight on the roof, including an optional air conditioner, does not exceed 300 pounds.
We recommend removing all gear stored on the roof before popping up the roof.  This makes sure the roof doesn't sway.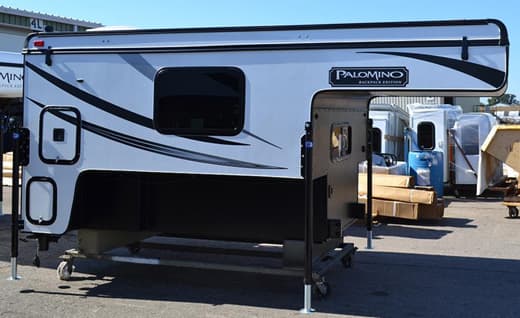 Above: The new one-piece sidewall
TCM: Are there any changes to the structure or sidewalls of the new pop-ups?
Pat: We used to have a two piece side wall.  The first piece was the main body of camper.  The second piece was the wing on the back.
For 2014, we have gone to a one piece side wall.  This eliminates an extrusion and makes for an overall stronger sidewall.  The rest of the pop-up sidewall construction remains the same; wood frame, wall board, one-inch black foam, gel coat fiberglass, and vacuum bonded.  Our campers have always been structurally strong with our vacuum bonding process.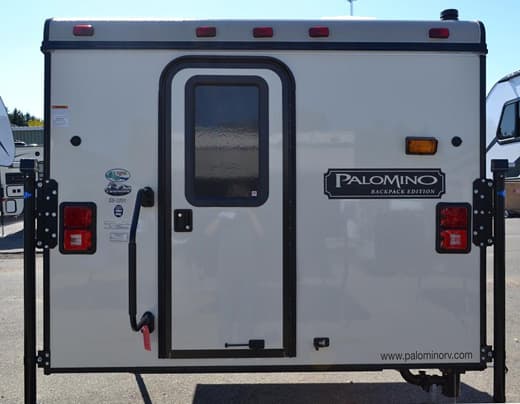 Above: The new one-piece 55″ entry door
TCM: You also have a new entry door for your pop-up models.  Why did you make this change?
Pat: We have eliminated the two piece full size door and went to a one piece door.  The new door is quite different than what other manufacturers are using.  It's a custom 55" door designed especially for Palomino soft-side truck campers.  Most of our competitors are using a 46 or 47 inch door.
TCM: How did you accommodate a 55" one-piece door?
Pat: We raised the side wall profile of the camper about five inches.
TCM: But doesn't that raise the profile of the camper when driving down the road?
Pat: That's why we lowered the roof profile.  We realize that pop-up truck camper owners want a low profile for less drag and better fuel mileage.  With the raised profile of our side walls, and the lowered profile of our roofs, the overall camper height increased less than two inches.
Beyond allowing for a larger entry door, there are other tremendous advantages to the raised sidewalls.  We were able to build larger cabinetry for increased storage.  There's even more clearance for the counter tops.
Our previous generation two-piece pop-up doors didn't allow entry with the top down.  With our new raised side walls and one-piece door, you can get into the camper and use it with the top down.
You also have a lot of interior head room when using the camper with the top down.  I'm 5'10" and I can walk in the door, grab something to eat, sit down at the dinette, and not have to open the roof.  With our new electric roof it is easy to lift anyway, but at least now you have the choice.  We made improvements everywhere possible for our new pop-up camper line.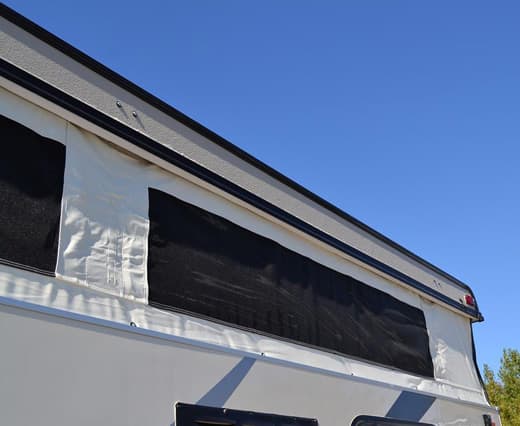 Above: The new pop-up soft wall features an improved heavy duty vinyl material and tighter tolerances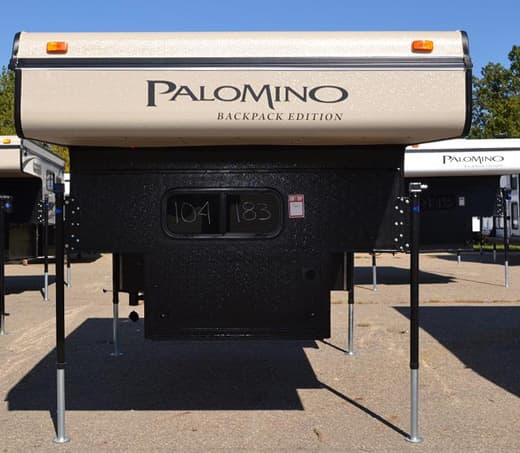 Above: 2014 Palomino campers feature black pebble fiberglass underbody lining
TCM: Are there any other exterior changes to your pop-up campers?
Pat: We added black pebble fiberglass lining on the underbody.  This looks great with our new exterior graphics and adds more underbody protection.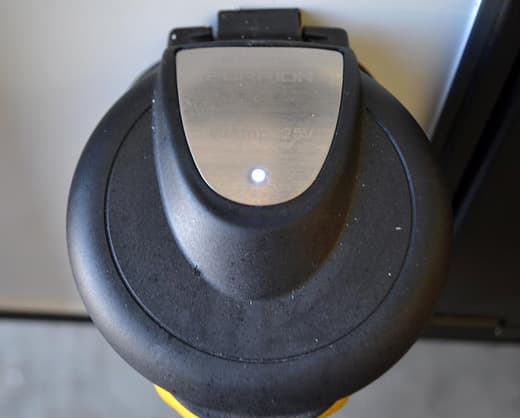 Above: The new shore power connection features an LED light indicator
Pat: The shore power cord has been upgraded with an LED light indicator to tell you when the power is hooked up.  The LED indicator means you don't have to go into your camper to see if the power is working.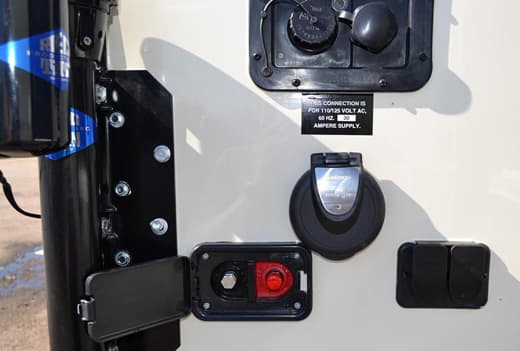 Above: The new power port (bottom center) allows for batteries to be trickle charged without removing the batteries from the camper
Pat: The new exterior power port is another exciting change that I don't believe any other manufacturer is offering.  The exterior power port is a square box containing positive and negative wires.  When you're not using the camper for an extended period, you can connect a battery trickle charger to these leads eliminating the need to remove the batteries.
The exterior power port is a very customer friendly feature, especially for winterizing.  It's now standard on all of our pop-up and hard-side truck camper products.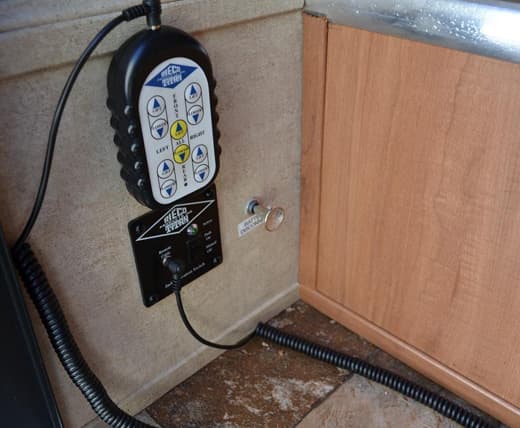 Above: Battery disconnect switches are standard in all 2014 Palomino truck campers
Pat: We added a simple battery disconnect switch next to pop-up lift button near the back door of the camper.  Having a battery disconnect by the door is an important convenience for winterizing or any time you want to disconnect your battery system.  The power port is not connected to the battery disconnect.  A vented battery box is also standard on all of our campers for 2014.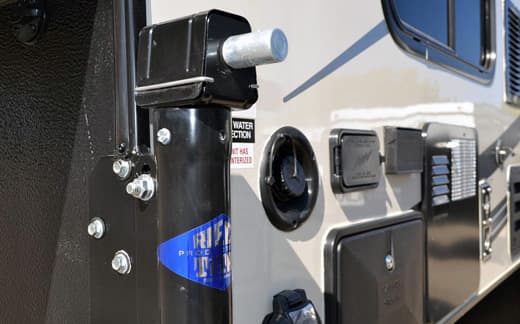 Above: Convertible Rieco-Titan jacks are standard for 2014
TCM: Are black Rieco-Titan camper jacks now standard?
Pat: Yes.  The Rieco-Titan camper jacks are also convertible to electric remote control jacks.  All of our campers come pre-wired for electric jacks.  To upgrade, all you need to do is exchange the jack heads and wire up the controller.
The raised side walls also allowed us to install larger windows.  The passenger's side features a thirty-inch by twenty-inch window in the dinette.
There's also a slider window on the front wall and a window on the one-piece door allowing the driver to see straight through the camper while driving.  This view was not possible on our previous soft side campers.
TCM: How about the interior changes to your pop-ups?
Pat: Not as much has changed on the interiors.  We now have a pull out faucet in the sink.  With the higher side walls, a bigger and better faucet was possible.
The counter tops are the same in the soft side, but we are currently experimenting with a different wood style table top in the dinettes.  That upgrade should be finalized by the time this article publishes.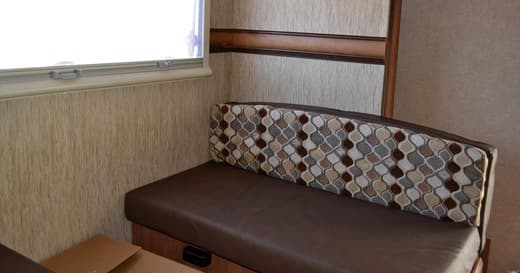 Above: Palomino's new 2014 fabric and vinyl seat cushions
TCM: Let's move on to your hard side camper changes for 2014.
Pat: Last year we made a big push to upgrade our hard-sides.  For 2014, the focus was on the soft side models, but we did make some upgrades to the hard sides as well.  Most of the changes apply to our slide-out 2900-series Max line including the 2902, 2910, and upcoming 2911.
The interior decorative wall board has been upgraded with a lighter, textured look.  We also have a solid wood fascia around the slide interiors.  Dometic thermal pane windows are standard in the 2900 Max campers.  They're optional for all other hard side Palomino campers.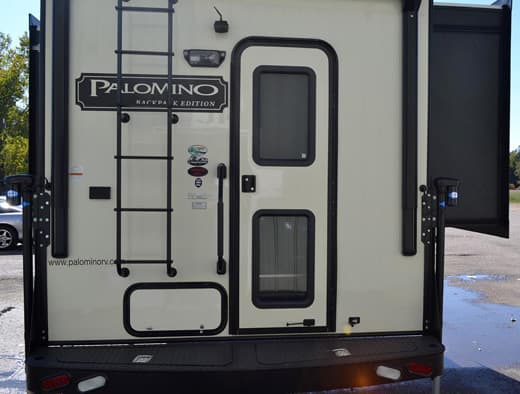 Above: The back-up camera, motion detector porch light, and Line-X underbody from the Palomino Max Elite Package
Pat: Our Max series can also all be ordered with the Elite package.  The Elite package includes solid surface counter tops, a back-up camera, motion detector exterior porch light, the pearl-color exterior, a Line-X underbody protection, a bumper with LED lighting, and a rear power awning.

Above: Interior LED lighting is standard in 2014 Palomino truck campers
TCM: Do you have interior and exterior LED lighting on your 2014 pop-up and hard side campers?
Pat: Exterior lighting, including running lights, is incandescent.  LED interior lighting is standard in 2014.  Every interior light is LED except for the refrigerator light and the range hood light.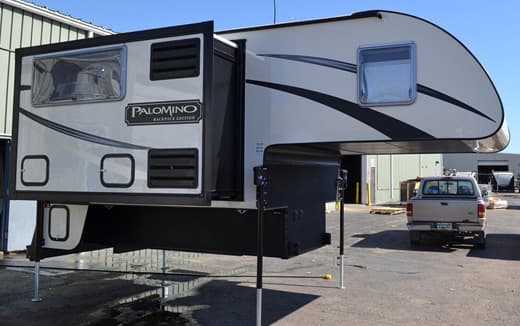 Above: Palomino Max in high gloss pearl
TCM: Are there any exterior graphics changes for 2014?
Pat: We have updated our exterior graphics this year.  We have deleted the mocha exterior color and now have a high-gloss white and a high-gloss pearl color.  The pearl color is an off-white cream color.  The black and grey decals look nice on the pearl and white and match trucks well.
TCM: Any updates to the Palomino RV fabrics, carpeting, counter tops, and cabinetry for 2014?
Pat: Across the board, the fabrics were changed for 2014.  All of our truck camper interiors get the same fabric and Palomino Maple wood color.  The Palomino Maple is a maple cabinet door with a darker glaze.  We also changed the vinyl on the seat cushions.
TCM: What is the warranty for 2014 Palomino campers?
Pat: We have our standard one year warranty on the camper itself.  The new Rieco-Titan roof lift system has five year pro-rated warranty.  The first three years are a 100% warranty and the last two are parts only.  The vinyl soft sides have a five year warranty.  And the appliances like the refrigerator, microwave, and stove top have their own individual warranties.
TCM: When will 2014 Palomino truck campers be available?
Pat: The 2014s are available right now.
TCM: How have all these changes affected your pricing?
Pat: The extensive list of upgrades to our pop-up models has increased our costs, but the end price to the consumer hasn't gone up tremendously.  With the new roof, new side walls, and electric lift system, the MSRP has increased about $1,200.  The prices really haven't gone up much on the hard sides.   Even with the increases, Palomino still offers the most affordable truck campers in the industry.
TCM: Is there anything else about the 2014 Palomino RV updates?
Pat: Year-over-year, we have had a significant increase in production.  That drives the train.  The more product we are selling the more excited we get about it.
We want to be the market leader.  We want people to stand up and take notice of Palomino truck campers.  We are still value driven, but we also offer a feature-loaded camper that can compete with anything on the market for quality and features.
Take a fresh look at Palomino and compare apples-to-apples.  Palomino is much more than the most affordable camper.  Whether it's features, quality, or value, Palomino offers much more, for far less.
For more information about Palomino truck campers, visit their website at palominorv.com.  Request a free Palomino brochure.