Palomino announces two new truck camper models and their most extensive list of pop-up truck camper updates ever.  Don't miss the Rieco-Titan electric remote pop-up roof.  It's fob-u-lous!

For months it's been all-quiet on the Palomino front.  Despite emails, texts, phone calls, smoke signals, and a small flock of white pigeons released in their general direction, we hadn't heard much from the Colon, Michigan crew.
You know the old saying, "Be careful what you wish for.  You might just get it."  Well, after begging, pleading, and holding up signs that said, "Will work for Palomino truck camper updates" at various high-traffic freeways, it finally happened.
Only the response wasn't the typical, "We have a few updates" kind of message.  This was more of a, "Reboot your computer, clear your hard drive, and stand back to receive a deluge of data" kind of deal.  It seems the people at Palomino have been quite busy.
What follows is a transcript from the interview with Pat Hines, Director of Truck Camper Marketing at Palomino RV.  At Pat explains, Palomino is not only about to unleash two brand new truck campers, but also the most extensive list of updates in the history of Palomino's pop-up truck camper line.
But before we get to all that, we first bid farewell to Bronco, and Maverick.
TCM: Are there any Palomino RV truck camper models being discontinued for 2014?
Pat: We have discontinued the Bronco 1250 and Maverick 1000 models.  We are also re-branding Palomino truck campers for 2014 and no longer using the Bronco and Maverick names.  From now on, all Palomino truck campers will simply be branded as Palomino.  The hard side Palomino truck campers are the HS, for hard side.  The pop-up Palomino truck campers are the SS, for soft side.
TCM: Are there any new Palomino RV truck camper models being announced for 2014?
Pat: Yes, we have a new soft side and a new hard side camper for 2014.  The new Palomino SS-550 soft side model is our first pop-up with a North-South cabover.  The SS-550 is also our first pop-up designed for 5'5" foot and 6' foot short beds.
The new Palomino HS-2911 Max is our first double-slide hard-side truck camper model.  The HS-2911 Max is a ten foot floor plan designed for long-term truck camping.  It's based on our popular 2910, but with a kitchen slide.
Both the SS-550 and HS-2911 Max are currently in production.  We'll give Truck Camper Magazine the exclusive once they come off the line.
TCM: Are there any standard feature updates for 2014?
Pat: We have an extensive list of 2014 new features and updates, especially for our soft-side pop-up models.
Our new Rieco-Titan roof lift system is very impressive.  We approached Bob McCarthy, President of Rieco-Titan, about ten months ago about our desire to take Palomino soft-side truck campers to the next level.  We feature Rieco-Titan camper jacks on all of our products and have had nothing but good experiences with them.
With their design and engineering expertise, we now have a push button, fully-automatic, electric lift.  In thirty seconds the roof is up or down.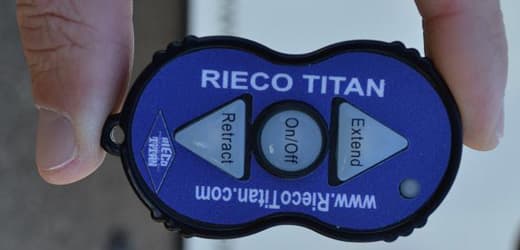 Above: The new Rieco-Titan key fob remote
Another neat feature of this roof system is the optional key fob wireless remote.  Now you can stand back, push a button on the key fob and, thirty seconds later, your camper roof is popped-up or down.