Truck Camper Magazine reviews a Palomino SS-550, a pop-up, north-south cabover truck camper targeting super short bed, four-door, half-ton trucks.  Debuted as an all-new design with Palomino's sweeping pop-up update, does the SS-550 measure up?

Palomino debuted the Palomino SS-550 in Truck Camper Magazine on January 3rd, 2014.  The SS-550 was the first all-new Palomino pop-up to incorporate the sweeping build quality and feature upgrades the manufacturer introduced for that year.  The significant construction improvements included a lower-profile one-piece vacuum bonded roof, one-piece seamless vacuum bonded sidewalls, and a 55-inch one-piece entry door.
Another significant advancement was made with the all-new Rieco-Titan electric remote roof lift system, a revolutionary new product designed and tested in concert with the development of the Palomino SS-550. In fact, the Rieco-Titan electric roof lift system was featured in Truck Camper Magazine on the very same day as the SS-550 debut.
Finally, Palomino produced a list of further enhancements to complete their 2014 pop-up camper transformation including Line-X coating the camper's underbody, an improved heavy duty vinyl soft-wall with tighter tolerances, a new power port for battery trickle charging, a new power cord with LED indicator, standard battery disconnect, and all-LED lighting. In essence, they reinvented their already popular line of Palomino pop-up truck campers.
These upgrades alone would have made the SS-550 a compelling new addition to the Palomino pop-up line, but the design team didn't stop there. Starting with a clean slate, the team developed Palomino's first north-south pop-up cabover and the first small Palomino pop-up model with a water heater and an outside shower.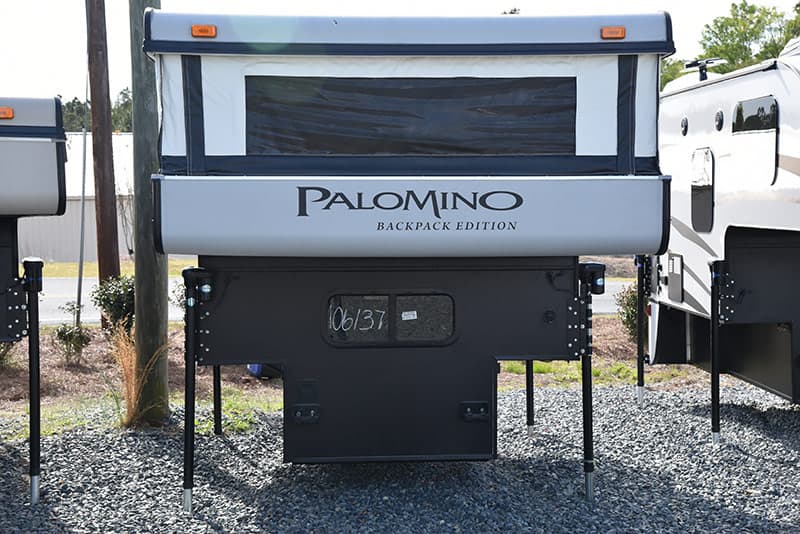 When we interviewed Pat Hines, Truck Camper Product Manager for Palomino RV, about the SS-550, he was particularly excited and proud of the new SS-550. As Pat explained, "The SS-550 isn't really like anything else in our line.  From layout, to design, to the round versus rectangular table, the 2014 Palomino SS-550 is unique."
For this review we poured over a 2016 Palomino SS-550 at D&H RV Center in Apex, North Carolina. Review hats affixed, we closely inspected the unit and thought carefully about how this floor plan and its feature set would work in real life truck camping situations. If it doesn't add up to a great truck camping product, all the inspired changes and upgrades don't matter. Let's get started.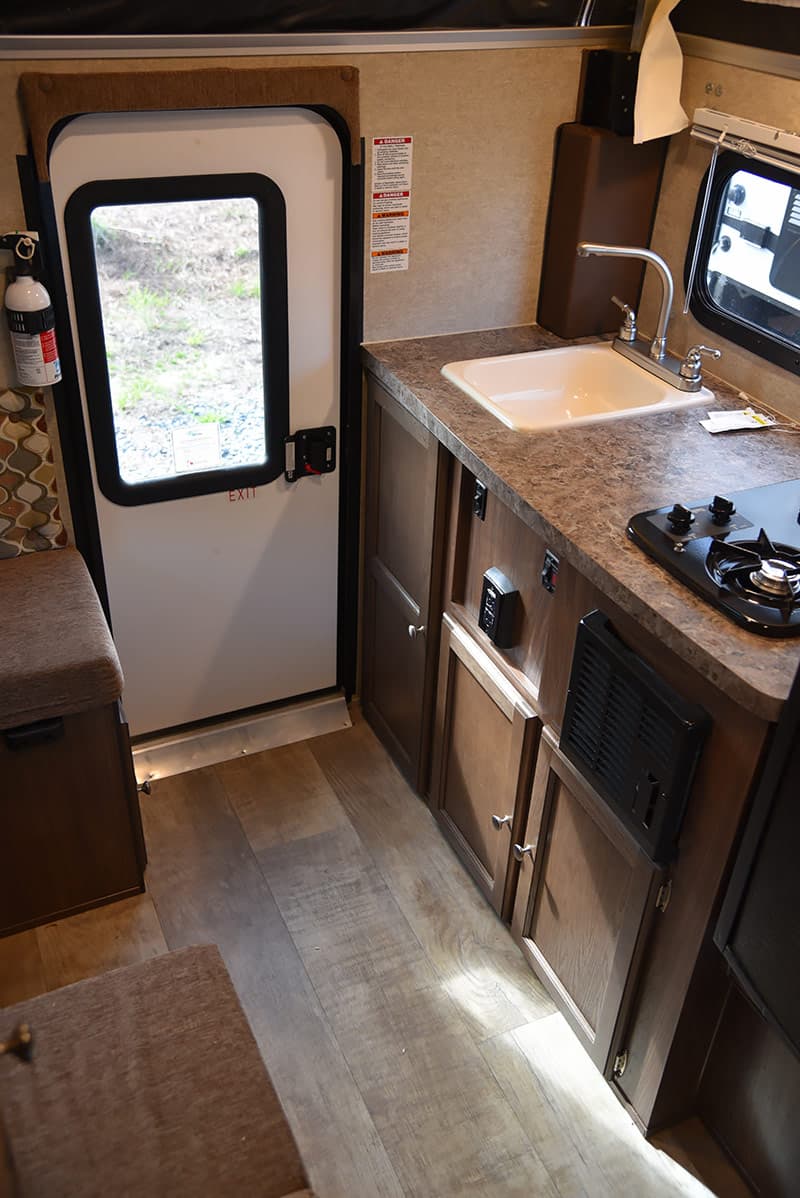 The Palomino SS-550: Type One, or Type Two?
For our personal truck camping, we prefer a non-slide hard side truck camper. That stated, we have enjoyed many adventures in pop-up truck campers and fully understand the inherent advantages of a pop-up design; lower wind-resistance, lower weight, lower center of gravity, better fuel economy, better off-road performance, and more overall versatility. If we could have a Jay Leno style truck camper garage, there would be at least a half dozen pop-up truck camper rigs on tap and ready to rock. Wouldn't that be fun?
Above: 2016 Palomino pop-up truck campers in lower-profile travel position (left) and ready to camp (right)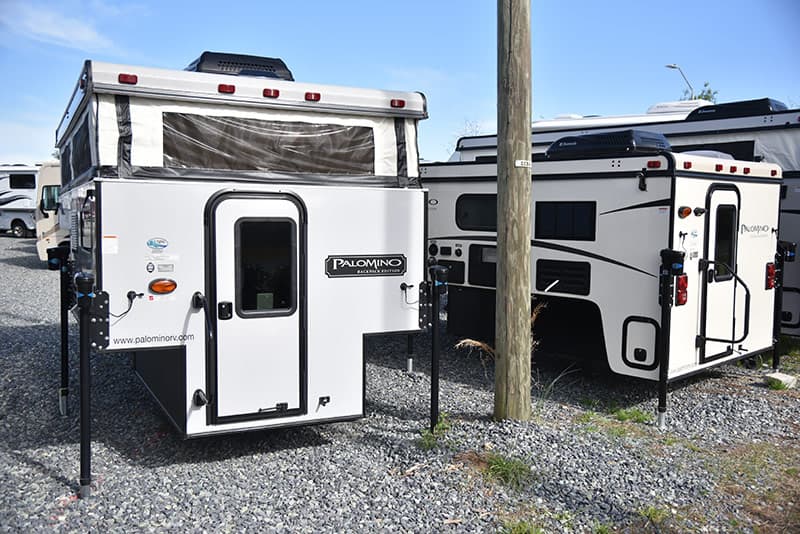 To get a grip on the SS-550 design and purpose, it's important to understand the two types of pop-up truck campers. Type one, the more traditional pop-up, features a basic dinette, simple kitchenette, propane heat, and an east-west cabover bed. Type one pop-up campers generally appeal to folks looking to step-up from tenting on the ground, have a minimum of camping luxuries (propane heat, fresh water tank, inside seating, and privacy), and travel further off-road.
Type two, a more modern invention, starts with the type one concept and adds a separate bathroom and toilet and increases the size and feature set to be more in line with non-slide hard side truck campers. When you see a pop-up truck camper with a bathroom or a north-south cabover, you're generally looking at a modern type two design.
Without a bathroom and featuring a north-south cabover, the 2016 Palomino SS-550 is a compelling hybrid of these two pop-up truck camper types. Not having a bathroom will still be a deal breaker for most type two pop-up camper customers, but the traditional type one pop-up buyer will likely be tempted by the type two-style extended cabover, luxury materials, and generous standard feature set of the SS-550.
VERDICT – Pros and Cons  |  NEXT – Palomino SS-550 Kitchen