Across from the dinette is the Palomino SS-550 kitchen.  It includes a single bowl porcelain sink, two-burner propane cooktop, three cubic foot three-way refrigerator, and a surprising amount of upper and lower cabinet storage opportunities.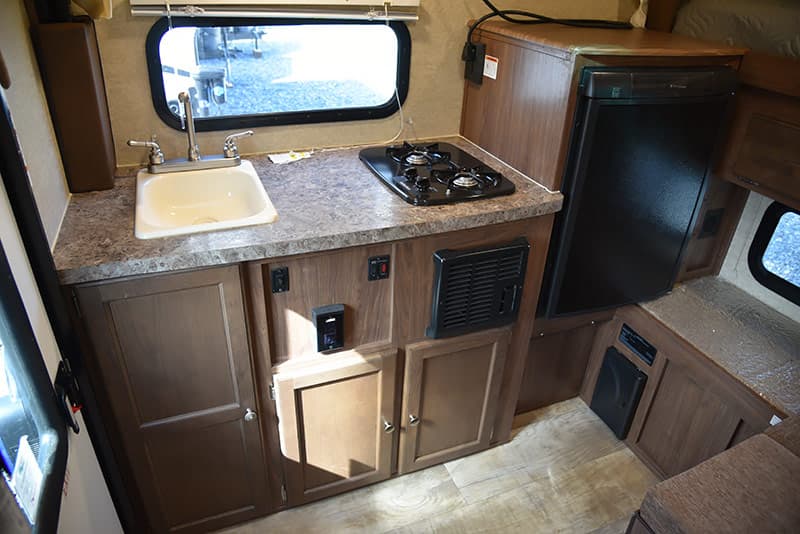 Counter Space in the Palomino SS-550 Kitchen
At first blush the counter space is minimal.  The space to the left and right of the sink is just right for washing a small amount of dishes or preparing simple meals.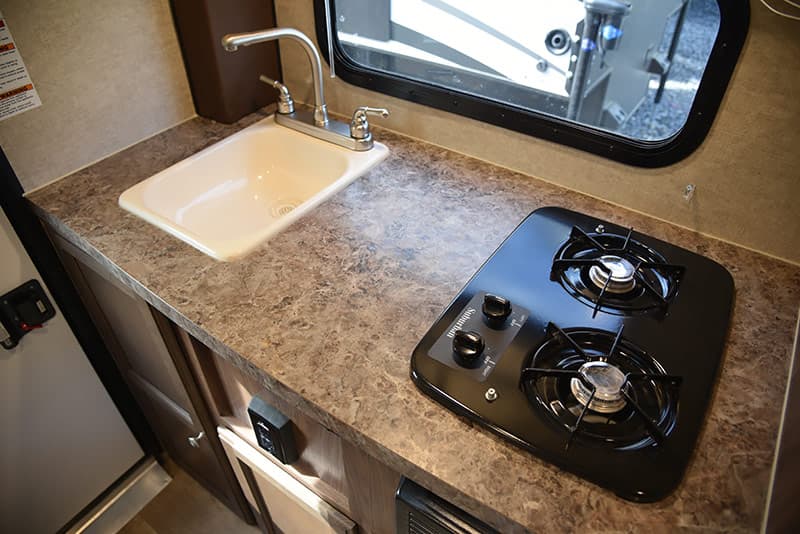 One can also use the elevated table top space over the refrigerator.
Unless you plan to host parties of eight, or insist on complex gourmet meal preparations on the road, the countertop, sink, and cooktop are well proportioned for a short bed pop-up truck camper.
The SS-550's Kitchen Storage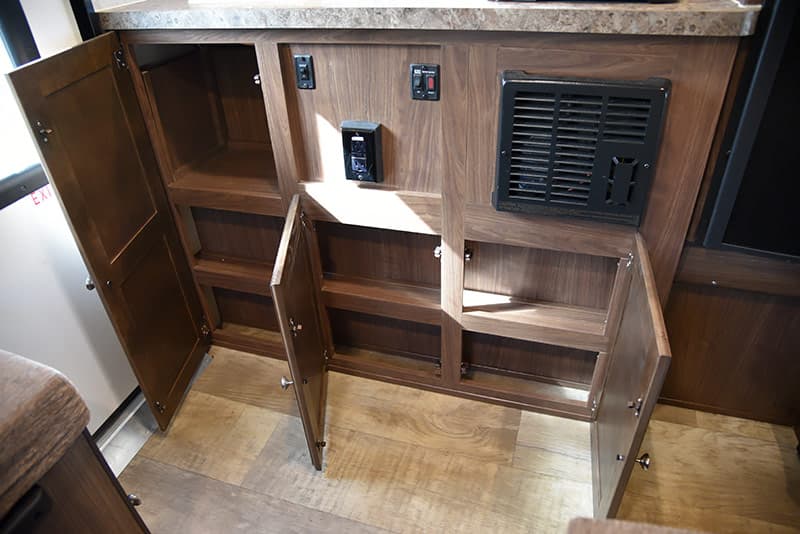 The lower kitchen cabinetry includes six shallow cabinet areas for pantry-style food storage, and one deeper cabinet for larger items. The shallow pantry shelves are a smart and an efficient use of space. I wish we had these in our camper.
The face of the lower cabinetry contains the water pump, water heater switch, a 110-volt outlet, and the heater. Having the water pump and water heater switch in this location is excellent for meal prep and washing dishes. An owner will need to be careful not to allow water to drip down to the 110-volt outlet (from the sink above), or food to spill into the heater (from the cooktop above).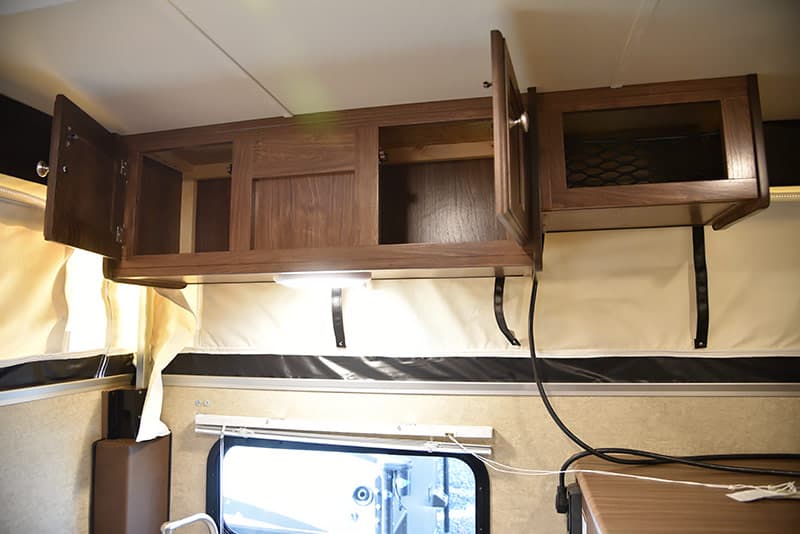 The bright LED light under the upper kitchen cabinet is perfectly located.
The upper kitchen cabinetry offers to medium-sized cabinets and – just to the right – a smaller netted storage cabinet. The front of the medium-sized upper cabinets is one third door, one third blocked, and one third door. It would benefit the customer to have either one more door in the center, or two wider doors to give better access and visibility to the middle storage area.
Three Cubic Foot Three-Way Dometic Refrigerator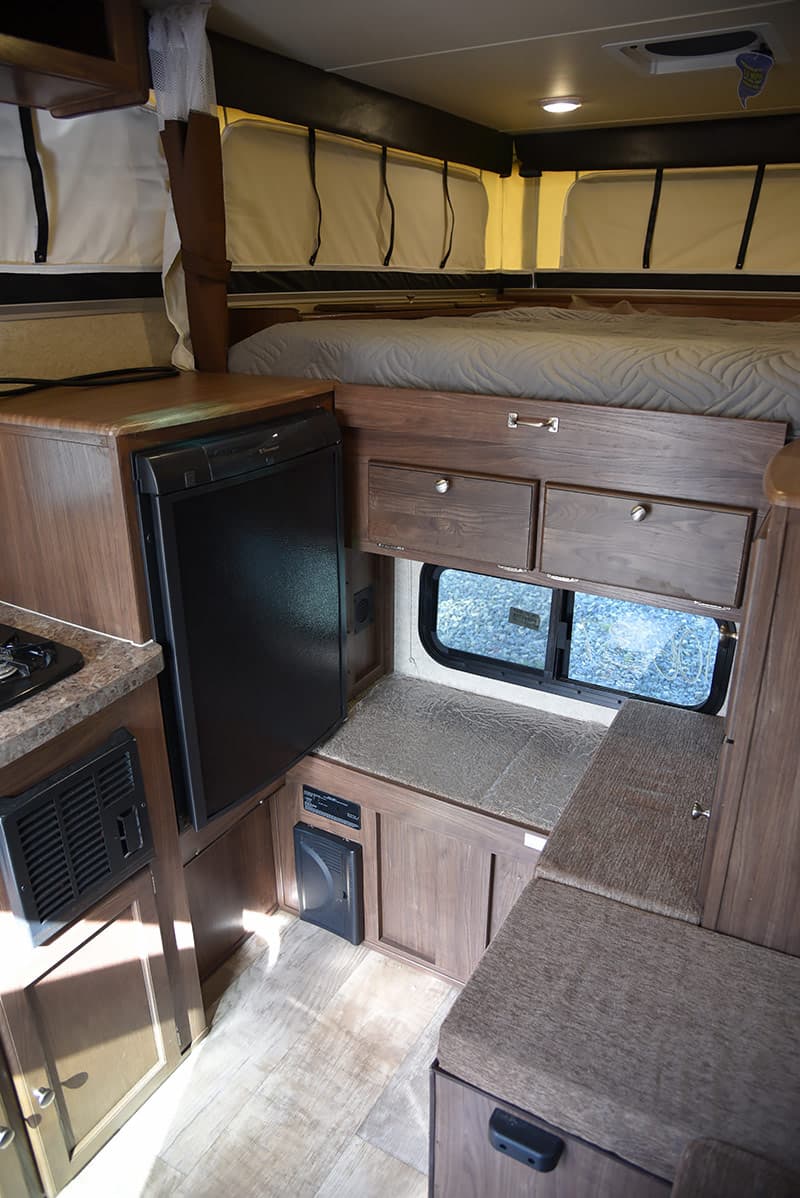 The central location of the standard three cubic foot three-way Dometic refrigerator could not be more convenient when preparing meals or sitting in the dinette.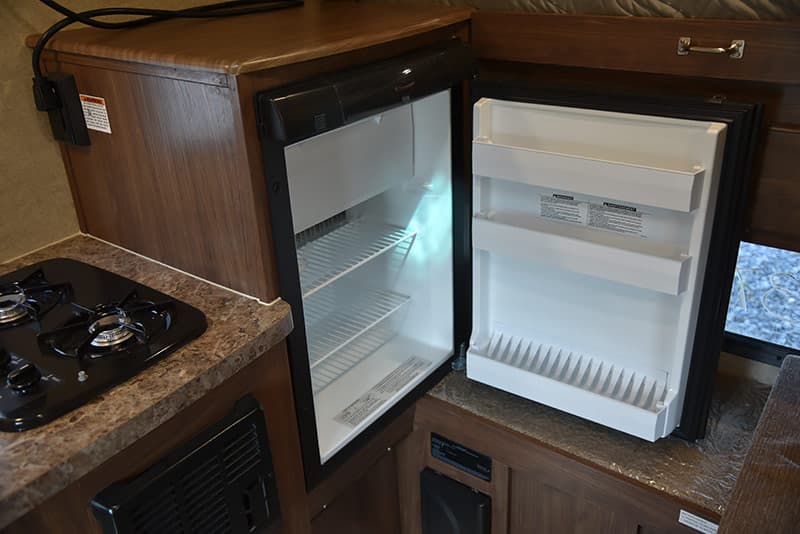 The size of the refrigerator is generous for a short bed pop-up camper.  It is plenty for two people getting away for a long weekend.
PREVIOUS – Palomino SS-550 Introduction  |  VERDICT – Pros and Cons  |  NEXT – Palomino SS-550 Bedroom