Truck Camper Magazine explains how to choose the right pickup truck for a truck and camper rig. We discuss truck brands, classes, engine choices, configurations, and more.  Let's dig in.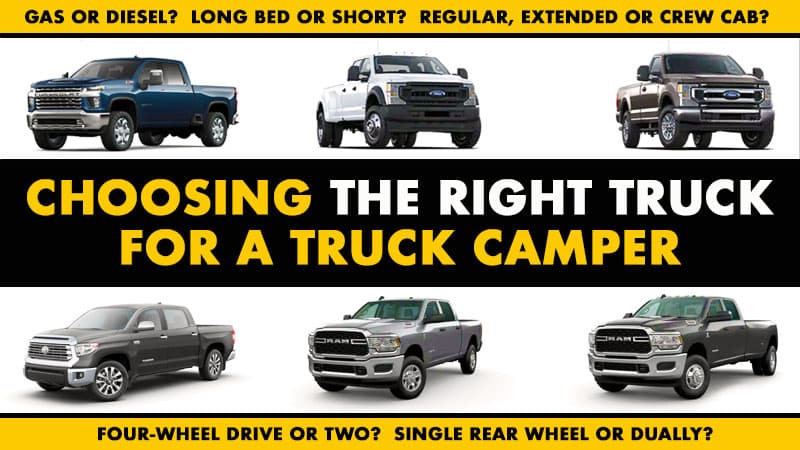 When we started researching our first truck and camper in 2005, there was little information available on choosing a truck for a truck camper.  What we did find was either marketing speak from camper manufacturers or the wild west from truck camper forums.
The former was painfully non-specific to avoid any possibility of responsibility or liability.  The latter was all over the map concerning every facet of the decision process.  After reading everything we could find, there were more questions than answers.
When we later launched Truck Camper Magazine, our first mission was to put a line in the sand for safe truck and camper matching.  An important part of that mission was an early article on choosing the right truck for a truck camper.  Fourteen years later, we're still on that mission and have a bit more to say on the topic.
An Important Note For Newbies
This article is part of a series written to help newbies and experienced truck campers alike to choose and assemble a safe truck and camper match.  If you're new to truck camping, please start with, "The Best Truck Camper".  Next read, "Picking The Perfect Truck Camper" and then return to this article.
The most important article in Truck Camper Magazine comes next; "How To Match A Truck and Camper".  Make sure to read that article before inking any final truck and camper plans.  Along the way, spend some time exploring our Camper Chooser system and Buyers Guide sections.  As a whole, these articles and resources are designed to ensure that you end up with the right truck, the right camper and the right truck camping rig for you.
What Comes First: Truck or Camper?
During the first decade of publishing Truck Camper Magazine, we attended and worked dozens of RV shows.  The shows were an incredible opportunity to meet fellow truck campers and listen to their perspectives.  They were long days on concrete, but we loved the interaction with our vibrant community.
RV shows were also where we encountered the most newbies; folks who were truck camper curious and often needed guidance on how to assemble a rig.  Almost always, our very first question was, "Do you already have a truck, or do have a truck in mind?"
Answer A: "I have a truck," or, "I want a specific year, make and model truck."
If you already own a truck, or plan to purchase a specific truck, the question of what comes first is answered.  Research the payload capacity of that truck, and then follow, "Path 1: Truck First" in the step-by-step article, "How To Match A Truck and Camper".
If you don't have the truck on hand, be very careful when figuring the truck's available payload capacity.  Ideally, you would either get your truck dealer to find out the specific payload capacity of your to-be truck, or you would find a very close example (year, make, model, configuration, and options) and find the payload capacity of that truck.
Don't wing it with a payload guess.  Get the specific payload capacity of your specific truck.  Truck payload matching mistakes are probably the most expensive mistakes in all of truck camper-dom.  If your subsequent rig is overloaded, you might need to change trucks or change campers.  That's rarely a cash-neutral situation.
Answer B: "I don't have a truck or truck plans, yet."
This was the answer we hoped for at the RV shows.  If you don't have a truck yet, you're free to choose the truck camper you want.  We could discuss all the camper choices, narrow down your preferences and start picking camper brands, models, and options.  Without a predetermined payload limitation, the candy aisle is wide-open.
Once a camper is selected, you can calculate the wet weight of that camper and purchase a truck with at least that amount of payload; preferably more.  This step-by-step process is detailed under "Path 2: Buying Your Camper First" in the aforementioned article, "How To Match a Truck and Truck Camper".
Answer C: "I don't have a truck, but I have truck conditions."
It's not always that simple.  Let's say you decide that a long bed slide-out truck camper is your top choice.  Well, the wet weight of that camper will likely require a dually truck.  That's when you tell us, "I do not want a dually truck.  No way.  No how.  Forget it."  We have actually heard this many times, exactly as quoted.
It turns out that you do have a truck in mind, or at least you have some truck conditions.  In this particular situation, the person would need to determine the payload capacity of a long bed single rear wheel truck, and go back to the "Path 1: Truck First" approach.
You get the idea.  Ideally, the answer is to pick your truck camper first, and then buy the truck that payload matches the wet and loaded weight of that camper.  However, you may start down the camper-first path and need to change to the truck-first path.  Fortunately, both paths are clearly explained in TCM, step-by-step.  No marketing speak.  No wild west.  Just the facts.
Six Truck Manufacturers
Let's take a look at the truck makes and models that are suitable for a truck and camper combination.  This information is based on what's available in North America (USA and Canada) and may not reflect what's commonly available in other areas of the world.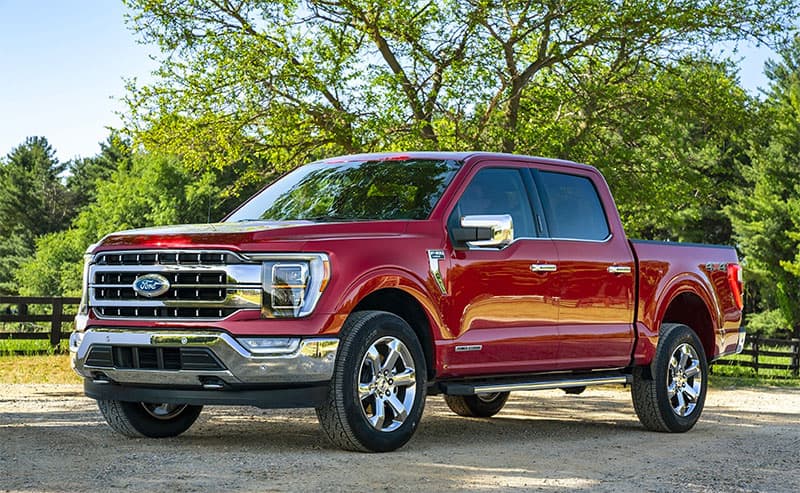 Above: 2021 Ford F150, all photographs in this article are courtesy of the truck manufacturers' websites
There are currently six automotive brands with trucks recommended and approved by the manufacturers for truck campers; Ford, Chevrolet, GMC, Nissan, Ram, and Toyota.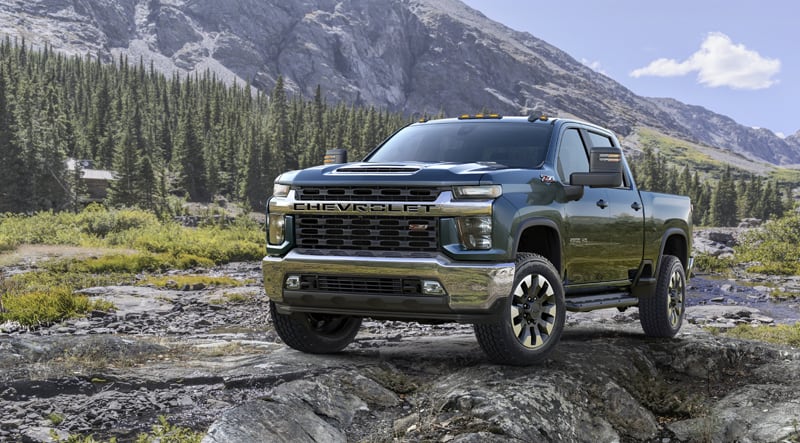 Above: 2020 Chevrolet Silverado 2500HD
You're probably wondering where Jeep Gladiator, Honda Ridgeline, and the emerging field of all-electric trucks are (Bollinger, Lordstown, Nikola, Rivian, Tesla, etc.).  As of this writing, they are not yet recommended or approved by the majority of truck camper manufacturers.  If you pursue a truck camper rig with one of these trucks, be prepared for fitment and other potential compatibility challenges.
TIP: Unless a camper company specifically approves of another truck manufacturer, stay with the six named truck brands; Ford, Chevrolet, GMC, Nissan, Ram and Toyota.
Six Truck Classes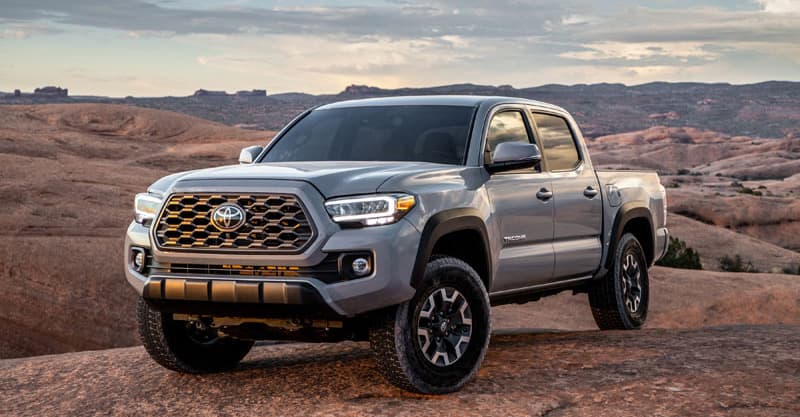 Above: 2021 Toyota Tacoma TRD Off-Road, mid-size class
From those six manufacturers, there are six classes of trucks available: mid-size (Ford Ranger, Chevy Colorado, GMC Canyon, Nissan Titan, and Toyota Tacoma), half-ton (F-150 and 1500), three-quarter ton (F-250 and 2500), one-ton (F-350 and 3500), Class 4 (F-450 and 4500) and Class 5 (F-550 and 5500).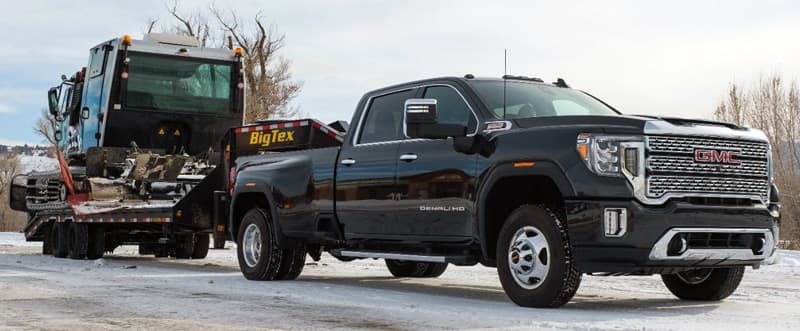 Above: 2020 GMC Sierra 3500HD Denali, one-ton class
As you can see in our popular Extreme Rigs section, people have mounted truck campers on all kinds of alternative trucks (Mitsubishi Fuso, Land Rover Defender, Unimog, semis, fire trucks, etc.).  However, pickup trucks from the six named manufacturers in the six specific levels are what the manufacturers build truck campers for.
TIP: Unless you're fully prepared to navigate a custom fit, stick with a traditional pickup from one of the six named manufacturers, in one of the six named classes.
Choice 1: Truck Brand
A few minutes on the truck forums quickly reveals the tremendous passion people hold for their chosen truck brand.  Truck owners get connected to a particular truck brand and remain ready to defend that preference anytime, anywhere.
For a moment, try to put that brand loyalty aside and consider that matching a pickup to a truck camper might require a different set of parameters. Where previous vehicles may have been selected for aesthetics, features, and/or technology, considerations for truck camper need to include GVWR, payload capacity, and tow ratings.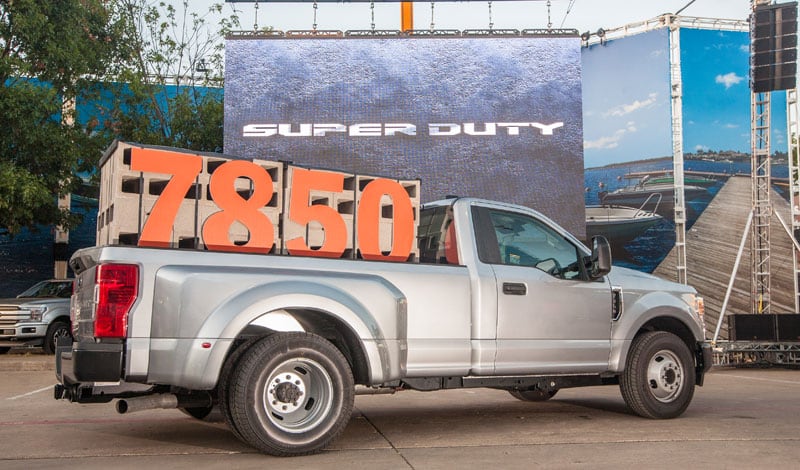 Above: 2020 Ford Super Duty, 7,850 pounds of payload capacity is possible in the regular cab, gas engine, two-wheel drive, dual rear wheel truck
It's possible that the truck brand you prefer is also excellent in these important categories.  However, it's also possible that another brand offers a better solution.  We understand this is blasphemy, but our job is to make sure you at least consider the prospect.
TIP: Even if you're brand loyal, at least survey the other truck manufacturers.  Based on the unique requirements of a truck camper rig, your preferred brand (not to mention preferred year, make, and model) of the truck may not be the best solution.
Choice 2: Gas or Diesel Engine
The split between diesel versus gas engines among Truck Camper Magazine readers has always been about 60-40, preferring diesel.  In general, the lighter weight pop-up and hard side campers prefer gas trucks, and the heavier hard side and slide-out campers prefer diesel trucks.  This is truly a generalization as many large hard side camper owners (including us) prefer a gas engine and many pop-up camper owners love their diesels.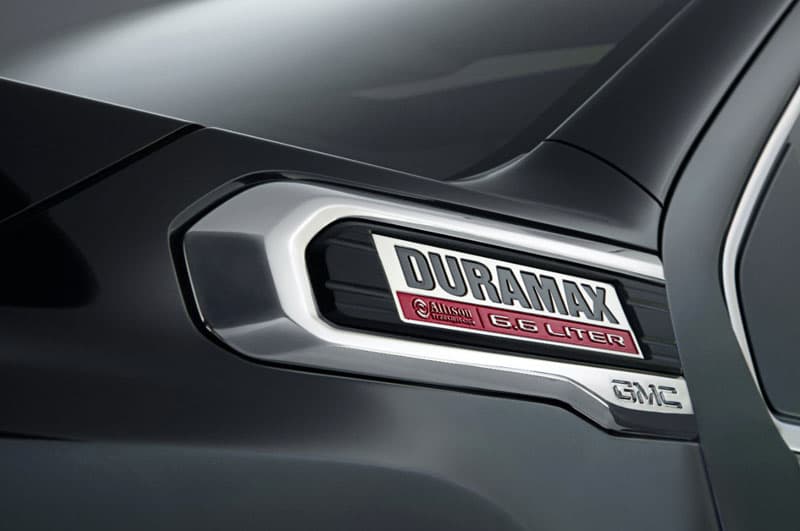 Above: The 6.6L Duramax diesel is available in GM trucks
Diesel engines generally offer better power, torque, and fuel economy compared to gas engines.  The power and torque can be especially important if you have a heavier slide-out camper, plan to tow a trailer or toys behind your camper, or simply must blast up the side of mountains at speed.  We can always identify a diesel truck on a 6-percent mountain climb as it flies past us.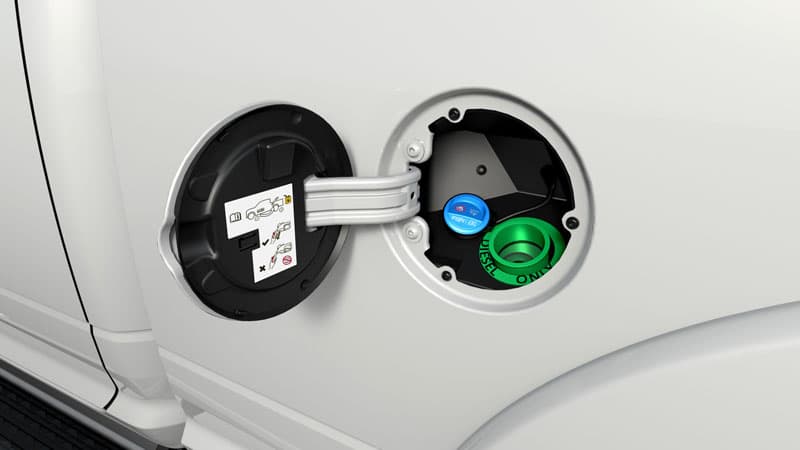 The downside of diesels' advantages are a higher up-front cost, potentially higher maintenance costs, the need for diesel exhaust fluid (DEF), and higher prices at the pump.  Diesel engines and their partnering transmissions are also significantly heavier than gas engines and transmissions.  This often means a considerable reduction in a diesel truck's available payload capacity.
On balance, diesel engines can – if properly maintained – last longer than gas engines.  This potential longevity goes a long way to improving the cost-benefit ratio of diesel ownership.  Higher resale and/or trade-in value can further improve the diesel cost-benefit.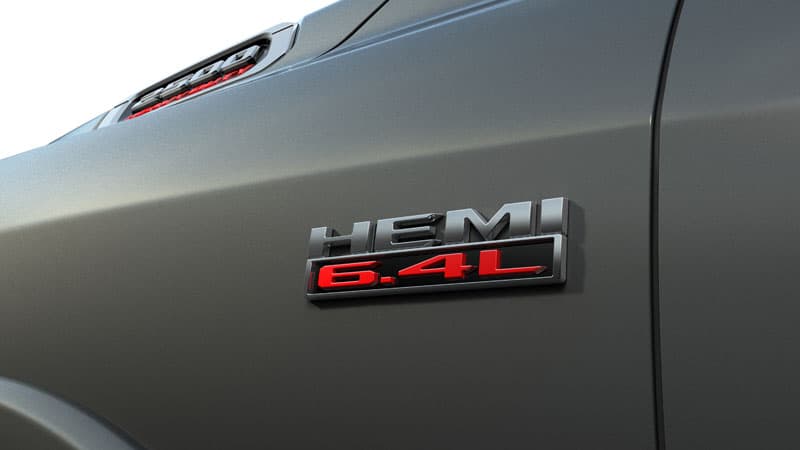 Above: The 6.4L Hemi gas engine available from Ram trucks
Modern gas engines may not match modern diesel engines in power, torque or fuel economy, but they have come a very long way.  Unless you are hauling a heavier camper, towing, or require the aforementioned mountain side blasting, a modern gas engine will likely offer all that you need.
In contrast to diesel engines, gas engines are significantly less expensive, are less expensive to maintain, do not require DEF, and run on cheaper fuel that is available at any fuel station coast-to-coast.  Gas engines and transmissions are also significantly lighter often adding hundreds of pounds to a truck's available payload capacity.
TIP: If you have a heavier truck camper (especially a multi-slide model), plan to tow a heavy trailer or toys, or need to blast up a mountain, go for a diesel engine.
TIP: Otherwise, consider a modern gas engine.  Gas trucks cost less, offer more payload, require less maintenance, don't require DEF, and can be fueled just about anywhere.

Above: This short film illustrates the gas versus diesel debate for truck campers.  Click here to watch it and comment on YouTube.
What About Electric Trucks?
At the time of this writing, truck campers are not designed or tested for electric trucks.  There simply haven't been enough electric truck manufacturers, models, or units sold to warrant industry interest.
That will likely change in the future, but we can't recommend electric trucks for truck campers until the campers have been designed and tested for that application.
Choice 3: Long Bed, Short Bed, or Super Short Bed
Your preference for either a pop-up or a hard side truck camper could be an important consideration when choosing between a short bed or a long bed truck.
If you're looking to assemble a pop-up truck camper rig, you will have more pop-up camper options with a short bed truck.  Not only are there more available pop-up floor plans for short bed trucks, but the manufacturers build and ship more pop-up campers for short bed trucks.
The opposite is also true. If you're looking to assemble a hard side truck camper rig, you will have more camper options with a long bed truck (8-foot bed).  Not only are there more available hard side floor plans for long beds, but the manufacturers build and ship more hard side campers for long bed trucks.
There are pop-up campers for long bed trucks and hard side campers for standard short beds (actually, a good number), but the facts remain.

Above: 2021 Toyota Tundra Trail Edition
There are additional reasons why you might consider a short bed truck for a camper.  First, you might already own a short bed truck.  Second, you might prefer a shorter overall rig length for parking, camping, off-roading, or storage considerations.  And third, you could have your eye on a particular short bed camper.  I actually thought of truck camping friends and their short bed campers for each of these examples.  They all dig their short bed rigs.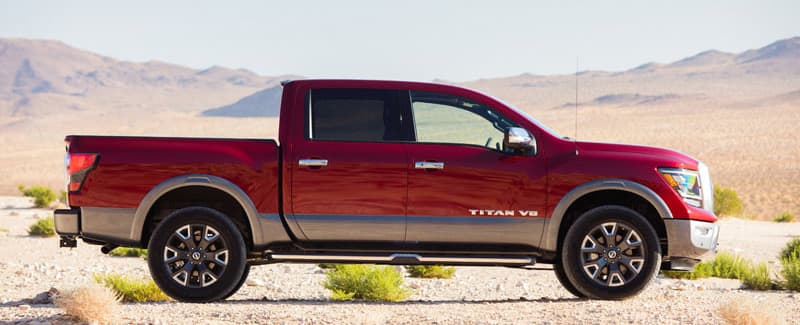 Above: The Nissan Titan comes in a 5'5″ (super short) bed and 6'5″ (standard) bed
Super short beds (beds under 6.5-feet in length) are another story.  There are campers that can fit and payload match super short bed trucks, but they are limited in quantity, especially in hard side campers.  Unless you already own one or have another requirement that cannot be avoided, we generally do not recommend super short beds for truck campers.  To have the most options in a short bed truck, get a standard 6.5-foot standard short bed.
For everyone else, go for a long bed truck.  Long bed trucks offer the most potential camper floor space and model options.  Long bed trucks also generally have more payload capacity and a longer wheelbase.  Most importantly, long bed trucks are offered with dual rear wheels for even more payload capacity, driving stability, and control.
Above: 2021 Ram 3500, long bed truck
This last point should not be overlooked.  Back in 2018, we were in a fairly serious car accident in our fully-loaded truck camper.  I doubt we would have maintained control without our properly matched camper and dually truck.  When payload matching matters, it really matters.
TIP: If you're looking to assemble a pop-up truck camper rig, there are more pop-up campers available (floor plans and shipped units) for short bed trucks.
TIP: If you're looking to assemble a hard side truck camper rig, we recommend a long-bed (8-foot) truck to have the most camper model options.
TIP: In general, we don't recommend super short bed trucks due to the limit of models that fit super short bed lengths.  Unless you require a super short bed, short bed enthusiasts should go for a "standard" 6.5-foot bed.
Choice 4: Regular Cab, Extended Cab, or Crew Cab
The overwhelming majority of truck camper owners prefer Extended Cab or Crew Cab trucks.  In turn, the majority of truck campers are designed for Extended Cab and/or Crew Cab pickup trucks.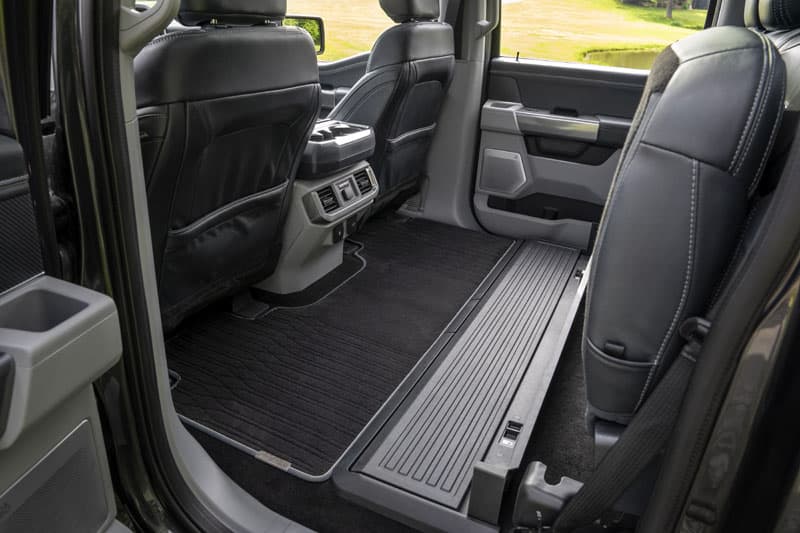 Above: 2021 Ford F-150 crew cab, back seat storage area
Extended Cab and Crew Cab configurations not only offer rear seating for passengers but also provide space for pets, gear and toys.  In our truck's Crew Cab truck we use the rear seat area for a myriad of items that would otherwise need to be left at home or take up space in our camper; boxes of supplies, two camping chairs, Angela's folding bike, and more.
While many truck campers can fit and payload match a Regular Cab truck, the cabover on a loaded truck camper will likely block the driver's vertical visibility on Regular Cab trucks.

Above: Ram 3500 Bighorn, 4×2, Regular Cab, Single Rear Wheel, Long Bed Truck
When a camper with an extended (north-south) cabover is mounted on a Regular Cab truck, the cabover can block stoplights and road signs from the driver's view.  Owners can always stop long before an intersection to see stoplights, but that may not always be possible, or safe.  For this reason, truck campers with extended cabovers are not recommended for Regular Cab trucks.
TIP: Unless you already have a Regular Cab, or have a specific reason for choosing a Regular Cab, we recommend an Extended Cab or Crew Cab.
TIP: Overall, we recommend a Crew Cab. It's the most popular configuration for resale, offers the best storage, and presents the most long-term flexibility.
What About Ram's Mega Cab?
Ram adds an additional wrinkle to the truck cab choice with their Mega Cab option.  A Ram Mega Cab is a four-door Crew Cab with 11.1-inches of additional cab length and a 6-foot 4-inch bed.  The resulting truck is 11.1-inches longer with a 11.4-inch longer wheelbase.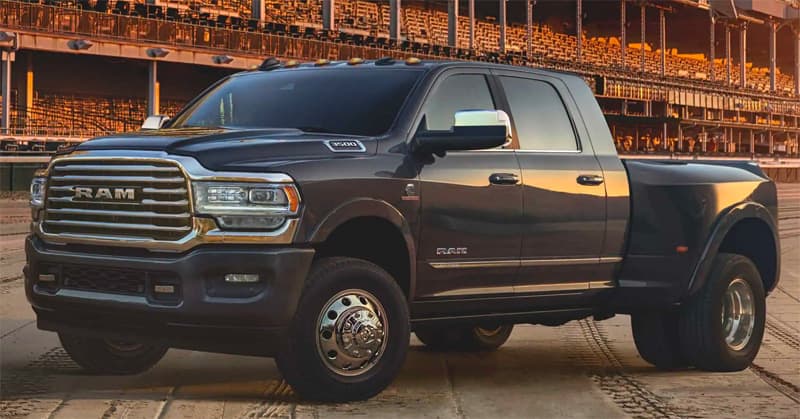 Above: 2021 Ram Mega Cab dually truck
While the extra cab length and space are attractive, one needs to be careful about matching a Mega Cab with a truck camper.  First and foremost, the majority of camper manufacturers do not design or test fit their campers with Mega Cabs.
In our latest truck survey, less than 1.5-percent had Ram Mega Cabs, versus 88.5-percent in Crew Cabs or Extended Cabs.  That's just not enough of a market for the truck camper manufacturers to cater to.  Be aware of possible fitment challenges if you opt for a Mega Cab.
Over the years, we have seen a few truck and camper combinations that appeared to be payload and center of gravity matched to Ram Mega Cabs.  In each of these cases, the owners had gone through extensive measurements, calculations, and a few fitment headaches to make it work.  Properly matched Mega Cab rigs are possible, but don't make any assumptions until you've done your homework.
TIP: If you're considering a Ram Mega Cab, do your fitment, payload, and center of gravity homework before you purchase your truck and/or camper.  Otherwise, go with a normal Crew Cab or Extended Cab.
Choice 5: Four-Wheel Drive (4×4) or Two-Wheel Drive (4×2)
Many Truck Camper Magazine electrons have been fired on the subject of four-wheel versus two-wheel drive for truck camping.  In the end, it all boils down to two important points.
First, as an RV category, truck campers are the, "Go Anywhere, Camp Anywhere" choice.  If you want to camp off-road and off-grid, you need four-wheel drive.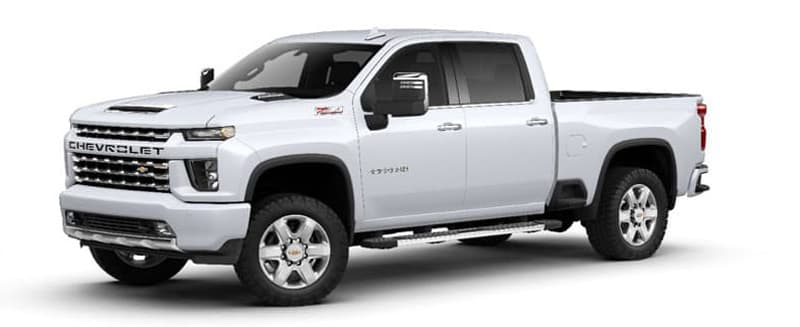 Above: 2021 Chevrolet Silverado HD Z71 Chrome Sport Edition
Second, four-wheel drive is the insurance policy that can get you out of a grassy field after a surprise rainstorm, or through a snowstorm the weather forecast got wrong, or navigate around debris during an emergency evacuation.
We can count the number of times we have engaged four-wheel drive while truck camping on one hand, but in those instances, four-wheel drive got us out of a slippery situation with relative ease.  We would not purchase a truck for truck camping without it.
That stated, there are a lot of fellow truck campers who opt for two-wheel drive trucks.  If you have no interest in driving or camping off-pavement, a two-wheel drive truck may be all you need.
Four-wheel drive also adds cost and weight to a truck.  The additional weight comes out of the available payload capacity of your truck.  If you're looking to reduce the cost of a truck, and/or maximize the payload capacity, a two-wheel drive truck might be your best option.  Just don't drive out into a grassy field when rain is predicted.
TIP: Our go-to answer for the four-wheel drive versus two-wheel drive is to get four-wheel drive.  From experience, it can really save your bacon.  Unless you're a fair-weather camper who sticks to pavement, go for four-wheel drive.  It's good insurance.
Choice 6: Single Rear Wheel or Dual Rear Wheel
The choice between single and dual rear wheel trucks is only relevant for one-ton trucks and above.  Trucks below a one-ton are not available with dual rear wheels.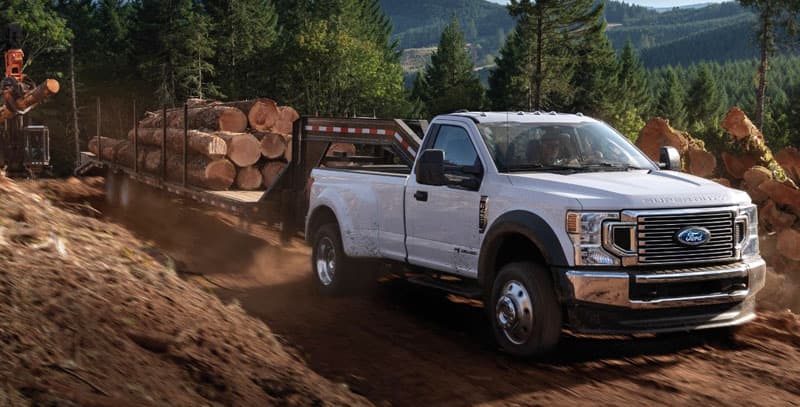 Above: 2021 Ford F-350 Super Duty, dually truck
This works out well since truck classes under a one-ton are better suited to lighter weight pop-up and hard side campers.  Pop-up and lighter hard-side truck campers are generally geared towards more adventurous off-road and off-grid travel and camping.  Accessing these opportunities often requires traversing narrow paths that can prohibit the increased width of dual rear wheel trucks.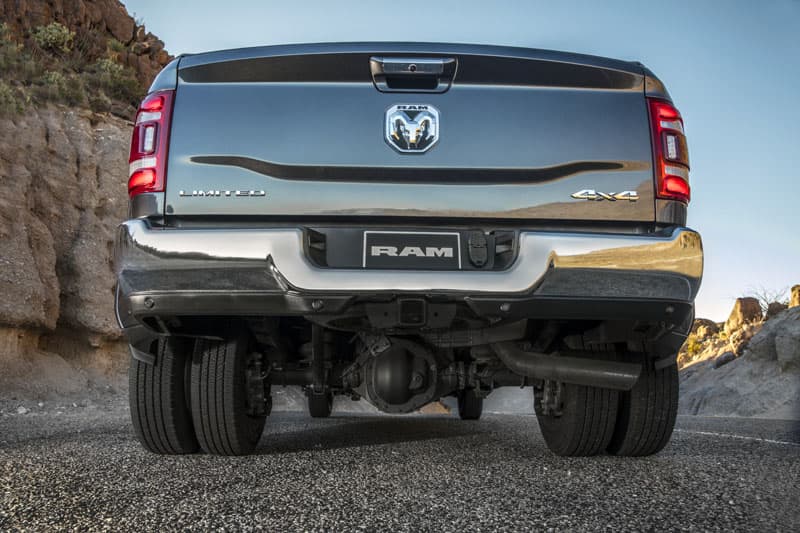 Above: 2021 Ram 3500, dual rear wheels
The single rear wheel versus dually decision is most relevant for one-ton long bed trucks.  There are a few short bed dually options; most notably Ford (discontinued in 2008) and Ram's Mega Cab.  These short bed dual rear wheel trucks are relatively uncommon and will likely require careful measurements and matching and fitment considerations.
If you're looking at a one-ton long-bed truck, the decision between a single rear wheel and a dual rear wheel comes down to the fully-loaded wet weight of the camper you have in mind.
The "fully-loaded wet weight of the camper" refers to the dry weight of the camper, with options, full water, full propane, batteries, and cargo (your gear, food, clothing, etc.).  In our Buyers Guide, every truck camper has a standard wet weight calculation as a good starting point.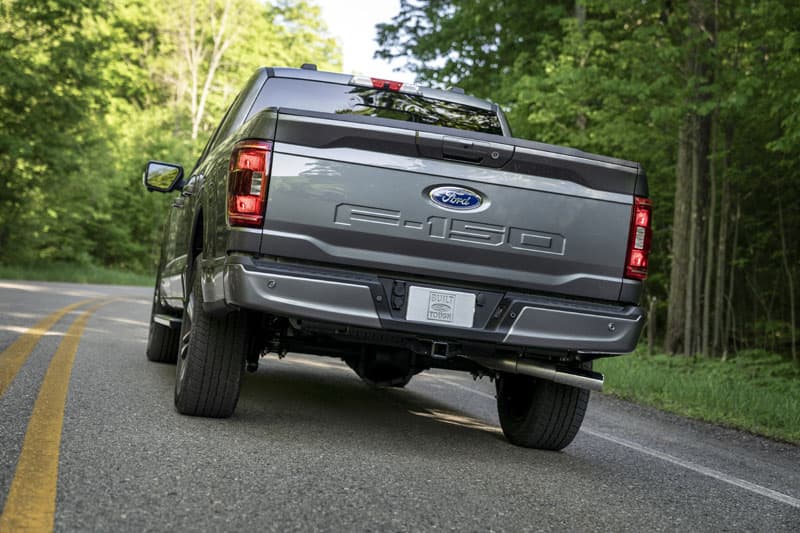 Above: 2021 Ford F-150, single rear wheel
In general, only consider a single rear wheel truck if you're looking for a pop-up camper or a non-slide, hard side camper.  Once fully loaded and wet, most single-slide campers (and some non-slide, hard sides as well) require the capacity of a dually truck.  Any camper with more than one slide absolutely requires a dual rear wheel truck.
Of course, it's not that simple because not all one-ton single rear wheel or dually trucks are the same.  In fact, some older dually trucks have less payload capacity than modern single rear wheel trucks.  A truck's year, make, model, and configuration all impact the GVWR, payload, and towing capacity in dramatic and sometimes unexpected ways.
Once again, don't assume anything.  Get the facts.
TIP: For long bed campers, strongly consider a one-ton (F-350/3500) dually for the best GVWR, payload capacity, towing capacity, safety margin and future truck camper options.  Buy the truck today that will work with the most campers you might want tomorrow.
TIP: If you're buying a full-size heavy-duty truck (F-250/2500 or bigger) strongly consider getting a one-ton (F-350/3500) truck.  Apples-to-apples with features the price difference often isn't as significant as you might believe, but the payload capacity and improved safety margin is.
The Right Truck Camping Truck – For You
If any of this feels overwhelming, that's okay.  In the end, the most important advice is contained in the article, "How To Match A Truck and Camper".  This article and the others mentioned earlier are designed to help you figure out what you want and what you need.  Our "Match" article is there to help you through the most important steps, and make sure you don't wind up with a mismatched rig.
Keep in mind that you may need to bounce around all this information as you go through the process of figuring out what you want, what's available, and what's possible.  You might read this article now, and then come back to it in a few weeks when you realize that you actually prefer the idea of a pop-up camper instead of a hard-side.  Or you might come back after realizing that you're becoming comfortable with the idea of a dual rear wheel truck and want to explore slide-out campers.  That's the process.
If you get stuck or frustrated or just need some inspiration, dive into our lifestyle stories, or start over with the newbie articles.  Better yet, go to your local truck or camper dealer and spend some time with the products themselves.  Chances are you'll be back on track in no time.