Look out Rivian R1T and Tesla Cybertruck.  The Lordstown Endurance and Nikola Badger are fast emerging as serious contenders in the electric pickup race.  Electric trucks are poised to fundamentally change the truck camper and RV marketplace – forever.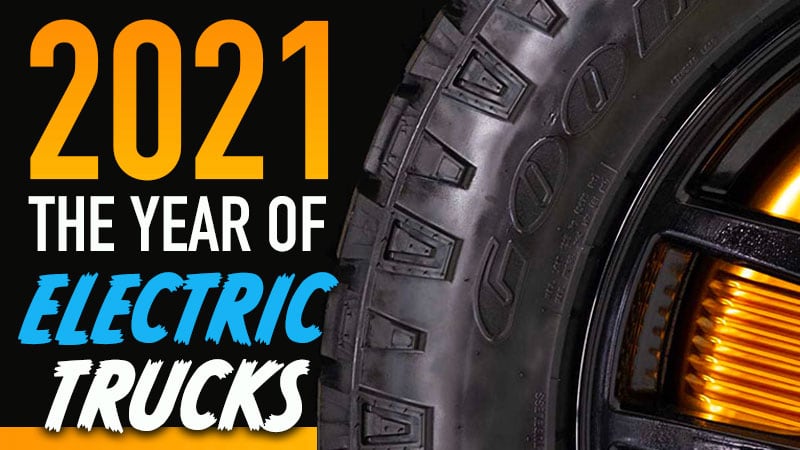 We have been keeping close tabs on developments in electric trucks and a lot has changed since our initial electric pickup coverage featuring the Rivian R1T, Atlis XT, and Tesla Cybertruck.
For automotive enthusiasts, the audacious announcements coming out of these scrappy young companies – and their ambitious founders – is tremendously fun to watch.
All of the electric pickup companies are domestically owned and operated with headquarters, research facilities, and factories across the continent.  To be close to talent and infrastructure, some have placed tech-oriented facilities in Silicon Valley and engineering facilities in Detroit.  Others have blazed fresh trials in areas like Salt Lake City and Phoenix – areas not historically associated with the automotive industry.
It's a very exciting time in electric transportation.   Entrepreneurs and engineers are interweaving rapidly-advancing battery chemistry, complex material science, and self-driving artificial intelligence – all with a healthy dose of old-school gumption, grease, and grit.
Two Front Runners: Rivian and Tesla
The two top contenders in the race to a commercially successful electric pickup truck continue to be the sumptuously-sculpted R1T and the acutely-angled Cybertruck.  Atlis Motor Vehicles announced $1-billion in pre-orders for its Atlis XT in December, but has been relatively quiet compared to leaders Rivian and Tesla.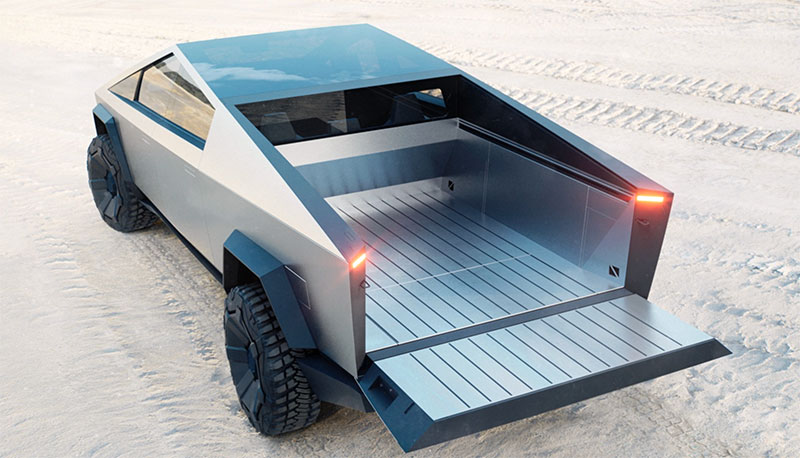 Above: The Tesla Cybertruck prototype debut shocked the truck marketplace in late 2019
Advanced prototypes of the Rivian R1T and Tesla Cybertruck have made their public debut and are backed by serious companies with established manufacturing facilities, management and production teams, and enough capital to ensure they are legitimately coming to market.  Rivan and Tesla are taking preorders for delivery in mid-to-late 2021.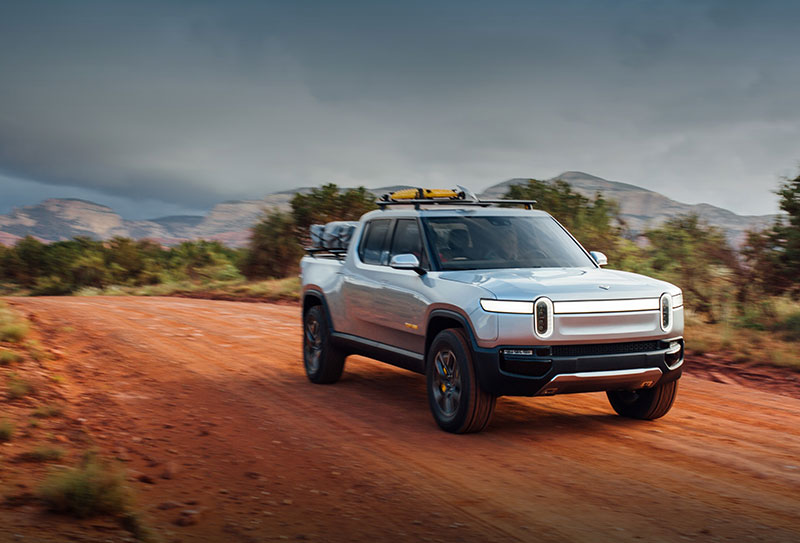 Above: The Rivian R1T electric pickup truck
Truck Camper Magazine dutifully reported on these two electron-powered pickups in 2019.  The Rivian was detailed alongside the Atlis XT in, "Electric Trucks for RVs and Campers" and the Tesla in, "Tesla Electric Cybertruck for Truck Campers".
What follows are close looks at two newer all-electric pickup truck entrants, the Lordstown Endurance and the Nikola Badger.  As you're about to discover, it's far too early to call this horse race.
Lordstown Endurance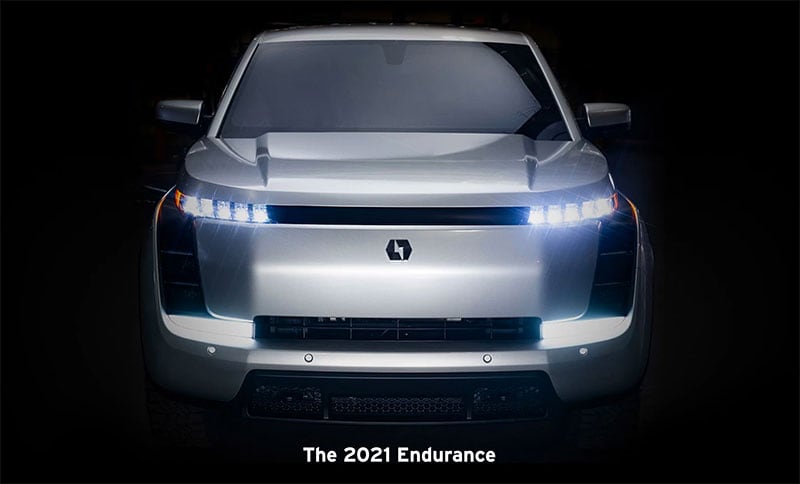 Lordstown Motors wasn't on our radar when we published our first electric truck articles, but it is quite possibly going to be the first electric truck available.  Not the Rivian R1T.  Not the Tesla Cyber truck.  The Lordstown Endurance.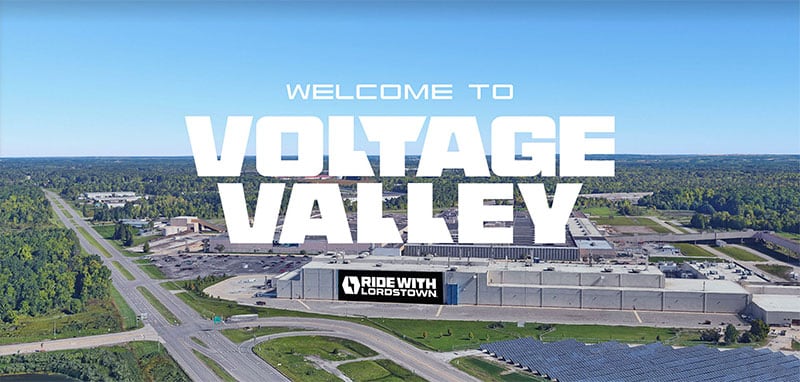 When General Motors closed its Lordstown, Ohio manufacturing plant in early 2019, Steve Burns, Founder of Workhorse Group, purchased the 6.2 million square foot facility with the express intent of launching Lordstown Motors and building electric trucks.  To help make the deal possible, GM loaned Lordstown Motors $40-million.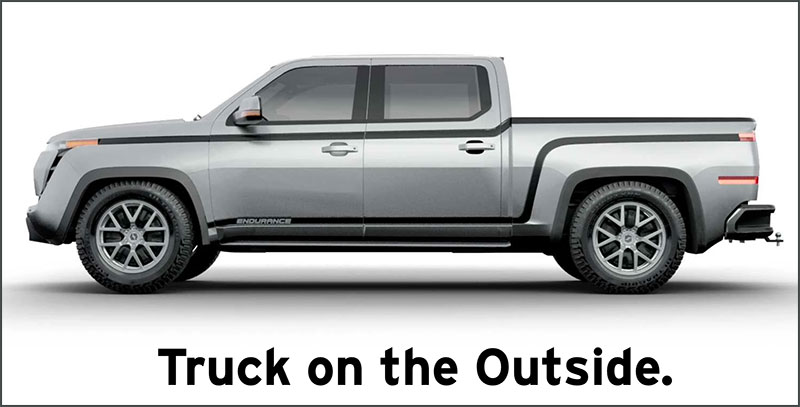 Above: The Lordstown Endurance features a more traditional pickup truck design
Up to that point, the Cincinnati, Ohio based Workhorse Group had been developing an all-electric pickup truck called the W-15.  Immediately after the Lordstown, Ohio plant was sold to Lordstown Motors, Workhorse Group announced a licensing agreement with Lordstown Motors to build the W-15.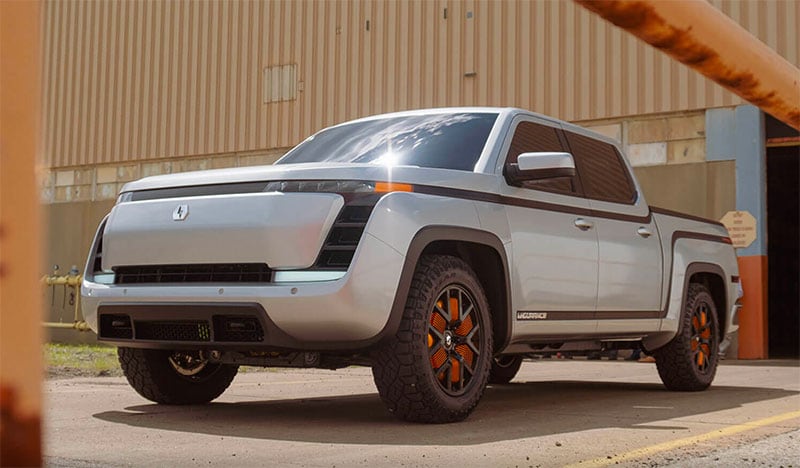 Lordstown was able to get up to speed quickly by starting with the Workhorse W-15 and acquiring the idle GM auto plant.  The Ohio factory has since been retooled to produce the all-electric Lordstown Motors Endurance pickup truck with the promised delivery by next summer.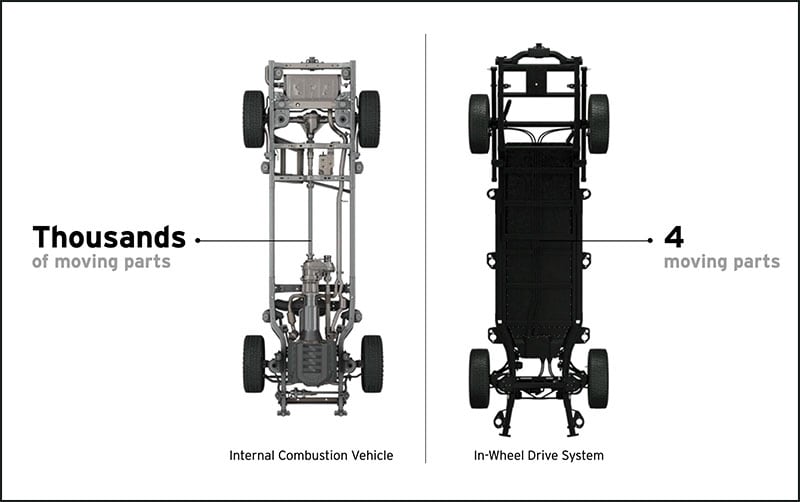 On one particularly blunt website graphic (above), Lordstown shows how the typical internal combustion engine-powered truck has thousands of moving parts, where the Lordstown Endurance has just four.  That's right, four.  There's one in-wheel drive system (electric motor) for each wheel.  That's it.
In fact, the Lordstown team claims the in-wheel motors allow the Endurance to have the least number of moving parts of any motor vehicle.  With fewer moving parts, the Endurance is designed to require less maintenance and a lower cost of ownership.  By its very nature, the technology also means the Endurance has four-wheel drive.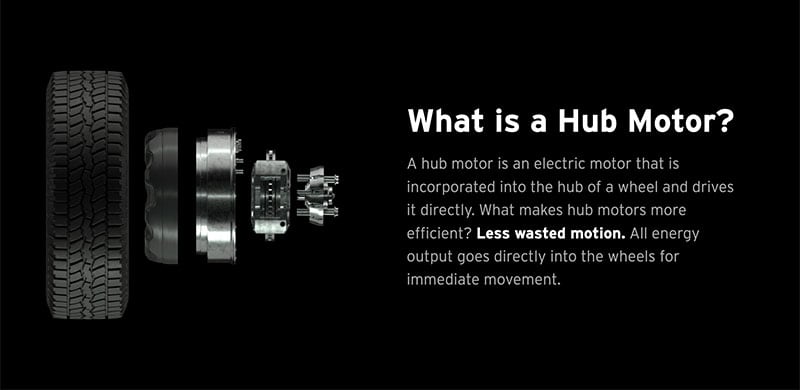 With an in-board combustion engine or electric motor, energy and motion is lost in the gearing and transmission.  In-wheel motors eliminate this loss by directly driving the wheels.  Having the motors located at the wheels also improves the vehicle's center of gravity.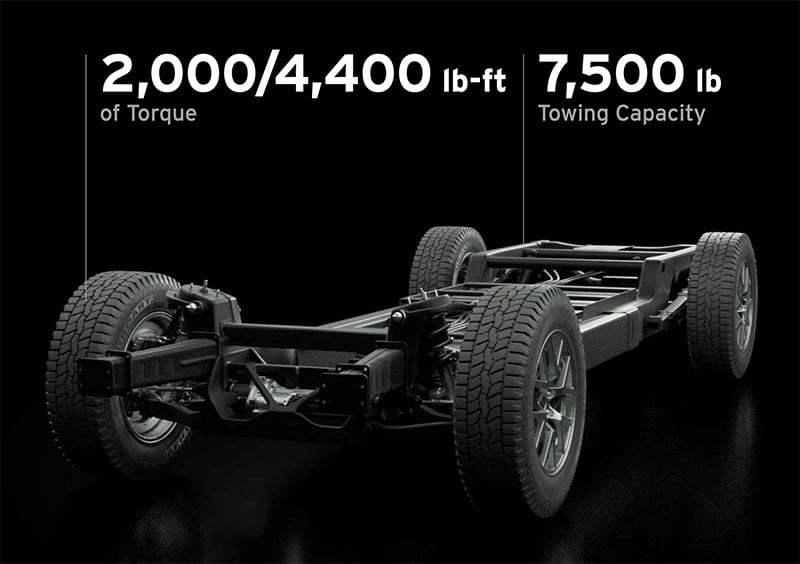 For truck campers, the four-door Endurance is stated to have a 6.5-foot bed, 2,200-pounds of payload, and a 7,500-pound towing capacity.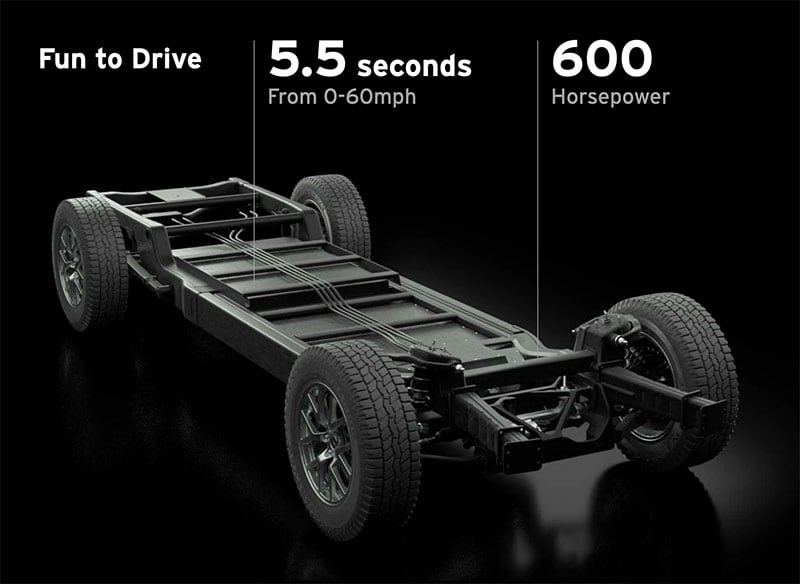 Full specifications of the Endurance are forthcoming, but the Ohio company has reported a 90-kWh battery pack, 250-mile range, 600 total horsepower and a 0-60 time of 5.5-seconds.  We expect more details in the coming months.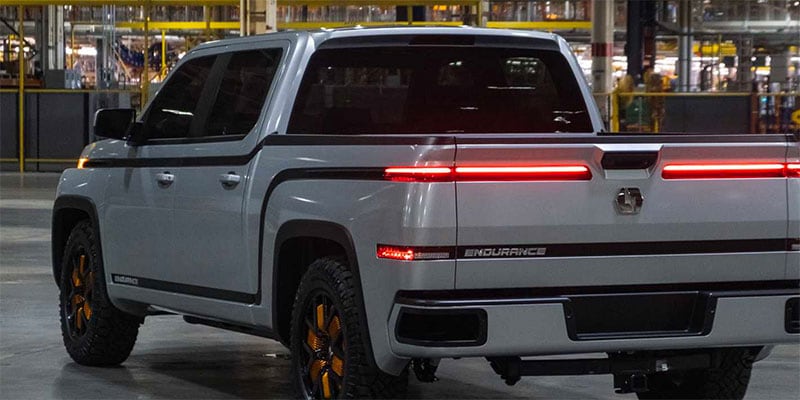 The Endurance has been priced at $52,500 (before a $7,500 tax credit).  The company is accepting $100 preorders for their electric truck on their website.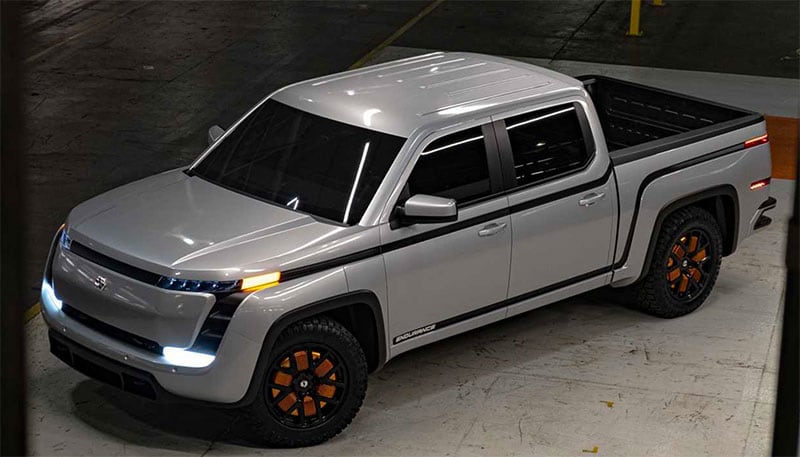 For more information about the Lordstown Endurance, visit lordstownmotors.com.
Nikola Badger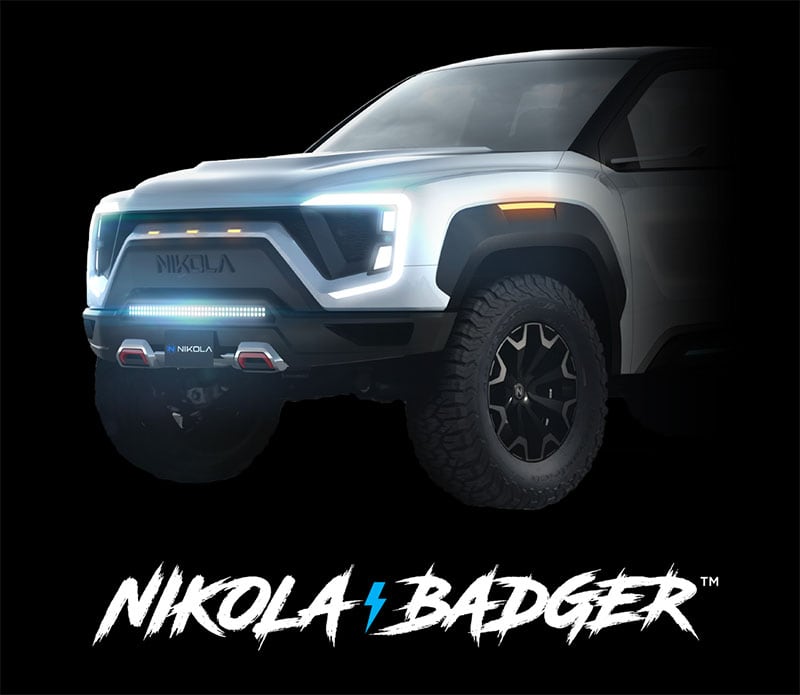 With the announcement of the Badger in June, Nikola Corporation has surfaced as a serious challenger in the electric truck race.  Founded by Trevor Milton in 2014, Nikola Corporation focuses on the development of zero-emission, all-electric, or hydrogen fuel cell vehicles.  In fact, the Badger pickup is planned with the option for all-electric or hydrogen fuel cell systems.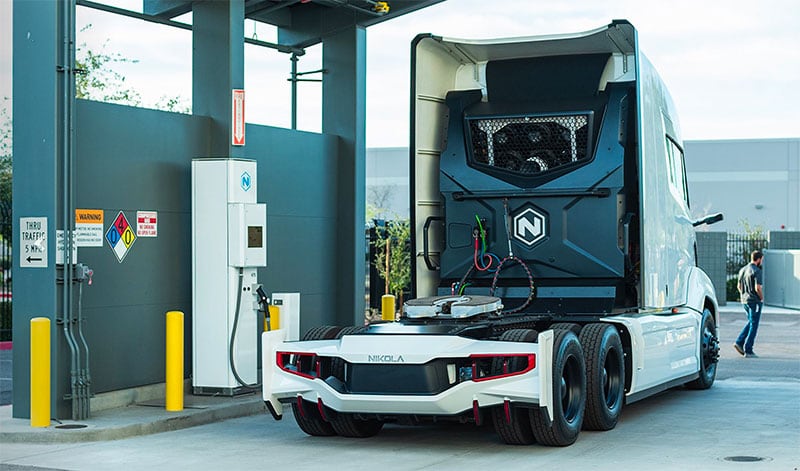 Above: A Nokola hydrogen-fueled electric SEMI refuels at a dedicated station
Prior to the Badger announcement, Nikola was principally focused on a range of three hydrogen-fueled electric SEMI trucks.  For example, the Nikola One is a Class-8 truck powered by 300-kW hydrogen fuel cells.  The SEMI offers 1,000-hp and 2,000 lb-ft torque, enough to power an 80,000-pound full load up a 6-percent grade at 65-mph.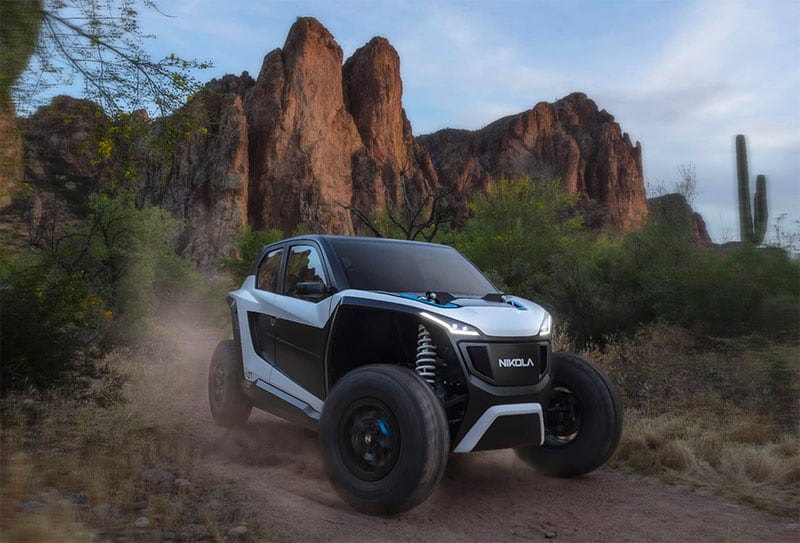 Nikola also has a compelling line of prototype all-electric OHVs (off-highway vehicles) and personal watercraft.  The Nicola NZT (above) looks like a four-wheel UTV for a future James Bond.  With an up to 107-kWh battery, approximately 555-horsepower, and 14.5-inches of ground clearance, the NZT will probably sell as fast as it accelerates – once it's available.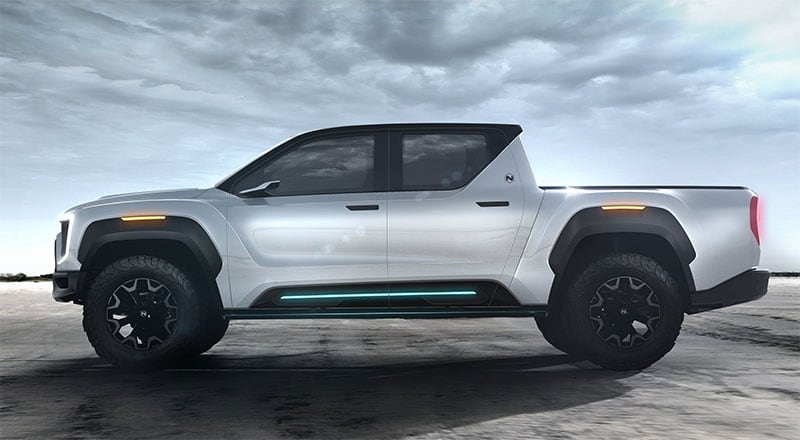 Nikola's website gives some rather remarkable specifications for the forthcoming Badger pickup truck.  In fact, the company has openly stated that their pickup will exceed the capabilities of any other pickup in its class, no matter the fuel type – gas, diesel, or electric.  In the contentious world of pickups, them's fightin' words!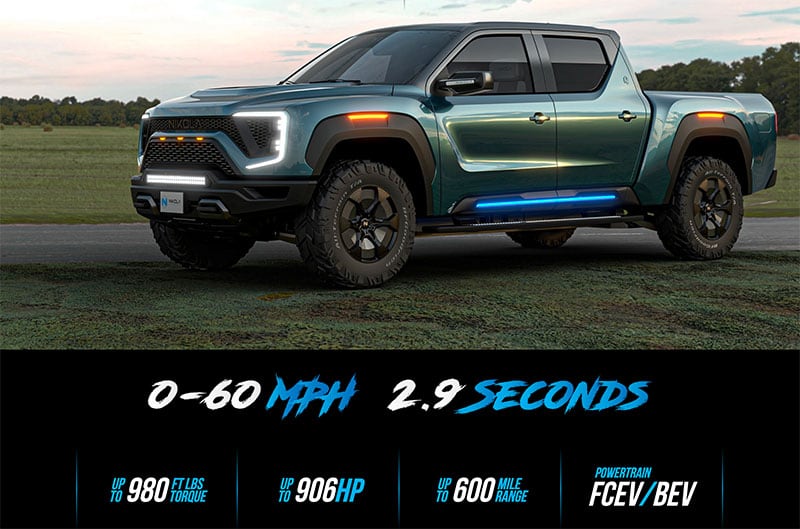 Power is stated at 960-hp with peak torque at 980 ft-lbs.  The 0-60 time is a brisk 2.9-seconds.  Of course, anyone who attempts to accelerate this fast with a loaded truck camper will likely leave half their rig where they started.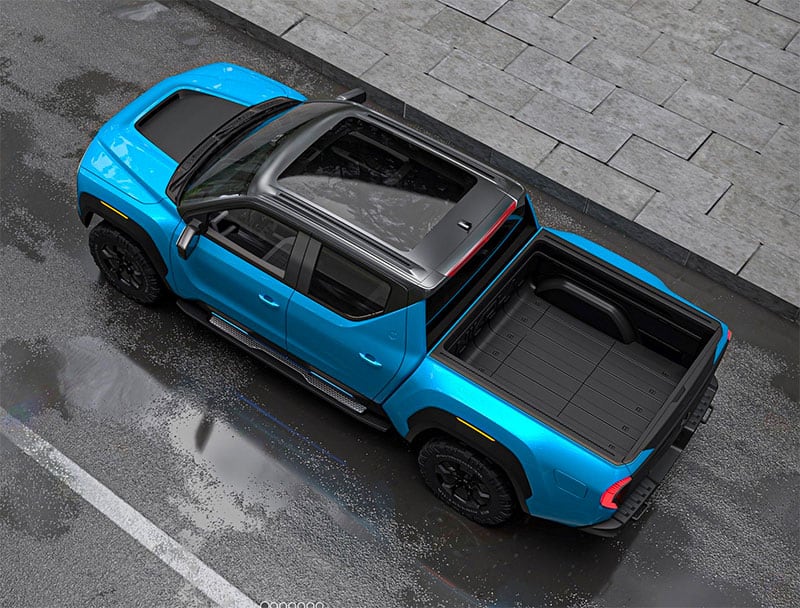 With two possible powertrains, the range of the Badger is either 300-miles for the BEV (Battery Electric Vehicle) or 600-miles for the FCEV (Fuel-Cell Electric Vehicle).  The FCEV is a 129-kW variant with 8-kg of hydrogen.  Towing capacity is 8,000-pounds with no mention of payload capacity or bed length.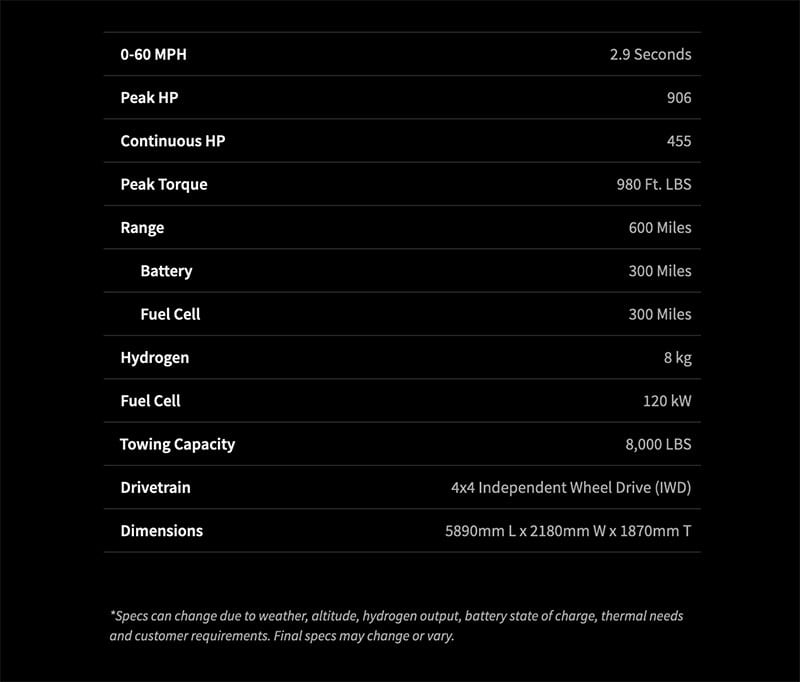 An asterisk under the official Badger specifications (shown above) deserves attention.  It reads, "Specs can change due to weather, altitude, hydrogen output, battery state of charge, thermal needs and customer requirements."
Put another way, we all have a lot to learn about the behavior and capabilities of these new trucks once they are in the real world.  That's the challenge, and the opportunity, of emerging technology.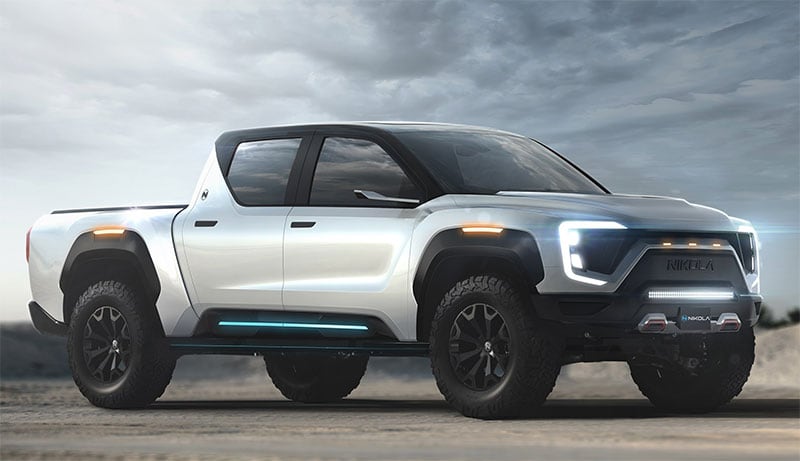 The Badger has been priced between $60,000 and $90,000 (before a $7,500 tax credit) depending on the selected battery.  Nikola is accepting preorders with an interesting twist.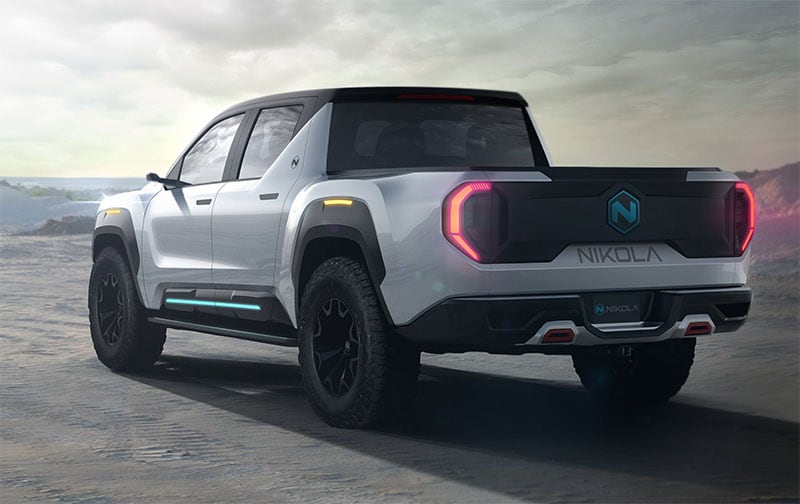 You can opt for the $1,000 deposit Predator Package that includes $1,000 off the purchase price of a Badger truck, two tickets to see the Nikola Badger at Nikola World 2020, and five entries to win a Nikola Badger giveaway.
Or you can opt for the $250 deposit Instinct Package that… you get the idea.  Nikola offers levels of commitment tied to exclusive offers, just like a Kickstarter project.  The limited $5,000 Honey Badger package – with trucks signed by the Founder – is sold out.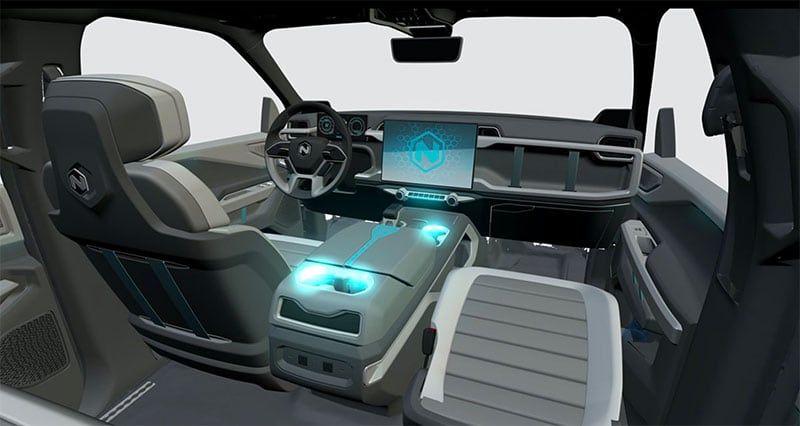 Above: A rendering of the Nikola Badger's interior
To be clear, none of Nikola's products are currently in production.  However, the prototypes and related technology appears to be highly developed.  Nikola is also well funded with publicly traded stock that rocketed almost immediately.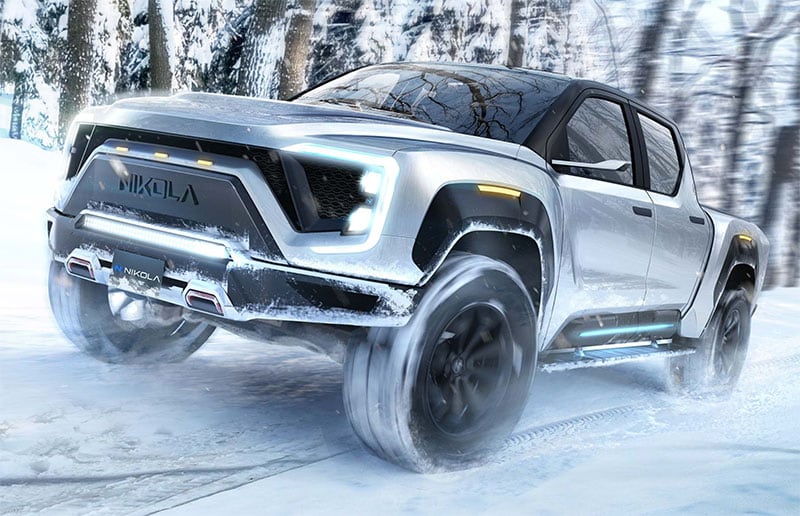 Crazy?  Maybe, but look at Tesla (stock ticker TSLA).  Tesla stock was in the mid-20s in 2012.  Now it's closing on $2,000.  Yeah, that happened.
For more information about the Nikola Badger, visit nikolamotor.com/badger.
More Electric Trucks We're Watching
As we continue to monitor the progress of Rivian R1T, Tesla Cybertruck, Lordstown Endurance, and Nikola Badger, we're also watching some additional players in the emerging electric truck market; GMC Hummer electric, Ford F-150 electric, and the Bollinger B2.
If all of these electric pickups make it market, we could have at least a half-dozen viable electric trucks to choose from by 2022.  And that's not including additional model announcements we are sure to see from General Motors, Ford, and Ram and whatever is in Elon's basement.
I'd bet my original, "Ella and Louis" Verve LP pressing that we'll also see an all-electric Ford F-350, Chevy 3500, and Ram 3500 within 3 to 5 years.  Ready or not, electric trucks are coming.