Above: You can see the ghosting on the front nose of our rig (before picture)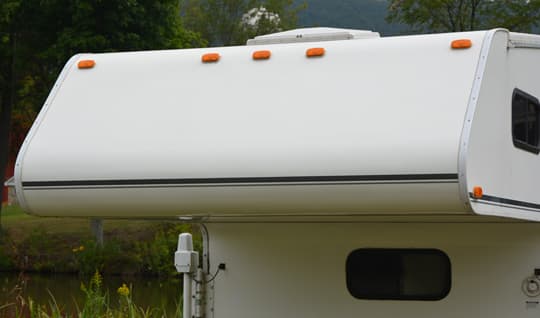 Above: After using Meguir's Oxidation remover took away the ghosting
After some research, we determined that the best solution for this ghosting was a heavy duty oxidation remover for marine and RV applications by Meguiar's.
The theory was to remove the oxidized yellow haze from the surrounding filon so it would essentially match the whiter and brighter ghosting areas.  After all, the ghosting showed us not only how white our camper filon had once been, but also how faded and yellow our camper had become from eleven years of exposure to the sun and elements.
Filon is a composite material consisting of a thermoset polyester resin and chopped fiberglass strands.  The surface of filon features a gel-coat designed to be resistant to dents, tears, scratches, and corrosion.  It's this gel-coat exterior that fades and oxidizes over time.  Oxidation is a deposit that forms on the filon as the surface chemically reacts to oxygen.  Our filon had become cloudy and foggy due to this natural oxidation process.
Wax On, Wax Off, Daniel Son!
As many of you know, we live in a HOA community and are not allowed to work on our camper at home.  For the deoxidizing, we visited friends, John and Marylou Wells, at their Pennsylvania farm.  They're HOA free and provided a beautiful setting, not to mention excellent weather.
For an entire day, we used the scour side of about a dozen blue kitchen sponges and an entire bottle of Meguiar's oxidization remover to deoxidize the camper filon.  Right before our eyes the sponges, the Meguiar's, and circle after circle of elbow grease transformed our camper.  Karate Kid's Mr. Miyagi would have been so proud.
Above: Here we are deoxidizing at John and Marylou's farm
The trick was to pour a line of Meguiar's oxidization remover onto the rough side of the scrubbing sponge and gently scrub the filon in circles.  The yellow oxidation haze came right up as did any remnants of the brand decals.  It was great to see the yellow color give way to a whiter and brighter filon exterior.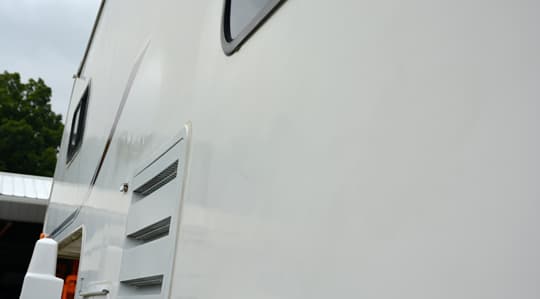 Another important trick was to wipe off the Meguair's oxidation remover with a cloth before it dried.  For this purpose, we had two packs of microfiber cleaning cloths and made sure to use fresh cloths when they got caked with the oxidation remover.
Once we were done, the ghosting was about 99% removed by our Karate Kid cleaning.  The ghosting is still there, but only if you look at our camper from a certain angle, in the right light.  Most of the time, all you see is a nice white camper.  The Meguair's worked like a charm, and we are very pleased with the results.
Seal Team Sikaflex 715 and 521
With the decals removed, and the filon de-oxidized, the next step was to caulk and seal our camper.  Having been to all the factories, we knew we wanted to use Sikaflex 715 for our TPO rubber roof, and Sikaflex 521 for the exterior filon.
Sikaflex was first brought to our attention by Bob Mehrer of Snowriver in 2007.  Bob had tested various sealants and had concluded that Sikaflex was the best.  In 2010, Mony Penn of Eagle Cap had also tested Sikaflex and was using it exclusively on Eagle Cap campers for the same reason.  Other industry veterans over the years had told us much the same; Sikaflex was expensive, but worth it.
TIP: In our, "Ask the Expert: Maintaining Camper Seals" article, Mike Kernagis, Service Manager for Palomino RV, recommended Dicor self-leveling sealant for TPO rubber roofs, and Geocel MHRV for exterior filon.  Dicor and Geocel are what most RV manufacturers use at their factories and are less expensive alternatives to Sikaflex.
Help From Hallmark RV
Over the years, we have observed dozens of people caulking and sealing truck camper roofs and side walls but had never actually done it ourselves.  For expert advice on how to properly caulk and seal our truck camper, we went to Bill Ward, President of Hallmark RV.