World traveler, Ron Moon, explains why he keeps leaving his Four Wheel Camper all over the American continent.  Maybe we all need two truck campers.  Or three?

For his interview, Ron cautioned us about the idea of, "Someday".  Admittedly, we are as guilty of saying, "someday" as anyone might be.  Someday we'll live full-time on the road.  Someday we'll take a truck camper to Baja.  Someday we'll stop interviewing people about driving to Alaska, and do it ourselves.  Someday…
Ron says stop the "someday", and set a date.  You have to admire the simplicity and directness of this idea.  Instead of saying, "Someday I'll buy a truck camper and travel", try saying, "On October 1st, we're going to load our new camper on our new truck and drive out west for three months visiting national parks".  Doesn't that feel good?  Now we're actually going to make this happen!
Of course Ron's personal "someday" list is enough to make most of us run to the sofa to watch television.  He's not talking about seeing Yellowstone folks.  Ron's aim is multi-national, cross cultural, and going the distance.  Try saying, "Next October I'm going to fly to Australia, buy a truck and camper in country, and spend a year down under".  Did that make you freak out a little?  Or are you beyond excited about that plan?  Admittedly, we are both.
Fortunately, Ron has some answers on that front.  He and his wife, Viv, have become experts on traveling from continent to continent and exploring the natural wonders each destination has to offer.  Even better, Ron reveals some of his best advice on exactly how this type of adventure travel is accomplished.  Scared out of your mind?  He's got that covered too.
Stop the somedays.  Set a date.  The world is waiting.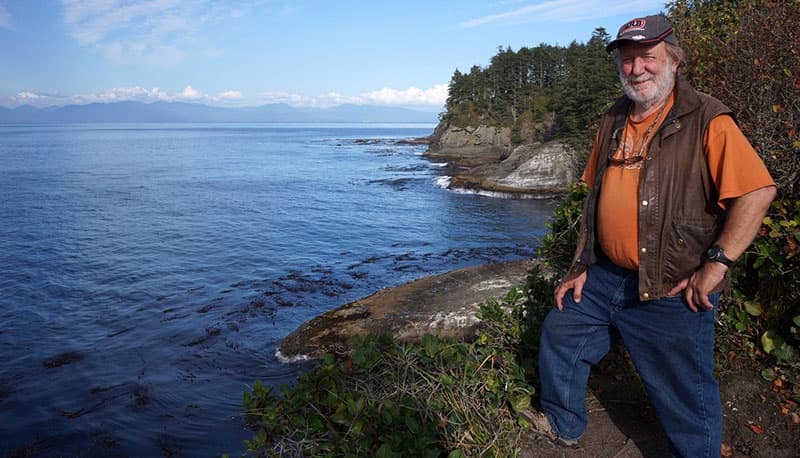 Above: Ron Moon, Cape Flattery in Washington
TCM: Your world-wide travel experiences are extensive.  Can you give us a top line of where you've been and how you ended up exploring the United States, Canada, and Mexico?
Ron: In 2007, after numerous trips there, we shipped a vehicle to Africa and stayed ten months.  We've been back five time since then.  In 2008, we traveled through Russia, Mongolia, and Kazakhstan.  We have also traveled through Europe, but – without many wild areas to explore – it doesn't have the same appeal.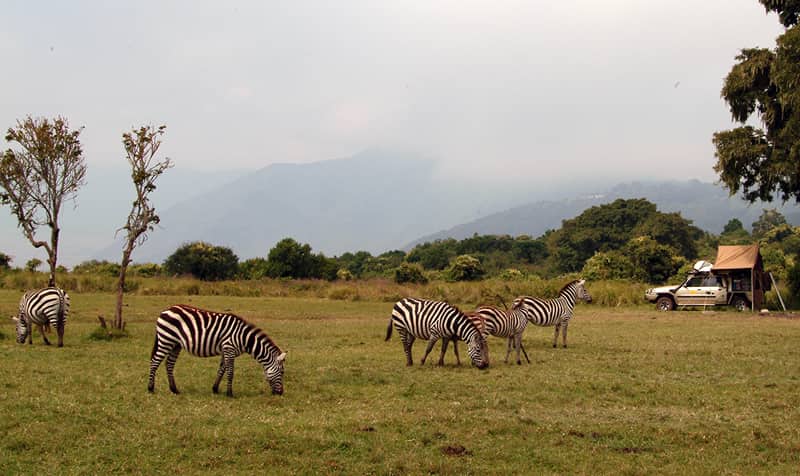 Above: Ngorongoro National Park, Tanzania, Africa
In 2011 we decided to visit the Americas.  We shipped our rig to South America and traveled to the southern most point and then wandered up to San Diego.  As is our pattern, we left that vehicle in storage, went back to Australia, and then returned six months later to drive up to Prudhoe Bay, Alaska.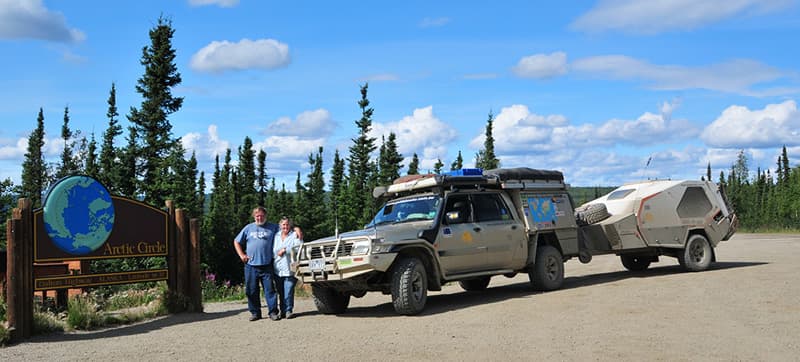 Above: Their roof top tent and trailer at the Arctic Circle
TCM: The concept of purchasing a rig on another continent and leaving it there for exploration is fascinating.  Why not just keep using the vehicle you initially imported from Australia?
Ron: A foreign vehicle is only allowed in America for 12 months, so we decided to ship our first truck back home and purchase an American vehicle and keep it there.  We basically had a pickup with a canopy and a rooftop tent.  Through South America and North America we also towed a trailer with sleeping quarters.
For our next rig, we wanted something that would stay in North America.  Our goal was to travel off the beaten bath and explore two track dirt and gravel roads.  That's what led us to a truck camper.  We liked Four Wheel Camper because of their small size, low weight, and proven durability.