Jorn and his wife, Haichong, quit their jobs, sold their house, downsized to a truck camper, and then hit the road full-time to explore North and Central America.

Ladies and gentlemen, please be careful with this story.
Reading about Jorn Vangoidtsenhoven and his wife, Haichong, may have you thinking seriously about telling your boss where to go, and how to get there.  You may be tempted to email a real estate agent with the simple message, "Sell it, buster".  The next day you'll be giving friends and family furniture, knick knacks, and your extensive "Freeze Dried Cheeses of the World" collection as you pare down to the essentials; eight cases of peanut butter, six pairs of underwear, a tooth brush, and a ready-to-roll truck camper rig.
Yes, this is the moment you've been waiting for your whole life.  Freedom at last!  No more work.  No more cleaning the house.  No more organizing that increasingly stinky cheese collection.  You're free, and ready for adventure from coast-to-coast, sea to shining sea, and beyond.  Oh happy day!  Let's go truck camping!
As you can see, this story had little to no effect on us.  Honest.
Perhaps the most incredible part of this story is that it's true.  Jorn Vangoidtsenhoven and his wife really did quit their jobs, sell their house, purge their stuff, buy a truck and camper, and go full-time.  Then they had the courage to explore Central America this past winter, and Alaska this summer.  That's right, while you've been doing who knows what, these two have been exploring the beaches of Mexico and spotting bears in the Alaskan wilderness.
Like we said, be careful with this story.  It's inspiration overload.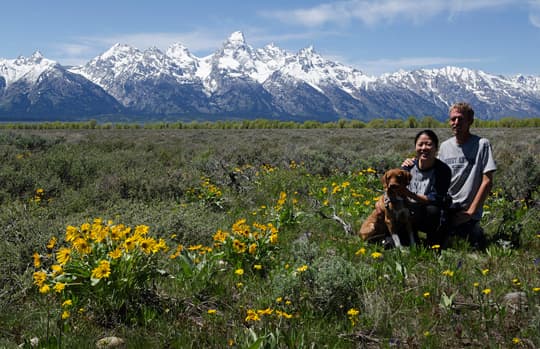 Above: Jorn and Haichong in Grand Teton National Park, Wyoming
TCM: How did you get into truck camping?
Jorn: Our first RV was a twenty-two foot Airstream travel trailer.  On many occasions with the Airstream, our rig length was a problem.  For instance, when we spotted wildlife close to the road and wanted to stop for a picture, it was often difficult to quickly find a spot, and pull-over.  Having the travel trailer meant we couldn't simply stop anywhere.  After that experience, we wanted a more flexible camping solution.
When we decided to take a long road trip into Central America, we didn't want to tow a travel trailer.  First, the old colonial towns have narrow roads.  Second, we wanted to explore remote areas and beaches.  Our travel trailer wouldn't work for this kind of trip.
A truck camper was the perfect solution.  It's big enough to have all the comforts that you find in a travel trailer, and small enough to stick on the back of the truck.  With the truck being four-wheel drive, we could explore everywhere we wanted to go.
TCM: That certainly makes sense, but how did you get the idea to go full-time?
Jorn: My wife and I lived in Austin, Texas for eleven years with full-time jobs and schedules.  Life is too short to spend on work alone, so we decided it was time for a break.  We would use this break to see more of the big world we live in.
We thought about it for a few years before actually taking the plunge.  Then, in the Spring of 2013, we quit our jobs, sold our home, and moved into our truck camper.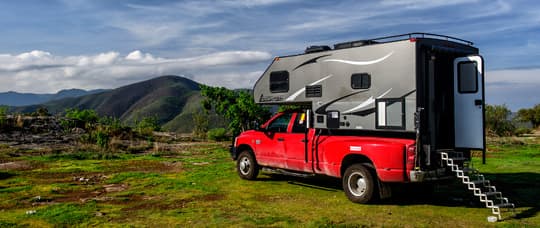 Above: 2008 Ram 3500 truck and 2014 CampLite 8.6 at Hierve el Agua, Chiapas, Mexico
TCM: That was quite the risk.