TCM flies to LaGrande, Oregon for a travel adventure in a 2012 Wolf Creek 850.  But before we get there, there's a pot, a colander, and the TSA.

This past Winter, we were talking on the phone with Lance Rinker, Northwood Manufacturing's Director of Materials and Marketing, and Rich Zinzer, Marketing and Graphics, about how we would really love to come out and see their new Wolf Creek truck campers in production, but that we would not be driving cross country again for at least two years.  "How about we fly you guys out for a little adventure in our new Wolf Creek 850?" asked Rich.  Angela and I looked at each other and said, "That sounds great".  And just like that, a whole new door opened for Truck Camper Magazine; fly-in and go truck camping adventures.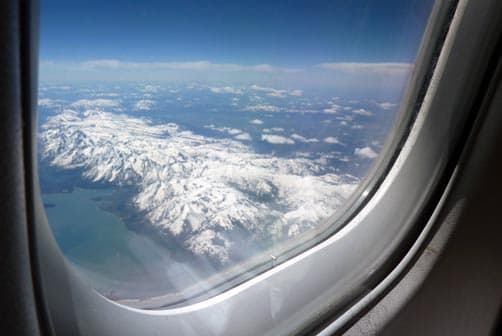 The mission was to fly to the Northwood factory, pick up a truck and 2012 Wolf Creek 850, attend the annual Northwood RV Owners Association (NROA) rally, and explore Oregon and Northern California for two weeks.  We would write about our experiences and document our impressions of the Wolf Creek 850 along the way.  Hey, it's a tough job, but someone's got to do it!
What follows is a report of our first four days with Northwood Manufacturing including the NROA Rally, a shake down cruise to Hells Canyon in the 2012 Wolf Creek 850, and a few more things you'll just have to read to believe.  The rest of our Wolf Creek truck camping adventure will publish next month.  The photography at Crater Lake National Park alone is well worth the wait.
DAY 1
Packing Particulars, and a Pot
Packing for this trip was especially interesting as we had to board a plane with almost everything we would need for two weeks in a truck camper.  While Northwood would provide us with truck camping essentials including a sewer hose, water hose, propane, and batteries, we would needed to bring at least one cooking pot, kitchen utensils, cups, dishes, silverware, bedding, pillows, and towels.  You know, normal suitcase items.
I'm skipping ahead a bit but, as we unpacked in Oregon, Angela found a friendly TSA note in her suitcase informing her that they had inspected her luggage.  I can only imagine the looks on the TSA officials faces as they pulled a pan out of her suitcase.  Did they keep their stern demeanor when they found our spatula?  Or our colander!  And our cooking mitt!  I wish we could have been there to see that.
The real irony is that my checked-in luggage, a black bag no less, had a large metal tripod that looks like a mini-gun when held as such.  Did the TSA inspect my black bag?  Nope.  They went right for the cooking ware.  What a world we live in.
Doug Karr: Name That Camper
A few minutes after we stepped off the plane in Boise, we met Doug Karr, aka Northwood's Truck Camper Guy.  Doug was kind enough to drive three hours from the Northwood Manufacturing plant in LaGrande to pick us up.  Thank you Doug.
As we drove back to the factory, we must have passed a couple dozen truck campers.  With a passing glance, and at considerable distance, Doug could name the year, make, and model of every one of them.  Now some of these truck campers were thirty years old and made by companies that haven't been in production in decades.
When Doug named the exact year, make, and model of one camper that passed us, Angela asked, "How did you know that?".  Doug immediately answered that there was a window in the back where the dry bathroom was, it was clearly a long bed, and the aluminum stripe was a color that the company had only used for a specific model year.  In other words, he knew.  That's just one reason why Northwood calls him, "The Truck Camper Guy".  We were impressed.
Meeting the Wolf Creek 850
Upon our arrival at Northwood, there was our 2012 Wolf Creek 850 on a 2003 Chevy Silverado 3500 dually diesel.  The fresh tank was full, the batteries were charged, the refrigerator was running, and everything was ready to go.  Well, almost.
Northwood's customer service department had recently provided a customer a Torklift turnbuckle to replace one they had lost.  Unfortunately, Northwood had yet to replace said turnbuckle and we were now looking at a rig with only three turnbuckles.  What do we do?  We're a turnbuckle down!  Oh the horror!
A quick phone call to Jay Taylor, Torklift's General Manager, and a Fastgun was overnighted to us, along with some other goodies we'll talk about in a future installment.  Thank you Torklift.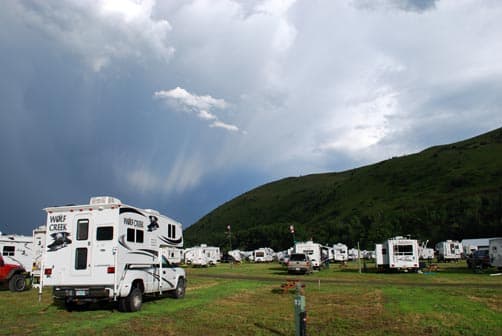 Hot Lakes Campground and the NROA
Before we got the fourth Torklift turnbuckle, we had to get to Hot Lakes Campground for the evening.  Doug fixed us up with a temporary turnbuckle solution, which was okay for driving a few miles down the road to the campground.
When we pulled into Hot Lakes Campground, we immediately recognized Alice and Gary's Arctic Fox 990 rig.  We first met Alice and Gary in 2007 at the NATCOA Fintry Rally near Kelowna, British Columbia.  Since then, we have become good friends and visited their home in Portland twice.  Anyone who doesn't make great friends with fellow truck campers just isn't trying.  We love our truck camping community!
We talked with Alice and Gary, hopefully coherently, for a half hour or so.  Honestly, I have no idea what I said because we had been traveling by car, plane, and minivan for over eighteen hours by that point.  It was time to lay down before we fell down.  We crawled into the overcab of the Wolf Creek 850, and went to sleep.  Good night.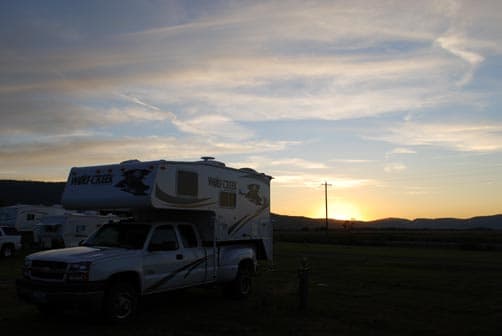 DAY 2
Shakedown in Hells Canyon
After waking from what could only be described as a mild coma, we were ready to go.  I mean we were really ready to go; bright eyed and bushy tailed, at 6:00am!  How can this be?  Well, we were still on Eastern Standard Time.  To us, it was 9:00am.  You've got to love jet lag.  Add that to my rant, "Flying Is for the Birds".
On the itinerary for day two was a shake down cruise with the Wolf Creek 850.  Lance and Rich wanted us to take the camper out for a day before we set out on our eleven day excursion.  Should there be anything wrong with the camper, we would be at the factory to address it.  This seemed somewhat ridiculous to us after watching Northwood's comprehensive quality control measures last summer; see "2010 TOUR: Northwood Manufacturing".
Never the less, a shake down cruise to Hells Canyon didn't sound so bad.  But before we set out, we stopped by Thunder RV in LaGrande where our Torklift shipment had already arrived (now that's fast).  While we were there, we talked to Dan Woollard, Owner of Thunder RV.  He was preparing to go on his own truck camping trip in an Arctic Fox 1160.  We asked him to take lots of pictures so we can do a follow up with him down the road.  It's always good to see members of the industry go truck camping.
The East Coast Wave
With four Fastguns on, we set out for Hells Canyon.  On the way we stopped by a fuel station to fill with diesel.  As is our routine when there's no card reader, I hopped out and went in to give them our credit card.  The guy behind the counter looked at me funny and said, "He'll give you a little white sheet of paper.  Bring that in to pay".
What the heck was he talking about?  Then it hit me.  I'm in Oregon!  They don't let you pump your own fuel here.  As I walked back to the camper, there was Angela with the window down chatting it up with the fuel attendant.  In one hand she had a little white paper.  Oregon, you got me.
From there we headed south and east for a counter clockwise loop that took us through Baker City, Richland, and Halfway.  Along the way, we passed more truck campers then you can shake a stick at.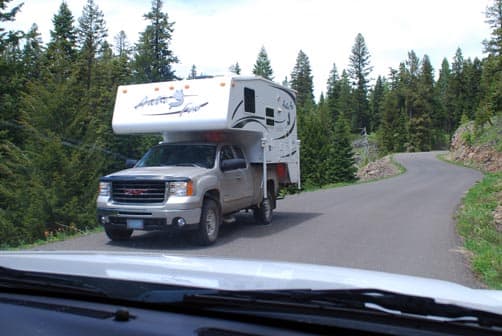 As East Coast truck campers, we were waving at the other truck campers expecting the customary wave back.  It didn't take long to realize that none of the other truck campers were waving back at us.  I guess truck campers are just too common around these parts to bother waving.  There probably are a few truck camping folks in Oregon who think we're a couple of wacky wave happy yahoos.  Oh well.  On the East Coast, we wave.
Mell's Irish Canyon
About three hours after we left Northwood, we arrived at Hells Canyon Overlook.  Somehow, both Angela and I had expected this dark red, steep and menacing hole in the Earth ready to swallow anyone who stood too close to the edge.  I mean this is Hells Canyon right?  There should be fire and brimstone, or at least some red dirt, or something.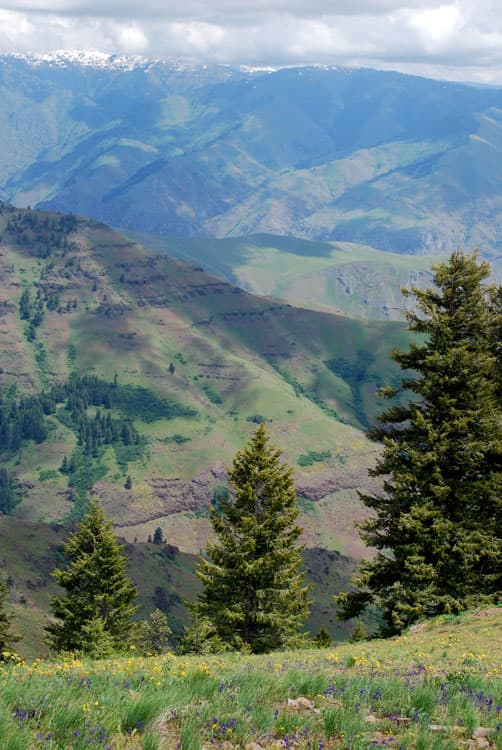 As it turns out, Hells Canyon was lush with green grass and trees and looked more like humongous rolling hills than anything the devil would design.  My theory is that it was supposed to be named Mell's Canyon, after someone named Mell (whom I just made up), but there was a bad phone connection to the U.S. Canyon Naming Department that day.  It could have happened.
After being a bit disappointed by the overlook, Angela pointed the truck towards the beginning of a twenty-six mile dirt road through the floor of Hells Canyon.  Now we'll see some fireworks.  Surely the red dude himself will be there to give us an off-road torture test worthy of a truck camper.  This would be an adventure, no doubt.
Well, not so much.  The dirt was more like well packed gravel.  We did see lots of cows and a dozen peacocks, but no trace of brimstone.  The really interesting part is when both Angela and I started to think Hells Canyon looked like Ireland with it's endlessly green rolling hills.  Of course neither one of us has actually been to Ireland so that was really just a bunch of hooey.  The drive was quite beautiful, stunningly so at times, despite the false advertising.
Outlaw Restaurant and Devil Cows
Once Hells Canyon was in our rear view mirror, we headed to Wallowa Lake for a few pictures.  We had visited Wallowa Lake last summer and can't recommend the incredible Wallowa Lake Tramway highly enough, unless you're afraid of heights.  Even if you are, the view, the chipmunks, and the restaurant at the top are worth it.
By this point, it was dinner time.  We took our pictures with Lake Wallowa and drove into Joseph for dinner.  There we stopped at the Outlaw Restaurant and Saloon and had a fabulous steak and potatoes dinner and some incredible homemade ice cream.  Now that's living!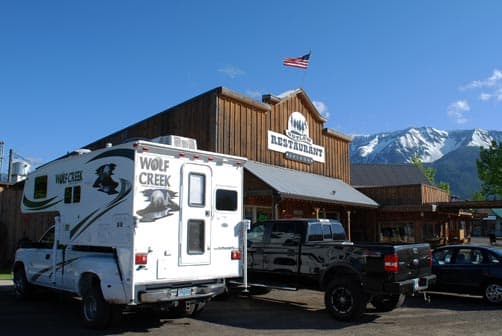 It took us about two hours to drive from Joseph back to LaGrande.  Along the way, we soaked up more beautiful scenery.  When we stopped to take some pictures, I finally noticed something had changed about our camper.  What the…
While we were transfixed by the greenery at Hells Canyon, we weren't noticing what the cows were doing to our camper.  Or should I say doo-ing.  From one end to the other, our camper was coated in greenish-brown cow pucky.  Those bovine devils got us, and got us good.  And once again we had taken a brand new camper, and promptly soiled it.  Perhaps we should change our tagline to, "Go Anywhere.  Through Anything".  At least we now we know why it's called Hells Canyon.  Watch out for the cows.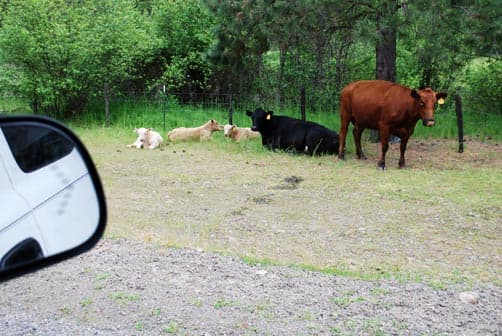 DAY 3
Northwood Factory Tour with NROA
We woke up the next morning with one goal in mind; we need to clean off the cow garnish!  Okay, first we published the story, "Mike Tassinari: The North-East Truck Camping Jamboree", and then we drove to Northwood to wash the rig.  With a hose and brush, we entertained the Northwood team as we washed cow poo off our camper, and onto their parking lot.  Hey, what's the media good for if not a lot of bull, ah, stuff.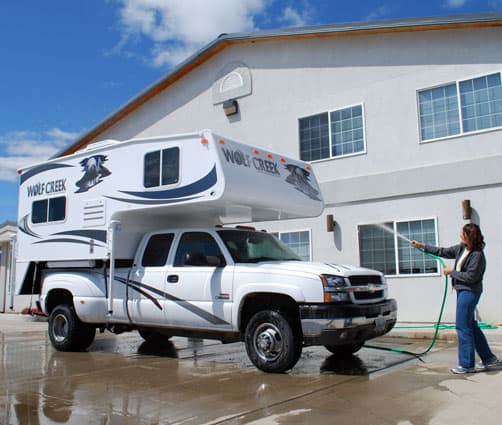 So, did we find anything wrong with the camper during our shakedown?  Nope.  Negative.  Nadda.  Niltch.  In fact, we never found one thing wrong with our Arctic Fox 865 for the entire year we had it either.  Not one thing.  And you can quote me on that.
At 1:00pm, it was time for the Northwood RV Owners Association tour through the Northwood factory.  Doug took one of two groups from the rally into the framing and lamination building.  We followed Doug's group and were very excited to see almost everyone we met last summer still at the same posts.  In fact, most of the same people were at the same posts since our first visit to Northwood in 2007.  That kind of retention through the recession is very impressive.
When Doug took the group into the travel trailer building, we veered back to the truck camper building.  There we saw a full run of Wolf Creek truck campers coming down the same production line used to build Arctic Fox truck campers.  In fact, Wolf Creek campers also share the same production team as the Arctic Fox line.  Mick Pickler, Northwood's Camper Production Manager, told us that Wolf Creek campers go through exactly the same three-stage quality control that Arctic Fox does.
A few minutes later, Doug brought the tour group into the truck camper building.  Doug then reminded us of what separates the Wolf Creek line from the Arctic Fox line.  First, Wolf Creek has one-inch aluminum framing where Arctic Fox has two-inch aluminum framing.  Second, the Wolf Creek line is exclusively non-slide models where the Arctic Fox is almost entirely slide-out models.  And finally, the Wolf Creek line comes well equipped, but not nearly as fully featured as the Arctic Fox line.  As Doug likes to explain it, "Arctic Fox is like Cadillac.  Wolf Creek is like Chevy".
DAY 4
Eat, Win Prizes, and Rally!
On Saturday, we slept in and had a lazy morning.  The only thing on our itinerary was to enjoy the Northwood RV Owners Rally.  Best of all, Northwood Manufacturing was having their annual chicken and ribs barbeque and give-away bonanza.  Our truck and camper would stay parked all day.  It's time to eat, win prizes, and rally!
LEFT: Jim Jones, CEO; Lance Rinker, Director of Materials and Marketing; Keith Williams, Director of Manufacturing; Donald Cochran, National Director of Sales; and Ward King, COO
RIGHT: Angela White, Editor of TCM; Scott Van Nice, District Sales Manager/Office Manager; Jim Baehmann, District Sales Manager, Northwest; and Brad Clark, District Sales Manager, Canada
The barbeque was delicious.  After the feeding frenzy, it was time for the give-away.  How Northwood's rally give-a-way is conducted is quite clever and may be of interest to other truck camper rally organizers.
First, Northwood makes sure there is at least one prize for every campsite.  Each campsite is given one ticket and the tickets are put into a hat.  Northwood then calls the numbers and gives one prize to each campsite.  The whole give-away took about twenty minutes.  It was fast and fun.  The best part was that all of the tickets were saved for a grand prize drawing at the end.  What was the grand prize?  A twelve-volt portable refrigerator.  Now that's a boondocking prize!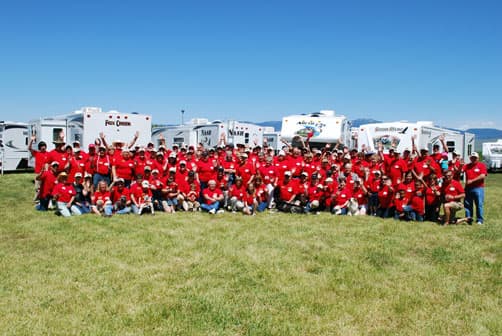 After the give-a-way, we wandered the campground and talked with the truck campers in attendance.  That's when we met Woody Jacobson.  Woody was standing outside of his Arctic Fox 990 angling a huge portable antenna as part of The National Association for Amateur Radio Field Day.  I immediately thought, "Now there's a future Truck Camper Magazine story".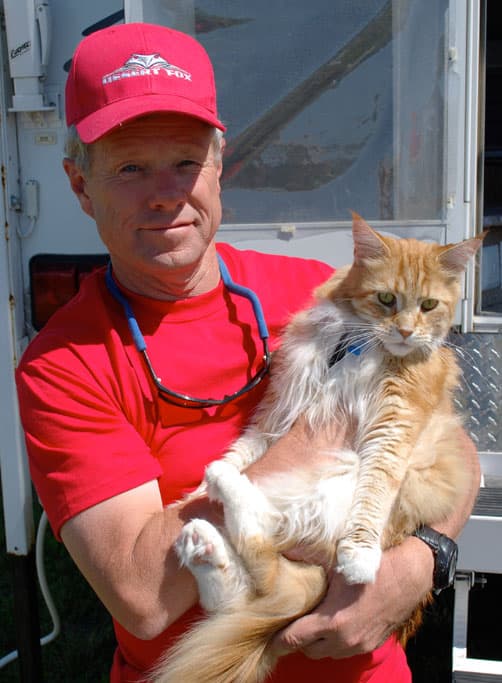 Then we met his truck camping cat, Rusty.  There's no quicker way to appeal to Angela and I than to have a cat in your camper.  We pitched the idea of a TCM story to Woody and he agreed.  Even Rusty seemed interested.  Maybe we'll set up our own fancy antenna in Pennsylvania and Rusty and our cat Harley can talk coast-to-coast to each other, in meow-se code.
More to Come
As we said in the introduction, all of this is really just the set up for what will be a spectacular eleven day truck camping adventure through some of Oregon and Northern California's best natural attractions. Click here to read Part 2 in Oregon and the Review of the Wolf Creek 850.
There's another Wolf Creek surprise for Friday.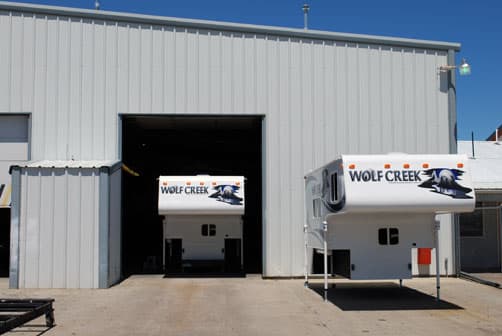 Here's a hint: It was coming down the line when we arrived.