TCM flies to LaGrande, Oregon for a travel adventure in a 2012 Wolf Creek 850.  But before we get there, there's a pot, a colander, and the TSA.

This past Winter, we were talking on the phone with Lance Rinker, Northwood Manufacturing's Director of Materials and Marketing, and Rich Zinzer, Marketing and Graphics, about how we would really love to come out and see their new Wolf Creek truck campers in production, but that we would not be driving cross country again for at least two years.  "How about we fly you guys out for a little adventure in our new Wolf Creek 850?" asked Rich.  Angela and I looked at each other and said, "That sounds great".  And just like that, a whole new door opened for Truck Camper Magazine; fly-in and go truck camping adventures.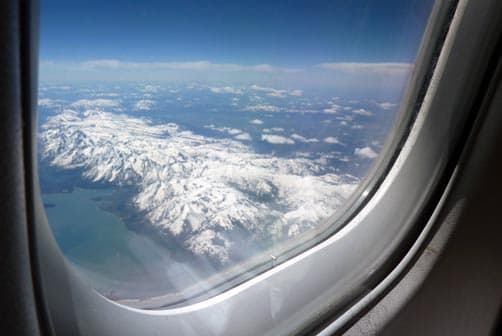 The mission was to fly to the Northwood factory, pick up a truck and 2012 Wolf Creek 850, attend the annual Northwood RV Owners Association (NROA) rally, and explore Oregon and Northern California for two weeks.  We would write about our experiences and document our impressions of the Wolf Creek 850 along the way.  Hey, it's a tough job, but someone's got to do it!
What follows is a report of our first four days with Northwood Manufacturing including the NROA Rally, a shake down cruise to Hells Canyon in the 2012 Wolf Creek 850, and a few more things you'll just have to read to believe.  The rest of our Wolf Creek truck camping adventure will publish next month.  The photography at Crater Lake National Park alone is well worth the wait.
DAY 1
Packing Particulars, and a Pot
Packing for this trip was especially interesting as we had to board a plane with almost everything we would need for two weeks in a truck camper.  While Northwood would provide us with truck camping essentials including a sewer hose, water hose, propane, and batteries, we would needed to bring at least one cooking pot, kitchen utensils, cups, dishes, silverware, bedding, pillows, and towels.  You know, normal suitcase items.
I'm skipping ahead a bit but, as we unpacked in Oregon, Angela found a friendly TSA note in her suitcase informing her that they had inspected her luggage.  I can only imagine the looks on the TSA officials faces as they pulled a pan out of her suitcase.  Did they keep their stern demeanor when they found our spatula?  Or our colander!  And our cooking mitt!  I wish we could have been there to see that.
The real irony is that my checked-in luggage, a black bag no less, had a large metal tripod that looks like a mini-gun when held as such.  Did the TSA inspect my black bag?  Nope.  They went right for the cooking ware.  What a world we live in.
Doug Karr: Name That Camper
A few minutes after we stepped off the plane in Boise, we met Doug Karr, aka Northwood's Truck Camper Guy.  Doug was kind enough to drive three hours from the Northwood Manufacturing plant in LaGrande to pick us up.  Thank you Doug.
As we drove back to the factory, we must have passed a couple dozen truck campers.  With a passing glance, and at considerable distance, Doug could name the year, make, and model of every one of them.  Now some of these truck campers were thirty years old and made by companies that haven't been in production in decades.
When Doug named the exact year, make, and model of one camper that passed us, Angela asked, "How did you know that?".  Doug immediately answered that there was a window in the back where the dry bathroom was, it was clearly a long bed, and the aluminum stripe was a color that the company had only used for a specific model year.  In other words, he knew.  That's just one reason why Northwood calls him, "The Truck Camper Guy".  We were impressed.
Meeting the Wolf Creek 850
Upon our arrival at Northwood, there was our 2012 Wolf Creek 850 on a 2003 Chevy Silverado 3500 dually diesel.  The fresh tank was full, the batteries were charged, the refrigerator was running, and everything was ready to go.  Well, almost.
Northwood's customer service department had recently provided a customer a Torklift turnbuckle to replace one they had lost.  Unfortunately, Northwood had yet to replace said turnbuckle and we were now looking at a rig with only three turnbuckles.  What do we do?  We're a turnbuckle down!  Oh the horror!
A quick phone call to Jay Taylor, Torklift's General Manager, and a Fastgun was overnighted to us, along with some other goodies we'll talk about in a future installment.  Thank you Torklift.