Picking up from our Wolf Creek 850 shakedown, we venture on to John Day Fossil Beds and look up at Redwoods, duck butts, and Paul Bunyan.

Wind back the memory machine a little over a month and we had just published our Northwood Manufacturing factory visit, NROA rally, and Wolf Creek adventure story, "Shakedown in Hells Canyon: Our Wolf Creek 850 Experience".  While that was an action packed article (and then some), it was merely the beginning of an incredible ten day truck camping trek across the state of Oregon and northern California.  This story, the first of a two part series, picks up where "Shakedown" left off.  Let's go.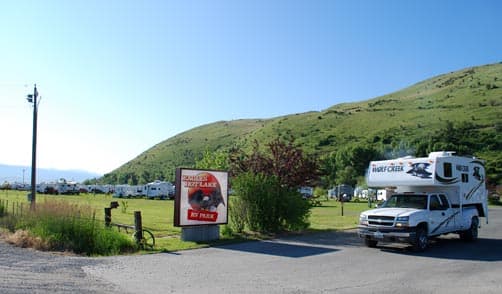 DAY 5: John Day Fossil Beds and Painted Hills
On Sunday, June 26th, we woke up excited to finally hit the road.  Our carefully planned itinerary was stuffed to the gills and we couldn't wait to get going.  We enjoyed one last residential shower, topped off our fresh water tank, and dumped our black and grey.  The tanks that needed to be full were full and the tanks that needed to be empty were empty.
Well, there was one more tank that needed to be filled.  Again we stopped in Baker City to fill fuel.  This time we remembered that you don't fill your own fuel in Oregon and waited for the attendant, and the little white paper.  Fool me once, Oregon!
From Baker City, we drove about three hours to the Paleontology Center.  There's something incredible about the idea that large and ferocious creatures once lived where you're now standing.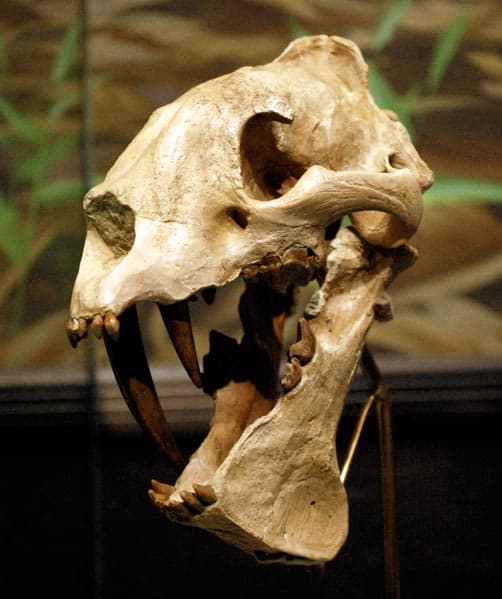 It's also incredible to consider that these animals were here millions of years ago.  I can't remember what I had for breakfast yesterday, much less contemplate a million years time.
Never the less, the fossils are right there at the Paleontology Center to confront, comprehend, and appreciate.  It's a fascinating and confounding place to experience.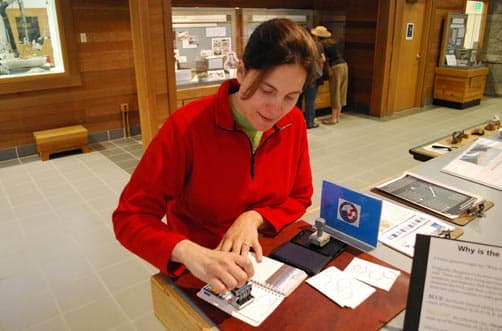 Before we left the Paleontology Center, Angela got a stamp in her National Park Passport.  This is something she and our friend, Heidi, started during our California trip last year.  If she had only started this when we started our first tour, she would have literally dozens of stamps.  Now we just have to go back to all of them!
Freshly stamped, we headed to the fossil beds.  It was no stretch of the imagination to believe that you were stepping into an ancient and magical place.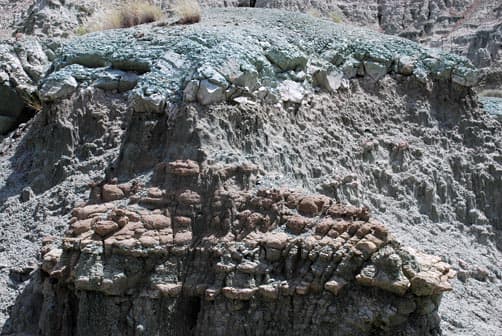 The turquoise blue rock was really striking.  You just never see rock in that color.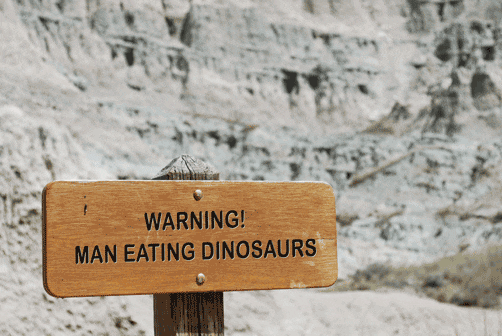 There was also something about the fossil beds that made you wonder if a hungry Velociraptor may peek over the horizon at any moment.  Steven Spielberg gets you every time.  First, you can't go swimming in the ocean without thinking of Jaws, then you're walking in the Fossil Beds wondering if a dinosaur is going to have you for lunch.  The five year old kid in me that saw Star Wars in 1977 also has to thank George Lucas for having me look for Jawas and Tusken Raiders.  The John Day Fossil Beds bring out that kind of wonderment.  What fun.
Next we drove about an hour to the Painted Hills Overlook and trails.  The Painted Hills Overlook was exactly as advertised, deep red and vast.  We shot some video, took some pictures, and headed to the hiking trail.
The trail took you up close and personal with the red and yellow hills via a boardwalk designed to protect the formations.  Whether they lead you over hot stinking sulfurous bubbling muds in Yellowstone National Park, or keep you just beyond of man eating alligator chomping distance at Everglades National Park, boardwalks, in my opinion, are neat.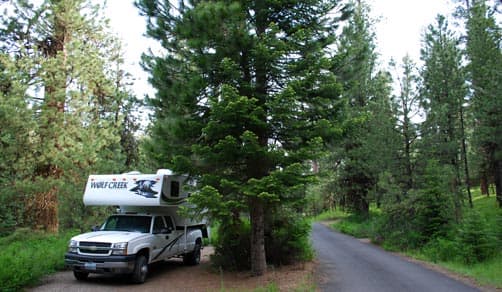 Next up on our adventure was Okechobe Pass National Forest Campground.  Located on a mountain pass, it was $13 a night, and level.  There were about thirty spots available with no hook-ups.  We could have also camped in nearby BLM land, but we wanted to stay on schedule and this campsite was on route.  We both woke up with mild headaches, probably from the increase in elevation at the mountain pass.
DAY 6: Safeway, GlowSteps, and Lava
Safeway.  The oasis of food, and free WIFI.  Yes, I said free WIFI.  When we were in Canada in 2007, we couldn't find free WIFI anywhere, except Safeway.  The good news was that we were able to find Safeway grocery stories almost everywhere.  Best of all, the free WIFI often reached deep into the parking lot, and into our camper.  How cool is that?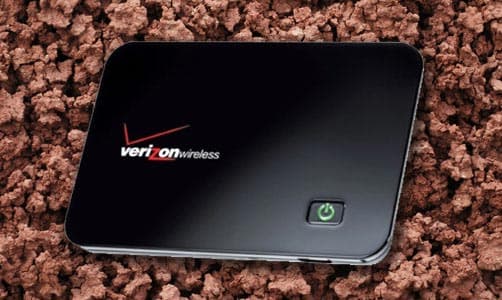 For our truck camping trips outside of Canada, we now have a Verizon MIFI.  For $60 a month, the MIFI gives us 3G high-speed internet practically everywhere.  As an online magazine that publishes twice a week, our Verizon MIFI is a must.  Angela and I still don't know how we did that first 2007 tour without it.  Oh yeah, we're pirates!  Arrr!
Getting back to our adventure, day six was a TCM story day, and we were well beyond Verizon cell phone and MIFI coverage.  A quick check with our trusty Garmin GPS revealed a Safeway in Bend, Oregon.  We're saved!  Not only was Bend our next destination, but we were also low on food.  Safeway would have a Starbucks coffee lounge to plug in our computers, drink coffee, soak in some WIFI, and publish, "Mike Tassinari: The North-East Truck Camping Jamboree".  Safeway rocks.
One thing we failed to mention so far is that our camper didn't have rear steps.  Up to this point, we were using the rear truck bumper as a ladder step and pulling ourselves up by gripping the inside edges of the rear door.  When it was time to get out, we would either sit on our butts with our feet dangling out the back and then scoot out, or we would just yell, "Geramimo!" and jump out.  I liked the second option.
Remember when I called Torklift for help with a turnbuckle?  Well, I also asked for a set of GlowSteps.  And while they were at it, why not send along the GlowGuide?
To get the GlowSteps and GlowGuide installed, Torklift sent us to Big Country RV in Bend Oregon, a Torklift and Northwood dealer.  It was very short notice for Big Country RV, but they managed to fit us in.  Richard Berry performed the installation.  The bottom of the door was 46 inches above the ground meaning we needed at least a five step GlowStep system.  We opted for six-steps to be safe.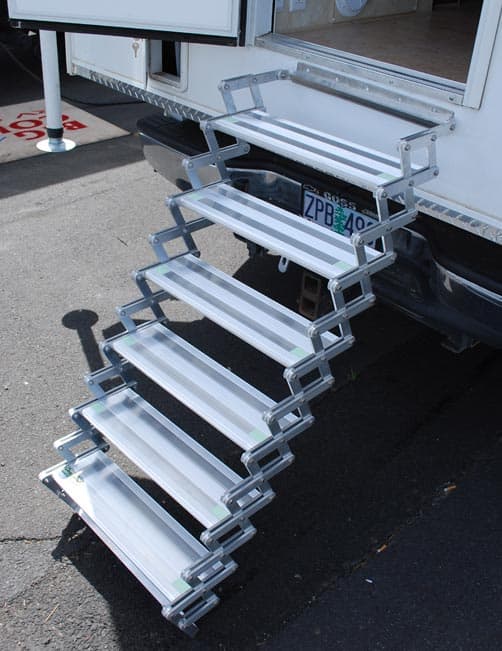 Why did we need such a tall GlowStep system?  For one, the truck is a four wheel drive dually.  It's not likely that the Wolf Creek 850 will be matched with such a big truck.  And second, the Wolf Creek 850 has a short basement and no overhang.  With a shorter truck, it's likely to only need a four step GlowStep system.
We photographed every step of the GlowStep and GlowGuide installation with Richard and will share that process as well as our experience with the GlowSteps and GlowGuide in an upcoming article.  Thank you Torklift, Richard, and Big Country RV.
By 1:30pm, we were ready to set out to the Newberry National Volcanic Monument.  When we pulled up to the ranger booth, out came the credit card.  It was time to purchase our annual National Parks Pass.  For $80, you get into every National Park and Monument for one year.  With some parks costing about $20 per day, the annual pass pays for itself quickly if you're visiting the parks.  This is our forth National Parks Pass and we enjoy supporting the National Park system.  They're worth every penny.
We parked the rig, put out the GlowSteps, and hit the Lava Lands Visitor Center and trail.  The visitor center goes into great detail about the lava flow formations and features an audio system playing gurgling lava noises.  I told Angela it sounded like my stomach and she quickly agreed.  How's that for love and support?
The Molten Trail hike was stunning.  The grey black lava looks like pumice stone and is quite rough and sharp to the touch.  Behind the enormous lava field the mountains beamed in the distance.  Interwoven with the lava are pink and purple flowers, and the occasional elusive chipmunk.  We really enjoyed the undulating trail and marveled at the crazy shapes and sculptures the cooling lava created.  Hey, that one looks like Scooby Doo!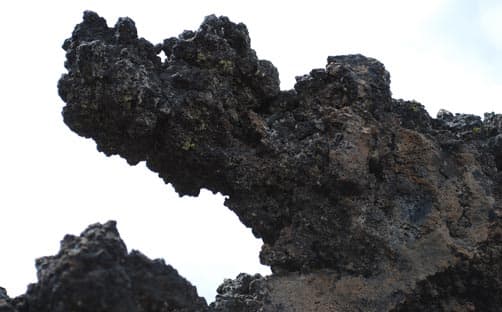 After walking the Molten Trail, I went on a Chipmunk photo shoot and Angela went in to get her passport stamp.  See where our priorities are?  Chipmunks and stamps.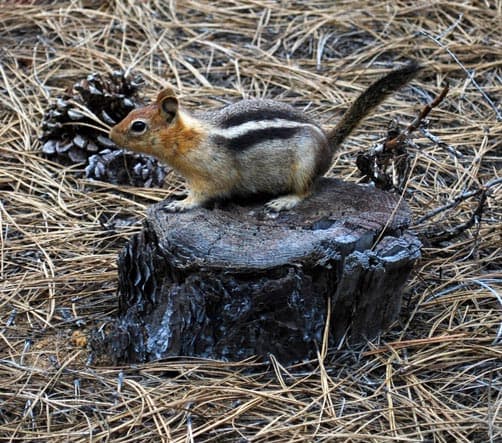 Before leaving Newberry National Volcanic Monument, we drove down a nine mile dirt and gravel road to a Lava Forest.  Once again the road was a disappointment and was more packed gravel than anything the term, "off-road" would imply.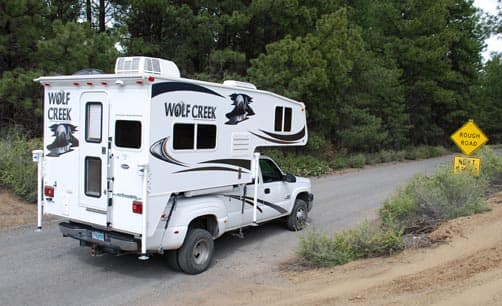 When we arrived at the trail head, we got out and started our hike.  Maybe five hundred feet later it was apparent that this trail was sponsored by Oregon's chapter of the the National Hungry Mosquito Club (NHMS), and we were on the menu.  We quickly took a few pictures, and headed back.
That night we had a reservation at East Lake Resort.  On the web, they advertised water, electric, dump, and WIFI.  We needed WIFI because our Verizon MIFI did not work that far from cell towers.  When we got to the campground, there was electric at our site, but the WIFI was $5 an hour.
Where do I start?  First of all, it's 2011 and if a campground is going to advertise they have WIFI, it had darn well better be free.  And second, $5 an hour?  Are they out of their minds?  Then we found out that the showers were $1.25 each and saw that the bath house was open to allow the ravenous Oregon NHMS to share you shower with you.  No thanks!
The site was fairly level if you parked just so, and the power worked.  That's about as enthusiastic as I can get for this campground.  Oh, the camp host guy was very nice.
DAY 7: Obsidian Flow, Paulina Falls, Crater Lake, and Sin
We had a very busy day planned so we woke up at 5:00am, showered in the camper, packed up, and put our truck tail towards the campground.
A few miles down the road we pulled into the Obsidian Flow Trail.  It was maybe 6:00am and cold.  Even my mosquito friends were still sleeping.  We hiked the short trail to the obsidian flow, which was covered in snow.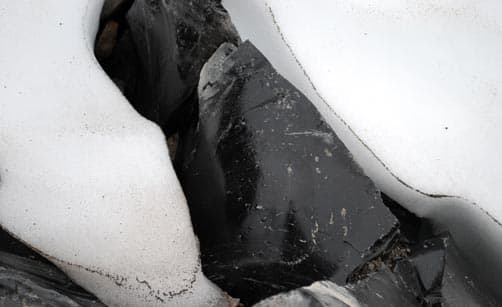 Next we drove to Paulina Falls and walked a very short hike to the overlook and then a steep downward hike to the lower falls.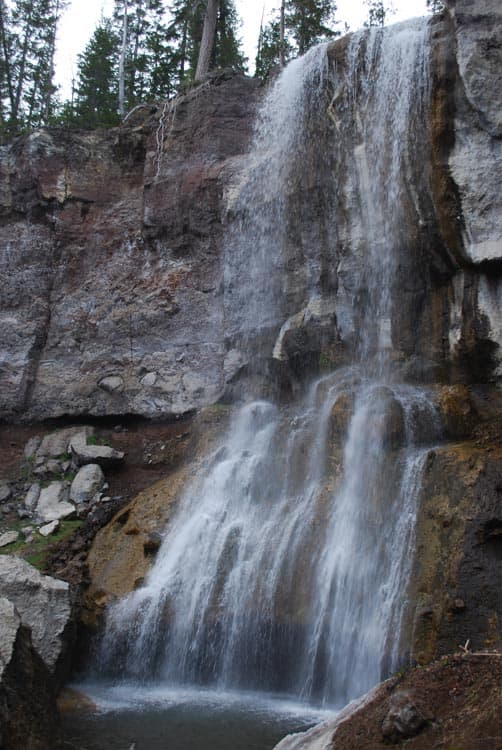 The best part about viewing the falls at this early hour was that we were completely alone.  On the way out, Angela didn't miss the opportunity to drive the truck camper in some parking lot snow, in June for goodness sake.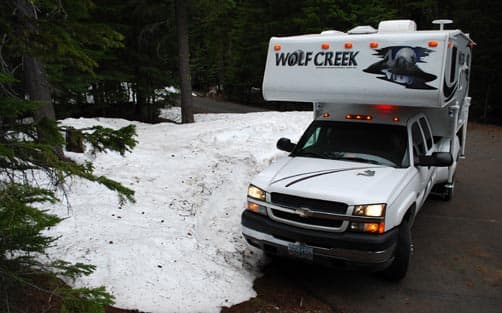 It was a another TCM story day so we pulled into a fuel station in LaPine for diesel and to publish, "ASK THE EXPERT: Maintaining Happijac Camper Jacks".  Once the story was published and TCM Email Alerts were on their way, we headed for Crater Lake National Park.
An hour later, we arrived at the north entrance for Crater Lake and Angela rolled down the truck window to give the Ranger our brand new National Parks Pass, and to ask a few questions.  Immediately, another round of mosquitoes attacked and Angela asked her questions so fast she practically sold the National Park at auction.  The Ranger in the booth looked at Angela like she was crazy as she swatted at the mosquitoes.  Finally she gave up, rolled up the window, and drove into the park.
A few hundred feet later we saw snow on the sides of the park road.  It got deeper, and deeper, and deeper until it was level with the windows on the truck.  This is some serious snow for June, or any time of the year for that matter.
Then the snow continued to get deeper until it was higher than the truck.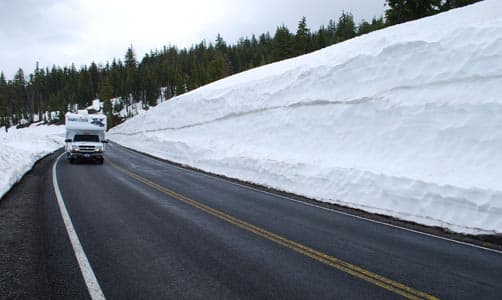 Then the snow was higher than the camper, then higher than twice the camper.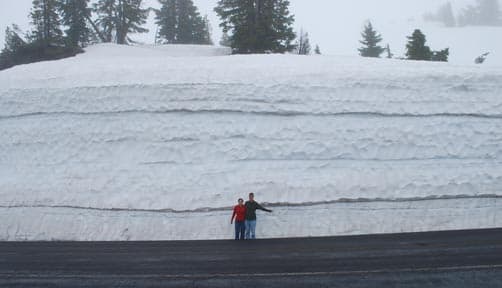 The weather was also deteriorating with more and more fog, then drizzle, then rain.  With the impossibly tall snow banks, dense fog, and precipitation, it was an amazing experience that made us wonder if we had driven into another season, if not another world.  We were transfixed.
Unfortunately, all of the snow, fog, and bad weather didn't make for a good view of the crater, or the lake for that matter.  We could make out a deep blue color through the fog, but that was about it.
This hardly seemed like a disappointment given all the other incredible sights that surrounded us.  No blue lake?  Yeah, but look at this 20' high snow bank.
With the Crater Lake campgrounds full, the Crater Lake trails closed, and the generally terrible weather conditions, we punched the GPS for a nearby campground.  There in Klamath, was a KOA.
A truck camper at a KOA?  Isn't that blasphemy?  What would our readers say?  What about our reputation as the Publisher and Editor of Truck Camper Magazine?  Angela said, "They have electric, internet, showers, and laundry.  Get over it".  We needed all of the above, so KOA it was.  For the record, there were four other truck campers at the KOA.  We were sinners, with company.
DAY 8: Guilt, Weed, and Cloudy Crags
The next morning we left the Klamath Falls KOA riddled with truck camper guilt.  I guess sometimes going anywhere even means a KOA.  I can't believe I just wrote that.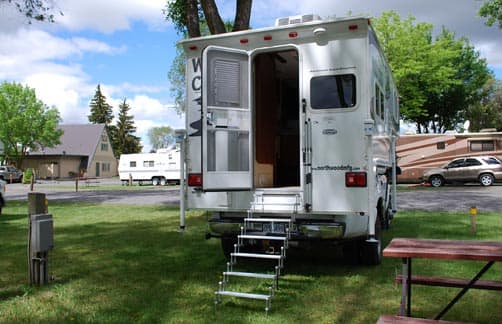 As we contemplated what we had done, we had no choice but to turn to Weed.  Seriously, we headed on Highway 97 into California where, at the intersection of Route 5, we hit the town of Weed.  All through the town there are joints selling, "I (heart) Weed" T-shirts and other Weed paraphernalia.  There was even a hemp store selling foods and soaps.
We pulled into Castle Crags Campground around 4:45pm.  It had been a long day of driving.  When we checked in with the Park Ranger, she said we could pick whatever campsite we liked, as long as it was empty.  We had reserved a spot on the internet but she said they always allow folks to pick their own site once they arrive.  She also said the campground was fairly empty.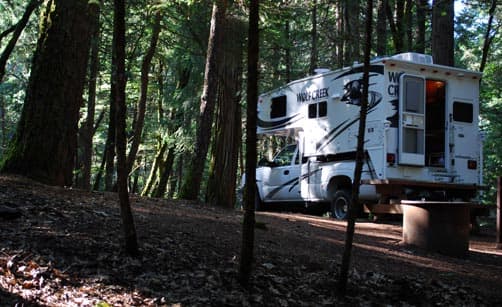 With that, we jumped back into the truck and drove the whole campground.  Long time Truck Camper Magazine reader, Ramblin' Ralph, had recommended the upper loop because it had less road noise.  When we surveyed the upper loop, I chose site 47 and Angela chose site 45.  We camped in site 45.
Since the road that leads to the Crags Vista Point was closed for paving, the Park Ranger recommended a state park road just off the campground.  She said that mile marker 3.4 there was a good view of the crags.  We followed up on her advice and drove the rig to the very spot she recommended.  And there, again cloaked in fog, were the crags.  We admired them for a while, took some pictures and video, and returned to the campground.
DAY 9: Tall Redwoods, Missing Elk, and Duck Butts for Dinner
The next morning there was an intensely bright yellow ball in the sky.  "What the heck is that?" I asked.  "The sun" Angela said, quite matter of fact.  Oh yeah!  Time to head back to the crags for another round of photography and video.  This time we could really see the crags in the crags with only a passing cloud drifting through to obscure our view (say that three times fast).  A few cars with fellow travelers pulled up as we stood there, and we all marveled at the beautiful landscape before us.
After shooting some video of the camper and crags, we set out for our next destination, Redwood National Park.  Back on I-5 South, we made our way to 299 West.  299 West is one of those curvy, hilly, two-lane, almost highway speed roads that commands your undivided driving attention.  Along the way we enjoyed looking at lake after lake, but we dared not look for too long as the road was about to twist, climb, or dive once more.  Lakes are pretty, but not driving off the road or into oncoming traffic is even better!
Finally we reached the coast and merged onto Route 101 North.  A few miles later, we pulled into the Kuchel Visitor Center, right on the Pacific Ocean in Orick, California.  Once again, Angela asked the Rangers for some suggestions on the park, and got her passport stamped.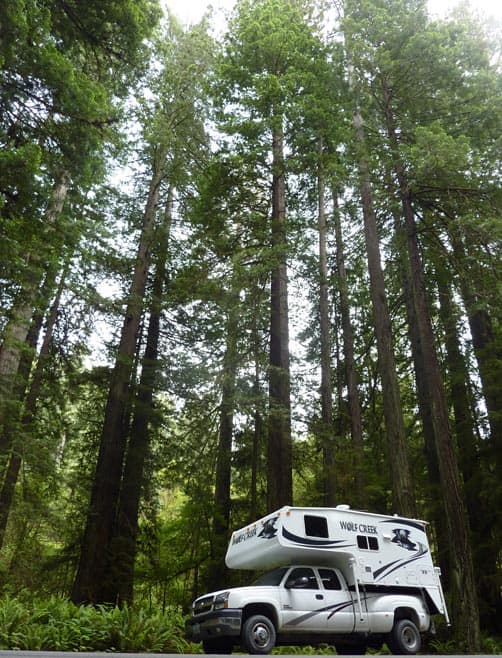 The rest of the day was spent looking for the elusive Elk in the Elk Meadow and craning our necks skyward in an attempt to take in the wondrous Redwoods.  Eventually we got hungry and stopped at the Trees of Mystery restaurant in Kalamath.  This restaurant has an underwater theme complete with duck butts in the ceiling and suspended fish.  It's great fun and the food was surprisingly good.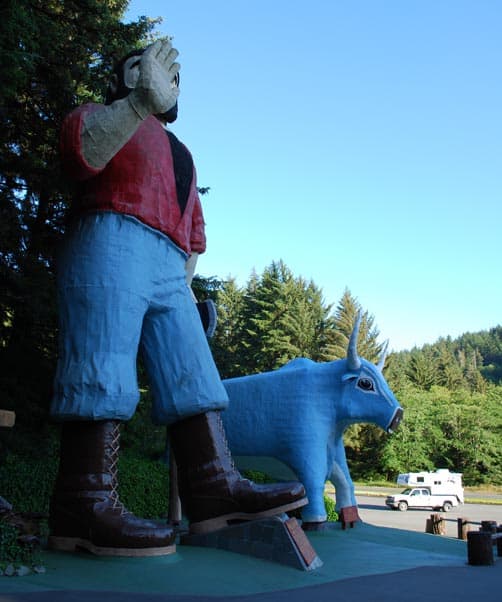 Don't miss Paul Bunyan and his Blue Ox across the street either.  Brain off, tourism on.  Enjoy.
We camped for the evening at Mill Creek Campground, another Ramblin' Ralph suggestion.  The decent to the campground is considerable as the Redwoods loom higher and higher above you.  Once you reach the campground, it's extremely lush and the campsites are fairly level.  It was a hit and run for us, but we could see why Ralph likes this campground.  Just be sure to make your reservations in advance as this is one campground that fills up fast.
NEXT: In Oregon and Beyond – Part 3 we wrap up our Oregon and Beyond tour and give you our impressions of the 2012 Wolf Creek 850.  You won't want to miss the sweet candy, the stinky seals, the windy lighthouses, and our visit to Arrakis.