Picking up from our Wolf Creek 850 shakedown, we venture on to John Day Fossil Beds and look up at Redwoods, duck butts, and Paul Bunyan.

Wind back the memory machine a little over a month and we had just published our Northwood Manufacturing factory visit, NROA rally, and Wolf Creek adventure story, "Shakedown in Hells Canyon: Our Wolf Creek 850 Experience".  While that was an action packed article (and then some), it was merely the beginning of an incredible ten day truck camping trek across the state of Oregon and northern California.  This story, the first of a two part series, picks up where "Shakedown" left off.  Let's go.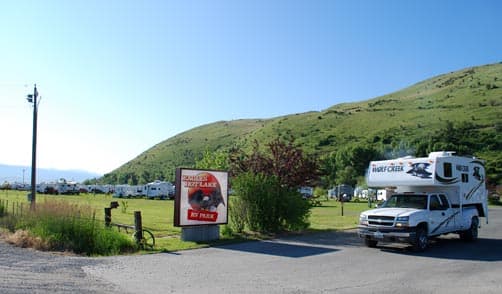 DAY 5: John Day Fossil Beds and Painted Hills
On Sunday, June 26th, we woke up excited to finally hit the road.  Our carefully planned itinerary was stuffed to the gills and we couldn't wait to get going.  We enjoyed one last residential shower, topped off our fresh water tank, and dumped our black and grey.  The tanks that needed to be full were full and the tanks that needed to be empty were empty.
Well, there was one more tank that needed to be filled.  Again we stopped in Baker City to fill fuel.  This time we remembered that you don't fill your own fuel in Oregon and waited for the attendant, and the little white paper.  Fool me once, Oregon!
From Baker City, we drove about three hours to the Paleontology Center.  There's something incredible about the idea that large and ferocious creatures once lived where you're now standing.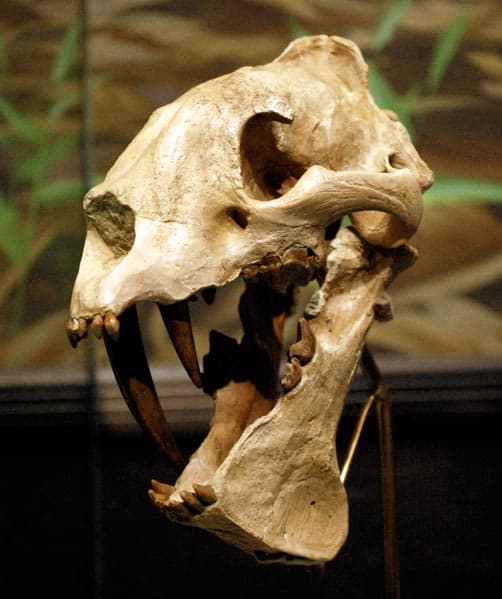 It's also incredible to consider that these animals were here millions of years ago.  I can't remember what I had for breakfast yesterday, much less contemplate a million years time.
Never the less, the fossils are right there at the Paleontology Center to confront, comprehend, and appreciate.  It's a fascinating and confounding place to experience.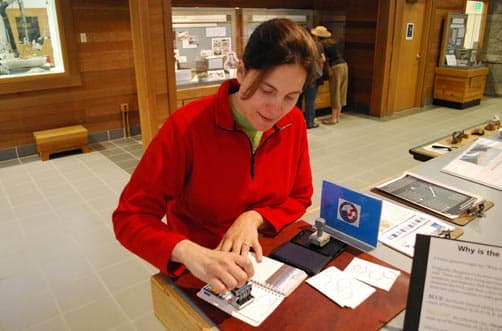 Before we left the Paleontology Center, Angela got a stamp in her National Park Passport.  This is something she and our friend, Heidi, started during our California trip last year.  If she had only started this when we started our first tour, she would have literally dozens of stamps.  Now we just have to go back to all of them!
Freshly stamped, we headed to the fossil beds.  It was no stretch of the imagination to believe that you were stepping into an ancient and magical place.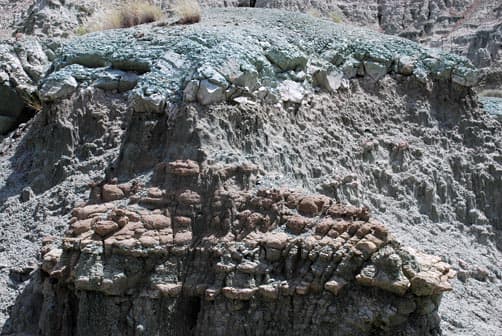 The turquoise blue rock was really striking.  You just never see rock in that color.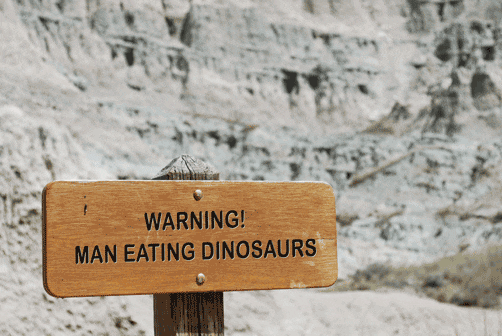 There was also something about the fossil beds that made you wonder if a hungry Velociraptor may peek over the horizon at any moment.  Steven Spielberg gets you every time.  First, you can't go swimming in the ocean without thinking of Jaws, then you're walking in the Fossil Beds wondering if a dinosaur is going to have you for lunch.  The five year old kid in me that saw Star Wars in 1977 also has to thank George Lucas for having me look for Jawas and Tusken Raiders.  The John Day Fossil Beds bring out that kind of wonderment.  What fun.
Next we drove about an hour to the Painted Hills Overlook and trails.  The Painted Hills Overlook was exactly as advertised, deep red and vast.  We shot some video, took some pictures, and headed to the hiking trail.
The trail took you up close and personal with the red and yellow hills via a boardwalk designed to protect the formations.  Whether they lead you over hot stinking sulfurous bubbling muds in Yellowstone National Park, or keep you just beyond of man eating alligator chomping distance at Everglades National Park, boardwalks, in my opinion, are neat.