Truck Camper Magazine explores the Bluetti AC200P – a monster 2,000 Wh portable power station with features and specifications that pose potentially big and disruptive questions. Plug into some serious portable power.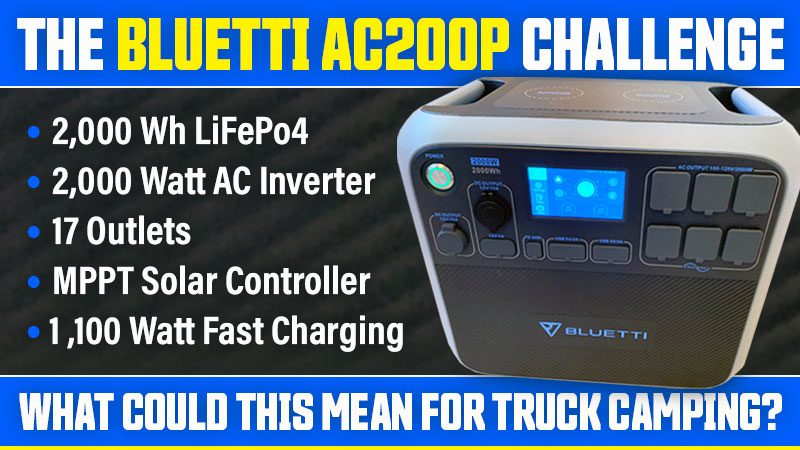 A few weeks back Bluetti reached out to us with an offer we couldn't refuse. Would we like to test out their 2,000 Wh Bluetti AC200P in a truck camper application? One look at the product, specifications, and capacity and my answer was, "Absolutely!" Little did I know how big that decision would be when it arrived.
The team at our local UPS store is quite accustomed to receiving items on our behalf, but they clearly wanted us to pick up the "large and heavy box" when it arrived. Within a split second of seeing the box ourselves, we understood why. The 22-inch long, 17-inch wide, 22-inch tall, 78-pound cardboard and plastic strapped assembly looked a bit like the crate the Ark of the Covenant disappeared into.
Thankfully, I'm a man of considerable heft and was able to bend at the knees, take both straps in my hands, lift almost straight up, awkwardly shuffle penguin-style to a wheeled cart a few feet away, and roll the AC200P to our SUV. I know, impressive. I even got it into our SUV.
After Angela cooled down, she gave me a different look. Shooting a quick glance at the box crate and back at yours truly, her eyes said, "What the heck are we doing with this monster battery thing again?" I have to admit I was asking myself the same question. At least it would make my LP collecting habit look reasonable.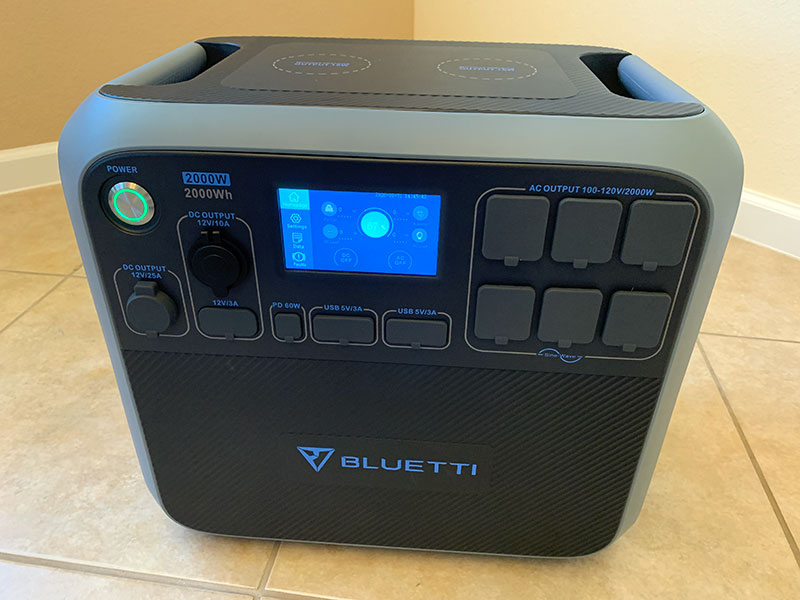 Back at the ranch, the situation improved considerably. When the Bluetti AC200P emerged from its packaging, it was 16.5-inches long, 11-inches wide, 15.2-inches tall and a more heft-able 60.6-pounds. It also has two well-positioned handles that allowed Angela and me to each take a side and carry it around. I can also carry it myself, but I wouldn't want this activity on YouTube, nor would I want to suggest the Bluetti AC200P is as portable as the dense lithium lunch boxes of power stations yore. As power stations go, it's a beast.
Bluetti AC200P Overview
Take a deep mental breath and take in the headline features of this power player; 2,000 Watt hour (Wh) lithium iron phosphate (LiFePo4) battery, 2,000-watt AC pure sine wave inverter, 17 outlets including multiple 12-volt, USB A, USB C, and six 110-volt AC, built-in MPPT solar charge controller, 500-watt max AC power input, 700-watt max solar input, 1100 watt max fast dual charging (AC and solar combined), and an advanced Battery Management System (BMS) that monitors all of the above and keeps the battery system healthy. That stacked sentence of capacity and capability alone puts the Bluetti AC200P in some rare company.
Other details we found alluring included the 3,500 charge cycle lifespan (approximately 10 continuous years at one cycle per day) and the 4,800-watt surge capability at start up. That should mean the Bluetti AC200P can start anything it can run, as long as it returned to 2,000 watts or under. Hello, roof top air conditioner. Goodbye, soft start.
On top of all that (literally) the Bluetti AC200P has two single-coil wireless docks to charge your smartphones up to 15 amps in total. However, those of us who are enslaved by our phone devices may be disappointed to learn the Bluetti AC200P does not have an app to remotely monitor its status. Many of the newer portable power stations have this feature so it's curious that Bluetti does not.
First Encounter and Perspective
The Bluetti AC200P features an LCD touchscreen that makes understanding and using the unit a snap. We literally pulled it out of the box, turned the unit on, and had a good idea of how the unit worked in less than a minute. More importantly, the LCD displays all the necessary information; voltage, current, power, state of charge and discharge, etc. This is one well-thought-out and easy-to-use design.
Straight out of the box, the Bluetti was 67-percent charged. We plugged the unit into 110-volts AC and the unit was 100-percent charged in an hour and a half. According to the manufacturer, the AC200P can fully charge from 10-percent (the lowest they recommend you discharge the unit) in four hours on 110-volt AC, three hours on 700-watts of solar, and even faster (unspecified) when connected to both AC power and solar power. At least on paper, this is one fast-charging portable power station. We can't wait to test this as much as possible in the field.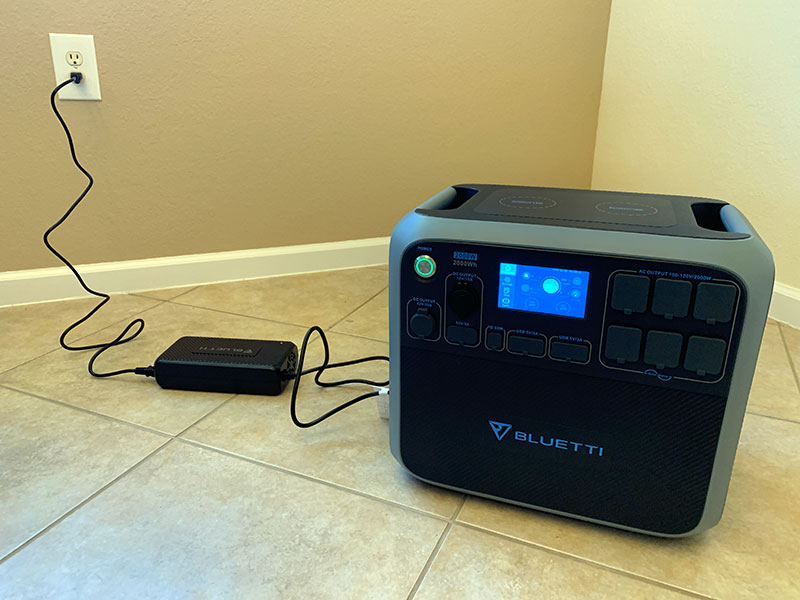 As the unit charged, I did some homework on how the Bluetti's 2,000-watt hours compared to our current battery bank. Our two Interstate Group 31 AGM batteries offer 100 amp hours (1,200 watt hours) each for a total of 200 amp hours or 2,400 watt hours. The Bluetti AC200P offers 166.67 amp hours total for 2,000 watt hours. That's obviously not enough to eclipse our AGMs, but you have to consider the Bluetti's ability to discharge down to 10-percent. Try that trick on a set of AGMs and you'll need new AGMs. Again, we can't wait to test that capacity out in the field.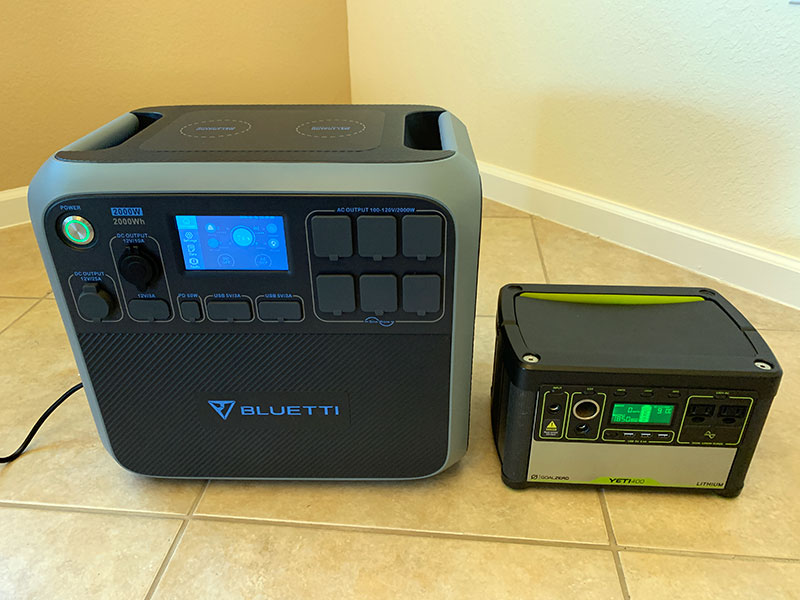 Above: The Bluetti AC200P and our 5 year old GoalZero Yeti 400 Lithium
At this moment, the only real drawbacks I can see are the size, weight, and price of the unit, but that's the cost of having all that capacity and capability in a single box. None of these cons should be a surprise to someone who does their due diligence and purchases the Bluetti AC200P. We have a plan and space for the Bluetti in our camper, and more than enough payload capacity to spare. And the price seems commensurate with the capacity and feature set and is quite competitive. On balance, we have yet to live with the AC200P in our chosen location or test the list of positive attributes in the pros column.
Bluetti To The Rescue
Over the past few weeks, Angela and I have tackled painting the entire interior of our nineteen year old Alpenlite 1100 white.  During the process, we removed all the cabinet doors, outlets and monitors – and got ourselves in a real pickle.
First, we unscrewed the Zamp ZS-30a solar controller and failed to notice that one of the leads from the solar panels disconnected in the process.  Second, we left the Fantastic Vent fan on to help the paint dry and pull the paint fumes out.  Three days of magazine work later, we returned to the camper and our batteries were at 10.4.  Is that a problem?  "That's a big 10-4!"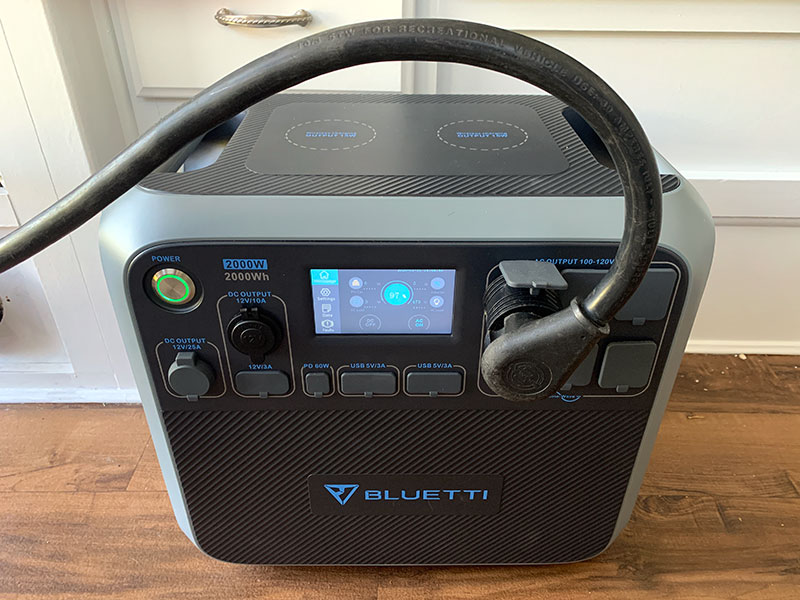 Above: The Bluetti AC200P plugged into our shore power cord – inside the camper!
After reconnecting the solar panel lead to the Zamp controller, the batteries started to recover, but we needed to unload the camper to get some other work done.  And here's where the Bluetti AC200P saved our bacon.
We simply plugged the main shore power plug into the Bluetti and turned the Bluetti 110-volt outlets on.  Not only did the Bluetti allow us to unload the camper, but it also charged up our two Group 31 AGMs up in a few hours (together with our solar).  Since our rig was parked nowhere near shore power, this was a game changer.
What Else Should We Test?
Starting this spring, we will be taking the Bluetti AC200P truck camping with us and putting it through real-world tests. The results of that experience will be published mid-summer.  We have a rather obvious list of things we want to test including running our Coleman Mach 8 air conditioner off-grid and seeing how it handles the rigors of powering this magazine.
Update: Click here to check out our Six-Month Review of this Bluetti power station.