After half a year with the Bluetti AC200P, we reveal our off-grid 110-volt appliance tests and overall performance evaluation of this colossal portable power station. How long did this lithium battery beast power our air conditioner?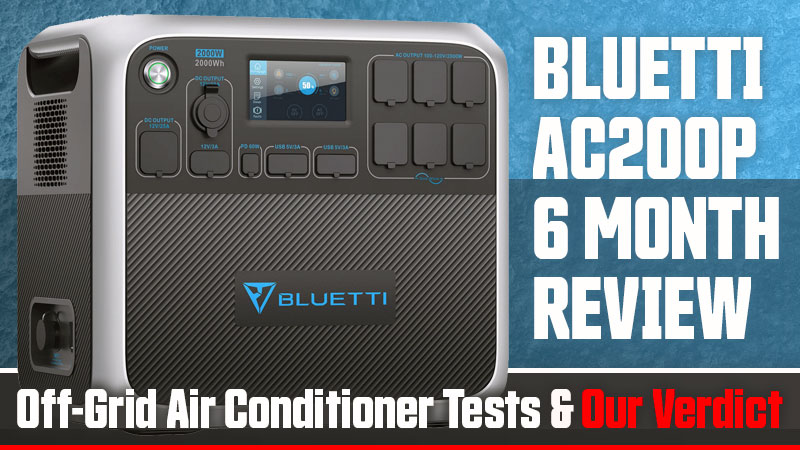 This past February we took delivery of a Bluetti AC200P portable lithium power station with a list of impressive specs; 2,000-watt hour LiFePo4 battery capacity, 2,000-watt AC inverter with 17 outlets, built-in MPPT solar controller, and 1,100-watt fast charging capability. If that doesn't raise an eyebrow, check your lift mechanism.
Naturally, all of the impressive capacity and features come with a cost. The Bluetti AC200P is a 60.6 pound, 16.6 inch long, 11 inch wide, 15.2 inch tall Goliath of portable power stations. Forget one handing this chunk. This is a both hands, bend-at-the-knees beast. Our plan was to put the unit in our camper, and not move it often.
Bluetti Base
During our review period, we kept the Bluetti AC200P under our face-to-face full booth dinette and against the outer wall. This was really the only place the AC200P could be stowed where it wouldn't be in the main thoroughfare. You will note that we moved the Bluetti for some of our tests. This was done primarily for monitoring and photography purposes. Most of the time, the Bluetti was under the dinette table.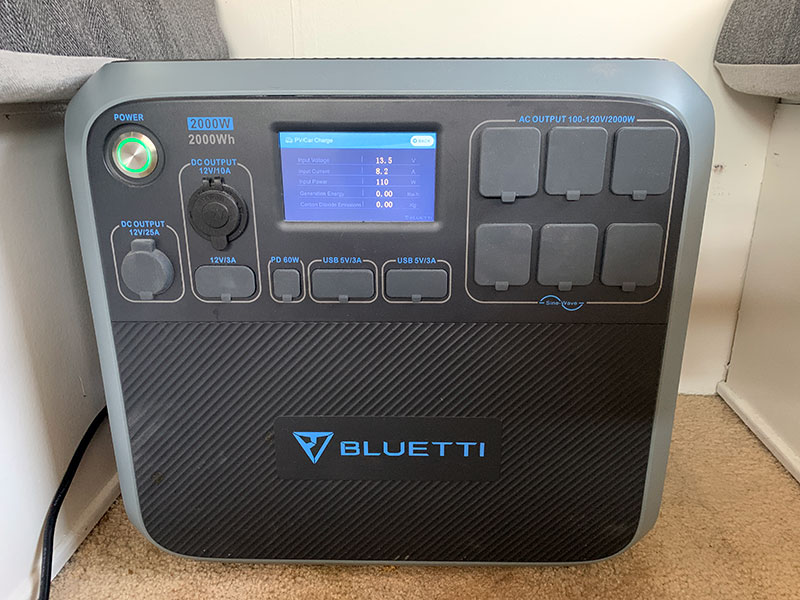 Above: The Bluetti AC200P beast stays under our dinette
We tend to sit toward the outside of our dinette, so this location did not interfere with daily life. Prior to our test with the Bluetti, we put gallon water jugs in this location. During this evaluation, we learned that placing our water jugs in our dry bath shower pan is a much better place for these items and prevents possible spillage in the main living area. We're always learning.
The primary downside to having the Bluetti under our dinette was (a) having it out of sight and out of mind, and (b) hard to see until you're on all fours looking at it. A couple of times we forgot things were plugged into the Bluetti and charging. We would then remember after the items were past the 100-percent charged point. Other than possibly wasting power, this wasn't a big deal.
Powered By Bluetti
I have mostly used the Bluetti AC200P to keep my 16-inch MacBook Pro charged during our April to now-October truck camping trip. My 2019 laptop is Intel i9 based, and thus a serious battery hog compared to the newer Apple Silicon powered machines. Angela has an M1 based MacBook Air that goes for at least a full work day without needing to charge. My Intel machine needs to be charged twice during that time.
For this requirement, the Bluetti was fantastic. I was able to completely recharge my MacBook Pro ten times before the Bluetti was down to a 10 percent charge. That meant I could keep my computer charged all week while working on Truck Camper Magazine.
Air Conditioner Test
By far the coolest parlor trick lithium batteries have brought to truck camping is the ability to run an air conditioner off-grid without a generator. We knew about this in theory but had yet to run an air conditioner off lithium battery power in the field.
Our first truck camper was a 2004 Lance 1030 with a built-in Generac generator that would rattle your teeth out. Being in that camper when the Generac was running was akin to living in a lawn mower. Suffice it to say Angela and I swore off built-in generators long ago and never looked back.
Normally we're able to beat the heat by planning where to be, when to be there, and plugging into shore power at the occasional campground, camper factory, or the driveways of family and friends (aka moochdocking).
However, this year has been a bit more challenging than normal. In case you slept in a beer cooler this past summer (something I've considered a few times), it was hot darn near everywhere. We found cooler weather in the US and Canadian Rockies, but we got caught in a few high-temperature situations with nowhere to shade the rig or plug-in.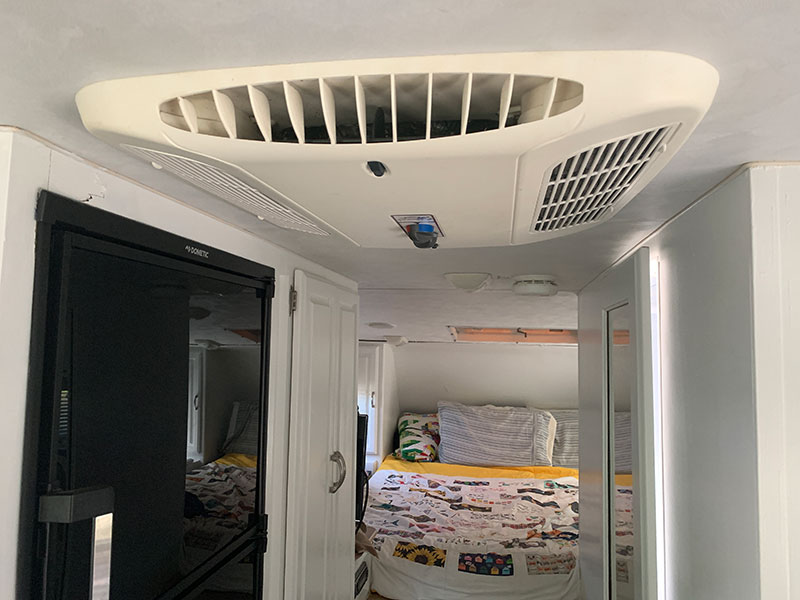 Above: The Coleman Mach 8 Cub Plus air conditioner in our camper
Our 2004 Alpenlite 1100 truck camper features a Coleman Mach 8 Cub Plus air conditioner.  We selected the Coleman Mach 8 Cub Plus for its 9200 BTU rating and its ability to run off 15 amps.
Over the past seven years, our Coleman Mach 8 Cub Plus has run on both 15 and 30 amps countless times, operated a few times on a portable 2,000-watt generator (thank you, Mikeee), and works great for our 11-foot camper. On the downside, during operation, it's like living inside a 747 engine at take-off. I'm exaggerating, a little.
Above: Our 30-amp camper power cord plugged directly into the Bluetti with a 15-amp adapter
For our Bluetti air conditioner test, we pulled the 30-amp cord inside our unit, attached a 30-amp to 15-amp adapter (shown above), and plugged the camper into the Bluetti's 110-volt outlet. We made sure the Bluetti was charged to 100 percent, and had nothing else plugged into the unit.
For the first test, the outside temperature was 86 degrees Fahrenheit / 30 degrees Celsius. We later tested the unit at higher temperatures, but it didn't change the run time by more than a few minutes.
To begin the test, we turned the air conditioner on Low Cool. It's exceptionally rare that we run the unit on High Cool (the only other air conditioning setting) as Low Cool is more than enough for our camper.
It was honestly exciting to hear the air conditioner turn on knowing we were off-grid. Lithium batteries really can run a full-size RV air conditioner off-grid. It really works!
The next question was, "for how long?"
Checking the Bluetti's monitor, the air conditioner pulled between 1,046 and 1,171-watts when the condenser was running. When the condenser shut off, the Bluetti read 72-watts.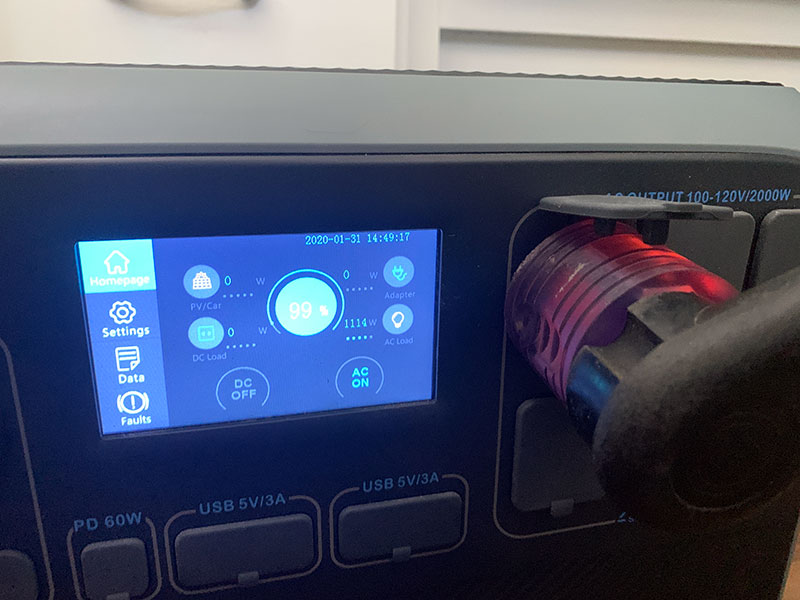 Above: During our air conditioner test, the Bluetti showed a 1,114 watt load
As we monitored the monitor, the Bluetti's capacity percentage dropped fast. Within a minute, it was at 99 percent. Twelve minutes later it was at 89 percent. A full hour after starting the test it was at 52 percent. An hour later, it was at 7 percent. Technically we should have stopped the test at 10 percent, but I got distracted writing for some magazine.
In subsequent air conditioning tests, the results were very similar. At 100-percent fully charged, the Bluetti AC200P can power our 9200 BTU air conditioner for approximately two hours before hitting a 10 percent charge.
Appliance Tests: Electric Heater and Induction Cooktop
Following the air conditioner test, we recharged the Bluetti AC200P from shore power and tested the unit with two high draw 110-volt items; a 1,500 to 1,650-watt ceramic heater and a 1,800-watt induction cooktop.
Above: Boiling water with an induction cooktop on full power
First up was the induction cooktop. We carry a Bosenkitchen brand single burner induction cooktop and use it whenever we're on shore power. Using the induction not only saves propane, but it's also much faster than propane. In fact, the water boiled during the following test in under thirty seconds.
After connecting the Bluetti to the induction and selecting AC on the Bluetti screen, we started the cooktop at mid-power. Once the induction was running, we upped the cooktop to full power. This instantly triggered the Bluetti's internal fan to run. After about 15 seconds (the water was already starting to boil), the induction was pulling 1,527-watts. Full steam ahead.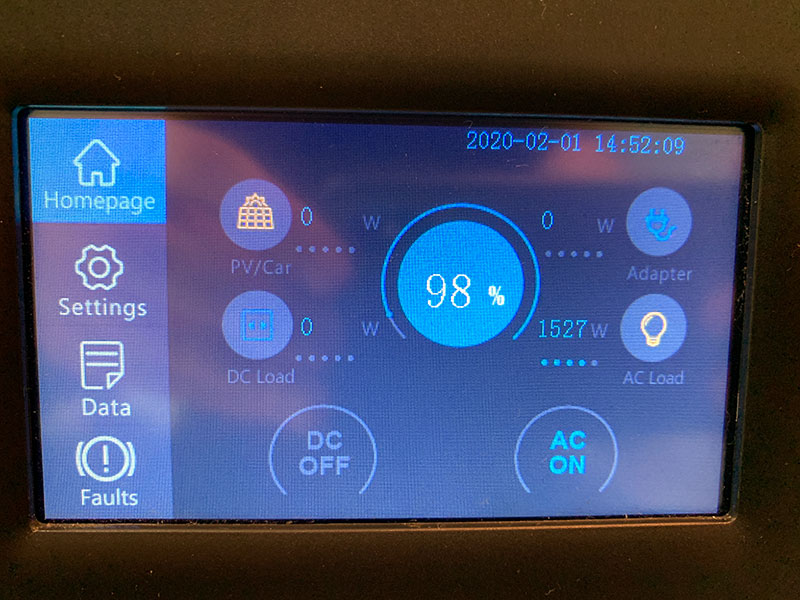 Above: During our induction cooktop test, the Bluetti showed a 1,527 watt load
Next up was our Intertek brand Andily electric heater. Whenever we're in cold weather and have shore power, this thing is an absolute godsend and – unless it's really cold – quickly heats the heck out of our camper. If you camp in the cold, a small electric heater like this is a must.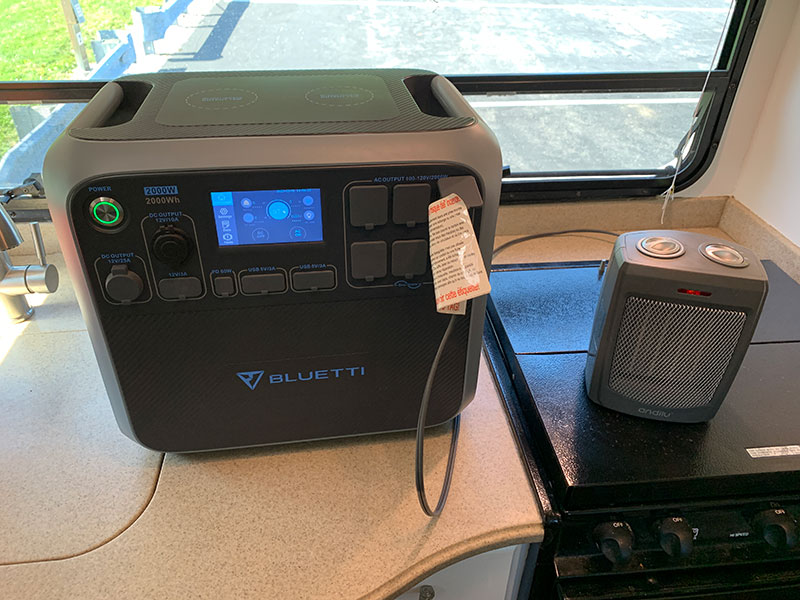 Above: The Bluetti powering our portable electric heater
This test went about the same as the first. On full power (1,650-watts according to the manufacturer), the Bluetti fans came on, and our precious portable heater worked like gangbusters. The Bluetti screen read 1,466-watts this time; well within the limits of this portable propane machine. So far, so good.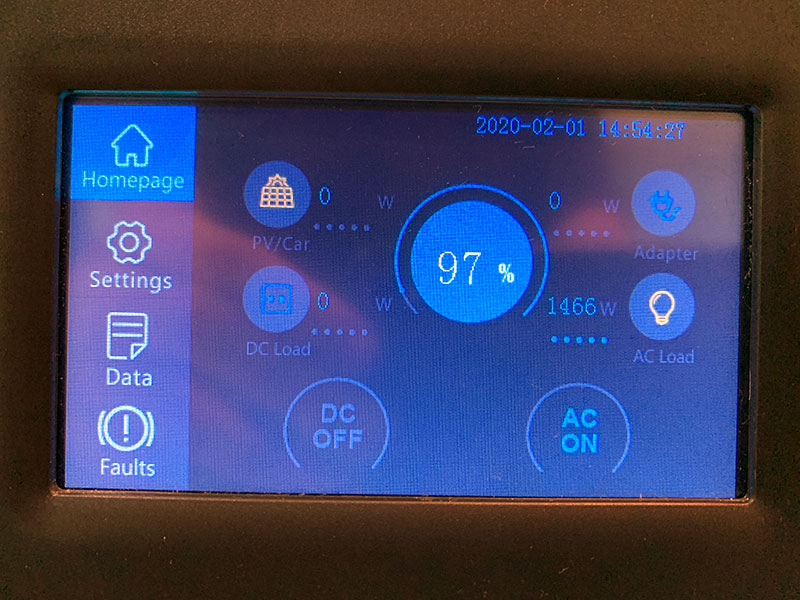 Above: During our electric heater test, the Bluetti showed a 1,466 watt load
Pushing 2,000 Watts
Next we took the Bluetti to its 2,000-watt limit to see if the unit would run. How did we conduct this daring test? By running both the electric heater and the induction cooktop at the same time!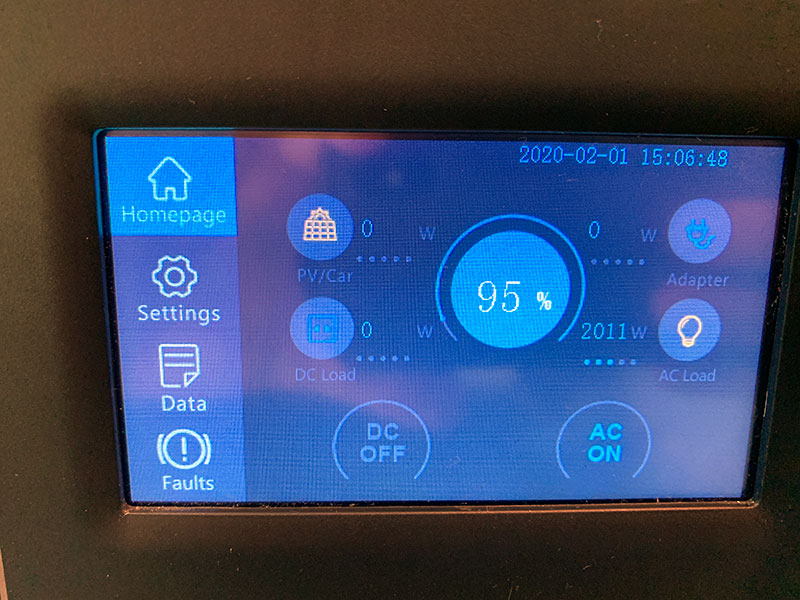 Above: The Bluetti pushed beyond 2,000 watts during our stress test
I know, I know… You had no idea we were this brave, or crazy – but we are. We're not just the Publishers of Truck Camper Magazine. We're Super Publishers.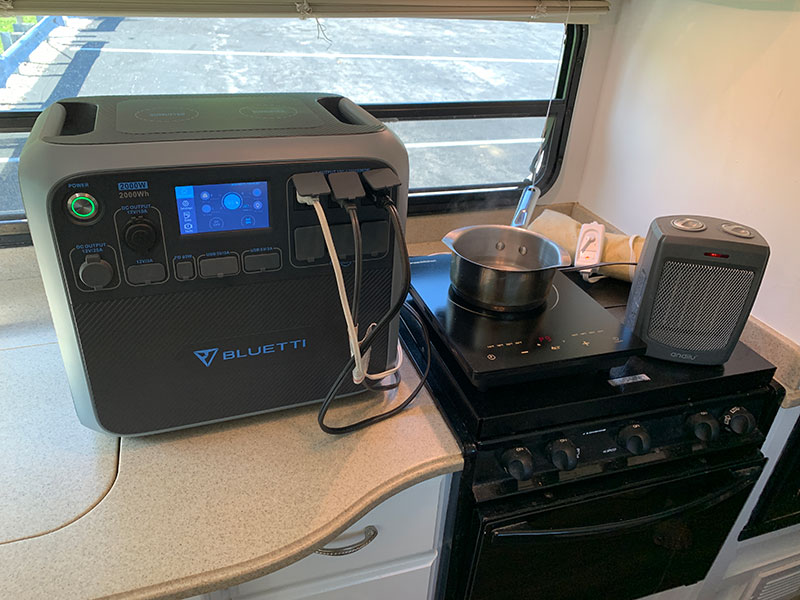 Above: The induction was on full power and the electric heater was on its low setting
All super silliness aside, we started by turning on the induction to full power, then we switched the electric heater on. With the Bluetti fan wooshing, we read the Bluetti screen; 2,011 watts. After letting the Bluetti run at this level for a few minutes, we checked another test off our list and powered down.
Answering Reader Questions
To answer some of the additional questions submitted to us for this review, the Bluetti AC200P currently sells for $1,199 US, does not offer a Tesla charging station adapter, and is not waterproof. We did not have a set of Bluetti or other brand suitcase solar panels to charge the AC200P, but the unit is designed for that application.
Some readers asked for data or tests beyond the purview of this review. Others thought we were braver (or dumber) than we look. For example, a few readers suggested we see how far we could push the unit before it exploded. This is how the question, "Whatever happened to Truck Camper Magazine?" might be answered. "Well, they polled their readers, took this huge lithium battery, and…"
One reader thought it would be interesting to remove our camper house batteries (two Group 31 AGMs) and see how long we could power our camper exclusively from the Bluetti. This is a complex request as you have to consider what you're powering and under what conditions. However, this interests us as well and may be something we test once settled in a location for more than a few days.
Then we'll try the explode test. Anything for our readers.
Off-Grid Charging
We charge our Goal Zero Yeti 400 portable lithium power station via a Goal Zero 12-volt Car Charging Cable. Plugged into the 12-volt outlet in our dinette, this cable effectively charges our Goal Zero from our house battery bank (two Group 31 AGMs) and solar panel system. It's a simple and fantastic set-up.
We initially tried this approach with the Bluetti AC200P, but the significantly higher draw of the AC200P caused the supplied Bluetti 12-volt adapter to heat past 130 degrees.
During our time in Elkhart, Indiana, we talked to Future Solutions. Future Solutions masterminded Northwood Manufacturing's leap to 400-watts of solar standard, 600-watts optional, and their Sol X4 and Sol X6 solar controllers.  Be sure to check out Northwood's 2024 updates.
When we asked the Future Solutions team about charging the Bluetti, they studied the specifications and recommended at least a 6-gauge wire from our batteries. This, they suggested, should greatly diminish the heat we were experiencing. We will be upgrading this wire to a 6-gauge in the near future.
Ideally, we would have a way to switch the solar power coming from our rooftop panels to our Zamp ZS-30A solar controller to the house battery bank to the Bluetti. On sunny days, our camper battery bank hits 100 percent charged early in the morning. If we could then switch the panels to the Bluetti, that would be a compelling solution.
If you intend to charge a portable power station the size of the Bluetti AC200P while off-grid, you will either need a separate set of rooftop panels devoted to this purpose, a portable solar panel solution, or the aforementioned switch.
So how did we keep the Bluetti charged this summer? We visited truck camper factories and dealers throughout the United States and Canada, and plugged in. We also visited readers, friends and family at their homes, and plugged in. We don't typically plug in our camper this much in a given season, but this year has been far from typical.
Wrap Up
We were both thrilled and frustrated by our experience with the Bluetti AC200P. On one hand, it was reliable, charged my laptop 10 times before going below 10 percent, and ran our rooftop air conditioner for two hours off-grid. Running our air conditioner off-grid on a portable lithium battery was amazing.
The size and weight of the unit made perfect sense given these abilities. Most of the time the AC200P stayed under our dinette where it was out of the way. When we ran the air conditioner, we placed it in our center aisle and were thankful to have it.
On the other hand, a smaller and lighter portable lithium power station (one that can be charged from a 12-volt adaptor powered by our house battery bank) makes more sense for our use. For example, Bluetti makes an EB55 unit (700-watt / 537 Wh) that should fit the bill, and keep our computers charged with pure sine wave power. We have used a similar power station in our camper for nearly six years with great results.