TCM installs a low profile Coleman Mach 8 RV air conditioner on their project camper.  Step one was figuring out how to get the 90 pound unit on the roof.

This particular project all came down to our furry feline friend, Harley.
Like most truck campers, we avoid extreme heat whenever possible.  That said, there are times when we need to stay put in temperatures above ninety degrees.  For example, when we're touring a factory, or attending a summer truck camper rally.  Heat happens.
While we can escape the heat inside an air conditioned building or drink cold water in nothing more than T-shirts and shorts, our cat Harley does not have these options.  Worse, he always wears a fur coat, and refuses to drink cold water when told.  He's stubborn like that.
In the rare instances when we needed to dry camp in hot weather, we have come up with some creative solutions to keep Harley cool.  First, we crank the Fantastic Vent to high and open a single window to pull air over where he's sitting.  Second, we put a bag of frozen peas on him.  And third, if it's really stinking hot, we'll soak him in cold water in the bathroom sink.
These solutions work, but they're only temporary.  If the forecast shows heat for days on end, we will change plans and seek out shore power or cooler elevations.  Just this past June we were forced to hurry up our schedule in the Northwest to escape temperatures surging well past 100 degrees.  We found relief in the altitude of the Bighorn Mountains in Wyoming.
Choosing the Coleman Mach 8
Our current project camper arrived last summer without an air conditioner.  It also arrived with broken seals, outdated detectors, rusty exterior screws, de-lamination on one side, and a number of other issues that can come with an eleven year old used truck camper.
We were aware of most of these challenges and excited to roll up our sleeves, learn best practices from experts, and report our experiences and discoveries here in TCM.  So far we have done exactly that with a series of project camper articles in the Tech section.
After a very positive experience with a Coleman Mach air conditioner on our demo 2014 Northstar 8.5 Arrow U, we knew we wanted a Coleman Mach air conditioner for our project camper.  Specifically, we selected a Coleman Mach 8 9200 BTU low profile high-efficiency air conditioner that is able to operate with a Honda or Yamaha 2000-watt portable gas generator.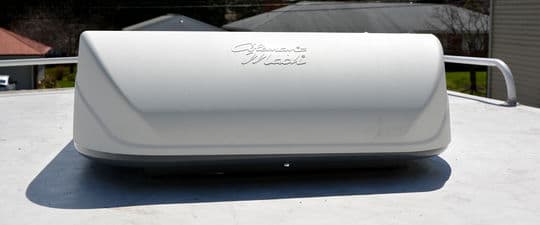 Above: The Coleman Mach 8 9200 BTU low profile high-efficiency air conditioner – click to enlarge
According to Airxcel RV Products, manufacturer of the Coleman Mach 8, the unit is the lowest profile RV air conditioner on the market at eight-inches high and the lightest weight low profile RV air conditioner available.  Honestly, we were mostly interested in its ability to be powered by a portable 2000-watt generator.  That ability extends our off-grid capabilities, and might mean the difference in staying where we want for an extra day, or heading for the hills.
Total Pallet Freak Out
We were very excited on the day the Coleman Mach 8 shipped.  Then we looked at the UPS tracking information.  The shipment weighed 160 pounds.  What?
The product literature clearly stated the Coleman Mach weighed 90 pounds.  Where did the extra 70 pounds come from?  And how were we going to lift and maneuver something that weighed 160 pounds when it arrived?
When we contacted Airxcel, they immediately solved the mystery.
"That's the weight of the air conditioner, its packaging, and the pallet it was shipped on.  It's been sent via UPS Freight.  You'll get it later today."
Thankfully, our UPS Store was accustomed to receiving palletized products and even handled the disposal of the pallet itself.  Once separated from the pallet and packaging, the Coleman Mach 8 was relatively easy for us to lift and place into our VW hatchback.