With a Palomino 2902, we explore Michigan's thumb and the shores of Lake Huron.  We discover piers, lighthouses, and some seriously delicious shakes.

What's with the name, "Michigan's Thumb"?  It seems so derogative.  Does anyone call the nub of Erie, Pennsylvania, "Pennsylvania's Pinky"?  No sir.  It's time for Michigan's thumb to rule.  No more twiddling.  No more feeling green with, "peninsula envy".  If it comes to a thumb war, so be it.  Starting with this article, Michigan's thumb is one digit that finally gets its due.  No one will oppose Michigan's thumb now.
For this important mission, we borrowed a Palomino 2902, a truck camper proudly made in the palm of Michigan, otherwise known as Colon.  We had four days to complete the task at hand.  It was time for a thumb drive.
DAY 1
We arrived at the Palomino factory with our naked truck around 9:00am.  There, right out in front, was a 2011 Palomino Maverick Max 2902.  Did we check in with the Palomino team before checking out the camper?  Heck no.  Angela and I opened the door and began our, "Oh, look at that" and, "Check this out" routine.
We had stopped at WalMart earlier that morning for groceries and RV supplies and immediately loaded the camper.  That's when Angela opened the fridge and laughed.  "What?" I asked.  "You'll have to see this," she replied.  In the refrigerator, already cold, was a six-pack of local Michigan beverages.
"Those Palomino guys. They're good," I said.  "They're just trying to get a good article," Angela replied.  Of course she was right, but I can't let a six-pack get in between me and my objectivity, can I?  No way, Jose!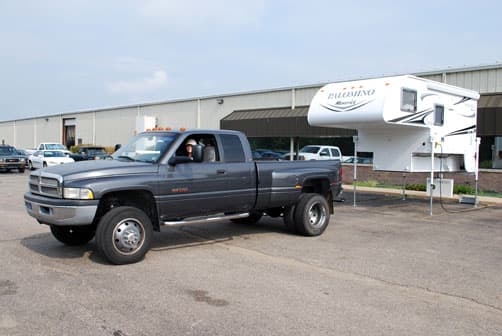 Unfortunately, the Palomino team had remembered the beverages, but forgot the swing out dually brackets for our truck.  For those of you who are unfamiliar with swing out dually brackets, they allow for the front corner jacks to swing out to let the wider dually fenders pass by during loading and unloading.  Once a camper is loaded, you then swing the brackets back in.  Without swing out dually brackets, a dually truck would literally run right into the front jacks, which is never a good idea.
We let the powers that be know about the brackets and about ten minutes later they were installed by Todd Huggett, Service Technician, and Mike Kernagis, Palomino RV's Service Manager.  Todd literally used a forklift to hold the camper up above the rear of our truck while he installed the brackets.  Maybe that's the ultimate solution to easy loading and unloading, we'll all just get forklifts.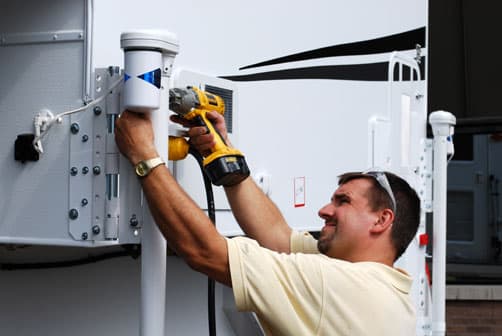 You may remember Mike Kernagis' article from last year, "ASK THE EXPERT: Maintaining Camper Seals".  We must refer dozens of people to that article every month.  Not maintaining your seals is like not changing the oil in your truck.  Eventually you'll have a water logged camper, and a seized engine.  Again, this is never a good idea.
With the camper loaded, we were all set.  Mike handed Angela our truck keys and we headed east to see Truck Camper Magazine friends, Bruce and Kim Scott.  Bruce and Kim had invited us to come visit them several times at the annual Mid-Atlantic Rally, and it was finally time to see them in their natural habitat.
That evening, Bruce and Kim took us out to tour their hometown.  The highlight of the evening was a stop at Chick Inn Drive-In.  Evidently, this is serious culture in these parts and the strawberry banana shakes were a mandatory experience.  Perhaps I should be embarrassed to report that this was the first time I had ever been to a drive-in.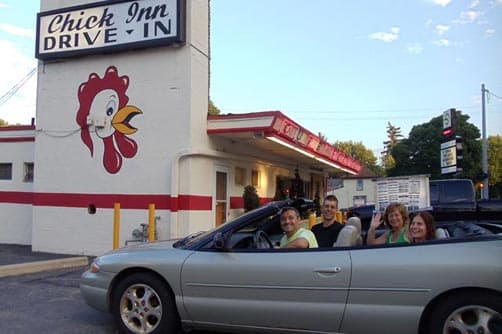 When Kim pushed the intercom to order our shakes, it went something like this:
"We would like four milkshakes please."
"Wha-whaa-wa-wa-wahhaaa…"
"No.  We would like four milkshakes please!"