For their personal truck and camper, the founders of Rugged Mountain debut an updated state-of-the-art build of their record-setting Denali 3S. Mounted on a tricked-out Ram 5500, this rig reaffirms the Rugged Mountain Denali 3S as the true king of the triple-slides.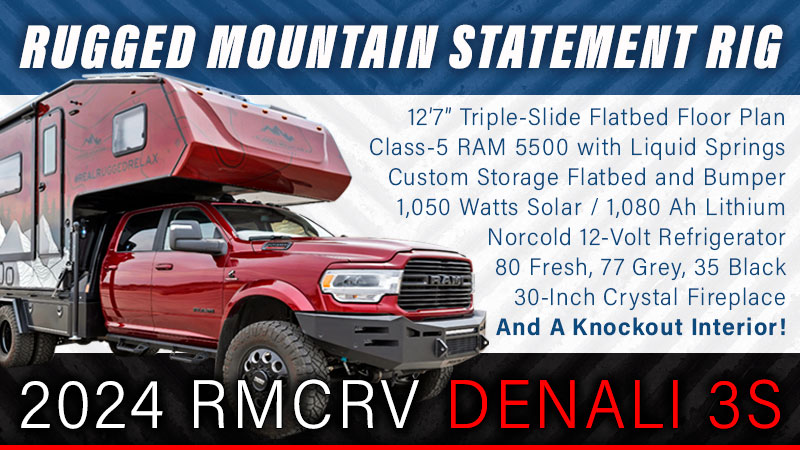 This past March, Rugged Mountain RV shook the truck camper marketplace with a 12-foot 7-inch hard side, triple-slide, flatbed, side-entry, dry bath truck camper with a mid-bath, center island, sofa-slide, face-to-face dinette, and a fireplace.
The Rugged Mountain Denali 3S instantly became the new triple-slide king of the truck camper world, but the Emmett, Idaho team wasn't done. To showcase a range of updates to the 3S design, and to demonstrate their current state-of-the-art, the Rugged Mountain team has produced a statement version of this show-stopping multi-slide.
Above: The Rugged Mountain Denali 3S and Ram 5500 Statement Rig
To compliment their new statement model, Rugged Mountain co-Founders, Jesse and Anca Collinsworth, purchased a Class-5 Ram 5500 truck and installed a custom front bumper and full LiquidSpring suspension system. The Denali 3S may be the largest truck camper we've ever featured from a manufacturer, but they're keeping it within payload with a Class 5 truck.
Double Take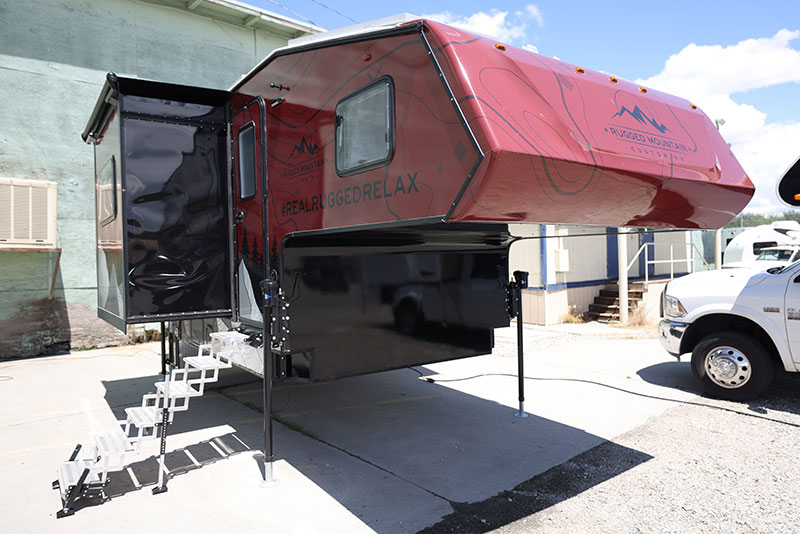 We first set eyes on the Denali 3S statement camper at the Rugged Mountain factory this past June (note our camper nose top right). The camper was nearly completed, but the Ram 5500 was waiting for a custom front bumper and other final touches.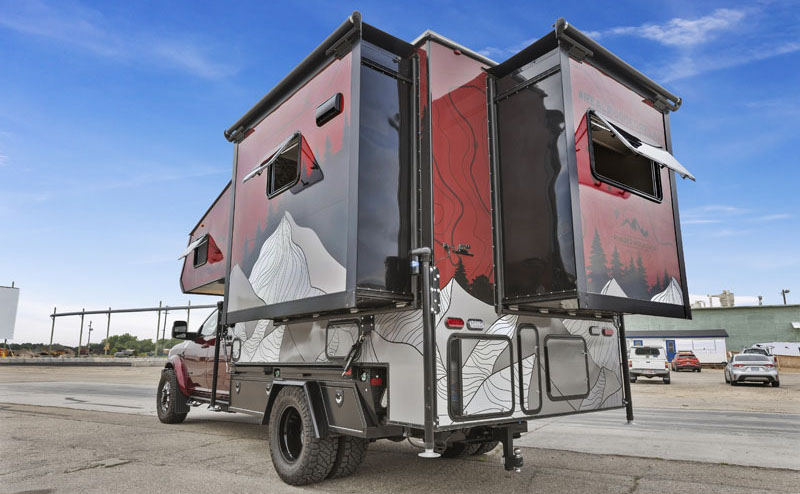 Above: The completed Rugged Mountain Statement Rig
As if the Denali 3S needed another attention grabber, Rugged Mountain had a stunning burgundy and white mountain wrap installed. Like nearly everything else at Rugged Mountain, this wrap – or any other wrap design or color you can imagine – is an available option.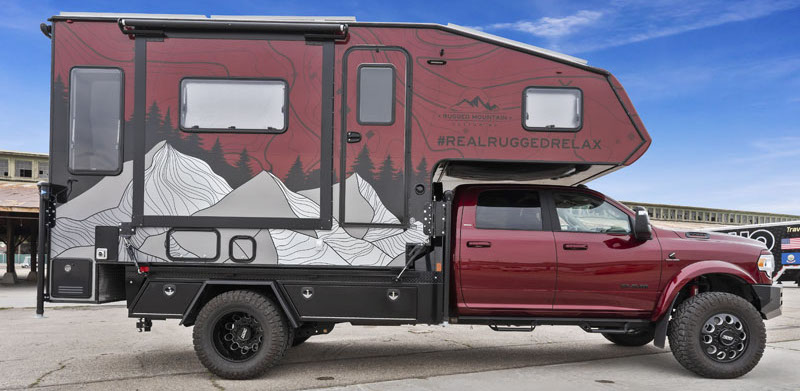 The Denali 3S houses three Expion lithium batteries for a total of 1080Ah and the roof has six panels for a total of 1050 watts of solar (see below).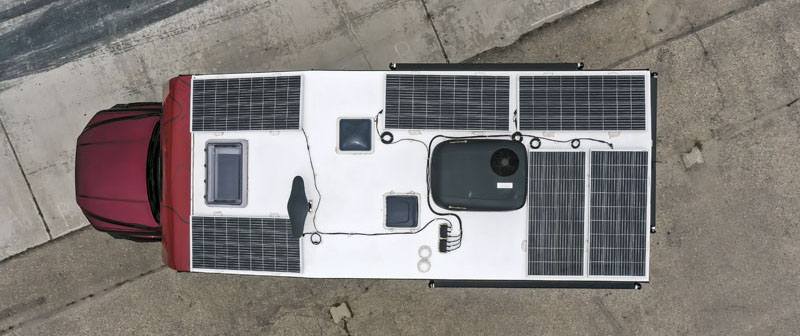 The extensive solar and battery system was designed to run the Rec Pro air conditioner, Norcold 12-volt refrigerator, and built-in 110-volt convection cooktop and convection air fryer microwave far from the reaches of shore power.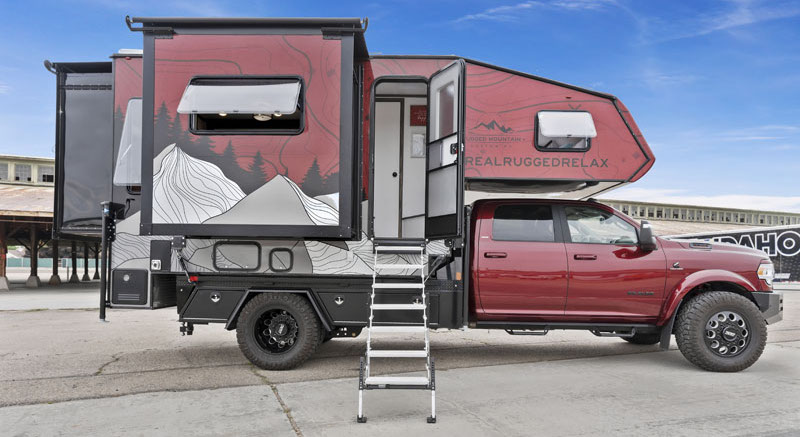 The statement camper retains the two 20-pound vertical propane tanks in the rear overhang. The water heater, furnace, and large pull-out drawer are also featured in this area. You could also opt out of the pull-out drawer for a generator compartment.
Another World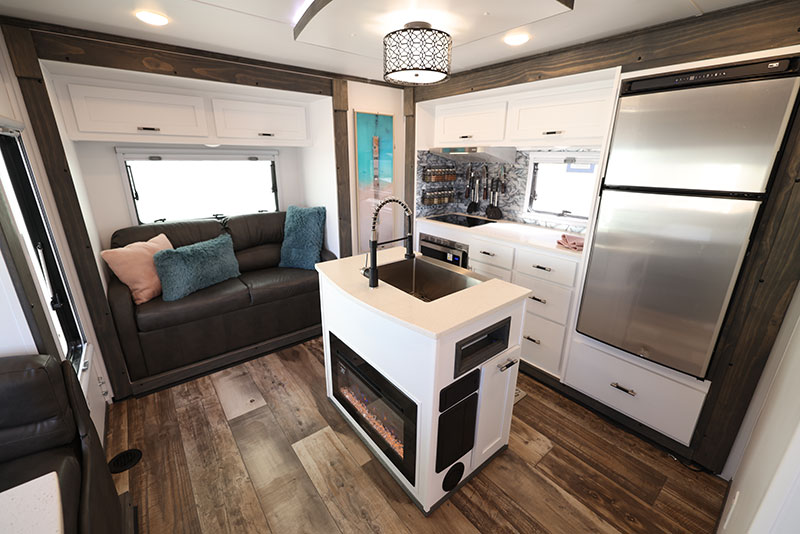 We had seen the original Rugged Mountain Denali 3S in pictures, but nothing prepared us for the world the statement version contains. From the sheer volume of space to the center kitchen island, to the bright and modern tiny home-inspired interior, almost nothing in this unit says, "truck camper". If anything, this is a high-end luxury apartment.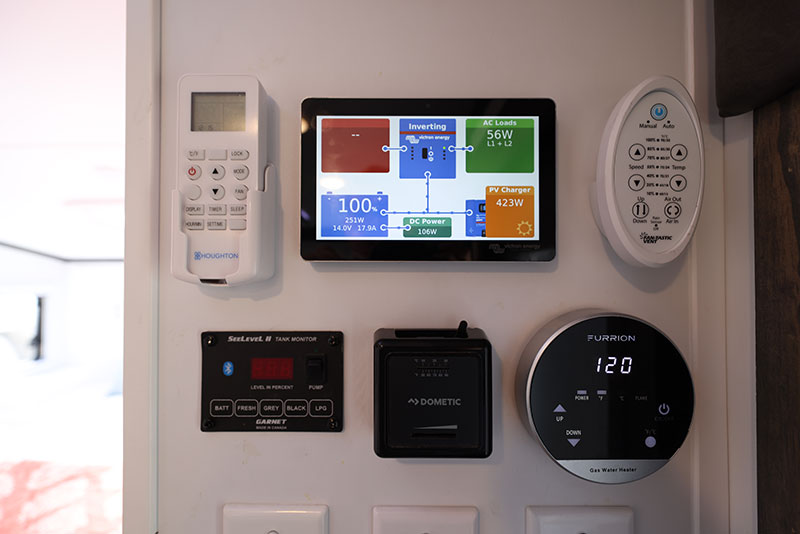 To the immediate right of the entry door is an array of controls; SeeLevel II tank monitor, Houghton air conditioner remote, Victron GX Touch monitor and control panel, Fantastic Vent remote, Furrion water heater control, and Dometic thermostat. The Dometic thermostat seemed out of place among the more advanced kit, but that's an easy swap should someone want a digital version.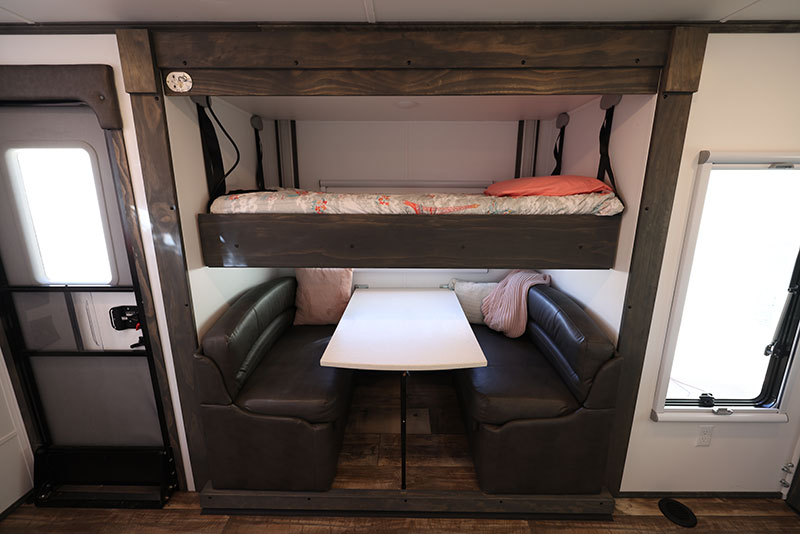 Above the passenger side dinette is a full-size face-to-face dinette with a drop-down Happijac electric bed lift. For Jesse and Anca and their two daughters, this feature was an essential part of the statement camper. Their kids can sleep in the converted dinette bed and drop-down bed leaving the adults the rear sofa to sit and enjoy the evening.
If there's one feature multi-slide truck campers offer that tempts us as old-school, hard side, non-slide camper folks, it's a sofa. Sitting on this sofa and looking at the Denali 3S statement camper made me question my long-stated truck camper ideals. My brain says, "Keep it efficient and simple." My back and hindquarters say, "This is so comfortable. I need a sofa."
Note the large framed picture in the above photo. It's touches like this that challenge any notion of being in a truck camper, much less standing in the back of a truck.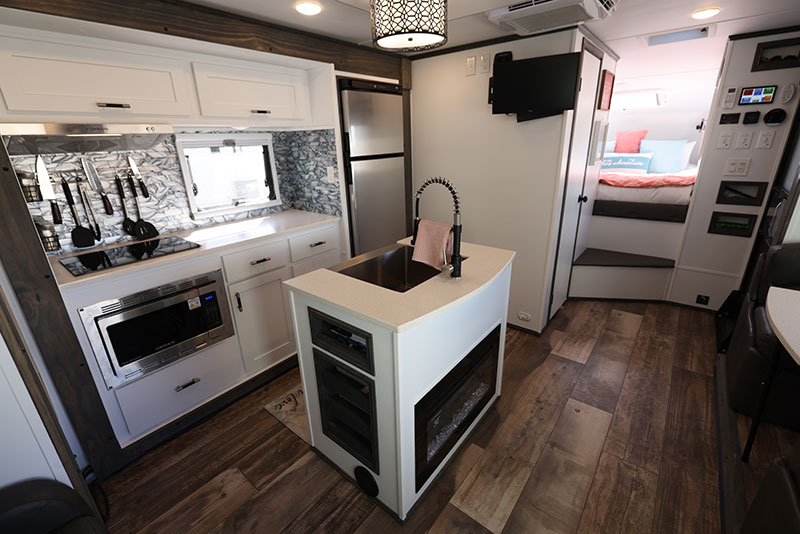 The view from the sofa is mind-blowing. Never mind not looking like a truck camper. This doesn't look like an RV. Heck, it looks nicer than most homes I've known in my life. Yes, this was photographed with a wide-angle lens, but the actual impression you get in person is at least as profound.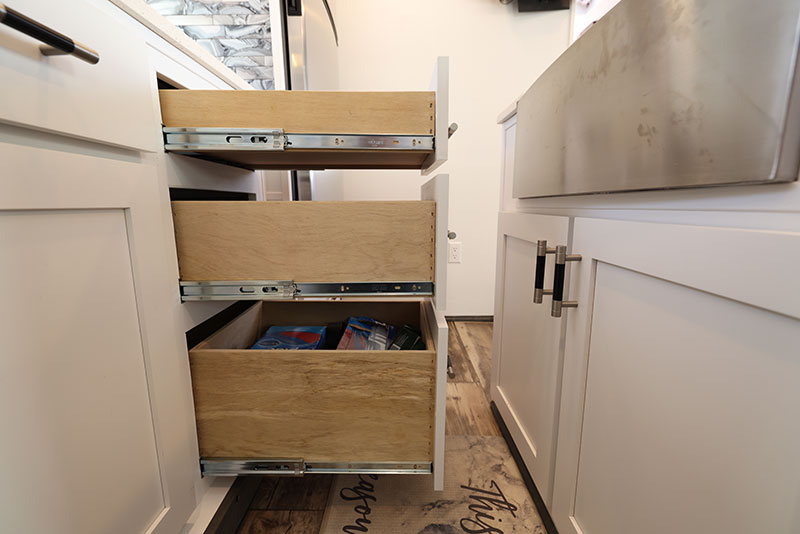 While we explored the unit, we asked Jesse if the Denali 3S has enough storage for his family of four.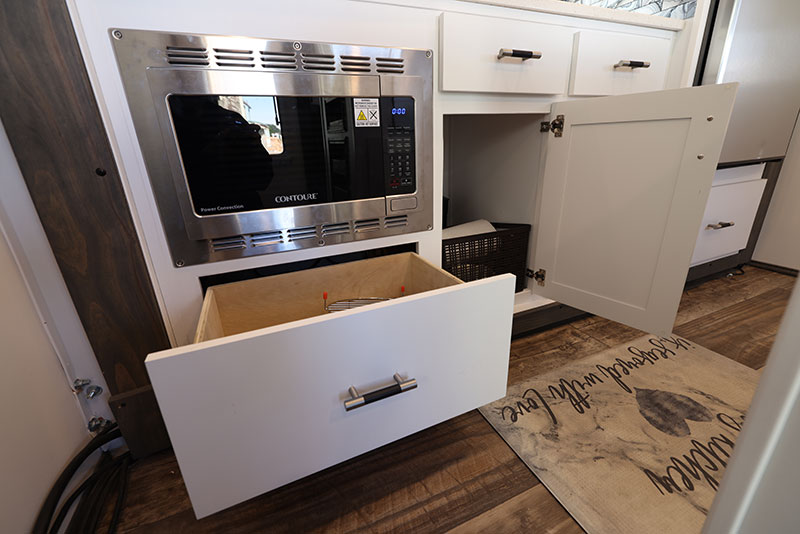 Jesse answered by going through all the interior storage; above the sofa slide, in the kitchen slide, in the bathroom, and throughout the cabover.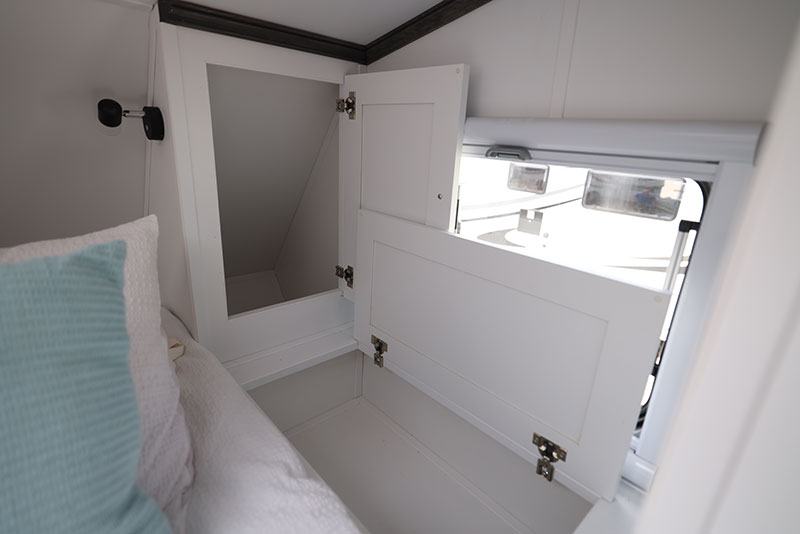 He also explained that the 3S manages to have at least as much storage as their non-slide hard side Granite 11RL; their previous camper and no slouch in the non-slide storage area.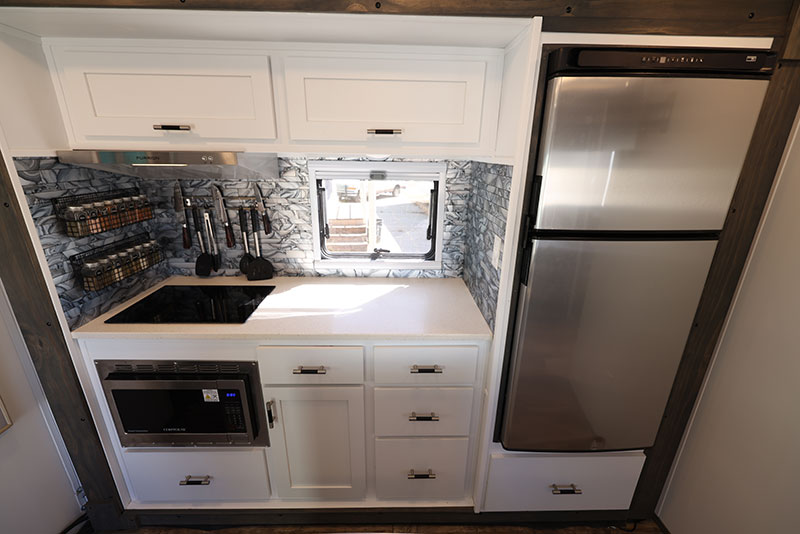 Throughout the Denali 3S statement are domestic-influenced details that upend one's perception of what a truck camper interior can be.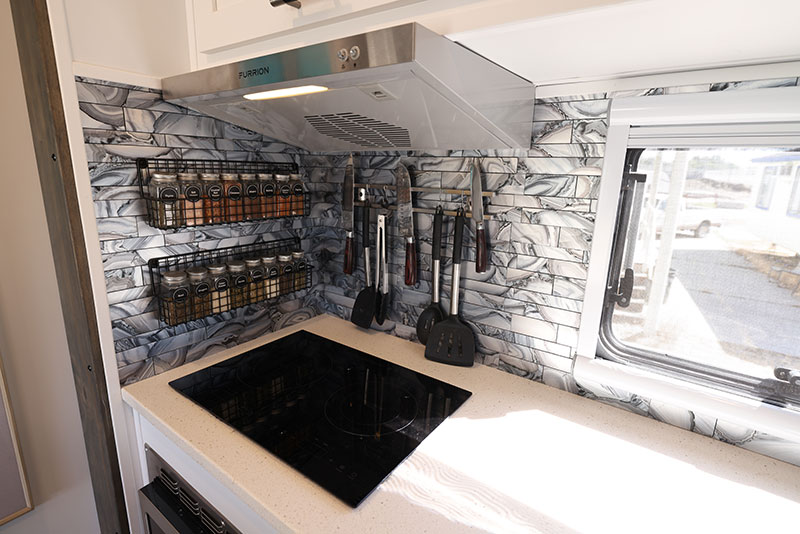 For example, the spice and magnetic knife and utensil racks in the kitchen slide. Obviously, this has little to nothing to do with the triple-slide nature of the unit, and more to do with the keen design and finish choices of Rugged Mountain RV.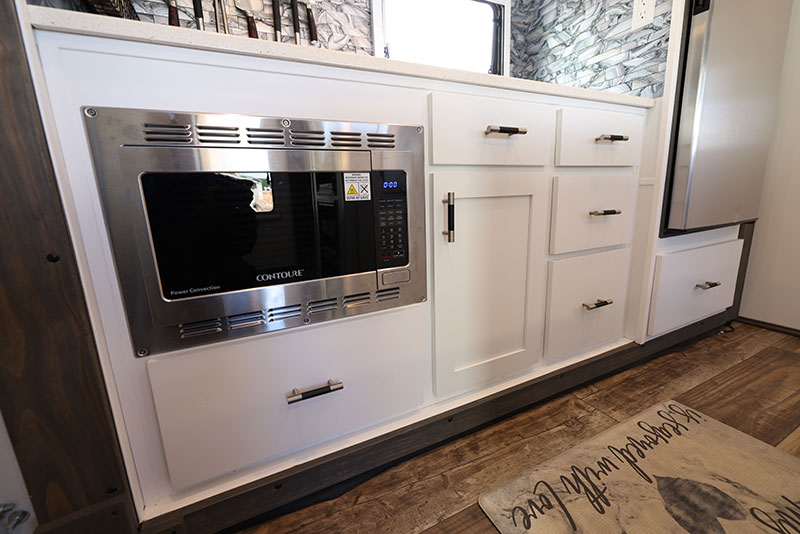 Underneath the kitchen countertop was a convection air fryer microwave. The location is a bit awkward, but we know a lot of fellow truck campers enjoy having a microwave in their camper. When we had a convection microwave in a borrowed camper, we were surprised at how useful a convection function can be. Like to bake? You can do it with a convection microwave. Thanks to Angela, I enjoyed many muffins to prove it.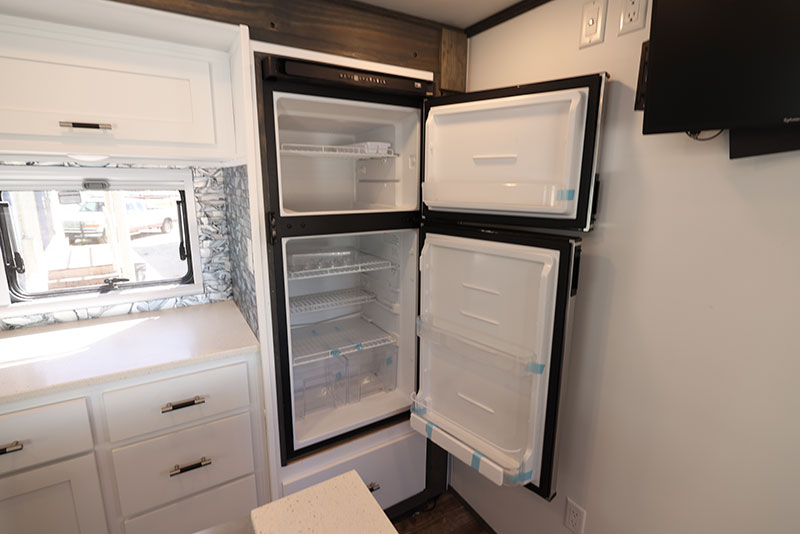 The 8-cubic foot Norcold 12-volt compressor refrigerator is one of the most RV-looking components in the entire camper.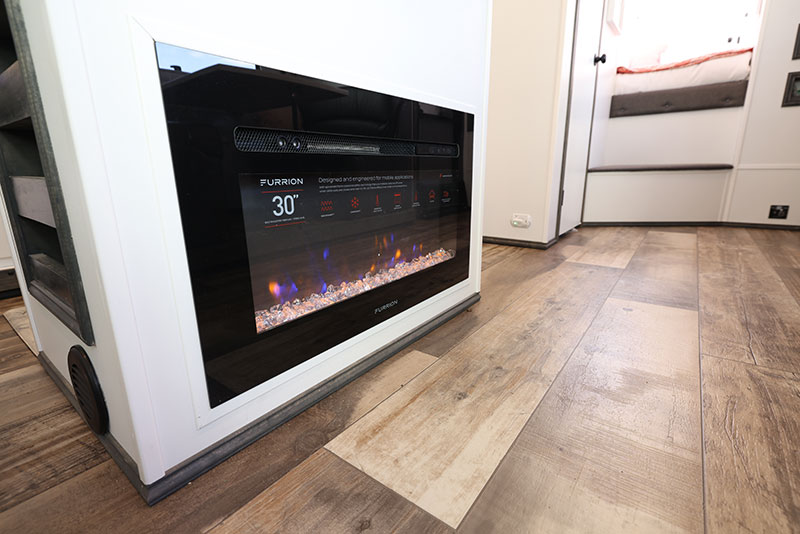 I can't say that for the Furrion 30-inch Crystal fireplace. With "LED flame technology", the Furrion can actually produce either 750-watt or 1,400-watt heat with a thermostat set for 65 to 95 degrees Fahrenheit. I have long laughed at the idea of a fireplace in a truck camper and I'm still not sold on one now. However, the ability to have electric heat is awesome, and the fake fire glow is oddly mesmerizing. Darn it, Rugged Mountain! You're really messing with my truck camper ideology here.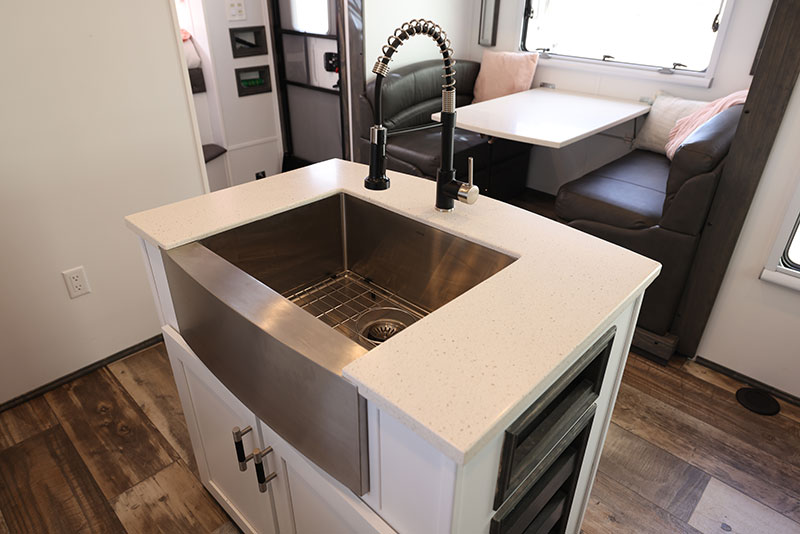 The kitchen island features a huge stainless farm sink with a tall faucet on top, under sink storage, 110-volt outlets, 12-volt outlets, and a storage rack on the rear-facing side.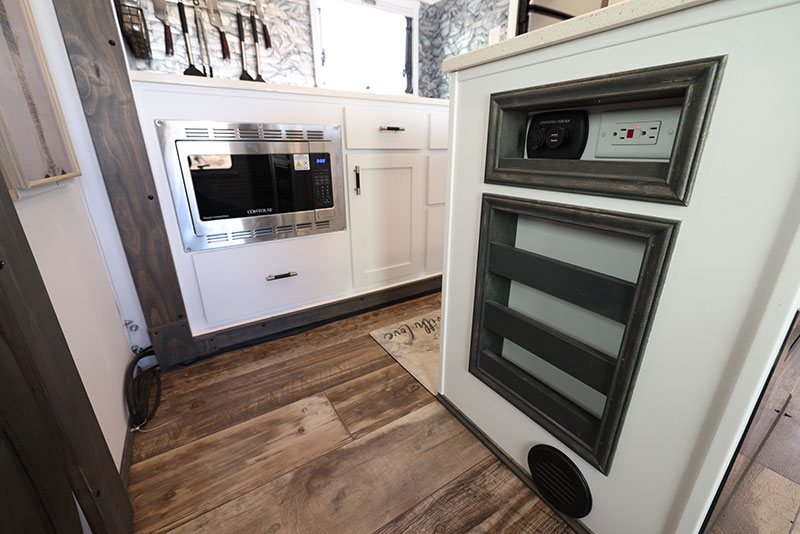 There's a storage nook, pull-out trash can, 110-volt breakers, and 12-volt fuses on the front-facing side and the aforementioned confounding electric fireplace on the passenger-facing side.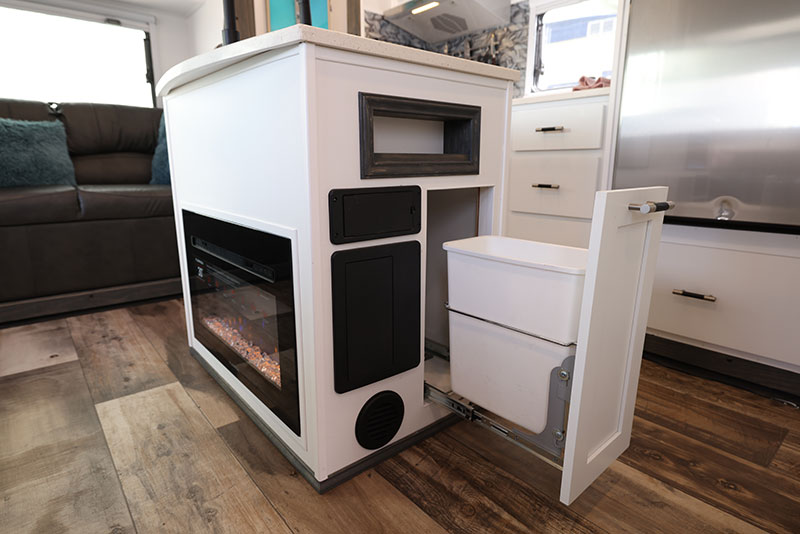 Oh, and those are round heat ducts fore and aft. The clean execution and intricate detail of the island are something to behold.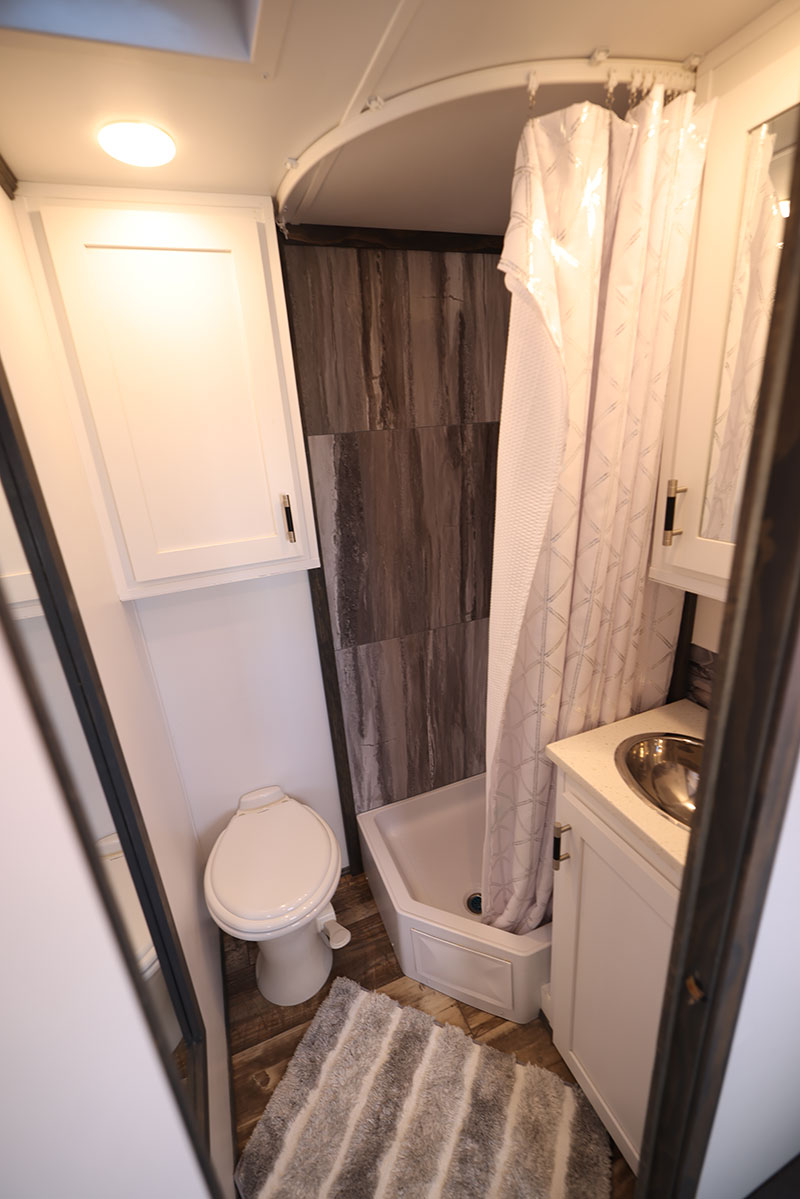 The layout and presentation of the central dry wet bath is another wow.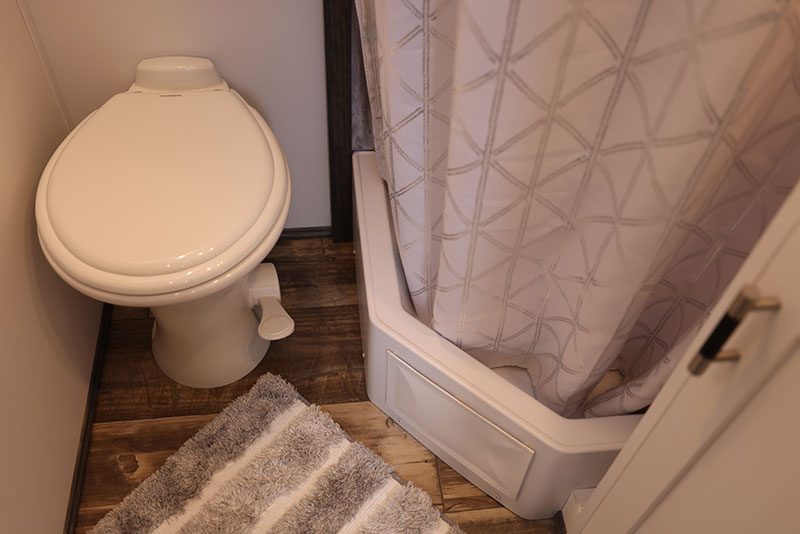 With a standard height foot flush porcelain toilet, residential-style corner shower, stainless sink, and cabinetry above the toilet and under the sink, it's another residential touch.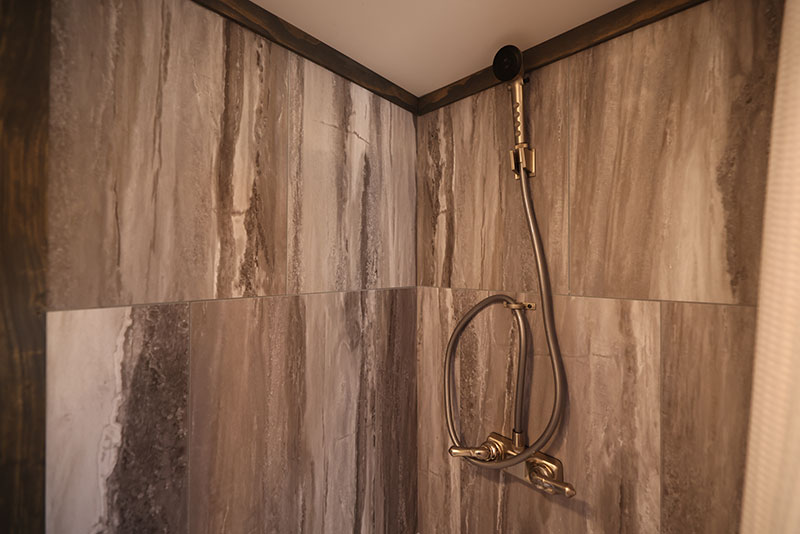 Somehow the backsplash in the shower area takes this dry bath to another level. Mounting the stainless shower controls to the wall gives absolutely no hint of this being a camper shower.
Refinements and updates to the original Denali 3S abound, but the one that first caught our attention at the new cabover steps. The simpler steps present a cleaner aesthetic and make getting in and out of the cabover easy and comfortable.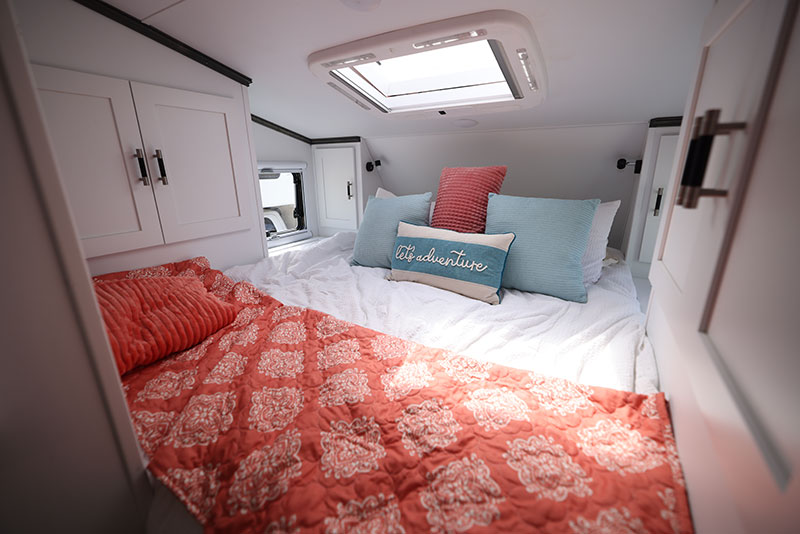 Like the main living area and dry bath, the cabover feels like a distinct space from the rest of the camper. The Rugged Mountain team also made sure that both sides of the cabover have a nearly equal amount of storage. Note the dueling front penguins (front nose cabinets), hampers, and closets.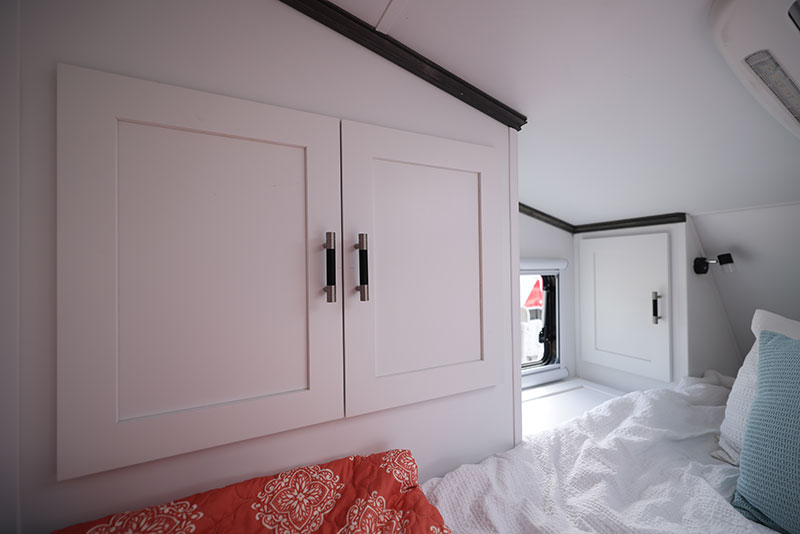 Could this be the most storage we've ever seen in a camper cabover? If the bed lifted up to reveal more storage, it would be a drop-the-mic moment for Rugged Mountain.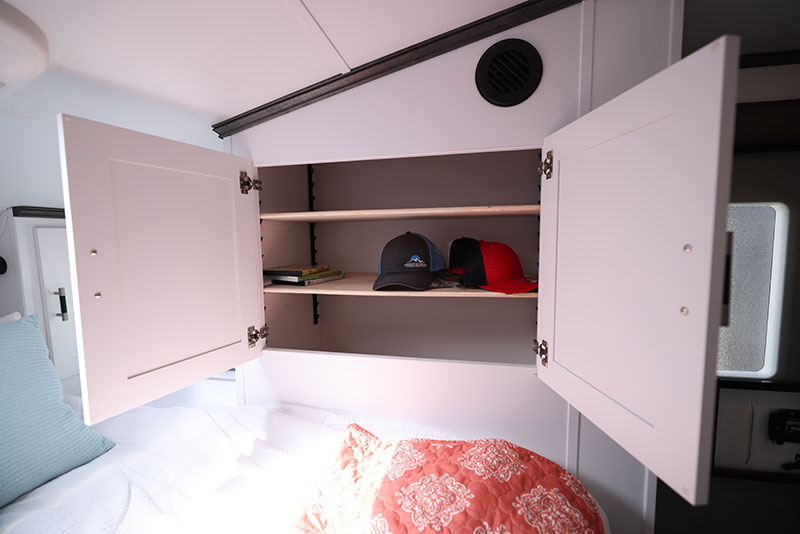 Both sides get a reading light and an opening window with a bug screen and blackout shade. No question about it. This is one seriously sweet cabover.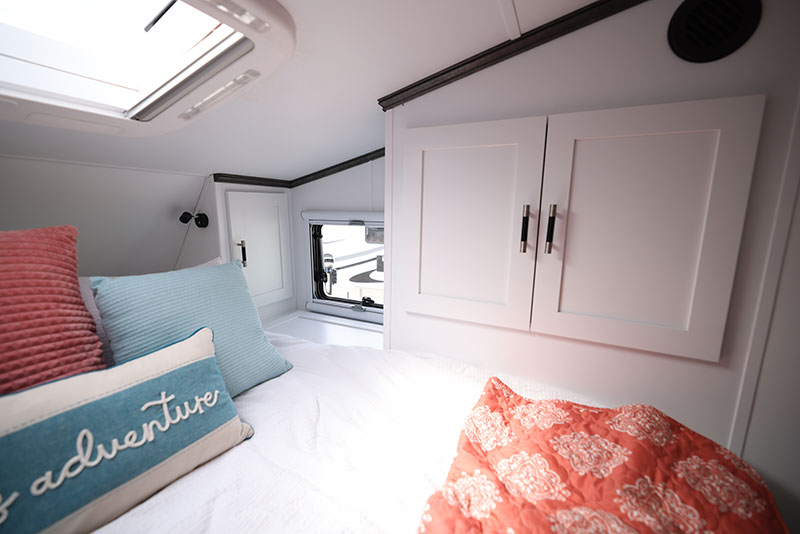 The Big Caveat
As our first contact with the Denali 3S, we were completely wowed. However, despite our socks being rolled up and down, we still prefer the efficient simplicity of a hard side, non-slide, slide-in camper. Put bluntly, this camper is too big, too heavy, and needs far too much truck for our old-school truck camping preferences.
If we were purchasing a Rugged Mountain, it would be their Granite 11RL. At 4,690 pounds wet, the Granite 11RL is comfortably within the payload of a one-ton dually pickup. This eliminates the cost and requirement for a Class 5 truck and a flatbed. And there's no reason why you couldn't get most of the amazing interior aesthetic and technology of Denali 3S statement in the 11RL. You could.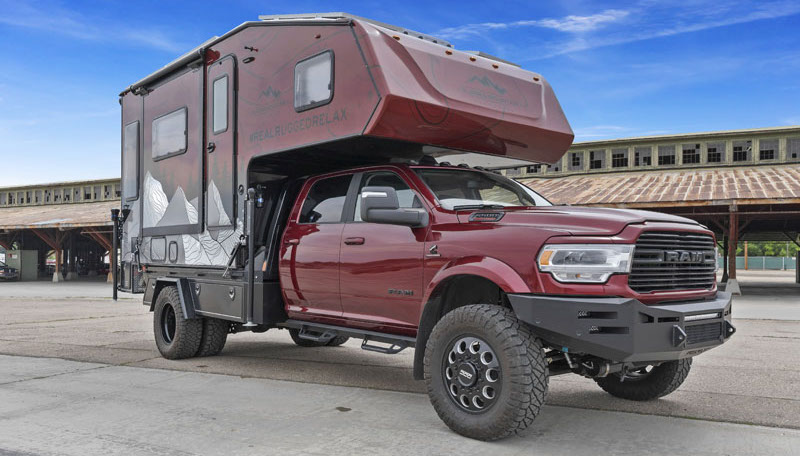 For others, the concept of going to a Class 5 truck with a flatbed and a Denali 3S triple-slide will be impossible to resist. This will be especially true when these individuals see this camper in person. It's nothing less than a high-end luxury apartment on the back of a truck; set to stunning and ready to roll. If our backs and hindquarters got the final say, the answer would be clear.
If you are interested in seeing it in person, Jesse and Anca will be camping in their statement rig at Overland Expo Mountain West in Colorado this weekend.
For more information on Rugged Mountain, visit their website at ruggedmountaincustomrv.com. Click here to get a free Rugged Mountain brochure.