You will not believe what fellow truck campers are cooking up with their convection microwaves.  For everyone who thinks convection microwaves are a waste of space, you need to see this.  Cookies!  Cakes!  Oh my…
This week's Question of the Week was, "Have you been able to successfully cook in your camper with a convection microwave?"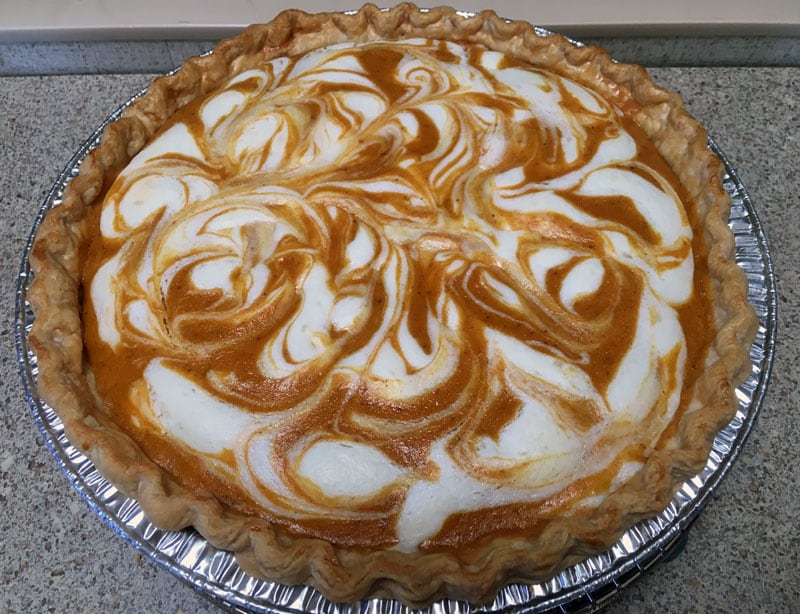 "I use a very accurate oven thermometer.  If my recipe calls for 350-degrees, I will preheat the oven higher because, when you put your food in, the temperature drops dramatically and it takes awhile for the temperature to catch back up.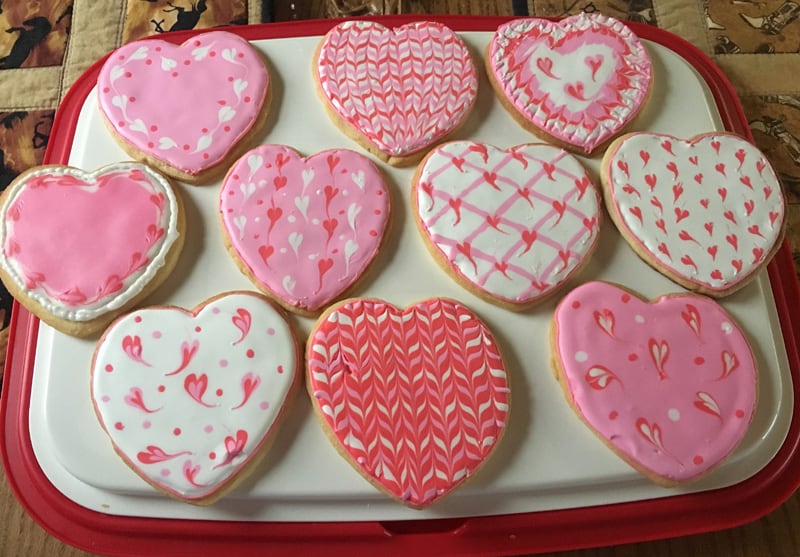 Watch your oven thermometer closely and adjust the temperature accordingly.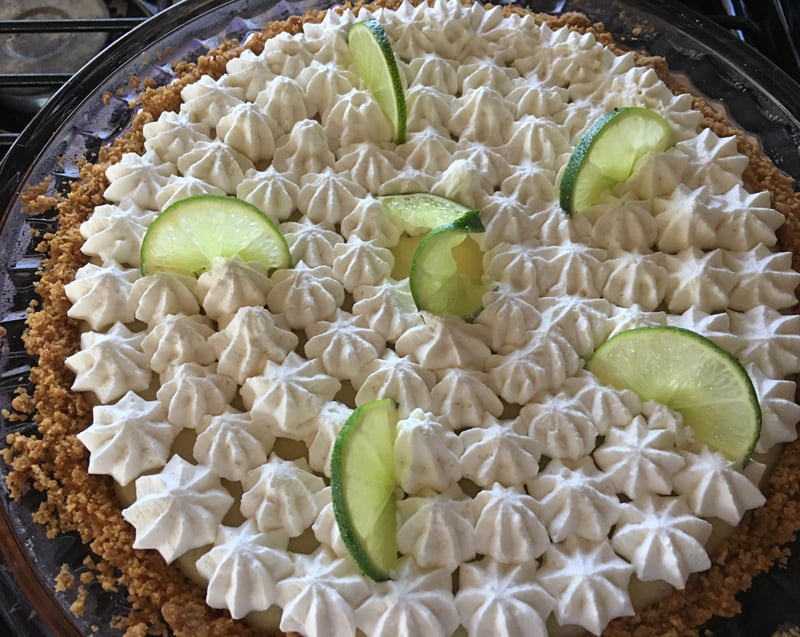 I use very good quality pans because this helps in even baking no matter if it's a cake, pie, cookies, or a casserole." – Angela Klinger, 2018 Dodge 5500, 2017 Arctic Fox 1140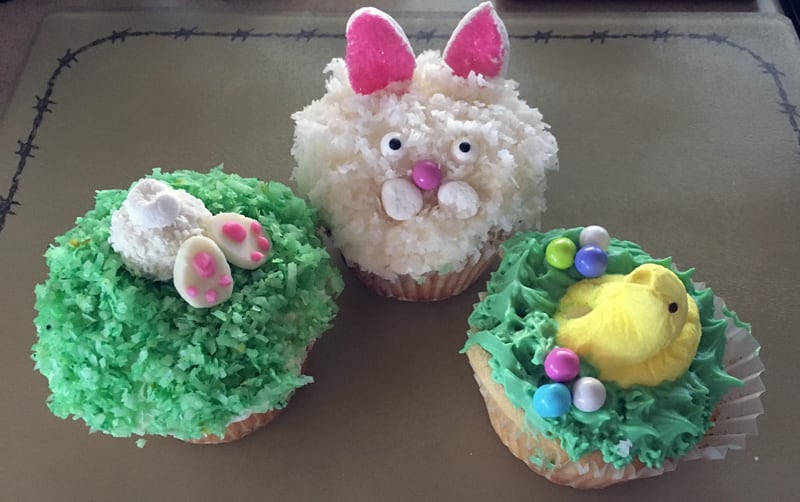 Editor's Note: If this is what can be done in a convection oven, I need to learn how to use ours.  Thanks for the inspiration.  WOW!
"I love, love, love my convection oven.  We bake in it all the time.  Cookies, cookies, cookies!  Did I say cookies?!?  We also bake muffins, biscuits, cakes, meatloaf, chicken, fish, etc.
Yes, sometimes you have to get a little creative, but the convection microwave is a winner-winner – chicken dinner! I will never have an RV without one, ever again.
I have tried to cook in those horrible RV ovens.  I tried every trick that people told me; bricks, special pans, pizza stones, and tiles.  The top of my food was never cooked and the bottom was always burned.  With the convection oven, it cooks perfectly – just like at home.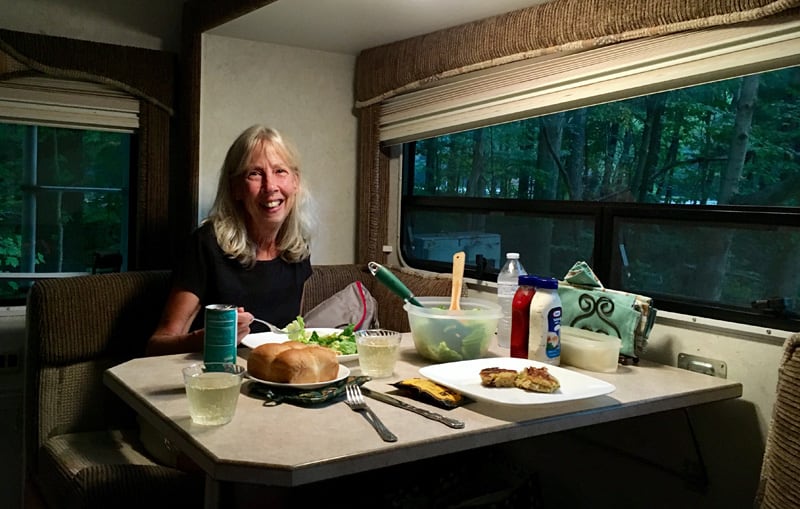 One of my hints is that I use a spring form pan (like what's commonly used for cheese cakes) for almost all my baking. I use foil to line it, or I may use just the bottom to bake cookies, biscuits, or fish.  Easy!
Salmon Frittata Recipe
6 beaten eggs
3 ounces cream cheese – cubed in very small pieces
3 tablespoons fresh chopped Basil
3 tablespoons fresh chopped Chives (or Green Onion)
Salt and Pepper
1/3 cup milk
Pam spray or butter to grease cooking dish
4 ounces smoked salmon, skin removed, chopped
Optional: Grilled asparagus cuts
3 tablespoons finely chopped Red Onion
Preheat the convection microwave oven to 350-degrees Fahrenheit.
Mix eggs, cream cheese, basil, chives, salt and pepper, milk, salmon and asparagus.
At home I use an iron skillet, but the handle gets in the way.  I line a springform pan with foil, grease or spray with Pam, and pour the above into it.
Bake in preheated convection microwave oven 20-40 minutes until eggs are set (larger eggs may take longer).
Cut in wedges and serve with a side of sliced cucumbers, sliced tomatoes and grilled pineapple slices. Mimosa's and lemon curd crepes are a wonderful addition also." – Rickey Werner, 2012 Dodge Ram 3500, 2005 Lance 981
"We have successfully baked and grilled in our convection microwave.  No complaints." – Steve Wright, 2015 Ram 3500, 2015 Lance 1172
"Absolutely.  I have baked cakes, pizza and even roasted a chicken.  No problem.  I don't open the door since it takes awhile to get back up to temperature, but it works just fine.  The space I save by not having a second oven gives me space for all my pots and cooking equipment.
A neat trick we learned is to use your microwave as a breadbox when you are traveling.  It keeps the bread fresh and off the countertop." – Nanette Fliesser, 2013 Chevy 3500, 2014 Host Mammoth
"In other campers I had a regular propane oven and a microwave oven.  My husband found and replaced the microwave with a microwave/convection of the same size, which was not easy.
One problem was that the door opened down, risking burned arms when using the convection oven.  So far I haven't burned myself.
The second problem was reading the convection microwave book and learning how to use it.  And yes, I have baked chocolate chip cookies from dough.  I mixed the dough at home and refrigerated it.
Chocolate Chip Cookie Tips
I dropped the refrigerated dough onto round flat side of a grill I own, set the temperature at 375-degrees Fahrenheit and, with no preheating, set the time for 6-minutes.  Pull it out at 6-minutes and gently tap each cookie flatter with a spatula and return.  Reset the time for 2-3 minutes and finish baking.  Let them sit 3-4 minutes before removing.
I also make baked muffins and beer bread.
Beer Bread Recipe
3 cups self-rising flour
⅓ cup sugar
One 12-ounce can of beer
Mix the ingredients just until moistened and put in bread pan.  Bake at 375-degrees Fahrenheit for 40-minutes.  Reduce the heat if the top is browning too much, and continue baking for an additional 15-minutes or until toothpick pulls out clean." – Pat Bickel Jones, 2007 GMC 3500, 2017 Host Mammoth
"I have a convection microwave and the sticker is still on the glass.  It is used mostly to store chips and things.  In the defense of my convection microwave, I camp 99-percent of the time off-the-grid.
I will look forward to the recipes that your question of the week generates, along with any how-tos." – Susan Surateaux, 2017 GMC 3500, 2018 Arctic Fox 811
"Note: I am a bachelor cooking for one, so I'm not a natural at this.
I replaced the standard Dometic 1,100-watt microwave with Daewoo 900-watt microwave/convection oven in my 2006 Layton fifth wheel two months ago.  I have been experimenting since.
My pork roast was the most successful.  The pizza test was so-so because of the difficulty of getting a crisp crust.  The tuna croquettes were satisfactory, but not quite as good as fried-in-oil.
I still have to try baking, but I have high hopes of finally making my exotic meat loafs again.  I have been without an oven for over eight-years, so I'm still trying to remember what I used to cook in one.
Like any oven, preheating is important.  The convection oven/grill can emit much heat and needs space around it for cooling.  I run an extra fan in the cubicle where the microwave is mounted." – James Landers, 1997 Dodge Ram 2500, 1985 Lance 300 8.6 foot and 2006 Layton fifth wheel
"Yes, we have used our convection microwave for more than a year and are completely satisfied with it.  To put this into perspective, we also have a regular Dometic propane oven in our motorhome and an electric convection oven in our bricks and mortar home.
There are some limitations.  For one, the convection microwave is not big enough for a Thanksgiving turkey.  For two, I need to run the generator or use shore power to run it.  For short a duration, the microwave works great on the inverter.
The convection oven is far more useful versus the Dometic propane oven because it's a royal pain to have to light the propane oven every time.  Just my $.02.  Any oven recipe works fine in the convection microwave." – Lee Vormelker, 2014 Winnebago Sightseer 30A
"The convection microwave in our Cirrus 920 can cook with the microwave, an electric heating element, or both.  We have reheated pizza with the combination mode.  It worked better than the microwave alone because the pizza was crisper.
We have cooked biscuits and corn bread with the heating element and convection fan with good results.  We are still trying to dial-in the time and temperature.
Convection microwave suggestions from the internet say to use a lower temperature and less time, but that hasn't been the case for us.
Overall, we are happier with a convection microwave compared to a propane oven.  Without a propane oven, we have a big drawer under the cooktop.  The propane ovens we had in previous campers were too small to heat evenly and often burned the bottom of our food." – Paul Neumann, 2013 Ram 3500, 2019 Cirrus 920
"Yes, but it was a disaster the first time.  I invested a whopping $5 on an oven thermometer since the cheapo High Pointe oven did not seem to be working.  The preset temperatures were off by 50 to 75-degrees.  Once I figured that out, it does a serviceable job.  It's still way better than the regular LP RV ovens with their Burn-O-Matic system." – Michael Butts, Truckless, Truck Camper-less
"There was a convection microwave in our Lance 1172 when we bought it.  The first thing I did was pull it out and replace it with a propane oven.  I had to raise the surface of the propane cook top about three-inches to make it fit, but I love it.  Now I can cook without cranking up the noisy generator." – Mark Daigle, 2016 GMC 3500, 2013 Lance 1172