In all our years of truck camping, I don't think we have once talked to a fellow truck camper who has (a) used or (b) liked their convection microwave.
Yes, folks use their convection microwaves as microwaves, but most believe the convection feature is useless, or doesn't work as intended.
What Is A Convection Microwave?
In a nutshell, a convection microwave is actually two products in one; a microwave and a convection oven.  A microwave heats food by exposing it to electromagnetic radiation.  This in turn excites the water content of the food for an even heat.
A convection microwave adds a halogen heating element and fan to brown and crisp the exterior of food; something traditional microwaves can't do.  Convection microwaves can also use both microwave heating and the halogen heating element simultaneously for faster and more even cooking.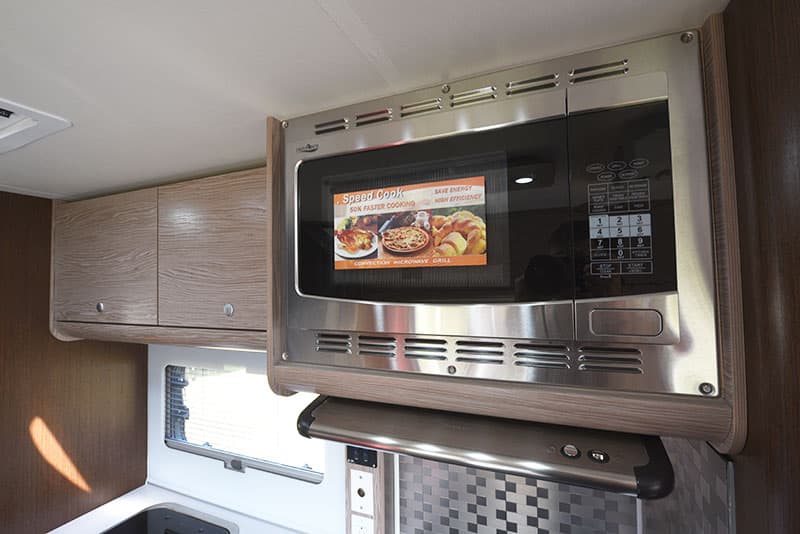 Above: A convection microwave in a Cirrus 920
The concept of a convection microwave sounds great.  As microwaves cook the inside of the food, the convection heating element cooks, browns, and crisps the outside.  What's not to like?
"I tried to make cookies (or cake, brownies, pies, etc.) in the convection, and it was a disaster."  Heard that one?  We have, over and over.
The Truck Camper Convection Conundrum
Some truck campers have convection microwaves instead of traditional propane ovens.  The manufacturer decided the convection feature of the microwave superseded the need for a propane oven, and eliminated it.
If owners of propane oven-less campers want to bake (which they often do) they are stuck with the convection microwave, or toting along a counter top electric oven.  As a side note, we have friends who travel everywhere with their counter top electric oven and love it.
This week's Question of the Week is, "Have you been able to successfully cook in your camper with a convection microwave?"
Of course we are looking for examples where you used the convection feature of your convection microwave.  And for goodness sake, if you have been able to bake cookies, cake, brownies, pies or chicken for that matter – please tell us how you did it.
Extra credit: If you have a convection microwave recipe that you've successfully used in your camper, please include it.
Click here to see some awesome convection oven treats and to get tips on cooking in a convection oven.