Rugged Mountain RV debuts an all-new 12-foot 7-inch hard side, triple-slide, flatbed, side-entry, dry bath truck camper with a mid-bath, center island, sofa-slide, face-to-face dinette, fireplace, and more. Meet the new triple-slide flatbed king.
Back to quench our multi-slide thirst, Rugged Mountain RV has launched the Denali, an absolutely gorgeous triple-slide flatbed truck camper. Get ready to crown a new triple-slide king. This camper is stunning.
Rugged Mountain RV itself started in 2017 with a line of more traditional truck campers before breaking cover on the Granite 11RL the following year. The Granite 11RL featured a distinctly modern and residential aesthetic that boldly stood out from not just the truck camper marketplace, but the greater RV industry as a whole. In fact, the 11RL won an Elkhart Open House Best In Show Award from RV Pro. We witnessed that event and the 11RL interior really did stand head and shoulders above nearly every RV at the Open House that year.
Looking at the all-new Denali 3S, it's clear that Rugged Mountain RV has taken its groundbreaking modern and residential aesthetic and advanced it many fold. Gone is nearly any trace of conventional RV design. In its place is a bright, wide-open, and wholly up-to-date presentation that could lure enthusiasts of any RV category. I think homeowners that never thought of themselves as RVers would instantly take to the Denali 3S. Heck, I'm a stick-in-the-mud old-school non-slide truck camper guy and even I'm wowed.
It's important to note that Rugged Mountain RV sells factory direct and has a limited number of production slots available per year. When a customer places an order, the company will inform you of the next available build slot, put your name on it and give you a delivery date.
To dive into this impressive new triple-slide debut, we talked to Jesse and Anca Collinsworth, co-owners of Rugged Mountain RV.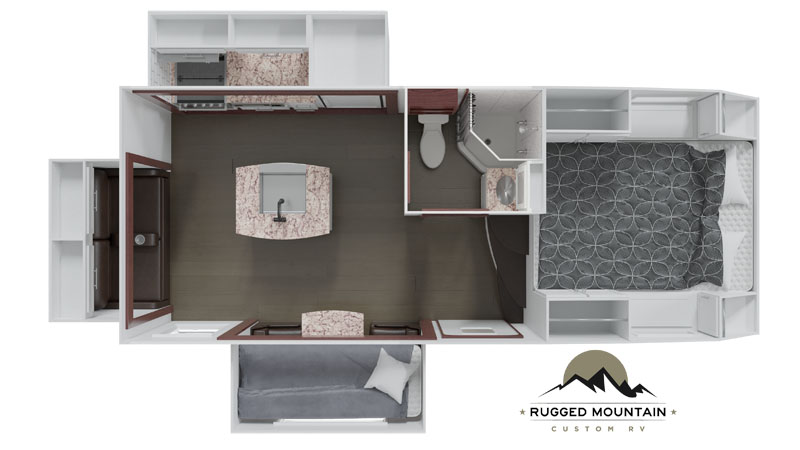 2023 Rugged Mountain Denali 3S Specifications:
The 2023 Rugged Mountain Denali 3S is a hard side, triple-slide, dry bath truck camper made for long bed trucks.  The interior floor length of the 2023 Rugged Mountain Denali 3S is 12'7", the interior height is 6'8", and the center of gravity is 64" from the front wall.
The Denali 3S has an 80-gallon fresh tank, a 77-gallon grey tank, a 35-gallon black tank, and a 6-gallon water heater.  It can accommodate up to ten Group 27 batteries and has two 20-pound propane tanks.
Rugged Mountain is reporting the base weight of the Denali 3S at 5,538 pounds.  The cost of the 2023 Rugged Mountain Denali 3S is $74,900.  Click here to contact Rugged Mountain about the Denali 3S.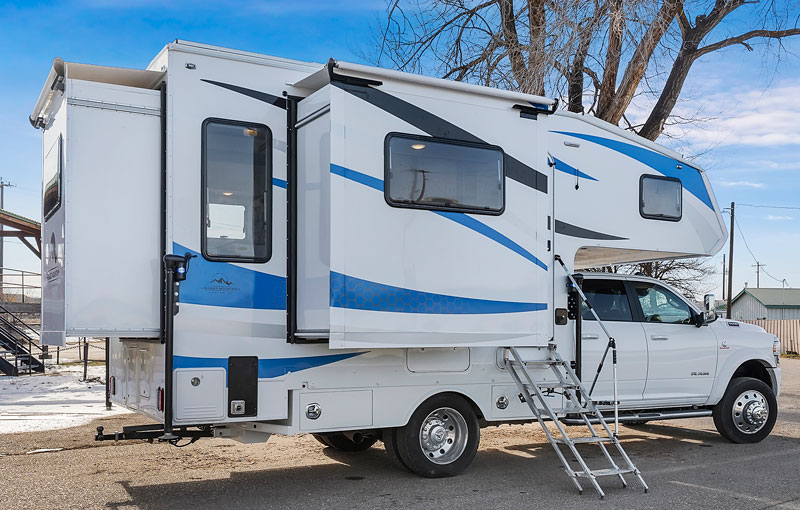 Rugged Mountain RV launched in 2017 with a line of traditional hard side non-slide and single-slide campers. What's the story behind this new triple-slide flatbed model?
Jesse: My wife basically demanded it. We are long-time dedicated truck camper owners. We used our personal Rugged Mountain Granite 11 when we had one child and loved it.
The minute we had two children, there wasn't a truck camper available that fit our needs. I must have told a million people that we would never go this big but, when our family grew, I saw the need.
I wasn't too fond of the triple slides on the market so we designed a new floor plan that gave us the space, utility, and storage we were looking for. That's how the Denali 3S flatbed started.
Anca: We also get a lot of requests for flatbed truck campers and wanted to build one.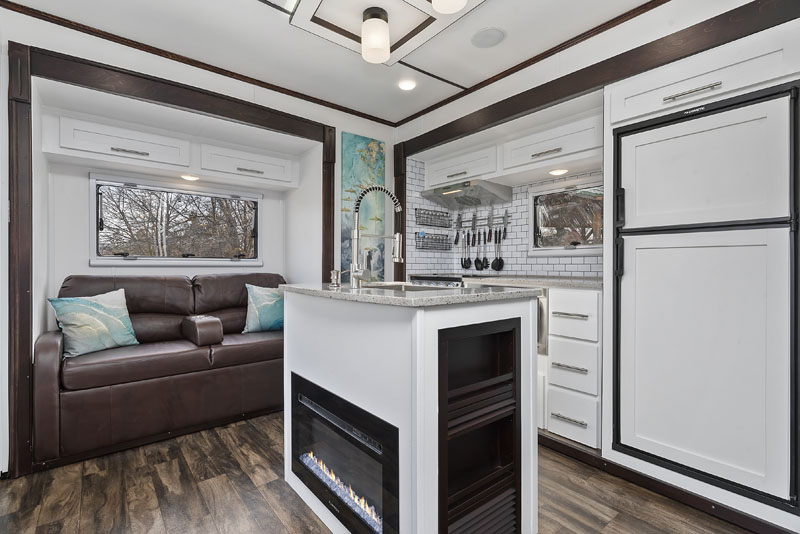 What did you want in the Denali that wasn't currently available in triple-slides?
Jesse: Most triple-slide campers seem to be designed strictly for retired couples. That's fine, but there wasn't a triple-slide camper designed for a family weekend or family vacation camping trips.
The main missing feature we were looking for was optional bunk beds for kids. And we wanted a place for parents or grandparents to sit after the kids go to sleep.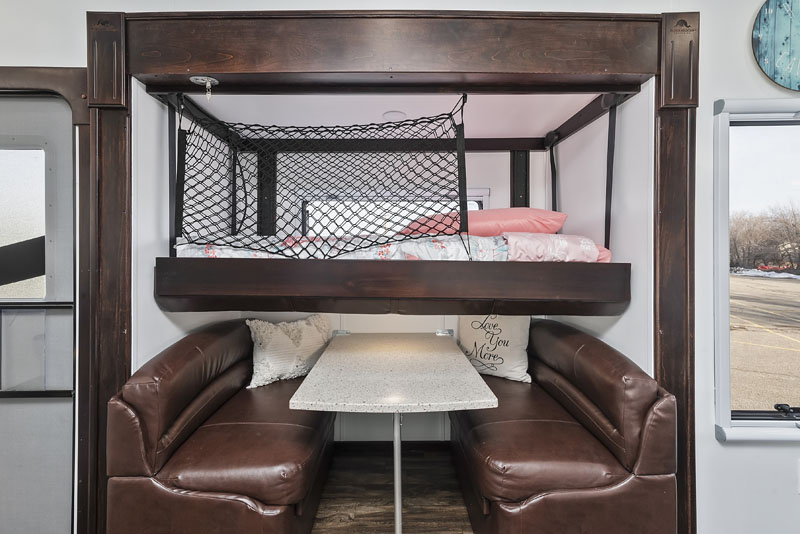 It was also mandatory to be able to access the bathroom when the slide-outs were closed. Kids always need to access the bathroom. Both requirements were achieved with the Denali 3S.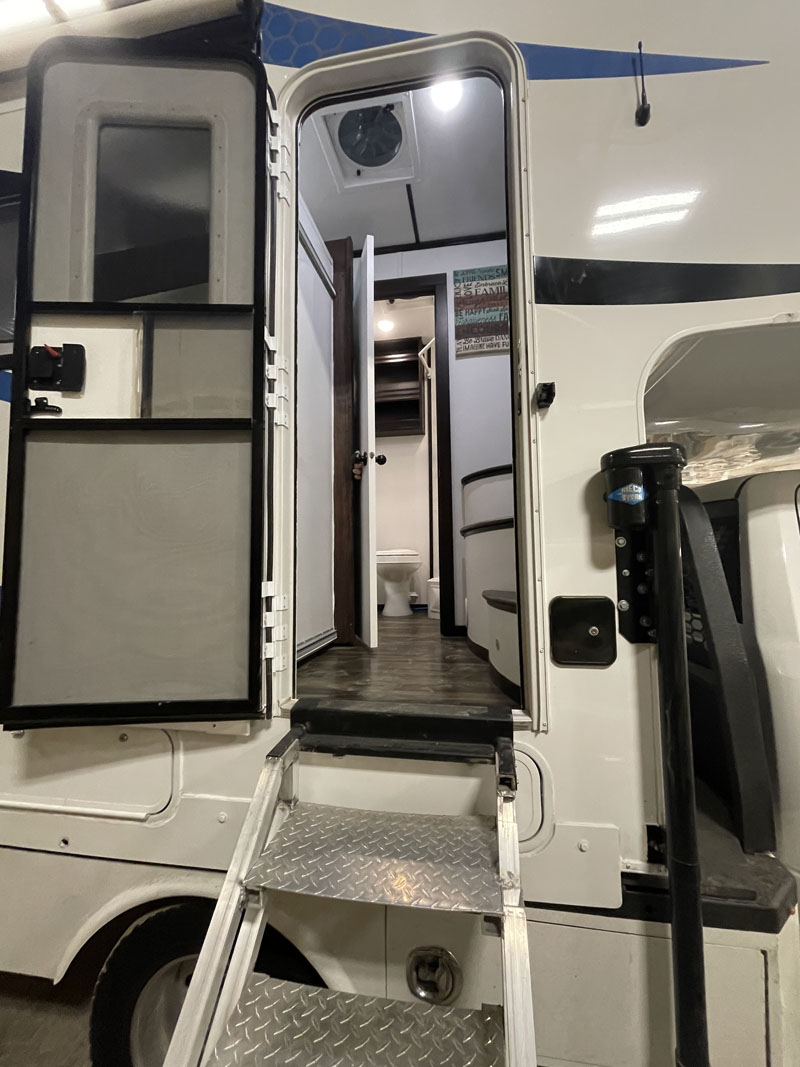 Above: The slide-outs are closed; from the front door looking into the bathroom
As a bonus, you can also access the bunks with the slide-outs in. That allows our kids to take a nap while we're in a parking lot.

Above: You can access the bathroom when the slides are in
What are the core material and construction details of the Denali?
Jesse: Our Denali series has 1.5-inch walls. We made the frame and walls thicker because most of the walls are consumed by the three slides. The wall that is there needs a lot of structure.
Since we are a wood-framed camper, I used 1.5-inch thick 2x4s and 2x6s on the sidewalls. This is the same thickness we use in our Granite series to support the corner jacks.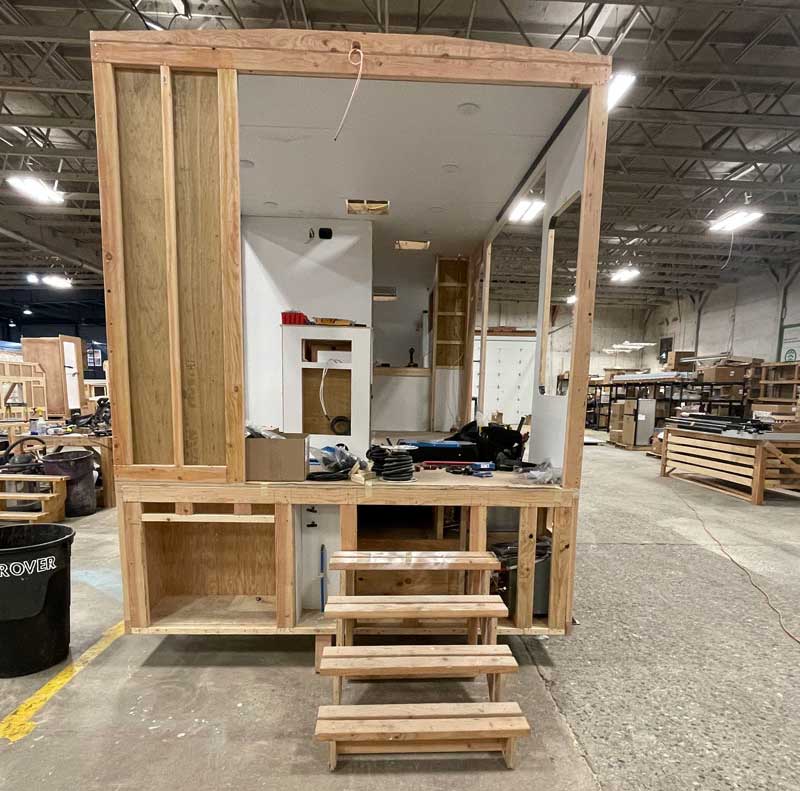 Above: The wood frame and structure of the Denali 3S
In a traditional slide-in, the floor cross members take the load-bearing weight. That changes when you design a flatbed model. It's actually easier to build a flatbed because you don't need to incorporate the truck bed rail. The structure can go all the way to the flatbed because the basement and floor sit on the flatbed.
In the Denali 3S, the load-bearing structure goes all the way from the roof to the flatbed. The cross members for the floor supports are 3/4-inch plywood with an 8-inch width. That's why we don't require a heavy double floor like the traditional slide-in triple-slides do.
A huge benefit of this approach is that our heated basement also heats the floor. To make the Denali 3S even stronger and better insulated, the interior paneling is spray foam insulated.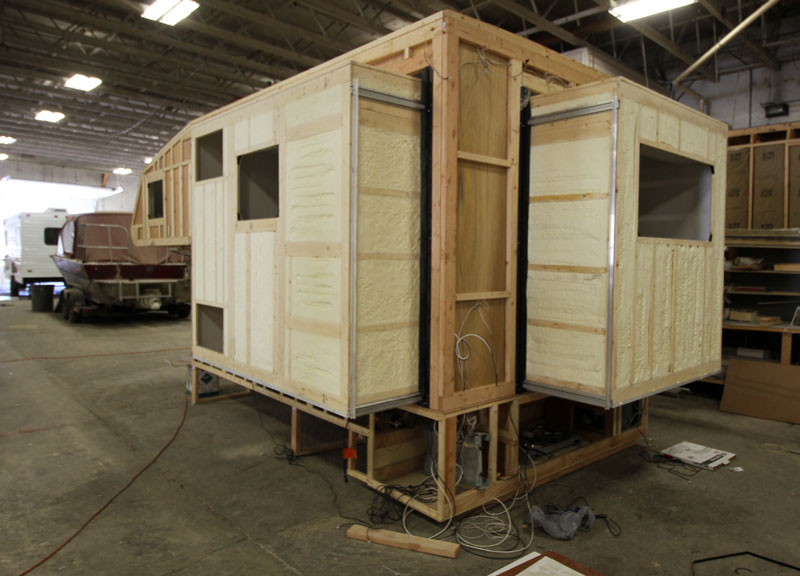 Above: Spray foam installed in the slide outs of a Denali 3S
That's something we don't see very often. Why not use closed-cell foam?
Jesse: The spray foam also literally bonds the entire structure together. The spray foam glues the wall stud to stud and strengthens the unit. The resulting walls are amazingly durable. There's no cavity like there often is with other frame and insulation approaches. Even if you punch a spray-foamed wall, you're not going to break through it.
The insulation qualities are also superior. When you cut closed cell foam, there are gaps around the seam allowing for thermal breakage points around the edges. That's not a sealed structure. We use spray foam that adheres to the frame and sides of the structure. The result closes off the camper envelope thermally making it essentially air tight.
For the record, I've been against spray foam for many years. The main reason I've been against it for truck campers is that it makes a camper too air tight. That could be a problem for a camper owner that doesn't understand how to properly control condensation.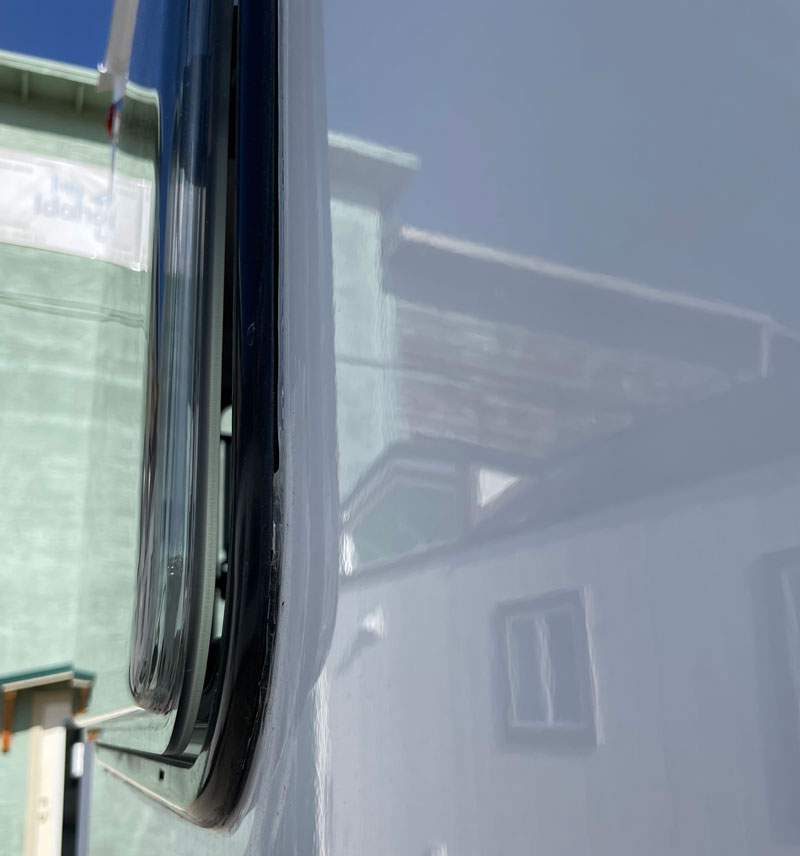 Above: The thermal pane acrylic windows in condensation mode
Now that we are factory direct, I can personally walk our customers through the camper and talk to them about how to control condensation. For example, our thermal pane acrylic windows have a set point that allows them to be cracked open to let the camper breathe. That alone can prevent condensation. Campers with closed-cell foam are still going to produce condensation, so cracking a window to prevent condensation is important for all camper owners.
The greater RV industry has long promoted aluminum as a required framing element of multi-slide design. Why did you decide to frame with wood for the triple-slide Denali 3S?
Jesse: I'm going to call the other manufacturers out.
Why are they even using aluminum? I'm okay saying this because they are stuffing their aluminum frames with so much wood. Any place that's load-bearing has aluminum stuffed with wood. If you're doing that, what's the point of using aluminum? It's just adding unnecessary weight. Also, wood is an insulator whereas the metal they use is a conductor.
I took our Denali 3S triple-slide flatbed camper to a scale and – with 400-amp hours of batteries, six solar panels, and two full propane tanks – it weighed 5,500 pounds without water. I have the weight ticket and have no problem proving that weight.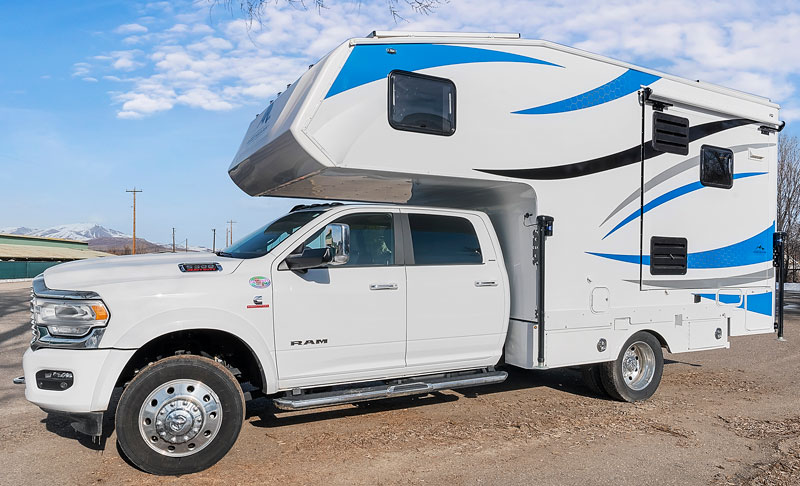 With a full fresh tank, the Denali 3S will be pushing 6,000 pounds.
Jesse: That's true, which is why the Denali 3S requires a Ram 5500, GM 5500, or Ford F-550. It's a triple-slide on an 11-foot flatbed. You need a Class 5 truck for this camper.
People think the 5500/F-550 trucks are massive when they're about the same size as a one-ton dually. Ram and Ford make their 5500 and F-550 with the same size cab as their one-tons. It's very approachable for anyone who can drive a regular pickup.
The only difference is the turning radius, which you are not going to feel until you get into a tight spot. Anca is not intimidated to drive it because it's just like our Chevy dually.
Were there any special considerations to making the Denali a flatbed design?
Jesse: The reason I decided to go with a flatbed is that Ram and Ford make 5500/F550 cabs that are the same size as their three-quarter and one-ton pickups.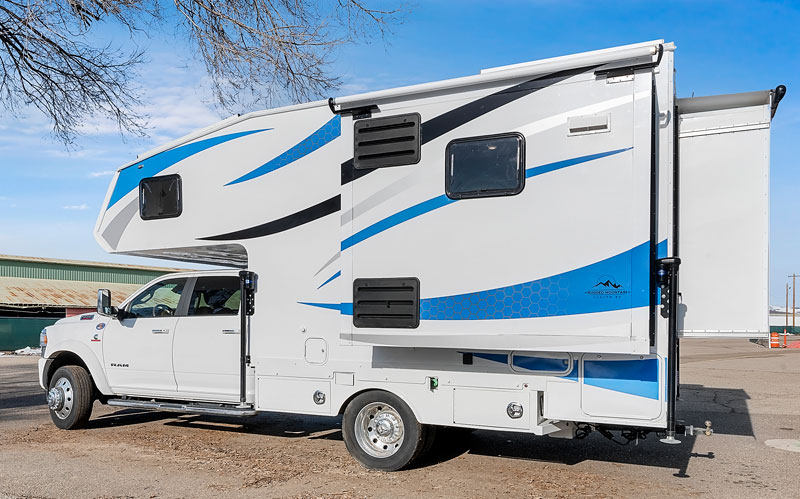 Above: You can see the Schwintek slide mechanisms on the rear slide-out
What slide-out mechanism did you select for the Denali?
Jesse: We now exclusively use Schwintek slides in our truck campers and on my tiny homes. There were some issues with the Schwintek slides in the beginning, but they have since been fixed. Every Schwintek slide we use has lower gear ratings. We go with heavier-duty mechanisms regardless of the size of the slide-out.
In contrast, I am no longer a fan of floor slides. Floor slides tip the slide rooms back when pushing in or out and then it brings the room flat again. That puts a lot of pressure on the slide room trim, but floor slides are reliant on that approach. Furthermore, if customers add a lot of heavy stuff to their slide rooms, you can see flex with the floor slides. For these reasons, Schwintek slides are superior.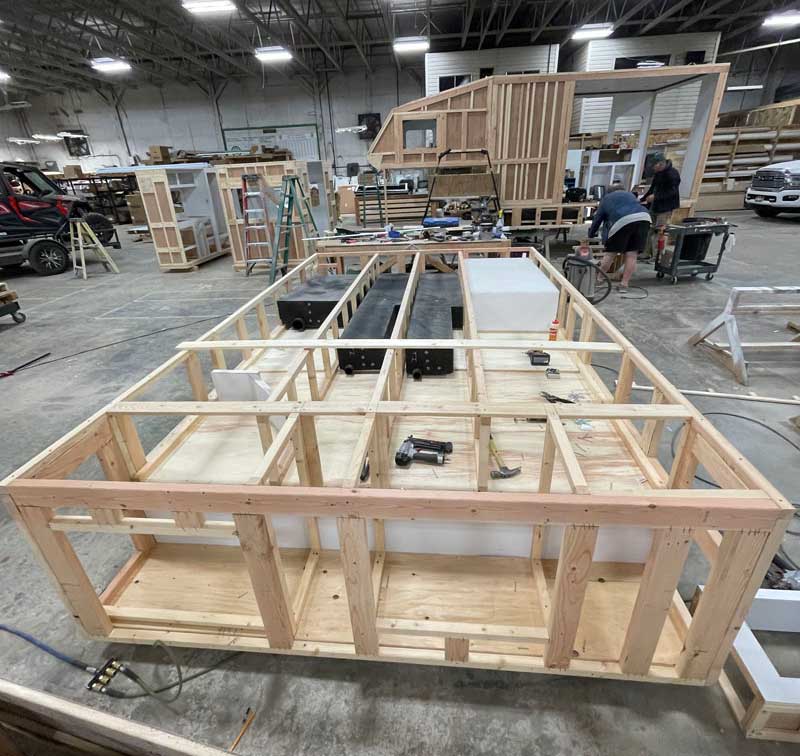 Above: The tanks are all the way forward to keep the center of gravity as far forward as possible
Tell us about the design of the Denali 3S basement.
Jesse: With our prototype Denali 3S, I made a 12-inch basement. It was a big mistake. For example, we found that the 12-inch basement wouldn't fit some of the tank sizes and batteries we wanted to install. That's why we build prototypes and use them. The 12-inch height gained us some headroom inside, but it wasn't tall enough for the tanks, batteries, and storage we needed.
Our production Denali 3S is built with an 18-inch basement. The extra 6-inches makes all the difference for the tank sizes and allowed larger doors for bigger batteries. We ended up taking some of the taller basement out of the interior height, but the additional storage and functionality of the basement is a huge improvement.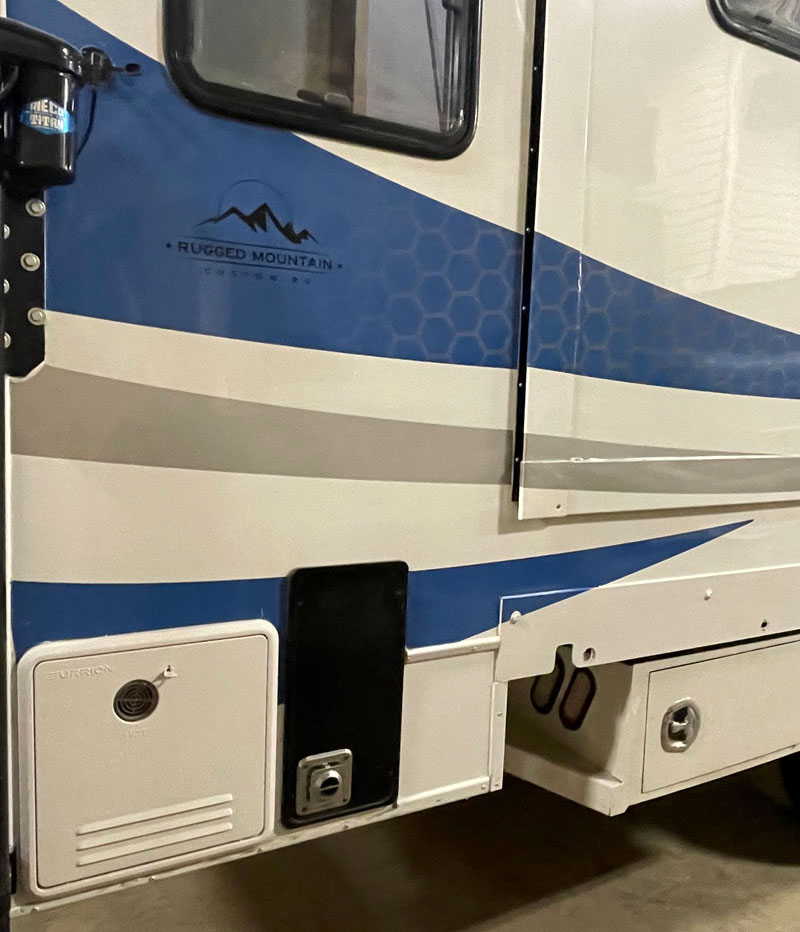 Above: Water heater and furnace on the Denali 3S
How did you arrange the tanks, batteries, and other basement features?
Jesse: The basement is a 13-foot box. From 5-feet forward are the holding tanks and batteries. That pushes the center of gravity forward and works on a 60-inch cab to axle. Even though this camper is intended for an 84-inch cab-to-axle, it's important to be forward on a 60-inch cab-to-axle as well.
The water heater and furnace are in the rear overhang, as are the two 20-pound vertical propane tanks. There's also a 4-foot pull-out drawer in the basement.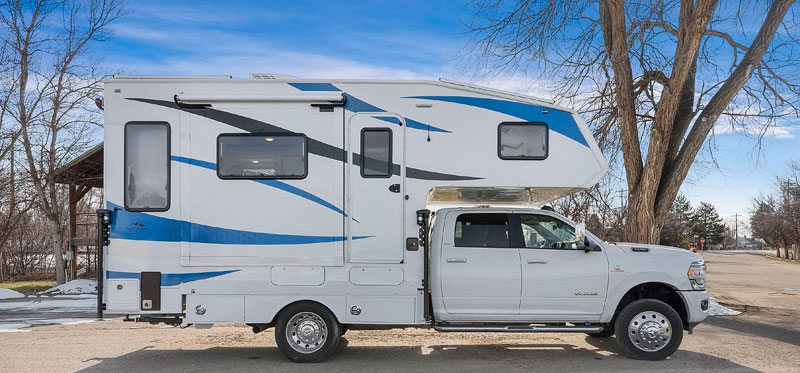 Tell us about the flatbed choice and design. It appears low.
Jesse: This is another learning experience from building the prototype Denali 3S. I bought a 60-inch cab-to-axle truck and designed a low-profile flatbed so the Denali 3S and truck would look more like a motorhome. That effort was successful, but the custom flatbed that I built was not the right approach. Most of our customers will have a production flatbed, which makes the build significantly easier and more cost-effective.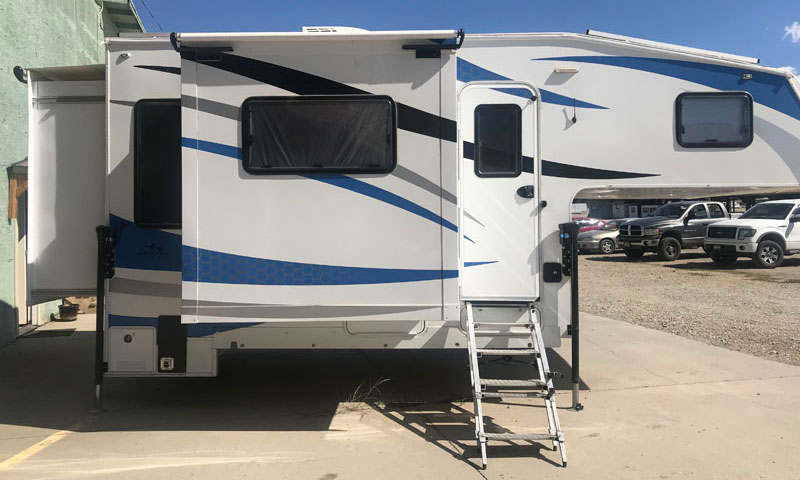 Above: The RMRV Denali 3S off the truck
The production Denali 3S will fit almost any production flatbed on the market. We have even incorporated a cut-out for the headache rack most flatbeds include.  The CM brand flatbed is very popular. In fact, that's what we're installing on our new truck that's on order now. Customers who have purchased a flatbed camper from us have gone with a CM flatbed.
What's the cost of a CM flatbed?
Jesse: The non-skirted steel CM RD flatbed is approximately $6,000. Most flatbeds come with hitches and goosenecks installed, so that is included at that price. CM's aluminum beds are back ordered two years from our local dealer, but the steel bed was about 750 pounds heavier. We're installing ours on a Ram 5500, so the weight isn't an issue. Of course, if you want an aluminum flatbed you can always wait or go with another flatbed company.
You can get a flatbed at a truck upfitter. Some Ram and Ford dealerships will also install a flatbed. Talk to the commercial guy at your local Ram or Ford dealership. We can help you with that as well.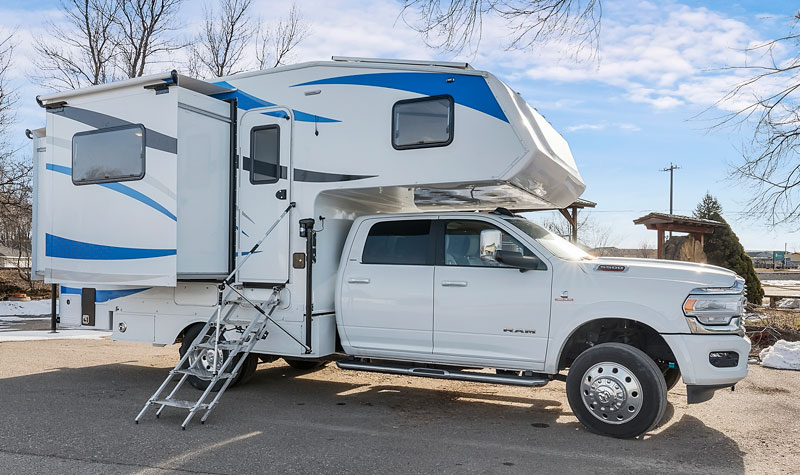 Tell us about the standard entry step system for the Denali.
Jesse: We are using the Torklift Revolution Uprising Steps. On a standard non-lifted flatbed truck, a five or six-step system works. If your truck is lifted, you may need more, but that's rare. One of the downsides of a flatbed is that it's higher than a standard truck bed. The advantage is access to the bathroom and bunk beds with the slides in and the best opportunities for basement storage.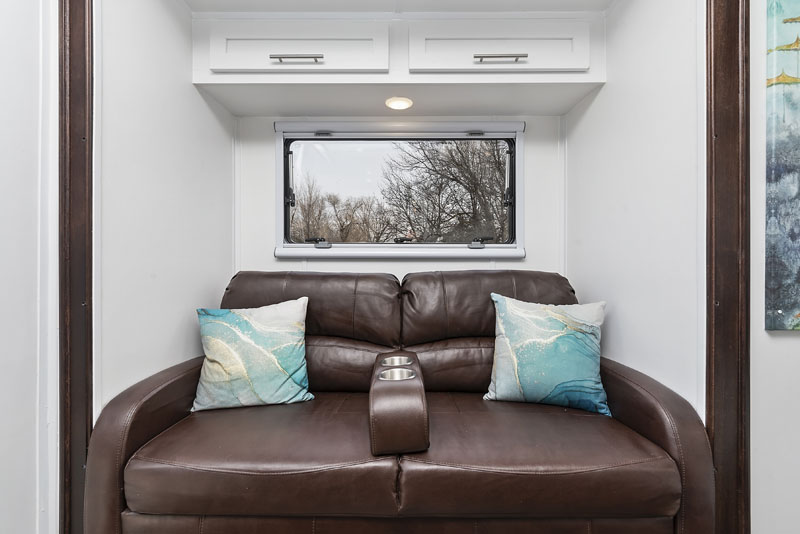 In the images, we see a face-to-face dinette in one slide and a two-seat sofa in the second slide. Are these the only two choices for the two slides?
Jesse: Our rear slide is 30-inches deep, so the jackknife sofa is the only option for that slide. We are contemplating other options, but at this time that is it for now.
The dinette slide is 40-inches deep, so you have the option of a jackknife sofa, recliners, or a face-to-face dinette. Each slide-out comes standard with overhead cabinetry and the option for drop-down bunks in the dinette slide.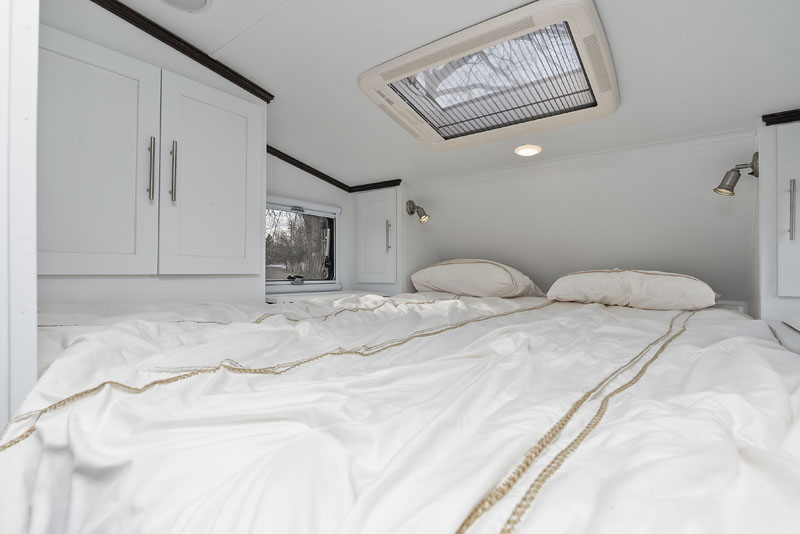 The cabover has a fantastic amount of storage; two closets, two hampers, and two front penguin cabinets. Where is the interior storage on the rest of the camper?
Jesse: When I finished the prototype the first thing my wife said was, "Where's my storage?" I told her she's got more storage in the Denali 3S than we had in our non-slide Granite 11. I think our Granite 11 has the most storage of any non-slide slide-in camper on the market.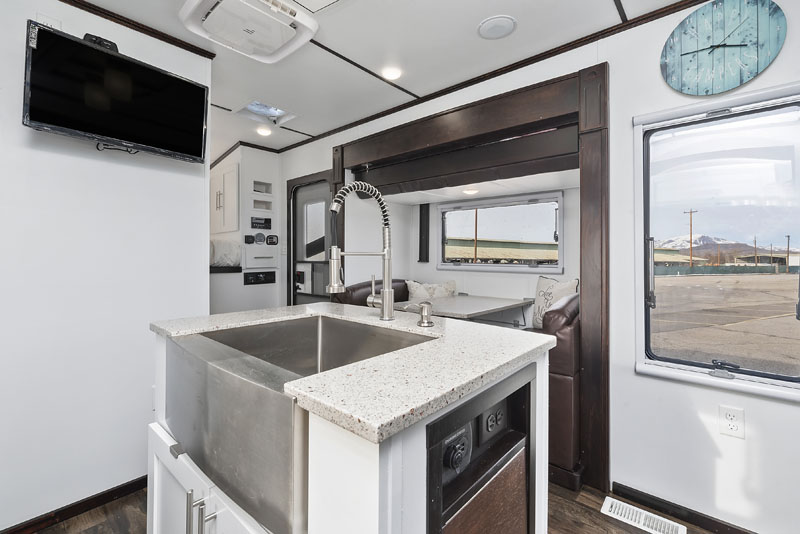 We took all of our belongings out of our personal Granite; pots, pans, clothes, etc. Everything is now in the Denali and we still have extra room. The storage is spread out, but plentiful.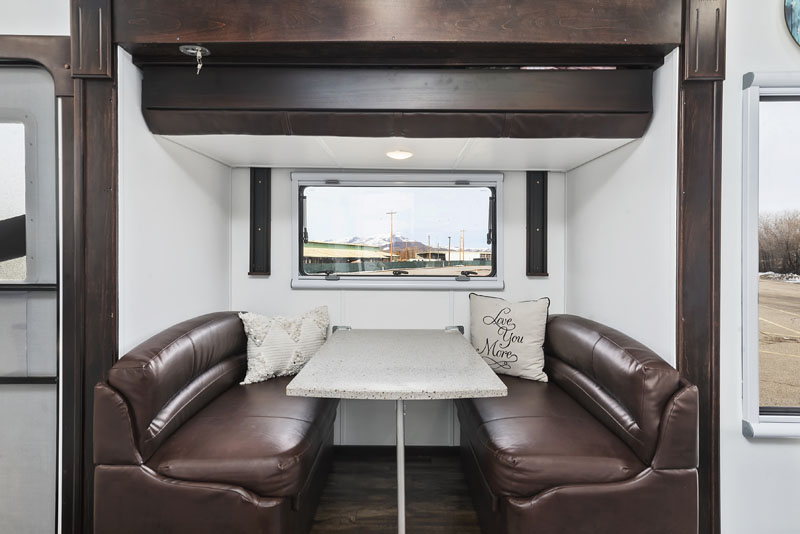 The pull-out drawer under the jackknife sofa is one huge drawer. There are two dinette seats with storage underneath as well as overhead cabinetry in each slide. In the kitchen, each of the drawers is 2-feet deep. Under the sink is open storage.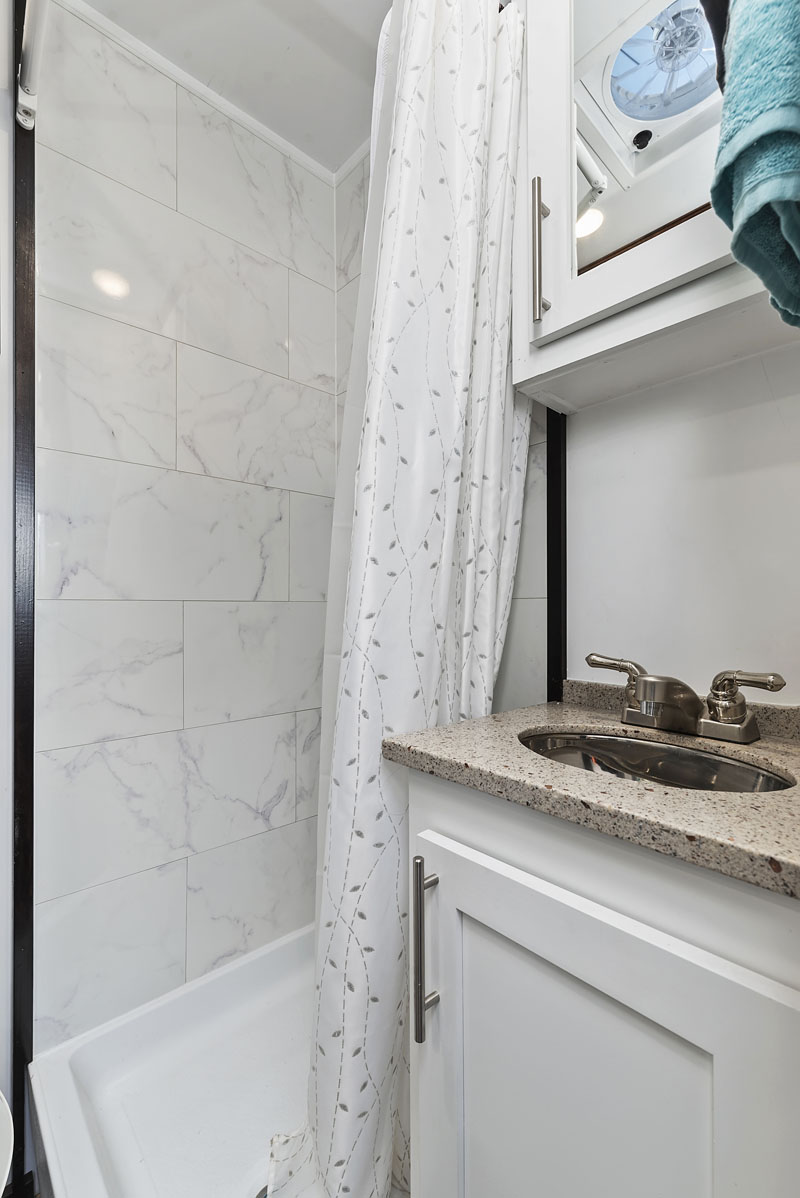 Our bathroom has a lot of storage because of the tall vanity. There's also storage underneath the sink and above the toilet.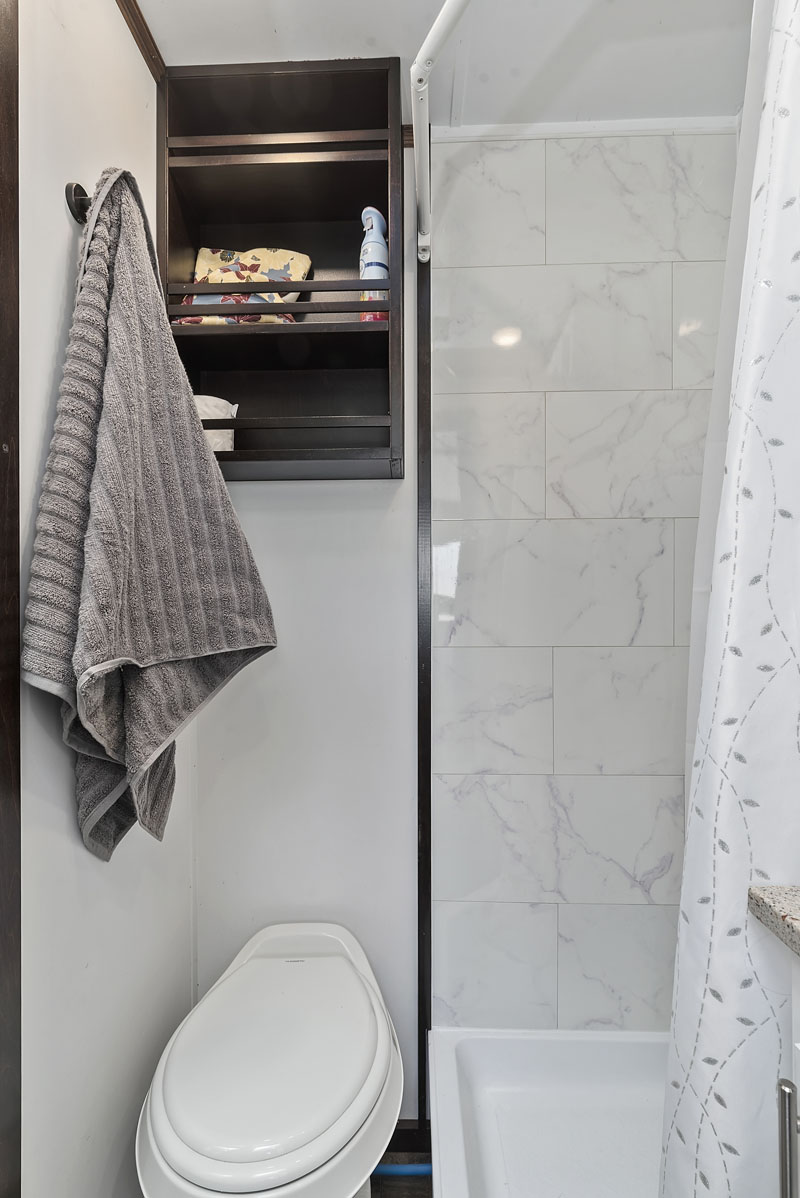 Every cabinet in this camper has adjustable shelves in it. Also, the steps going up to the overcab have storage inside them.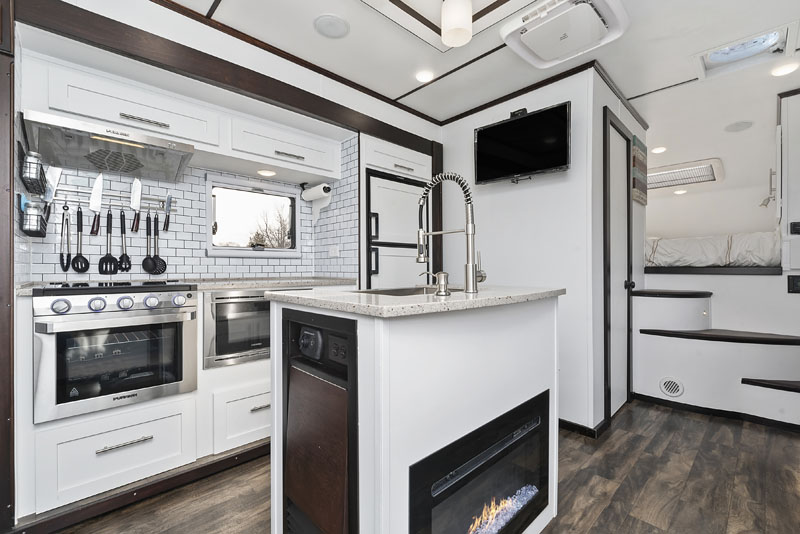 Does a Rugged Mountain customer get to select the interior fabrics, countertops, cabinetry, flooring, and other interior materials and colors?
Anca: Yes, they have some options. You can choose your floor colors, trim color, the tiles in the shower, countertops, and kitchen backsplash. You can also pick your dinette color and whether it's cloth or a leatherette/pleather material. For the counters, we can do formica, but we mainly do solid surface. That's standard, but we did just have a request for butcher block.
"You can choose your floor colors, trim color, the tiles in the shower, countertops, and kitchen backsplash."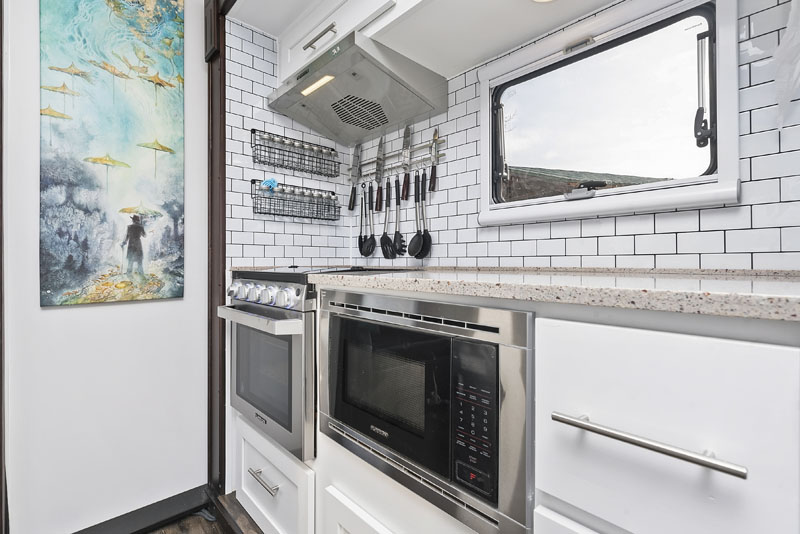 What's standard and optional for the appliances?
Jesse: A 17-inch stainless glass-top propane cooktop and oven are standard. An eight cubic foot Dometic refrigerator is standard, as is a stainless steel under-counter microwave and trim kit. We have installed an Isotherm 12-volt compressor refrigerator, so let us know if you have a make or model preference.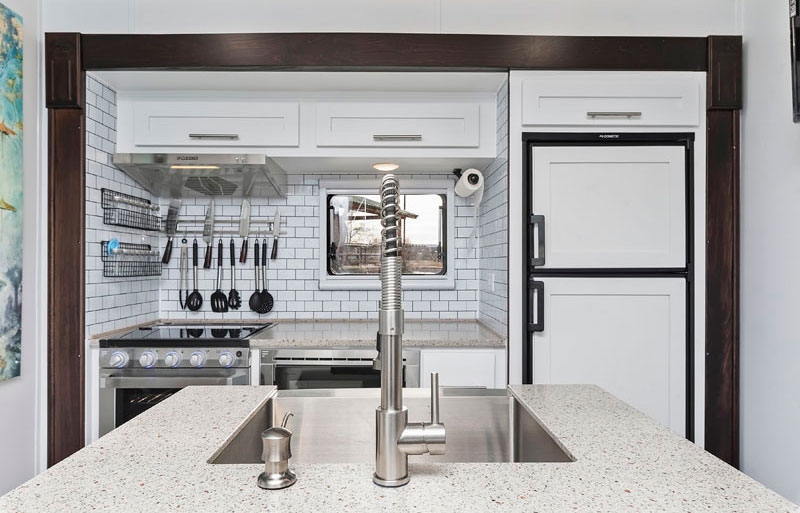 In our upcoming personal unit, we are installing in an air fryer convection microwave, an induction cooktop, and a 12-volt refrigerator. Since it's our personal unit, we are testing out the Contour brand convection oven and air fryer option. We use our air fryer at home a lot.
We're putting a mini-split system on the roof, which is a 120-volt mini-split that does heat and air conditioning. That's a possible solution for electric heat that we're looking forward to testing in the field.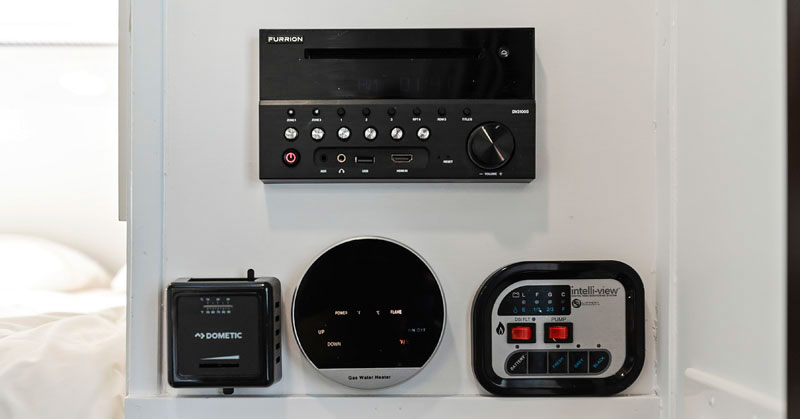 What make and model of water heater and furnace did you select for the Denali?
Jesse: If you want a tanked water heater, we have Truma and Furrion models as available options. Anca and I have used both models on weekend trips and they work well.
We prefer on-demand water heaters and have had no issues with their use. The cost difference is substantial, but it's fantastic to have endless hot water; especially with a growing family.
Tell us about the size of the holding tanks and why you made the tanks that size.
Jesse: The Rugged Mountain Denali 3S is designed to go off-grid. We don't want to plug in. We prefer to go camping for a week at a time, so we want our holding tanks to last.
The fresh tank is 80 gallons, the grey is 77 gallons, and the black is 35 gallons.
If you get a traditional water heater, an additional 6 gallons of water could be added to the fresh total. Most of our customers are requesting on-demand water heaters, but tank models are an option.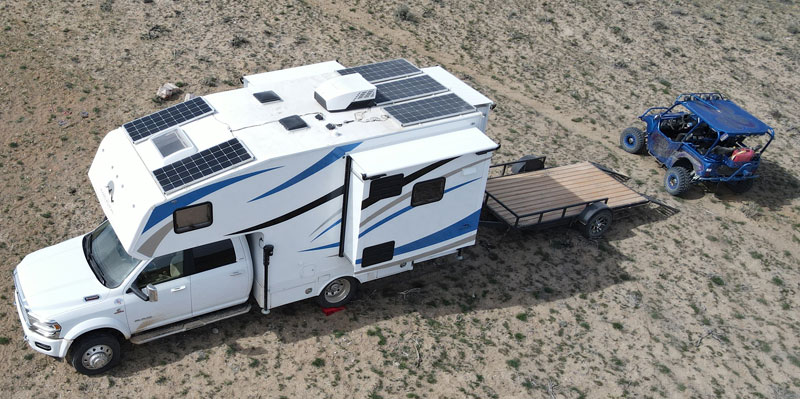 What make and model of solar panels and controllers are available?
Jesse: We offer four solar package options. The smallest package starts with 100 amp hours. The largest is 400 amp hours. Everything above that is a custom package.
On our prototype camper, we have 850-watts of solar panels and 400 amp hours of batteries and I don't know that we've ever plugged in our camper. The Denali 3S can fit a total of six 175 solar panels for a total of 1,050-watts and three 360 AH batteries. With that amount of power, you can run your air conditioner all day long.
The Denali 3S doesn't come with solar standard. It comes standard with two group 27 wet cell batteries. Customers who want lithium usually chose Expion360 or Battleborn batteries. For solar controllers, we install Victron the most.
Where is the battery compartment on the Denali?
Jesse: The battery compartment is located to the left of the door under the slide-out in an exterior compartment. This camper can fit up to 1,080-amp hours of batteries. If you want ten 100-amp hour batteries or if you want to do three 360-amp hour batteries, they will fit.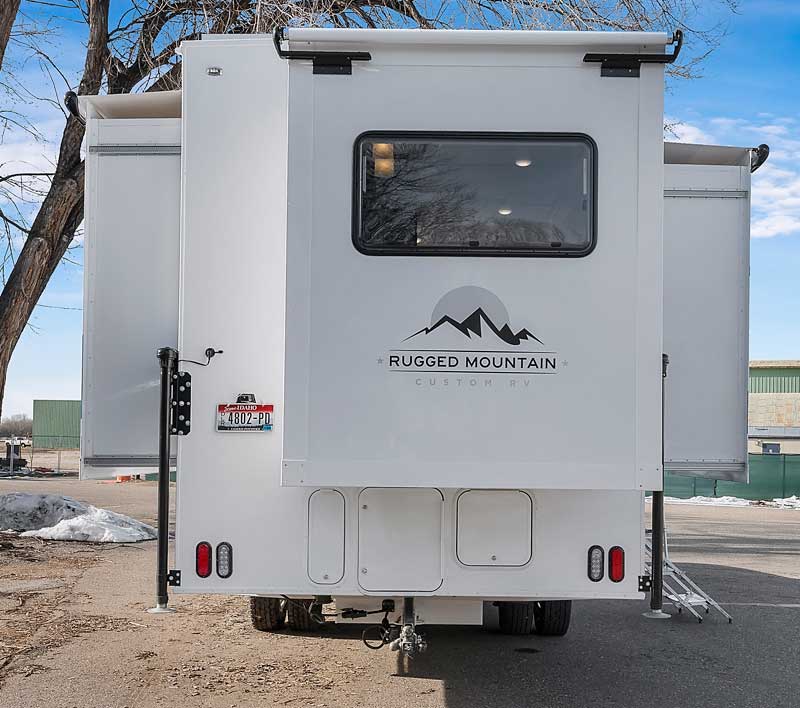 That's an insane amount of batteries. What windows are you using?
Jesse: We are using Plastoform push-out acrylic windows that open from the bottom.
They're dual pane. Originally we picked them because we liked the look. They get rid of the center metal piece of the window so you have an unobstructed view. Acrylic windows also give you more light and make a truck camper feel more open.
Exterior views are very important in a camper. I like windows on all sides of the camper so that we can see what goes on outside.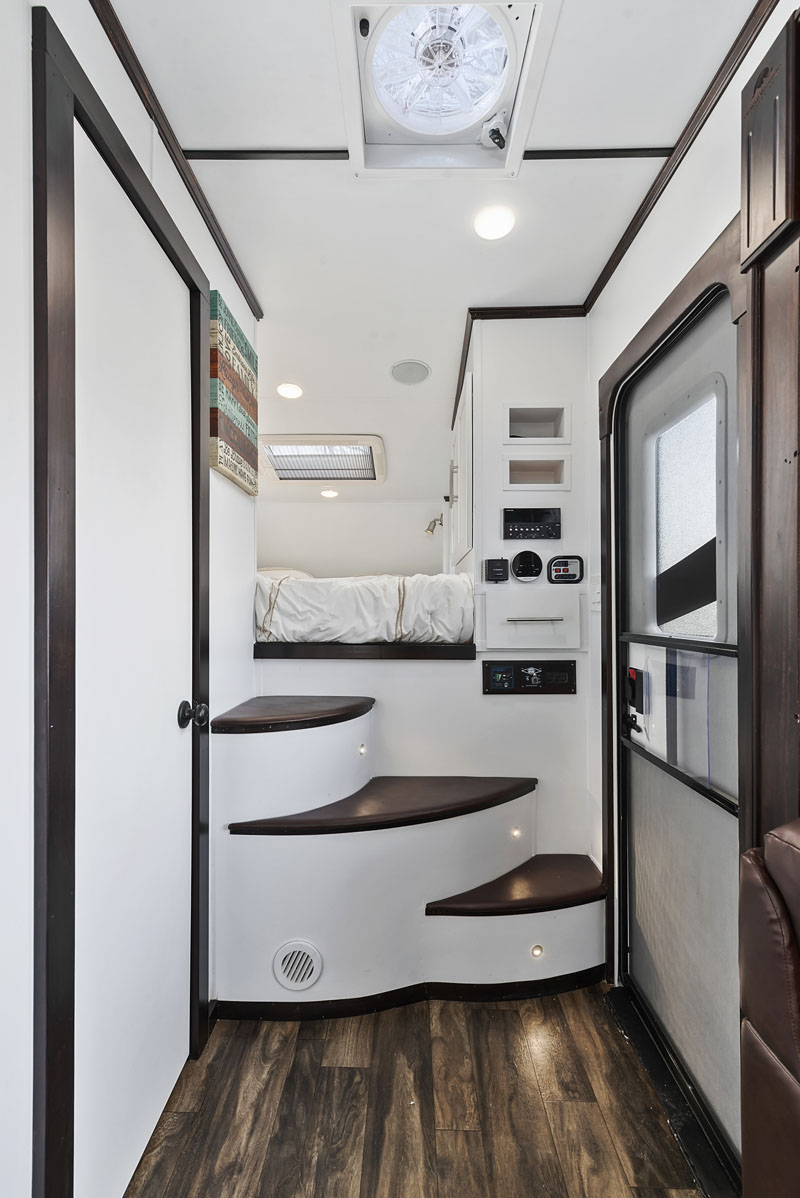 Above: The prototype is pictured above; the production model has two steps because the basement is now 18″
Yes, being able to see what's around you while camping is a safety feature. The two-step bedroom staircase is definitely unique. Why did you choose that design?
Jesse: In the production Denali 3S, I raised the basement 6-inches to create the 18-inch basement height we needed. The CM flatbed is 2-inches higher than my homebuilt flatbed, so that raised the camper up again allowing me to drop the overcab down. This makes the climb into the bed even lower. I can sit on the cabover floor and have my feet on the ground.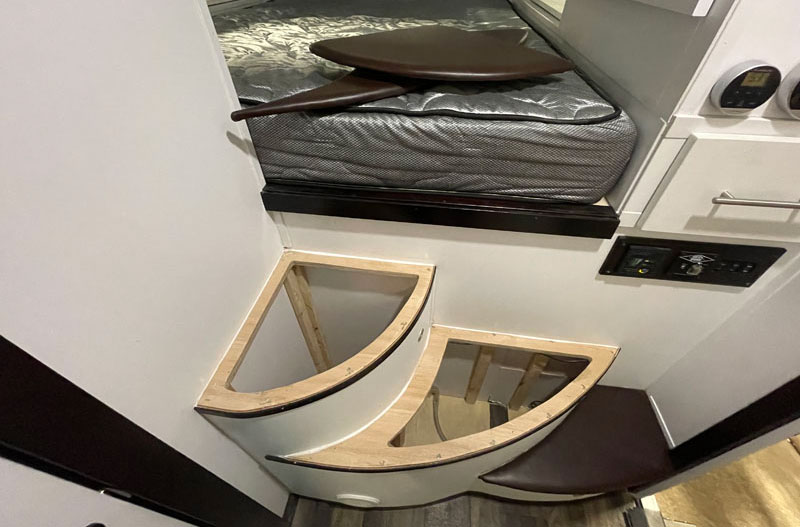 The steps up to the cabover are very comfortable and create another opportunity for storage. Both were priorities when designing the Denali 3S.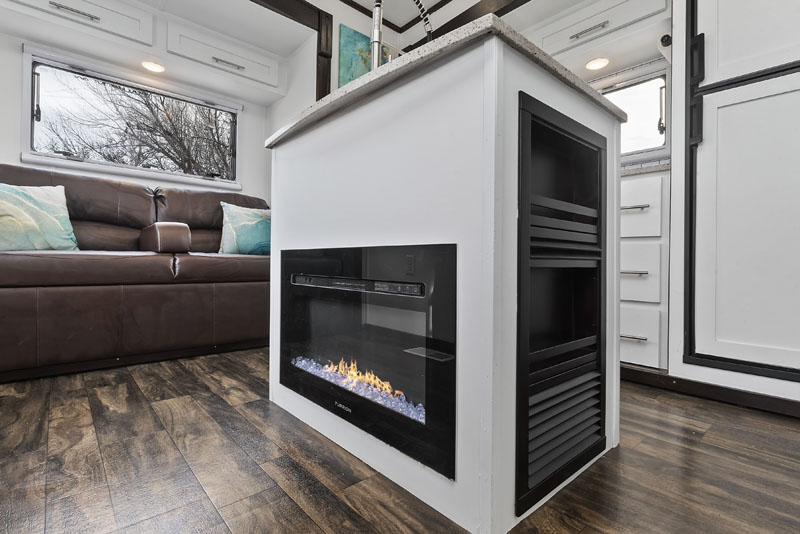 Is the electric fireplace functional or merely aesthetic?
Jesse: It started off as a visual element, but it's very much functional. Truck camper customers are going increasingly all-electric, so it's another heating element in addition to the electric mini split unit on the roof. The electric fireplace gives off 1,400-watts of heat, which is a lot. It really heats.
Where's the trash can in this camper?
Anca: In our prototype, it was under the sink and we didn't like that location. Now it's located on the side of the island. We have a tilt-out trash can like a residential house. I love it.
What air conditioner are you offering for the Denali 3S?
Jesse: We can use a Dometic Penguin II or a Rec Pro. We will offer the Dometic 12-volt model as well.
Is there a generator option for the Denali 3S?
Jesse: I don't think we've installed a generator in four or five years. None of our customers have requested one. Most everyone wants a portable Honda generator. Also, Onan has raised their prices very high. For the cost of a generator, you can get a solar package that can run your air conditioner for three to four hours. If you want one, it would eliminate a major storage area on the exterior.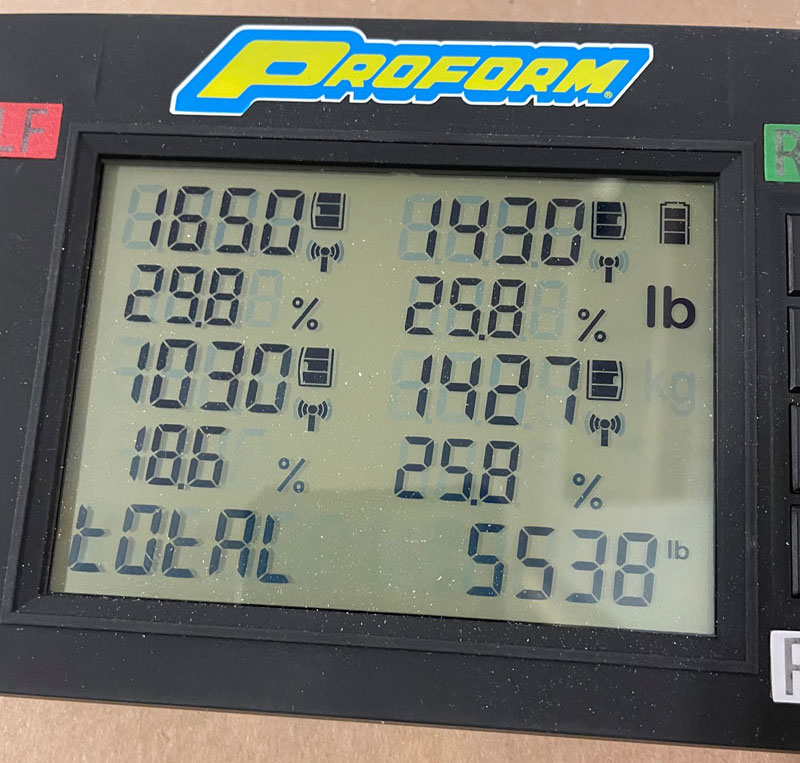 What does the Denali weigh with standard build features? How about the unit in the photos?
Jesse: With standard build features, it weighs 5,538 pounds.
Where is the center of gravity on the Denali? 
Jesse: On the prototype, it was 64" from the front wall.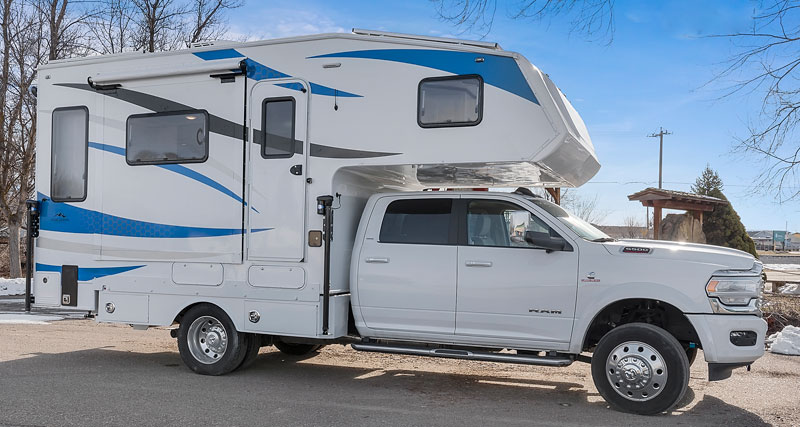 What does Rugged Mountain RV Denali cost with standard build features?
Jesse: The base model with standard features is $74,900.
What did the loaded Rugged Mountain RV Denali in the photos retail for?
Jesse: If you go to the moon with options, the Denali 3S tops out at $125,000.
What is the warranty for the Rugged Mountain RV Denali?
Anca: We have a two-year structural warranty. If you have a warranty issue and you're on the road, take it to the closest RV service department. They will contact us. Once we establish communication we will cover warranty claims. Most of the components have their own warranties and they will be covered by those companies.
Is the Rugged Mountain RV Denali available to order now?
Jesse: Yes, you can contact us and get on our build schedule right now. As some of your readers know, we are a small manufacturer with a small crew which keeps our quality high. We have a limited number of build slots. We are building between twelve and twenty campers a year.
When you order a camper, we give you approximate build and completion dates. Once your camper is started, we will send you pictures as your camper is being built.
"Once your camper is started, we will send you pictures as your camper is being built."
If you request a quote, we will send you a list of what's standard and optional. As we stated earlier, you get to choose your backsplash, countertops, and other interior materials. We will send you links to a website where you get to pick your colors. We can also help you with all of that. If you go to the Denali page on our website, you can see everything that's standard.
Once we receive your deposit, we place orders with our vendors for your parts. The delivery date of your parts may determine your build date. If you are getting a standard camper, it will be quicker.
We will also be attending the Overland Expo in Loveland, Colorado. We are contemplating going to Overland Expo in Virginia.
Will you be adding available build slots in the future? Or are you going to limit production?
Jesse: We will pick up production next year and will slowly get bigger. We're focused on quality, not volume.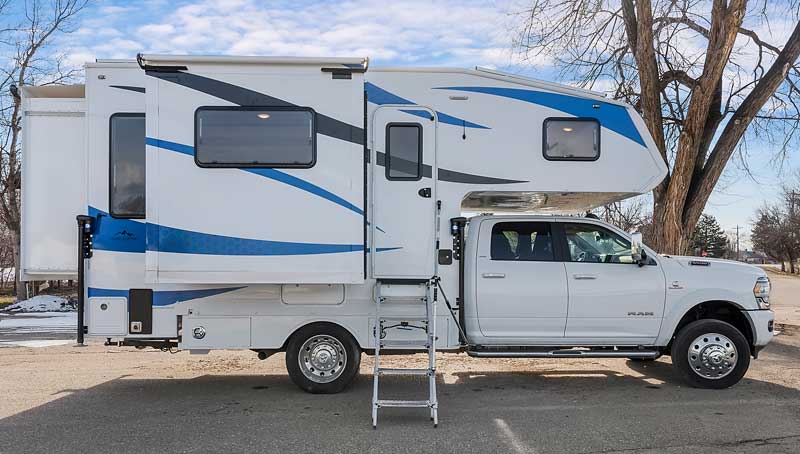 How does someone order a Denali 3S?
Anca: We like to talk to our customers on the phone. We want you to feel comfortable with us. You are also welcome to visit our facility here in Idaho. If not, we offer a video tour. When you order a camper from us, you get a lot of email communication as the camper is being designed and built.
Jesse: The Denali 3S is not a starter camper. Typically our customers are educated and know what they want. We know that this is not a small investment. With a camper like the Denali, you also have to buy an $80,000+ truck. We're here to help.
Are there any other new model announcements coming from Rugged Mountain RV in 2023?
Jesse: There are going to be some new models coming out.
I want Truck Camper Magazine readers to know that going factory direct was the best decision we've ever made as a manufacturer. We've been able to control costs, improve our products, continuously increase our quality and, best of all, make incredible friends and camping buddies. Many of our customers have camped in our driveway. We are first and foremost truck campers ourselves. That's what makes Rugged Mountain RV unique in the marketplace.
For more information on Rugged Mountain, visit their website at ruggedmountaincustomrv.com. Click here to get a free Rugged Mountain brochure.