Truck Camper Magazine reviews a 2017 Capri Retreat Long Bed, a hard-side, non-slide truck camper.  What happens when you take a classic floor plan, build it with old-school materials, and then integrate new technologies and ideas?  Can a classic camper be cutting-edge?

Click here to read Capri's response to this Capri Retreat Review.
Depending upon who you ask, truck campers represent about 5% of the overall RV industry.  In a word, truck campers are a niche.  Within this niche, every truck camper brand has its own micro-niche defined by the products, materials, production processes, and overall marketplace approach they represent.  You might say truck campers are a niche of niches.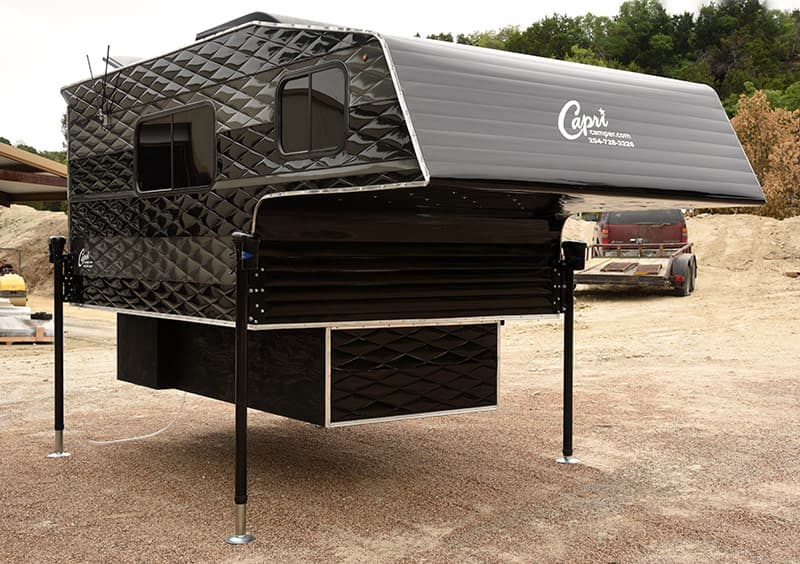 Although Capri Campers has been in business for nearly 50 years, the Bluff Dale, Texas manufacturer didn't really factor into the overall truck camper marketplace until 2015.  After decades of serving the local Rodeo Cowboy market, Capri emerged with new ownership reinvigorated to reach the broader truck camper marketplace.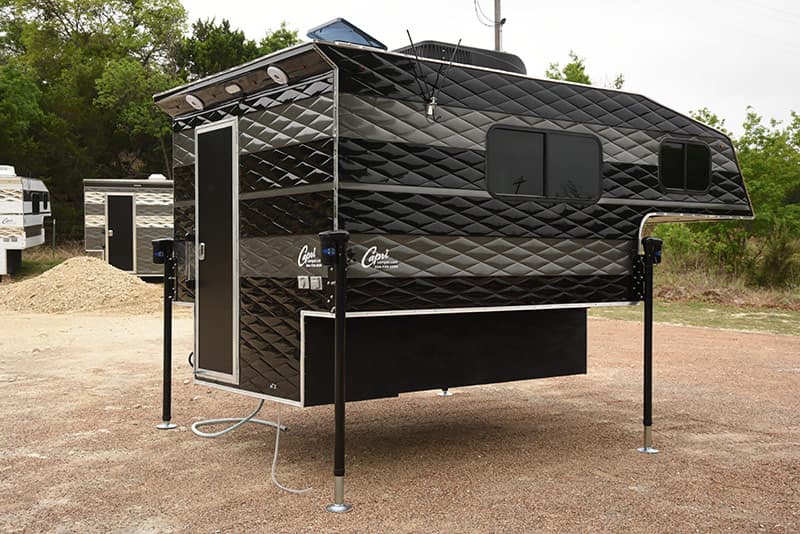 When we introduced Pete and Tyson D'Acosta, President and Vice President, that November, the father and son team revealed their bold vision.  First, they would honor the value-oriented, non-slide, half-ton compatible, classic truck camper concept Capri was known for.  Second, they would take the Capri product and business to a level that had never even been considered before.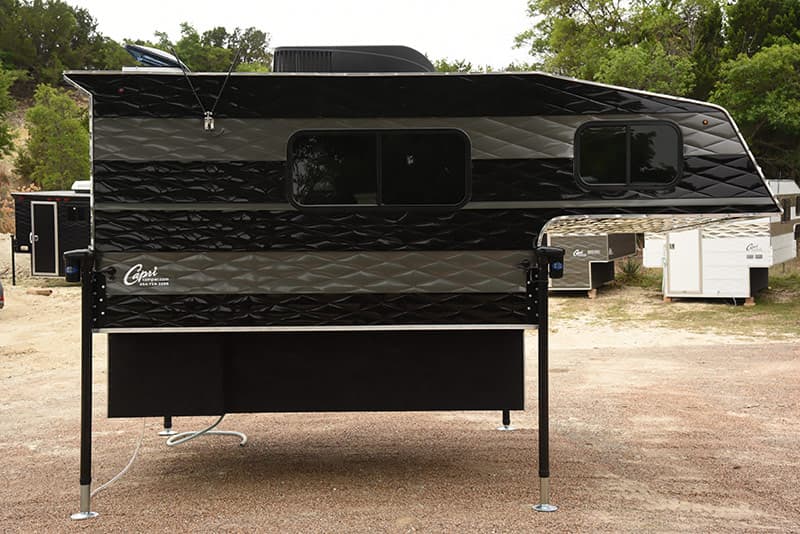 Since that time, Capri has enjoyed the seemingly perfectly-timed resurgence in non-slide, half-ton compatible truck campers.  This trend sky-rocketed Capri Camper sales and afforded additional production team hires, new and better equipment, a recent plant expansion, and a myriad of production changes aimed at quality and efficiency.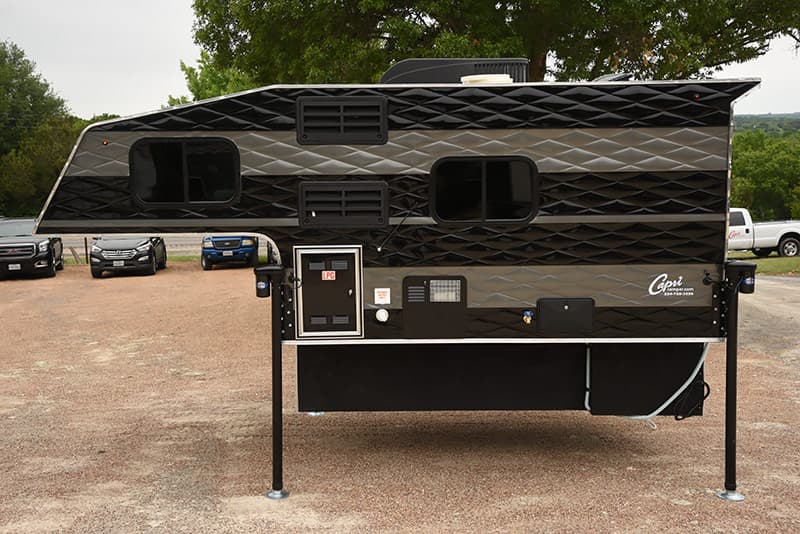 We documented Capri in this exciting moment during our factory tour story, "Texas Time Machine: Capri Camper Factory Tour".  The Time Machine reference in the title was no accident.  Again and again we were struck by a company with one foot in the past, and the other in the present.  What's most incredible is how this temporal conundrum extends directly into their truck camper products, but I'm getting ahead of myself.
As a custom manufacturer, we were limited to reviewing a Capri Camper that was completed during our April, 2016 factory visit.  Fortunately, the production team had just finished a 2017 Capri Retreat Long Bed and the customer pickup wasn't for another day or two.  Opportunity knocked.
Floor Plan Evaluation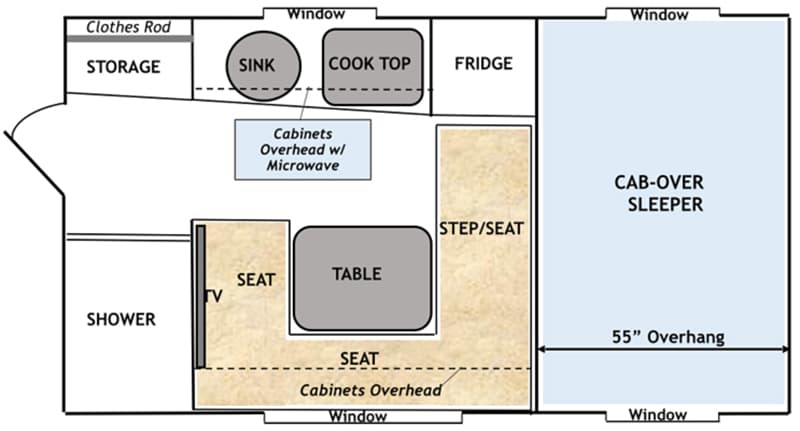 The very first thing that caught my attention in the Capri is one of the most unique options the brand offers; a one-piece fiberglass shower stall.  Note that it's not a wet bath with a toilet and a sink – just a shower stall.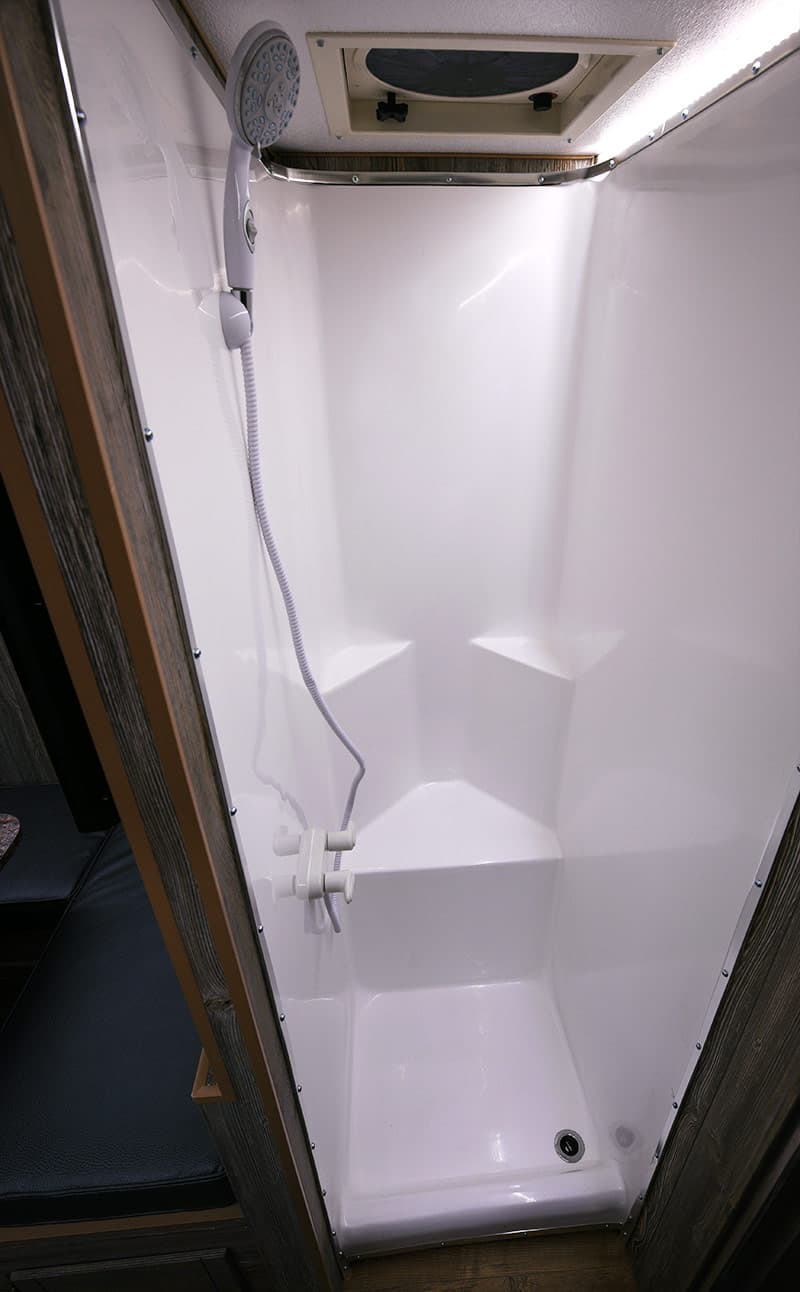 As a manufacturer, Capri Campers does not install toilets in their campers, or bathroom sinks for that matter.  The optional shower stall in the Retreat does offer a seat shelf that Capri said would accommodate a Porta-Potti.  Visually, the seat appeared small for this purpose.  Capri is welcome to send a Manufacturer's Response showing how this works.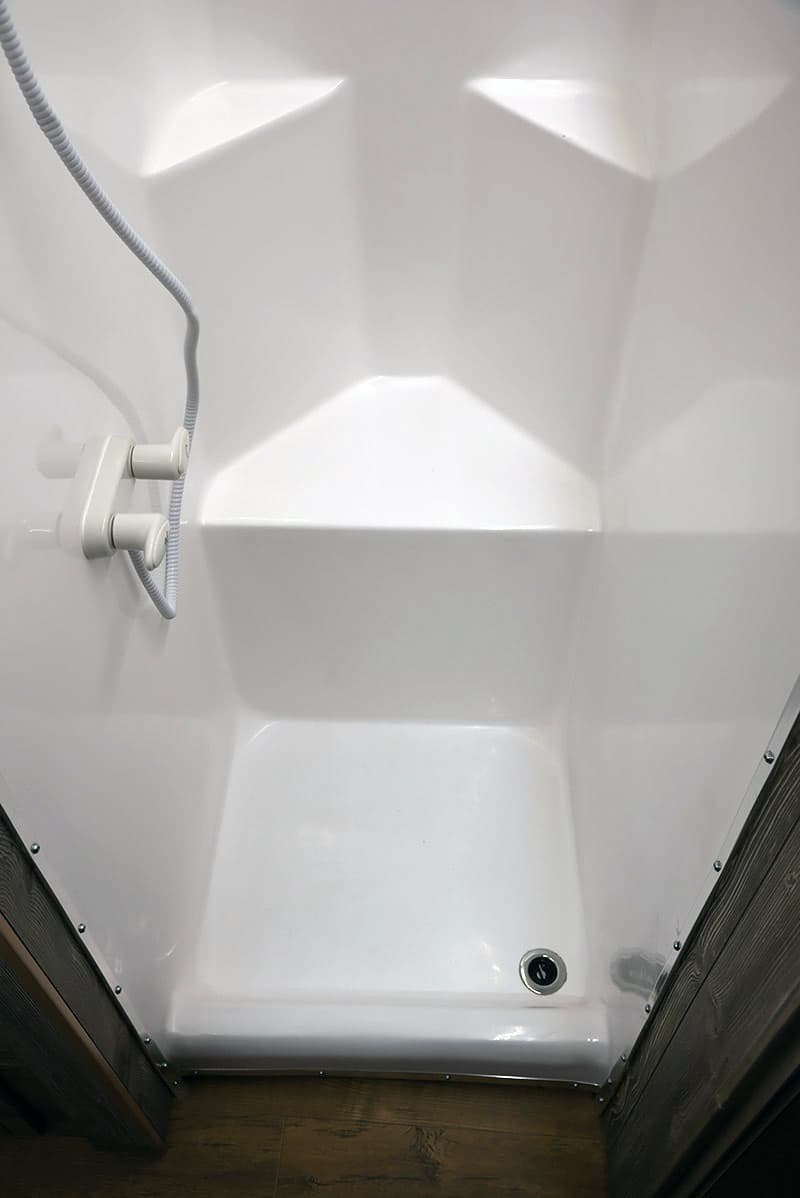 For a shower in a non-slide truck camper, the optional stall is a decent size.  I also appreciated the residential-style shower handles located inside the shower stall itself.  That sure beats the sink controls outside the shower stall we have in our camper.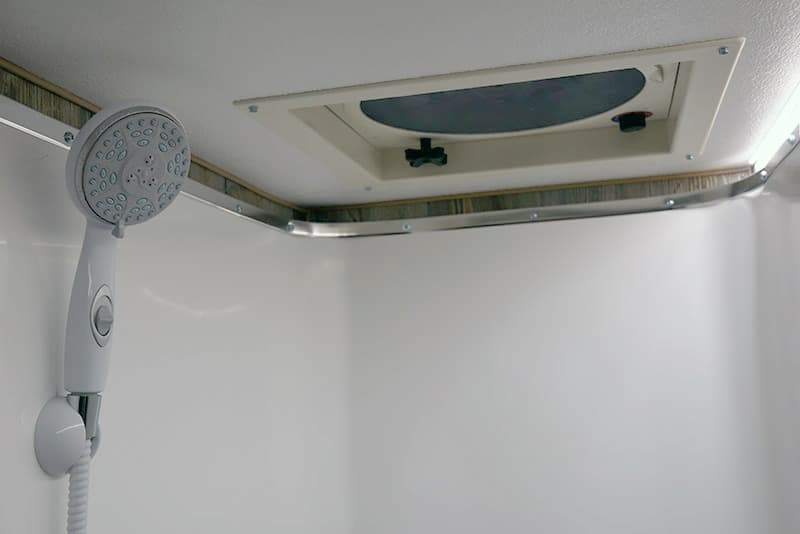 The one-piece fiberglass shower stall extends to the ceiling of the camper.  On the ceiling, there was an optional Fantastic Fan to ventilate moisture and steam from the unit – always a good idea.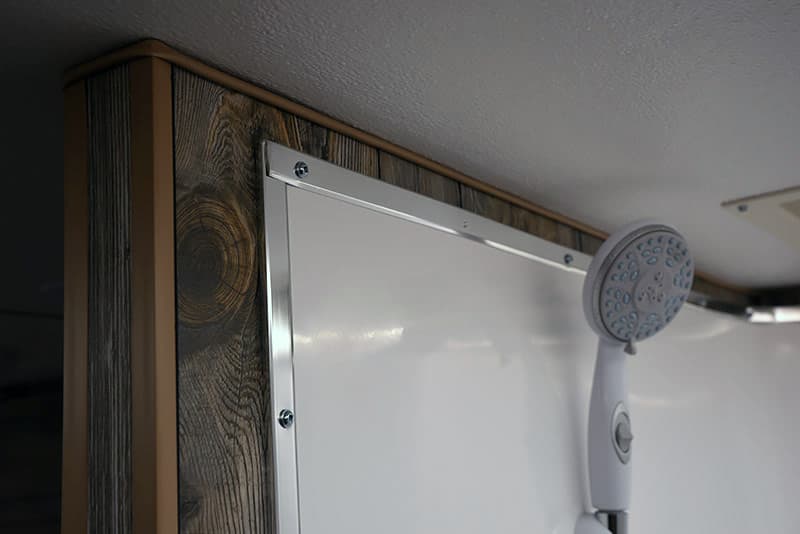 To save weight, there is no shower door.  A carefully placed shower rod and curtain should keep the water in.  I am not sure if Capri hadn't installed the shower curtain yet, or if that's up to the customer.  If this were our camper, we would employ an Extend-A-Shower rod to increase the shower space just a bit more.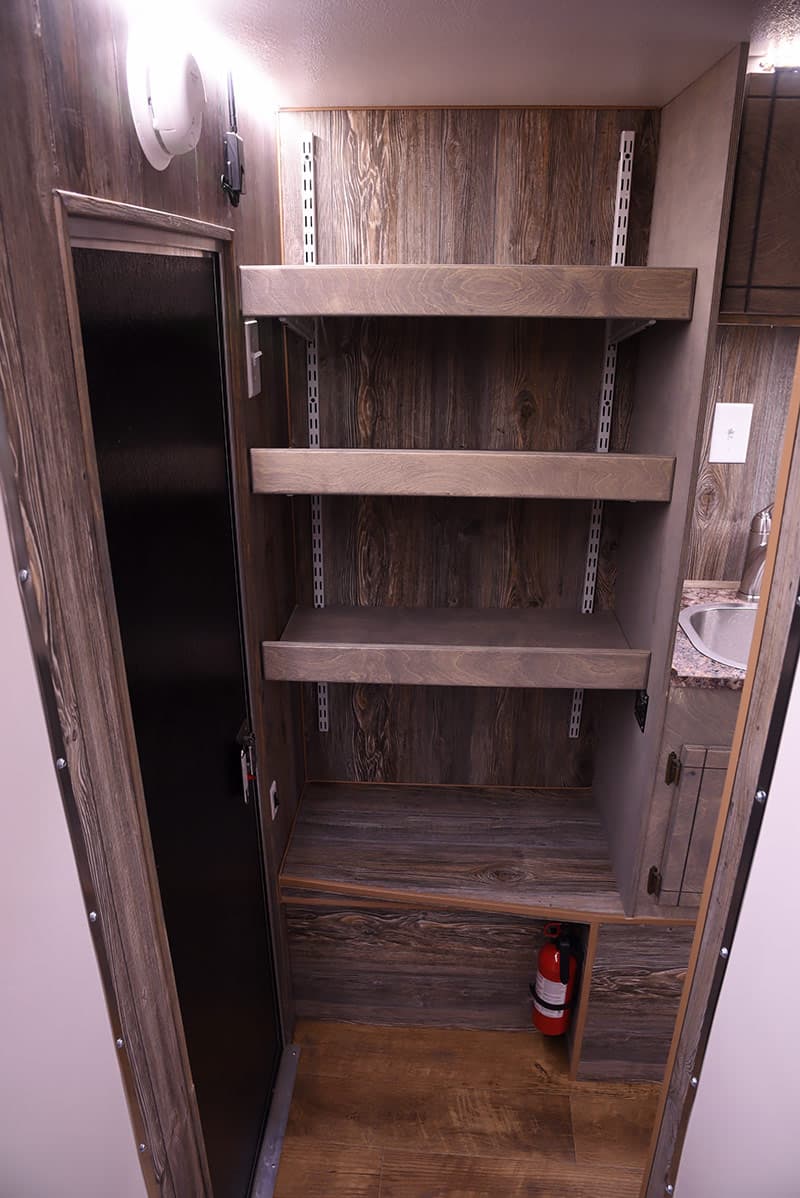 Directly across from the shower room on the driver's side are three large and adjustable shelves and a lower fixed shelf floor.  Large shelving like this is extremely rare in any truck camper.  In fact, there are many slide-out campers that lack this kind of useful storage.
When reviewing a truck camper, I often talk out loud to the manufacturer's design team.  They're not there of course, but I talk to them anyway.  One of my favorite questions to ask these non-present designers is, "Where are we supposed to put our blue jeans, shorts, T-shirts, sweatshirts, socks, and underpants?"  They never answer.
This area seems tailor-made to answer this obvious need.  Even better, one could open the shower curtain, step out, and have dry towels and clothing right there.  Folks with long arms may not even need to step out of the shower.
I would like to see a towel rack somewhere in this area.  The shower stall seems an obvious place for one or even two simple towel racks.  The back door could also accommodate a towel rack, but I would prefer the shower to keep the moisture inside the fiberglass stall.  Plus, there's the optional fan to help ventilate and dry the towel.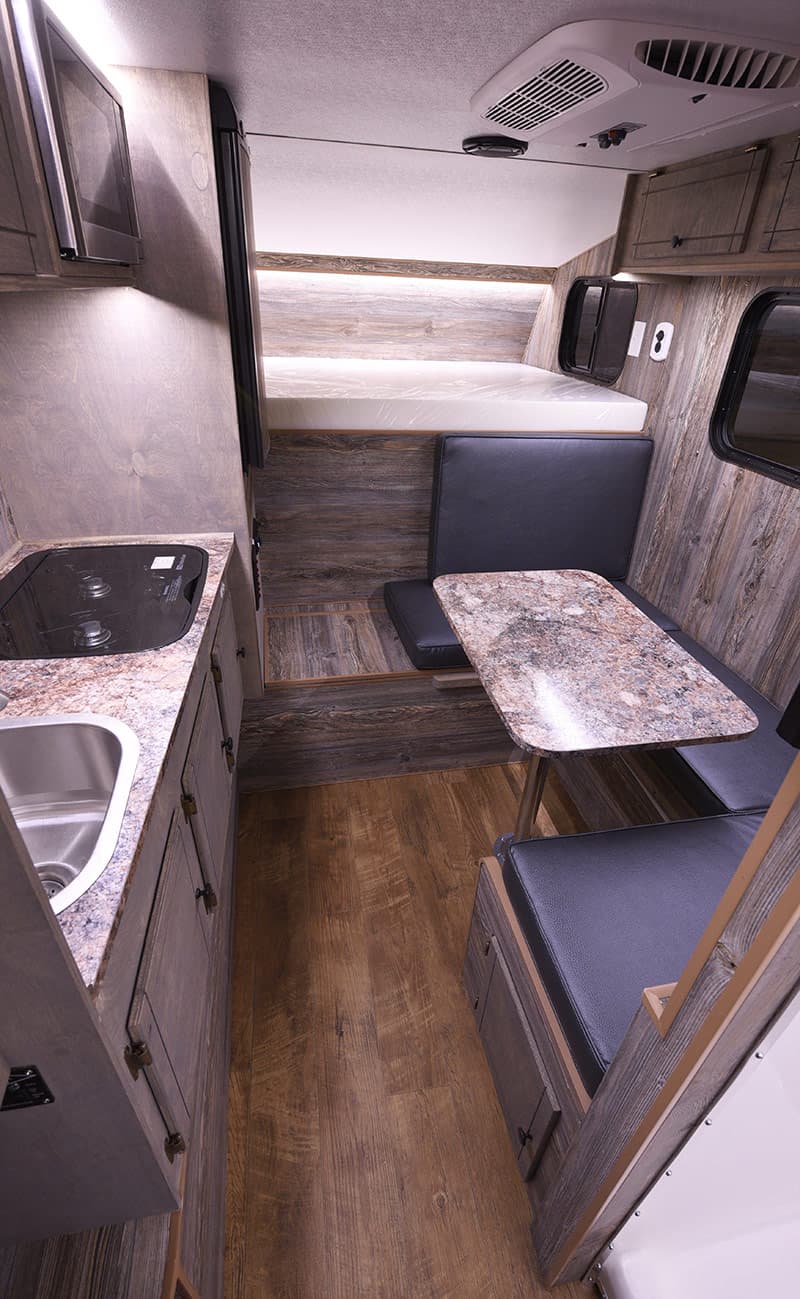 Immediately forward of the shower stall and shelves is a dinette on the passenger's side and the kitchen on the driver's side.  This is a classic truck camper floor plan that's been in production by various manufacturers for decades.  We have camped in truck campers with nearly this exact floor plan and it works beautifully.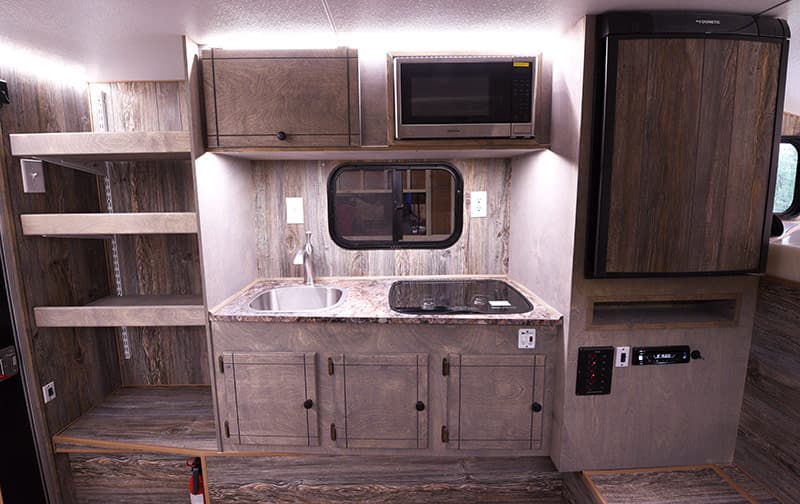 For what some might assume to be a basic truck camper, the Capri Retreat offers a well appointed kitchen.  In the unit under review there was a single basin stainless steel sink, two-burner flush-mount propane cooktop, a microwave, and a 2-way, 3-cubic foot Dometic refrigerator.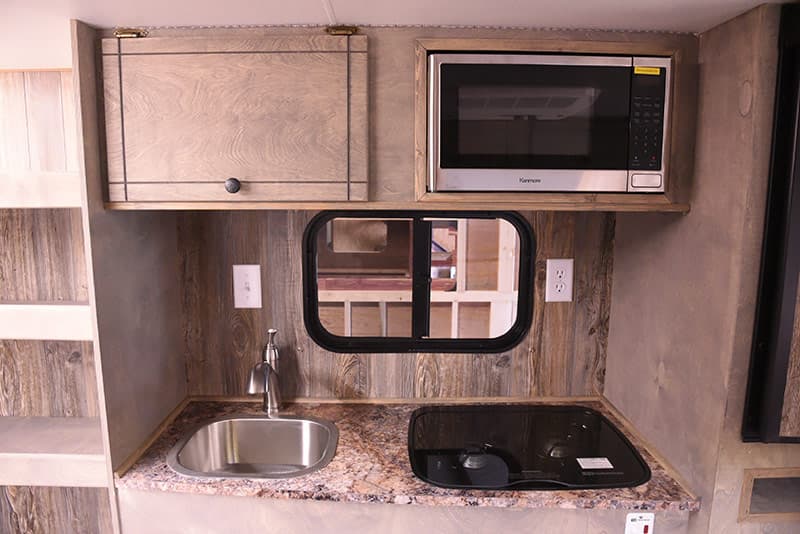 Some folks may balk at not having a dual-basin sink or an oven, but there are two important things to remember during the course of this review.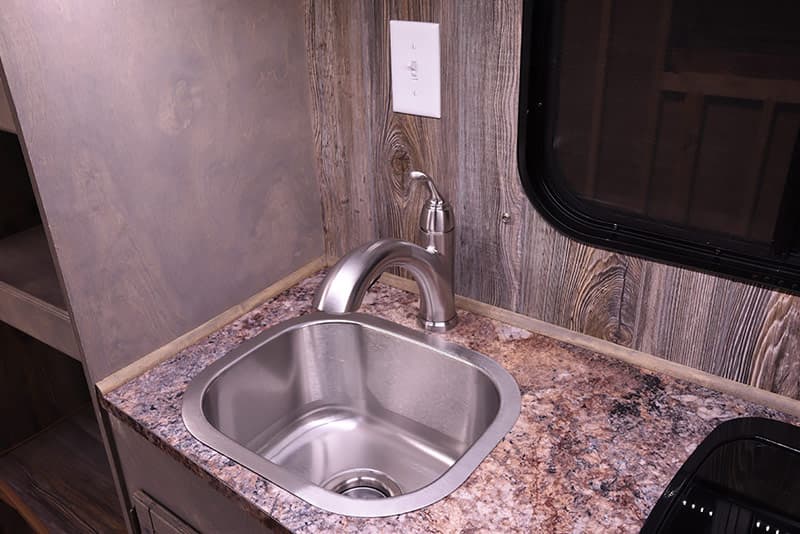 First, Capris are custom ordered and they may be willing to add those features in for you.  And second, Capri is trying to build a camper that's economical and light weight.  Adding too many features and options defeats these objectives.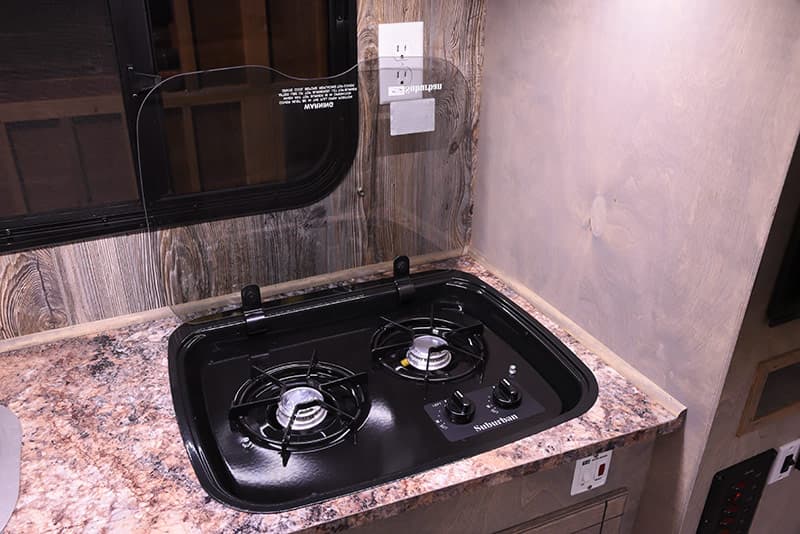 Besides, a dual-basin sink would take up nearly all of the usable kitchen counter space.  In the review unit, the owner should have just enough room for washing dishes and cooking as long as they stick to one of those activities at a time.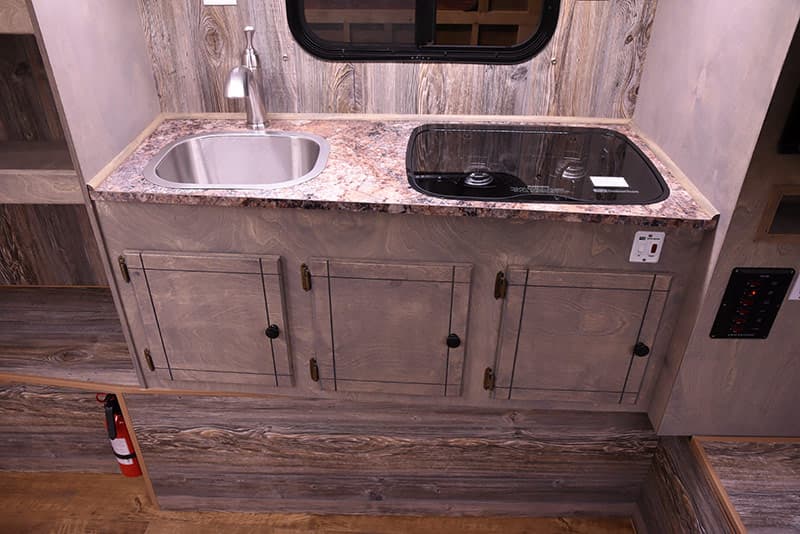 Under the kitchen counter is what appears to be three large cabinets.
Unfortunately, most of this space is consumed by the sink and options.  The first cabinet contains the sink basin and plumbing.  The second cabinet contains the optional dedicated battery (in this case behind a customer-requested a spice rack).  And the third cabinet is consumed by an optional 4-gallon water heater.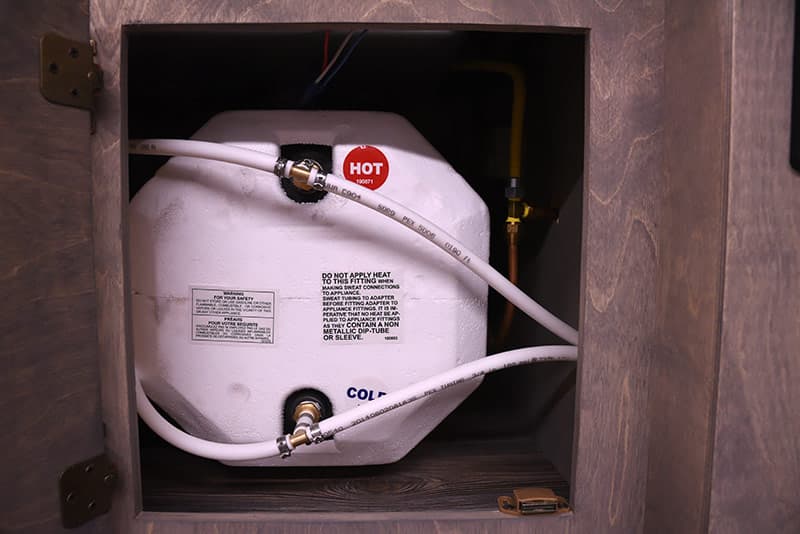 Easy access to the sink plumbing and water heater for maintenance is always welcome.  To reach the water heater in our camper we have to pull out a drawer and then contort our arms down through a narrow opening.  In comparison, this is beautiful!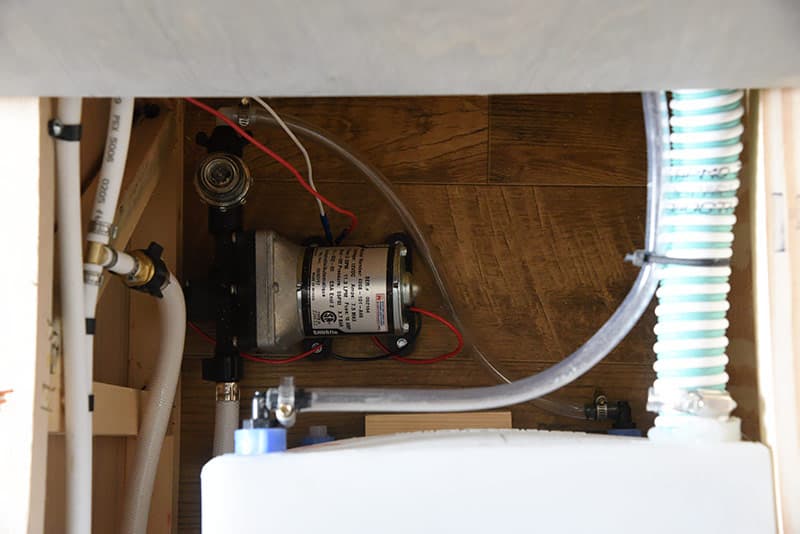 We later found the water pump under the step to the cabover.  Again, this vital system was easy to access.  Someone at Capri cares about making maintenance as simple as possible.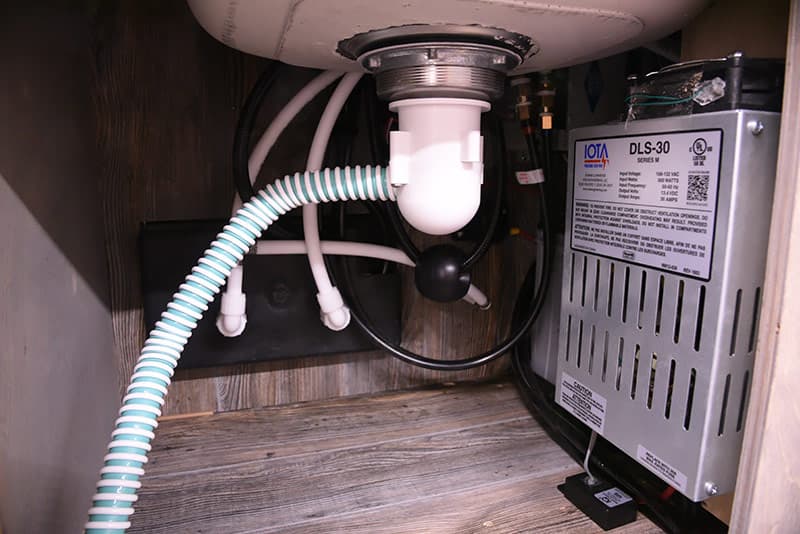 I would be careful about using the space under the sink for storage to avoid anything coming in contact with the sink plumbing or power converter during travel.  One idea would be to velcro an open plastic basket on the center-left side of this compartment and to keep anything stored here in that basket.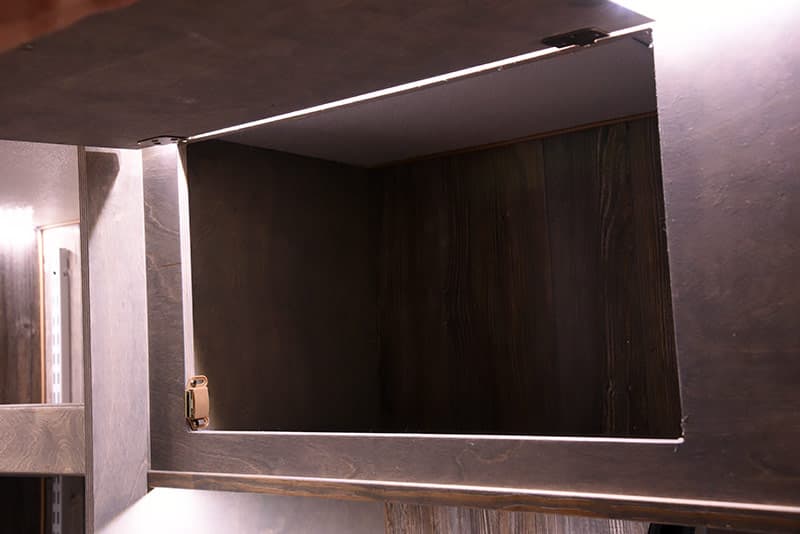 The large upper kitchen cabinet becomes even more important in light of the minimal storage below the counter top.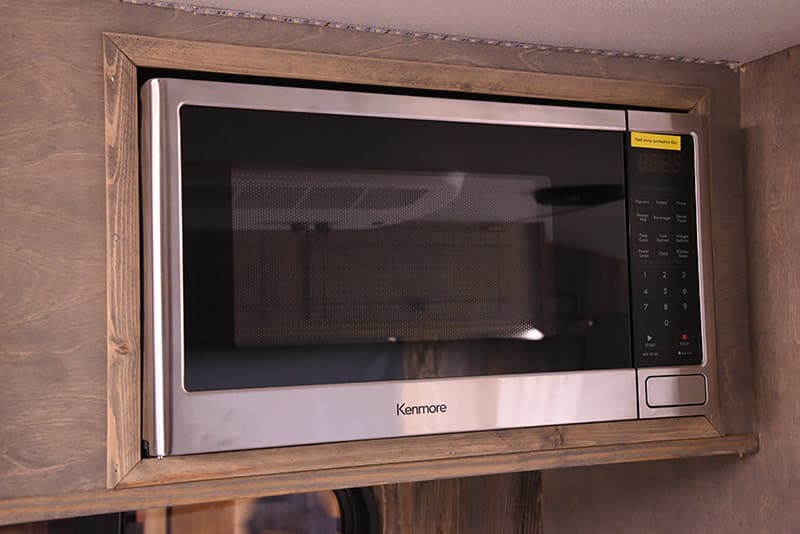 Some folks can't live without a microwave.  If that's you, by all means, order the optional microwave.  It's a good size and the stainless finish gives it a contemporary look.  For everybody else, this location can be a second large upper kitchen cabinet.  We happily live without a microwave on the road, so that would be our choice.
Together with the shallow middle cabinet under the counter (great for cans, jars, and spices), and the large rear shelves across from the shower stall, the kitchen area storage is highly workable.  Remove the optional microwave and it's spot-on for a camper this size.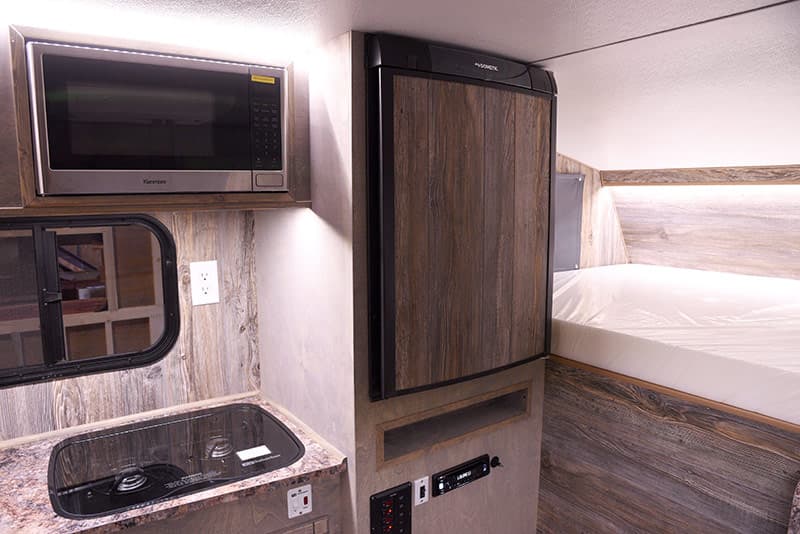 The 2-way, 3-cubic foot refrigerator and freezer are outside of the cabover allowing comfortable access and free-range for the refrigerator door.  The 3-cubic foot capacity may be low for some folks, but it's in line for the size of the Capri Retreat.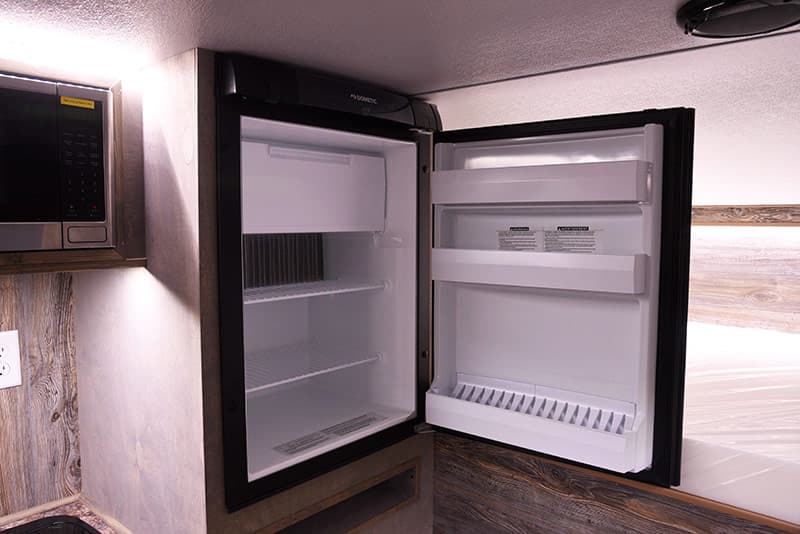 Based on our truck camping experience, 3-cubic feet of cold food storage is good for three to five days for two people eating exclusively from the camper.  We can go a week with our 6-foot refrigerator without trouble, ten days if we have to.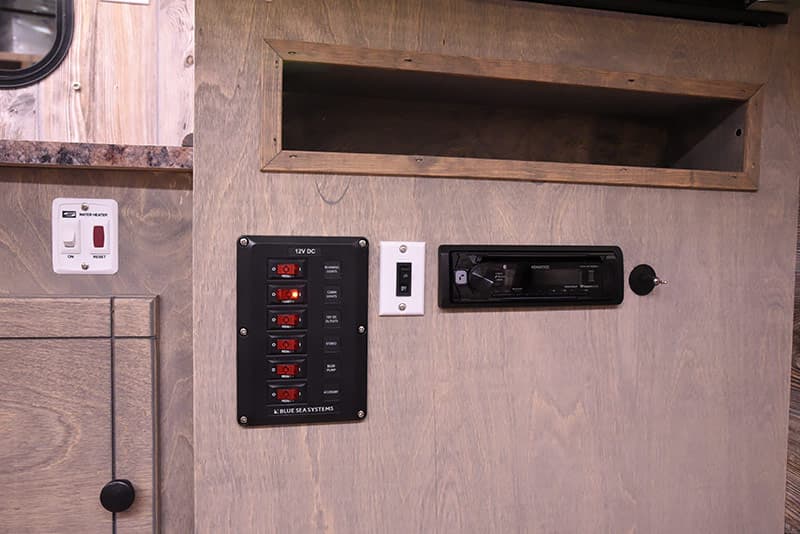 Under the refrigerator is a small storage nook, the Suburban water heater switch, Blue Sea Systems 12-volt DC panel, water pump switch, and Kenwood AM/FM/CD stereo with USB and 1/8-input.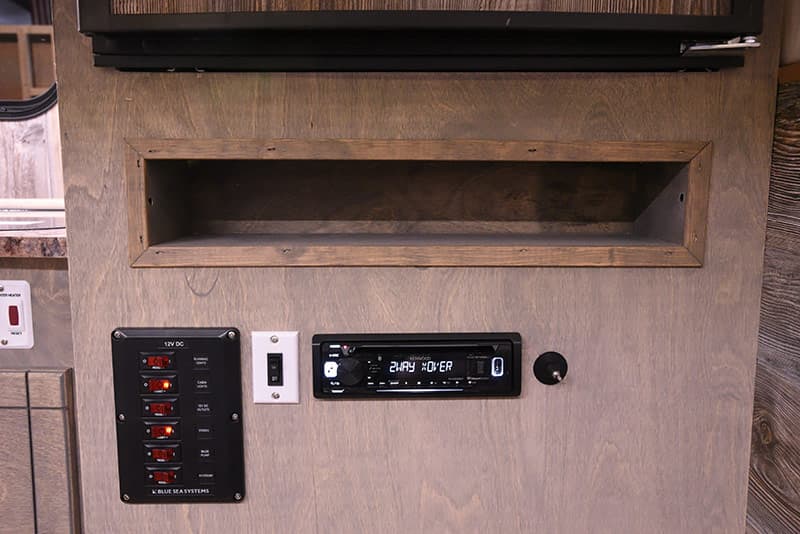 The storage nook screams to be a smartphone and tablet charging area.  Just run the charging cord to the front USB port on the stereo, and charge away.  As a side note, I was also pleased to see an actual volume knob on the stereo.  Does anyone else out there miss knobs and buttons?
The Blue Sea Systems panel contains lighted switches for the running lights, cabin lights, 12-volt DC outlets, stereo, bilge pump, and an accessory.  If the marine word "bilge" caught your attention, it should.
Blue Sea Systems is a marine-grade electrical component supplier used by the who's who of the boat and yacht world.  This is very high-end equipment for any truck camper, much less one that's targeting low weight and low cost.  Right here you see some of that temporal conundrum I talked about in the introduction.  Very interesting.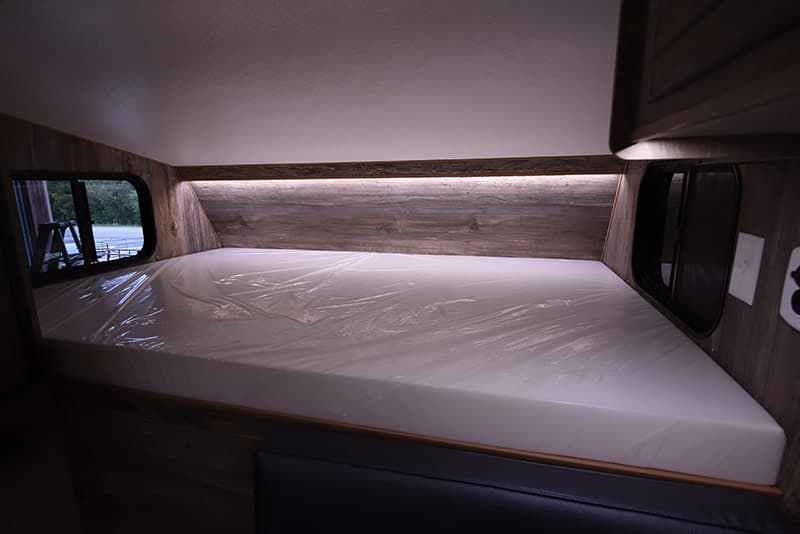 The cabover in the Capri Retreat is an east-west configuration.  For those unfamiliar with east-west versus north-south cabover design, in an east-west cabover you sleep across the width of the camper (passenger's side to driver's side, or vice versa), and in a north-south cabover you sleep along the length of the camper (nose to tail).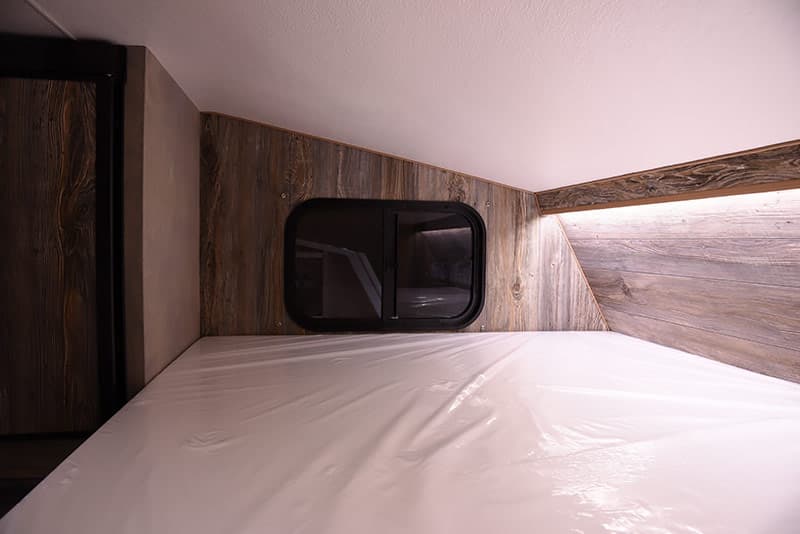 The advantage of an east-west design is that it requires less of a cabover extension compared to a north-south design.  That means less weight, and less cost.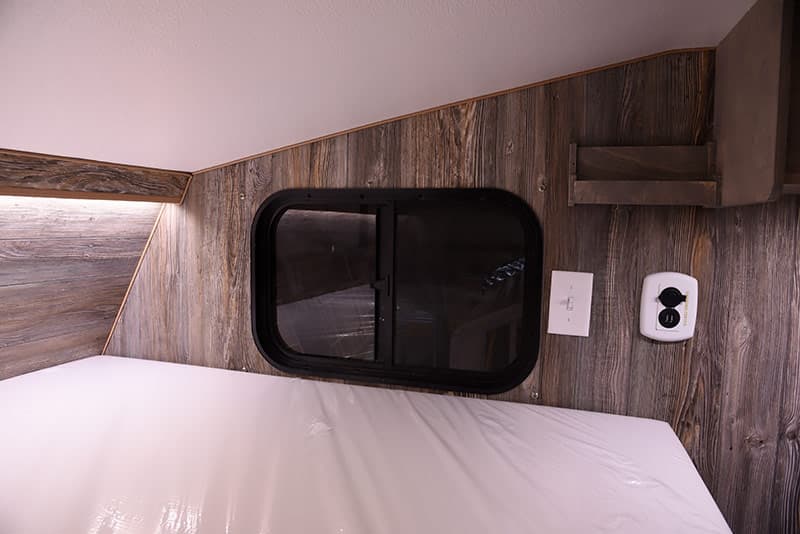 What's lost compared to north-south cabovers is the ability to get out of the cabover without disturbing your spouse.  If you're in the forward camper nose, you need to crawl over your significant sleeping other to get out of bed.  For some of us this would be a fun challenge.  For others, it might be our last and final act.
Storage on both sides of the bed is also lost in an east-west configuration.  Look at the photo above and you'll notice that there's no cabinetry in the cabover.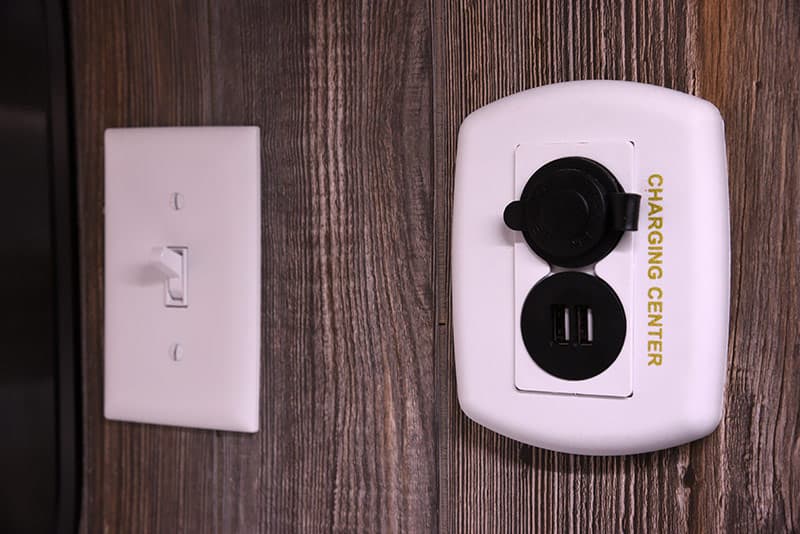 What we do find are two windows for cross ventilation, a light switch, 12-volt outlet, two USB outlets, and a small rack – presumably to put your smartphone when charging from the USB outlets below.  So clever.
For cabover storage, one could use a trick employed by the pop-up truck campers; duffle bags.  These bags would be stored in the cabover when occupying the rest of the unit, and then stored in the floor or in the dinette when traveling or sleeping.  Stuffed with soft clothing, the duffles could even double as comfy cabover cushions.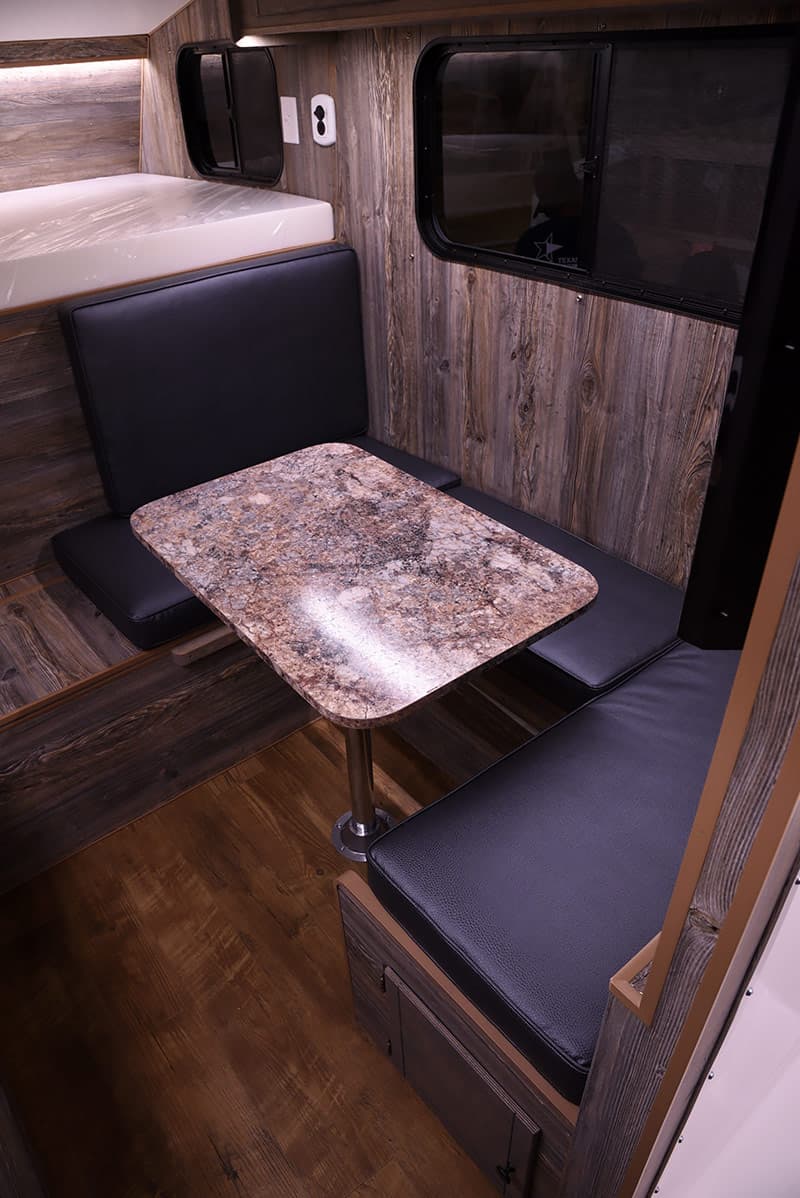 The passenger's side dinette features a single post table and a series of foam cushions.  The cushion depth and excellent quality made the dinette seat quite comfortable.
What I missed were the seat back cushions.  Only the front wall seating position had a seat back cushion leaving the other seating positions exposed to the walls of the camper.  This isn't exactly uncomfortable, but seat back cushions are definitely better.  Again, this design choice is made to save cost and weight.
I am not a fan of removable single-post table legs, but this one seemed to stay put fairly well.  It also presented a considerable amount of table space; enough for two people and a meal.
Then again, most folks who purchase a Capri are either traveling alone, or with one other person.  This means only two people will be seated at the dinette.  As such, I would like to see this table extend to the wall and be fastened into a horizontal catch or two.  Not only would the table nearly double in size for dinner, laptops, cards, and map reading sessions, but the table would gain tremendous stability.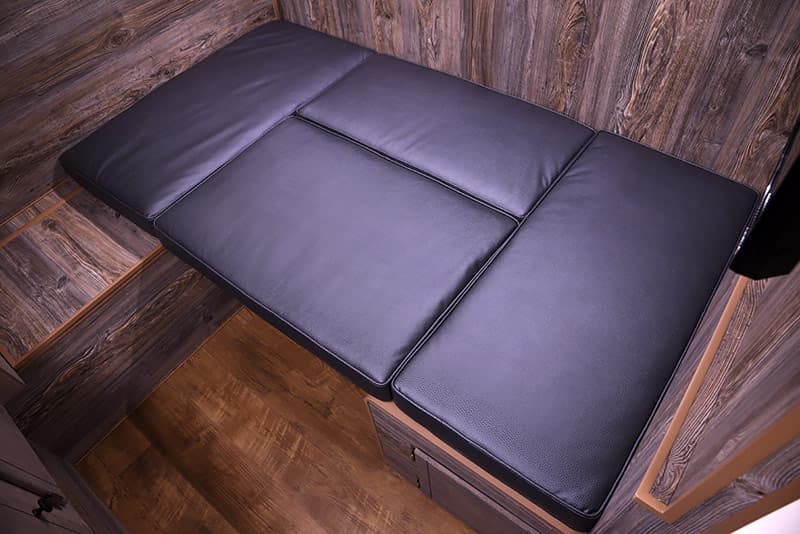 Making the dinette into a bed was a piece of cake.  Pull the table and leg from the base, put the table between the facing seats, and arrange the cushions into a bed.  So easy a magazine publisher could do it.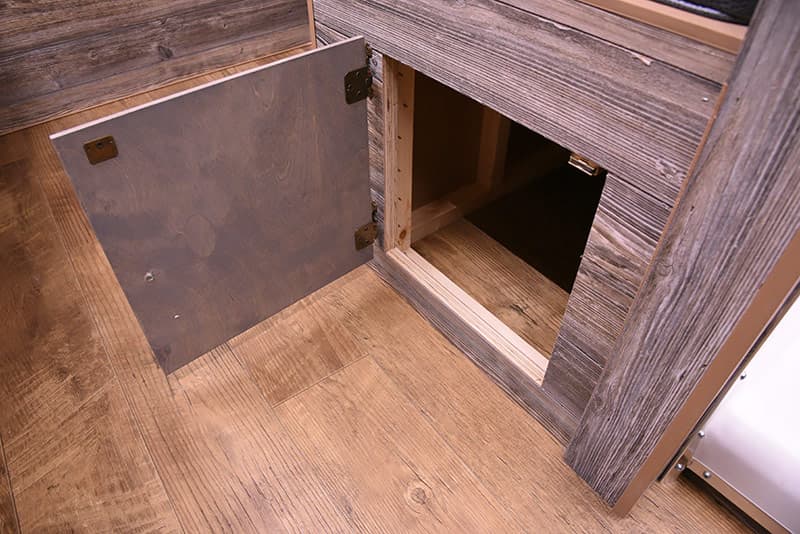 Under the forward facing dinette seat there's a medium-size storage cabinet.  For us, this would be Harley's Cat Cave; aka his litter box spot.  Hopefully you have a somewhat better use for this space.  Shoe storage comes to mind.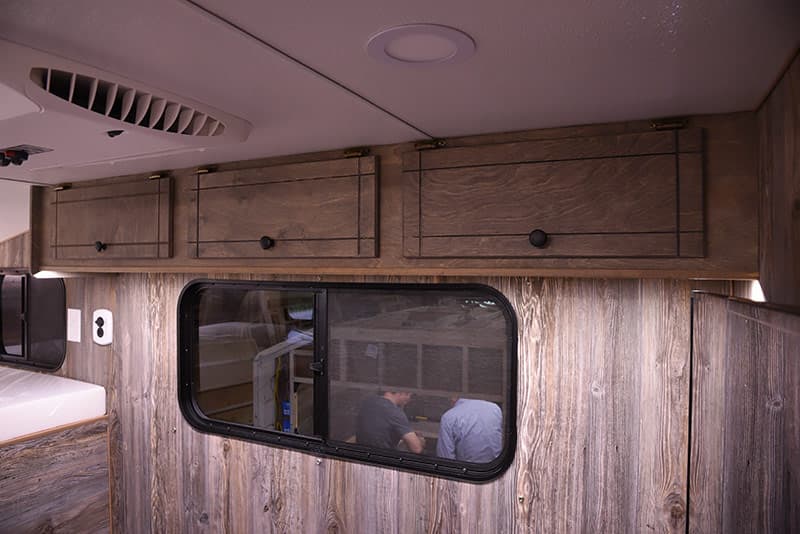 Above the dinette is a large window and three mid-size cabinets.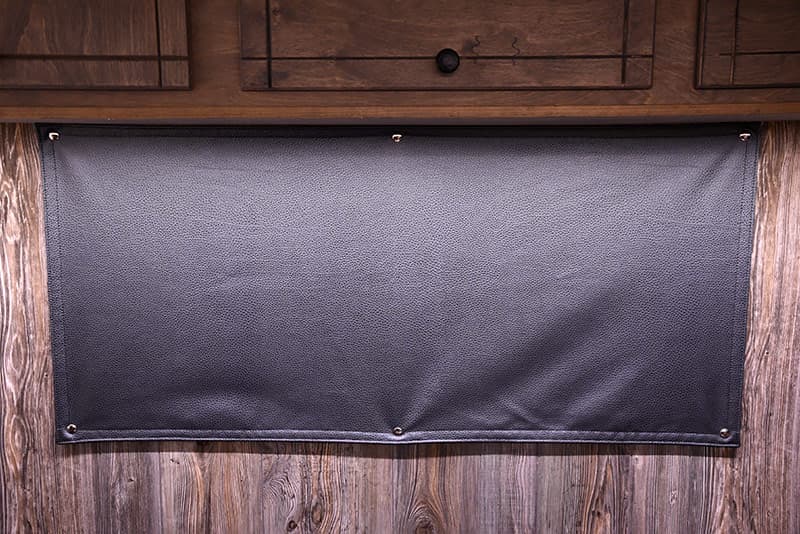 Since the windows don't have curtains, blinds, or valances, Capri offers optional snap-on blackout shades.  These shades are quick to snap into place and offer a degree of insulation.  This could be important as the windows are all single pane.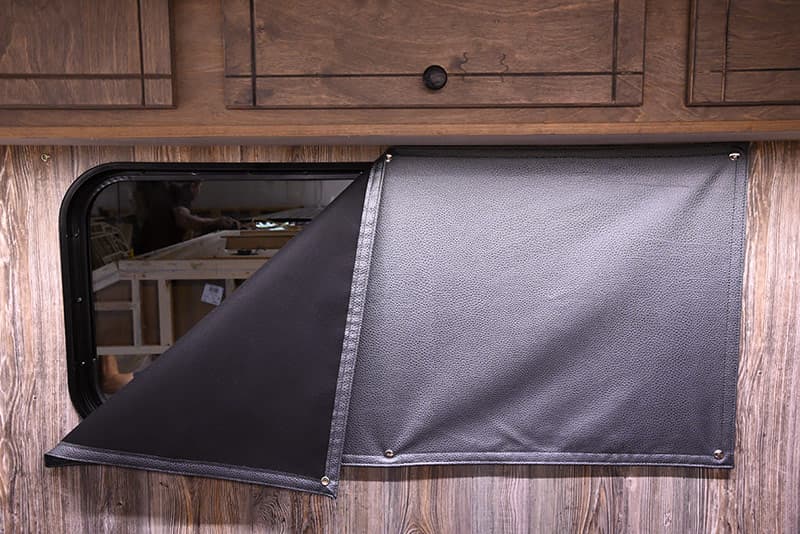 The downside to this approach is that you'll need to snap and unsnap the shades each day to have light and then privacy in the camper.  The temptation would be to leave the lower snaps on, unsnap the upper snaps, and allow the shade to hang in place.  Or, if the snap-on shades became an issue, make a simple set of curtains.
The upper cabinets do not have gas struts or catches to keep them open, so you'll need both hands to use them.  While the owner would become accustomed to this, it's a pain.
In the old days, companies put strong magnets on the ceiling that magnetically grabbed the cabinet handle hardware to keep the open.  Today, most companies use gas struts to hold their upper cabinets open.  Which would be better in a Capri?  Depends which foot they follow; the past, or the present.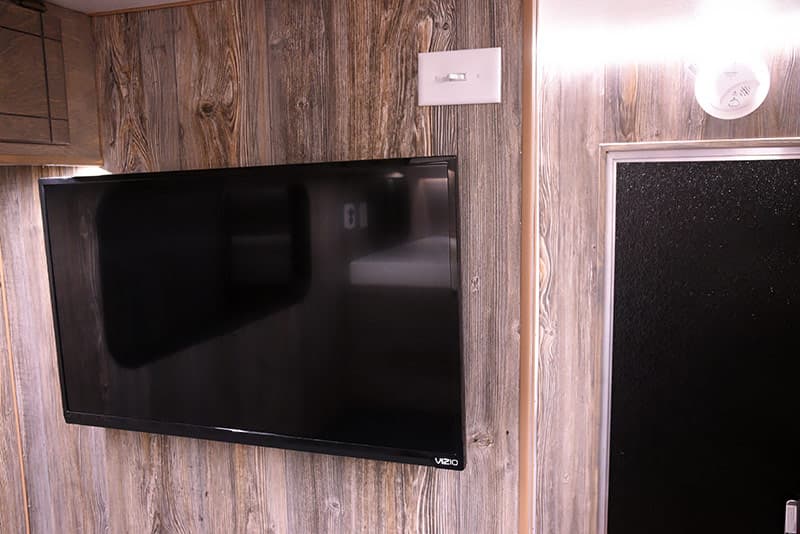 Speaking of feet in the past and present, here's another sign that Capri is both classic and forward-thinking in their design approach.  This is a 32-inch HDTV – a rare sight in truck campers in general, and way bigger than anyone would expect in a non-slide truck camper.  Mounted to the wall, this sleek Visio HDTV gives this area of the Capri a distinctly modern look.  Ironic?  Absolutely!
What's better is that Capri is the only truck camper manufacturer to offer a Bluray/DVD player.  Why Bluray hasn't been adopted industry-wide by now is anyone's guess.  At least for the moment, Capri is way ahead of the entire truck camper industry with this feature.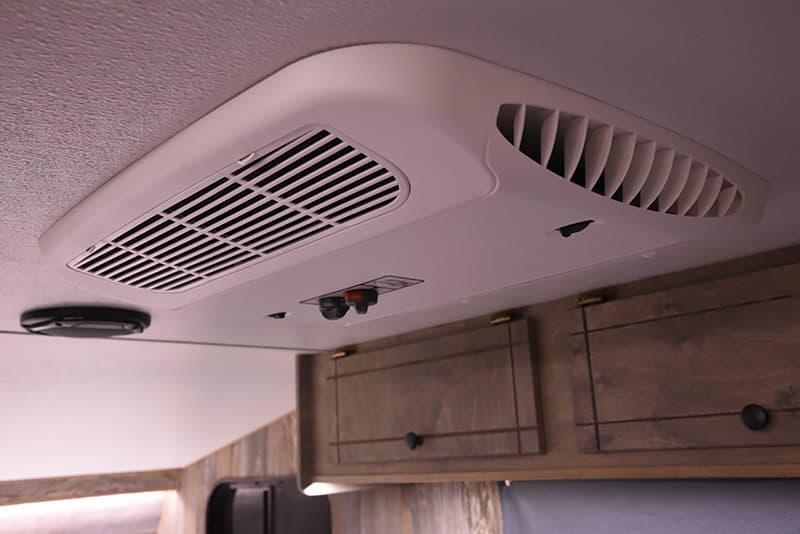 As an option, Capri offers a Coleman Mach 8 low profile air conditioner with a heat strip.  This is a very high quality unit that's designed to run on a Honda EU2000i portable generator.  In 2015, we installed the Mach 8 in our camper and love it.
Specifications
| | |
| --- | --- |
| Specifications | |
| Dry Weight | 1,150-1,500 pounds |
| Wet Weight* | 1,954-2,304 pounds |
| Floor Length | 8'5″ |
| Overall Length | 13'0″ |
| Width | 7'0″ |
| Interior Height | 6'4″ |
| Exterior Height | 82″ |
| Center of Gravity | 42″ |
| Truck Type | Long Bed |
Capri Campers are custom ordered from the factory, but they are not a custom camper company.  They only offer two models, the Retreat with a cabover, and the Cowboy cabover-less.  You can't call Capri and ask them to build your napkin drawing.
What the Retreat and Cowboy do offer is a long list of available options available in two packages (Primary and Premium) and an A-La-Carte option menu.  Call Capri on any given weekday and you can say, "Yeah, I'll have a 2017 Capri Retreat with the Premium Package and a side order of external speakers and a portable toilet – to go!"
After asking you for your exterior aluminum color and stripe choice, and an interior panel choice – Cypress, Weathered Cedar, Ridge Pine, Pecan, or Aromatic Red Cedar – you would have a custom-ordered Capri camper ready for pickup in a matter of weeks.
The reason I'm spelling this out is to explain why stating the dry weight is a bit misleading.  Yes, the Capri Retreat Long Bed weighs 1,150 dry with no options, but that's not what you see in this review.  Based on our estimates, the camper in this review weighs closer to 1,700 pounds dry with options, possibly more.
With an 8.5-foot floor length, the Capri is designed to stay within the bounds of the rear bumper.  You would not be able to shut the rear tailgate, but the lack of an overhang will make the Capri Retreat long bed a towing champion.
The 7-foot width is about a foot narrower than most full-size truck campers.  This is in line with most truck campers targeting the half-ton market.  As a side note, the 7-foot width is also compatible with containerized shipping.  Made in Texas, shipped to Tasmania?  It could happen.
The interior height in the main living area is fantastic at 6-feet 4-inches.  Standing one inch shorter, I was very comfortable in the Retreat – that is until I got into the cabover.  As a non-basement design, the cabover is quite a climb and then presents a relatively low ceiling.  Forget sitting up fully.  It's a climb-in, sleep, and climb-out area – at least for taller people.
At 42-inches the stated center of gravity should be compatible with most trucks.  Unfortunately, the center of gravity was not marked on the unit.  As a magazine, we strongly encourage Capri (and all truck camper manufacturers) to clearly mark the center of gravity on the side of the units.
Capacities
| | |
| --- | --- |
| Capacities | |
| Fresh | 30 gallons |
| Grey | N/A |
| Black | N/A |
| Water Heater | 4 gallons |
| Propane Tanks | 20 pounds |
| Batteries | Optional |
Would you believe the Capri Retreat has a full 30 gallons of fresh water?  That's not including the 4 gallon water heater.  That's right, a fully wet Capri Retreat has 34 gallons of water on board.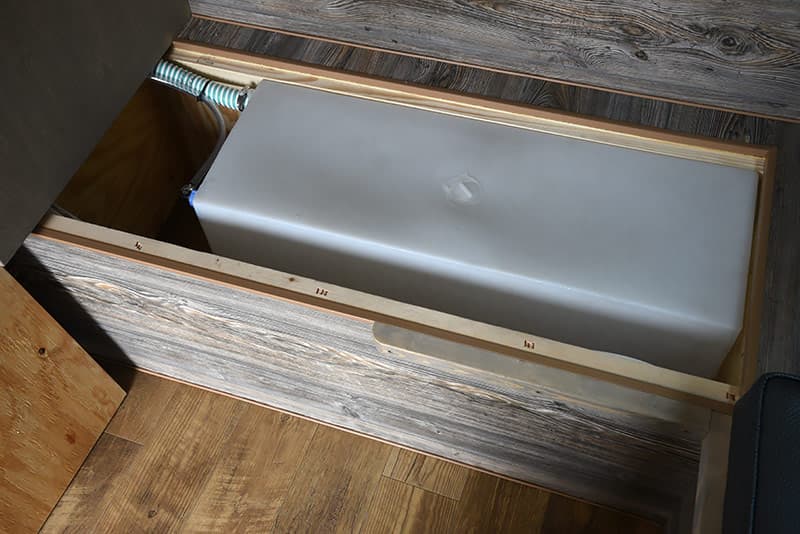 This starts to make sense in the context of the indoor shower room.  Helping this capacity make even more sense, the Capri Retreat under review also has an outside shower, and (a first in Truck Camper Magazine) an outside faucet.  Why did the customer custom order an outside faucet?  I have no idea.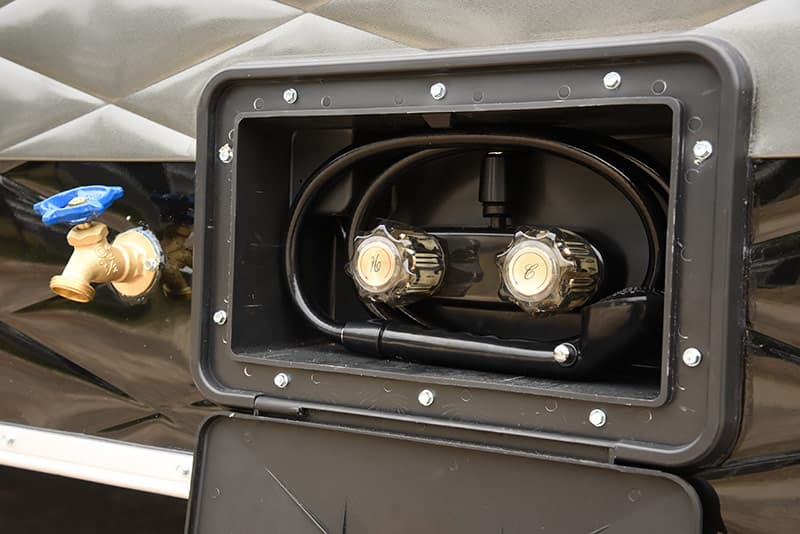 Returning to the low weight and cost priorities of Capri, the Retreat does not have a grey or black tank.  There's no need for a black tank since the Retreat doesn't have a toilet.   Grey water is collected outside of the truck camper in a portable container.  This is the method most pop-up truck campers follow, and many half-ton targeting truck campers have followed suit over the years.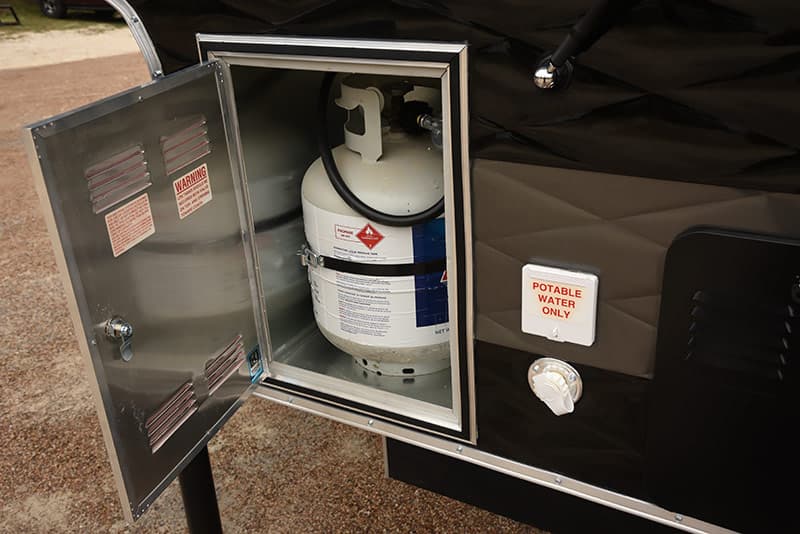 The Retreat holds one 20-pound propane tank in a dedicated exterior compartment.  Having two tanks would be preferable until weight and cost factors are considered.
With one 20-pound tank, refilling propane or exchanging the tank itself could not be more convenient.  Find a propane station, or any Walmart, Home Depot, 7-11, gas station, or grocery store from coast-to-coast and you'll be cooking with gas.
Not all Capri Campers come with batteries.  Capri offers a "dedicated battery system" option that includes a Group 27 AGM battery located behind the middle cabinet under the kitchen counter.
Wet Weight Calculation
As of now, Capri does not have truck camper scales at the factory.  They weigh campers upon customer request by loading them on a truck and driving to a nearby certified scale.
While that works, Truck Camper Magazine would like to encourage Capri to purchase an Intercomp SW500 E-Z Weigh Scale System, weigh each camper once completed, and mark that dry-with-option weight on the unit before it leaves the factory.
The Intercomp SW500 is something of a standard throughout the industry and can be found at many truck camper manufacturer factories and dealer lots.  From experience, the system is incredibly accurate and reliable.  We believe the Intercomp SW500 system (or something like it) should be considered mandatory for every truck camper manufacturer and dealership.
That said, how can we do an accurate wet weight without an accurate dry weight?  We can't.  What we can do is run the numbers with Capri's reported base dry weight (without options) and – with the list of options included with the review unit – make another calculation of the camper's weight with options.
Base Dry Weight – No Options
Capri Retreat Long Bed: dry weight, 1,150 pounds + 30 gallons fresh, 250.2 pounds + 4 gallon water heater, 33.4 pounds + 20-pound full propane tank, 20 pounds + stuff, 500 pounds = 1,953.6 pounds
Fully Optioned Review Unit
We requested a list of the options added to the custom-ordered Capri Retreat under review, and it's impressive.  First, the camper was ordered with the what Capri calls the Premium Upgrade Package; Coleman Mach air conditioner with heat strip, 2-way 3-cubic foot Dometic refrigerator, Kenwood microwave, stainless sink, and table with custom cushions.
On Capri's A-La-Carte option menu, the following options were added; two-burner recessed cooktop, audio package with interior and exterior speakers, Fantastic Fan, outside shower, dedicated battery system, and inverter, Rieco-Titan electric jacks, vanity cabinet, blackout shades, portable toilet (not shown), and a wireless backup camera.
Based on our conservative calculations, we estimate the weight of the above options at 585 pounds.  Adding that weight to the 1,150 pound base weight we arrive at 1,735 pounds.  Now let's put this dry with option weight into the Truck Camper Magazine wet weight formula.
Capri Retreat Long Bed: dry weight, 1,735 pounds + 30 gallons fresh, 250.2 pounds + 4 gallon water heater, 33.4 pounds + 20-pound full propane tank, 20 pounds + stuff, 500 pounds = 2,538.6 pounds
Truck Recommendations
In 2017, it's more than possible to achieve 2,500 pounds of payload – or more – in a half-ton truck.  Start with a 2017 Ford F-150 XL SuperCab, Long Bed, 3.5L V6 EcoBoost, and add the Heavy-Duty Payload Package, the Max Trailer Tow Package, and 18-inch Heavy-Duty Payload Package Wheels ($395).
On Ford.com, we did a build configure with these features that came to $37,190.  We know of at least one example where a similarly specified truck ended up with nearly 2,700 pounds of payload.  It wasn't too long ago when you needed a one-ton to reach that payload level.
Short of custom ordering a truck like the one described above, finding a half-ton truck with a payload capacity exceeding 2,000 pounds can be extremely difficult.  In fact, we have seen dozens of aluminum-bodied Ford F150s on dealer lots with 1,500 pounds of payload or less.  If you don't configure a half-ton truck correctly, it probably won't have the payload capacity you're looking for.
All of this is both good news and bad news for the growing hard-side half-ton truck camper market.  On one hand, you can order a half-ton truck with 2,700 pounds of payload.  On the other, the half-ton truck you own, and the one you find on your local dealer lot, probably won't cut it.
This brings us back to the Capri Retreat.  The 1,952.6 pound base wet weight calculation is likely out of bounds for the average half-ton.  And the 2,538.6 pound wet weight of the camper under review is definitely beyond the average half-ton.  Remember, most half-ton trucks offer a payload capacity south of 1,500 pounds.  Many have payloads under 1,200 pounds.
If you are determined to match a Capri Retreat Long Bed to a half-ton, the answer is simple.  Go to your preferred truck dealer and order a half-ton truck with at least 2,000 pounds of payload for the basic model.  If your heart is set on a half-ton and fully tricked-out Capri Retreat, a special-ordered Ford might be your only choice.
Our best advice is to over truck.  Unless you are dead-set that you have to drive a half-ton, go bigger.  A three-quarter or one-ton truck is much more likely to have the payload you need for a fully-loaded and wet Capri Retreat.  Then you should have the extra capacity to tow a boat, or whatever towable toys you prefer.  Even better, you will have the option to get a bigger camper down the road, should that fancy strike.
The Verdict
During the course of writing this review, it became clear that the Retreat Long Bed under evaluation is not the typical Capri Camper.  This particular unit was custom ordered with a long list of relatively heavy and expensive options that push the camper beyond the value-oriented, non-slide, half-ton compatible concept Capri is known for.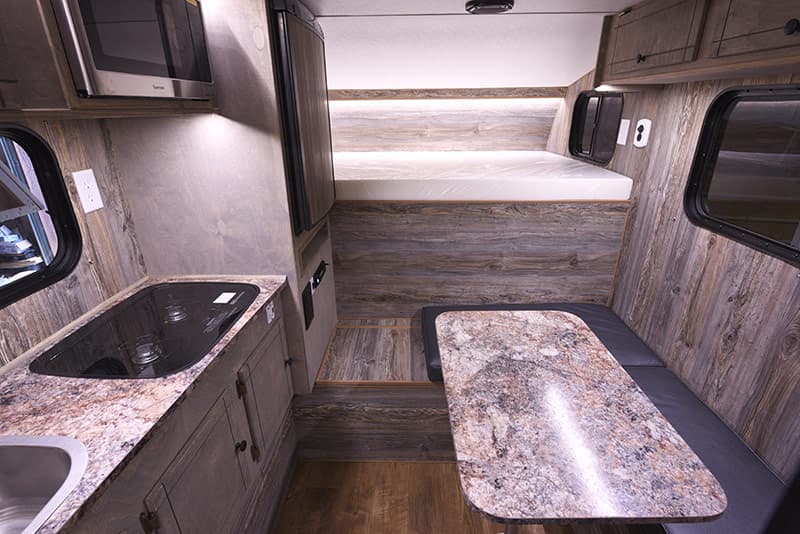 Taking a step back, this camper is a fantastic example of what Capri is capable of.  In this Capri Retreat, you can see virtually every option Capri offers.  If you're interested in ordering your own Capri, this camper might help you decide what options you want, and what you can skip.
Most of our criticisms of the Capri Retreat can be answered with two perspectives.  First, as a model, the Capri Retreat is a value-oriented camper targeting half-ton trucks.  That means it can't have all the features and storage we find in campers with higher price tags and higher weights.
That explains why there's no toilet option or black tank.  That explains why it has an east-west cabover with no storage and not a north-south cabover with hampers and penguins.  Only one battery and propane tank?  This is a value-oriented lightweight camper folks!  Two batteries and two propane tanks double the weight and cost.
Second, this particular unit was loaded with almost every option Capri offers tipping the price tag and weight scale beyond Capri's value-oriented, half-ton compatible goal.  In retrospect, it might have been much better to review a Capri Retreat with only the most popular options, and nothing else.  As a custom order direct manufacturer, we reviewed the camper they had available.  That's how that went.
We were very impressed with the craftsmanship and overall build quality of the Capri Retreat and the Capri company in general.  If you're looking for a well-built, old-school truck camper with the option to add some impressive comfort and convenience features, the Capri Retreat might be exactly what you're looking for.
There are some compromises to achieve the low weight and cost, but that's how they do it.  Throw in the classic look of quilted aluminum siding (in your choice of colors) and some attractive interior paneling options, and you have a real contender; one foot in the past, one foot in the present.
Pros
Half-ton compatible if carefully matched – see truck matching above
Optional one-piece fiberglass shower stall is a good size
Rear adjustable shelving area provides excellent storage
Well appointed kitchen with optional range, microwave, and refrigerator
Most camper systems are easily accessible for maintenance
12-volt and USB charging in the cabover.  USB charging from stereo.
Cons
No built-in toilet available – Porta-Potti is optional
Shower area needs a towel rack, or two
Kitchen storage taken by optional microwave, battery, and water heater
East-West cabover has no storage
Single propane tank and optional battery require monitoring and conservation
Review unit lacked an LP detector – manufacturer is adding them
Model Information
2017 Capri Retreat
MSRP: $8,995 (without options), $19,790 as shown
Warranty: One year workmanship warranty.  Individual appliances have their own warranties.
Capri Camper
26980 US Highway 377 North
Bluff Dale, TX 76433
Phone: 254-728-3226
Request a Capri Retreat Brochure
Web: CapriCamper.com
Quality, Customer Service, and Long-Term Reliability
Truck Camper Magazine inspects all reviewed truck campers for design, material, and quality issues and reports what we find.  However, since Truck Camper Magazine reviews only brand new truck campers, our reviews do not address long-term quality, customer service, or reliability.
To learn about a brand's long-term quality, customer service, and reliability, Truck Camper Magazine recommends talking directly with truck camper owners at truck camper rallies and online via truck camper forums and truck camper owners groups.
Please be sure to balance your gathered feedback across multiple sources including direct correspondence with the truck camper manufacturers and your closest truck camper dealers.
If you are new to truck campers, visit our Newbie Corner.