Pete and Tyson D'Acosta are seeking to transform Capri Camper into a market leader of value-priced hard side truck campers.  Capri isn't just a rodeo cowboy camper anymore.

There is a strong trend emerging within the truck camper industry towards lightweight hard side truck campers targeting the half-ton short bed truck market.  For many years, this niche has been neglected as multi-slide long bed floor plans have gained the attention, and the sales.
The reason for the renewed interest in the half-ton short bed camper is simple.  Truck sales point decisively toward half-ton short bed trucks.  In fact, many within the truck camper industry believe short bed half-ton trucks represent the most compelling opportunity to grow the truck camper marketplace.
All of this is music to the ears of father and son team Pete and Tyson D'Acosta of Capri Camper.  Since acquiring the 46-year-old manufacturer in early 2014, the D'Acosta's have been on a mission to modernize the Capri Camper line, streamline production, and dramatically improve quality control.
Where the previous owners were satisfied serving the local rodeo cowboy market with a decades-old design, build quality, and aesthetic, the D'Acosta team is focused on product innovation, and growth.  Two of their primary goals for 2016 are to establish a dealer network, and significantly increase production.
To find out exactly how they're going to accomplish this ambitious set of goals, and to learn more about Capri's half-ton targeting camper line, we contacted Pete D'Acosta, President of Capri Camper.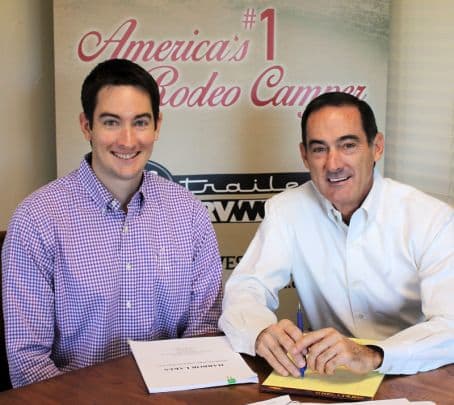 Above: Tyson (left) and Pete (right) D'Acosta of Capri Camper.  All photography was supplied by Capri Camper.  Click to enlarge the photos throughout this article.
TCM: Tell us a little about your background before you purchased Capri Camper.
Pete: For the past twenty years, I worked with New York based private equity partners to run companies that they had acquired.  The partners I worked with are good guys and we got along well, but the job required extensive travel.  I was in airports three to four times a month and in and out of New York City regularly.  Working at that faster pace was exciting, but also took its toll.  Several years ago I met with my partners in New York and quietly walked away.
Sometime after my departure, I had a meaningful conversation with my two grown children during a family vacation.  They expressed how they wished I had a business that we could be involved in together.  That conversation planted the seed about acquiring a small company that I could run with my son and daughter.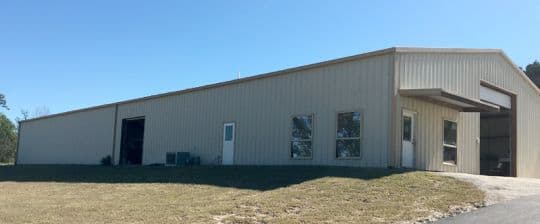 Above: Capri's manufacturing facility in Bluff Dale, Texas – click to enlarge
TCM: Is that what led you to purchase Capri Camper?
Pete: Yes.  My son Tyson and I came across a listing for Capri Camper being for sale in Bluff Dale, Texas.  Bluff Dale is about fifty miles southwest of Fort Worth, just outside of Stephenville.  I drove down to Capri, and met with the broker for half an hour.  Two weeks later, I met the owner (who had been out of the country) and we hit it off quickly.  Within two hours I shook his hand and we had a deal.
We bought the company purely on instinct.  There wasn't time to conduct the usual due diligence.  Our confidence was based purely on the fact that Capri was a 45 year old company at the time and we thought it still had a significant upside.  We also didn't know anything about truck campers but, from our first day on the job, we looked for things to improve on and took a common sense approach to embracing the product, the manufacturing process, and the opportunity ahead.  My son (who lived and worked in Colorado) and I both immediately relocated and now work full time at Capri.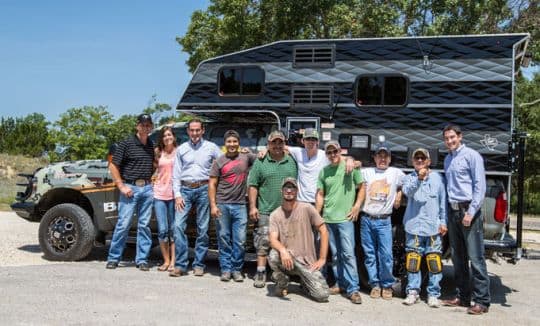 Above: The team at Capri Camper – click to enlarge
TCM: Did you and your son make changes at Capri Camper right away?