Pete and Tyson D'Acosta are seeking to transform Capri Camper into a market leader of value-priced hard side truck campers.  Capri isn't just a rodeo cowboy camper anymore.

There is a strong trend emerging within the truck camper industry towards lightweight hard side truck campers targeting the half-ton short bed truck market.  For many years, this niche has been neglected as multi-slide long bed floor plans have gained the attention, and the sales.
The reason for the renewed interest in the half-ton short bed camper is simple.  Truck sales point decisively toward half-ton short bed trucks.  In fact, many within the truck camper industry believe short bed half-ton trucks represent the most compelling opportunity to grow the truck camper marketplace.
All of this is music to the ears of father and son team Pete and Tyson D'Acosta of Capri Camper.  Since acquiring the 46-year-old manufacturer in early 2014, the D'Acosta's have been on a mission to modernize the Capri Camper line, streamline production, and dramatically improve quality control.
Where the previous owners were satisfied serving the local rodeo cowboy market with a decades-old design, build quality, and aesthetic, the D'Acosta team is focused on product innovation, and growth.  Two of their primary goals for 2016 are to establish a dealer network, and significantly increase production.
To find out exactly how they're going to accomplish this ambitious set of goals, and to learn more about Capri's half-ton targeting camper line, we contacted Pete D'Acosta, President of Capri Camper.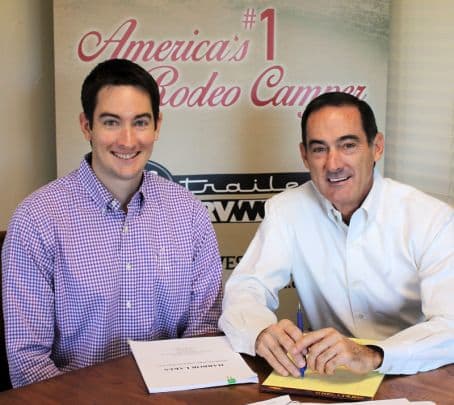 Above: Tyson (left) and Pete (right) D'Acosta of Capri Camper.  All photography was supplied by Capri Camper.  Click to enlarge the photos throughout this article.
TCM: Tell us a little about your background before you purchased Capri Camper.
Pete: For the past twenty years, I worked with New York based private equity partners to run companies that they had acquired.  The partners I worked with are good guys and we got along well, but the job required extensive travel.  I was in airports three to four times a month and in and out of New York City regularly.  Working at that faster pace was exciting, but also took its toll.  Several years ago I met with my partners in New York and quietly walked away.
Sometime after my departure, I had a meaningful conversation with my two grown children during a family vacation.  They expressed how they wished I had a business that we could be involved in together.  That conversation planted the seed about acquiring a small company that I could run with my son and daughter.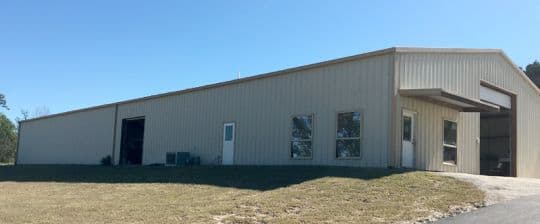 Above: Capri's manufacturing facility in Bluff Dale, Texas – click to enlarge
TCM: Is that what led you to purchase Capri Camper?
Pete: Yes.  My son Tyson and I came across a listing for Capri Camper being for sale in Bluff Dale, Texas.  Bluff Dale is about fifty miles southwest of Fort Worth, just outside of Stephenville.  I drove down to Capri, and met with the broker for half an hour.  Two weeks later, I met the owner (who had been out of the country) and we hit it off quickly.  Within two hours I shook his hand and we had a deal.
We bought the company purely on instinct.  There wasn't time to conduct the usual due diligence.  Our confidence was based purely on the fact that Capri was a 45 year old company at the time and we thought it still had a significant upside.  We also didn't know anything about truck campers but, from our first day on the job, we looked for things to improve on and took a common sense approach to embracing the product, the manufacturing process, and the opportunity ahead.  My son (who lived and worked in Colorado) and I both immediately relocated and now work full time at Capri.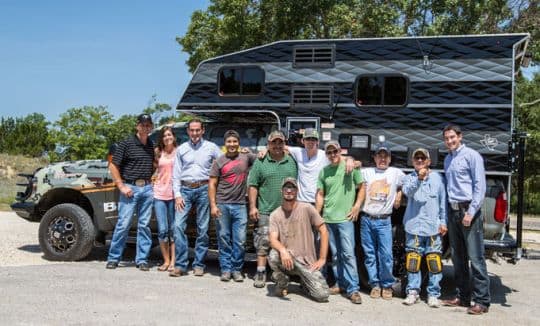 Above: The team at Capri Camper – click to enlarge
TCM: Did you and your son make changes at Capri Camper right away?
Pete: When we bought the company, there was very little energy or enthusiasm among the production team. On the other hand, they represented many years of experience building quality campers.  From our first day we worked hard to reenergize everyone and take advantage of their many years of success.  Now the team is excited about the future and there's a new sense of intensity and opportunity.
The product had not been updated in many years, nor had it kept pace with improving technology.  They had been building the product the same way for decades.  We immediately identified areas we could improve on to give the campers a fresh and more modern look.  We also made the campers more functional without altering the classic, vintage exterior that everyone associates with a Capri Camper.
After twenty months, our enthusiasm and confidence has been growing every day.  We have almost tripled the staff and every quarter our sales have grown.  It's been a lot of fun.
Above: PRCA Bareback rodeo rider, Bobby Mote, uses a Capri Camper
TCM: Capri Camper has long been associated with cowboys and the rodeo circuit.  Tell us about that connection.
Pete: One of the facets of Capri Campers that intrigued us from the beginning was its association with the rodeo cowboy community.  We have worked hard to reengage the competitive cowboys.  In fact, right now we have five or six of the top ten ranked competitive rodeo cowboys in new Capri Campers.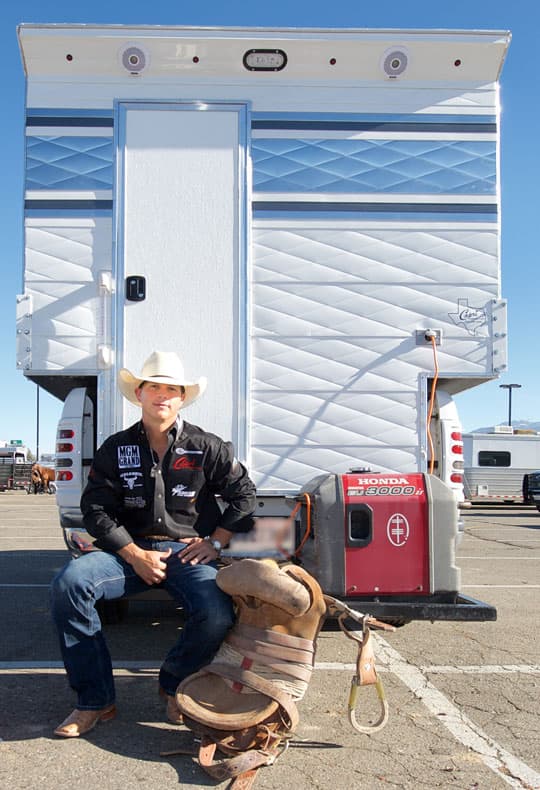 Above: Capri owner Bradley Harter is a nine-time qualifier to the National Finals Rodeo
The cowboy lifestyle, their good nature, and their strong family values have been a wonderful education for us.  Although we are broadening the market focus of Capri Campers, we remain dedicated to the cowboy and rodeo community.
TCM: What do you believe Capri Campers bring to the truck camper marketplace?
Pete: Our three greatest advantages in the entry-level hard side truck camper market is our low price, light weight, and the fact that we custom build every camper by hand from the ground-up.  We believe we offer the best value in hard side truck campers available today.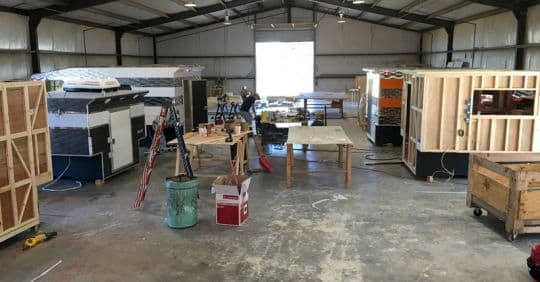 Above: Inside the Capri factory – click to enlarge
TCM: Does Capri Camper sell exclusively direct, or do you have dealers?
Pete: We sell through NRS Trailers, one of the largest horse trailer dealers in the United States and they have dealerships in Texas and Oklahoma.  While we do currently sell direct to customers outside of their Texas, Oklahoma, and New Mexico territory, our number one goal is to expand the Capri Camper dealer network.
Sixty percent of the phone calls we get for Capri Campers come from the northwest.  However, when you have a truck camper that sells between $4,000 and $16,000, and shipping a unit to the Northwest is upwards of $3,000, it becomes difficult for the customer to justify the purchase.  For that reason, we are working hard to find dealer interest in the northwest.  We are also looking for dealers in the northeast and south as well.
TCM: Do you build to order exclusively, or do build production units?
Pete: Everything we build starts with a customer or dealer order.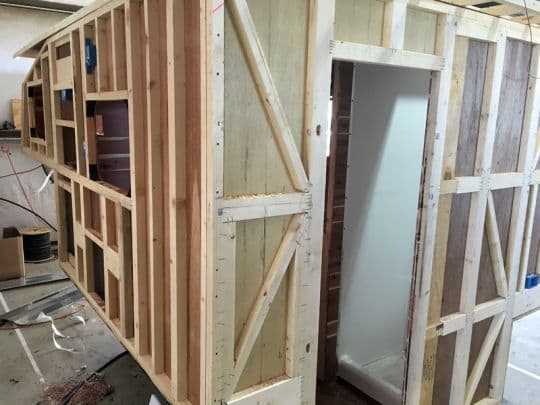 Above: Capri Campers are wood framed – click to enlarge
TCM: How would you describe the core construction of a Capri Camper?
Pete: Capri Campers are wood framed and hung wall from the ground up.  The exterior, including the sides and roof, are then wrapped in an aluminum shell.  The roof is a single sheet of aluminum.
TCM: Why not also frame with aluminum?
Pete: One of the first things we did when we bought the company was to enlist the services of a local aluminum fabricator with a large operation to build an aluminum framed Capri.  We thought the aluminum frames might be easier to scale and faster to build, and we wanted to explore the possibility of outsourcing the frames.
We learned two things from that experience.  First, the aluminum frame was rigid and did not allow for flex when a truck goes off road.  Second, aluminum is a significant conductor of heat and cold.  Wood frames are more flexible and sturdy, and don't conduct heat or cold like aluminum.  In the end, we decided to stay with the proven wood frame and hung wall construction approach.  Since then we have made many frame design improvements.  Our frames are stronger than ever.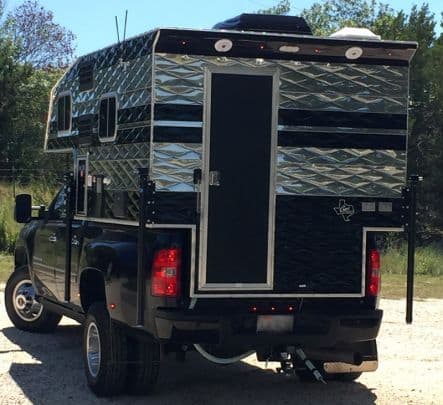 Above: Capri campers are 84-inches wide. Capri Retreat model pictured – click to enlarge
TCM: How wide do you build Capri Campers?
Pete: Capri Campers are all 84-inches wide.
TCM: How do you insulate a Capri Camper?
Pete: The walls on a Capri Camper feature 2-inch thick wood framing.  We then insulate the walls with 2-inches of fiberglass batting insulation.
Our customers constantly tell us how well our campers are insulated.  When you do need heat or air conditioning, the optional roof air with heat strip heats or cools the small interior space quickly.  We also offer a propane catalytic heater that also works well in a Capri Camper.
TCM: How do you seal your truck campers to protect them against water intrusion?
Pete: The camper seams used to be caulked.  We prefer silicone for a much better seal.  We also use double sided automotive tape, butyl tape, and putty tape for seams and accessories.
No more lens caps from traditional marker lights.  We now use recessed exterior LED lights.  That change removed a potential leak source.  We also use Hehr brand windows which have eliminated leak issues from some previous window vendors.
In the past, Capri Campers had plywood floors that were not waterproofed.  Today the underside of every camper floor is treated with a waterproofing agent where it comes in contact with the truck bed.  This was one of the very first things we changed about the construction of Capri Campers.  We are also working on a new composite underbelly.
Above: The Cowboy is Capri's small model, and a sleeper – click to enlarge
TCM: Tell us about your three models: the Cowboy, Maverick, and Retreat.  What distinguishes each model in the Capri Camper line?
Pete: The Cowboy is our smallest unit.  It's primarily intended to be a sleeper with no cabover, no overhang, and 5-feet of interior headroom.  The Cowboy model has a bed, and you can get an optional air conditioner and Rieco-Titan camper jacks.  You can also add a sink and external shower.  The Cowboy is very popular with hunters and fishermen who just want a place to sleep.
Above: The Maverick is Capri's medium model – click to enlarge
The medium size Maverick and the large Retreat are similar. The Maverick has 6-feet of interior headroom and a 45-inch wide cabover bed.  The Retreat is 6-foot 4-inches tall inside, and has a 55-inch wide bed.  Both models provide flexible layout options for customers wanting counter tops, beds and bunk beds, cabinets, shelves, showers, sinks, refrigerators, audio/video, etc.
Above: The Retreat is Capri's large model – click to enlarge
TCM: How do you advise customers on which Capri Camper to purchase?
Pete: Customers tend to buy one floor plan or another based on camper weight and price.  People who buy the Cowboy are generally just looking for a sleeper and they do not want a cabover.  Between the Maverick and the Retreat, the Maverick is $1,000 less than the Retreat, and weighs 200 to 300 pounds lighter.  Taller customers prefer the Retreat for its 6-foot 4-inch interior height and wider bed.  Those variables usually determine which model is right for the customer.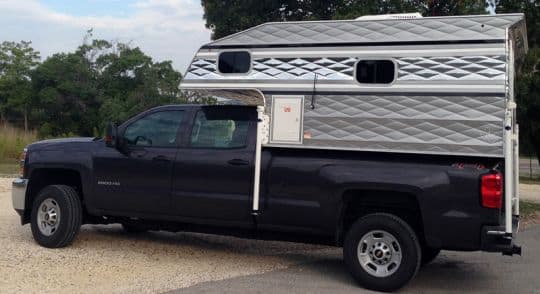 Above: A silver Capri Maverick on a three-quarter ton truck – click to enlarge
TCM: What trucks do you match Capri Campers to?
Pete: Our campers fit any full size short bed or long bed pickup.  That includes half-ton trucks and up.
Although most Retreats that we build will weigh less than 1,600 pounds, customers need to be aware that the Retreat model can exceed that when fully loaded.  If a customer loads it up with options, including aromatic cedar, a Retreat is around 1,700 pounds dry.  Not every half-ton truck has 2,000 pounds of payload, especially after you put in water, food, clothing, and gear.
TCM: Do you build for smaller trucks like the Toyota Tacoma, Nissan Frontier, or the new 2016 Chevy Colorado and GMC Canyon?
Pete: We get asked about smaller trucks every day, but for now, we are focused on building campers for full-size trucks.  Maybe one day we will introduce a small truck version.

Above: A short bed Capri Retreat – click to enlarge
TCM: On your website it says all three models, the Cowboy, Maverick, and Retreat, are available as short bed or long bed models.  What distinguishes the short bed versions from the long bed versions?
Pete: The difference between a short bed and a long bed model is about a foot and a half.  Our short bed models are built for trucks that have a 6.5-foot truck bed and our long bed models are built for an 8-foot long truck bed.  Some customers with shorter truck beds have opted to drop their tailgate and let the extra camper length rest on their tailgate.
Above: Cypress interior in a Capri Retreat – click to enlarge
TCM: You mentioned this earlier, but I want to ask you about the cabover beds in the Maverick and Retreat models.  The cabovers are quite small compared to a typical truck camper.  What size are the beds?
Pete: The Retreat cabover bed is 55-inches wide and 80-inches long.  The Maverick cabover bed is 45-inches wide and 80-inches long.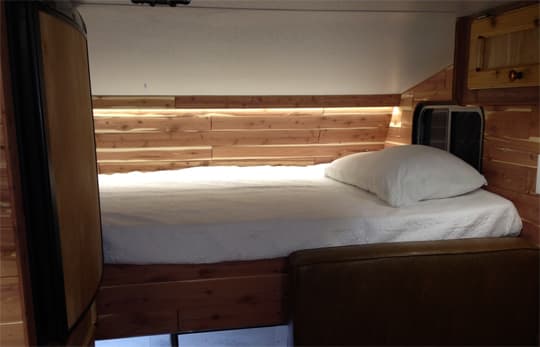 Above: Capri's foam mattresses are custom made in San Antonio, Texas
The foam mattresses are custom made for us by a company out of San Antonio.  The foam is 4-inches thick, and remarkably comfortable.  Some of our customers tell us they sleep better on their Capri foam mattress than on their innerspring mattress at home.
TCM: Can you get a flush toilet or a cassette toilet in a Capri Camper?
Pete: We get asked that question all the time.  We do not plumb for a flush toilet, but we do offer a porta-potti with a two-gallon fresh water flush, and a five gallon black tank.  It fits just right in our shower floor.  But there are lots of porta-potties out there so customers have a lot of choices.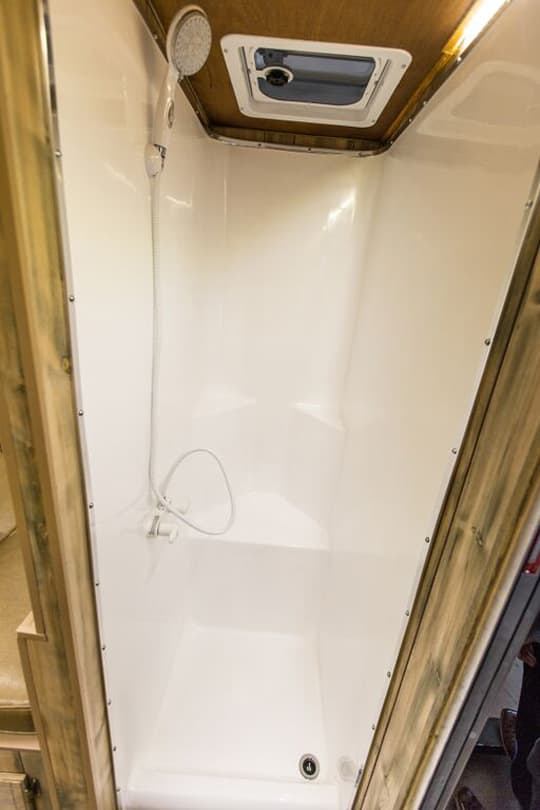 Above: One-piece fiberglass shower stall
TCM: Tell us about the shower option that Capri Camper offers.
Pete: Our shower option is a one-piece fiberglass shower stall that has a small seat in it.  We had a local fiberglass fabricator make us a custom mold to fit perfectly in a Capri Camper.  When you option for a shower, we install a 30-gallon fresh water tank.  We can install smaller fresh tanks if the customer prefers.  The water tank is located all the way forward under the step up to the cabover bed.
Like the sink water, the shower water drains out a dedicated line and customers can feed the drain lines into a container on the ground if they choose.  Capri Campers do not have grey tanks.
TCM: That's exactly how many pop-up truck campers handle grey water.  Do Capri Campers have a basement?
Pete: Capri Campers do not have basements.  That helps to keep the weight and center of gravity as low as possible.
The floor of a Capri Camper sits on vertical 2-inch by 6-inch boards, so the interior plywood camper floor sits up and off the truck bed.  We have sent Capri Campers to customers in the northeast and into Canada and have considered the possibility of adding insulation between the plywood and the floor itself.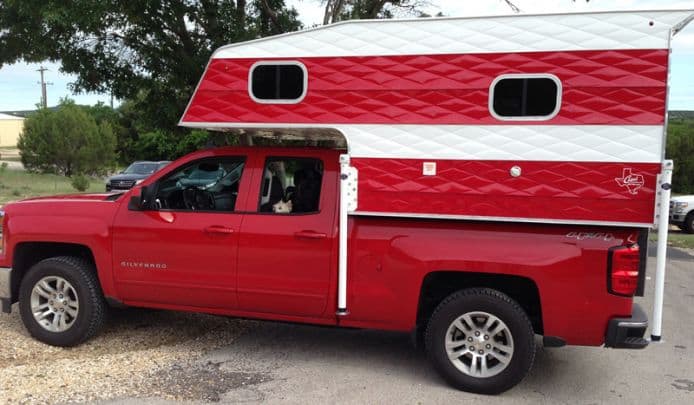 Above: Rieco-Titan corner jacks are optional – click to enlarge
TCM: Do Capri Campers come with four corner jacks for mounting and demounting?
Pete: Four Rieco-Titan manual corner jacks are optional.  Many of our customers forgo corner jacks and simply bolt their Capri Campers to their truck's bed.  We use four 9/16-inch hex bolts for this purpose.  We shy away from tie-downs preferring the more secure and visually appealing hex bolt solution.
For those who do opt for corner jacks, the Rieco-Titan manual corner jacks make quick work out of loading and unloading a Capri Camper, especially with a cordless drill adaptor.
We wire the campers with 12-2 wire capable of handling 20-amps.  For the 110-volt shore power connection we use a 15-amp plug for universal compatibility.  It's easy to plug into a generator or residential outlet.

Above: Capri wood paneling options – click to enlarge
TCM: Tell us about the seven interior wood paneling options.
Pete: In the past, Capri only offered old-fashioned 1/8 inch paneling.  We found a source with wood grain paneling options including pecan, hickory, cypress, and, the most popular, weathered cedar.  These wood choices make for beautiful, durable, and easily cleanable interiors.  You can pick any of the seven panel choices for no additional charge.
Above: The aromatic Cedar interior – click to enlarge
TCM: You also offer a cedar interior.  Why would someone want a cedar interior truck camper?
Pete: The aromatic cedar is actually an extremely popular interior for Capri Campers.  You already know how it smells.  It's also a natural insect repellant, and lasts forever.  When you're outdoors in an aromatic cedar Capri Camper, it makes for a true camping experience.   We do a lot of cedar campers.
There are two caveats to the cedar interior option.  First, some folks are allergic to cedar, so that eliminates cedar as an interior choice.  Second, the quarter inch aromatic cedar adds almost 300 pounds to the finished camper so customers need a three-quarter ton truck or bigger to handle the extra weight.
We have ten year old cedar units come in now and then.  Even after a decade, you can still smell the cedar inside those campers.  Even better, the woodwork ages incredibly well and looks fantastic.
Above: Ten exterior colors are offered, including blue and orange – click to enlarge
TCM: How are you able to offer your campers in different colors and patterns?
Pete: We can get the exterior aluminum in black, blue, chrome, green, maroon, orange, red, silver, white, and yellow.  We can get 2-inch pin striping in any color.  We have a lot of fun with our customers picking exterior color and striping pattern options.
We wanted to be careful not to abandon the vintage quilted diamond embossed aluminum exteriors that folks associate with Capri Campers.  The quilted diamond pattern gives Capri Campers a classic, timeless look that our customers love.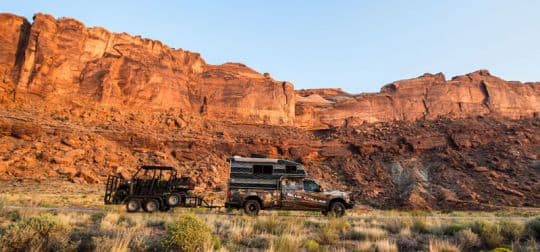 Above: Capri Campers stop at the tailgate for easy towing – click to enlarge
TCM: Do any of your models feature a rear overhang?
Pete: All Capri Campers stop at the tailgate or the edge of the rear bumper.  If you are towing, Capri Campers will not interfere with your hitch or towed boat, trailer, or toys.  Capri Campers also don't interfere with your truck tail lights.
TCM: Is it possible to shut the tailgate with a loaded Capri Camper?
Pete: No.  We remove the tailgate at the time of installation.
Above: Capri options include a hammered copper sink with oil rubbed bronze faucet, and flat screen HDTV and Blu-ray/DVD player
TCM: Capri Camper offers three upgrade packages, an audio-video package, and a-la-carte options.  Are these upgrades the same for every Capri model?
Pete: The packages are the same for the Maverick and Retreat models.  The Cowboy cannot accommodate too many of the options like showers and refrigerators because of size limitations.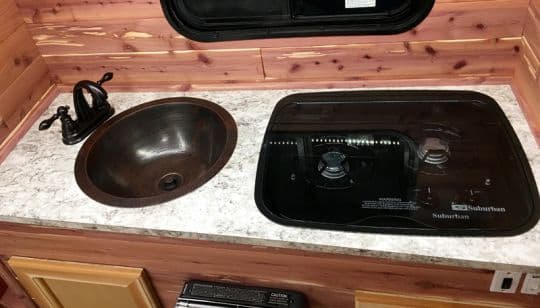 Above: Hammered copper sink and two-burner recessed stove top – click to enlarge
TCM: What could a customer get in a totally tricked out Capri Camper?
Pete: Loaded campers include hammered copper sink with oil rubbed bronze faucet, three-way refrigerator, microwave, two-burner recessed stove top, inside or outside shower, LED lighting inside and out, flat screen HDTV, Blu-ray/DVD player, stereo that connects to your iPhone or iPad, retractable awning, matching Formica counter top and table, custom cushions, bunk beds on hinges, air conditioner with heat strip, four-corner jacks with dually extensions, and more.
Above: Options include a microwave, custom cushions, exterior speakers, and bunk beds
We get custom requests for all kinds of things.  We delivered a camper to an aquatic lab for the State of Colorado wanting a mobile lab for dissecting fish. They chose Capri because no one else would build them a custom camper with three stainless steel table tops for dissecting fish.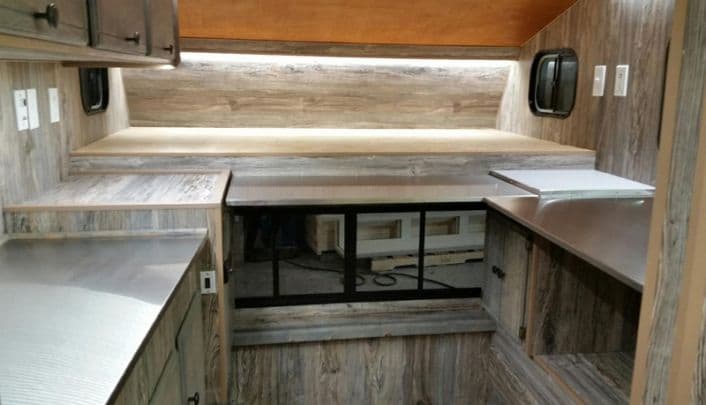 Above: The mobile fish lab with stainless steel surfaces – click to enlarge
TCM: I hope they got the aromatic cedar!
Pete: They didn't.  We have customized campers for veterinarians, a mobile Alpaca shearing station, mobile food trucks, and several mobile offices among others.  Another customer asked for a skylight above the bed so he could look at the stars.
Just recently, we delivered a camper to a professional bass fishermen who needed 12-inch radius 8-foot long PVC pipe fishing rod holders on the roof.  We have also built brackets for kayaks.  We can do almost anything.
TCM: What do Capri Campers weigh?
Pete: We have a weigh station about ten miles down the highway.  Using that weigh station, we have weighed all of our models with various options.
Our heaviest was a 1,700 pound Retreat with almost every option possible.  Most of our Maverick and Retreat units come in at 1,300 to 1,600 pounds.  The Cowboy is usually in the 500 to 600 pound range.  With our camper weight records, we can tell you what your camper should weigh.  For example, the refrigerator and air conditioner always weigh the same and are easy to add to a proposed camper order.
TCM: Does Capri mark the center of gravity on its campers?
Pete: Not at this time, but it's something we are looking into.  We regularly lift the units with forklifts in the shop, so we know where the center of gravity is located.  We just need to mark it.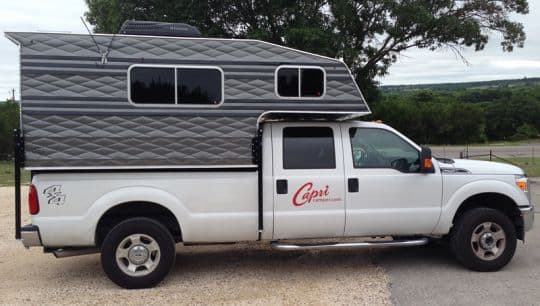 Above: Charcoal-color long bed Retreat with black Rieco-Titan jacks – click to enlarge
TCM: How do you approach quality control at Capri Camper?
Pete: I take quality control personally.  My son and I are here every single day.  Off and on all day, we are walking in the shop to monitor the production quality.  Tyson and I sell campers, and send photographs to our customers as their campers are being built.  We're also watching the order sheet and making sure the unit is being built to our standards.
Our production team is not on an assembly line.  Everything is built by hand so Capri Campers have imperfections, but you can't beat the overall quality of a hand-made product.  That said, we are directly involved in every one of these units, and look at them closely several times a day.
TCM: Tell us about the Capri Camper warranty.
Pete: We have a one year warranty on anything in the camper.
We suggest that our customers contact the manufacturers for appliance support.  No one ever wants to do that, so we do.  We had a customer with a Dometic air conditioner that was blowing endless amounts of white styrofoam flakes.  He drove three hours to our facility and we swapped it out.  If a customer can get to us, we will fix anything in the first year.
If they buy a camper and live in Oregon, we would simply pay a local RV repair shop to have them fix the problem.
Above: 2016 Capri Retreat long bed floor plans – Luxury on left, Standard on right
Above: 2016 Capri Retreat short bed floor plans – Luxury on left, Standard on right
Above: 2016 Capri Maverick long bed floor plans – Luxury on left, Standard on right
Above: 2016 Capri Maverick short bed floor plans – Luxury on left, Standard on right
Above: 2016 Capri Cowboy floor plans – long bed on left, short bed on right
TCM: What are the base MSRPs for the available Capri Camper models?
Pete: The Cowboy base price is $4,195.  The Maverick base price is $7,395, and the Retreat base price is $8,395.
TCM: Where can a potential customer see a Capri Camper?
Pete: We have stocking dealers in Texas and Oklahoma. And our website has a photo gallery showing many of the new campers inside and out that have been delivered to customers. Otherwise you need to come to Bluff Dale, Texas to see a Capri Camper.  We have them in various stages of completion all the time.  Hopefully we'll have more dealers soon so customers can see the product.
TCM: How does someone go about ordering a Capri Camper?
Pete: Most of our orders are handled over the phone.  The purchase process involves selecting a model, long bed or short, and options.  Once those decisions are made, we send you a proposal via email.  We accept a 25% deposit when you order the unit, and the balance is paid when you pick the unit up.
We have photographs showing our interior and exterior options to aid in your decision process.  We don't rush through it.
TCM: After placing an order, how long is the typical wait for a Capri Camper?
Pete: If a customer ordered a Capri Camper today, it would be about three weeks to delivery.  During busier stretches it may take four to five weeks.
TCM: What is your vision for Capri Camper over the next five to ten years?
Pete: We want to grow Capri Camper into a competitive nation-wide business.  I can see us building 300 campers a year.  More would be great, and certainly possible.  I think the hottest segment in the RV business today is the inexpensive entry-level camper market.
That's part of the vision.  The more important part is to grow the company carefully, gradually, without losing the fun side to running the business.  After years of being stuck in airports across the country and hating it, I'm now in the country looking outside at rolling hills and oak trees.  It's a comfortable and non-stressful setting.  I really enjoying owning this business with my son.  I can't think of a better occupation than that.  I wish I had done this 30 years ago!
TCM: Are there plans to launch more Capri models in the future?
Pete: Yes, we are working on a fourth model.  When it's ready, we will make the announcement right here in Truck Camper Magazine.
Click here to visit the Capri Camper Buyers Guide or their website at capricamper.com.