The two windows, LED under cabinet light, 110-volt under cabinet outlet, three ceiling LED lights, and large entry-area skylight are also really nice touches to the kitchen.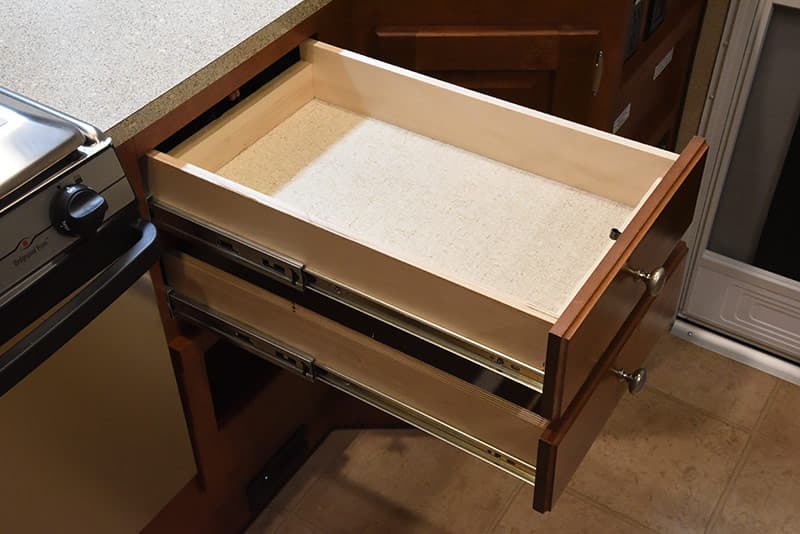 Under the counter top are two residential-style pull-out drawers on steel roller bearings.  The top drawer will undoubtedly be a silverware drawer for most folks.  If this were our camper, the lower drawer would be for larger cooking utensils, pot holders, and other kitchen odds and ends.  This is exactly the right storage opportunity in the right place, one of my favorite things.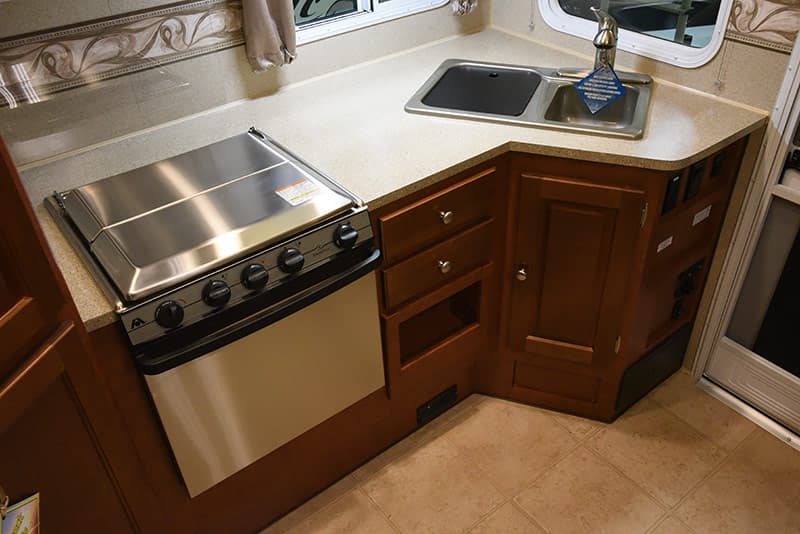 Under the drawers is an inset spice rack, perfect for spices to be sure, but we have also seen this space used for dish detergent and other kitchen items.  Northwood Manufacturing should have a photo contest on the best use of this clever kitchen cubby.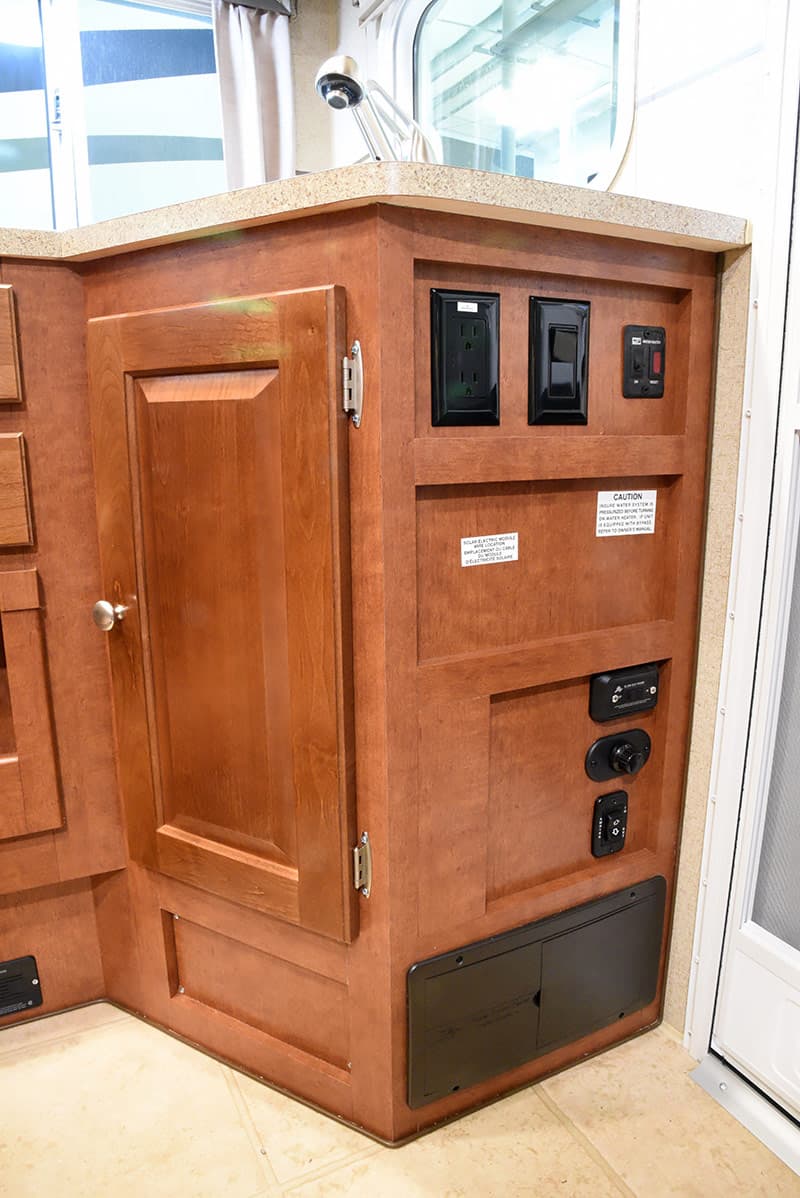 Just inside the entry door and under the sink counter is a 110-volt outlet, light switch, Suburban hot water heater switch, slide-out room rocker, interior light switch and dimmer, rear electric awning rocker, and the fuse panel.  The unit under review also had a the solar controller pre-wire location in this area.
For starters, it's fantastic to have all of these features neatly presented in a very convenient location.  Having the slide-out room rocker, interior light switch and dimmer, and rear electric awning rocker all within reach of the door is fantastic.  The floor level fuse panel might be tough for some to bend down and access.  However, folks can open the rear door and sit on the Fox Landing system to work with the fuses.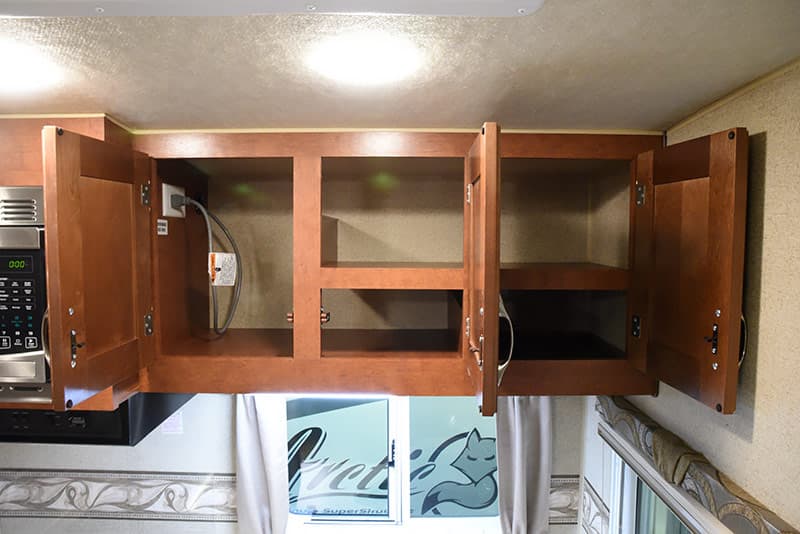 The upper kitchen cabinetry appears taller than the previous "flat" ceiling 992 with a generous amount of storage for cups, dishes, and dry food items.  Overall this kitchen looks and feels very domestic.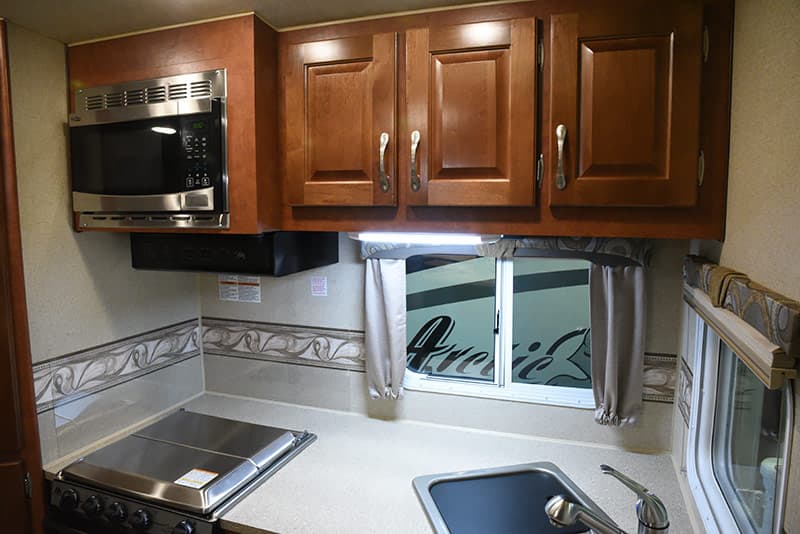 The microwave in the 992 is a residential-style stainless steel unit.  Where some manufacturers use mini-microwaves to save space and weight, Arctic Fox gives you a full-size model to use as if you were home.
There does seem to be an excess amount of cabinetry wall above and to the sides of the microwave, but that may be necessary to properly ventilate this unit.  As always, Northwood Manufacturing is welcome to explain this feature with a Manufacturer's comment.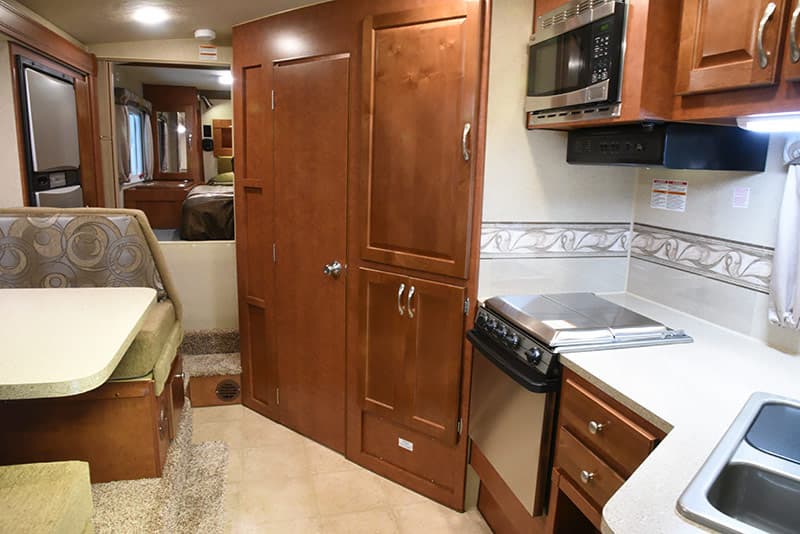 If the storage opportunities in the kitchen area failed to impress, hold your bonnets!  The angled double-door hanging closet in the middle of the camper is one of the largest interior storage areas you'll ever see in a truck camper.  This closet is perfect for hanging shirts, winter coats, and even formal wear.  We have used our truck camper to attend weddings and this closet size would be very handy in those situations.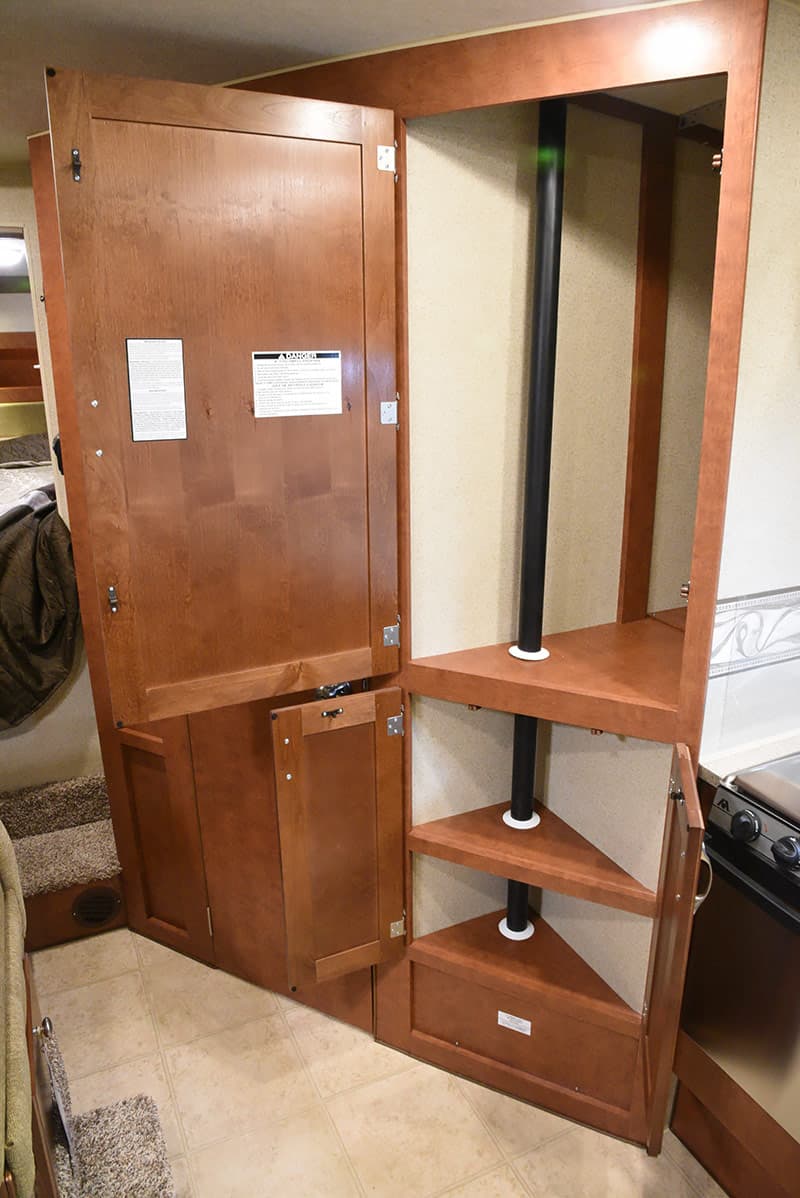 Under the double-door closet is another set of doors that reveal smaller triangle shaped shelves.  This is all welcome storage space, but the black ventilation pipe that runs vertically through this area compromises these smaller shelves more than the hanging closet above.  Still, I can see these shelves being well used for various food and camping items.  Truck camper owners will find a useful way to use the space.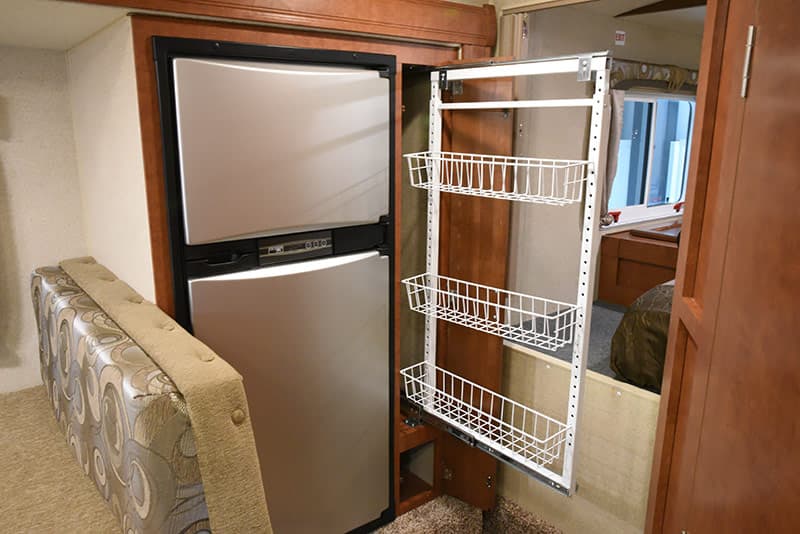 Directly across from the hanging closet is a pull-out pantry for dry food.  If you can't find enough room to store your dry food in this camper, you're not looking hard enough.  This pantry almost seems superfluous, but keeping dry foods in this space would free up other storage areas.  There's even another storage nook under the pantry.  When it comes to storage, this camper is truly top notch.