Within five minutes they'll have offered you a water, or coffee, or perhaps a cold soda and helped you to find the truck parameters you require to meet that payload number.  By the time you finish off their donuts, they'll have tracked down a truck or helped you special order one.  That's what coffee and donuts are for.
We always recommend special ordering a truck to maximize payload, get exactly what you want, and avoid paying for stuff you don't need.  Even better, order a three-quarter or one-ton truck so you can tow a boat or upgrade to a Northstar 8.5 Arrow U when the urge hits.
The Verdict
The Vista is not shooting for the high-end truck camper market, but it's not aiming for the entry-level either.  In having aimed high with the Vista's build, standard features, and options list, Northstar has created a truly unique product; a cabover-less camper built to the same level as their popular cabover models.
For those who are attracted to the light weight and simplicity of a cabover-less truck camper design, but still want the robust build and appointments of a modern truck camper, the Vista is nothing less than a home run.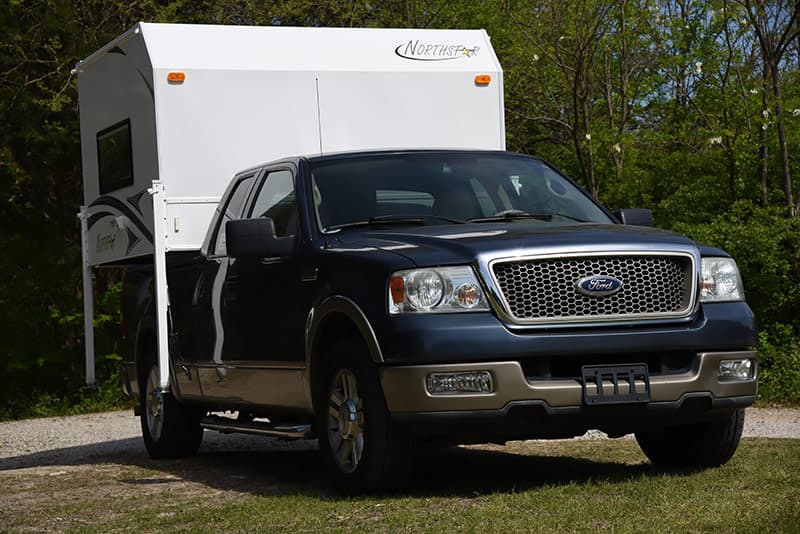 Of course being a cabover-less camper means there are some compromises within the very concept of the unit.  If you can't live without a cabover bedroom, or a separate bathroom, no amount of build quality, standard features, or options is going to sway you to the Vista.  That's why Northstar builds eight hard side and three pop-up models that have these features.
All too often, the first generation of a new camper feels like prototype.  Not with the Vista.  From the quantity and quality of its interior storage, to the highly versatile and functional kitchen and dinette/bed, the Vista looks and feels like a time-tested and refined truck camper.
At the onset of this review, we wondered if the Vista could truly be a full-blooded hard side Northstar Camper.  Having seen the Vista in person, and having lived in Northstar Campers for one year on two separate occasions, the answer is yes.  For us, we would prefer the space, storage, and capabilities of a cabover and separate bath, but in no way did the Vista feel like a watered down Northstar model.  The Vista is, in every way, a full-blooded hard side.  Well done, Northstar.
Pros
Half-ton compatible if carefully matched
Very functional kitchen with ample two-level countertop space
Seemingly endless interior storage locations – some nicely hidden
Smartly located 110-volt outlets and 12-volt/USB charging ports
Very clever and versatile dinette bed and upper bunk designs
Excellent water, propane, and battery capacities for a small camper
Cons
Optional 7.5 gallon exterior grey tank is not insulated
HDTV antenna needs a more secure installation
Converting the upper bunk and the Lagun table takes some practice
Upper bunk cushions and support boards take up a lot of storage space
Dinette seat backs need cushions
Solid entry door does not permit through-camper visibility
Model Information
2016 Northstar Vista
MSRP: $12,595
Warranty: Two-year structural warranty.  Individual appliances have their own warranties.
R.C. Willett Company, Inc.
3040 Leversee Road
Cedar Falls, IA 50613
Phone: 319-233-3461
Request A Northstar Vista Brochure
Web: northstarcampers.com
Quality, Customer Service, and Long-Term Reliability
Truck Camper Magazine inspects all reviewed truck campers for design, material, and quality issues and reports what we find.  However, since Truck Camper Magazine reviews only brand new truck campers, our reviews do not address long-term quality, customer service, or reliability.
To learn about a brand's long-term quality, customer service, and reliability, Truck Camper Magazine recommends talking directly with truck camper owners at truck camper rallies and online via truck camper forums and truck camper owners groups.
Please be sure to balance your gathered feedback across multiple sources including direct correspondence with the truck camper manufacturers and your closest truck camper dealers.  Please read the Newbie Corner if you are new to truck campers.