Above: Note the skylight, multi-speed Fantastic Fan, stereo speakers, and LED lighting above the U-shape dinette.
The Lance 850 features a rear U-shape dinette.  Our Lance 1030 had a very similar U-shape dinette and we found it very comfortable.  That said, we now prefer the leg room of full-booth dinettes made possible by wheel-well-height basements.  Of course a taller basement would mean more weight.  In truck campers, everything is a trade off.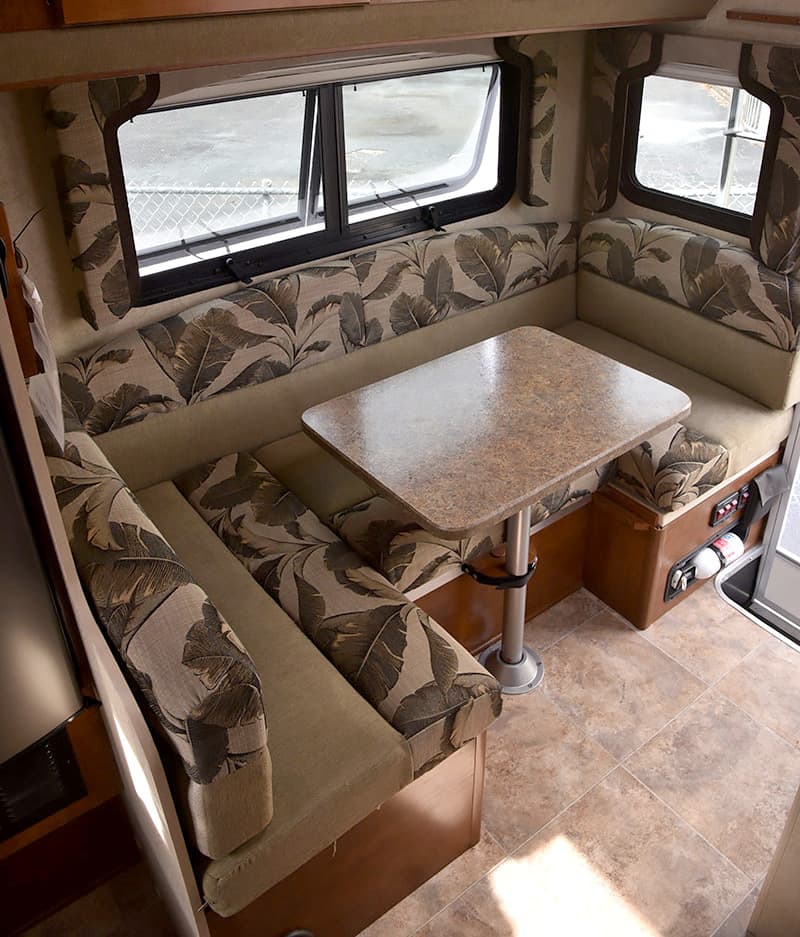 Above: All 2016 Lance Campers feature frame-less windows.  As you can see, the Jalousie-style frame-less windows crank out making them usable when it rains.
Most owners of this camper will be couples who will sit across from one another.  As such, I would love to see Lance offer an optional full-booth-size table.  Picture the stock table extending to the passenger's sidewall.  For meals, laptop use, or a game of cards, this larger table would transform the functionality of this dinette.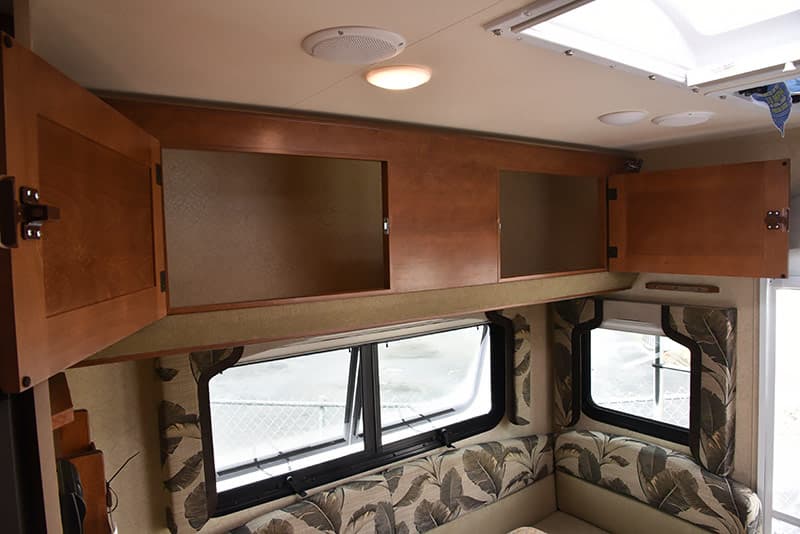 The overhead bunk and storage area is nothing less than fantastic.  Not only can it quickly become a place for junior to sleep, but it's a great place to keep sheets, towels, and clothing.  Others might keep fishing poles, hunting gear, or a metal detector in this space.  All too often, slide-out truck campers lose this storage area.  We couldn't imagine camping without it.

Above: Lance is using laminated exterior panels (Lamilux fiberglass, Azdel composite, and closed cell foam insulation) as their dinette seating panels.  These exceptionally strong and lightweight panels are CNC cut-outs from their sidewall construction process.

Above: The Lance 850 dinette converts into a bed.  The challenge is figuring out which of the seven cushions were needed to form the bed.  Hint: You only need four cushions.
We are big fans of Lance's new reversible cushions, a truck camper industry first.  With reversible cushions you can choose from two different fabric combinations, or change things up down the road.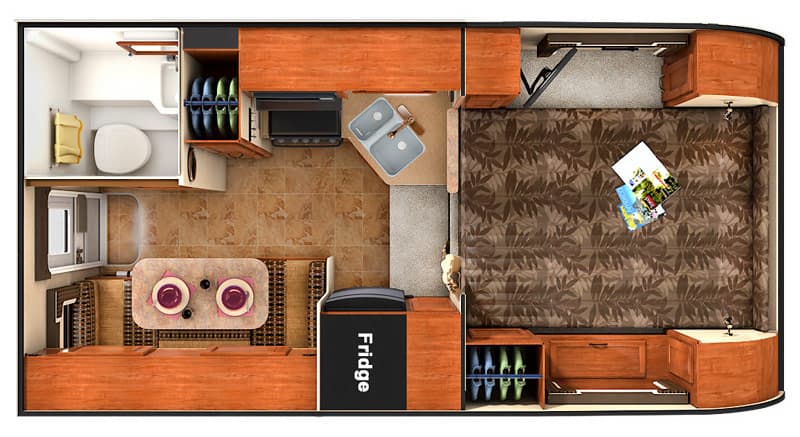 Above: The 3D floor plan above shows the storage opportunities in the Lance 850
Directly across from the dinette is a tall wardrobe for coats and hanging shirts.  We don't bring hanging shirts with us anymore and have long-since decided that storing coats on hangers is a waste of space.  Since we camp in mostly warm weather, coats can be folded and placed where we can reach them when needed.
That leaves wardrobes like this open to storage containers and shelving mods.  For example, a trip to the Container Store would likely yield a number of good options.  Fabric shoe racks anyone?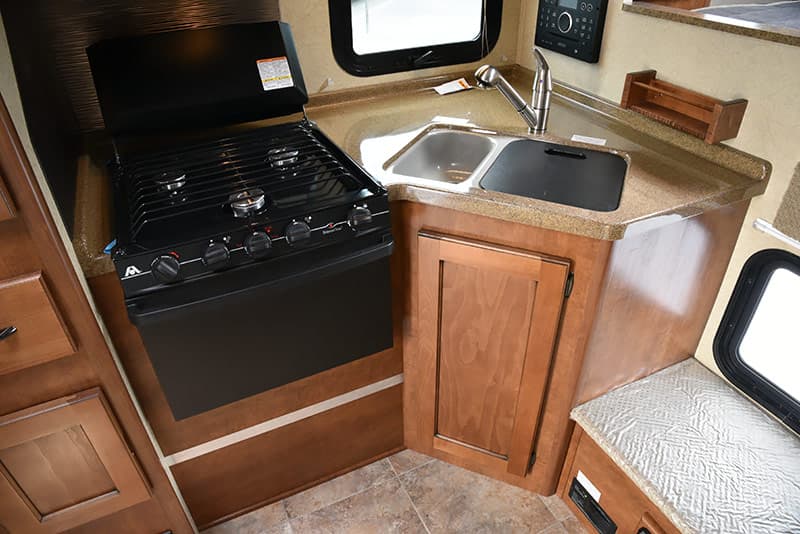 The kitchen counter space in the 850 is minimal.  The deep three-burner range oven and two basin sink take up almost all of the forward most counter surface area.  What's left are two triangle-shaped spaces to the left and right of the sink, and a larger area behind the sink.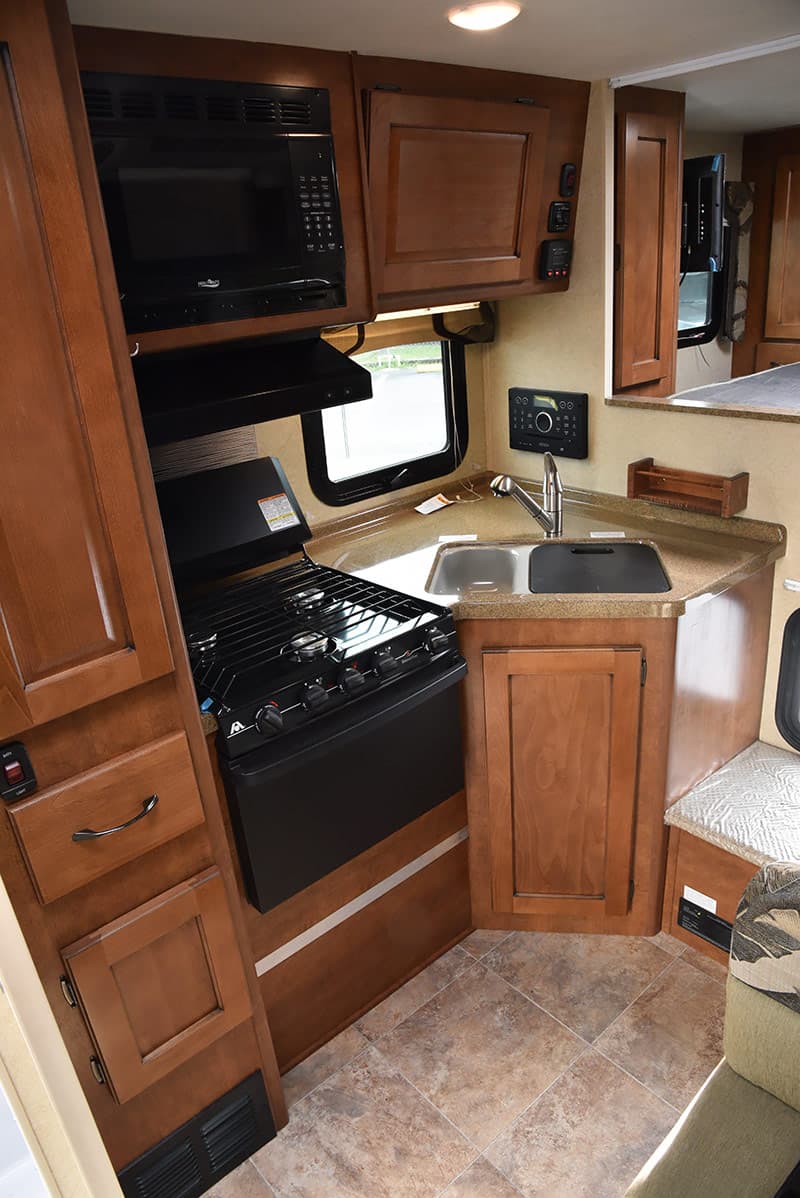 We had this exact same kitchen counter and appliance set-up in a 2013 Lance 855-S we borrowed in 2013.  In practice, the limited counter space didn't change our ability to cook and prepare meals, but we keep our road food extremely simple.  As Angela will tell you, I am notorious for making one pot dinners.
If you require counter space for cutting vegetables, mixing cake batter, or staging ingredients, the 850 kitchen may not meet your culinary requirements.  You might also be frustrated if you use a coffee pot, toaster oven, crock pot, or other cooking appliances while traveling.  We don't, and were fine with the limited counter space.
Ideally, Lance would offer an option for a smaller single bowl sink and two-burner range like what they chose for the 2016 Lance 650.  That approach would present significantly more counter space with less weight.  Of course not everyone would want to give up the oven, third burner, or the second sink.