Got bikes, coolers, generators, tires, and outdoor gear that needs a better home on the road? For decades, hitch-mounted cargo carriers have been a successful solution for truck campers. Check out these nine fantastic examples, and see what's in store.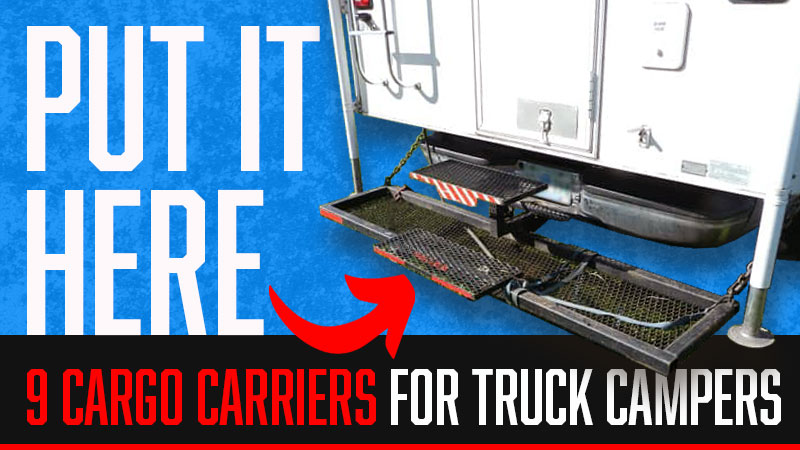 Long before rear decks became the hip mod of the early 2000s, hitch-mount cargo carriers of every description were common. Supporting this popularity, commercially available hitch-mount cargo carriers have been available for decades. This made adding a cargo carrier to your camper set-up easy, with the right hitch extension.
Invariably one found the same items contained within these hitch-mounted cargo carriers; bikes, coolers, generators, tires, and weather-sealed plastic totes containing outdoor gear and tools. Put another way, cargo carriers are the portable attached garages of the truck camping lifestyle.
Within the category of cargo carriers are two primary types; open carriers and enclosed carriers. Most truck camper owners choose the open variety to maximize versatility while keeping cost and weight down.
What follows are nine fellow truck campers who created cargo carrier solutions for their specific needs. If you have some outdoor-oriented items that need a home on the road, you've come to the right place.
1. Cargo Carrier, Porch, and Back Step
Submitted by: Bob Hall, 2005 GMC Sierra 2500, 1996 Lance Squire Lite 8'6″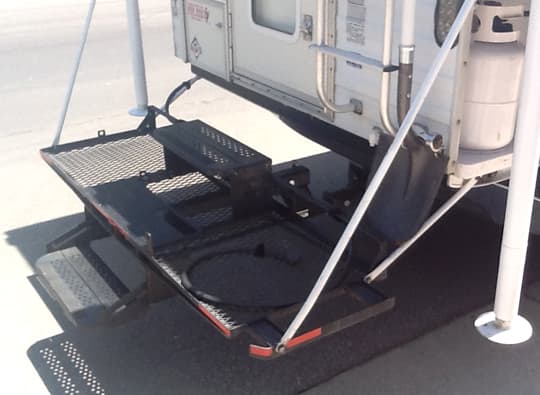 This is my cargo carrier, porch, and back step. I made it from both new parts and scrap. The cargo carrier was given to me by a neighbor just before going to the dump. I brought it home and welded it together after removing all the nuts and bolts.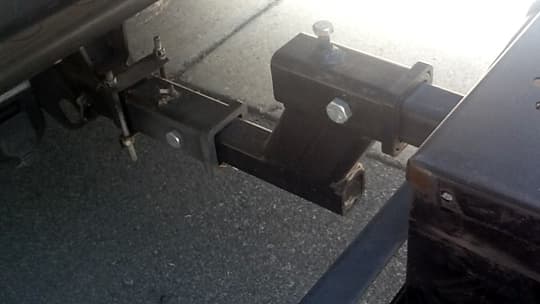 Above: One extension and one six-inch riser were used
The hitch parts were bought new at the local RV store. I used one extension and one six-inch riser. The steps are two single pull-out trailer steps, purchased at the same RV store. The bottom step was welded on right out of the box.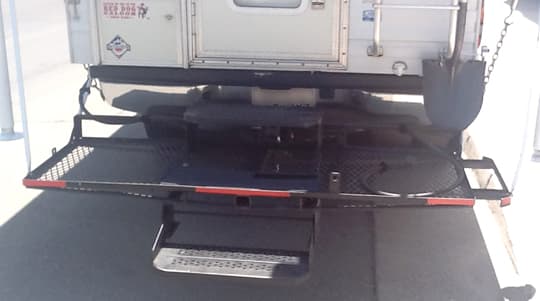 The top step was completely disassembled and re-welded with the step on top and the hangers on the bottom. It was then bolted to the top of the carrier. The middle step is a scrap step cover that had a light on it. It was also bolted on. The outside supports are half-inch steel tubes, flattened on the ends and drilled. The long one is attached to the top camper jack bolt and the short one is attached to the tailgate.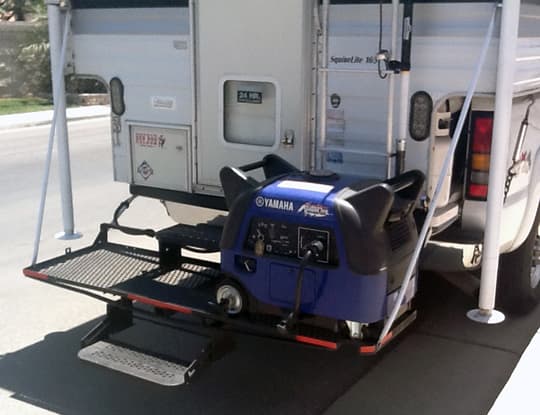 There are four tabs that are for mounting my 3000-watt Yamaha generator.
2. Overhang Cargo Box For Long Camper Items
Submitted by: Mike and Nancy Pohl, 2015 Ford F-250, 2015 Lance 855
We needed a place on the exterior of our camper to store our patio mat, clam screen porch, canopy, and other long items. At first, I was going to use a receiver hitch carrier on the roof, but then everything would be open to the weather.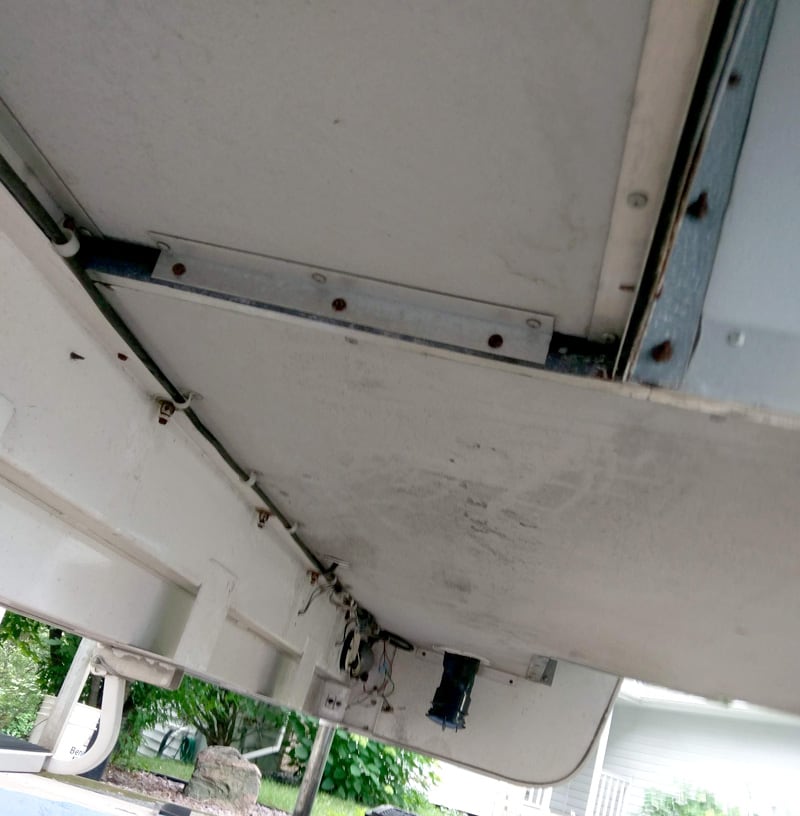 Then I noticed that there was a large open space between the rear bumper of our Ford F-250 short bed truck and the step on our Lance 855. I figured out what size cargo box I could make that would fit between the truck's bumper and the camper's step.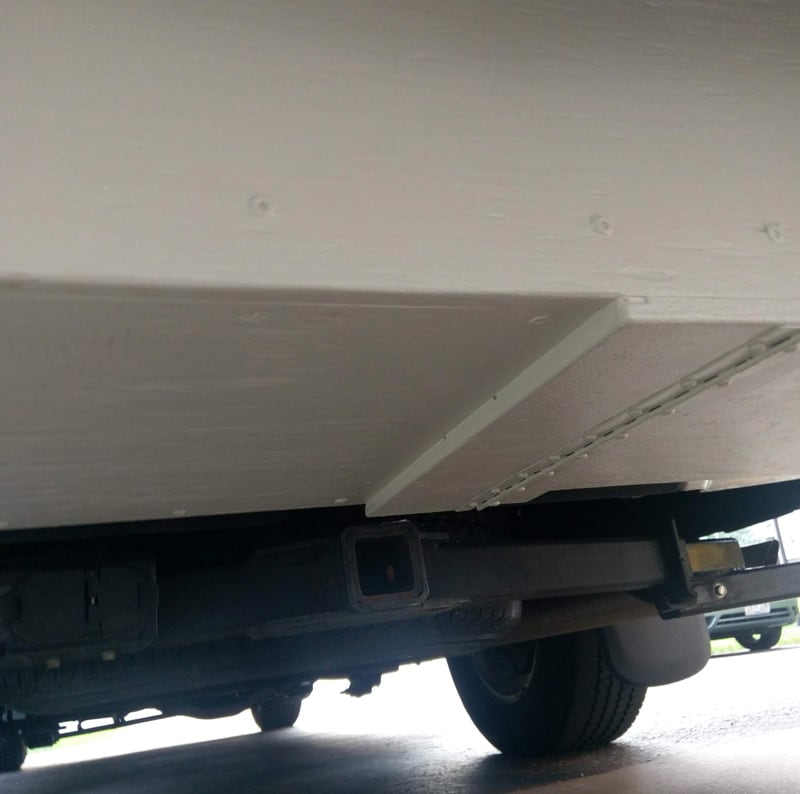 It would also need to be above the hitch extension.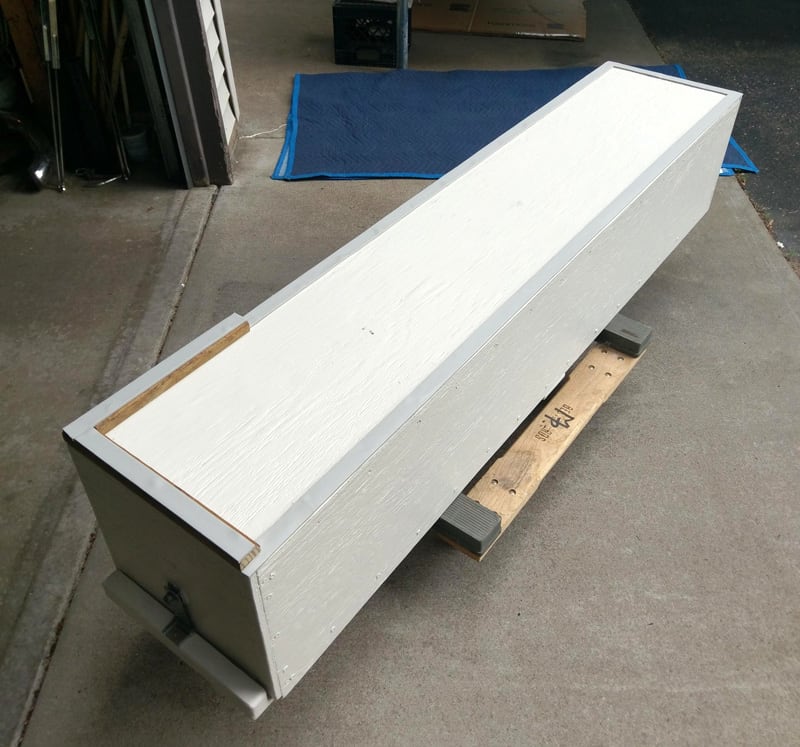 I used 1/2-inch treated plywood to make a cargo box that had a drop-bottom on half of it to access our stuff. By having only half of the bottom open I can slide the items in and be able to close it without having to hold it up while closing the door.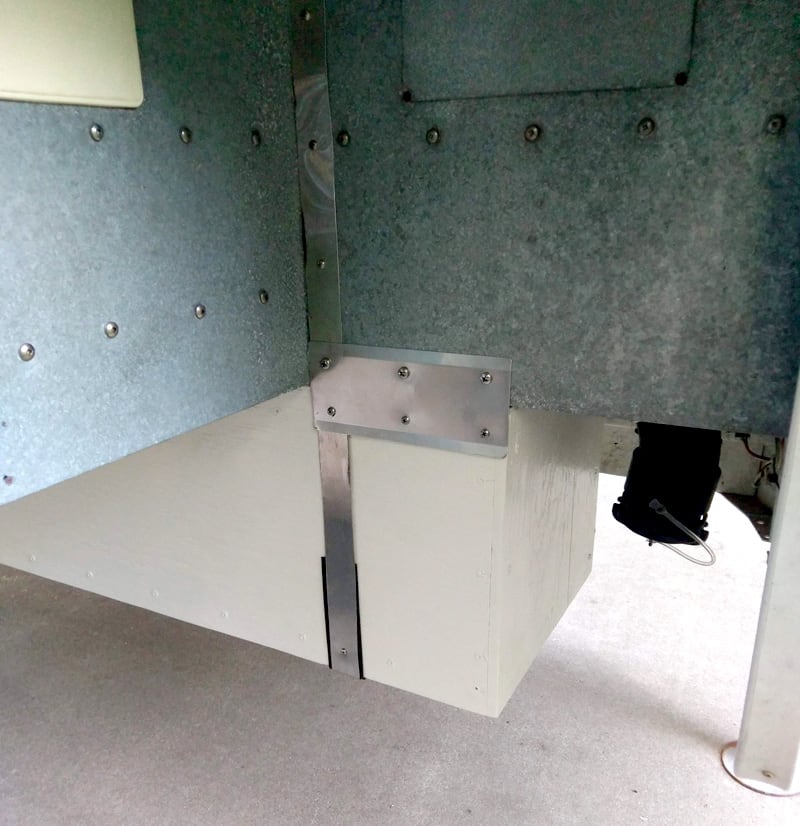 I made two stainless steel straps to hold the box to the bottom of the camper.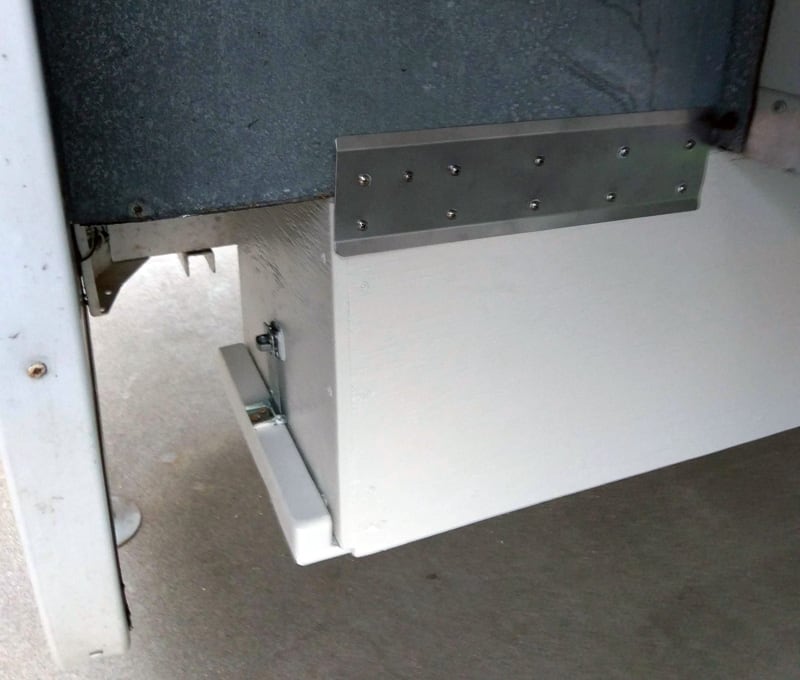 I also keep a small tarp in the rear storage compartment to lay on while loading the box. One thing that you have to remember is to make a hole in the side of the box for the crank handle to lower the spare tire.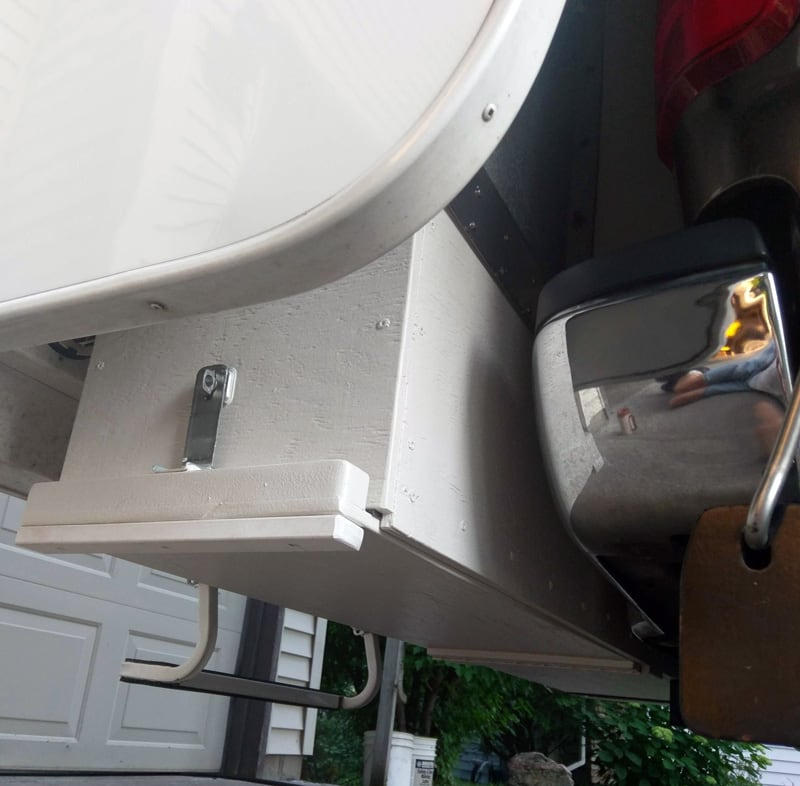 This mod worked great on our seven-week trip out east. It was easy to access. It is also much easier than getting items off the roof and having everything exposed to the weather.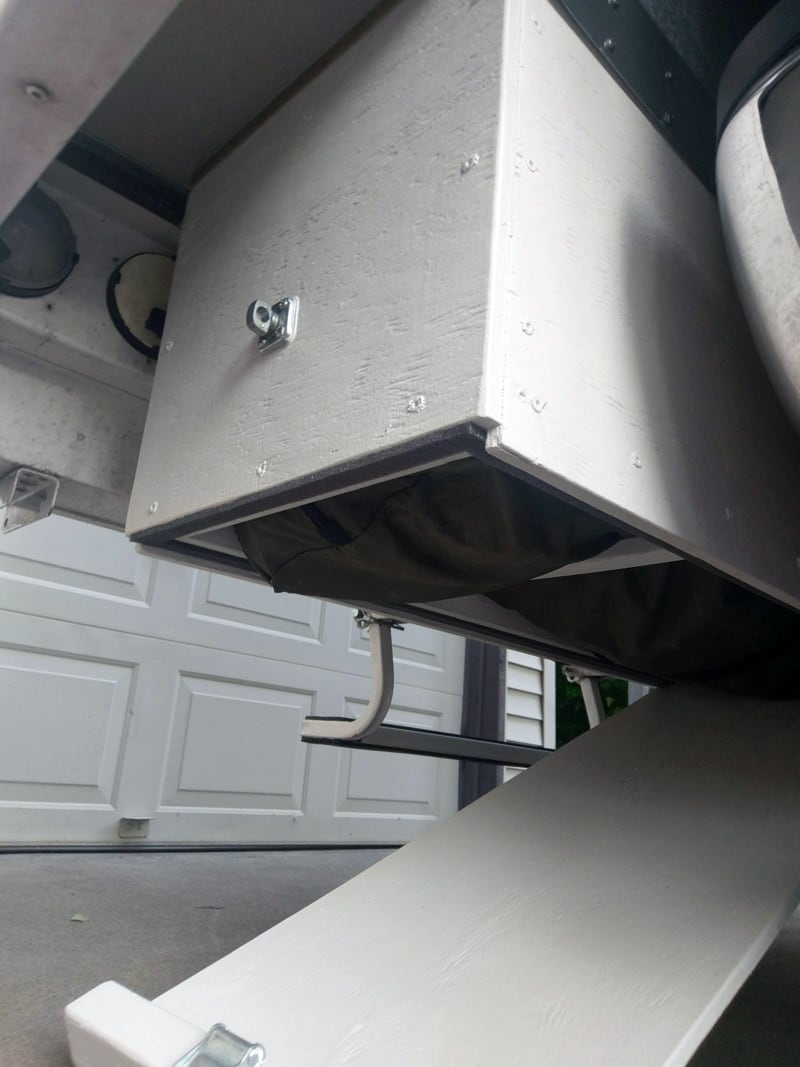 It took me six to eight hours not including waiting for the paint to dry. It cost me about $50 for plywood, paint, hinge, and hasp to lock it. In my opinion, the skill level of this modification is medium.
3. Swinging Cargo Rack and Carrier For Two Bikes
Submitted by: Tim Ray-Tahtinen, 2007 Chevy Silverado 2500, 2003 Northstar TC650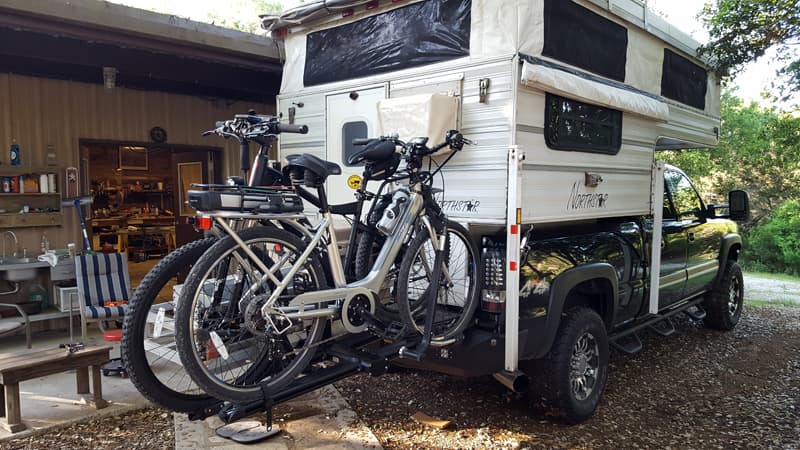 I needed a rear carrier for gear and two bikes. It also needed to maintain my entry and departure angles because the lion share of camping we do is off road. I also needed to be able to access our camper with ease while on the road. A swing out system was needed. I wanted my cake so we could eat it too.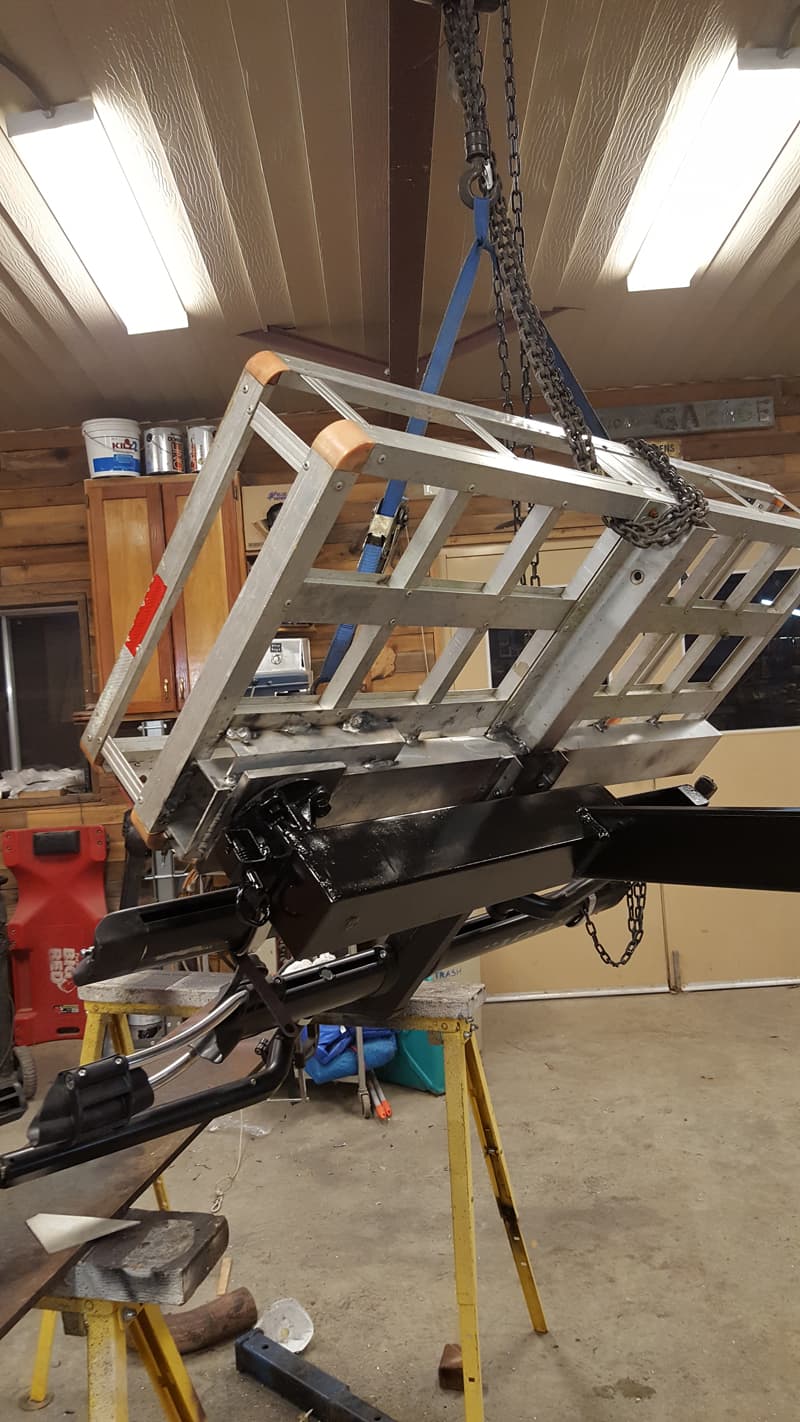 Very few suppliers had what I was looking for. Those that did were not affordable. So I took an aluminum Northern Tool rear receiver carrier, a trailer axle hub, some scrap steel tubing, aluminum tubing, and a rear section of a dual bike carrier and put them together.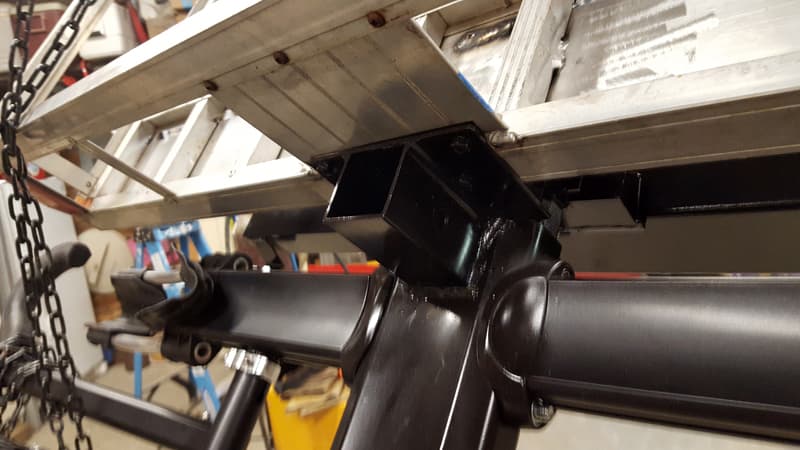 I started by butchering the aluminum carrier and adding a strong back 2×4 aluminum rectangle tube. Then I fabricated a steel receiver unit that lifted the whole assembly over the top of my rear tailgate. We use our tailgate as a rear deck when our TC650 Northstar is installed.
I welded a bike carrier rear add-on section in place on the back of the aluminum carrier.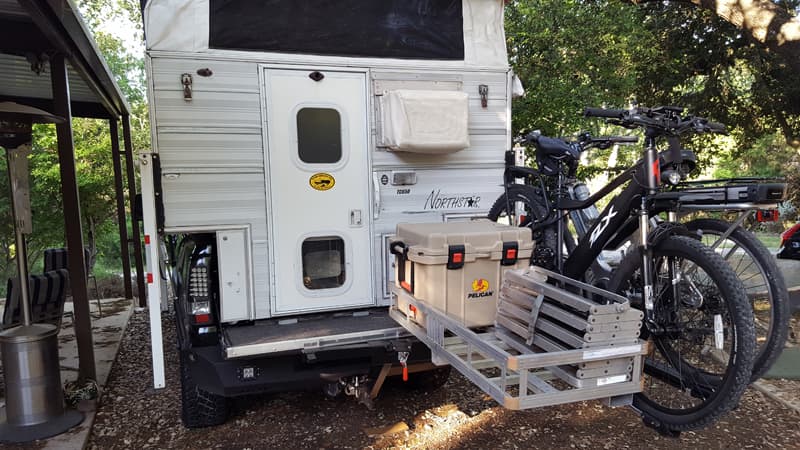 And presto, I have a finished swing out cargo/bike rack. I will be taking it into the backcountry of the North Rim this year.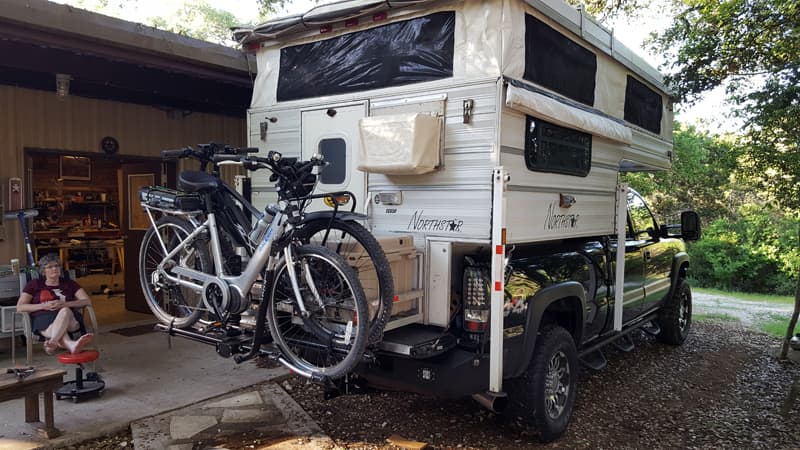 It took me about 30 hours to complete this modification and cost me $100 for the carrier, $175 for the bike section, $85 in materials, and $40 for the spindle. About $300 in total. In my opinion, the skill level of this modification is extremely hard. You need to know aluminum and MIG welding.
4. Aluminum Cargo Carrier Back Porch with Steps
Submitted by: Ray and Martha Jordan, Chevy Silverado 2500, Lance 825
We bought our first truck camper last year with the goal of dry camping at Padre Island National Seashore south of Corpus Christi, Texas. We like to drive quite a ways down the beach about twenty to thirty-five miles to explore the best fishing areas.
This is a four wheel drive area. We were not positive that we could successfully reach the more remote areas without getting stuck in the soft sand. So we bought a lightweight camper which translates to limited storage.
I had a carrier made out of aluminum at a local welding shop at a reasonable cost. It measures eighty inches long and thirty inches wide and only weighs about fifty-five pounds. We wanted it to serve as both a carrier and a back porch to make it easier to get into the camper.
We also needed the platform to be rock-solid and stable. It is attached to both the camper and the truck. The primary attachment is via a heavy-duty hitch extension to the truck hitch receiver.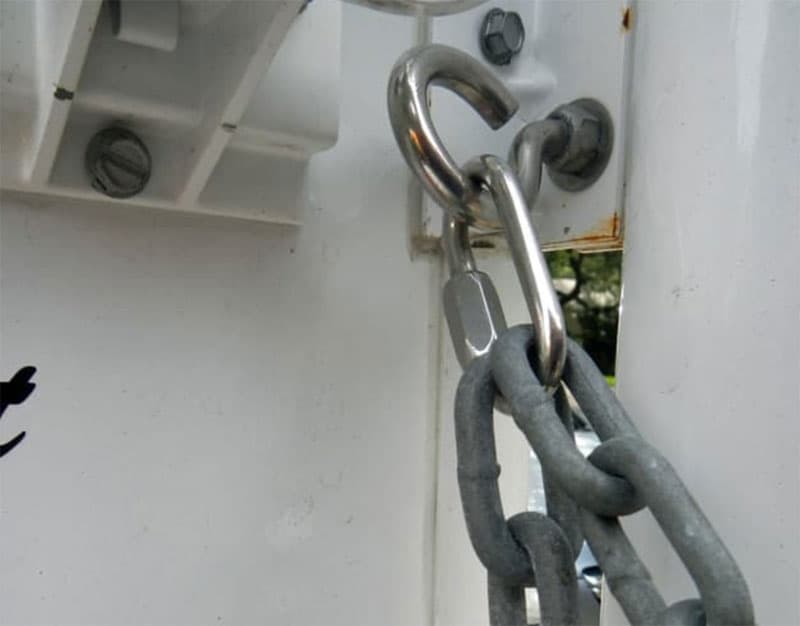 Each corner is attached via chain and a turnbuckle to the eye-bolts on the camper and the carrier. It works great as a stable platform to access the camper.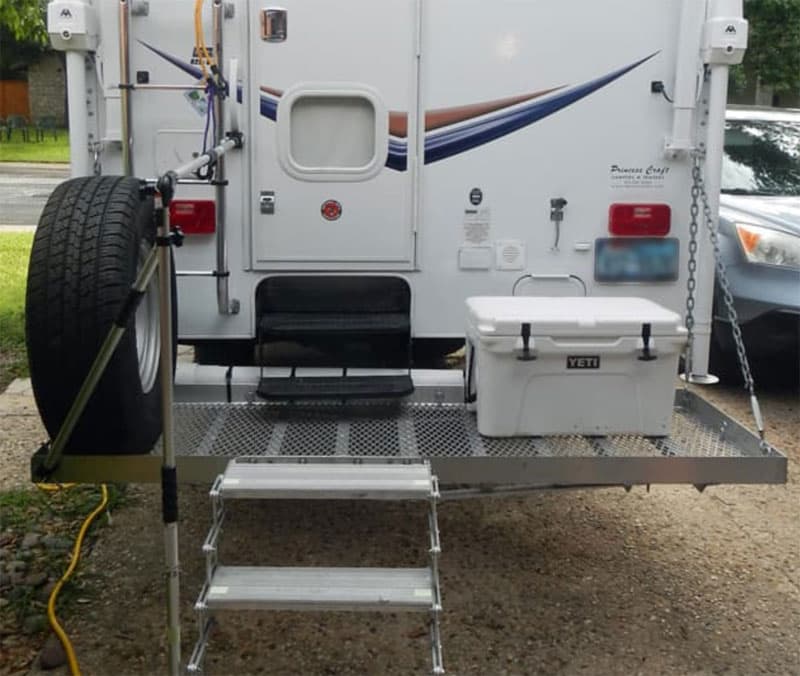 I attached a Torklift step and handrail system to make getting in and out of the camper easy and safe. It only takes a couple of minutes to attach and remove and can easily be done by one person.
The platform also serves as a large carrier for additional camping and fishing equipment used on trips to the beach and other camping spots. Access to a spare tire under the truck is not easy with the camper in place, so I carry a second spare on the carrier which will be easier to access if needed.
I used a seven foot long four-inch piece of PVC pipe with end caps to carry my sewer drain lines. The PVC pipe is attached to the front of the carrier. There is plenty of room for a large cooler, gas grill, fishing gear, portable generator, beach chairs, and a lot more.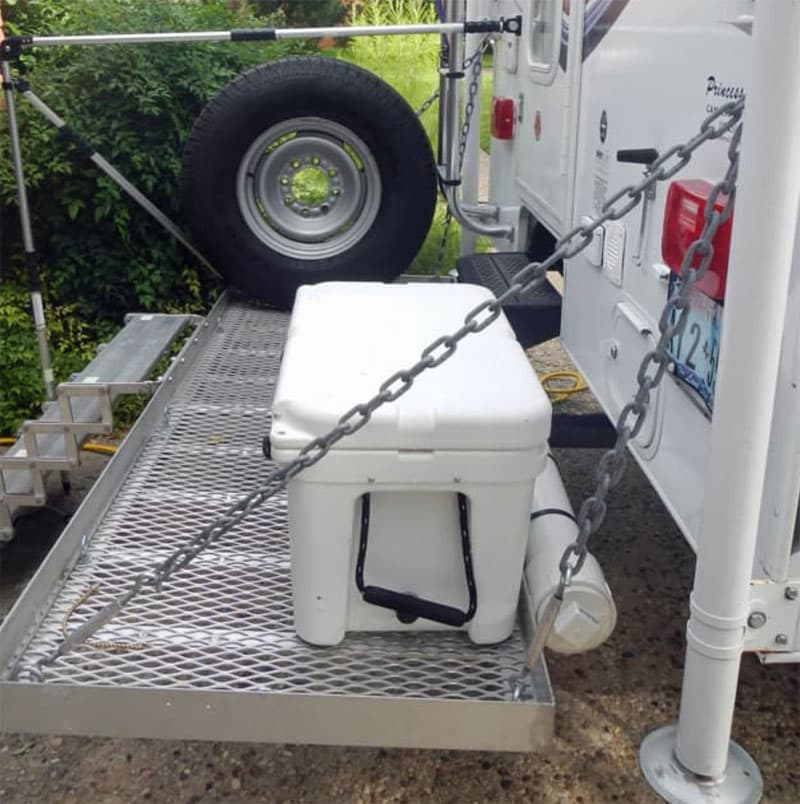 Finally, it serves as a great outdoor shower area since the flooring is made of an open aluminum grid. Sand gets rinsed off us and through the grid flooring instead of being tracked into the camper. I installed an extra long hose to the showerhead that can easily reach the rear platform.
I am very happy with this platform and get lots of questions and compliments from other truck campers who have seen it.
5. Ramp That Doubles As A Storage Carrier
Submitted by: Charles Spray, 2002 Ford F-350, 2001 Lance 1010
My wife needed an improved step to safely enter and exit the camper.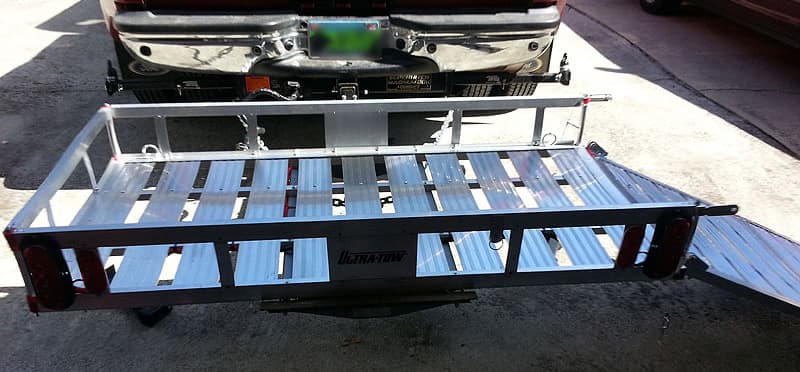 We also needed additional storage carrying capacity when not towing our boat or enclosed car trailer.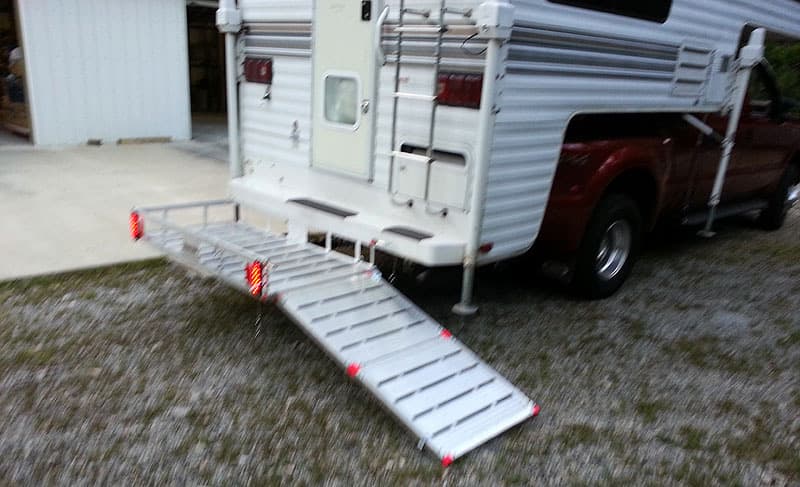 I bought a hitch-mounted cargo carrier with a folding ramp. Then I modified it to connect to a Torklift SuperHitch with a Super Truss for increased stability. I added LED lighting for increased visibility.
It works well. Since the initial install, I have purchased a folding step to use instead of the ramp and added stabilizer jacks designed for a tent camper.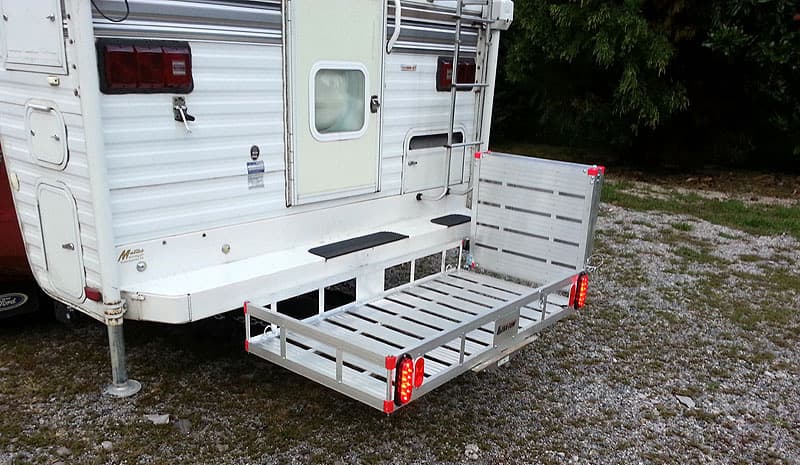 Now the assembly does not wobble when the unit is parked and we use it for a step.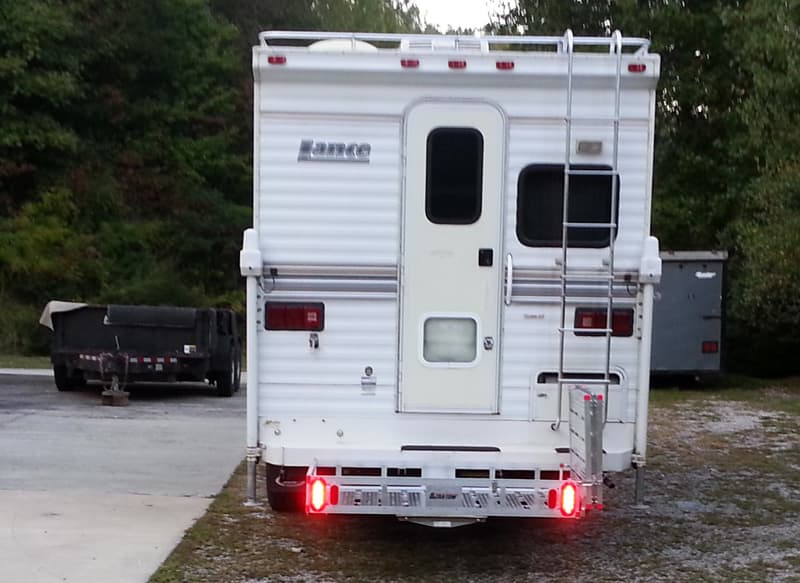 It took me eight hours to complete and cost $700. In my opinion, the skill level of this mod is medium.
6. Cargo on Rear Hitch with a Bike Rack
Submitted by: Doug Jenkins, 2003 Ford F250, 2003 Palomino 8801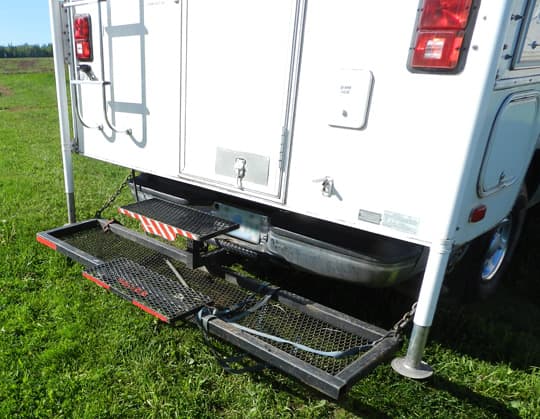 Having struggled with unsteady, and downright unsafe portable steps, I finally designed this permanent unit that fits into the two-inch trailer receiver hitch. It serves four purposes that an avid camper requires on any short or long-term trip. First, it serves as the rear tie-down points for the camper. Second, it offers a secure and stable two-step entry. Third, it offers extra storage carriage for totes, coolers or whatever. And last, it has a removable bicycle rack.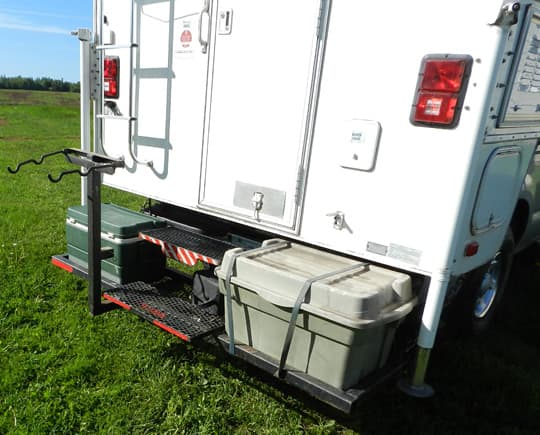 We are so pleased with this custom-made addition, which, by the way, is made of scrap metal and steel mesh for the step pads. It's ten years old and, to the best of my memory, it cost in the range of $200. The best thing about it is that there were no modifications necessary to the structure of either truck or the camper. It's also easily removable for one person to handle. In closing, this mod has had a lot of interest from fellow truck campers. Once it's on the truck, that's it – no more fussing.
7. Hitch Mounted Cargo Carrier
Submitted by: Charles Spray, 2002 Ford F-350, 2016 Travel Lite Illusion 1100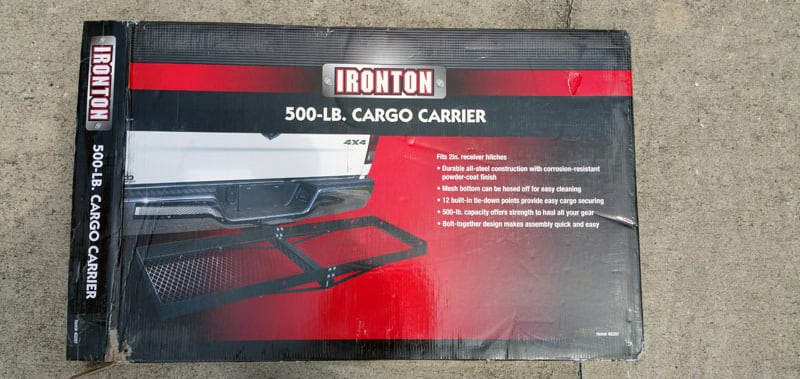 I bought a hitch-mounted cargo carrier and modified it to bolt onto a Torklift SuperTruss hitch extension.

I purchased the kit from Northern Tool and Equipment and modified it by drilling new mounting holes. Then, I used U-bolts to secure the unit to the SuperTruss extension.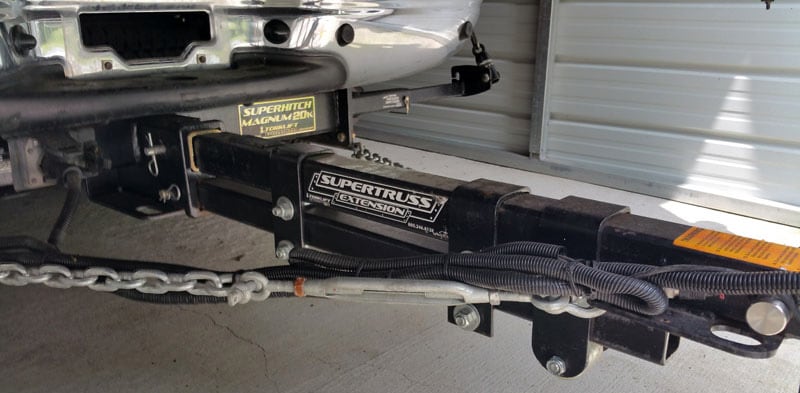 It has worked out great to haul folding chairs and other items that would otherwise fill up the floor of the camper!

The cargo space is limited by the holding tanks on the camper.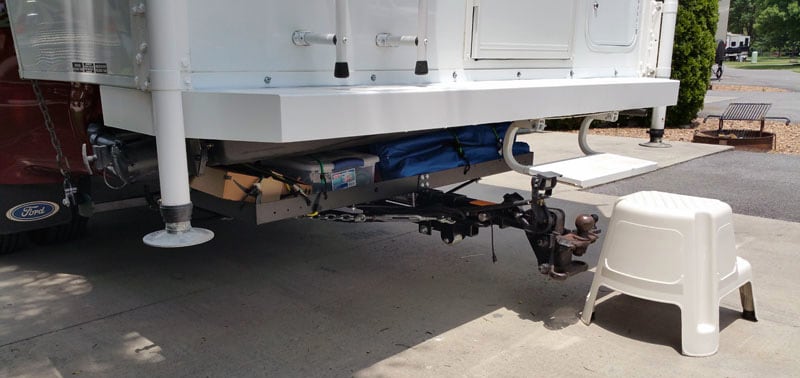 It took me three hours to complete this modification and cost me $90. In my opinion, the skill level of this modification is medium.
8. Cargo Carrier For Bikes, Generator, and More
Submitted by: Mark Turnbull, Chevy Silverado 1500, Four Wheel Hawk Camper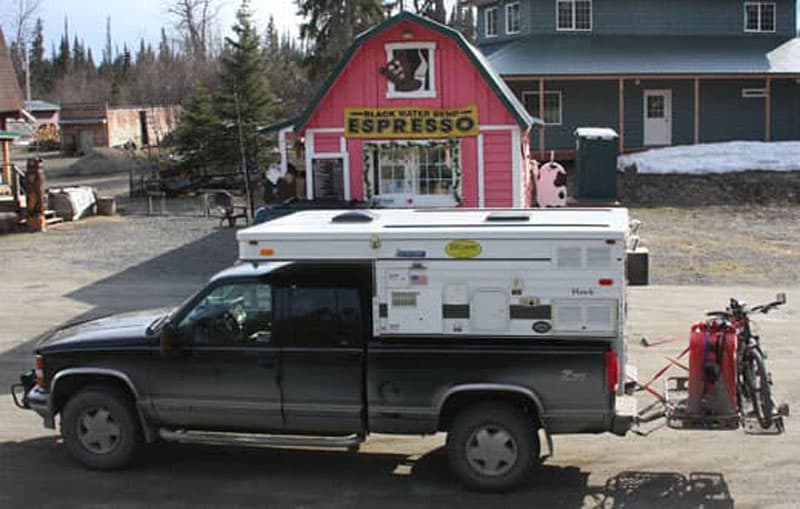 I started with two cargo carriers. I cut one in half. We then joined the half cargo carrier to the whole cargo carrier. We then modified the half cargo carrier to have extended edges to accommodate my bicycle's tires. This cargo carrier arrangement has carried my bike, a full-sized spare, a Honda Generator, and a fourteen-gallon gas tank for over 10,000 miles on my Alaska trip, and will for another 4,700 miles as we head home.
9. Rear Storage Box On Side Entry Camper
Submitted by: Gary Raymond, 2012 Dodge Ram 3500, 2006 Lance 1191
I installed a dock box on the rear bumper of my side entry camper. It works out great for keeping the grill, folding chairs, propane, and basically anything.
Feel free to check out our "Rooftop Cargo Carriers for Truck Camping" article where readers submitted different rooftop ideas.
Disclaimer: The modifications above are submitted by Truck Camper Magazine readers. It is your responsibility to make sure that any do-it-yourself modification project you undertake is safe, effective, and legal for your situation.