By far the most popular modifications done to truck campers are for storage.  Month after month, and year after year, our Mod Contest is chock full of storage mods for every exterior, interior, truck, and camper facet imaginable.  It's amazing no one has found a way to store things in the jack bolts.  Oh wait…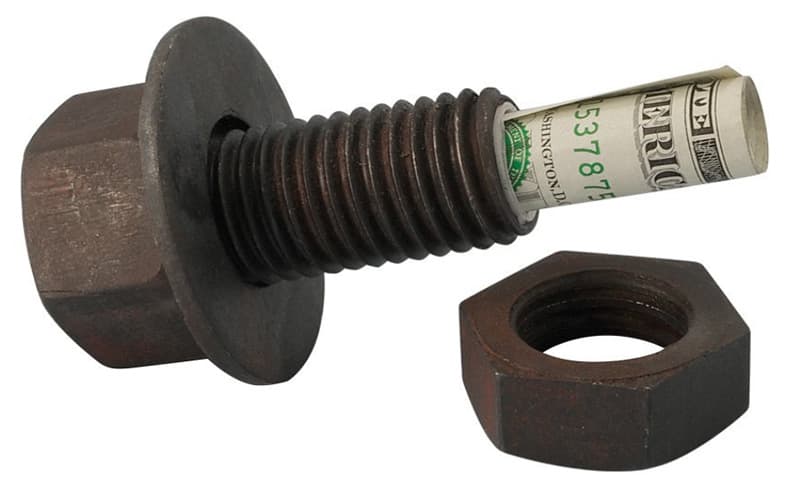 One potentially large storage area that often goes unused on a truck camper is the roof.  We have not personally ever owned or used a rooftop carrier, so we asked our readers what they have, and what they use it for.  This week's Question of the Week was, "Do you have a roof top cargo carrier on your truck camper?" 
"I have a tall Thule rooftop carrier.  We keep our folding chairs, bug tent, kid's tent, shovel, rake, broom, fire pokers, and end tables in it.  It works great.  It's a little taller than the air conditioner, but it's right above the ladder so it's easy to access." – Gary Janzen, 2008 GMC 3500HD, 2008 Adventurer 108DB
"Yes, I have a Thule.  I don't know how many cubic feet it contains.  It is big enough to store our charcoal, two lawn chairs, a 10-foot by 10-foot folding gazebo, a small table, and a big outside carpet.  I use a cord with two hooks to get the stuff up and down.  Everything is stored and ready when we need it." – Richard C. Raymond, 2005 Chevy Silverado 3500, 2007 Winter Creek 11.5 RS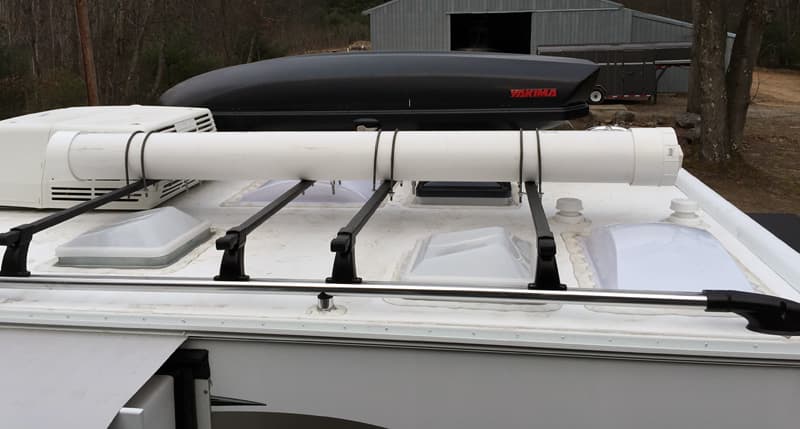 "I have a Yakima 18-cubic foot cargo box.  It is a very nice rooftop carrier.
My camper came with a roof rack and rails.  There were only two cross rails which span 8-feet across the camper.  After getting the cargo box it seemed to be a little flimsy, so I ordered two more cross rails from Lance which really helped support the load.
The box has a quick release clamp system on both ends.  I also added U-bolts to the other two rails for added support, which worked very well.
I installed the box on the right side of the roof.  That is the best area as the roof ladder is right behind the box.  I also built an outdoor carpet carrier out of a piece of 6-inch PVC pipe to keep dirt and debris from getting into the camper.  It's a great storage place for the outdoor mat as we don't use it every day.  I made the U-bolts to mount pipe to the roof rails.
The main reason that I installed the mat carrier and cargo box was that we took a four month trip through the Pacific Northwest and Alaska.  We had to pack for four seasons.  We pretty much used everything we took.  We had temperatures from 0 to 105-degrees on our trip.
I am also an avid fisherman so I packed fishing gear in the box.  We put our extra clothes in duffle bags which worked well.  We also stored extra camping supplies.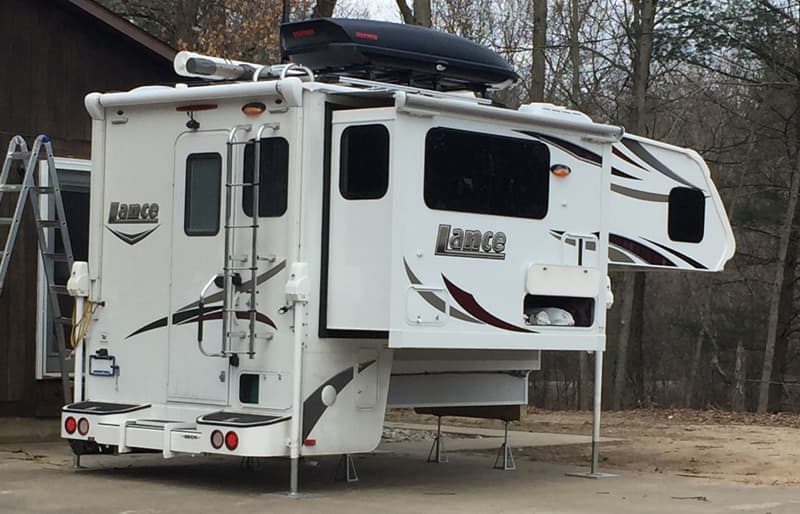 I am very happy that I installed the box and mat carrier. The box is accessible from both sides the roof or from the ground on a ladder.  I do take a ladder with us, but I only used it one time.  As you can see in the pictures you can get to the box from the camper's ladder.
All in all, we had a wonderful trip and never had any problems with the cargo box.  There was no damage to anything inside.  I have a 300-pound load capacity on the roof and the box and extra hardware weight of approximately 80 pound.  That gives me 220 pounds of extra cargo weight." – David Rasmussen, 2015 GMC 3500 HD, 2017 Lance 1062
"Yes, I have a Yakima Space Cadet mounted on the Maggie rack.  I keep four chairs, a small rollup table, flag pole, 8-inch by 10-foot camping mat, and an axe.  It's just part of our setup and tear down routine to get the items we need at our campsite.
I like having the camp chairs in it because they are large.  They are not taking up space or in the way inside the camper." – Mike Borrego, 2005 Ram 3500, 2008 Host Yellowstone
"We have a Yakima space booster.  It's mounted reversed (taller side forward).  We wouldn't be able to access it if it was mounted the correct way.
We store our camp chairs and camp mat.  During the summer we carry all our boating stuff like life jackets and tow ropes.  In the winter time we carry a snow board, a sled, and and other bulky items." – Elquin Daza, 2000 Ford F350, 2000 Lance 820
"I've been a Thule guy for over thirty years and I've got a lot of accessories to carry whatever I'm into at the moment.  When I bought my Four Wheel Camper Hawk, I had the factory install tracks on the roof so that I could use all my Thule stuff when ever I wanted.