By far the most popular modifications done to truck campers are for storage.  Month after month, and year after year, our Mod Contest is chock full of storage mods for every exterior, interior, truck, and camper facet imaginable.  It's amazing no one has found a way to store things in the jack bolts.  Oh wait…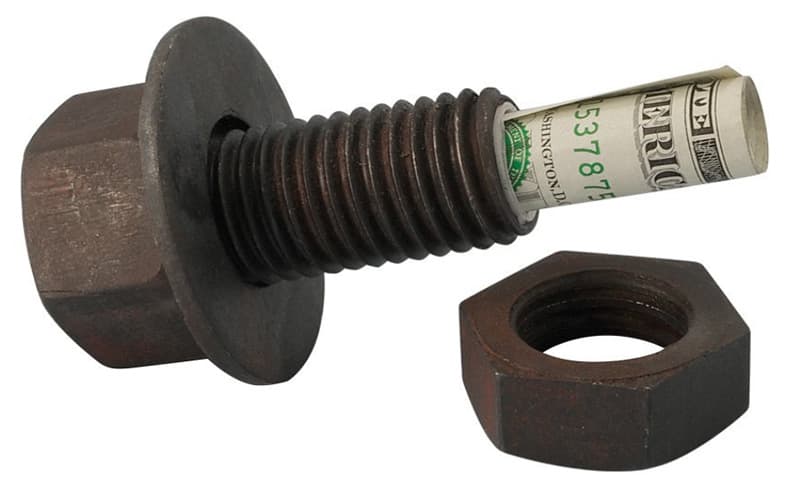 One potentially large storage area that often goes unused on a truck camper is the roof.  We have not personally ever owned or used a rooftop carrier, so we asked our readers what they have, and what they use it for.  This week's Question of the Week was, "Do you have a roof top cargo carrier on your truck camper?" 
"I have a tall Thule rooftop carrier.  We keep our folding chairs, bug tent, kid's tent, shovel, rake, broom, fire pokers, and end tables in it.  It works great.  It's a little taller than the air conditioner, but it's right above the ladder so it's easy to access." – Gary Janzen, 2008 GMC 3500HD, 2008 Adventurer 108DB
"Yes, I have a Thule.  I don't know how many cubic feet it contains.  It is big enough to store our charcoal, two lawn chairs, a 10-foot by 10-foot folding gazebo, a small table, and a big outside carpet.  I use a cord with two hooks to get the stuff up and down.  Everything is stored and ready when we need it." – Richard C. Raymond, 2005 Chevy Silverado 3500, 2007 Winter Creek 11.5 RS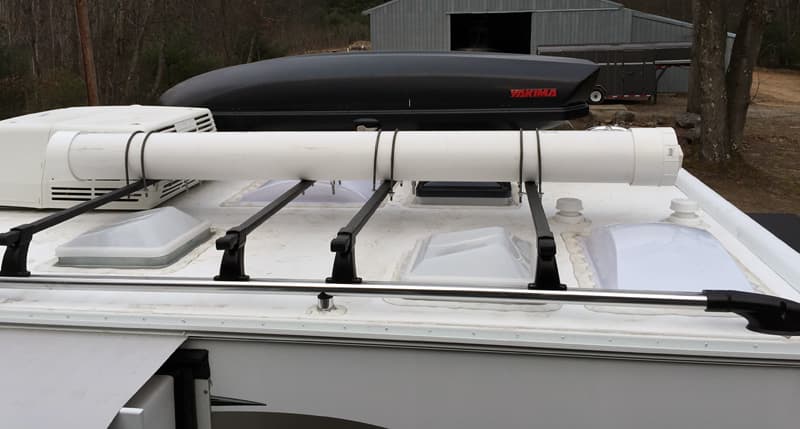 "I have a Yakima 18-cubic foot cargo box.  It is a very nice rooftop carrier.
My camper came with a roof rack and rails.  There were only two cross rails which span 8-feet across the camper.  After getting the cargo box it seemed to be a little flimsy, so I ordered two more cross rails from Lance which really helped support the load.
The box has a quick release clamp system on both ends.  I also added U-bolts to the other two rails for added support, which worked very well.
I installed the box on the right side of the roof.  That is the best area as the roof ladder is right behind the box.  I also built an outdoor carpet carrier out of a piece of 6-inch PVC pipe to keep dirt and debris from getting into the camper.  It's a great storage place for the outdoor mat as we don't use it every day.  I made the U-bolts to mount pipe to the roof rails.
The main reason that I installed the mat carrier and cargo box was that we took a four month trip through the Pacific Northwest and Alaska.  We had to pack for four seasons.  We pretty much used everything we took.  We had temperatures from 0 to 105-degrees on our trip.
I am also an avid fisherman so I packed fishing gear in the box.  We put our extra clothes in duffle bags which worked well.  We also stored extra camping supplies.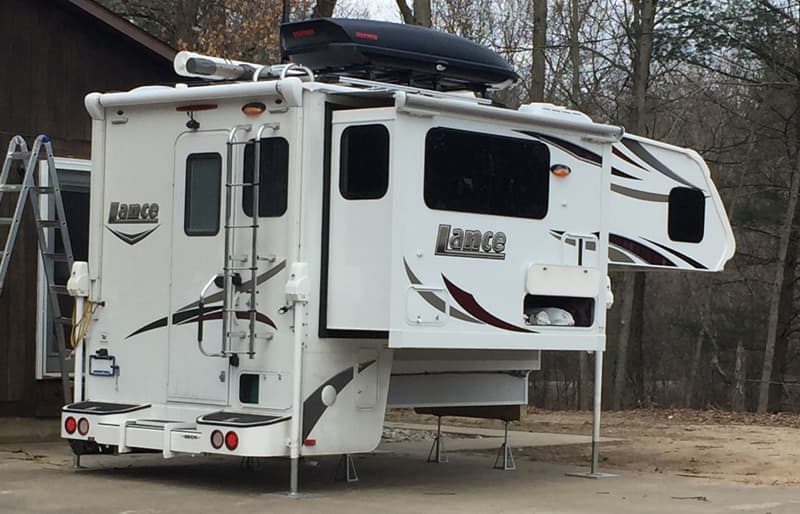 I am very happy that I installed the box and mat carrier. The box is accessible from both sides the roof or from the ground on a ladder.  I do take a ladder with us, but I only used it one time.  As you can see in the pictures you can get to the box from the camper's ladder.
All in all, we had a wonderful trip and never had any problems with the cargo box.  There was no damage to anything inside.  I have a 300-pound load capacity on the roof and the box and extra hardware weight of approximately 80 pound.  That gives me 220 pounds of extra cargo weight." – David Rasmussen, 2015 GMC 3500 HD, 2017 Lance 1062
"Yes, I have a Yakima Space Cadet mounted on the Maggie rack.  I keep four chairs, a small rollup table, flag pole, 8-inch by 10-foot camping mat, and an axe.  It's just part of our setup and tear down routine to get the items we need at our campsite.
I like having the camp chairs in it because they are large.  They are not taking up space or in the way inside the camper." – Mike Borrego, 2005 Ram 3500, 2008 Host Yellowstone
"We have a Yakima space booster.  It's mounted reversed (taller side forward).  We wouldn't be able to access it if it was mounted the correct way.
We store our camp chairs and camp mat.  During the summer we carry all our boating stuff like life jackets and tow ropes.  In the winter time we carry a snow board, a sled, and and other bulky items." – Elquin Daza, 2000 Ford F350, 2000 Lance 820
"I've been a Thule guy for over thirty years and I've got a lot of accessories to carry whatever I'm into at the moment.  When I bought my Four Wheel Camper Hawk, I had the factory install tracks on the roof so that I could use all my Thule stuff when ever I wanted.
Like Yakima, Thule racks are modular so they can be adapted to carry whatever you want (within reason as they all have a maximum load capacity).  So far I've carried canoes, kayaks, bikes, skis, a cargo box (also from Thule), and lumber.
Thule accessories can all be equipped with locks that all open with one key (you specify the key number when you order new locks).
This stuff isn't cheap, but it's extremely well made and lasts forever.  I'm still using stuff that I bought over thirty years ago.
Another brand that I've come in contact with since I started overlanding is Front Runner.  They have an excellent selection of roof racks and attaching options for when the going gets really rough (as in off-roading).  They have an excellent selection of storage boxes that are extremely rugged and that stack securely.  They are just the right size.  I use them as steps for climbing in and out of my camper.
They also make all sorts of camping accessories such as fold up tables.  I have one of these that I keep stored in a rack under the overhang of my camper that works great and is very stable.
The key to all this is to be flexible and adaptable.  For instance, I may not want to crawl up on the roof of my camper to get at my bike so I sometimes keep it in a hitch carrier on the back.  I have a Torklift SuperHitch that has two receivers mounted one on top of the other.  I can carry my bike in the top receiver and still tow my boat in the bottom one." – Steve Timmings, 2003 Ford F350, 2013 Four Wheel Camper Hawk SC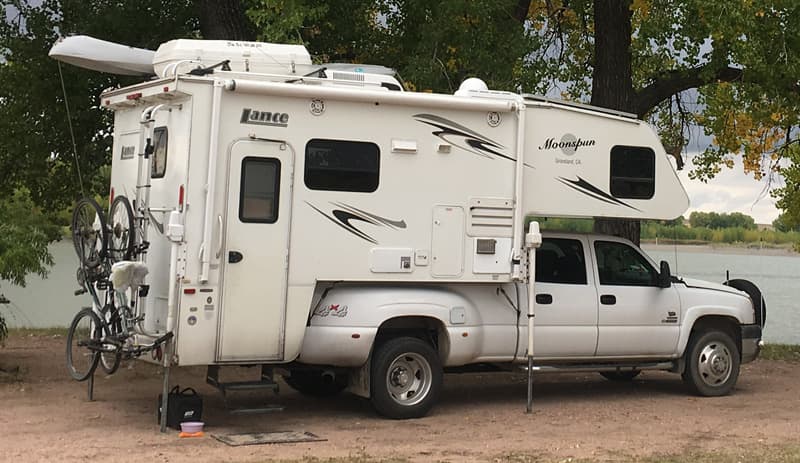 "For the past nine years we have used a 16-cubic foot StorMore hard side carrier.  We have stored kayak and bike gear in it, as well as a folding table, large mat, lounge chair, and camp chair.  Bikes are hung on a roof ladder rack, making quick trips to the roof inconvenient.
This year, with 1,100 miles of dirt roads and bad pavement crossing the Trans Labrador Highway, the carrier got really beaten up/broken while driving over washboard and pothole-filled roads.  We will replace it with a hard side Thule 628 Force Cargo Box (16-cubic feet)." – Jim Goodrich, 2006 Chevy 3500, 2008 Lance 1191
"We mounted a Yakima hard shell ski carrier on a rack that I welded up.  The fit is just right and it doesn't catch much wind.
We use it to carry our grill, folding chairs, shovel for digging clams, baseball bat and gloves, football, soccer ball and once a bunch of pumpkins we got at a farmer's market.  It's a great catch all and things don't have to be clean since it is outside.
Things stay dry and it's lockable.  Plus, it keeps me in shape climbing the ladder!  Now that we have it we wouldn't go camping without it." – Burt and Vickie Strong, 1997 GMC C3500, 1997 Lance Legend 500
"I have a homemade solution for carrying surfboards.  I removed the air conditioner unit because I didn't need it.  The camper had existing rails.  I glued some foam pads on the board's contact area and ran straps across.  In front I use an old TV antenna base because I don't have a TV in camper." – George Haselton, 2015 Ford F150, 2014 CampLite 6.8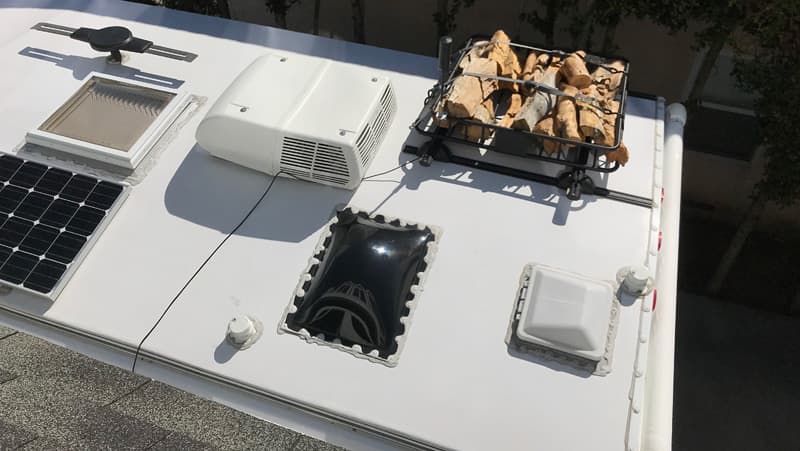 "I ordered my 2017 Arctic Fox 1150 without the factory roof rack.  Except for something to grab on to when you climb on the roof it was basically useless.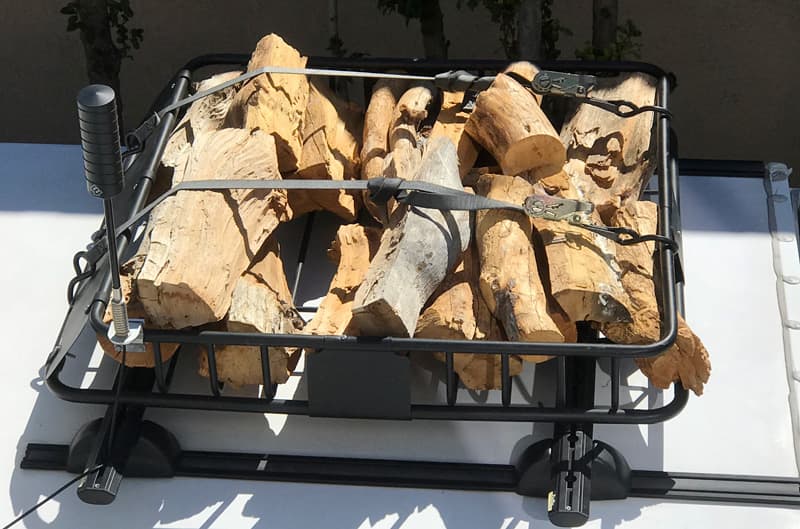 I installed a ProRac rail and cross bar system.  I then installed a generic cargo basket on top of the cross bar system.  I use it to carry my firewood.  Camping is no fun without firewood!  It was also a perfect place to attach my cellular signal booster antenna." – Ray Mungo, 2106 Ram 3500, 2017 Arctic Fox 1150
"Since we usually travel for extended periods, we are also challenged with storage space.  About two years ago I picked up a Thule hard shell storage unit at a garage sale and it has been a great addition.
I currently store my Clam screen room, five-foot folding bag table, 100-foot extension cord, and a macerator unit which is wrapped up in plastic bags.  While on our trip to Nova Scotia last year my wife also assisted me in filling up the rest of the unit with tons of clothes for the grandkids from a place called Frenchies.
When traveling out west I usually bring my fly fishing gear and waders so there is no room for my wife's stuff.  The only downside is that it added about 2-inches to the overall height of the truck camper." – Gary Hughes, 2005 Chevrolet 3500, 2015 Lance 1172
"I just sold my 2008 Lance 1191, so I'm in between campers right now.  I have a heavy duty vinyl Thule cargo bag that I attached to the Yakima cargo rack on my camper.  I used it when I wanted to take my Weber Q, the three burner stove, and an aluminum outdoor table.  Each one of those items comes with its own carrying bag.  Believe it or not, they are compact.
I researched this for a while because I did not want all this stuff inside my camper or take up space in my truck and/or damaging the interior.  Now I'm sure you're wondering how I get all of this up to the top of the camper.  At first I looked around for a davit or winch to hoist up these items, but I couldn't find anything that was durable enough to lift the weight for a reasonable price.
In addition there was the issue of where I was going to attach this device.  Then it dawned on me.  Just tie a rope onto the handles of each item (one at a time of course), and hoist it up yourself.  So, I got on top of the camper, had someone on the ground tie the rope onto the item and pull it up using the camper's ladder as a guide.  That way it did not damage the camper.  Don't try this if you're not in fairly good shape.
Everything fits into the bag and I zip it up.  Everything stays nice and dry.  I have had this bag for nine years and it's just now starting to show its age.  I didn't want the hard shell cargo box because it requires a lot of space to store it.  The vinyl bag folds up and fits in a carrying bag.
Also, I didn't want to leave a hard shell cargo box on the camper because I cover the camper when it is not in use.  Is this easy?  Let's just say it takes a little time and effort, but with two people it works.
Why do I bring an outdoor stove with me when I have one in the camper?  There's nothing like the taste and smell of bacon and eggs cooked outside.  Also, I like to fish and I don't want to fry my fish inside the camper." – Dennis DeVille, 2018 Ford F350, 2018 Lance 1172 on order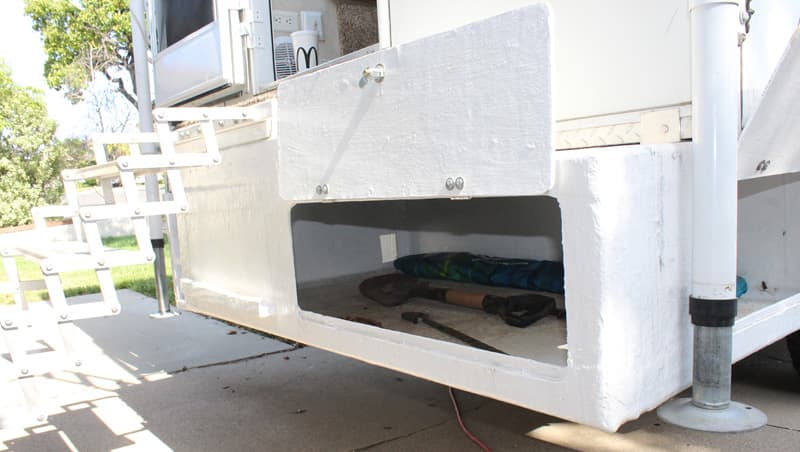 "In the past I used a rooftop cargo box.  It is a Yakima hard shell.  I stored chairs, a bicycle trailer, and other outdoor equipment.
The two concerns that I had with the Yakima carrier were that it added another 18-inches to the camper's height and that it was hard to get to.  My solution was to build a custom fiberglass box under the rear camper overhang.
The fiberglass box works great.  All kinds of outdoor equipment can be stored with easy access and locked." – Ron Richardson, 2014 Ram 3500, 2012 Wolf Creek 850
"Before purchasing my truck and camper, our family did several southwestern tours in a 1992 Ford Explorer.  We used a cargo carrier on its roof, which stored our tent, sleeping bags, and other camping gear.  We had our dogs in the back of the SUV while our young son and his 90's-era devices occupied the back seat.
It was a Sears-branded squarish ABS plastic box.  It was quite simple in construction as reflected in its sub-$200 (90's money) price.  From snow in the Rockies to thunderstorms across the deserts, our gear stayed dry and secure.  We only had one near mishap with the added height and no break-in attempts.
Our Lance has plenty of storage inside.  I hesitate to add to its height or weight, particularly weight up high.  Having said that, occasionally I have strapped down excess equipment, fuel, etc. on the Lance's roof, sometimes with a tarpaulin covering." – Mark Obert, 1999 Ford F250SD, 1999 Lance 920
"Yes.  I have a Pack-Master hard shell roof top carrier.  We use it to store our small propane BBQ grill, our inflatable kayak and life jackets, an extra sewer hose, and stuff that we don't need every day.   The biggest problem with the roof top storage is hanging off the ladder with one arm and trying lift the items with the other arm.  I have used a rope to raise and lower things." – Erwin Greven, 2002 Chevrolet 2500HD, 2002 Lance 921
"I have a factory installed rack.  I don't put anything up there as I'm too old to climb up there and get stuff up and down.  Anything put up there will sit on the roof and I don't want anything sitting on the roof that could damage it." – Dave Erickson, 2011 Ford F350, 2006 Arctic Fox 990
"We are on our third truck camper.  Our previous two had storage cargo carriers on them, but they were smaller campers with much less storage.  We used the carriers for items we rarely used but liked to keep with us.  We stored extra shore power extension cords, coax for satellite tv and cable hookups, and plastic pads to go under the jacks.  There have been in a couple of campgrounds in Florida that have required something under our jacks to protect the blacktop if we leave the camper behind.  We also kept a small grill in it.  I was younger then and didn't mind scampering up a and down the ladder.  Both cargo pods had locks on them." – Bob Key, 2013 Chevy 3500, Lance 1055
"We do not have a rooftop carrier, but we do have have two cargo bars that span across the roof.  I would like a carrier, but it could be no taller than the air conditioner unit as we only have a half-inch of clearance to the storage shed.
On the bars we plan to mount the kayaks.  If we had a cargo carrier, I think we would put life vests, maybe extra bag chairs in it, and stuff I do not always use like the air compressor.  I am looking forward to reading what others have." – Ben Hansen, 2006 Ford F350, 2005 Lance 981 Max
"I really would like to mount my Thule cargo carrier topside, but I would be concerned regarding putting the weight of maybe 100 pounds up there.  I am concerned about whether the roof is strong enough and the power lifts are capable.  I have no idea." – Shellie Barnes, 2017 Ford F250, 2017 Palomino SS550
"The factory roof rack is there, but it's totally useless given the height above the ground.  The ladder is a joke except as a patio chair holder.  Climbing it, you'd have to climb over and around the rear awning to get on and off the roof, which is useless!" – Mike and Sharon Nervik, 2002 Chevy 3500, 2004 Eagle Cap 1150
"We do not have a cargo carrier on the roof.  We were warned early on that the roof would not take the weight.  In the words of our dealer, "The only reason to be on the roof is to clean and inspect".  So even though we could use the additional storage, we have decided not to compromise the roof material." – Tom and Mary Bailey, 2015 Ford F250, 2013 Arctic Fox 811
Editor's Note: Northwood has a video showing nearly their entire truck camper production team on the roof of an Arctic Fox truck camper. Watch here.
"I do not have a rooftop cargo carrier.  I have considered installing one, but with the vent, skylight for the shower, and the air conditioning unit up there, space is limited.
The main reason we don't have a carrier is that I consider the truck camper to be properly balanced on my truck.  Any additional weight up top (the rack and contents) would surely create a top heavy load in my case." – Tony Polvino, 2016 Ford F150, Travel Lite 770RSL
"No, I don't have a rooftop carrier.  Being a pop-up roof, capacity is limited.  I carry what I require in the back seat of the four-door truck or between the box sides and camper via a wheelhouse door.  I tend to pull a small trailer for the quads when they go along." – Daryl Davis, 1997 Ford F350, 2014 Palomino SS1500
"I am also interested in this topic.  I don't currently have a roof rack, but use the roof while camping a lot.  I keep items like chairs and snorkeling gear up there and lock the ladder in stowed position with kids' bikes while we are away.  I am not going to stop a determined thief, but the average camper will just walk past with no extra thoughts.
I would like a hard case on the roof now that you mention it, for travel and stow.  If anyone is in love with an aftermarket option, I am very interested in learning what roof rails and crossbars they are using.  Thanks again, TCM.  Great topic!" – Nick Last, 1999 Ford F350, 2000 Lance 1130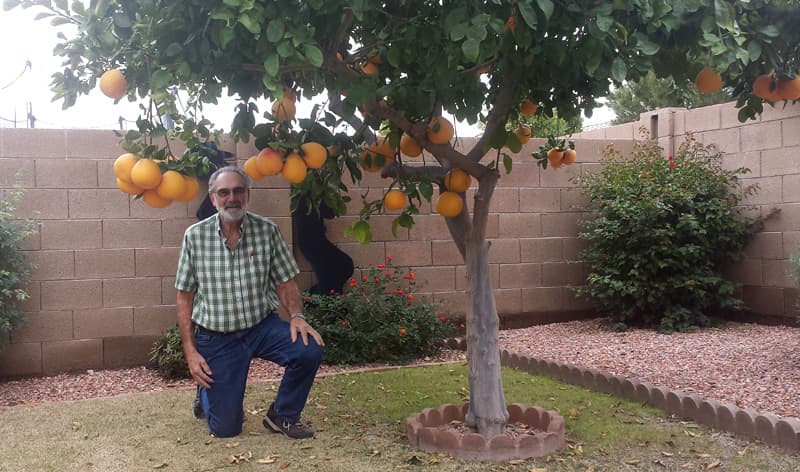 "I am not sure what we would use it for unless you were staying in one location for months at a time.  We go to Arizona in the winter and can get all the grapefruit and oranges we can haul for free.  We fill every nook and cranny we can find.  Our grandkids love it when we get back.  Seems like most people living in Phoenix have fruit trees and they have trouble getting rid of them." – Frank Niehus, 2007 Ford F350, 2007 Arctic Fox 1150
"I don't and won't have a rooftop carrier.  My truck camper's roof is 11-feet above the ground and is top heavy enough by itself." – Philip Tron, 2009 Chevy 3500, 2012 Lance 1050
"I don't have one yet, but I've been researching the idea.  I'm glad you asked the question and am eagerly awaiting all the answers.  If I had one I would like to store my folding camping chairs, my patio mat, and my roll-a-table up on the roof.  They don't weigh a lot.  I currently store them in the bathroom.
That creates two problems.  First, my wife and I can't get to the bathroom when it's full of all the stuff and we're on the road.  Second, the mat ends up leaving a lot of dirt on the floor in the bathroom.
It would be a pain to crawl up on the roof each time to take it all down and then put it all back.  But, I don't have any other place to store these items except on the floor – which makes it even harder to get into the camper while traveling." – Dan Sundt, 2005 Chevy Silverado 2500HD, 2003 Hallmark Ute XL