Welcome to Entry Ten of Bracket Three for March Micro Mod Madness.  The Micro Mod that wins each bracket will advance to the Final Four.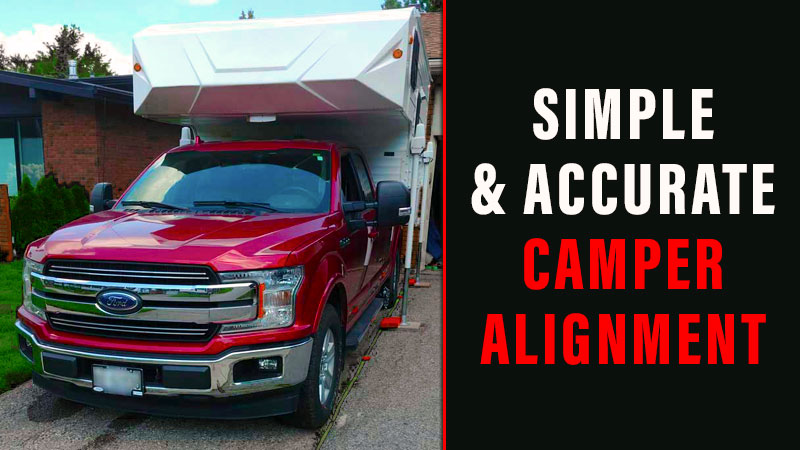 Alan Ross, Woodstock, Ontario
Simple and Accurate Camper Alignment
2018 Ford F-150
1993 Shadow Cruiser
I have been trying for 28 years to find a simple, accurate method of positioning my camper on my truck.  My problem is that I cannot see the camper well enough from the driver's seat.
With my first truck, it was less difficult because I could almost stick my head out the back window to get a good view of the truck bed.  With a crew cab, it's a different story.  Even the laser technique didn't work well for me.
Over the years, I have found that the method that works best is to position pieces of masking tape on the driveway at the base of the front and rear tires just before I drive out from under the camper.  Repositioning the truck to the same location is then relatively easy.  However, there are two problems with this.
1. The tape can disappear for any number of reasons.
2. In a campground, the driveway is often composed of sand or gravel.
So, I decided to combine the masking tape and dog leash approaches.  I stretched out the dog leash on the driveway along the driver's side of the truck so that it was aligned with the outside edges of the front and rear tires and weighed it down with several hockey pucks.  I painted the hockey pucks orange for better visibility.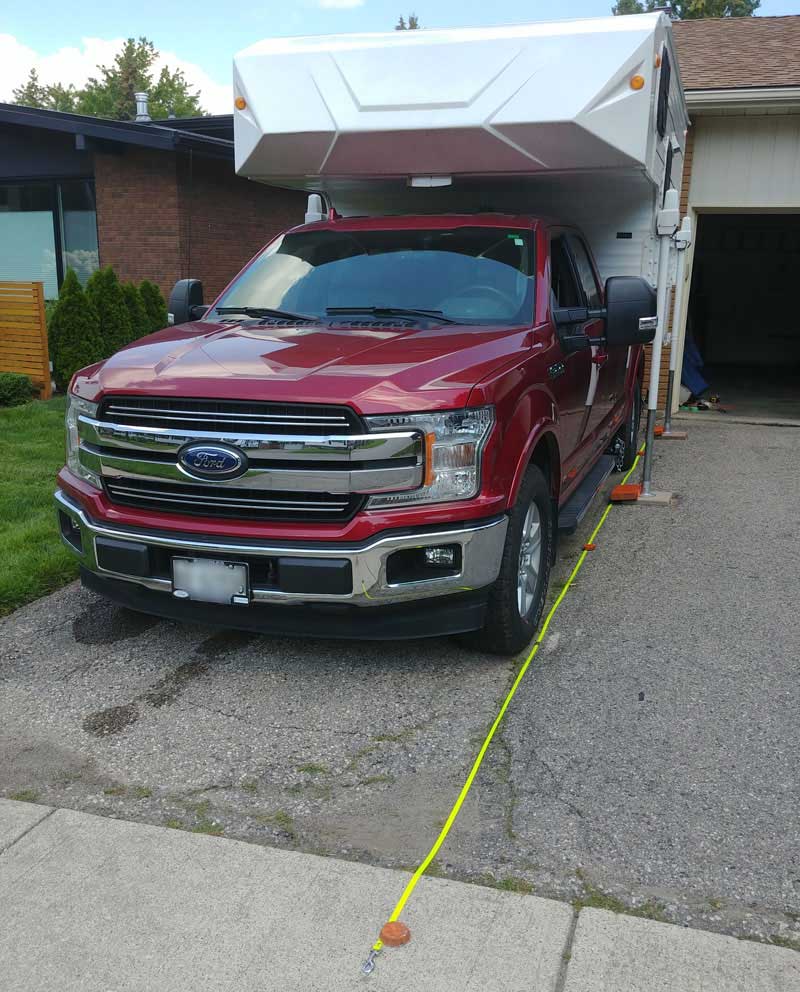 Then I measured the distances between the leash and the foot of each camper jack and cut boards just the right width so that they would align with the leash when positioned at the bases of the jacks.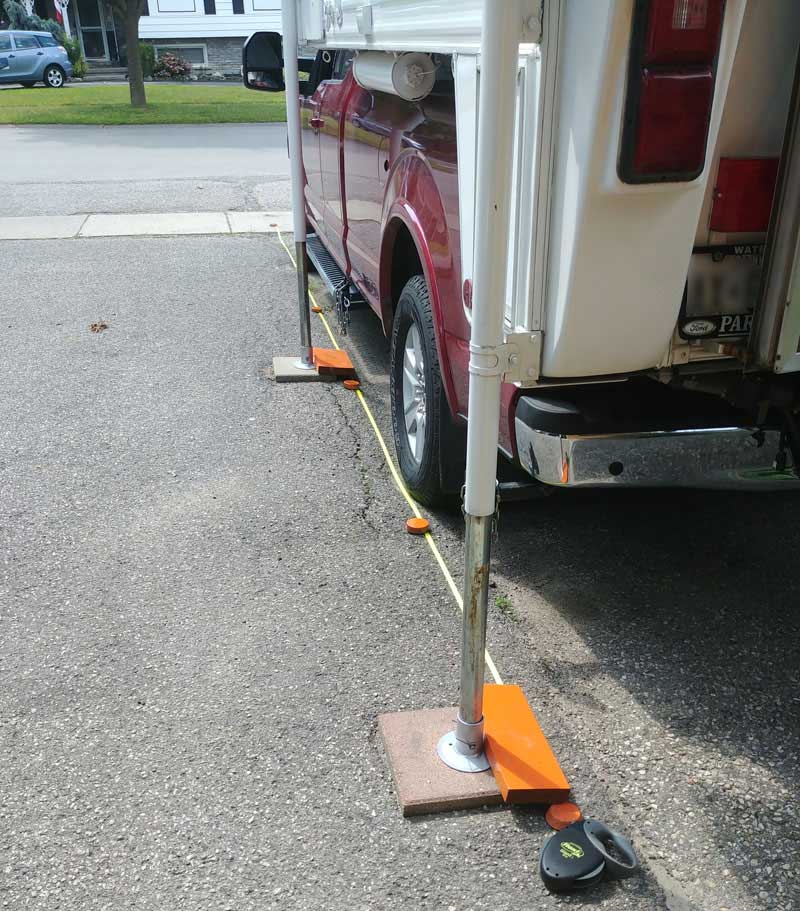 With the leash in place, it's easy to see that the tires follow the inside edge of the leash as I back the truck under the camper.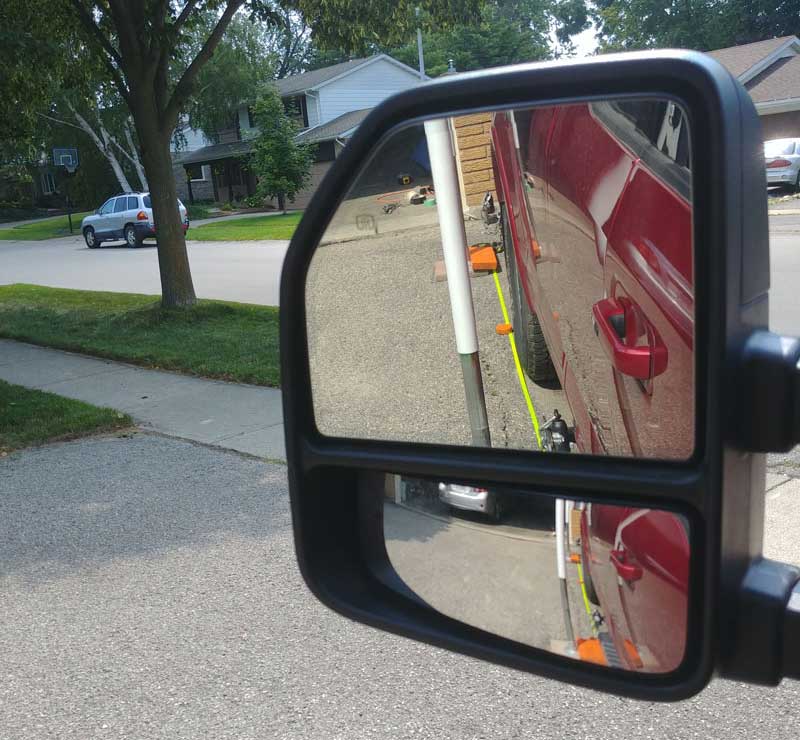 This loading trick works very well for me.  Now I can position the truck properly in just a few minutes.
I use a Flexi USA giant retractable belt dog leash; size large and 26-feet long.  Any bright-colored tape would also work.
It took me less than one hour to complete this modification and cost me $80.  In my opinion, the skill level of this modification is easy.
Click to see the other Micro Mods in Bracket Three.
Disclaimer: The modifications above are submitted by Truck Camper Magazine readers. It is your responsibility to make sure that any do-it-yourself modification project you undertake is safe, effective, and legal for your situation.
Enter Your Mods Now!
Click here for information about the 2022 Mod Contest.  If you'd like to enter a modification you've done on your truck camper, click here. You can enter as many mods as you want, at any time.  Good luck mod makers!