Welcome to the first entry in May's Mega Mod Contest.  One Mega Mod will be published in every Email Alert in May.  At the end of the month, we'll hold a reader vote to determine May's winner.  Click here for information about the 2023 Mod Contest, including how to enter.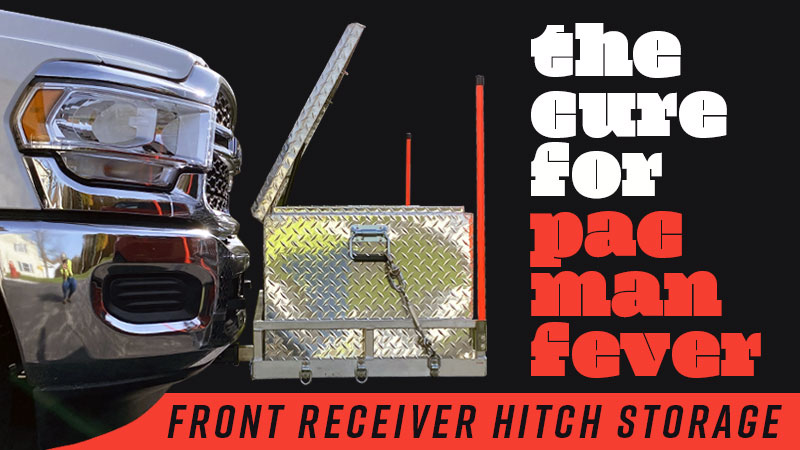 Steven Sickles, Vergennes, Vermont
Front Receiver Hitch Storage
2022 Ram 3500
2022 Northstar 12STC
After many inquiries during the rig walkthroughs at the 2022 Boothbay Craft Brewery Truck Camper Rally in Maine (shout out to Riley Mitchell and his family for putting on a great event), I decided to share with everyone how this set up came to be and how you can go to make one for yourself and maybe even improve it.
There is no doubt we all love the freedom and flexibility of truck camping lifestyle. Why else would you be reading this publication? But, there is that one pesky downside, and that's storage.
Inside and outside of the camper there is only so much square footage. Unless you purchase a triple-slide camper with underbelly storage, all you really have are a few small boxes or the back seat of the truck. With a dog and a car seat in the back seat, that is ruled out rather quickly. What do you do?
My wife can attest to how much I study and overanalyze everything, especially when it comes to projects. I'm very much a measure four times and then check again before I cut kind of guy.
I scoured the internet and Truck Camper Magazine for pictures and articles about storage ideas for a truck camper. Pretty quickly I found a common answer was a front receiver hitch with some kind of tray. Most were for generators, coolers, or firewood, which was great but nothing was very weather-tight or weather resistant.
I came upon a forum about striper fishing from the shore, and beach rigs. They had aluminum rod holder trays with large boxes on the front for gear. I'm not storing fishing gear but I need a place to keep camp chairs, our camp chef grill, a foldable table, an outdoor rug, and a collapsible garbage can.
To start, I ordered a Torklift front hitch that fit my Ram 3500. I chose this one over other brands because it was powder-coated aluminum and it had a license plate relocation bracket included.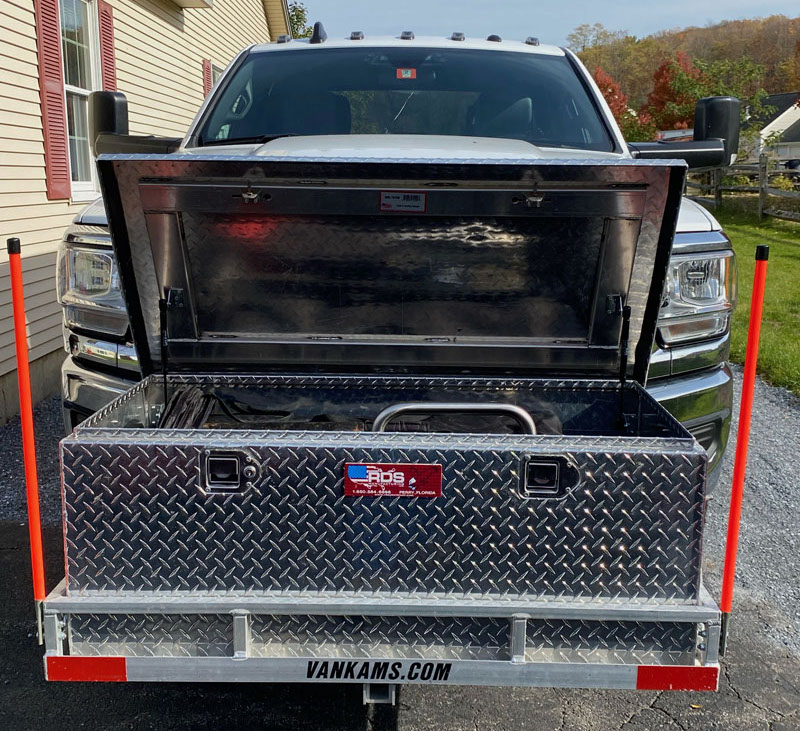 With that installed, I ordered the hitch carrier from VanKams trailer manufacturing. This is also made of aluminum, but is hand tig-welded 3/8 inch square tubing. I found this to be a much better build rack than some others I looked at.
Next to the box, I knew I couldn't block the headlights or the radiator of the front of my truck. After some careful measuring, I determined a 24 by 48 inch box would be the perfect size.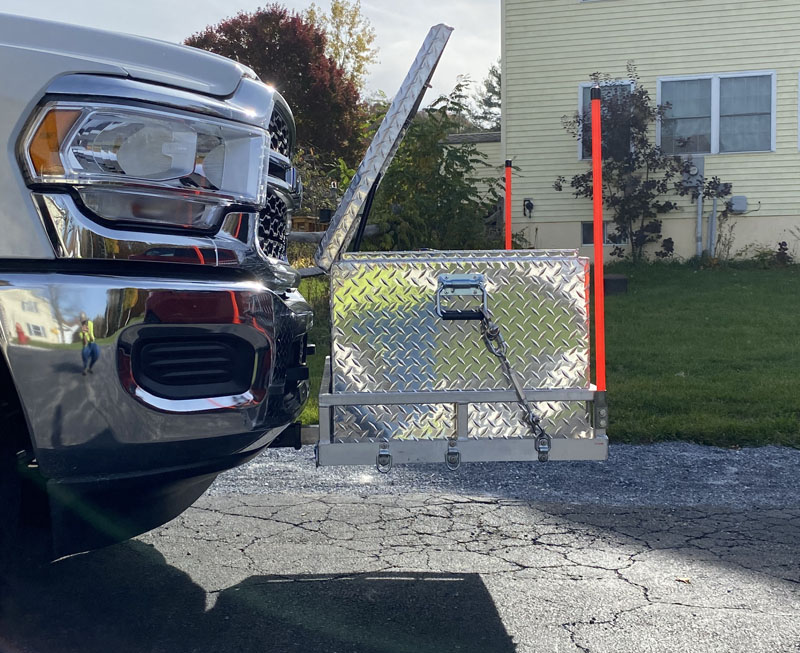 Finding a toolbox that size proved to be harder than expected. For whatever reason, it is not a common size. Google was my friend here again, and the box I found is actually a Dock Box for a marina. It was the right size and had handles on the sides for easier removal.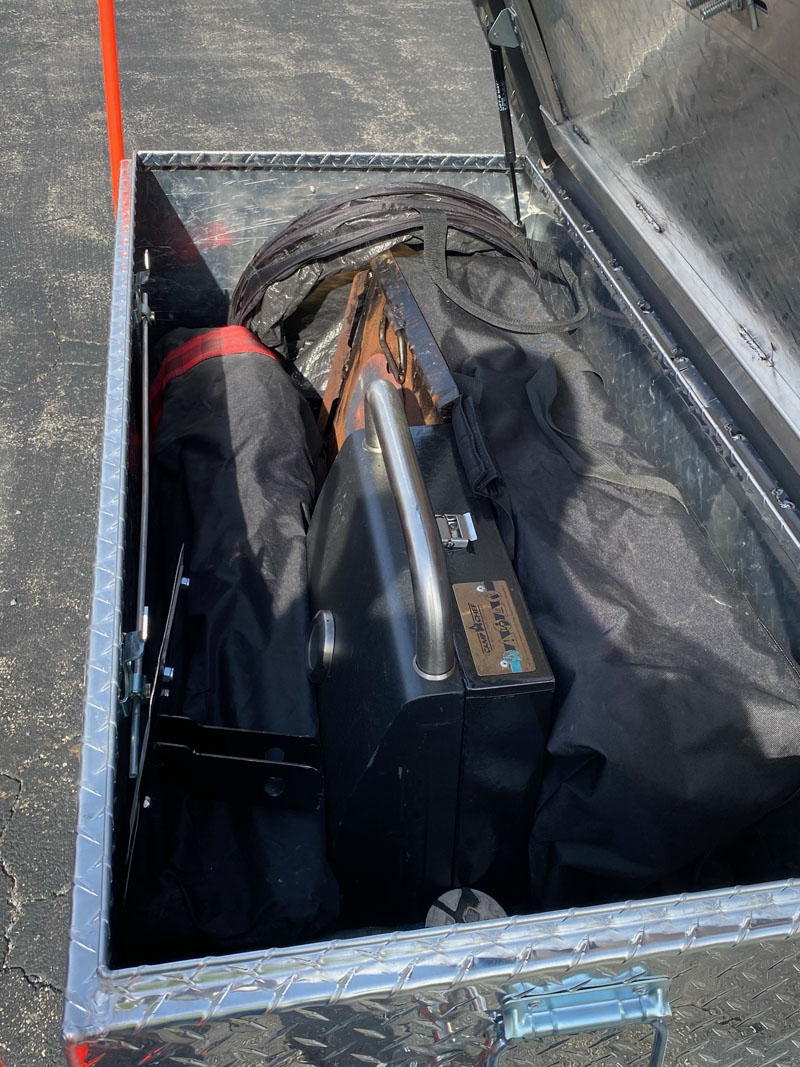 When I secured it to the rack, I didn't want to drill into the box and lose the water tightness. I also wanted the rack to be versatile in that it could be used without the box if someday we wanted to carry firewood or a generator, or if I took our rig on a hunting trip.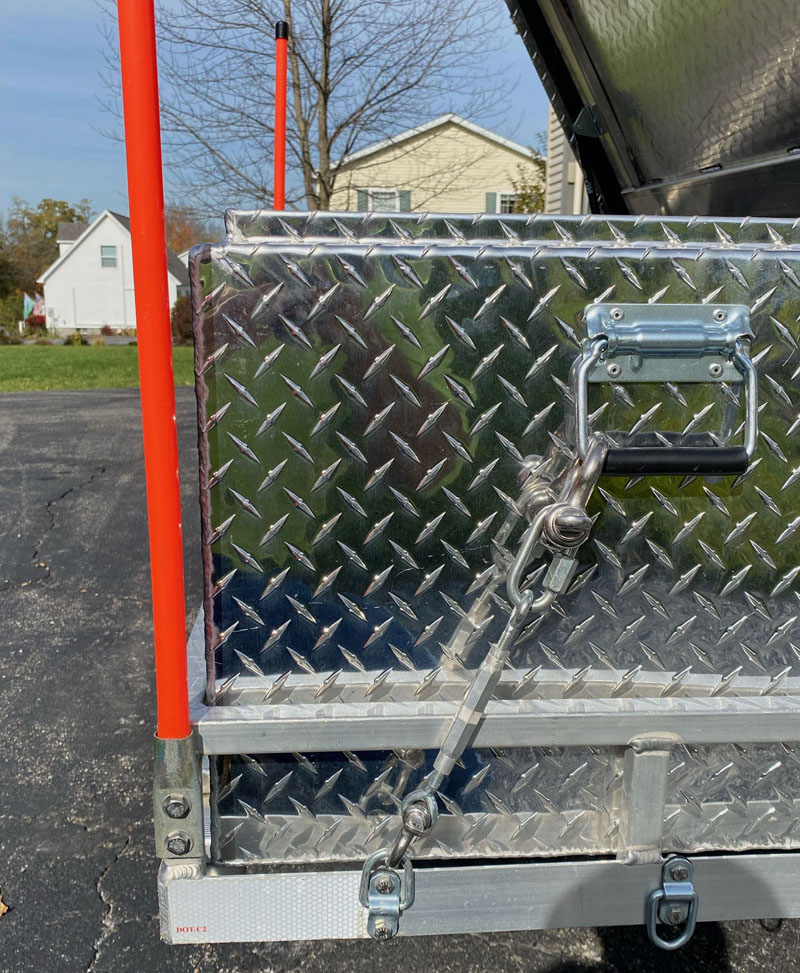 At Tractor Supply I found some turnbuckles, stainless clevises, and stainless hardware. This was used to tighten the box down to the rack. After it was all installed and I had admired my work, I got in the truck to move it and realized I had a problem. I couldn't see any of it over the hood. There was about three feet sticking out ahead of the bumper. A lightbulb went off after walking back into the shop, plow markers! A few nights later I installed plow markers on the rack with stainless hardware.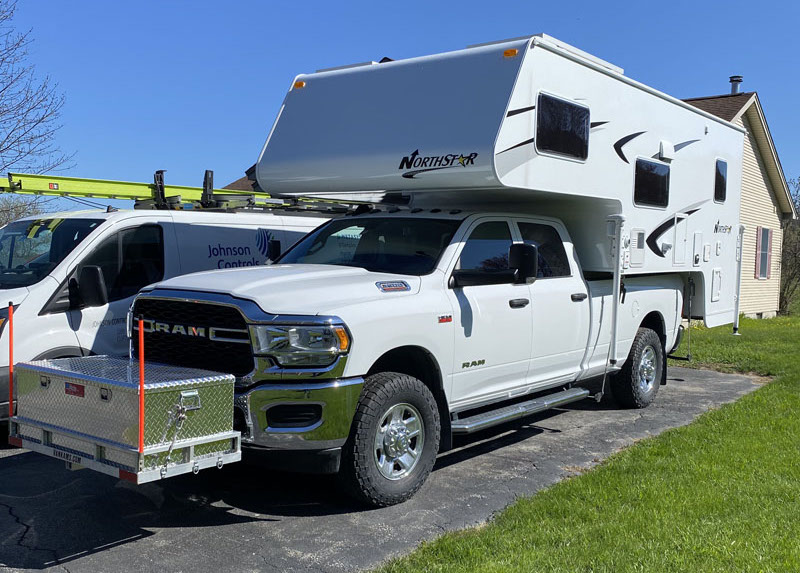 We have a full camping season in the books with this mod on our truck. So far it has worked out as well as I had hoped. When we get to our campsite, if we are going to dismount the camper and explore the area, I can unload and remove the box and the rack from the truck. This makes parking much easier. But, if we are staying in one spot then I leave it on the truck for waterproof storage that's lockable. The only downside – with campers like ours with a long overhang – is that our truck is not as maneuverable.
Materials Used:
Front receiver hitch – purchased from etrailer.com for $413.99
Toolbox – purchased from TankandBarrel.com for $476.84 + shipping
Front hitch rack – purchased from VanKams.com for $439.99
Buyers Plow Markers – purchased from etrailer.com $39.99
Miscellaneous hardware – Tractor Supply, around $50
The total cost for this project was much more than anticipated when the idea was put into motion. But, I wouldn't use cheaper materials due to the non-corrosion factor or everything being stainless or aluminum.
It took me about 12 hours to complete this modification and it cost me $1,420. In my opinion, the skill level of this modification is hard, only due to the ordering of specific pieces. The assembly only required basic hand tools.
Disclaimer: The modifications above are submitted by Truck Camper Magazine readers. It is your responsibility to make sure that any do-it-yourself modification project you undertake is safe, effective, and legal for your situation.
Enter Your Mods Now!
If you'd like to enter a modification you've done on your truck camper, click here. You can enter as many mods as you want, at any time.  Good luck mod makers!