Torklift International raises the bar in front truck hitch capacity and versatility with the all-new North Hitch. From bike racks to battery trays, spare tires to snowplows, and generators to winches, the Torklift North Hitch is set to become the new standard.
In nearly every conversation concerning why someone bought a truck camper is the concept of versatility. Maybe the actual word isn't uttered, but there is almost always something specific the owner wanted that only a truck and camper rig could satisfy. Every other RV type was either a non-starter, or too much of a compromise.
The most obvious example of this versatility is towing. A properly outfitted truck and camper is simply the best way to tow just about anything. Over the years we have seen just about everything towed behind a truck camper; 1963 Porsche 356 race cars, snowbank blasting Falcon GT Avalaunchers, competition-ready Civil War Parrot rifles, wind or outboard powered Macgregor 26M sailboats, dune defying Polaris RZR 900 side-by-sides… the list goes on.
No other company on Earth understands the towing aspect of truck camping better than Torklift International. Their SuperHitch line set the standard for truck camper hitch solutions and can be found under practically every truck camper overhang from Mystic, Connecticut to Burnt Ranch, California. If you tell a truck camper enthusiast you want to tow behind your truck camper, they're going to tell you about Torklift.
Funny enough, that hasn't been the case about front hitches. This is funny only because so many truck campers also utilize their front hitches to further push the versatility of their chosen RV category. It's no surprise to find a Yamaha SMAX scooter, Smittybuilt winch, or two Diamondback mountain bikes on the front of a truck camper
With an eye on redefining the front hitch category, Torklift International is launching the North Hitch. After studying the competition, reading the forums, and evaluating the specifications of the accessories truck campers haul in their front hitch, Torklift has designed, developed, prototyped, tested, and now launched an all-new design.
To find out more about the Torklift International North Hitch, we talked to Jack Kay, President of Torklift International, and Candice Kay, Senior Vice President of Sales and Marketing of Torklift International.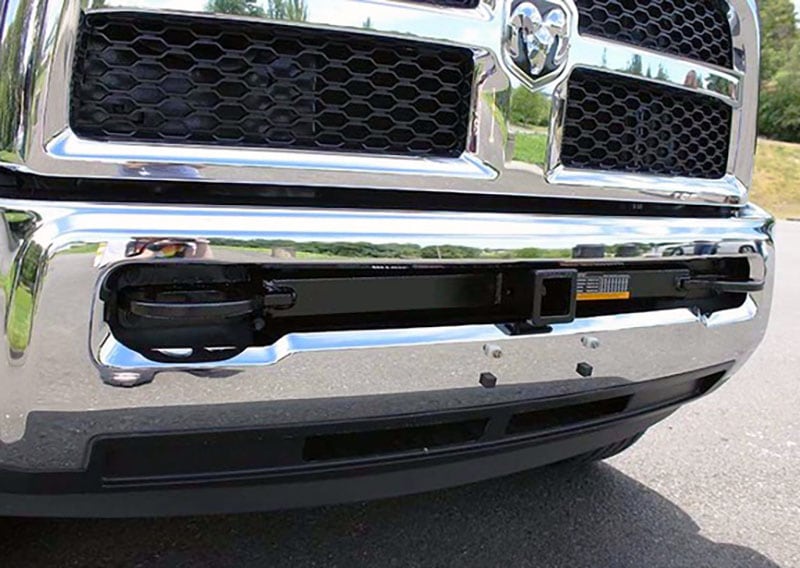 Above: Torklift North Hitch on a Ram truck; all photography provided by Torklift International
Before you get to the North Hitch, tell us why you thought a front hitch was a good new product opportunity for Torklift International?
Jack: We have long recognized that our truck camper customers are interested in front hitch products and have been working on the North Hitch in our product development meetings for some time.
Candice: The North Hitch has been designed, developed, and produced for Ford, Ram, and Chevy and GMC trucks. We believe it's going to be a very successful product for Torklift International.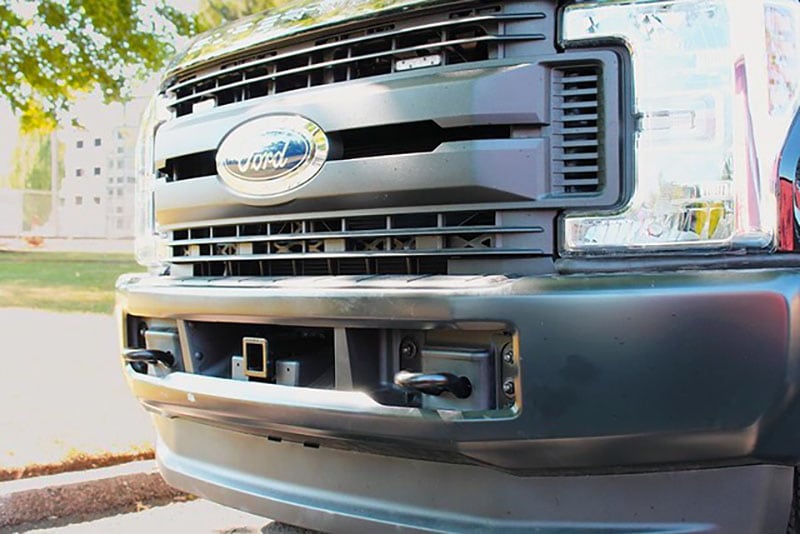 Above: Torklift North Hitch on a Ford truck
What does the Torklift North Hitch offer that front hitch competitors do not?
Jack: We started with the end-user in mind. What do they want? What do they need? Then we challenged our design and engineering team to develop the most usable and versatile front truck hitch on the market. We believe we have achieved that with the North Hitch.
Like most of our products, it's a no-drill application. The North Hitch also has our Legendary Lifetime Warranty. All of that adds up to a front hitch that's simply better designed, better built, and has a better warranty than the competition.
When we researched the front hitches on the market, we found products that hang way down or are recessed or positioned such that they are almost unusable. With these other alternative front hitches, you can't reach the receiver without an extension adaptor or without modifying your accessories. Technically these products are front hitches, but you can't really use them for anything.
For example, many truck camper owners want a front-mounted winch. If you look at the front receivers and hitches on many trucks, you can't install a winch without an adaptor. The same scenario plays out with many front hitch bike racks.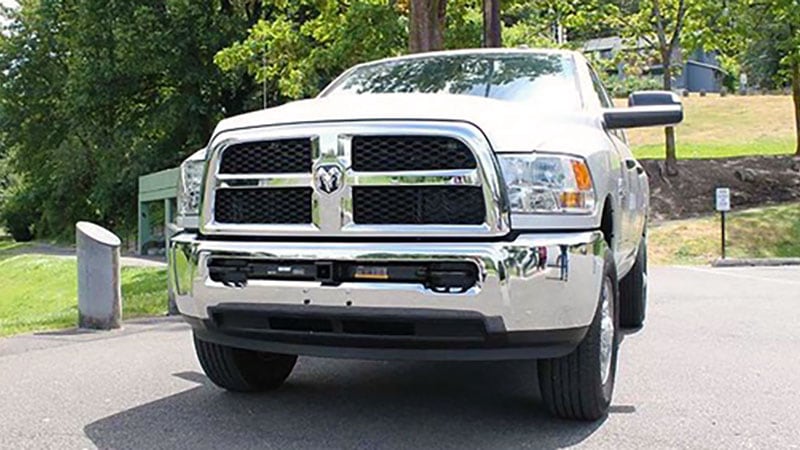 We believe a front hitch needs to be put on a vehicle where the opening of the receiver is located, not underneath that location. It should not be the lowest point on the front of the truck or possibly bottom out on the road.
From usability, versatility, accessibility, and ground clearance standpoints, the competing hitches leave a lot to be desired. The North Hitch instantly solves all of these challenges.
How was the North Hitch product developed? Tell us about that process.
Jack: We followed the same path of product development that we do for any of our Torklift products. We start by researching the market and the most popular trucks in that market.
We also read forums, user groups, and social media threads online. You can learn a lot about what customers like, dislike, and want in a product from these sources. We also talk to potential customers who are interested in that product category.
Then we source the vehicles and bring them to our Retail Product Development Center for measurements and test fittings. We may also bring in competing products and product accessories for evaluation and testing. In this example, we looked at a lot of hitch-mounted products like winch mounts and bike racks to ensure the best fitment and compatibility.
Typically, every vehicle brought into the Retail Product Development Center is there for five days. During that time, we work out the design, material analysis, and testing. Then our team releases the vehicle and develops the tooling for production. While that's happening, our office team works with engineering to document the product before it's announced.
In all, new product development is easily a $20,000 investment on a single hitch. That does not count the contributions from sales, marketing, and web development. It's an extensive process.
For the actual design, we use SolidWorks computer-aided design and physical prototyping. We use our five-axis water jet for a level of control beyond what laser cutting can provide. The water jet is extremely powerful during the design and prototyping process.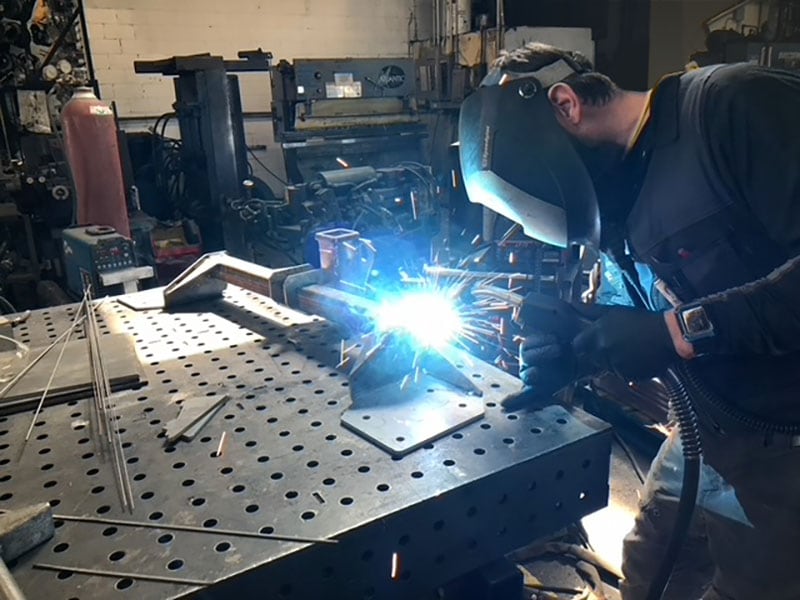 What is the North Hitch made from – aluminum or steel?
Jack: The North Hitch is manufactured using the same steel as our SuperHitch line. It needs to be steel because of the required capacities.
The North Hitch will be manufactured alongside the SuperHitch. We source our steel from mills and distributors in the United States and manufacture the North Hitch at Torklift International in Sumner, Washington.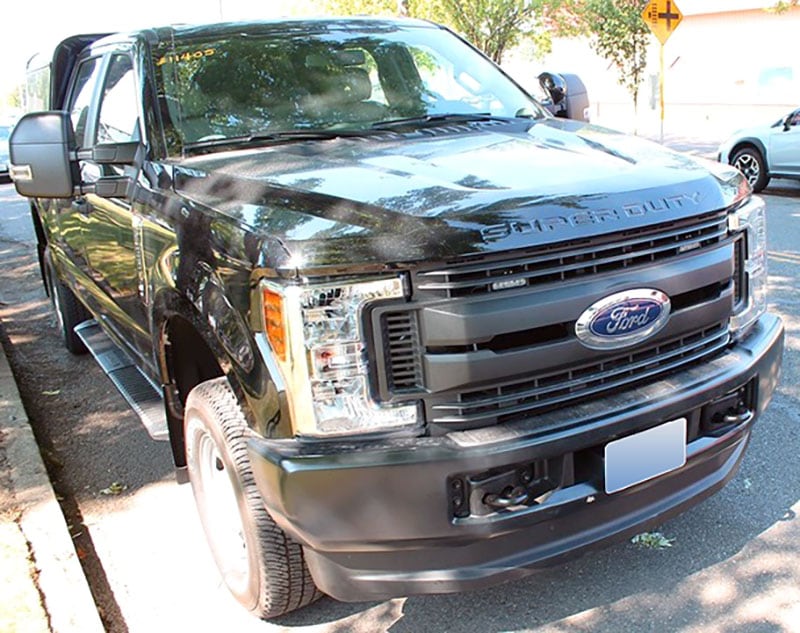 What year, make and model of trucks does North Hitch work with?
Candice: We have developed the North Hitch product for 2020 Ford, 2020 Ram, and 2020 Chevy trucks. They have been custom designed for each truck. Some applications go as far back as 2011.
For example, on the 2020 Ram trucks we ran the receiver through the factory opening in the front bumper. For the 2020 Ford trucks, the front hitch hides behind the license plate. After the North hitch is installed, the Ford trucks look completely stock.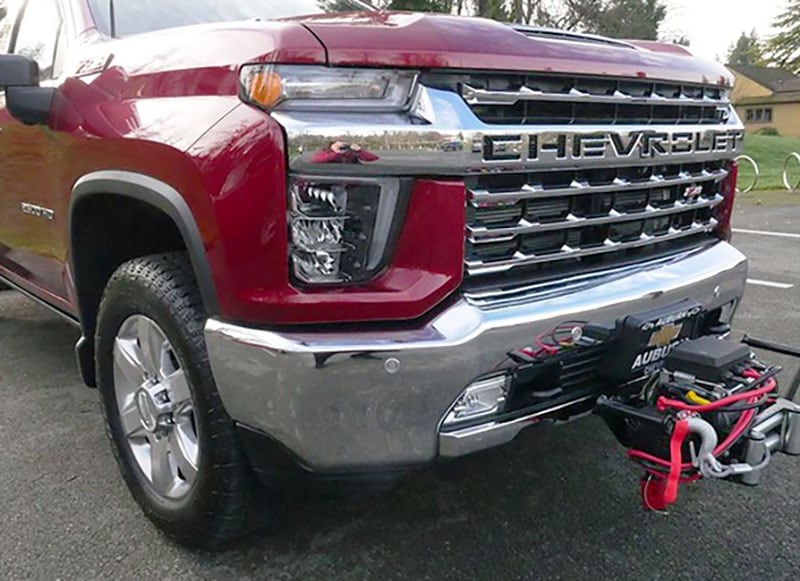 Are you concerned about blocking engine airflow when people mount bikes and other items using the North Hitch?
Jack: The way the North Hitch is designed, it does not impact factory airflow requirements. With so many of our customers hauling truck campers and towing, the last thing we want to do is restrict engine cooling.
How is the Front Hitch installed?
Jack: It's a simple installation that most customers should be able to do themselves. The North Hitch was designed as a no-drill installation. We use the existing holes and fasteners from the factory.
Does the Front Hitch add any length to the truck?
Jack: The North Hitch is not going to add any overall length to your truck or rig. It will not be a problem on a ferry boat or in your garage.
Above: The Torklift Lock And Load is compatible with with the North Hitch
Will you be creating accessories for the North Hitch? For example, bike carriers, battery trays, or generator boxes?
Candice: We know our customers will be using the North Hitch line for generators, cargo trays, and ball mounts for moving a boat. Those are all products that we are definitely looking at and we do have a cargo tray that already works with this front receiver hitch. Our Lock and Load generator tray for large generators and Lock and Load SideKick tray for smaller generators fits perfectly into the front tow hitch so you can leave your generator locked up while still being able to use it.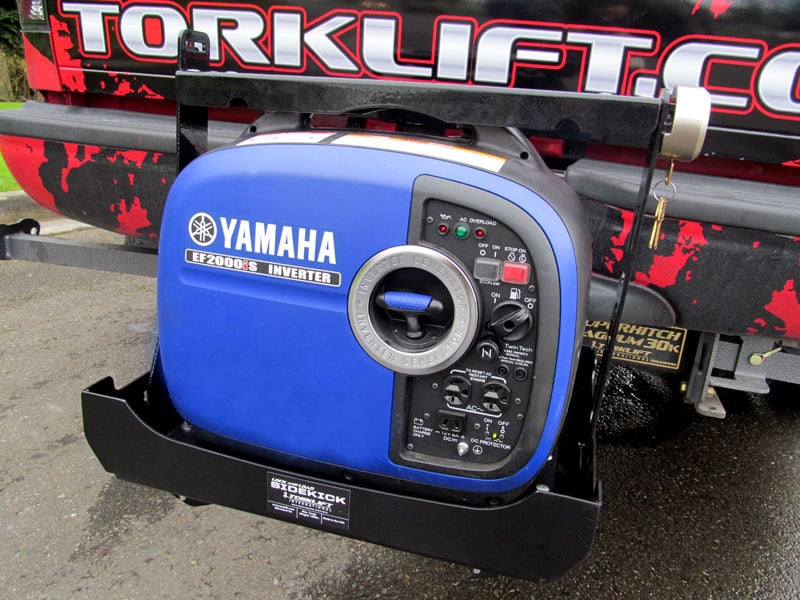 Above: Torklift Lock and Load SideKick generator tray is also compatible with the North Hitch
Before we develop those products, we made sure that our design worked with the hitch products our customers may already own. We don't want anyone to need an adaptor.
The way we designed it, a cargo tray or bike rack that works with a rear hitch will also work on a front North Hitch. With alternative hitch products you could need an adaptor.
How was the North Hitch tested?
Jack: We followed the same computer-aided testing, finite analysis, and physical testing that we utilized to develop our SuperHitch. The SuperHitch is the highest rated hitch for pickup trucks.
Like the SuperHitch, the front hitch complies with J684 standards. However, the North Hitch does not need a 30,000-pound capacity like the SuperHitch. Front hitches do not need that level of capacity.
We researched the most capacity customers are going to need for a front hitch. For an extreme, there are some snowplows that use the front receiver hitch. Then we studied truck capacities. From that information we draw up a reasonable capacity and add in a big safety factor.
What is the capacity of the North Hitch?
Jack: The straight-line pull rating is 10,000-pounds. The vertical load capacity is up to 1,000-pounds.
What does the North Hitch weigh?
Jack: About 60 to 70-pounds depending on the year, make, and model of the truck.
What is the MSRP for the North Hitch?
Candice: That too varies with the truck year, make, and model, but they start at $299.99.
Does the North Hitch come with Torklift International's Lifetime Warranty?
Jack: Yes, it does. We call it our Legendary Lifetime Warranty.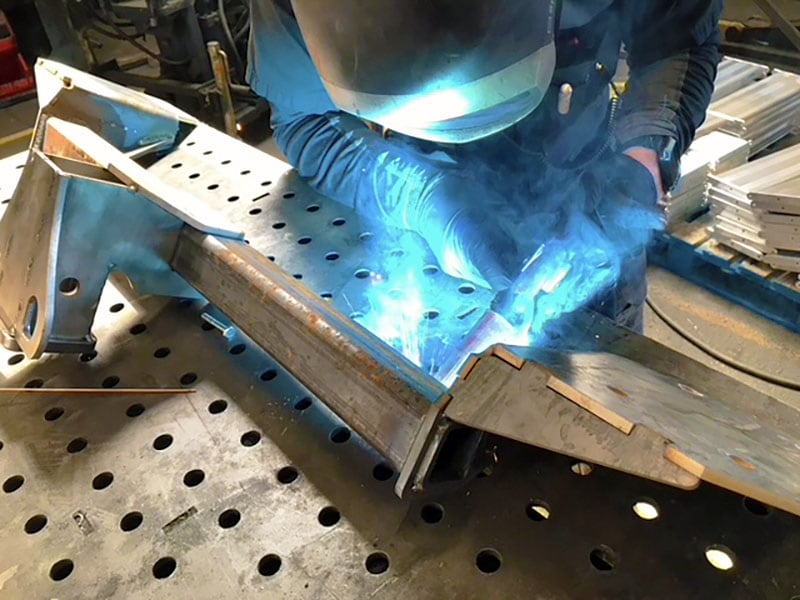 How are you so confident about the quality of your products that you're comfortable offering a lifetime warranty with your products?
Jack: Since we use the best made in the USA materials and make everything in-house in Washington state to the highest standards, we are confident in our products. We also design and build a significant safety factor into everything we sell.
We want our customers to be happy ten, twenty, or even thirty years down the road. We're not in this for the short term. We stand for the longevity of our products, which is why they all have lifetime warranties. That's just one reason why, after 45-years in business, Torklift International will be around for another 45-years.
When will the North Hitch be available?
Candice: The Torklift International North Hitch is available now for pre-sale on torkliftcentral.com. It's also available through Torklift dealers.
Are there any additional new Torklift product announcements planned for 2020?
Candice: Yes, we are developing a new suspension product. This is going to be a game-changer for the truck camper market and we're very excited to announce it later this year.
Jack: Look for that news right here in Truck Camper Magazine. There are several other exciting products we're working on, but we're not ready to talk about them yet.
Is everyone at Torklift International healthy and safe?
Jack: We are very happy to say that nobody at Torklift International, or in their households, has had coronavirus. We're blessed.
Everything we do here was developed to cultivate our team and give them personal and professional growth opportunities. Health and safety ties directly into that philosophy. If we don't have that, we can't help our team to shine and grow.
What have you done to adapt the Torklift International facility and work practices to keep your employees safe?
Jack: The CDC says to stay 6-feet apart, so we made sure our team is at least 10-feet apart. A lot of people at Torklift are working from home.
The CDC says people should wear face masks. We made it mandatory. We have also been staggering shifts and routinely wiping everything down.
Coffee pots and water coolers are out of use. Communal eating areas are cleaned regularly. All of these practices started at Torklift before they were required.
Another strategy we developed is putting toddler-sized socks on equipment handles and doorknobs and continuously soaking them in a water and bleach solution. It's currently a team member's full-time job to keep those socks wet with this virus-killing solution. Anyone who touches these socks will not spread anything.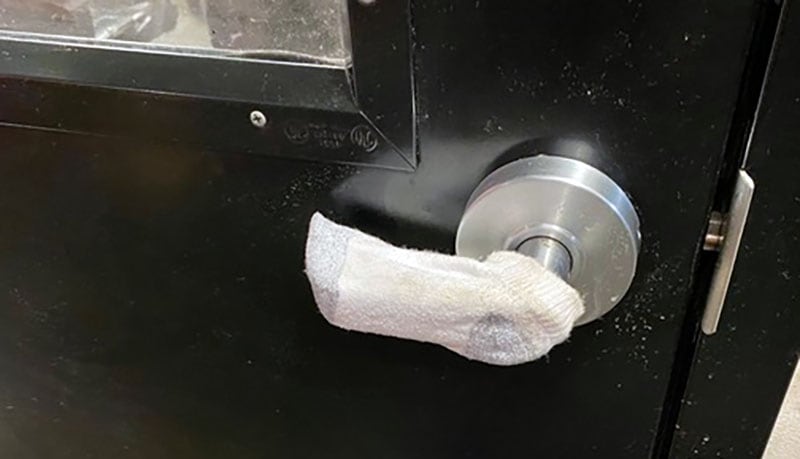 Above: Throughout Torklift's factory, toddler-sized socks are on equipment handles and doorknobs and continuously soaked in a water and bleach solution
We had N95 masks here at our facility, so we were able to donate them to local hospitals. Some of the hotels here in Washington are now coronavirus facilities. They also needed personal protection equipment. We are very thankful for the health care workers on the front line.
Has Torklift International been able to stay open during Covid-19?
Jack: We did not shut down. Our retail product development center works on police, fire, and energy-related power company vehicles for the city and county. Our products are also used in search and rescue vehicles. We are servicing multiple essential industries.
The local military base is policing businesses that are staying open. They gave us a bunch of passes with a bar code for our employees who travel back and forth to work. In the event they get stopped, they have passes.
Were you able to take advantage of the Paycheck Protection Program (PPP)?
Jack: We are maximizing opportunities to move forward without debt. We had money set aside for a rainy day. We also have a strong relationship with our bank.
Some of the dealers have expressed concerns about getting products from the manufacturers once the stay-at-home orders are lifted. Any insights into that concern?
Jack: That could happen for parts coming from overseas. Because we 100-percent source our materials in the United States and manufacture 100-percent in the United States, that is not a problem for Torklift International.
We have stayed open and continued to manufacture products as an essential business. We have product inventory if anyone needs it. If you have trouble getting Torklift products, please call us.
I will say that it's been very tough for the RV dealers here in Washington state. It was previously against the law up until just a few days ago for an RV dealer to sell an RV unless they can prove it's coronavirus related. With the northwest being one of the largest truck camper markets in the country, that's been a big challenge.
Tell us about the virtual truck camper rally that Torklift is working on.
Candice: The final details are still being worked out, but the rally will be in August. It's a unique way to bring our community together right now. Maybe we can't physically gather, but we can still connect and learn from each other.
What are your thoughts on the coronavirus situation and where this is going?
Jack: For Torklift International, our goal continues to be focusing on new product development whether the economy is rocking and rolling or not. We're developing new and exciting products to make our customers' lives better. That's what we do. We are also making the decision to move away from how things were and embrace where things are.
Torklift International started during the oil embargo of the early 1970s. As hitch shops were going bankrupt, we made auxiliary fuel tanks and took our business to a whole new level. Ever since, we have taken advantage of every single downturn with innovations and new products.
I want to caution people not to wait for the game to go back the way it was. That ended six weeks ago. The sooner we get that, the better. We need to stop telling people things are going back to normal once we remove the stay at home orders. That's not going to happen.
How individuals and businesses adjust to meet the new rules of the game will determine who succeeds and who fails. The companies that don't adapt to the new environment risk becoming extinct. People and companies that solve challenges and adapt at light speed are going to be on top.
I'm making absolutely sure our people see the full reality of the economy and how it will impact them personally and professionally. Our team needs to understand the challenges we face. I tell them, "Every challenge is an opportunity looking for a hero".
The only thing that's really changed is the opportunities that existed six weeks ago have expired. Now there's a slew of new opportunities waiting to be discovered and unlocked. Instead of getting depressed, recognize it, embrace it and adapt. The world is ripe for new heroes to rise up.
For more information about hitches that Torklift International manufactures, visit their website at torklift.com.  Click here to request a free Torklift brochure.