Torklift International has been on a roll lately with a torrent of new products including Lance Campers's Ultra Deck Plus bumper, Palomino RV's Landing Pad Bumper, the SafeStep, DirtDestroyer, and SuperHitch Hero.  When they told us they would have new product announcements in 2014, we can't say we were surprised.
The latest Torklift International announcement is the Lock and Load.  In a nutshell, the product is a receiver hitch cargo tray that incorporates an adjustable security strap.  The primary function is for carrying portable generators, but it can be used for much more.
To give us the low down on the Lock and Load, we talked to Jay Taylor, General Manager, and Jack Kay, President at Torklift International.
Above: An animated video of how the Torklift Lock and Load works
TCM: What is the Torklift Lock and Load?
Jay: The Torklift International Lock and Load is a maximum security cargo tray designed to keep generators, compressors, tool boxes, plasma cutters, pressure washers, and whatever else you need to take with you safe and secure.
The idea for the Torklift Lock and Load came from customers having problems hauling around portable generators.  They wanted to keep their generators secure when they were away from their campers.
Before Lock and Load these customers had to store their expensive generators inside their camper or truck.  People don't want to keep a generator in the interior of their camper or truck because of odors, fumes, and mess.  Generators also take up a great deal of limited storage space.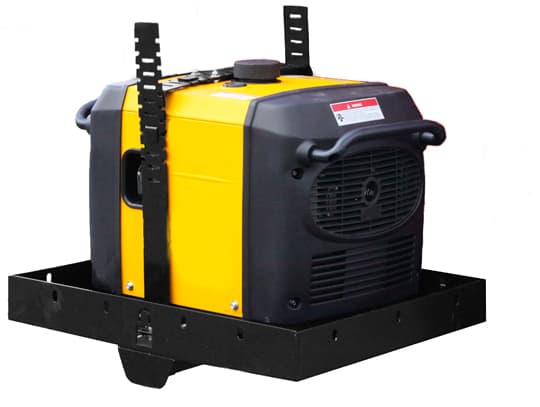 Above: The Torklift Lock and Load
With the Lock and Load, now they can keep their generator securely mounted on the front or rear of their rig.  The Lock and Load design was specifically designed to allow them to run their generator in place; you do not need to remove the generator from the Lock and Load tray to use it.  For generators, the Lock and Load straps can also cover gas caps, so there is no way for people to siphon gas.
The Lock and Load is easy to install and can be used with any 2" by 2" front or rear receiver.  It features a wide cargo space of 28" by 23" and is large enough to accommodate two 2000 watt generators side-by-side.  The straps are adjustable allowing for many configurations.  The Lock and Load is powder coated and comes with Torklift International's legendary lifetime warranty.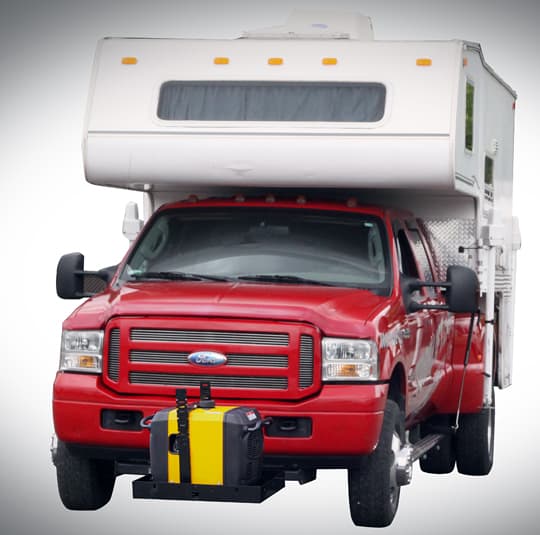 Above: The Torklift Lock and Load can be used on the front or rear receiver hitch
TCM: Tell us about the installation and required maintenance for the Lock and Load.
Jay: Installation of the Lock and Load is simple.  Put it in the receiver, lock in the hitch pin, and you're good to go.  Maintenance is also simple.  Just wash it down and keep it clean.  The Lock and Load's high-impact powder coat is done in-house here at Torklift International.
What customers like about the Lock and Load is its versatility.  It can be used with so many different applications.  Beyond the obvious applications for an RV owner, a construction worker, roofer, or landscaper could use it as well.
TCM: What about protecting generators and other equipment from road debris and weather?
Jack: When we tested the Lock and Load, we wanted to make sure that it could be used in conjunction with the factory generator covers.  Most generators have covers available from the factory.  The Lock and Load is designed to work with most of these generator covers.  Just put the cover on the generator before you install the security strap.  That will help keep out road debris and water intrusion.