Welcome to the sixth entry in September's Medium Mod Contest.  One Medium Mod will be published in every Email Alert in September.  At the end of the month, we'll hold a reader vote to determine September's winner.  Click here for information about the 2022 Mod Contest, including how to enter.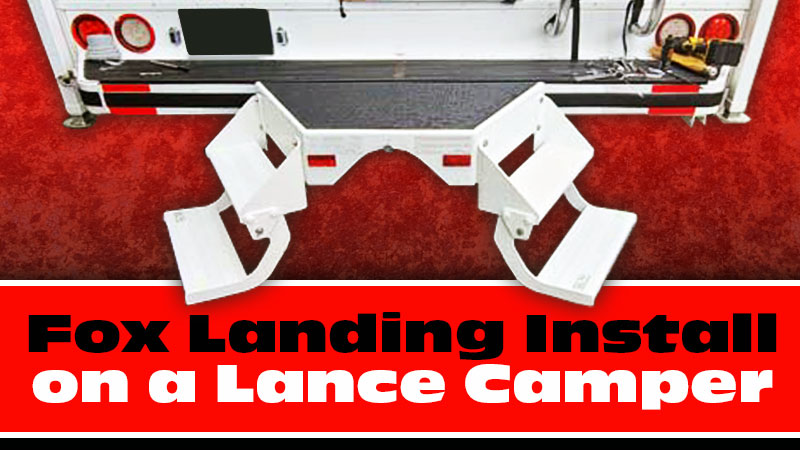 Bill Andreychuk, Bellevue, Washington
Fox Landing Installation on a Lance 855S
2021 Ford F-350
2021 Lance 855S
With this modification, I wanted to improve access to my camper's back door entry from either side of the hitch when towing or unhooked. I had access to an Arctic Fox camper with Torklift's Fox Landing step system installed. I measured it up and replicated the installation on my Lance 855S.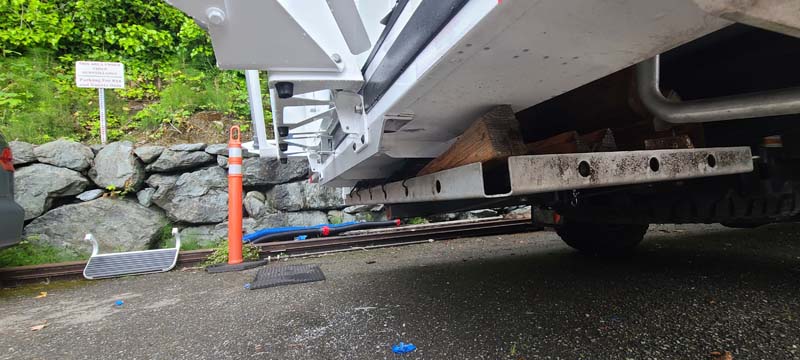 I added support to my Lance 855S bumper by adding 2-inch by 2-inch by 1/4-inch aluminum angle to the bottom of the bumper. The Lance bumper is not as deep as the Arctic Fox bumper and required additional material to allow the lower Fox Landing attachment holes to attach.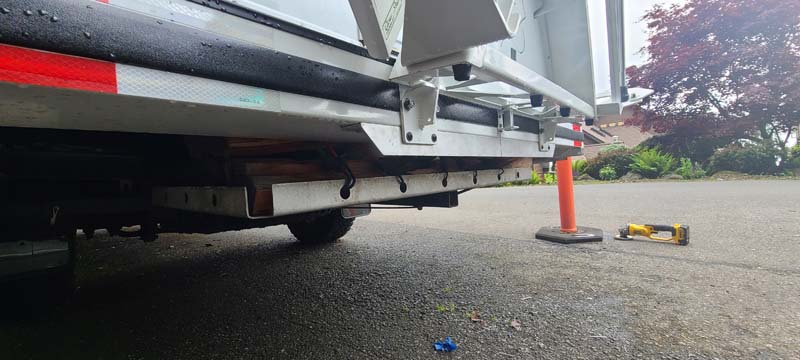 Then I used a 4-foot piece of 3/16-inch by 5-inch flat plate inside the Lance OEM bumper for more support. The resulting assembly is solid for most applications.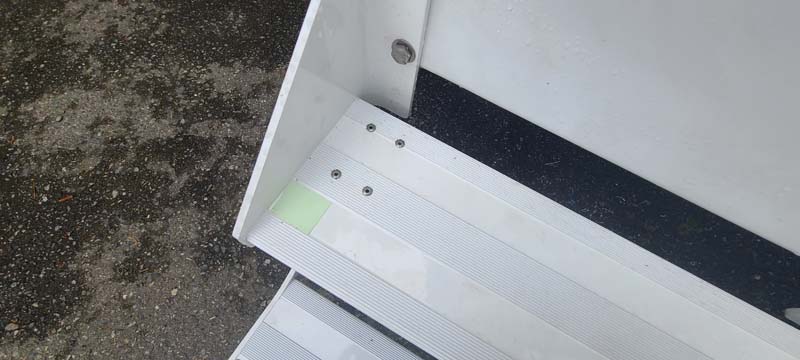 I wanted a completely rigid deck and step install. I had started to make adjustable support rods. Cleaning up my closet, I found crutches and realized they were perfect.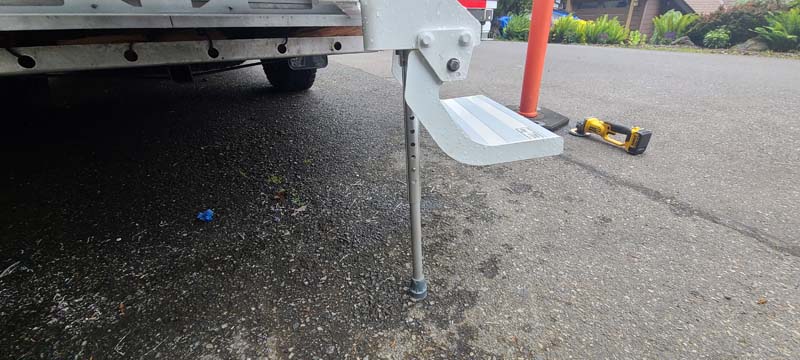 They are lightweight, fully adjustable and strong. I removed the lower sections and attached the crutches with angle material.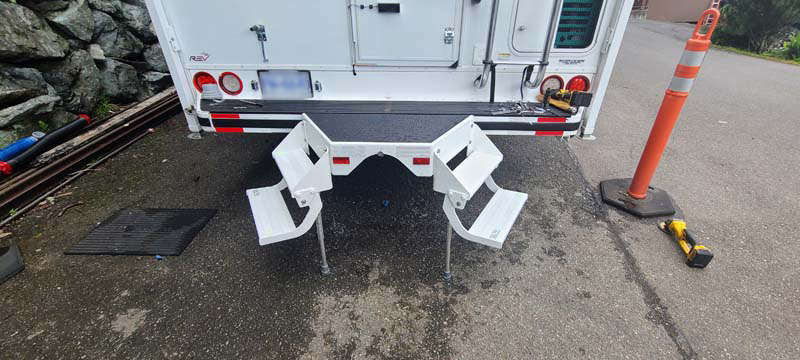 The leftover crutch parts that I had in my closet made the deck and step completely rigid. There is no flex at all.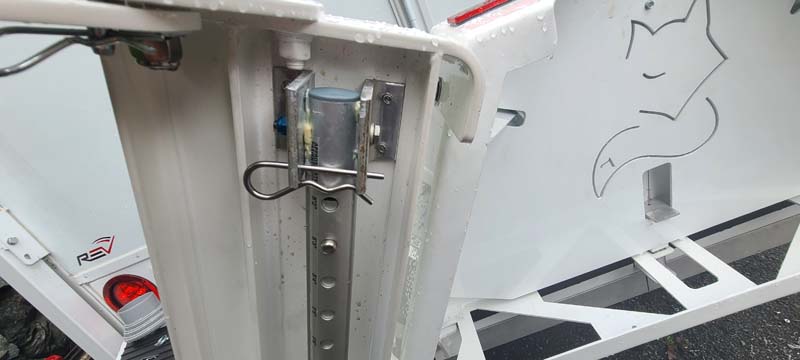 The crutches also have quick hitch clips.  There is an easy adjustment for height.   When we're traveling, safety clips keep it stowed.
This mod has worked out perfectly.  My daughter used the setup recently and praised the additional deck space and dual-step install.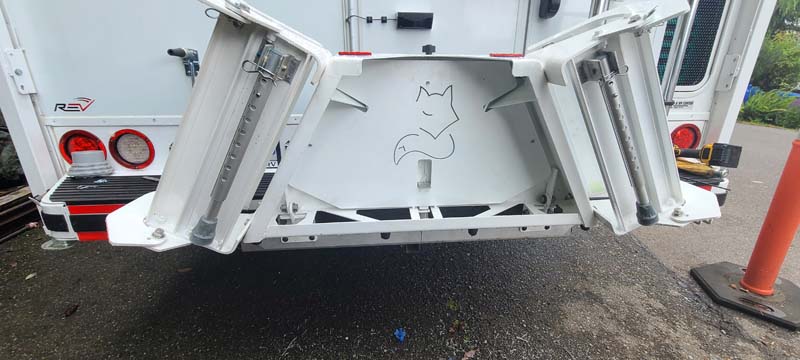 Materials Needed:
Torklift Fox Landing Step System
Aluminum angle – 2-inch by 2-inch by 0.25-inch, 4-foot length
Steel flat bar – 5-inch wide by 3/16-inch, 4-foot length
Stainless 3/8-inch bolts and associated washers and nuts
3/16-inch stainless rivets
Lower section of a set of crutches
2-inch by 2-inch aluminum angle for mounting to the steps
3/16-inch bolts attach the crutches to the angle attached to the step
1/8-inch safety pins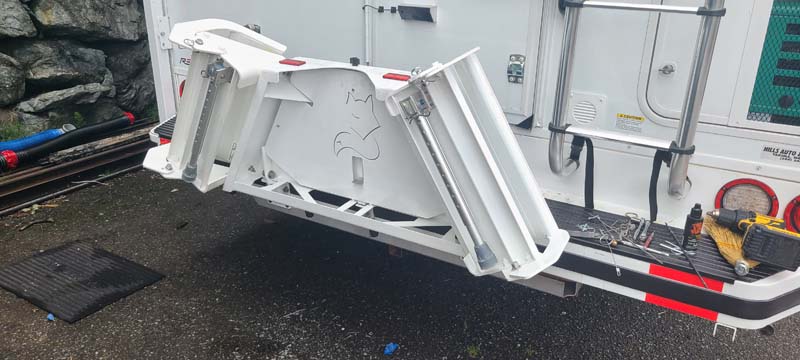 It took me 10 hours to complete this modification.  I bought the step directly from Torklift for $1,000.  The hardware and materials were on hand.  I estimate those parts would be about $100.  In my opinion, the skill level of this modification is medium.
Disclaimer: The modifications above are submitted by Truck Camper Magazine readers. It is your responsibility to make sure that any do-it-yourself modification project you undertake is safe, effective, and legal for your situation.
Enter Your Mods Now!
If you'd like to enter a modification you've done on your truck camper, click here. You can enter as many mods as you want, at any time.  Good luck mod makers!