Welcome to the fourth entry in November's Mega Mod-Ster Contest.  One Mega Mod will be published in every Email Alert in November.  At the end of the month we'll hold a reader vote to determine November's winner.  For information about the Mod-Ster Contest, including how to enter, click here.
Tony Shelton, Las Vegas, Nevada
Dinette Deleted and Recliners Installed
2005 Ford F350
2008 Arctic Fox 990
My wife and I have spent many months administrating our business from the road. We've used the check deposit machine in the back seat of a car, and written power point presentations in an 18-foot travel trailer.
With the plan to sell our home and semi-retire soon, we needed space to both relax in the evenings and do business during the day. Our plan is to spend at least a few years living full-time on the road to clear our heads from years of hustle and bustle.
This idea came from looking at the old Snowriver recliner setups, and from a gentlemen we saw in Truck Camper Magazine (Charlie Coushaine) who had built a platform over his dinette and installed swiveling floor recliners. However, my wife and I are both tall, and it didn't seem like the floor recliners would work out as well for us.
We ended up with two regular sized (slim) recliners, and a work/eating table with more square inches of usable space than the dinette originally had. We have used this setup for a few months and it works great.
As an added bonus, now the dinette is not in the way of the door and we can get in and out on short stops with ease. We don't even have to take out the slide-out when stealth camping.
Hold on to your hats, this might sound rough starting off, but it turns out well.
We started by completely removing the dinette and discarding the furnace that takes up a lot of space under it. This left us with a blank canvas. I'll get back to the furnace issue later.
Once the furnace was removed, the wiring from it had to be dealt with. I built a very small platform using 2x4s to raise our new dinette floor up a few inches over the wiring.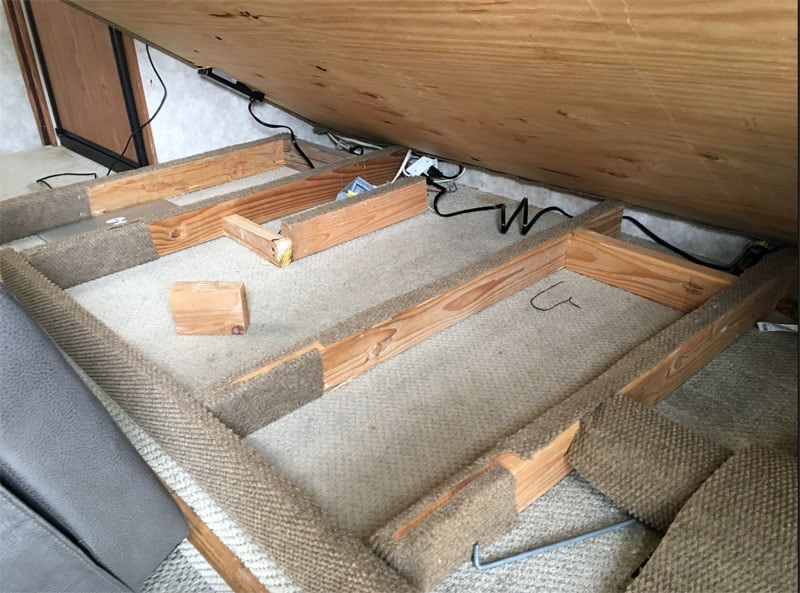 There were two reasons for this. First, I knew I would be tapping into that wiring later. Second, I wanted to make up for some of the storage space we lost under the dinette.
You would be surprised how much stuff you can fit in a space 3.5-inches tall the length of a dinette. We measured in advance and knew that at extra few inches was not going to make us hit our heads.
After putting down the 2x4s, and layering a thin line of carpeting on the edges to ensure there were no squeaks, we cut a 5/8-inch piece of plywood to fit the former dinette space. We angled off the corners so there were no sharp edges for us to bang against moving around the camper.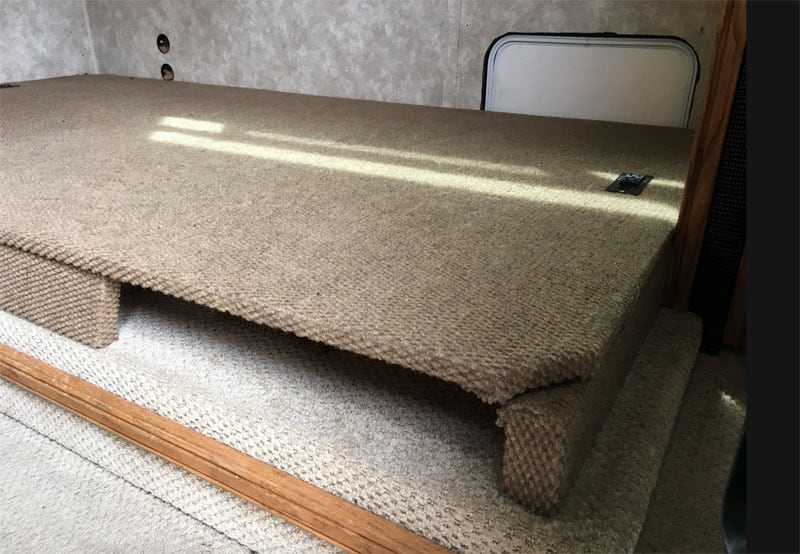 When making the frame we intentionally left the entire front open to make easy access for storing shoes, pots, pans, or other items. However, I wasn't fully convinced that the plywood would be strong enough if we left the entire front open between the 2x4s. So I cut a 1×4, carpeted it to match. It's a snap to pull it out to reach items under the platform. It also brings more structural integrity to the whole setup.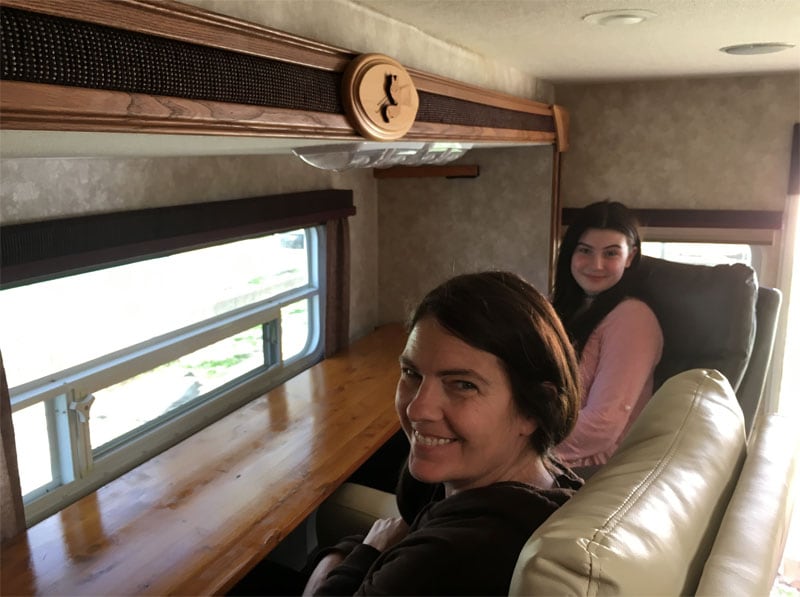 Once the platform was built, we made a desk or table out of a 1×12 that goes the entire length of the dinette space. We made sliding supports at table height as well as a second set of sliding supports that go about 2-inches under the top of the slide-out.
This allows is to put the table away during travel or turn around the other way and watch television. Velcro on the supports and the edge of the table ensures it stays put during travel.
Once that was all done we needed to decide exactly which recliners we wanted.
We chose the Monarch recliners. They had decent reviews and were not overly heavy.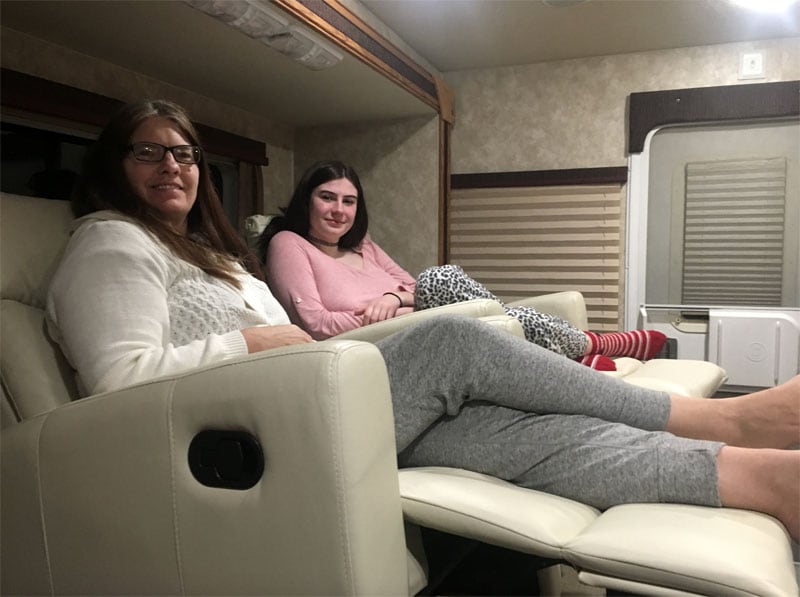 We used an online furniture placement tool and took careful measurements to ensure that they would fit and be able to turn and recline. We originally ordered them both in the same cream color, but we had to send one of them back because Amazon accidentally sent a brown one. I liked the texture of the cream one better, so we kept it like that – his and hers.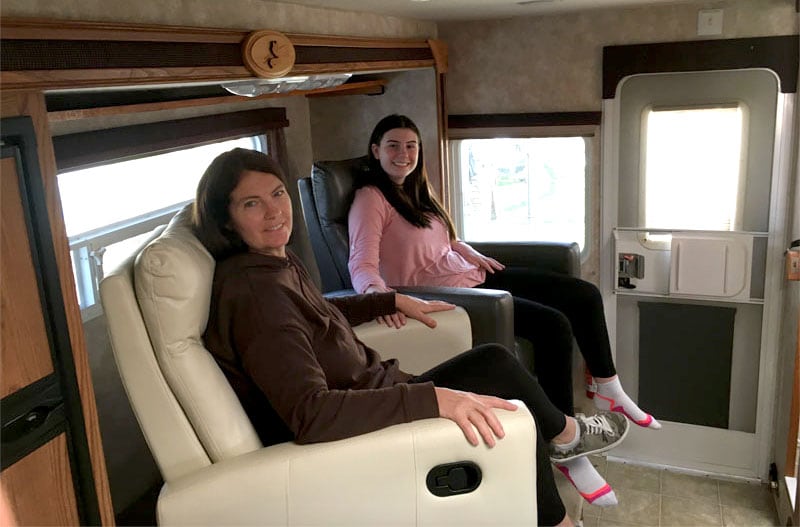 As a work station area we needed outlets. I bought some outlets with additional USB charge slots and mounted them on both sides of the floor. I do not have pictures showing the outlets, but they are powered from a small inverter mounted under the platform that gets its power from the former furnace wiring.
Lastly we had to deal with the loss of the furnace. We replaced it with a ProCom blue flame heater mounted directly to the front of the oven using a pin to keep the oven shut when we're not using it. I just removed the oven's handle, mounted the heater on the oven, and drilled a hole for a pin to keep it shut when it's not in use.
We don't miss the loud factory furnace. It was rarely used because we don't spend time in cold places. The ProCom heats up very well – almost too well – and looks a little like a small fireplace as a bonus. The heater also overhangs the front of the stove just enough for us to leave our shoes under it, which is convenient.
The modifications have revolutionized work on the road for us. Getting in and out of the camper is so much easier on short stops. When we are ready to hit the road we just turn the recliners sideways, throw some pillows from the bed behind and between them, and close the slide.
It literally takes longer for the slide to go out than to get the recliners ready for travel. They do not move at all during driving. When we stop, we pull out the pillows, throw them on the bed and pull the recliners out to the spots we marked on the carpet for them to sit.
In order to recline in both directions the chairs need to sit about 2 to 3-inches off the edge of the platform. If you don't want to recline toward the window, that won't matter. So we place the chairs a few inches off the edge of the platform and they remain secure there, even fully reclined. I could have made the platform another 2 to 3-inches deeper, but I didn't want to lose that walking space when stealth camping (slide-out in).
We really enjoy working and eating at this table. It allows frequent moments of kicking back in the chair and daydreaming out the window to clear our heads, yet gives us plenty of table/desk space to work. This is a very comfortable setup for anyone who wants to relax or work.
It took me three hours to complete this modification and cost me $800 including recliners, heater, inverter and all parts.  In my opinion, the skill level of this modification is easy.
Disclaimer: The modifications above are submitted by Truck Camper Magazine readers. It is your responsibility to make sure that any do-it-yourself modification project you undertake is safe, effective, and legal for your situation.
Enter Your Mods Now!
If you'd like to enter a modification you've done on your truck camper, click here. You can enter as many mods as you want, at any time.  Good luck mod makers!