Welcome to the sixth entry in July's Mini Mod Contest.  One Mini Mod will be published in every Email Alert in July.  At the end of the month, we'll hold a reader vote to determine July's winner.  Click here for information about the 2021 Mod Contest, including how to enter.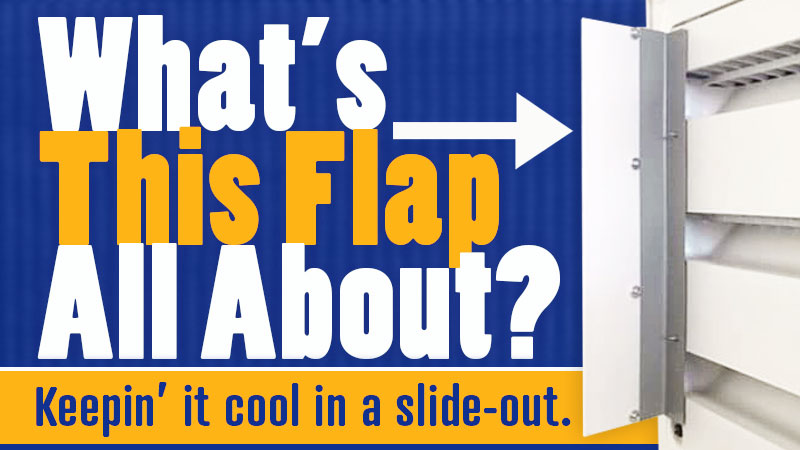 Mike Shippy, Parker, Colorado
Cooling Solution For Slide-Out Refrigerators
2016 Ram 3500
2017 Adventurer 89RBS
My slide-out installed fridge gradually warms up going down the road.  I found out that this is a common problem for refrigerators installed in slide-out truck campers.  The longer the drive, the warmer it got.  The outside temperature was not a factor because the refrigerator worked just fine sitting still.  I tried the usual mods.
Initially, I thought the flame was blowing out, so I installed an inverter to power the fridge with 110-volt.  Then I installed outside fans; six 12-volt low current fans; two at the top, two in the middle, and two at the bottom.
I also installed an internal 3-fan set.  Next, I installed a baffle like the one from the Refrigerator and Freezer Tunnel Cooling mod in TCM.
The mods described above helped but did not solve the problem.  Knowing that there must have been some kind of air circulation issue I thought, "How about a deflector that will cause negative pressure behind it to suck the air out?"
I used stuff I had sitting around to build the deflector.  I started out using 2-inch roof flashing, cut the length down so that it fit the height of the outside fridge vent cover.  I didn't think it was tall enough so I added a strip of vinyl I had from 2-inch window blinds to make the deflector 3-inches high.  These were joined with pop-rivets.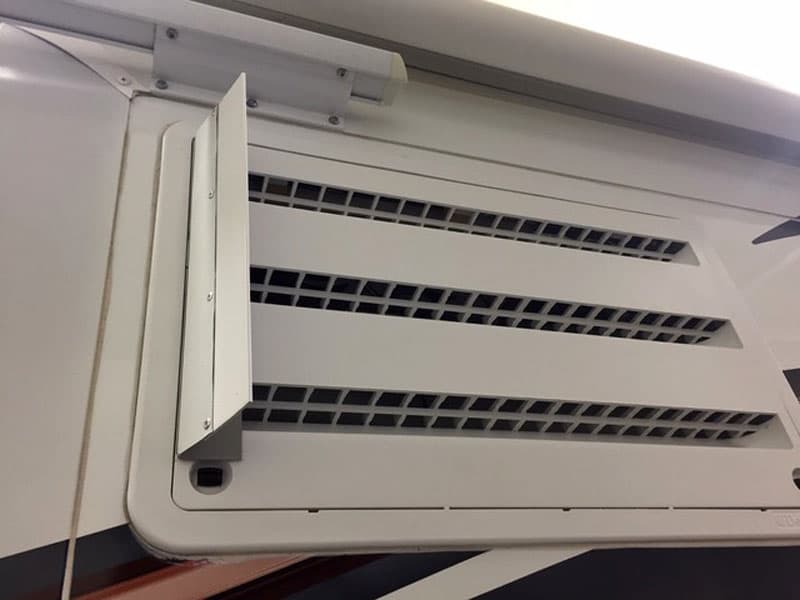 I bent the flashing to a 60-degree angle.  Then, I attached the deflector to the fridge vent cover with 3M Automotive Acrylic Plus Attachment Tape.  You can buy the tape at any automotive parts store.  This is the foam adhesive that is used to attach door and body protective bumpers to cars and trucks.  You could probably not use the adhesive tape to attach this, but I wanted to be sure it would not fly off.
I also used four screws and washers on the inside of the vent cover to attach it.  I fabricated this on the fly.  If I were to do it again or if I replace it, I would probably find one piece of flashing that was widened long enough to duplicate what I did.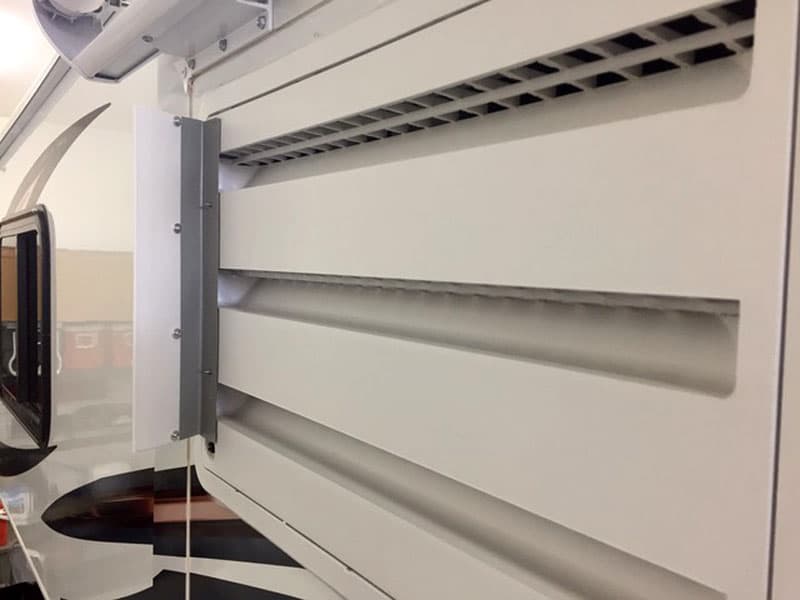 Finally, I found a solution.   This modification completely fixed the problem of my refrigerator slowly warming up going down the road.  It works great in hot weather, too.  Now it slightly goes down in temperature when we first start out.
All of the materials used were just sitting around.  I used galvanized flashing for a one-piece deflector, which is available at Lowes and costs a few dollars.  I also used 3M Automotive Acrylic Plus Attachment Tape 7/8-inch by 15-feet and 1/8-inch pop rivets.
It took me two hours to complete this modification and cost nothing for me because I already had the parts.  In my opinion, the skill level of this modification is easy.
Disclaimer: The modifications above are submitted by Truck Camper Magazine readers. It is your responsibility to make sure that any do-it-yourself modification project you undertake is safe, effective, and legal for your situation.
Enter Your Mods Now!
If you'd like to enter a modification you've done on your truck camper, click here. You can enter as many mods as you want, at any time.  Good luck mod makers!