Welcome to the fourth entry in March's Medium Mod Contest.  One Medium Mod will be published in every Email Alert in March.  At the end of the month, we'll hold a reader vote to determine March's winner.  Click here for information about the 2023 Mod Contest, including how to enter.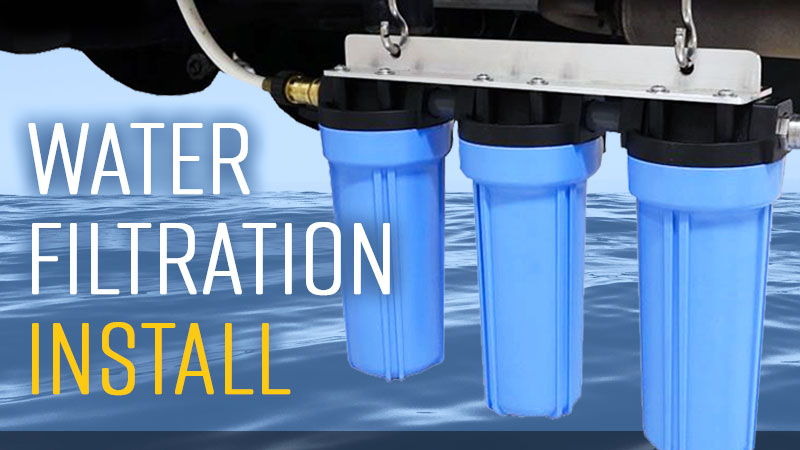 Charles Coushaine, Punta Gorda, Florida
Water Filtration Installation
2022 Ford F-550
2012 Chalet DS116RB
In preparation for our trip to Baja, Mexico with our truck camper, we installed two water filtration devices to make the water drinkable and safe. The first part of the installation was this Clearsource Ultra RV Water Filter System that uses three consecutive filters to thoroughly clean any water that enters our RV. The second part will be in an upcoming TCM mod contest.
Our goal for the trip was to make any water entering our RV safe to drink so that we do not need to carry bottled water ever again. The system must protect the entire camper water system, be easy to use, and be flow-through allowing unlimited use. I did not want a batch process like stand-alone pitchers (Brita, Berky, etc).
After extensive research for RV water filter systems, I found the Clearsource Ultra which uses three different filters to clean the water and allow flow through so that we can use city water at the campground or fill our fresh water tank.
Above: Removing filters from the bracket
The three-filter system comes contained in a very heavy metal cage designed to be set on the ground. It weighed 27 pounds which was way too heavy for me. This weight was without any water in it.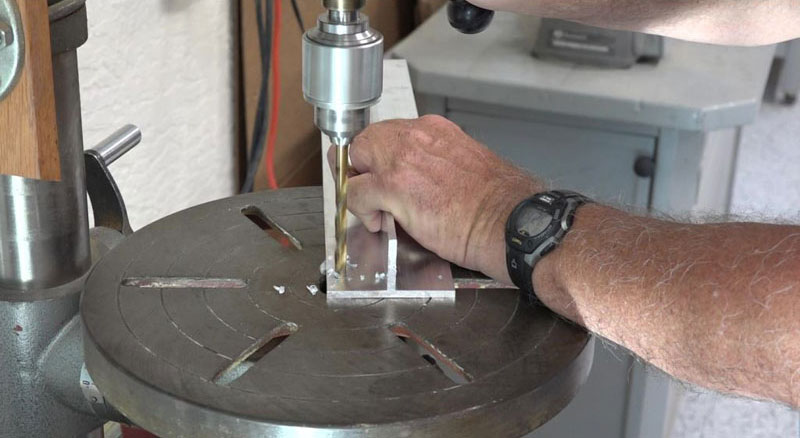 Above: Drilling holes in the T-Bracket
I removed the heavy outer metal cage and fashioned a very light aluminum T-bar to replace it with a couple of hanging holes.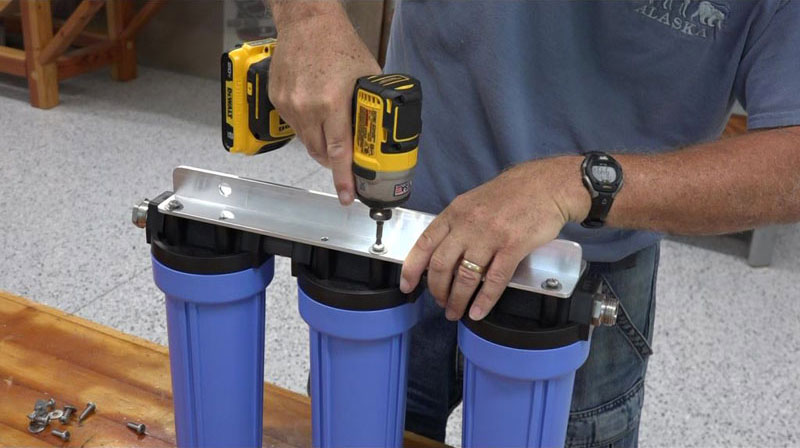 Above: Attaching T-bracket to the filters
I then carefully drilled and installed two stainless steel hooks under the rear overhang of my camper to support the filters off the ground. This also allowed easy hook-up to the incoming water line for my camper (#4 in this mod contest, also shown in the video below).
To store the filters during travel, I added an additional two hooks in the back rear compartment in the ceiling.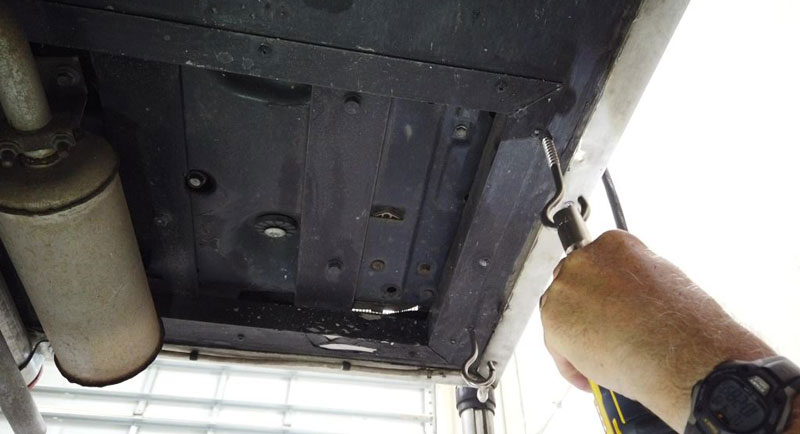 Above: Hooks under the back of the camper
This allows the filters to travel safely and for easy removal (hooks to hooks) for use. I then added some lead-free drinking water-safe brass quick-connects to allow for fast hookup to the camper when needed.
This mod has worked out great! The use of hooks to store and use the system makes deploying it when needed very fast and easy. This also allows for very easy filter replacement. I also chose to hang it outside my camper so that any water drips or spillage just falls on the ground and keeps the unit clean and out of the dirt.
I consider this mod essential for traveling anywhere, especially to Mexico where the water is questionable. Although this filter is not inexpensive, the safety of my family's health is paramount while traveling.
Materials Needed:
Clearsource Ultra™ RV Water System with Virusguard™ Protection
Clearsource Ultra System Replacement Filter Three Pack with Virusguard
Multipurpose 6061 Aluminum T-Bar, 0.188" Wall Thickness, 1-1/2″ High x 3″ Wide, 2 Feet Long
Gorilla Easy Quick Connect Fittings. ¾-inch GHT (Lead Free Locking Solid Brass, 4 Sets)
304 Stainless Steel Screw-in Hooks (4 pcs +1 pcs 1/4″ hex Shank Wing nut Driver)
It took me three hours to complete this modification and cost me $575.  In my opinion, the skill level of this modification is medium.
Disclaimer: The modifications above are submitted by Truck Camper Magazine readers. It is your responsibility to make sure that any do-it-yourself modification project you undertake is safe, effective, and legal for your situation.
Enter Your Mods Now!
If you'd like to enter a modification you've done on your truck camper, click here. You can enter as many mods as you want, at any time.  Good luck mod makers!