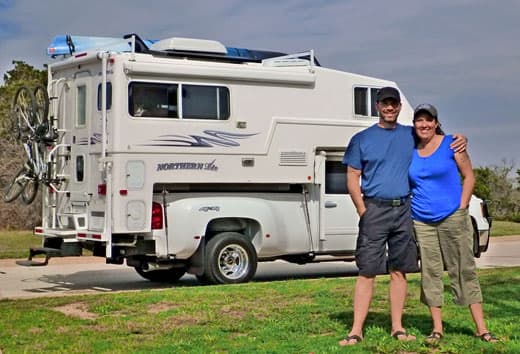 In 2011, we chose the GMC HD 3500.  We bought it new because we got the latest improvements, a new truck warranty, and new truck reliability.  When you purchase a new truck, you know the truck's history and avoid repairs for many years.
We paid very close attention to payload numbers and the weight of our camper.  We included the wet weight, options, and our stuff in our calculations.  Our truck also has an extended cab that provides a lot of extra storage.  We use that a lot.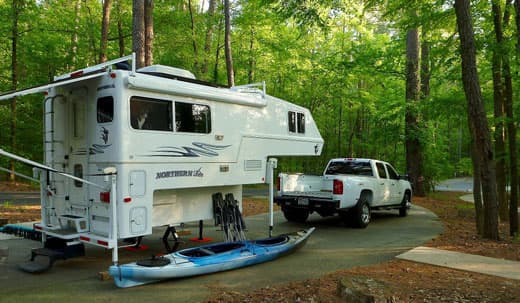 Above: Caddo Lake, a host site
What we didn't realize until later in our travels was the freedom that comes with a truck camper.  Many an RVer has had to pass up a gas station, park, campground, or parking lot because their rig was too large.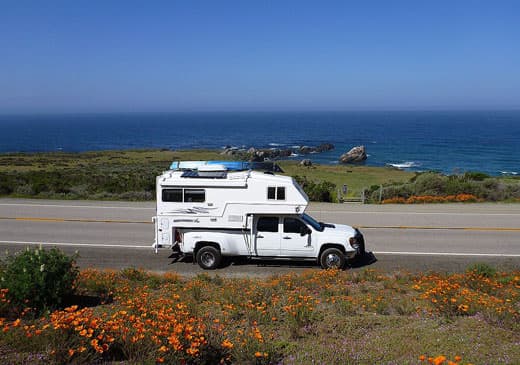 Above: Pacific Coast Highway, California
Freedom of choice is much more important to us than a living room or a larger kitchen.  The simple ability to make a turn into a parking lot, without having to plan an exit strategy, is priceless.  Not to mention U-turns, backing up, changing lanes in traffic, or last minute exits.  Over the last two years, we've uttered the words, "Man, I'm glad we have a truck camper!" many, many times.
Once we finally settled on the rig, the fun part began.  We started selling everything.  Craigslist became our most visited website as we posted ads for every stick of furniture, extra clothing, and accumulated junk.  The whole shebang.
When we did this, we learned two things.  One, we had a lot more junk than we realized.  And two, people react differently to lightening the load.  I found it completely liberating, like slowly cutting through the ball and chain on my ankle.  Cindy, on the other hand, would occasionally come across an item that made her feel as though she was losing a limb.  A pair of stuffed animals from her childhood comes to mind.  I had to keep reminding her that those things were holding her prisoner.  If she was to be free, she had to let go.
We saved the important and irreplaceable items, like photographs, but the rest we donated, gave to friends and family, or sold.  Long story short, we made about $6,000 just from selling all that stuff.  Next to go were the motorcycles.  There was another $10,000 in the bank.  When all was said and done, the funds from selling our stuff became our starting fund.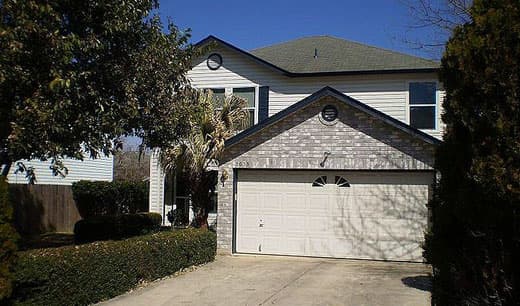 Above: The house they sold
We sold the house for about what we paid for it ten years earlier, and moved into a cheap apartment.  We sold our newer, gas guzzling cars, and bought a pair of cheap used gas savers to use until we quit our jobs.  Our 401K funds were used to purchase annuities from an insurance company that guarantees us $750 a month for twenty-five years.
It was about this time that our friends and family, who playfully called us crazy when hearing about our plans, realized we were serious.  Asking them if they're interested in coming over to rifle through your things tends to have that effect.
One thing we weren't prepared for was their reactions.  After all, you're not supposed to be able to just drop out of the game like that.  They asked, "How will you live?" and, "Where will you go?"
The final months before taking the plunge were an emotional roller coaster.  There was incredible elation at finally reaching the top of the diving board, mixed with the sadness of leaving friends behind, and the fear of the unknown.
As constraining as a job and home can be, they do provide some sense of stability.  Leaving them both feels a little like cutting the bow line, allowing your rowboat to drift freely on the ocean.  It goes against everything most of us have been conditioned to do, and your mind works overtime, imagining everything that can and will go wrong, out there.
However, there's nothing quite like telling the people who've had you working sixty hour weeks, that you're quitting and retiring at age forty-three.  I still get a twinkle in my eye when I think about that day.