I went on and on, and her eyes began to light up.  "Sure, why the hell not!" she said.
We couldn't think of any good reason not to do it.  We were willing to sacrifice money, everyday luxuries, square footage, going out all the time, and buying things we didn't need on a whim if it meant we could have our lives back.  I think my exact words were, "I'll eat beans and rice into my sixties if it means I can do what I want with my life!"
That brought up the next question, "How the hell are we going to afford to quit work at our age?"  You know what?  When you want something bad enough, you find a way to make it happen.
Our first goal was financial freedom because, as long as you owe somebody, they own you.  Most people focus on making more money and working even harder to solve this problem, without giving anything up.  We focused on spending less, and living way beneath our means.
A lot of soup and sandwiches were involved, and very little of anything else.  Every cent we made went toward paying off a debt; house, car, credit card, whatever leaks were in our budgetary bucket.  I realized a really quick way to accumulate money was to live "third world" on an American paycheck, and it worked.  Grandma would be proud.
We figured, if some people are willing to go $80,000 in debt and work two jobs in order to get a PhD, we could sacrifice for a few years for the freedom to live life on our terms.  We would start living for the next twenty years of our life, instead of just tomorrow, or the weekend.
As our debt disappeared, and we saw money piling up, our excitement kept us motivated.  We saved enough to pay cash for our rig.  Not only did this leave us debt free on the road, but the look on the salesperson's face as we wrote the check in flip-flops and tattered shorts was priceless.
While we were paying off debt, and stowing away savings, we threw ourselves into researching everything from budgeting, types of RVs, the costs of full-timing, working on the road, and beyond.  We were surprised at all the books and websites out there on the subject of full-time RV living.
A lot of the information, although somewhat helpful, was out of date or not relevant to our situation.  My favorite quote from that research was, "How much does it cost to full-time?  Whatever you've got".  This is true, but not a helpful guideline.
While researching our RV choice, we knew we would have limited funds once we hit the road.  Whatever we bought had to be well-built.  I'm talking twenty-five-year-lifespan well built.
Our first choice was an Airstream travel trailer.  We even used a vacation to visit their plant in Ohio.  They come solid, but not cheap.  The Classic thirty-one foot we were looking at was $90,000.
After months of dreaming of Airstreams, we decided maybe a fifth-wheel would be better; plenty of room, easier to tow and maneuver, and Excel makes a good one for $45,000 less than the Classic.  Down came the Airstream photos, and up on the wall went photos of the Excel, next to the hand-drawn thermometer tracking our money goal.  We couldn't wait!
Then Cindy called me one day at work and said, "Babe, what about a truck camper?"  It seems she'd been researching the idea on company time.  "Could we full-time in a truck camper?"  We were comfortable in the eighteen foot trailer years ago.  Why not?  But could we find one comfortable enough, and made well enough?  Hell, it's difficult to even find a dealer south of Oregon with a decent selection.  Luckily, we found two places in Texas that did.  After stumbling on articles about full-timing in truck campers on Truck Camper Magazine, away we went.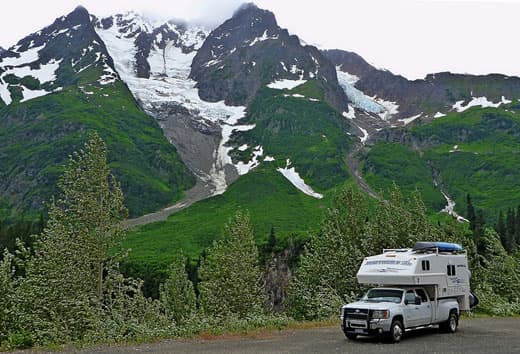 Above: Cindy and Dave's Northern Lite on Highway 37A in British Columbia
We chose Northern Lite because they are a small company in Canada that produces a small amount of campers per year versus mass producing them at high speeds.  We also liked the floor plan, the materials used, storage space, and it was comfortable.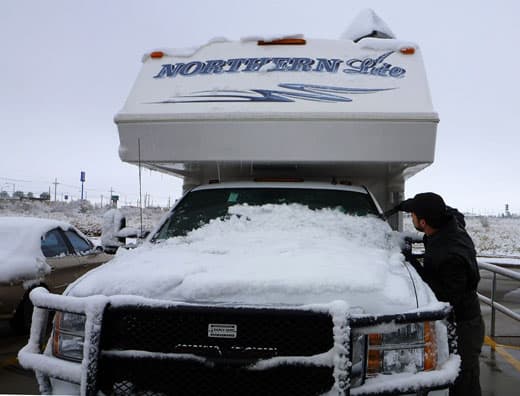 Above: Pecos, Texas snowstorm
We chose a fiberglass camper because of the lower weight (3,400 pounds dry), strength, fewer seams (less potential leaks), and insulation.
Now for the truck.  Let me start off by saying I've never been a fan of any particular brand.  I'm a facts man.  I'm looking for a vehicle that will do the job, for a long time, with a minimum of headaches down the road.  With a truck camper in mind, I wanted a heavy-duty dually truck, with a diesel engine for longevity and power.  In my opinion, it's better to buy a truck made for the job, than skimp, and then spend time and money adding aftermarket parts to help it do the job.