Get your Google Map loaded and ready to pin!  Here are some stunning high-value campsite recommendations for all the cheap, frugal, penny pinching truck campers out there – like us.  Get ready for bargains at the beach, and beyond.

With the go anywhere, camp anywhere capability of a truck camper, the opportunities for high-value and totally amazing campsites are unmatched.  To prove this point, we asked our readers for their absolute favorite cheap and awesome camping spots – and boy did they deliver.  Grab your truck camping bucket list right now.  You're going to need it.
This week we asked our readers, "What's the highest value (aka cheap or free) campsite that you would recommend to fellow truck campers?"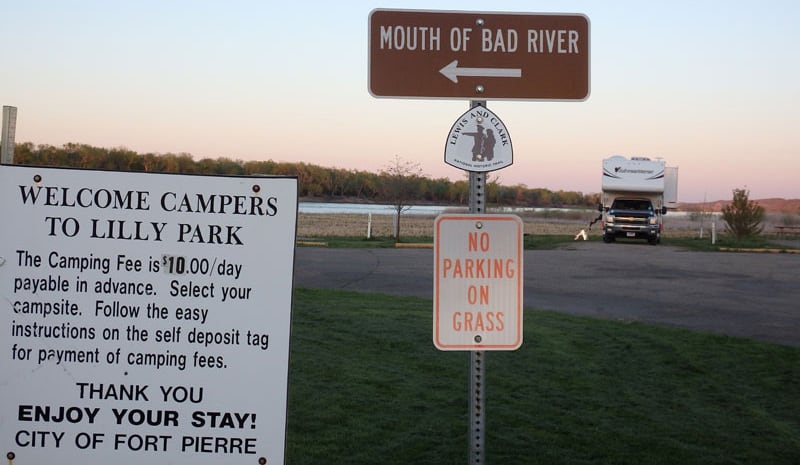 "To fit our criteria of highest value campsite, we decided it had to offer a dedicated parking space with at least electric hookups for under $10/night. Water and sewer would be bonus.
We have stayed at numerous casino campgrounds that fit the bill. Royal River Casino in Flandreau, South Dakota offered a site with electricity, cable, water and sewer dump as well as access to the hotel's pool, hot tub, showers and laundry facilities for $10 a night.
Another casino deal was in Christmas, Michigan. They offer parking with electricity only for free (limited spaces, first come, first serve).
Lilly Park in Fort Pierre, South Dakota makes our list also. Their sites were right along the river and had electric pedestals. There was a sewer dump and water station in the park as well. That was $10 a night." – Jodie and Chuck Ramsey, 2012 Chevy Silverado, 2019 Arctic Fox 990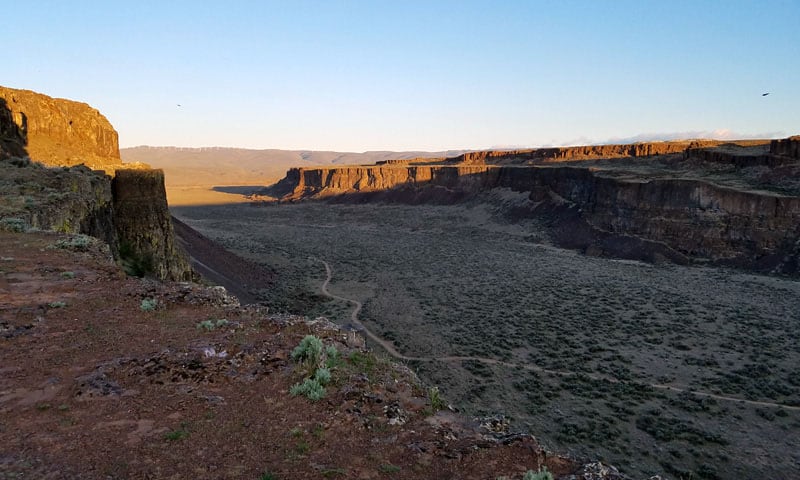 "Many of the BLM and DNR lands out here in the Pacific Northwest are great values. There are so many beautiful places to explore and camp. It's all for the cost of a Discovery Pass here in Washington.
The Discovery Pass is only $30 per year. It's very cheap to be able to camp in some scenic lands. The picture above is from a Discovery Pass location called Frenchman Coulee, which is in Quincy Lakes, Washington." – Rich Bain, 2004 Dodge 3500, 2010 Adventurer 810WS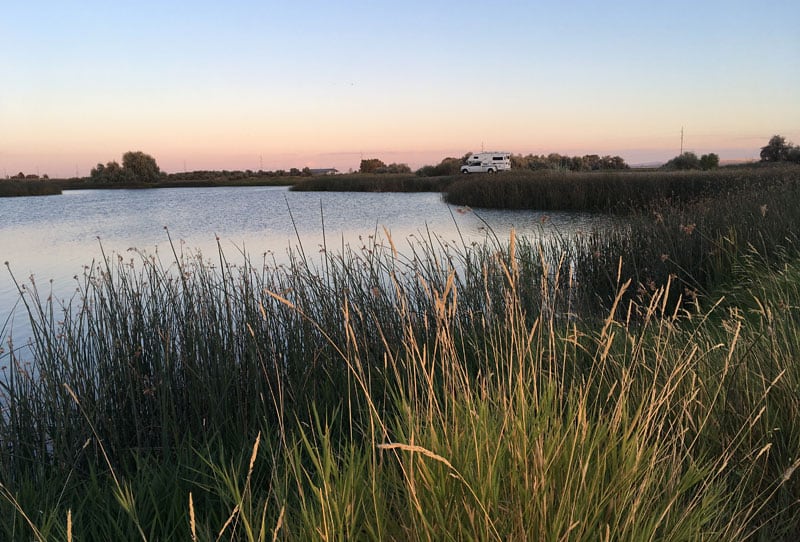 Editor's Note: Even though Gordon and I are not Washington residents, we were able to buy the Discovery Pass at a local Cabelas.  This past summer we camped at Martha Lake in George, Washington (above picture) and we were the only campers there!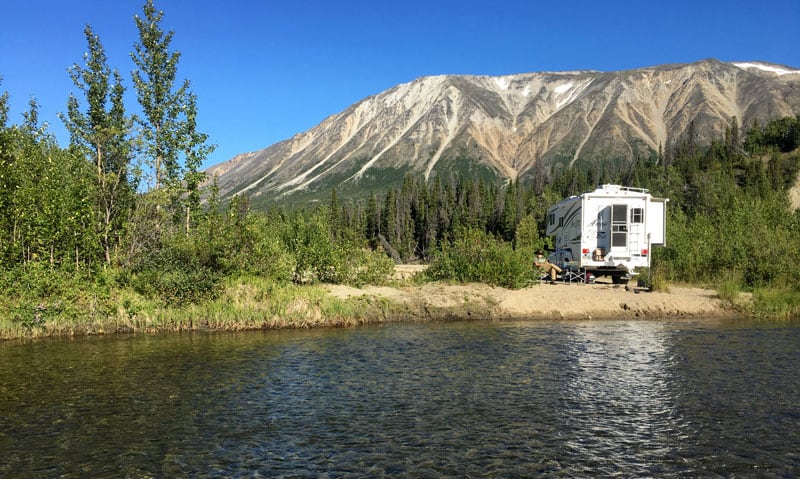 "I recommend Kluane National Park and Reserve in the Yukon Territory. It's on Haines Road/Highway 3. It's free.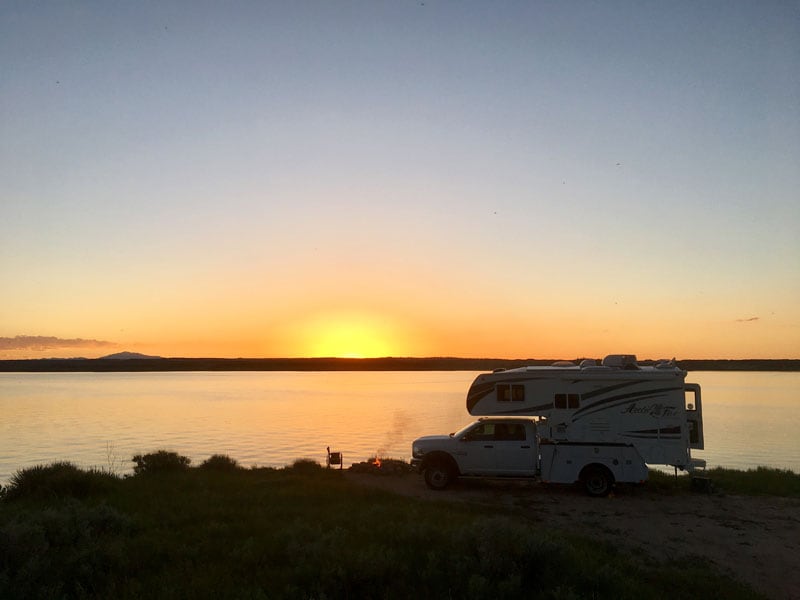 Grayrocks Reservoir on Highway Route 160 in Hartville, Wyoming is BLM land and it's free. The reservoir borders Route 160 and has several pull-offs for camping." – Angela Klinger, 2018 Dodge 5500, 2017 Arctic Fox 1140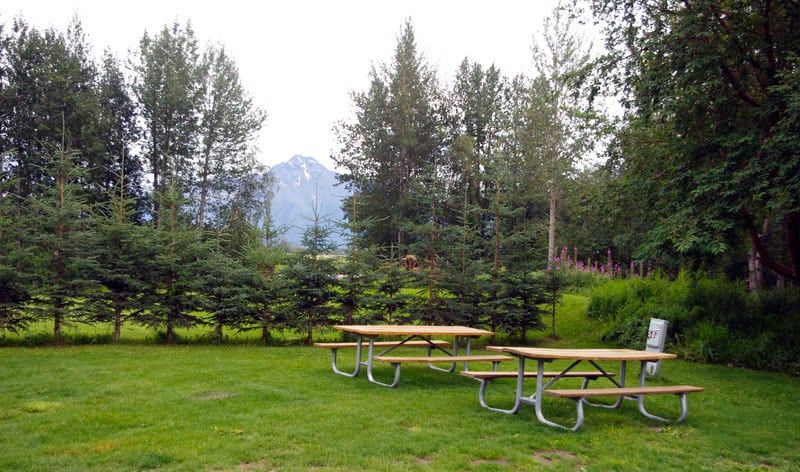 "For beauty, we've always been pleased with the US Forest Service campground at Stony Point, Leech Lake in Walker, Minnesota. For value, the downstream Corps of Engineers campground at Fort Peck Dam or one of several US Forest Service or provincial campgrounds between our home and Alaska have been bargains. For both, the Borough-Matanuska Campground (pictured above) in Palmer, Alaska is tops." – Philip Tron, 2009 Chevy 3500, 2012 Lance 1050
"I recommend Lake Mohave in Arizona. From Kingman, Arizona go north on US-93 to Cottonwood Road. Turn left and go about 20-miles west to the lake. You can actually get your own private spot with your own beach. Four-wheel drive is recommended. There are no hook-ups because it's very remote." – George Merrill, 2006 Chevy 2500, 2001 Lance 820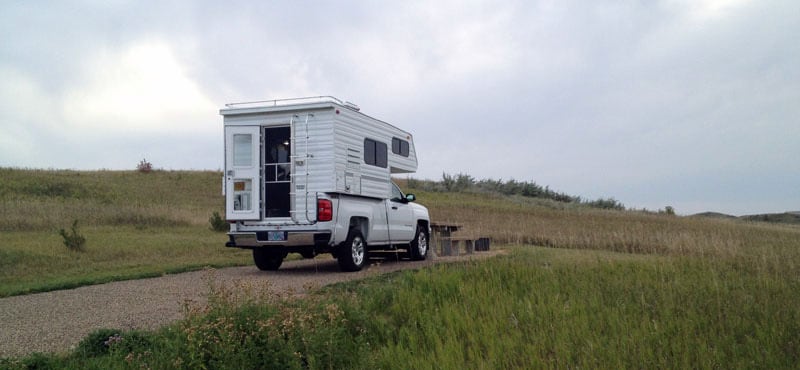 "I recommend Buffalo Gap Campground in the Little Missouri National Grassland outside of Theodore Roosevelt National Park. It's in Sentinel Butte, North Dakota. There are hot showers, flush toilets, and it's not crowded. The only downside is that it's a little close to the freeway. That, of course, is an advantage if you are traveling cross country. With a Senior Pass, it's $3 a night." – Carl van Warmerdam, 2014 Chevy Silverado, 2015 Pastime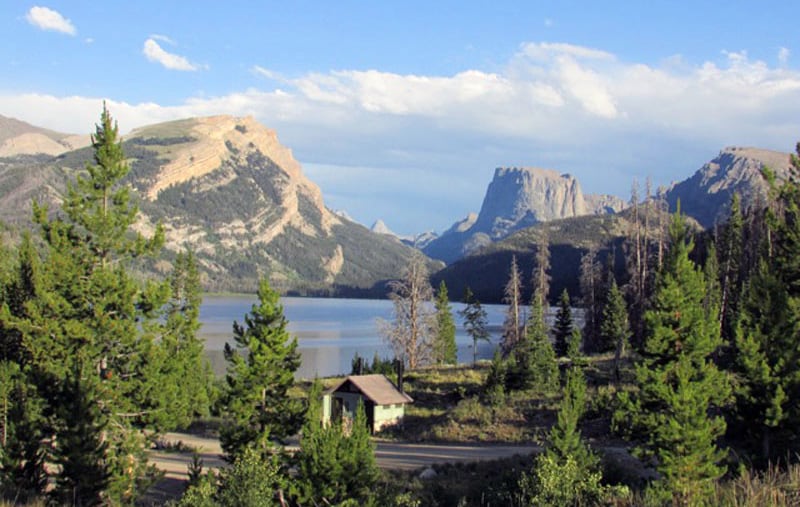 Above: Green River Lakes Campground Wind River Range, Out Of Pinedale, Wyoming Westbrook
"Most federal campsites (NPS, NFS, BLM, COE, etc) are a great bargain if you have a Senior Pass and get the site for half price.
Some of our favorites are Sabrina NFS Campground just below Lake Sabrina in the Eastern Sierras. It's got fantastic mountain peak views.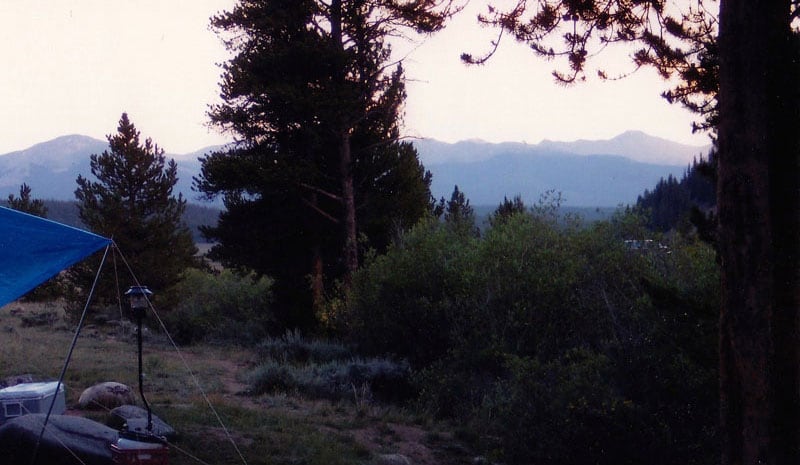 Above: Dinner Station Campground above Taylor Lake
Dorchester or Dinner Station NFS Campgrounds at the base of the Continental Divide, outside Buena Vista, Colorado are also great. The Green River Lakes NFS Campground at the headwaters of the Green River outside Pinedale, Wyoming, in the Wind River Range is another recommendation.
Moraine Park NPS Campground in Rocky Mountain National Park has great mountain views, including Longs Peak. Throw in fall with golden aspens and elk watching from our campsite and it's magical. Any NFS campground on the eastern side of Glacier National Park is good as well as Horsetheif Lake NFS campground just outside Mt. Rushmore." – Connie Westbrook, 2002 Chevy 3500, 1997 Lance Squire 5000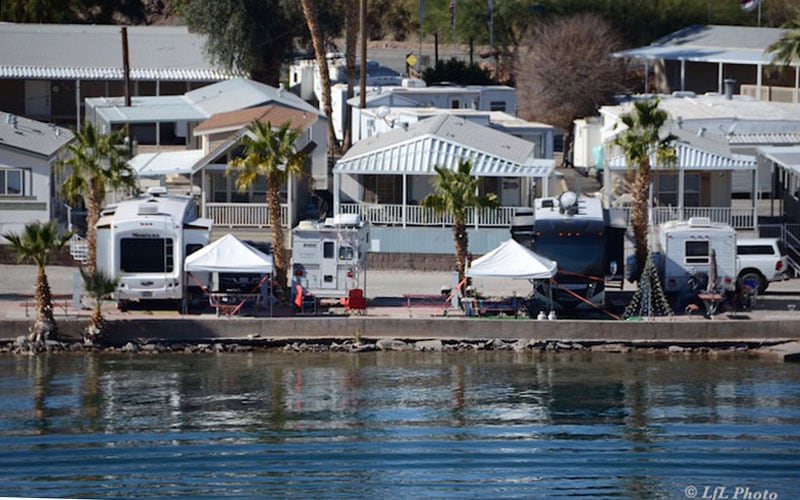 "Our normal stomping grounds are in Key West, Florida. The hurricane last year upset our plans. So with the campground closed until January, we decided to head to Arizona. We stayed at Davis/ Monthan AFB in Tucson for a couple of months. But that's not the real high value I'm going to talk about here. It's not about Quartzsite either, although we did experience the "Q" at its peak for a couple of weeks.
I always wanted to explore the Lake Havasu area on the Colorado River. I expected the many riverfront campgrounds to be very expensive and full. Parker, Arizona below Lake Havasu was full as expected, but crossing the river in Earl, California we found a gem. It's on the river ten-feet from the water. For a four-month stay, our cost was under $16 a day plus electric ($1 per day) for full hookups!" – Lucien Langlois, 2012 Ford F-250 Super Duty, 2004 Lance 1025
"We just returned from a three-week trip from Texas to the Upper Peninsula of Michigan. We stayed in several city, state, and county parks. There was also one national park and several fairgrounds. I would stay at any of them again and consider them all to be a good value.
By far the best value was Scenic Park Campground in Sioux Falls, Nebraska. It is a beautiful campground on the banks of the Missouri River and has full-hookups, cable TV and WiFi – all for $23 per night. That is hard to beat." – Eldon Rhodes, 2008 Chevy 3500, 2011 Lance 1050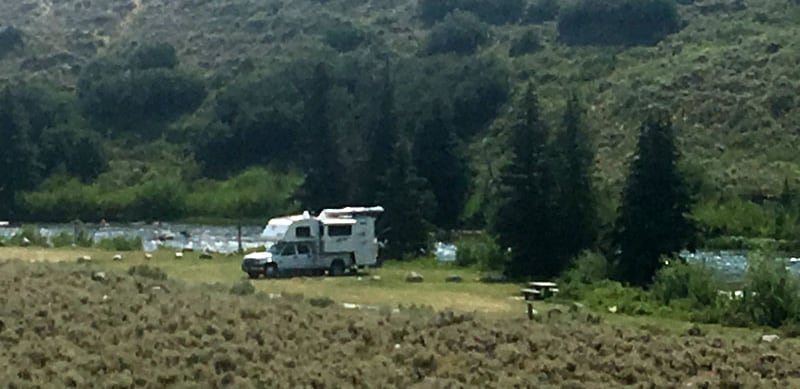 "This year we discovered National Forest and BLM campgrounds. Our favorite was BLM's Warren Bridge/Green River Access #2 along the Green River in Wyoming.
There are three campsites with fire pits and picnic tables, and a pit toilet and primitive boat ramp. Someone planted grass so the sites are clean. The sites back directly on the river. Oh, and it's free and is first come, first serve. The fishing is good, as is floating down the river.
There are eight dispersed campgrounds along the river like Access #2, and one more traditional fee campground with hookups at the highway (where we dump our tanks and trash).
This recreation area is located 20-miles north of Pinedale, Wyoming off of US Highway 191. If you are traveling north, slow down as you cross the Green River. The entrance road will be on your right about 200-yards north of the bridge.
If you are traveling south, from Bondurant Wyoming, slow down when you first see the bridge on the Green River. The entrance road will be on your left about 200-yards before you cross the Green River. The GPS coordinates are 43.03296, -110.10382." – Jim Goodrich, 2006 Chevy 3500, 2008 Lance 1191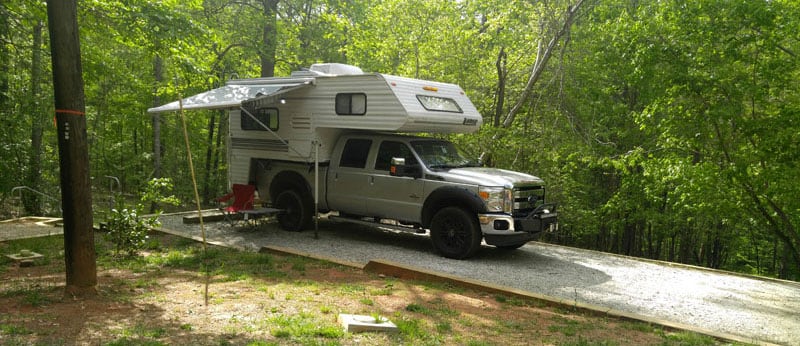 "I have purchased the "friends" membership for Georgia's state parks for the past several years. One of the many benefits are free camping nights, or golf rounds.
I have saved more than enough to offset the cost of the membership plus I have unlimited access to the parks for launching my boats and other activities. This applies to most state parks in Georgia, but Hard Labor Creek State Park in Rutledge, Georgia (above picture) is particularly well maintained." – Gary Bramlett, 2016 Ford F350, 2004 Lance 845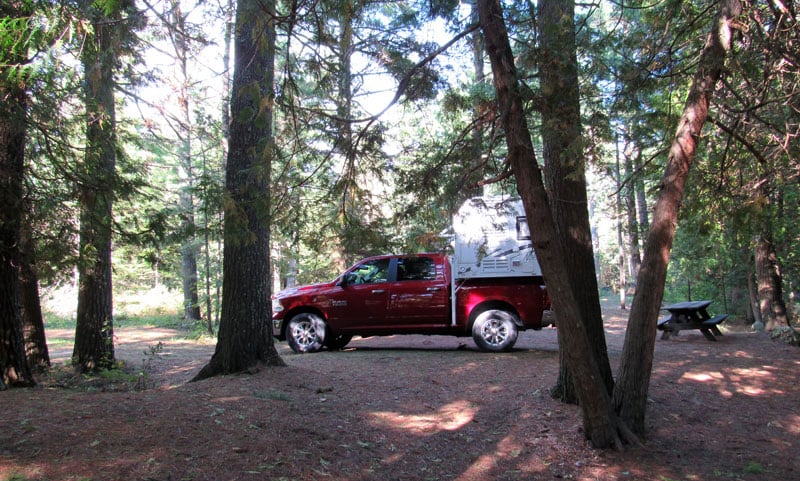 "My favorite high value campsite is at Michigan's Big Knob State Forest Campground in Mackinac County, Michigan. It's 14-miles southwest of Naubinway. Big Knob is on Lake Michigan in the Upper Peninsula.
To get there you drive six-miles through the forest on a gravel road (Big Knob Road). There are 23-campsites at the end of the road and all are a stone's throw from the lake shore. There are two well maintained pit toilets and each campsite has a picnic table and a fire ring. It is very quiet and very beautiful.
Several hiking trails are available as well as miles of beach in both directions. The campsite fee is $15 per night plus you need a Recreation Passport from the Michigan DNR. The annual passport is good at all Michigan state park and state forest facilities. The annual fee is $11 for residents and $16 for non-residents." – Roger Garner, 2014 Ram 1500, 2017 Northstar Vista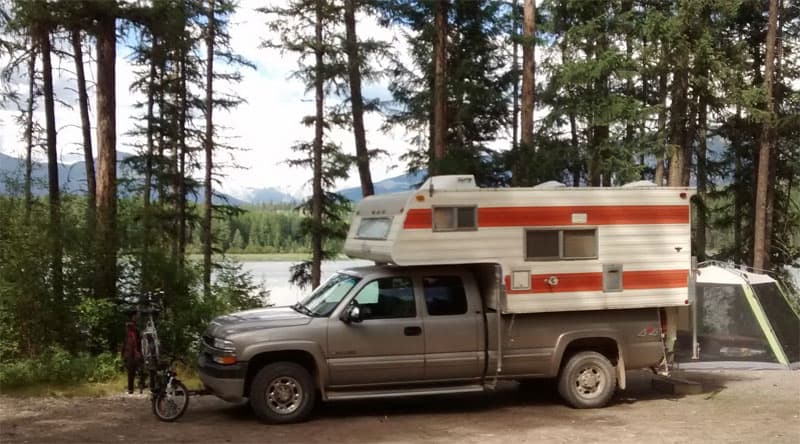 "That's easy. It's Suzanne Lake in the British Columbia Forestry area near Fernie, British Columbia. It's 100-percent free and absolutely gorgeous.
I don't have any trouble admitting I'm cheap. Do you think I'd be camping in a camper from 1981 if I wanted to spend a lot?
My neighbors bought a brand new camper van this year that was $55,000 and it's an empty shell. If I wanted to spend, I could be like them!" – Melissa Malejko, 2002 Chevy Silverado 2500HD, 1981 Okanagan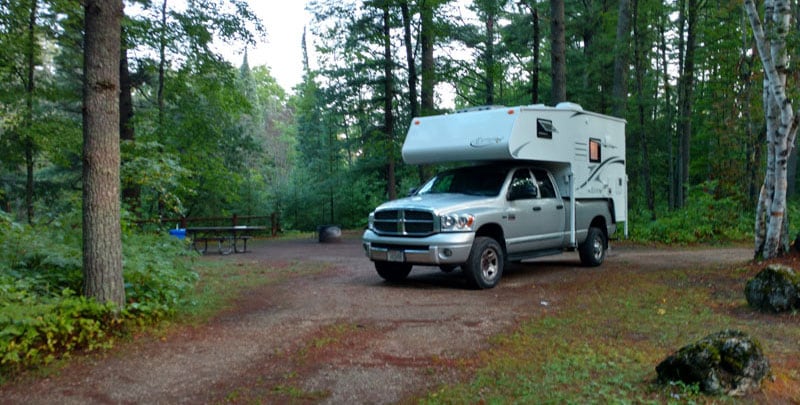 "The Carp River Campground in the Hiawatha National Forest of the Upper Peninsula of Michigan is shaded and has spacious sites. Some are next to the Carp Wild and Scenic River. It is not heavily used and is a quiet and inexpensive base in the busy high-cost Mackinac, St Ignace, Soo tourist area. It's about 12-miles north of St. Ignace, Michigan and 30-miles south of Sault St. Marie, Michigan and Sault Ste. Marie Ontario.
There is potable water and pit toilets available. It is near an ATV trail, but since we were doing the tourist thing during the day, we never heard any ATVs otherwise.
One of the nearby attractions is Mackinac Island. It's a tourist fudge mecca, and there are no cars, but bring your bike. It's a major 18th and 19th century commercial center. There are many lighthouses, Mackinac Bridge, Fort Michilimackinac (18th century French fort), Coast Guard icebreaker Mackinac tours, and the Soo Locks boat tours take you up and down from Lake Superior to the St Mary's River." – Kathy Claycomb, 2007 Dodge Ram 2500HD, 2019 Northstar Laredo SC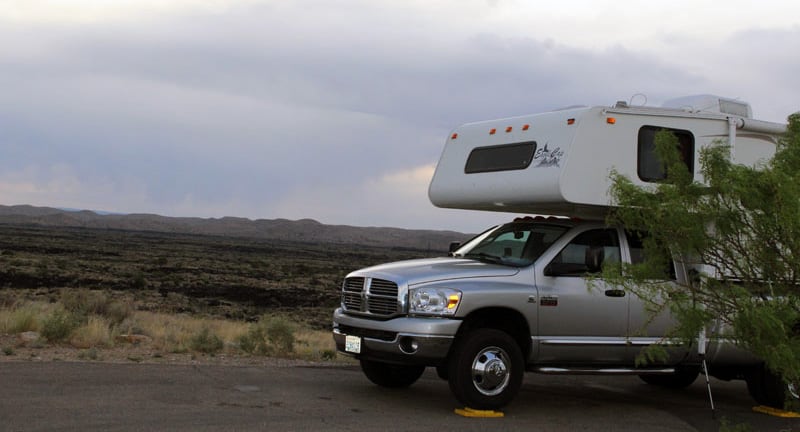 "On our April/May spring trip we found a fantastic BLM campground just four-miles west of Carrizozo, New Mexico on Highway 380. It was paved and sites had water and electric. A dump station was available and restrooms, if needed.
Being a senior, the rate was only $9 a night! It was one of the best prices we paid the entire trip. The view overlooking the vast lava flow fields and the beautiful sunset was amazing. Hiking trails were also available surrounding the area." – Roger Odahl, 2008 Dodge Ram 3500, 2004 Eagle Cap 950

"Any of the Yukon Territory campgrounds are $12 Canadian ($8 USD) with all of free firewood you can burn. We stayed at several locations on our recent trip to Alaska this summer including Dawson City and Watson Lake, but the most memorable was at Twin Lakes on the Alcan Highway." – Tom Strock, 2017 Chevy 3500, 2000 Bigfoot 9.6
"There's a lot of varying opinions out there, but I love my Thousand Trails membership. It's not free and, depending on which membership option you choose, there can be a significant upfront cost. But once you recoup that initial investment you can theoretically camp all year long (with full hookups) in any of dozens of Thousand Trails campgrounds for about a $1.55 a day. That's as long as you choose to keep your membership active, which makes it extremely cost-effective in the long term." – Andy Friedman, 2015 Ram 3500, 2018 Lance 1172
"By far the best free campsites are in Utah at the Valley of the Gods! This is a 17-mile dirt road on BLM land in Utah. You ride through spectacular red monoliths and can find a nice turn-off and camp for up to two weeks for free!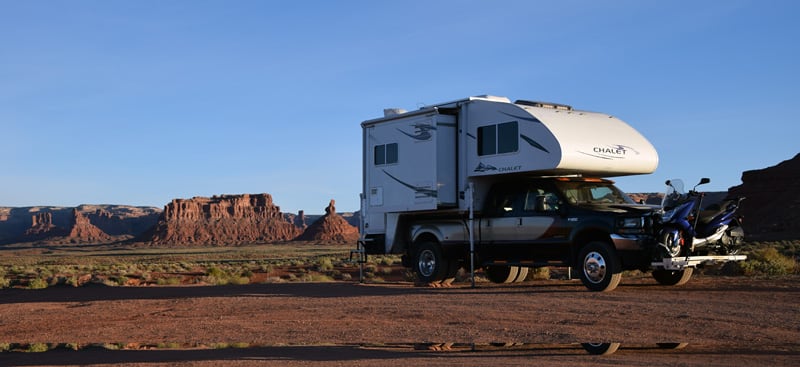 The road is very well graded and was easily passable for our large Chalet double-slide truck camper. We stayed for a week and rode our scooter all over the place and had many enjoyable hikes. It's highly recommended!" – Charles Coushaine, 2001 Ford F350, 2012 Chalet DS116RB
"Our quest last trip was all boondocking, so we've found some great BLM spots. The best was along the north fork of the Salmon River. Off the main dirt road, under a tree, right next to the river, which we heard it all night. We even saw a group of ducks swim upriver, and float back down later.
The spot is between Custer Ghost Town and the Dredge in Idaho. It's not one of the campgrounds. It's a little road to a lower clearing below the road." – Margie Geiser, 2017 Ford F250, 2019 Northstar 850SC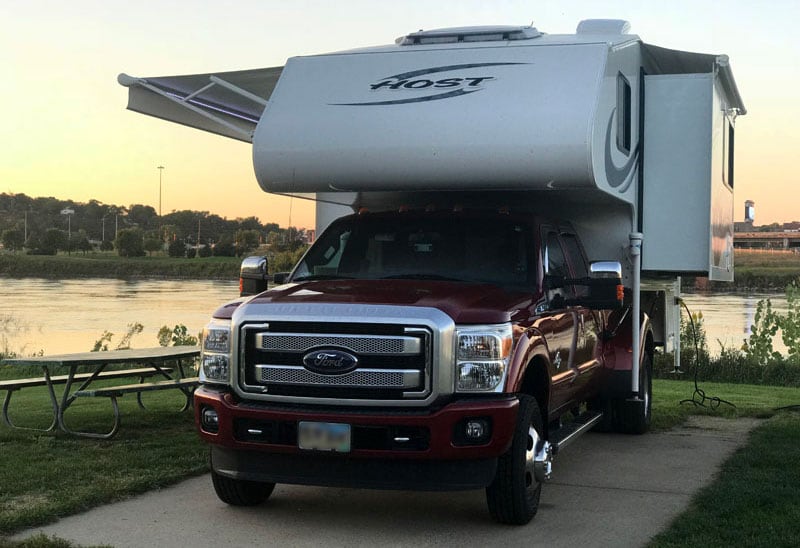 "Right on the Missouri River with full hook-ups across the river from Sioux City, Iowa in South Sioux City, Nebraska is South Sioux City Scenic Park Campground. I was there just a week ago. This place is gorgeous.
You can park under the trees or out in the open. It is close to everything and it is extremely clean. It is just $23 per night! You will see it immediately adjacent to a gorgeous new YMCA where you can workout and more." – Rainer Mueller, 2015 Ford F-350, 2017 Host Mammoth
"I recommend the Corp of Engineers park in Hernando, Mississippi! It's called Hernando Point Recreation Area and it sits along Arkabutla Lake and Dam in northwest Mississippi." – Denver Woods, 1997 Ford F350, 2001 Lance 1121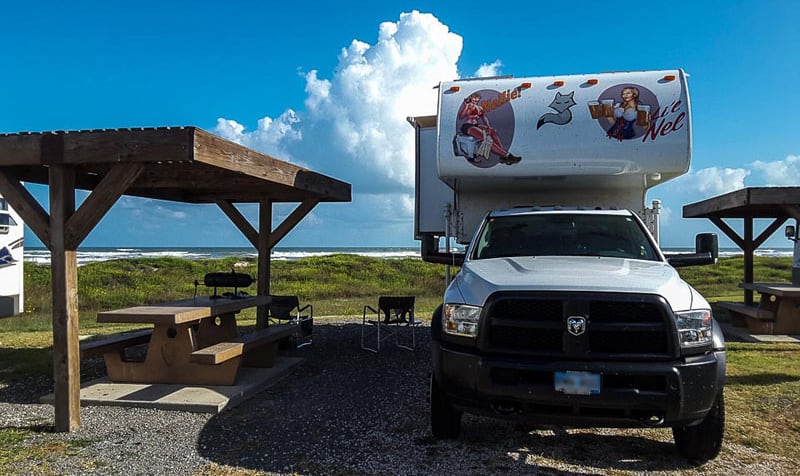 "Cheap? Squeak! I like a "Room with a View" and Padre Island – specifically Malaquite Beach in Texas – has that. As a National Park at $14 a night, $7 with the Old Geezer Pass, it is one of my favorites. The only problem, is that it's too far to travel on a regular basis.
A quick walk down the trail and you're there with, "feet in sand and beer in hand". There are other places that are free on the beach if you're adventurous and have recovery equipment, but this works fine. In California there's Westport-Union Station, but it's about $35 night. With no discounts, it became too pricey." – Frank Poole, 2016 Ram 5500, 2016 Arctic Fox 990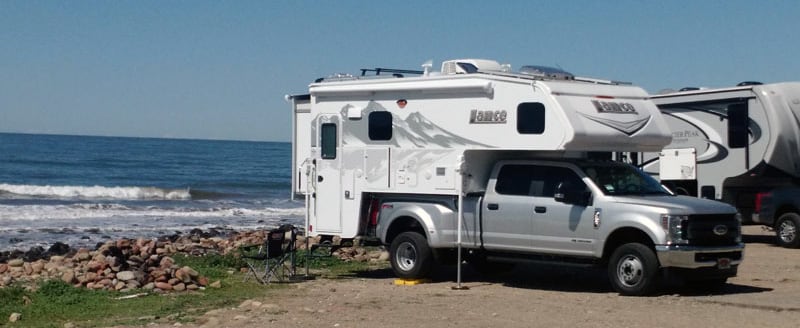 "My favorite all-time value camping spot is Emma Wood State Beach just north of Ventura, California. It's $40, ($38 for seniors). You can have an ocean front beach property that has absolutely beautiful views. This is primitive camping so you must be self-contained.
There are no hookups, dumps, water or electricity. There are no showers or toilets. Just in case you were thinking about bringing a tent for the kids, forget about it! There are no tents allowed.
You are next to the railroad tracks, however they really good about not blowing the whistle at night unless they have to. Highway 101 is above the campgrounds but you really can't hear it. You can bike or walk to shops and restaurants in Ventura. Between Memorial day and Labor Day reservations are required. I always go during the off season." – Dennis De Ville, 2018 Ford F350, 2018 Lance 1172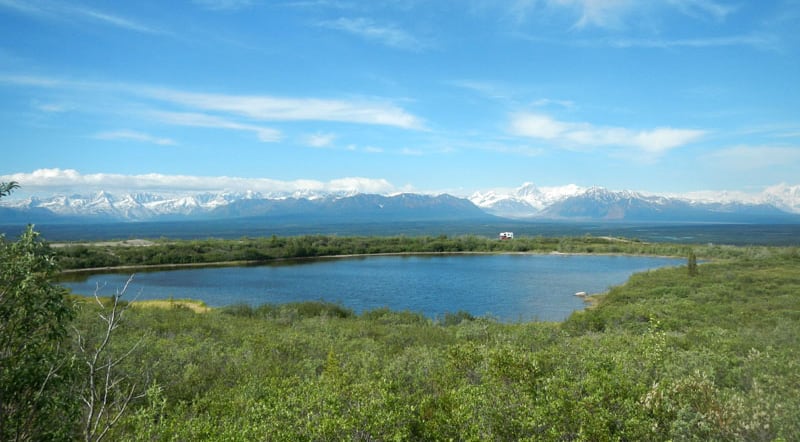 "We have found rural Alaska to be full of beautiful places to camp for free. Many of the fishing access spots have camping sites set up. Many of the rural highways (like the Steese or Denali) have free camping sites available and other sites are very inexpensive.
The photo above is a spot on the Denali Highway about 30-miles east of the west entrance to the highway. If I remember correctly, it is a BLM-maintained site with a fantastic view and room for many campers." – Steve Merrill, 2009 Chevrolet Silverado 3500, 2007 Lance 992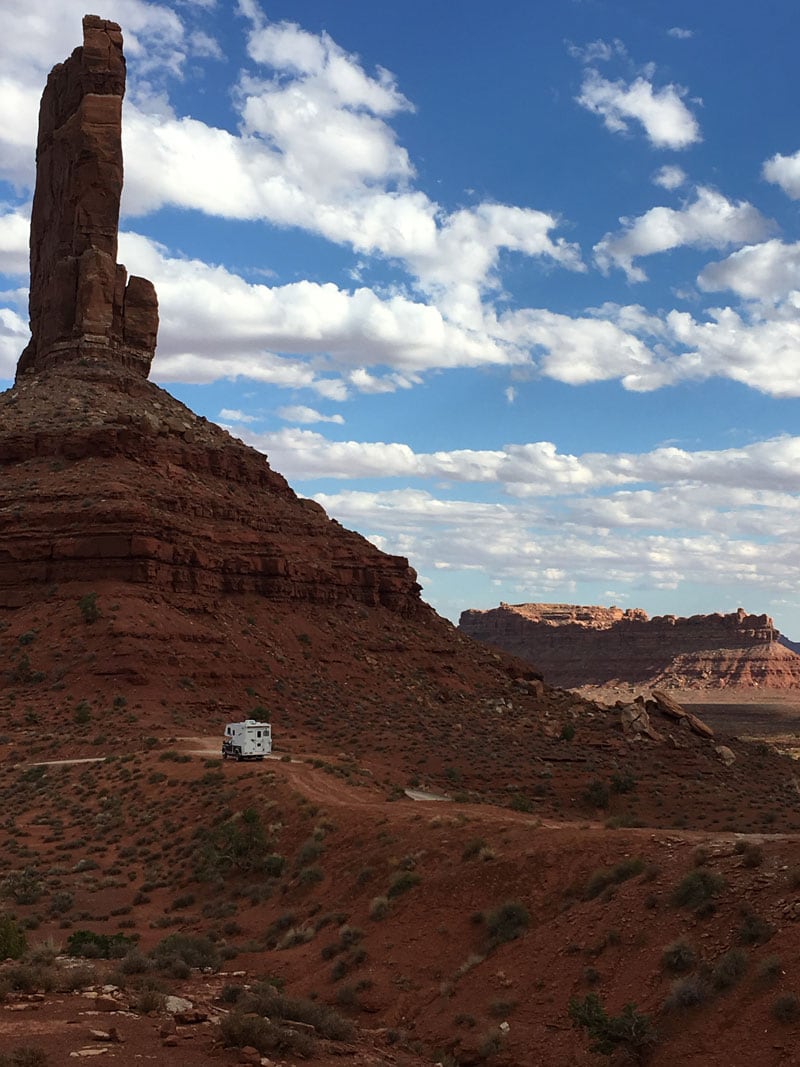 "Valley of the Gods in south east Utah is free. Camp among the many huge formations in the valley. Last Sunday I camped next to a huge monolith formation that dwarfed my truck camper. The closest camper to me was over a quarter mile away. The road is a dirt road with many deep dry washes to cross. It is not really suited for trailers or motorhomes, but it is perfect for truck campers. The dark skies at night made it seem like you could just reach out and grab the stars." – Jim Hignite, 2016 Dodge Ram 3500, 2007 Lance 1055
"The Dugway Campground is BLM on the North Platt River. It is a little off of I-80, but well worth the drive. It can accommodate a 40 foot rig down to a preferred truck camper. There are nice clean sites overlooking the river, it's very quiet and best of all it's free. The only pictures we took are memories, so you will have to go see for yourself." – Tom Elliott, 2007 Ram 2500, 2018 Adventurer 80RB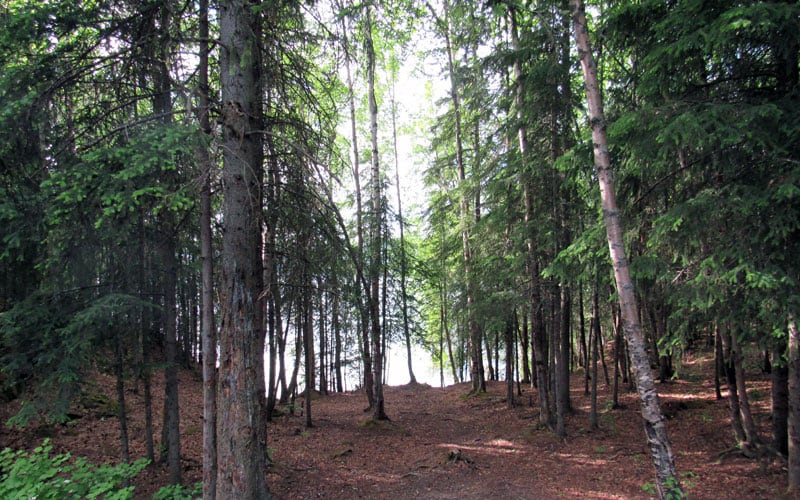 "Hidden Lake Campground was one of our very favorites in Alaska! It's 3.5 miles from Sterling on the Kenai Peninsula in the Kenai National Wildlife Refuge near Skilak Lake. There are no hookups. It's right on the water, it's very secluded, and the scenery is amazing. It's $10 a night, but with my husband's "old people" discount, it was $5. We stayed two nights and should have stayed longer. Someone drove to that site from Anchorage our last afternoon (a Thursday) to see what day/time we would be leaving. He came back early the next morning at 6am to wait for us to leave so he could be next in line. He wasn't rushing us; he just really wanted that space." – Marla Gilbertson, 2013 Ford F-250, 2017 Wolf Creek 850
"Straight Run is in Tioga State Forest near Wellsboro, Pennsylvania. The major reason we choose this spot is the wild brook trout fishing. In Pennsylvania, State Forest camping is free. You do need a free permit from the State Forest where you will be camping (can be done via phone). All that is needed are the GPS coordinates of the location." – Randy Bunce, 2017 Ford F350, 2016 Wolf Creek 840

"At Surfside Beach in Texas you can park right on the beach. There is a nice breeze all day and night, so we didn't need to run the air conditioning at all. I was there for a week in August. A few fishermen showed up during the week, but there were no issues. Ice cream trucks came by several times. The restaurants are 15 to 20 minutes down the road." – Leo Stephens, 2016 Ram 3500, 1997 Lance 990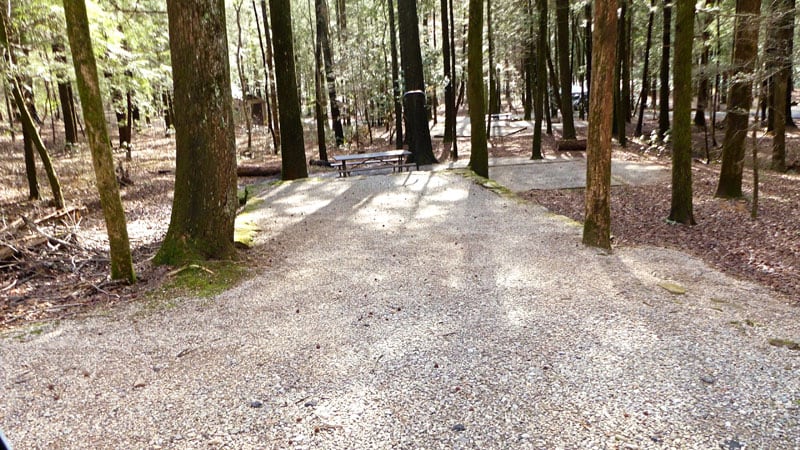 "I hesitate to divulge one of our favorites.  It's De Soto Falls Recreation Area in the Chattahoochee – Oconee National Forest in north central Georgia.
It's a small but beautiful campground less than an hour from our house. It includes level sites, hiking trails, a fast flowing wide creek through the campground and two small but beautiful waterfalls.  There's a trail to the lower falls and a recently reopened trail to the upper falls (closed due to Hurricane Irma).
Typical for National Forest Campgrounds, it's dry camping only.  The normal $12 camping fee is reduced to $6 with our "geezer pass", so it makes this a perfect quick getaway.  After November13th, the fee is cut in half for the winter season.  Here is the official web-page for this facility." – Neil and Yoly Mullen, 2016 Ram 2500, 2018 Eureka
Another article for finding high value places to camp is 50 Unconventional Free Overnight Parking Recommendations.