After twenty-five years in Orange County law enforcement, Mary Murphy hit the road in a Four Wheel Camper looking for fun, adventure, and to renew her faith in humanity.

What are we all doing on the road?  What are we searching for?  Is it just about adventure, or are there deeper reasons for our travels?
Having met thousands of truck camper owners, we know the answers are as diverse as the truck camping community itself.  For one truck camper, catching a red drum fish off Assateague National Seashore would be happiness defined.  For the next, meaningfully reconnecting with a family member on the other coast would complete a dream.  Another camper wants to photograph the morning light at Yellowstone to fulfill a creative vision.
Of course some of us just want a few days off in our campers, a beer at sunset somewhere, and quality time with our friends or significant others.  Getting away to relax is all many of us seek.
Mary Murphy surprised us with her sincere longing for something we often don't touch on in Truck Camper Magazine.  After twenty-five years of law enforcement in Orange County, she wanted to rediscover the positive and decent side of her fellow human beings.
In a Four Wheel Camper and Toyota Tundra, Mary set out for a year crossing the country with no plans.  Through what can only be described as road magic, she met amazing people, and experienced wonders she never could have anticipated.  Best of all, somewhere between Angel's Peak in Zion National Park, and the lighthouses of North Carolina's Outer Banks, she found exactly what she was looking for.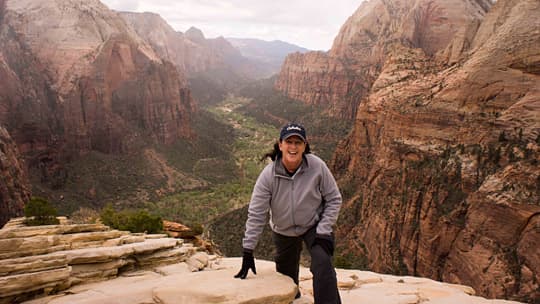 Above: Mary Murphy at Zion National Park
TCM: What led you to assemble a pop-up truck camper and hit the road?
Mary: Initially I had looked at the teardrop trailers, because I love the retro feel.  My brother said they were not big enough and suggested pop-up truck campers.  I looked at him like he had three heads and said, "What are you talking about?".
I went to Mammoth for Thanksgiving two years ago and saw a decked-out pop-up camper near the ski lift.  Again, my brother said I should get one.
More time passed and I met an older couple with a Four Wheel Camper at the supermarket.  A guy at my work has one too.  I saw his Four Wheel Camper a few times.
Every pop-up rig I had seen over a two year period was a Four Wheel Camper.  You know how when you buy a red car, all you see are red cars on the road?  That's how this was.
After researching Four Wheel Campers online, I went to the Fred Hall Fishing Show in Long Beach to see the Four Wheel Campers on display.  Marco, my friend who is a mechanic, went with me.  He was looking at the weight and size of the campers.  When I talked to the Four Wheel Camper folks, they wouldn't let me buy something that wasn't appropriate for my truck.  I bought the Hawk model.
Finally, I pulled the trigger.  I'm glad I chose a pop-up truck camper.  I have been in some tight spaces.  I often think to myself, "How would I have gotten here if I were towing something?"
What I love about my camper is that it's light weight, and something I can manage.  I have been blessed with neuropathy (unfortunately), so everything is geared toward easy lifting and doing things by myself.  I have to be self-contained, and it has to be something I can do alone because my strength isn't what it was years ago.
In fact, I have a Yakima cargo box on top of the camper, which adds an extra fifty pounds.  I was thinking, "How am I going to get this roof up?"  Well, you know how they have the cargo ratchet bars for the bed of your truck?  I inverted it and ratchet up when lifting up the camper roof.  That gets the roof within two inches of being set in place.  I then just pop up the back and then the front.  It adds a minute or two to the set up but it is easy on my joints.  Then I just pop-up the back and the front.
I love the fact that my camper is well thought out.  I wish I had more storage, but then realized on my first trip that I packed too much.  I brought too many clothes, and there are supermarkets everywhere.  When I'm traveling, I'm not in the Serengeti.  I can get what I need at the store.  That thought process took a couple weeks to sink in.