Above: Diane works while they travel
TCM: Diane, tell us about working from the road.
Diane: I work from home.  Using cellular internet, I am able to work from the camper. During our trip last year, I worked every other day.  We have a JetPack from Verizon.  It worked perfectly in several national park campgrounds.  That gave us tremendous flexibility.
John: With two batteries in the camper, Diane was able to work all day long.  We have an inverter for when she needs to plug-in or charge her laptop, but mostly she worked without being plugged in.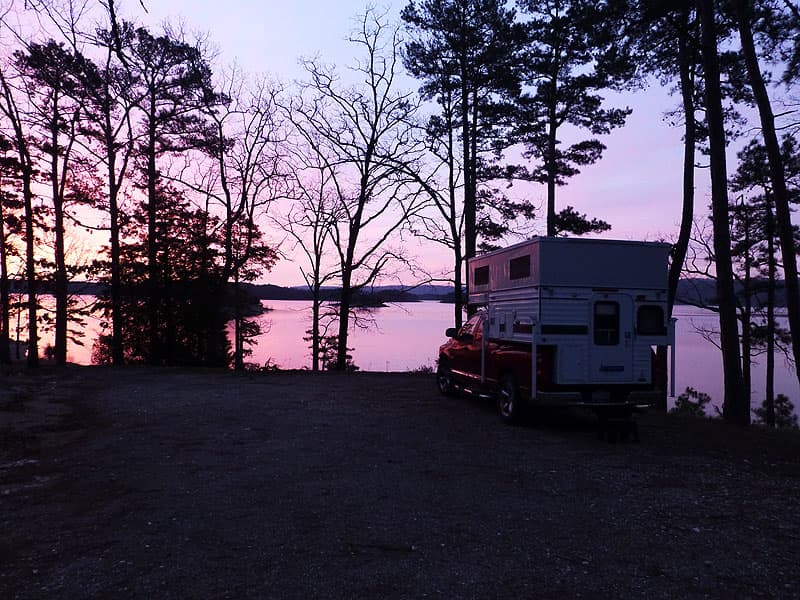 Above: Lake Ouachita near Hot Springs, Arkansas
TCM: We often work from the road and also use a Verizon hot spot.  The coast-to-coast phone and internet coverage we've enjoyed over the years is simply incredible.  Any other tips for our readers?
Diane: The national forests have metal box to deposit your campsite reservation and payment.  These metal iron rangers require cash, and we were running low here and there.  Like most of society, we use credit cards.  So make sure you have cash for campsites, laundry, and pay showers.
John: We camped at an excellent Corp of Engineers campground in Arkansas the week before the kids in Arkansas kids went on Spring Break.  We practically had the whole campground to ourselves.  That's the way to do it. We do our best to follow the weather.  That's why we went to Arkansas as the rest of the eastern United States was clogged with snow and rain.  We looked at the weather forecast and Arkansas was going to have good weather.  We love that flexibility.
Diane and John's Rig
Truck: 2008 Dodge Ram 1500, Extended Cab, 4×4, Gasoline, Single Rear Wheel, Short Bed
Camper: 2013 Four Wheel Hawk
Tie-Downs/Turnbuckes: Bolted in truck bed
Suspension: Firestone Firestone Work Rite springs
Gear: None