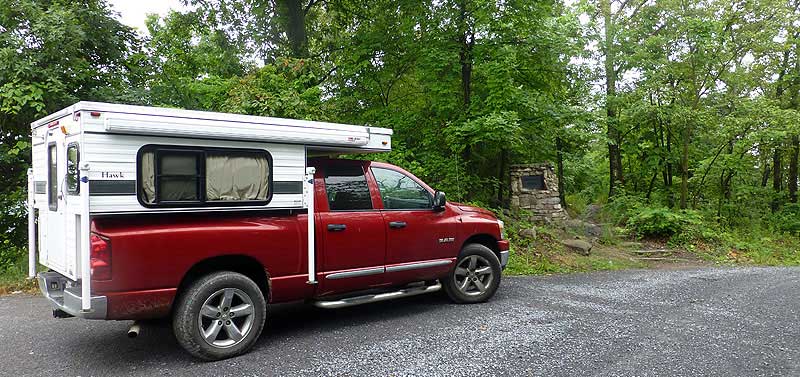 Above: George Washington National Forest look-out tower, Virginia
In June we went through the Appalachian mountains in Virginia and drove a dirt road with switchbacks and never felt like we were going to topple over.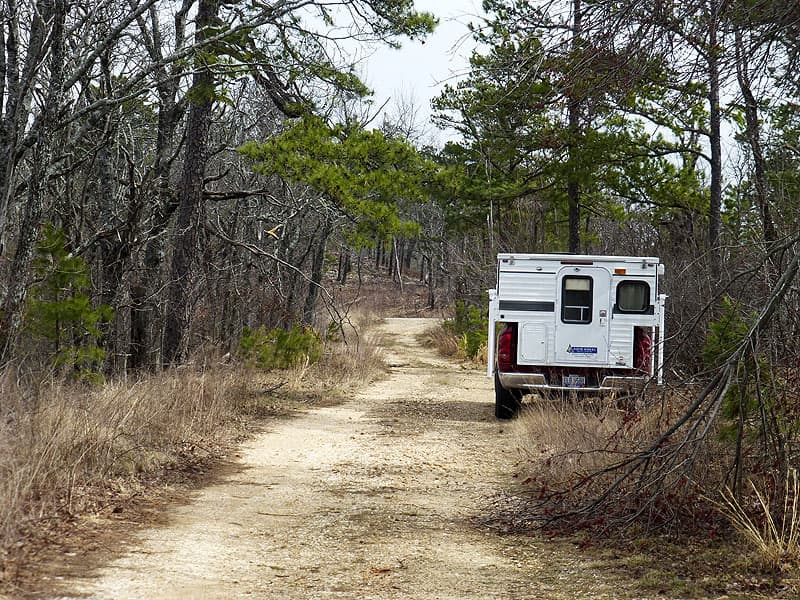 Above: Ouachita National Forest in Arkansas
With no difficulties, we put the truck into four-wheel drive, plowed up the road, and got to the "off the beaten path" campsites at the top of the mountain.  Our rig can go almost anywhere.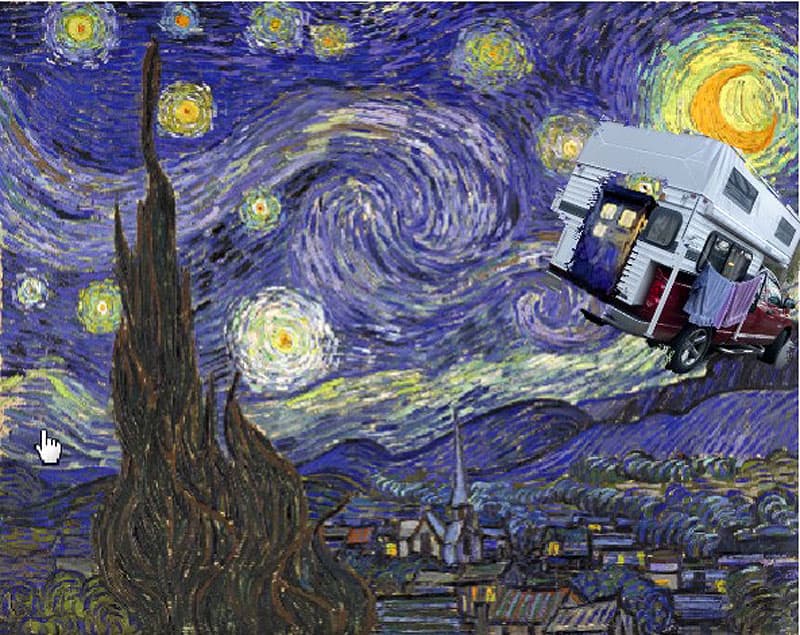 Above: Their Four Wheel Camper is like their Tardis
Diane: If you're familiar with Dr. Who, he has a time machine spaceship in a London police box called the Tardis.  When you open open the door of the Tardis, it's huge inside; much bigger than the possible dimensions of a police box (about the size of a large US phone booth).  We say our camper is like a Tardis!  It allows us to go anywhere we want to go, and it feels much bigger inside than it looks outside.  There's so much room when the roof is popped up.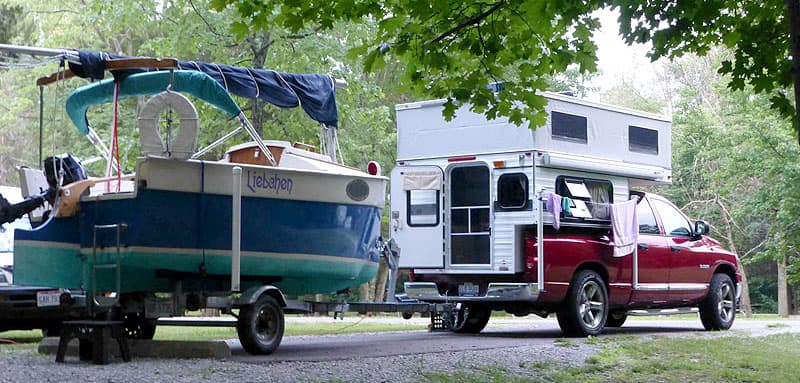 John: We named our truck camper the Cuckoo's Nest.  We're the Cuckoos.
TCM: Two Cuckoos in the Tardis?  That's funny!  Tell us about your towed sailboat.
Diane: It's a 1986 Florida Bay Peep Hen, 14-foot sailboat.  It's a gaff-rigged cat boat.  We tow our sailboat when we are going to a park with a good sailing lake.  It's a small sailboat with just a main sail making it extremely easy to rig for a day of sailing.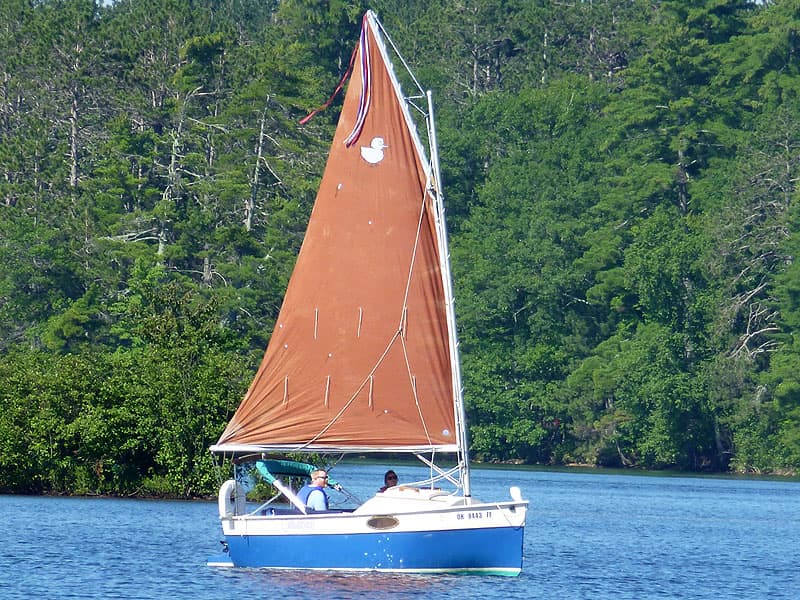 We sail strictly for pleasure.  We can tow the boat with our rig anywhere and put it in and out of the water easily due to the design of the boat.  We can even camp in the boat, but we seldom do that now because we have our truck camper.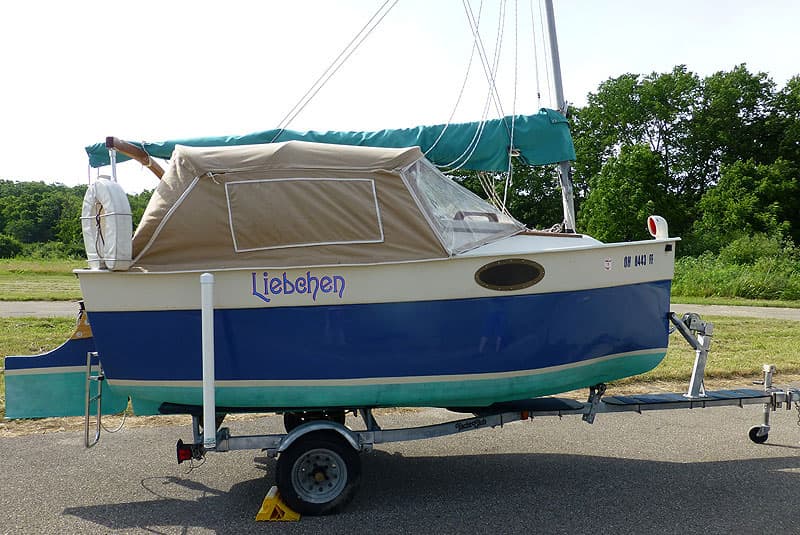 John: The Peep Hen is a lightweight boat, even though it looks big.  It's less than 1,000 pounds.  Inside it has two relatively roomy sleeping births.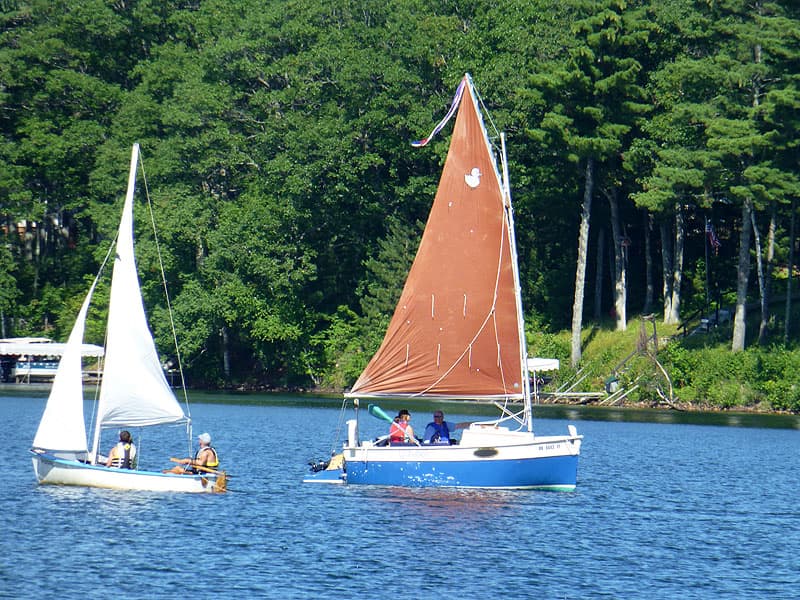 The Peep Hen is designed for shallow inland lakes.  It can be launched into water that is 13 inches deep, and can be put on any boat launch.  It's easy to set up and take down.  I specifically got this boat because the previous boat I had was the opposite.  This one is easy.  The whole set up can be put up in 20 minutes and in water in a half hour.
We named the boat Liebchen which means "little darling" in German.