The footprint of a Four Wheel Camper also allows access for a receiver hitch so I could tow our boat behind the truck.  That was an important feature for us.
TCM: Other than easy towing, were there any other features you were looking for?
Diane: I wanted a king-sized bed.

Above: King size bed (left) and full size bed (right)
TCM: How do you have a king-size bed in a Four Wheel Camper?
Diane: When you walk into the camper, the cabover bed looks like a full size bed.  Then a shelf pulls out creating a king size platform.  Then we arrange the cushions to create the king size bed in our Four Wheel Camper.  The bed takes up most of the interior room when it's pulled-out to a king.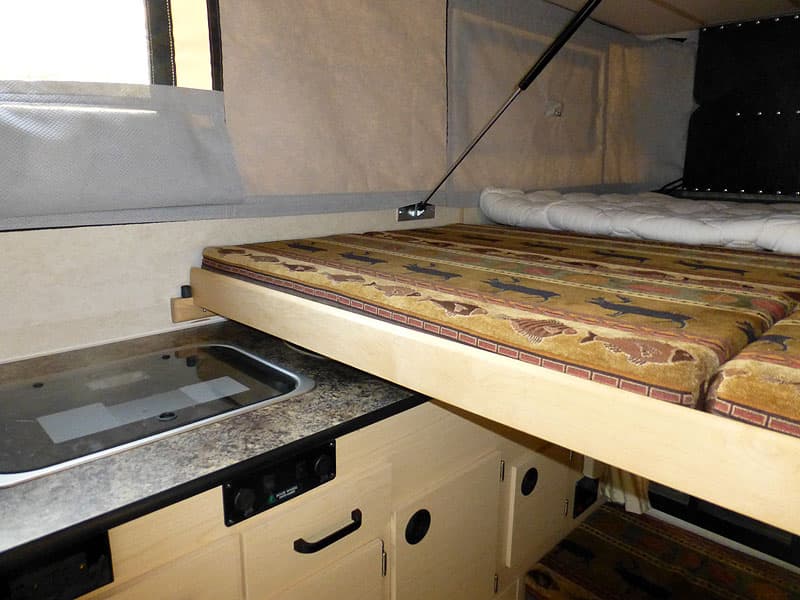 Above: When the king bed is made, it overlaps the counter a little
John: I really like the pull-out king size bed as it allows for north-south sleeping.  It's good to be able to get out of bed without crawling over one another.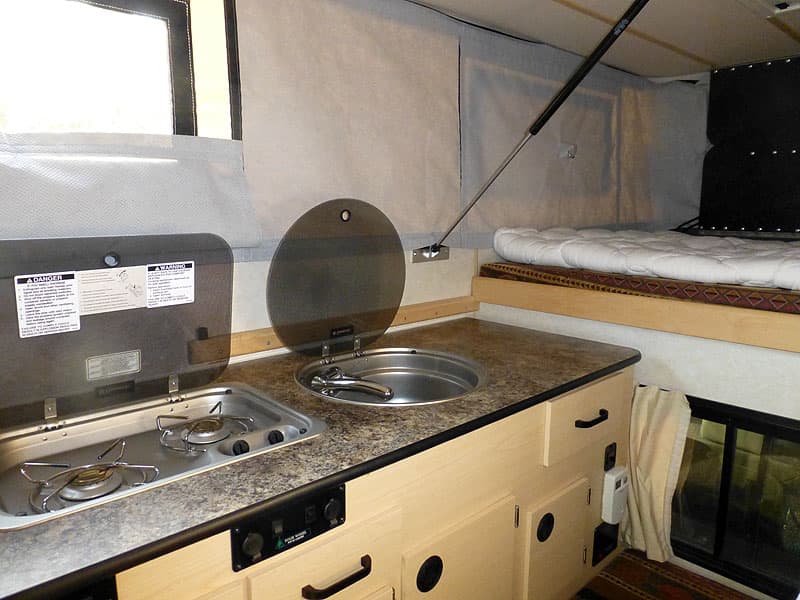 TCM: That's amazing.  Did you have any other feature requirements?
Diane: Beyond that, we just wanted the basics.  We did not want a big fancy camper with a flush toilet.  We didn't like the idea of dumping waste.  We have backpacked, so we know how to use facilities we find.
We ended up with more features and comfort in the Four Wheel Camper than we thought we would.  Our dealer gave us good suggestions including adding an awning and a heater to take the chill off.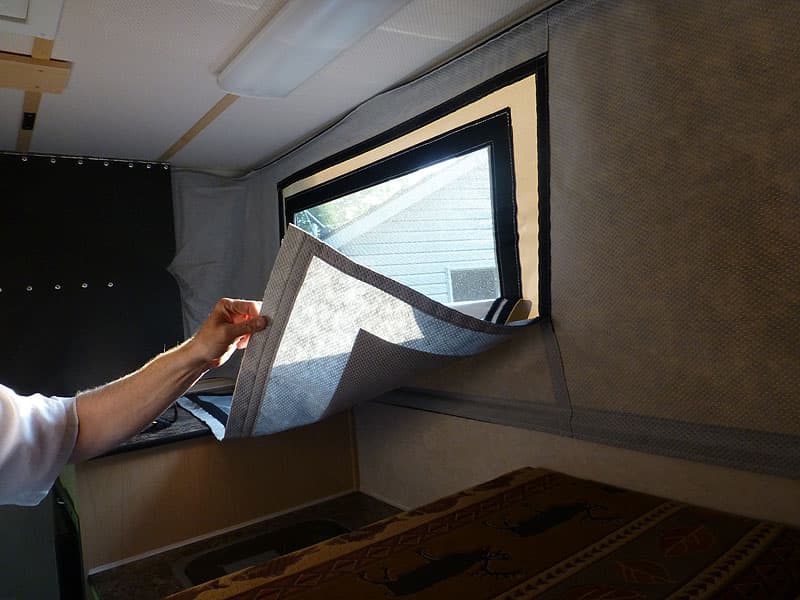 We did not get the Arctic Pack that Four Wheel offers when we bought our camper, but we wish we had.  Last summer we went to the Four Wheel Camper factory and had it installed.
John: We ordered our camper with a refrigerator, water heater, and an outside shower hookup.  It was great to add these features to our camper.  We also got a rear screen door and solar pre-wire.  I got one battery with the camper, but I added an additional battery later.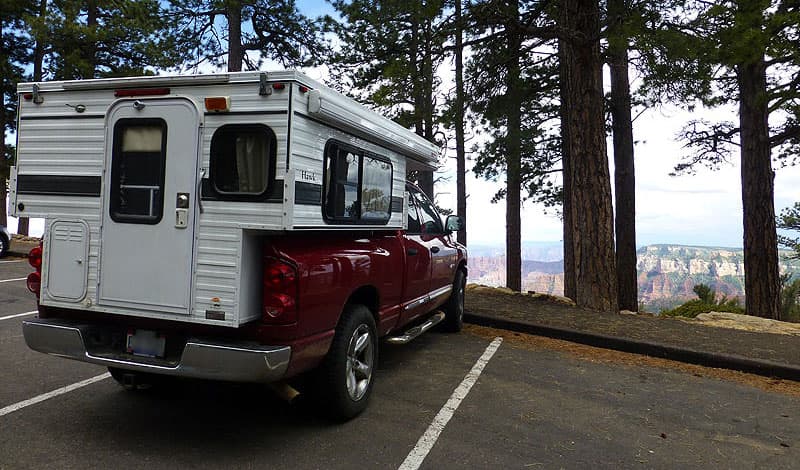 Above: Parking in a normal parking spot is easy, Grand Canyon, North Rim, Point Royale, Arizona
TCM: Earlier you said that this was your first RV.  Now that your truck camper rig is complete and you've had the opportunity to use it, what do you think of pop-up truck campers?
John: One thing I like about the pop-up is that you can pull into a McDonalds and go through the drive through.  We can go anywhere anyone can go with a truck.  Recently when we were traveling on the Upper Peninsula of Michigan we pulled our rig over on a road next to Lake Michigan and just popped the roof up.  We made lunch and ate under the awning with a stunning view of the lake.  We can also park anywhere a truck can park.