Twenty years ago Larry Chiuppi and Nancy Raimondi dared to follow their dream to live – and work – full-time on the road.  That story and the reason for their unusual Class A towing a truck camper rig is just the beginning.

As you're reading this article, dozens of fellow truck campers are unsubscribing in disgust.  Evidently the mere sight of a Class A motorhome at the top of Truck Camper Magazine is enough to send certain die-hard truck camper fans into fits.
Hold on, another email just came in…
"A Class A motorhome in TCM!  That's outrageous!  Refund my free subscription!"
Alright, that's enough.  Yes, there's a Class A motorhome at the top of Truck Camper Magazine.  And yes, we swore on a stack of turnbuckles that this would never happen, but there's a great truck camper story behind that Class A.
Actually, about ten-feet behind it to be exact.  You see, that huge Class-A multi-slide, diesel pusher is towing a Four Wheel Camper Eagle Shell model.  The contrast alone between these two rigs has us bursting with a big question.
Why would anyone with a Class-A luxury motorhome tow a shell model pop-up truck camper?
Larry Chiuppi and Nancy Raimondi's story is nothing less than incredible.  What started for us as a curiosity about their unusual rig quickly turned into something more – a lot more.
The details of their 20-year full-time lifestyle on the road peaked our attention.  The challenging chain of events after their retirement tugged our heartstrings.  And their inner strength and determination left us nothing less than inspired.
That's nothing compared to their remarkable travel adventures.  Too bad unsubscribers.  You missed an incredible story!  And your full subscription refund is in the mail.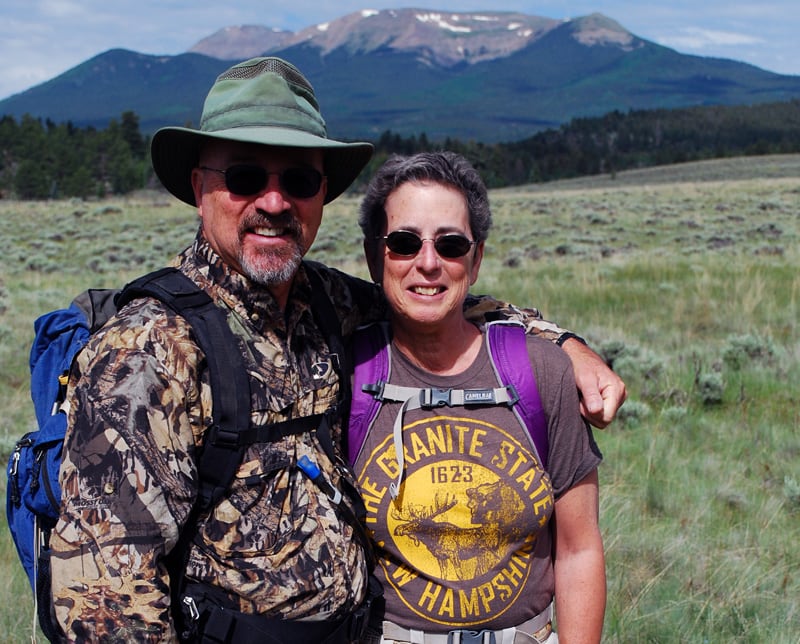 Above: Larry Chiuppi and Nancy Raimondi
You have one of the best truck camper purchase stories ever.  Tell us how you found your Four Wheel Camper.
 
Larry: In the spring of 2016 we literally stumbled into a deal.  I sat down next to a complete stranger at breakfast and we started talking.  It turned out he was selling the Four Wheel Camper that was mounted on his Ford Ranger.
We were at the Escapees headquarters at the Care unit, which is a daycare for adults.  They do a fundraiser every Friday and open the cafeteria to everyone.  I went there to have breakfast and sat down with this guy at one of the tables for eight.
He mentioned that he had just purchased Super B motorhome and wanted to downsize.  A woman at the table said, "Don't you have a tiny truck camper?"  He said, "Yes, but I'm selling it."  That's when my ears perked up.
Nancy: The amazing thing is that it was an Eagle Shell model.  We had been looking at Four Wheel Campers for years.  The Eagle Shell was exactly what we wanted because we did not want to be overweight with our Ford Ranger.
The guy had ordered it brand new from the factory and never slept in it.  The porta-potty was still in the box.  When he told us about the camper, we had to contain ourselves to not jump up and down.  It was perfect and fell into our laps.