Twenty years ago Larry Chiuppi and Nancy Raimondi dared to follow their dream to live – and work – full-time on the road.  That story and the reason for their unusual Class A towing a truck camper rig is just the beginning.

As you're reading this article, dozens of fellow truck campers are unsubscribing in disgust.  Evidently, the mere sight of a Class A motorhome at the top of Truck Camper Magazine is enough to send certain die-hard truck camper fans into fits.
Hold on, another email just came in…
"A Class A motorhome in TCM!  That's outrageous!  Refund my free subscription!"
Alright, that's enough.  Yes, there's a Class A motorhome at the top of Truck Camper Magazine.  And yes, we swore on a stack of turnbuckles that this would never happen, but there's a great truck camper story behind that Class A.
Actually, about ten-feet behind it to be exact.  You see, that huge Class-A multi-slide, diesel pusher is towing a Four Wheel Camper Eagle Shell model.  The contrast alone between these two rigs has us bursting with a big question.
Why would anyone with a Class-A luxury motorhome tow a shell model pop-up truck camper?
Larry Chiuppi and Nancy Raimondi's story is nothing less than incredible.  What started for us as a curiosity about their unusual rig quickly turned into something more – a lot more.
The details of their 20-year full-time lifestyle on the road peaked our attention.  The challenging chain of events after their retirement tugged our heartstrings.  And their inner strength and determination left us nothing less than inspired.
That's nothing compared to their remarkable travel adventures.  Too bad unsubscribers.  You missed an incredible story!  And your full subscription refund is in the mail.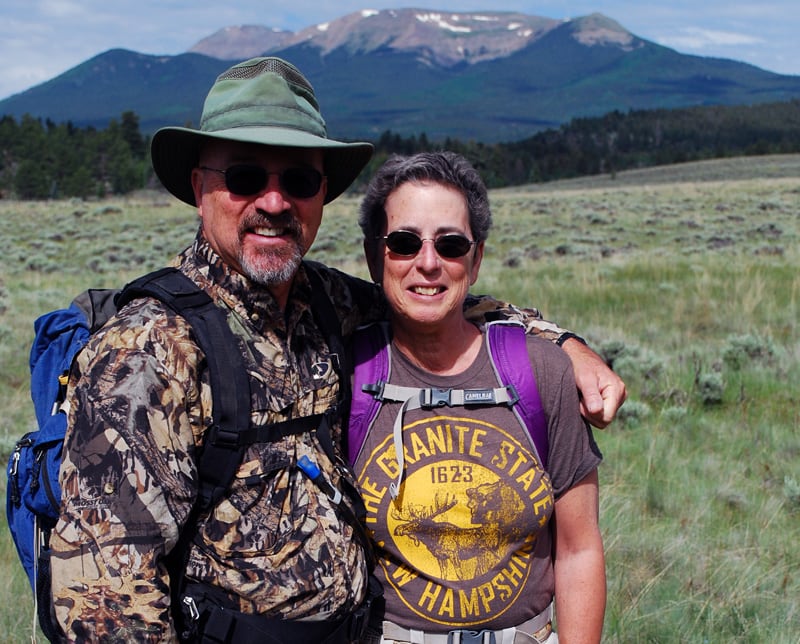 Above: Larry Chiuppi and Nancy Raimondi
You have one of the best truck camper purchase stories ever.  Tell us how you found your Four Wheel Camper.
 
Larry: In the spring of 2016 we literally stumbled into a deal.  I sat down next to a complete stranger at breakfast and we started talking.  It turned out he was selling the Four Wheel Camper that was mounted on his Ford Ranger.
We were at the Escapees headquarters at the Care unit, which is a daycare for adults.  They do a fundraiser every Friday and open the cafeteria to everyone.  I went there to have breakfast and sat down with this guy at one of the tables for eight.
He mentioned that he had just purchased Super B motorhome and wanted to downsize.  A woman at the table said, "Don't you have a tiny truck camper?"  He said, "Yes, but I'm selling it."  That's when my ears perked up.
Nancy: The amazing thing is that it was an Eagle Shell model.  We had been looking at Four Wheel Campers for years.  The Eagle Shell was exactly what we wanted because we did not want to be overweight with our Ford Ranger.
The guy had ordered it brand new from the factory and never slept in it.  The porta-potty was still in the box.  When he told us about the camper, we had to contain ourselves to not jump up and down.  It was perfect and fell into our laps.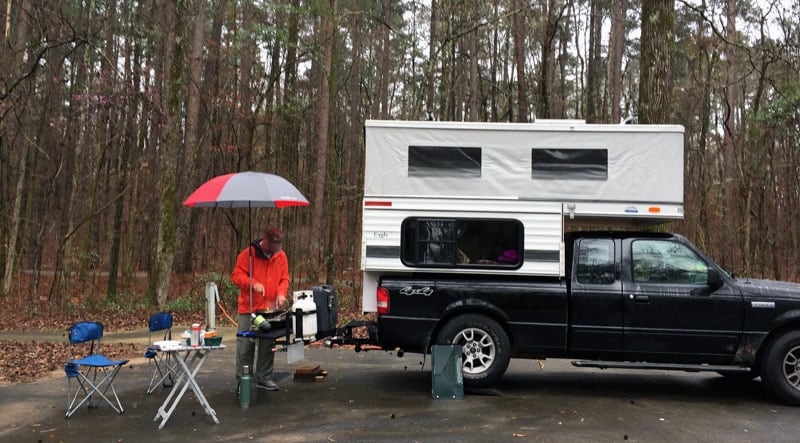 Above: Larry cooking outside in Texas
That's incredible.  Why did you want a Shell Model?
Larry: Our philosophy is to be outside as much as possible.  Unless it's raining, we do our cooking outside.  Every time we went out camping we would think about how to customize the camper.
The Shell Model originally had a mattress and four little cabinets that are 4-inches high, 2-feet wide and 6-inches deep.  There was a bench on the wings and no appliances at all.  Beyond the mattress and minimal cabinetry, it was literally a shell.
Nancy: We customized the camper slowly and were very careful about adding weight.  We didn't want to throw heavy stuff into it.  For example, we debated about a compressor refrigerator.  Ultimately we decided to get one for longer trips.
Larry: We added a custom wooden cabinet, a propane furnace, a backup camera, an AGM battery, 60-watt and 40-watt roof-mounted solar panels, a Yakima roof rail system with two roof racks, a Fantastic Fan, and a modular cloth box storage system for clothes.
Nancy: With these additions, the camper is great for short trips.  We always have it stocked with non-refrigerated foods, clothing, and essentials.
Larry: All we have to pack is medication, fresh food, and bathroom items.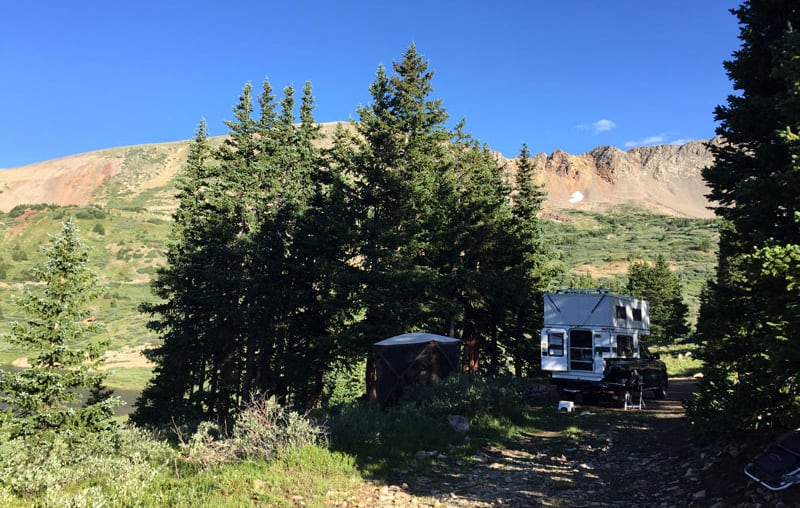 Above: Camping at Billings Lake, Colorado
And then hit the road.  Sounds perfect.  How long are your typical adventures in your Four Wheel Camper?
Larry: Typically we leave our motorhome in an RV campground all summer.  During that time we may take the camper for an overnight or two nights of fishing.  One time we went to Billings Lake for five days of fishing.
Nancy: Billings Lake was 11-miles off the main road.  We drove by two national forest campgrounds and went to the end of the road.  It was dispersed camping with a bowl surrounded by mountains with the lake.  It was incredible.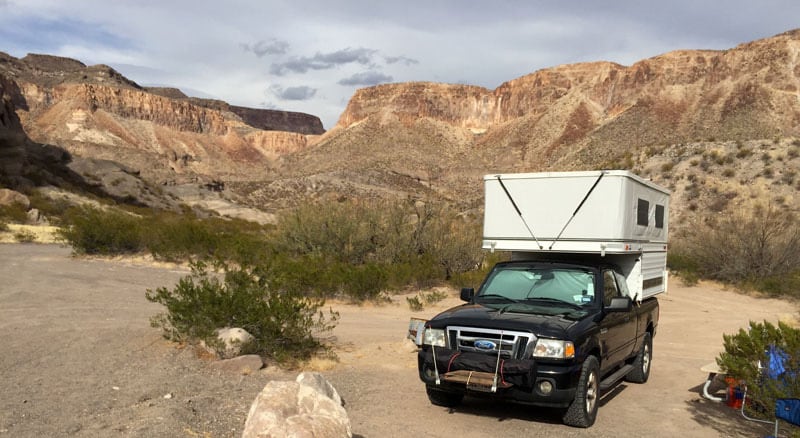 Above: Arenosa Campground, Big Bend Ranch State Park, Texas
Larry: In the winter we like Big Bend Ranch State Park in Texas.  It's high clearance and four-wheel drive is recommended for a large portion of the park.  It is backcountry, so you'll only see truck campers and Jeeps with roof top tents.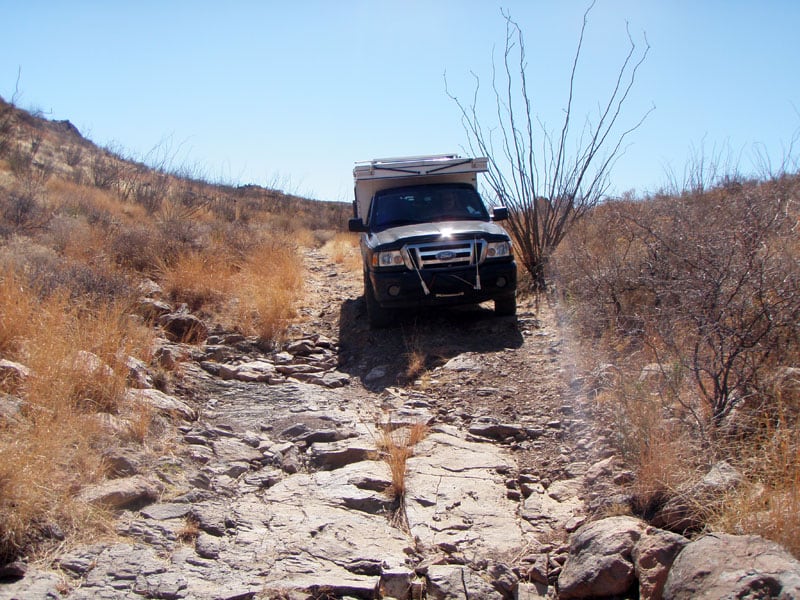 Above: Big descent to Big Bend State Park, Texas
We went to Big Bend Ranch State Park and spent seven days in the backcountry campsites and one day on the River Road section.  Driving there and back we spent twelve days in our truck camper.  That was the longest trip we've taken with our Four Wheel Camper.
The reason I bought the camper was to take backcountry trips and to go to places like Glacier National Park that are a long way away.  Instead of driving our motorhome and getting six miles to the gallon, we'll get seventeen with the Ford Ranger.
Nancy: We had always talked about going to Alaska.  We questioned whether we should bring the motorhome for comfort or to go with something smaller because of wear and tear.  We were planning on going for three months in our truck camper.  Then, my cancer diagnosis got in the way.
"One advantage to being a full-time RVer is that you can go where the best treatment is available – as long as your insurance allows for it."
Your diagnosis is an equally tough and inspiring part of your story. How did you proceed after that difficult news?
Nancy: In 2015 I was diagnosed with Multiple Myeloma, which is a type of blood cancer.  It became rampant and I had to go through treatment.
One advantage to being a full-time RVer is that you can go where the best treatment is available – as long as your insurance allows for it.
Larry: We did our research and University of Arkansas Medical Sciences (UAMS) in Little Rock, Arkansas had the best program for Multiple Myeloma.
We were there for 7.5-months as Nancy received treatment.  We lived in our motorhome and spent $12 a day.  Most patients there were renting apartments or were in extended stay hotels.  We were comfortable in our motorhome.
In 2016 Nancy was released and had monthly follow-up treatments.  We commuted with our truck camper from Colorado to Texas so she could go for her monthly treatment.
Then our insurance changed so we could only go to Texas.  Once a month we would go for two days.  If it was hot we would stay in a motel.  In January 2018, she was told that she was in deep remission.
Nancy: We started planning trips to the White Rim trail, Big Bend National Park, and British Columbia.  But then this past February my local oncologist didn't like my blood counts.  I went from a really big high to a low.
A couple of months later, the diagnosis was confirmed.  We canceled our White Rim trail trip.  We are now in Houston and we have been here since April 1st.  We're going to be here for about a year.
Larry: While Nancy was going through this I had my once-a-year exam.  Usually the doctor says that I'm healthy and I wait until the next year.  This time he said, "I don't like the PSA results and what I felt during the exam. Go see the urologist."
Once we were in Houston, I saw a urologist.  I had high-risk aggressive prostate cancer and needed surgery.  Four weeks later I was post-op and told I would need follow-up radiation soon.
As of December, Nancy has been in remission.  It looks like I will not be in remission until the spring.  Then we'll get out of here and go back to traveling like we used to do.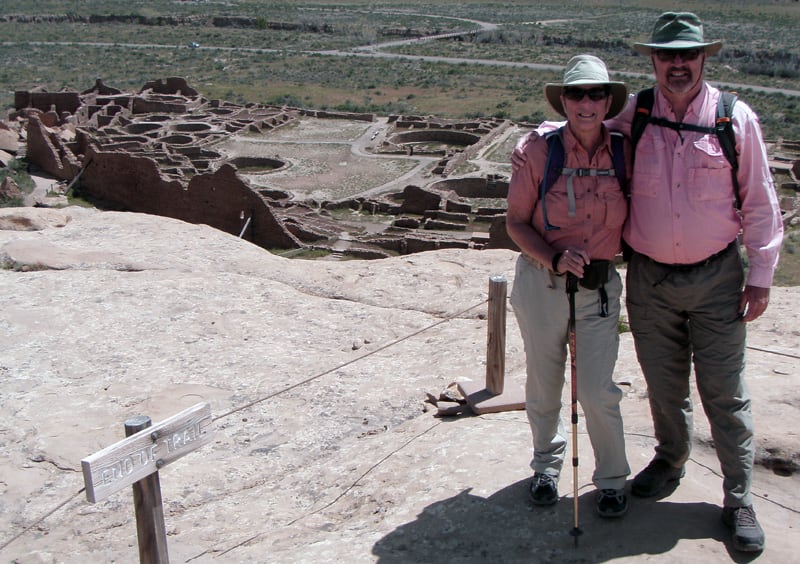 Above: A hike in Chaco Culture National Historic Park, New Mexico
It's unthinkable that both of you were somehow diagnosed with cancer around the same time.
Larry: This may sound strange.  When you find out that someone has cancer, you think it's a death sentence.  Once you have it, you live with it.  It becomes like a chronic disease.  People live with diabetes and heart disease.  We happen to have cancer, and we're living with a positive attitude.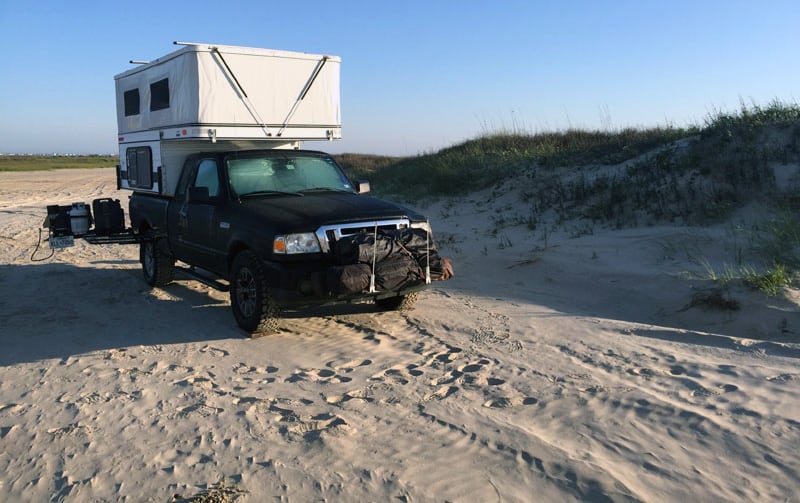 Above: Getting away to Matagorda Beach in Texas
Nancy: We try to get away, and not talk or think about cancer.  We read, play cribbage and walk on the beach.  We try to forget about it when we can.
Having a truck camper is great.  We don't plan dates, but we do talk about where to go when we're able to travel.  The planning about where to go and what four wheel drive roads to drive on is a distraction.  It's something to think about and talk about.  It makes owning a truck camper worth it.
Larry: We retired in January of 2017.  Then life got twisted up.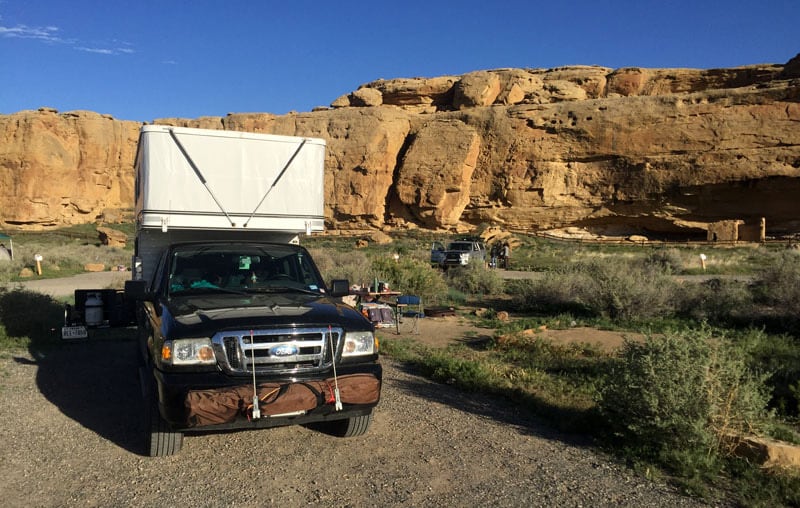 Above: Camping at Chaco Culture National Historic Park, New Mexico
It sure did.  We are deeply moved by your determination and positivity.  Thank you for sharing such a personal story with us and our readership.  When you're staying put for a while, do you use the Ford Ranger as a daily driver?
Larry: Yes, we do.  The Four Wheel Camper is demountable, but it's currently bolted to our truck.  We leave it on the truck all the time.
Nancy: We took the camper's jacks off to reduce weight.  They are stored in a shed in Colorado.
Larry: Here's a story.  We were in Houston with the camper on the truck.  Where we needed to go had a parking garage which was about the only place to park.
I was smart enough to drive in and check the height using the thing that hangs down to make sure that you are low enough for the parking facility.  Our camper fit just fine.
Nancy: We were driving up in the garage and kept hearing thunks.  We thought it was the expansion joints.  We went all the way up to the 6th level.
Larry: We went all day to the clinic.  Then we got back to the truck and camper and started our decent.  That's when we heard a big thunk.
The Yakima roof rack was knocked off the camper after coming in contact with the parking garage.  Luckily, it was the cheapest part of the system that broke.
The lesson is, the sign may say 7-foot clearance, but don't trust it.  That was the only place we have had an issue.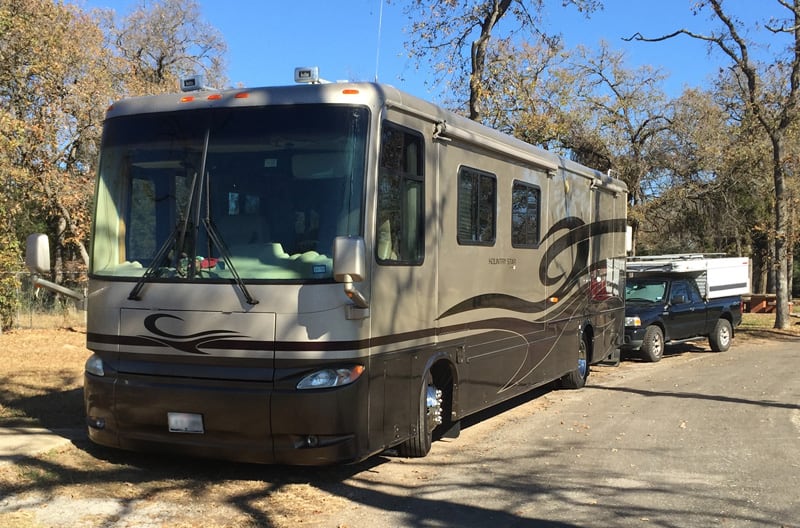 We think about that every time we drive under an overpass with a height sign.  Sure it says 13-feet, but did they add a few layers of asphalt since then?  What's it like driving the motorhome with the truck camper in tow?
Larry: Our rig is 65-feet from the front bumper of the motorhome to the back bumper of the truck and camper.  It's actually pretty easy to drive.  We have four wheels flat towing with the Ford Ranger.  All four wheels are on the ground.
We have a tow bar on the back of the motorhome and a Roadmaster tow bar bracket on the Ranger.  When we get ready to leave, I take the cover off the tow bar, hitch it to the Ford Ranger, plug-in the electrical connections, check the lights, and move it a few feet to make sure it's in neutral and the brake is off.  Then we head down the road.
When we were working, we would move every two weeks.  Our work assignments might have been 1,000 miles apart.  So, we were traveling 1,000 miles in four or five days.
If we didn't have the camper on the truck, we would look like 90-percent of the motorhomes set-ups out there.  Almost everyone tows a vehicle or trailer behind a motorhome.  The difference is that we have another RV back there.

It's amazing to me that you are both comfortable and accustomed to towing with a 65-foot set-up.  It's also fun how completely different your two RVs are.  Other than traveling off-road, what do you enjoy to do when you're out truck camping?
Larry: We are passionate about fly fishing, hiking, and backcountry exploration.  We are no longer capable of backpacking, so our four-wheel drive camper combination gets us to very similar places.
Our ideal camping location is at the end of a rough road, with an elevation greater than 9,000 feet, next to an alpine lake, with native cutthroat trout and not a soul anywhere nearby.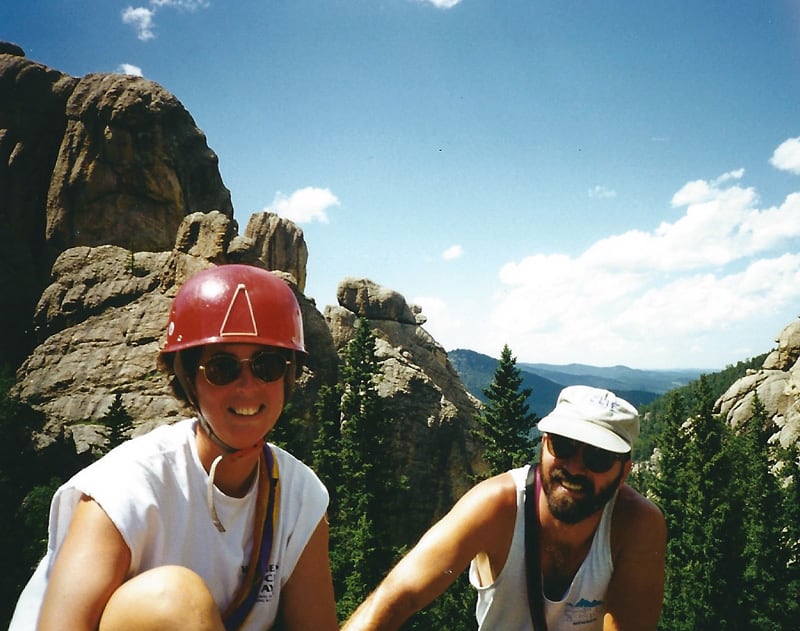 Above: Rock climbing in the Black Hills
I think at least half the folks reading this article just thought, "That sounds awesome".  How did you make the decision to go full-time?
Larry: In 1995 we had a little Skamper truck camper and took it on a three-month rock climbing road trip coast-to-coast.  We put 11,000 miles on it going to rock climbing spots and national parks.  During that experience, we got the travel bug and realized that three months was not enough.
After that, we got a 21-foot Class C and planned to hit the road in two years.  In 1998, we sold our home.  We had saved our money and had enough to go full-time for two to three years.  We were 43 years old at the time.
"When we came back to our house, we'd walk around and say, "What do we have all this space for?" and, "Why do we need all of this?"
Nancy: It was all up to how well we could budget.  We looked for free camping to extend our time on the road.
Larry: Along the way, someone said, "Why are you only on the road for two years?"  When we explained our financial situation, they said, "Why not get a job?" '
So we became work campers, sold Christmas trees, and then got a job with AGS Publications.  They make sitemaps for campgrounds.  That was a real job.
Once we had been on the road for two years, there was no reason not to be full-time RVers.  To buy a Class A diesel pusher was no different than getting a mortgage.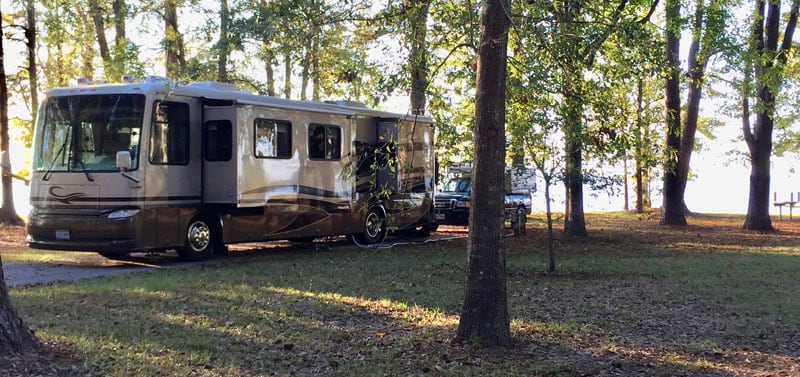 What were you doing for AGS Publications?  That sounds interesting.
Larry: When you check into a campground, you'll often get a map of the campground with the rules, advertisements of local establishments, and some photos.  AGS designs those maps and we sold the advertising for them.
When we were working with a campground, Nancy would go out and sell the ads.  I would work with the campground owner to come up with the rules and make changes for the campground map.
Nancy: Larry ran the office and designed the ads.  I would do sales.  He did all the paperwork and I got to be out all day.
Larry: There are two major players for campground maps; AGS and Southeast Publications.  Both hire teams.  There is an interview process and then they hire and train you to do the job.
Most of the campgrounds are recruited by the company and assigned to a team.  Sometimes you recruit your own campground.  You always have the option to say yes or no to a job.  For example, they wanted us to work in Houston and San Antonio, but we didn't want to work in cities.
We always did a layout on a paper grid of where the ads and sitemap would go.  Then we submitted the package to the company.  They have graphic artists and map makers.  AGS then sends the map to the campground 60 days later.
Nancy: You end up with a schedule of jobs for a year and then go back to the same campgrounds year after year, unless you surrender an area of the country.
We worked for AGS for 18-years.  Like anything, it takes a while to get the schedule you want.  For example, we were in Branson, Missouri in the fall, and Hill Country in Texas in the winter.  We had jobs we liked.  We could travel.  After all, the whole reason to stay full-time was to travel and see new places.  We just did little things in between jobs.
Above: The summit of Guadalupe Peak in Texas
Was working for AGS lucrative enough to maintain your lifestyle and expenses?
Nancy: We were able to buy our fourth motorhome, have our own health insurance, and have a 401K.  AGS is sales commission-based.  As hard as you want to work and as good as you want to refine your sales skills determines your success.
Larry: In the early days of our career with AGS, the national cell phone service was sketchy.  At that time, the campground clients did not have the expectation of us immediately getting back to them.  If we wanted a three-day weekend, no one knew because there wasn't instantaneous communication.
As technology has progressed, if they called you at 9:00am on Tuesday, there would be an expectation that you would get back before noon.  You better be out working.
"If we could go back in time, we would have started this even younger."
What do you see as the biggest challenges to living full-time on the road?
Larry: You need to know what you want out of life.  We didn't just want to drive through every state.  We wanted to enjoy our hobbies, like rock climbing when we were younger, and now fly fishing.  We also love traveling.  We have been as far northeast as Nova Scotia and as far southwest as Cabo San Lucas, Mexico.
Nancy: Whether or not you're happy full-time depends on your personality.  A lot of people are home bodies and like to have stuff all around them.  Stuff defines them.
We went on that three-month road trip in our Skamper when we were 40 years old.  We didn't have our stuff with us.  When we came back to our house, we'd walk around and say, "What do we have all this space for?" and, "Why do we need all of this?"  I realized that I had just spent three months on the road being so happy with so little.
That was a turning point.  I didn't need all that stuff to be happy.  It's was a huge realization.  People thought we were crazy because we quit our jobs.  We were both in health care.  Larry was head of the Pharmacy at a state prison center and I was working cardio at a local hospital.
Our parents thought we had lost it.  We learned a lot about ourselves on that three-month trip.  We also learned that we could live together in a small truck camper and be happy.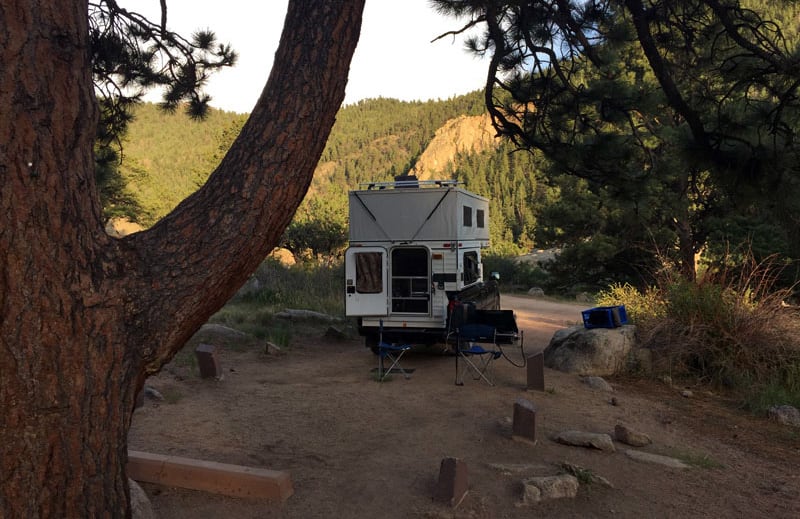 Above: 11 Mile Canyon State Park, Colorado
Has living full-time in an RV changed over the years?
Nancy: A lot has changed since we started full-time on the road.  We didn't have the internet, reliable cell phone service, or Facebook.  With cellular internet, there are so many ways to stay in touch now.
In the early years, we would meet fellow RVers, but the cost of cell phone calls meant we couldn't always keep in touch.  It was often a long time before we would run back into people we had previously met.  I remember saying that we are rolling stones rolling around the country.  We never knew where our friends were located.  Reliable cell service and cellular internet changed all of that.
Larry: You have to be a problem solver.  The same thing can happen in a house as it does on the road.  For example, your truck was totaled.  How is that different than living in a house?  There could be a fire or a tree could land on your roof.  You deal with it.  You dealt with your truck camper accident step by step and you would have done the same if you were in a house.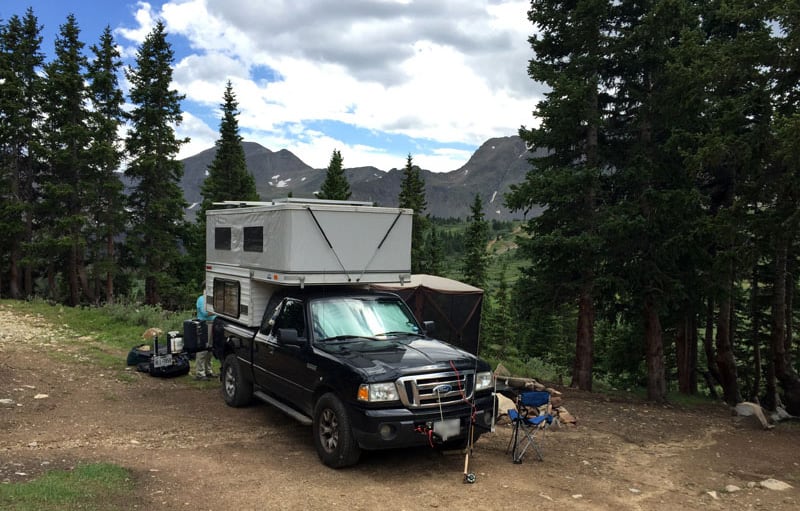 Above: Billings Lake Campsite, Colorado
We often say that life follows you no matter where you go.  Stuff happens.  After 20 years of being on the road, do you ever plan to go back to a house?
Larry: We are going to stay full-time, but it will change as we get older.  It may be that we have a RV lot in southern  Arizona for the winter and another RV lot in Colorado for the summer.  Maybe we'll do five months and five months.
We don't see ourselves buying a home.  We are planners.  We know that we can't always run down the road in a 40-foot motorhome.  At that point maybe we'll have a park model and a camper.  That would be the closest thing to a house we would consider.
At age 63, our adventures are temporarily on hold because we are both currently being treated for cancer.  We fully plan to be in remission and back on the road shortly.
During this little hiccup, our truck camper has allowed us to take the occasional overnight camping trip to the beach or a state park to watch a million bats ascend into the sky from a cave.  We leave our 40-foot motorhome, which we live in, to stay at the RV park which is close to our cancer treatment centers.  It is truly our escape pod.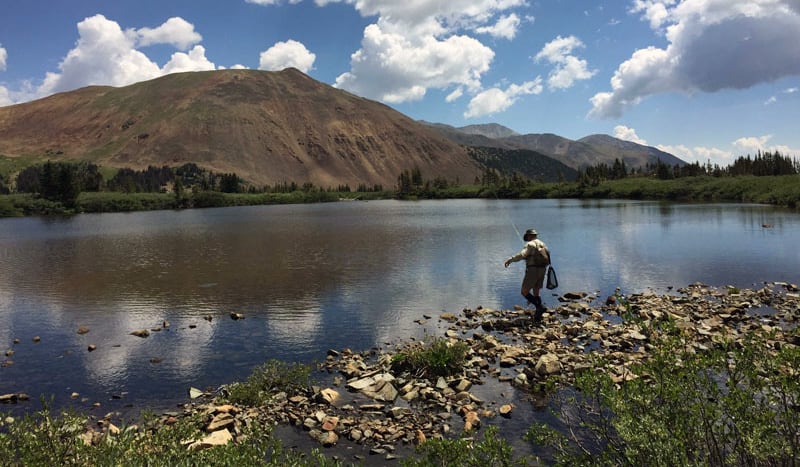 Above: Fishing at an alpine lake near Billings Lake, Colorado
Thank you again for sharing your incredible story.  Is there anything else that you'd like to share?
Larry: We have had our challenges through the years, and more than our share of adventures.  We have gone full circle.  Our first RV was a pop-up truck camper.  Now we have gone to a Four Wheel Camper Eagle Shell with some creature comforts.  It took us 30-years.  The only regret that I have is that my body doesn't allow me to do things my mind wants to do.
Nancy: We didn't want to wait until we were 65 to do outdoor activities at will.  We rock climbed when we were young and fit.  We also canoed, backpacked, and did what we wanted to do.  I'm glad we did it because as we got older, we can't rock climb anymore.  If we could go back in time, we would have started even younger.
Larry and Nancy's Rig
Truck: 2009 Ford Ranger Super Cab XLT, four wheel drive, single wheel, gas engine, auto transmission, short bed
Camper: 2014 FWC Eagle shell
Tie-Downs and Turnbuckles: Camper is bolted through the truck bed
Suspension: Custom rear spring pack
To visit the Four Wheel website, go to fourwheelcampers.com. Click here for a free Four Wheel brochure.