Fellow truck campers Bruce and Deborah VanAken love nothing more than a relaxing day at Disney World, or Jeeping the deep mud in Michigan.  Wait, what?  It's a Small World.  Eat, sleep, Jeep – and go truck camping!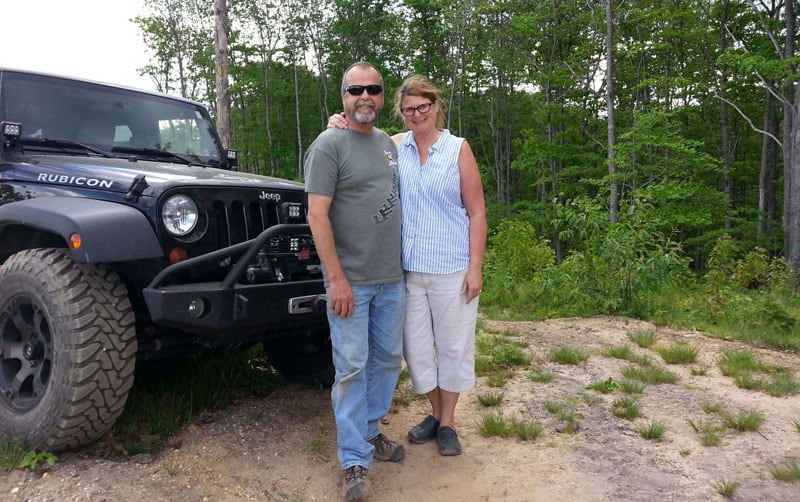 Above: Bruce and Deb with their Jeep Rubicon
Imagine meeting a couple in their 60s at Disney World in Orlando, Florida.  No grandkids at their side, just the two of them relaxing and enjoying a fun day at, "The Happiest Place on Earth".
You'd never expect that this same couple, a few weeks prior, was wheels-deep Jeeping in some gnarly mud in Upper Michigan.  Just the two of them relaxing and enjoying a fun day, "going where regrets can't follow".
Disney and Jeeping?  Mickey Mouse and Moab?  The Magic Kingdom and Michigan mud holes?  When this story first crossed our editorial plate the contrast between these interests was almost too much to believe.  Then we heard their story and somehow it all made sense.
Oh, and there's one more thing.  It's a Disney thing, a Jeep thing, and a truck camping thing.  That's right.  Whether they're in the Upper Peninsula, Fort Wilderness Campground or Moab, their home away from home is a 2016 Ram 3500 and 2019 Northern Lite 10-2 EX Limited Edition.
Pushing the limits of what truck camping versatility really means, we introduce you to Bruce and Deborah VanAken.  It's a Small World.  Eat, sleep, Jeep – and go truck camping!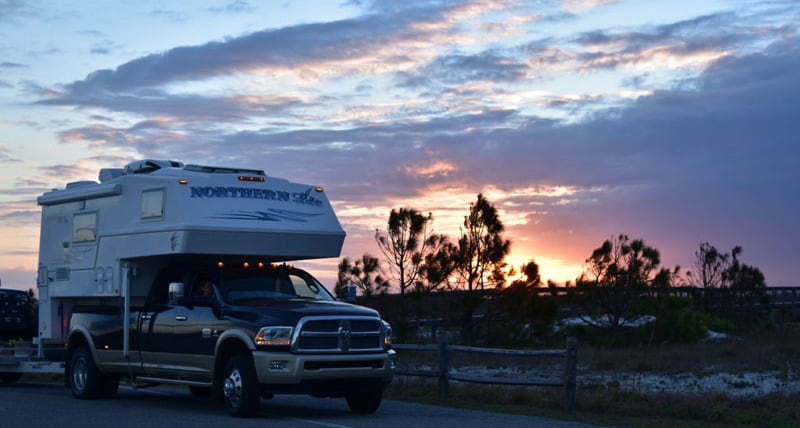 Above: Bruce and Deb's 2012 Northern Lite 10-2 CD Special Edition
How did you get into truck camping?
Bruce: My brother had a truck camper for years and I always noticed that he would pull a fishing boat behind it.  A friend at work purchased a truck camper and would pull a snowmobile trailer behind and take three kids with them everywhere.  Seeing their rigs got me thinking about a truck camper.
As we approached retirement, we knew we wanted to travel more, camp more, and take our Jeep with us.  We were coming home from a trip up north one day and noticed a rig pulling a Jeep behind it.  Deb said, "That would be a nice way to travel".  I agreed and that started the serious conversation of what type of set-up we would want.
We decided on a truck camper because we could use the truck on a regular basis for maintaining our farm.  All we had to do next was figure out which truck camper was right for us.
After previously owning a travel trailer and pop-up tent camper, we decided we wanted a four-season hard side truck camper.  We started looking at truck campers where we could find them.  They are not available at most Michigan RV dealerships.
We went to an out-of-state dealer that had a nice selection of different truck campers to look at.  That's where we saw our first triple-slide truck camper – wow!  After looking at everything on the lot we headed back home with a lot of information and what we felt was a good overview of what was available.
I wanted to keep the camper simple and the weight down as much as possible.  That meant no slide-outs.  I also wanted as few exterior seams as possible.  Plus it had to be a model we both liked and felt comfortable with.
A few days after we were back home, we decided to purchase a Northern Lite 10-2 Special Edition that was four years old and in like-new condition.  The camper met all of our criteria; reasonable weight, four-season ready, no slides, few seams and comfortable for both of us.  We also really liked the fiberglass construction method Northern Lite uses.
We camped in the Northern Lite 10-2 Special Edition for two-and-a-half years and then upgraded this year to a brand new Northern Lite 10-2 Limited Edition.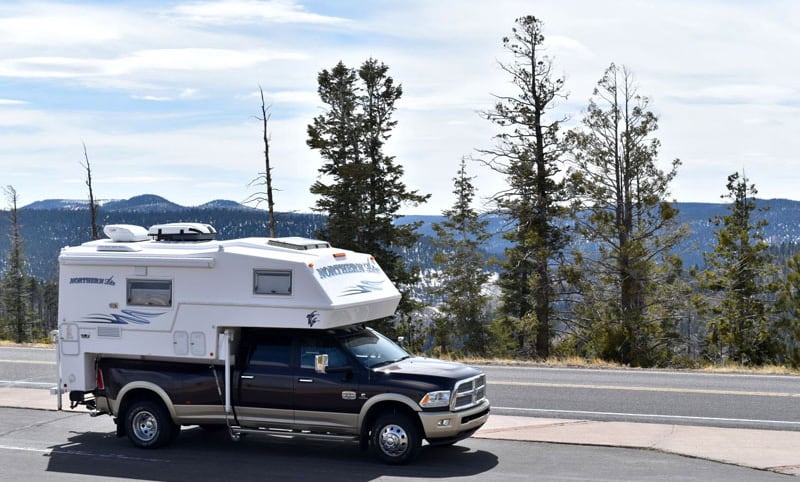 Above: Bruce and Deb's 2012 Northern Lite 10-2 CD Special Edition
What was it about the Northern Lite Limited Edition that made you want to upgrade from the Special Edition?
Bruce: The driving force for us to upgrade to the Limited Edition model from our Special Edition were the factory upgrades that we wanted; two solar panels, built-in Onan generator, rear power awning, USB outlets, U-shaped dinette and Hypervent under the mattress.
Deb: We had a 2012 Northern Lite 10-2 CD Special Edition that was made before the new Northern Lite 10-2 EX molds debuted.  The Limited Edition is a 10-2 EX, which means that it has a lot more room.  It has a slide-out pantry, and the hallway is a bit wider which makes passing in the hallway easier.  And the bumper step and patio are a safer design for entering and exiting the camper.
Bruce: The Limited Edition offered all the little things we wanted and was well worth the trade up.  We really like the fit and build quality of Northern Lite.  Having had two of them now, I would never want to go to a slide-out model.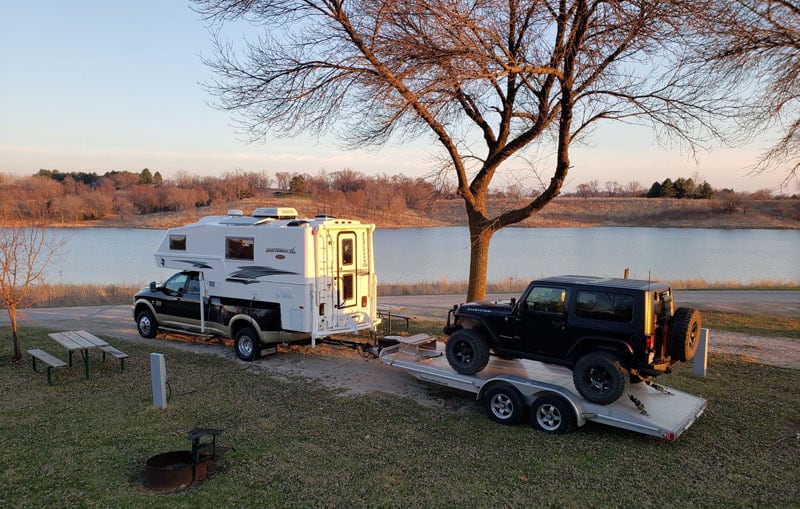 Above: Bruce and Deb's 2019 Northern Lite 10-2 Limited Edition
The 10-2 EX is a bit longer than the 10-2 CD. Did that impact your towing set-up?
Bruce: I have a Torklift SuperHitch with a four-foot SuperTruss extension.  I only needed a three-foot SuperTruss with the 2012 Northern Lite, so we had to purchase the four-foot extension to accommodate the longer 10-2 EX Limited Edition.
We decided on the Torklift SuperHitch and SuperTruss set-up because of the tongue weight capabilities of this system.  We use a weight distributing hitch to safely tow the trailer and Jeep Rubicon.  A set of Mac's tie-downs are used to secure the Jeep to the trailer.
The weight distributing hitch does its job.  We spent some time at a CAT Scale weighing our rig.  Using the weight distribution hitch removed 300-pounds from the rear axle, adding 200-pounds to the front axle and the balance went to the trailer.  As a result, the weight distribution system makes the rig feel much more stable on the road.
We tow our Jeep Rubicon behind our rig with an 18-foot aluminum trailer.  We prefer to trailer the Jeep to save wear on the tires.  More importantly, if we broke the Jeep off-roading, we would hopefully be able to load it up and haul it somewhere for repair – or take it home.  We love exploring with our Jeep.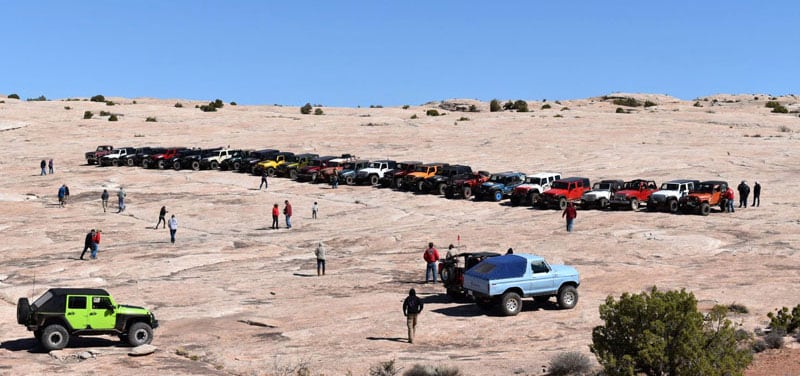 Above: Easter Jeep Week Utah
Where do you go exploring with your Jeep Rubicon?
Bruce: Moab, Utah is an awesome place to play with our Jeep with many trails to experience.  We have been going there for the Easter Jeep Safari event the last couple of years and have made new friends from Albuquerque and Oklahoma City that we meet up with and hang out together.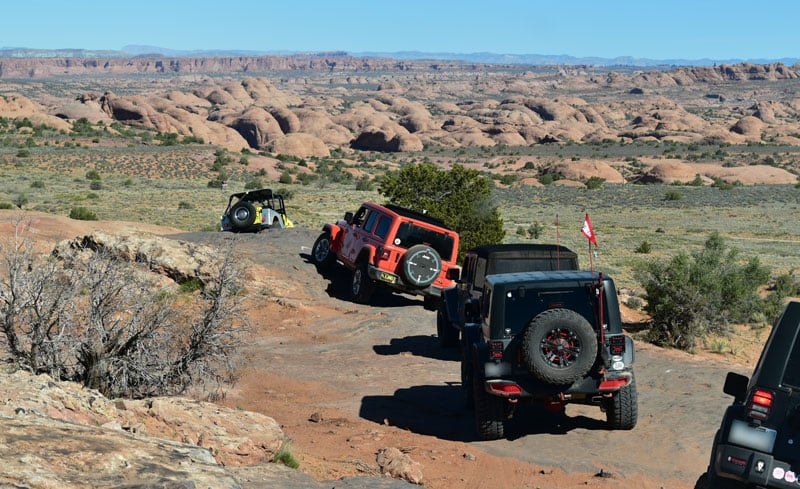 If you are going there for Easter Jeep Safari and wanting to camp in an RV park, advance reservations are advised. We made our reservations for 2020 while we were there this year.  It fills up fast.
Where else do you tow your Jeep?
Bruce: We tow the Jeep with us to Florida, Drummond Island in Michigan's Upper Peninsula, and up to Camp Grayling in Grayling, Michigan. Camp Grayling has several thousand acres where we can run trails.
A couple of times we took the Jeep to the Bantam Jeep festival in Pennsylvania.  We get around a lot of places.  Moab is the furthest destination we have towed the Jeep so far, but Alaska awaits.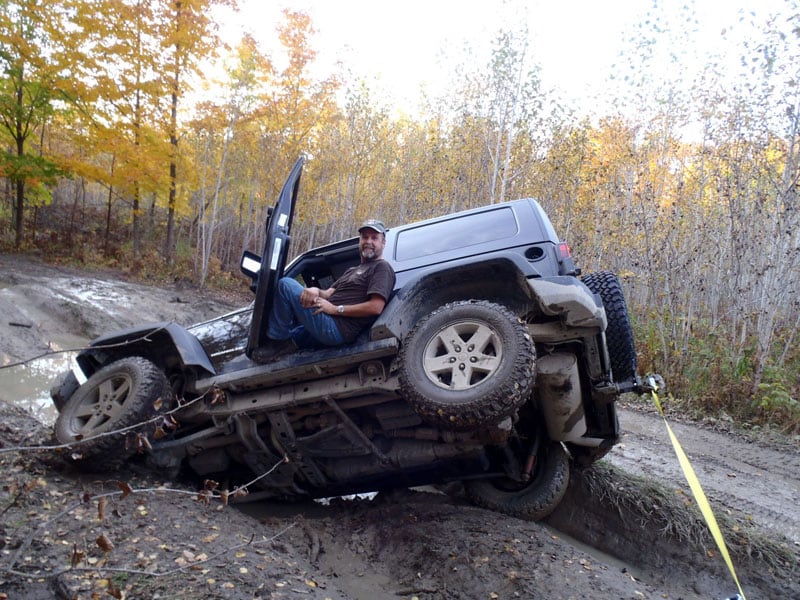 Tell us about the pictures of your Jeep sideways in the mud.  Are those the kind of trails you usually seek out when you bring your Jeep along?
Bruce: I like to explore a lot.  It makes Deb a little nervous.  That picture with the mud was on Drummond Island in Michigan.  I got stuck and had to get help to get out.
I started by digging out behind the rear axle.  The ruts were holding it in place.  Another Jeep came along and had a winch on the front.  We had talked to them earlier on the trail.  After they got pictures and had a good laugh, they pulled me out.
Deb: A buddy of theirs had broken an axle in the same hole.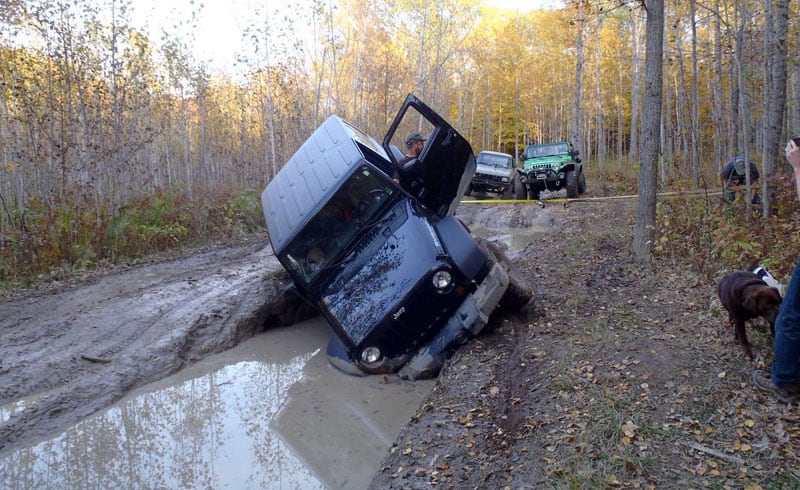 Bruce: The off-roading we do here in Michigan is different than in Moab.  Rock climbing is a new experience and it's fun.  In Moab we are with a group of people which keeps things comfortable.  I like the excitement and seeing what my Jeep can do.  This is exactly why they built Jeeps.
Deb: After that experience I made him buy a winch.  This year we bought a GPS tracking system.  We get way out in the boonies and it's unnerving to be that far from civilization.  With the GPS tracking system, we can hit the red button and someone can come rescue us.  Fortunately, we haven't had to use it.
Bruce: We got it before we went to Moab.  We can send messages to our kids and they can see our GPS coordinates.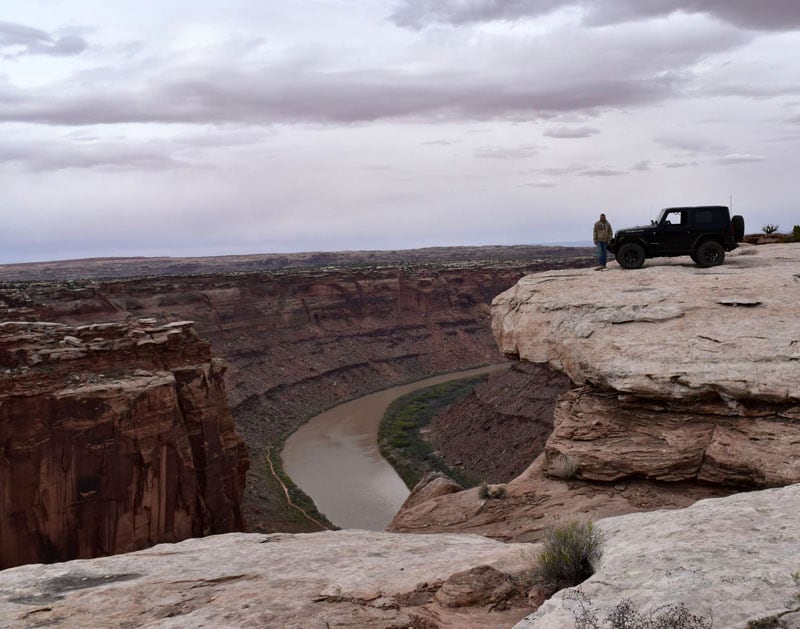 You specifically bought the Jeep Rubicon.  Why did you select that model?
Bruce: From the factory, the Jeep Rubicon is capable of the type of trails we enjoy.  You can take them off the showroom lot, and do what we do.
I show guys pictures of us Jeeping and they say, "What are you doing?"  I'm doing what the Jeep was built for.  I bought it to have fun.
I had an older Jeep before that.  I test drove different Jeep models and what I really wanted was a Rubicon.  I added extras like the bigger tires, a winch, and a custom bumper that was added with the winch.  Then, I had to get a custom bumper on the rear to match the one on the front that could carry the heavier spare tire.
The majority of the Jeeps we see on the trails are Rubicons.  There are also a lot of Jeeps we see on the trails that people buy and modify themselves.  I bet it's 50-50.  Each Jeep has been modified in some way.
There are many accessories made for Jeeps.  Tires, wheels, bumpers; it never stops.  Last year, I added custom seats for my Jeep.  I might be done now, but don't make me swear to it.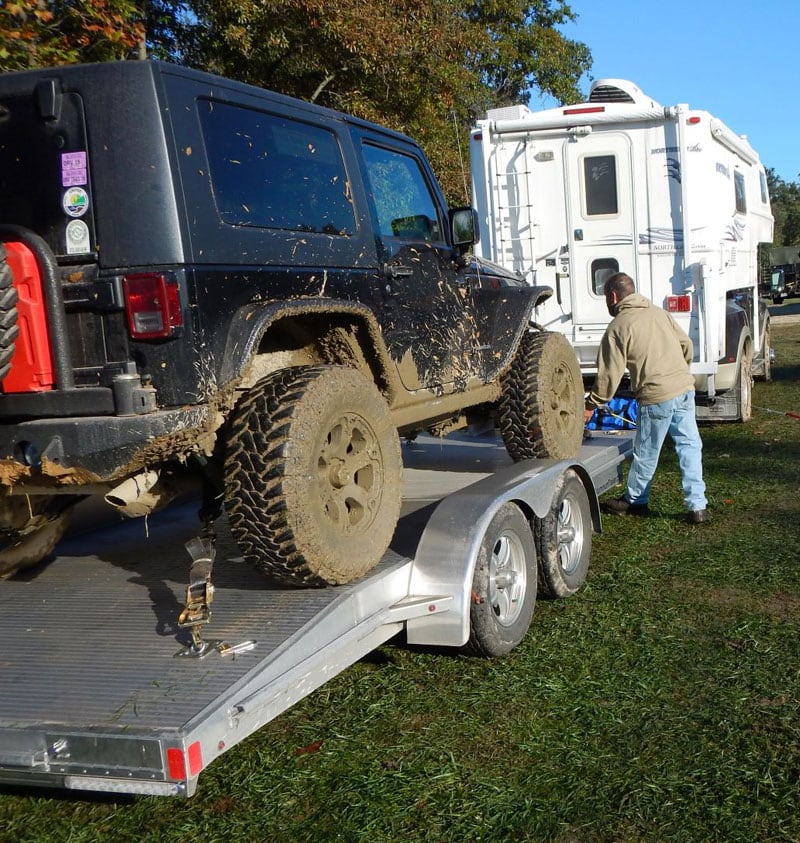 Jeep upgrades sound addicting.  With all those hard trails you've been on, have you had anything break on the Rubicon?
Bruce: I haven't had anything break, but minor things have happened.  I have locking axles on the Jeep.  On one trail, the front locking mechanism stopped working, but it didn't stop me from continuing on.
One year I had it in for warranty work and we were just getting ready to go to the Black Hills in South Dakota.  I picked it up at the dealership with the truck and trailer and we left the next morning.  Out west we headed with the Jeep and set up camp at Fort Custer State Park.
I got 20-miles down the road and a radiator hose blew.  It turned out that the tech who worked on the Jeep forgot to tighten a clamp on the radiator hose.  It was an honest mistake.
Most of the time when people break stuff they are doing something their vehicle is not capable of doing.  I try to be smart about what I'm doing.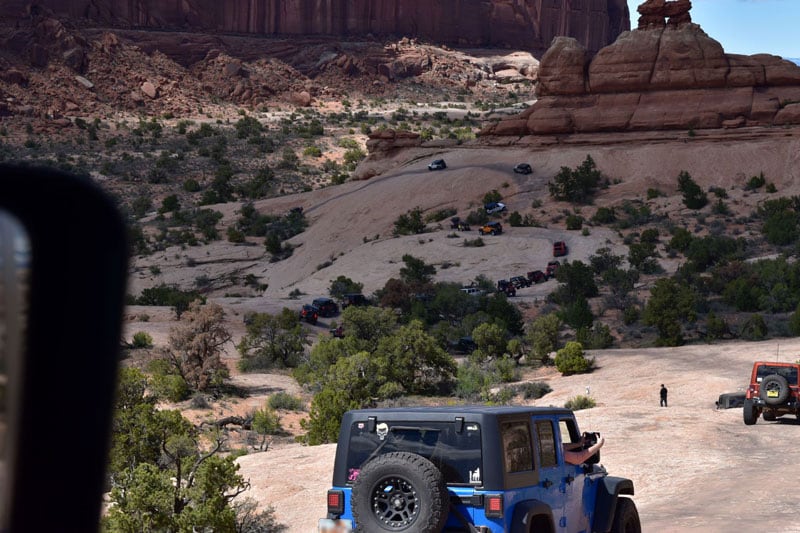 What got you into Jeeping?
Deb: The Jeep hobby started when Bruce was in the fire department and became Chief.  As you can imagine, that was a lot of stress.  That's when he bought his Rubicon.  A lot of this is stress relief.
Bruce: I was born and raised and worked on a farm my whole life.  As a kid I was using tractors to make my own trails through the woods, and built my own off-road vehicles.  I liked playing with motors and being in the mud.  I had four-wheel drive trucks, and always wanted a Jeep.
I bought my first Jeep twenty years ago, and still have that one in my barn right now.  Eleven years ago we decided that we needed to upgrade to a newer one, so we got the Rubicon.
Driving the Jeep is a stress release, but we are also meeting people when we go to Jeep group events here in Michigan.  We love exploring the woods and seeing new territory.  I have always wondered where trails go, so I have used my axe, shovel, and chainsaw, and cleared trails to find out.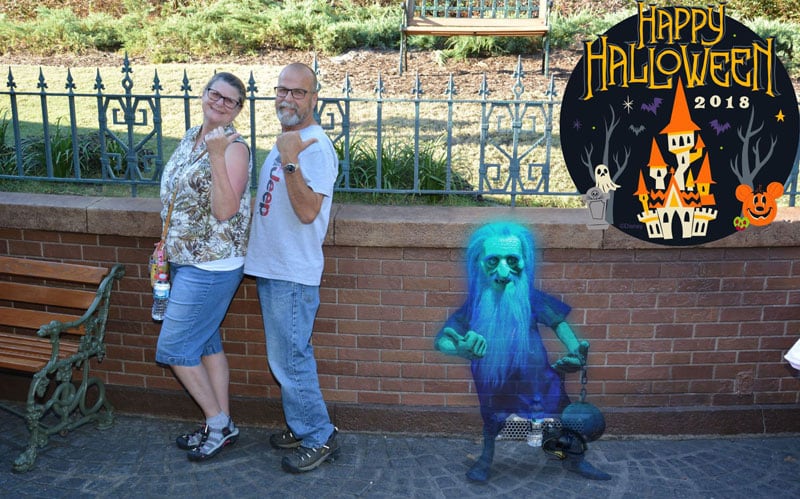 On a totally different note, you also take your truck, camper and Jeep to Disney World.  What's the story there?
Bruce: We like to go to Fort Wilderness Campground at Disney World in Orlando, Florida.  If you are into Disney, it is a great place to relax and have fun.  We enjoyed camping there with our kids several times as they were growing up and have found it to be just as much fun for the two of us.
Deb: Now that we're older, we'll go to one of the parks in the morning, and then go back to campground and hang out at the pool or sit around and relax.  Then we might go back in the evening when it's cooler and not as crowded.  The campground has always been quiet during our stays.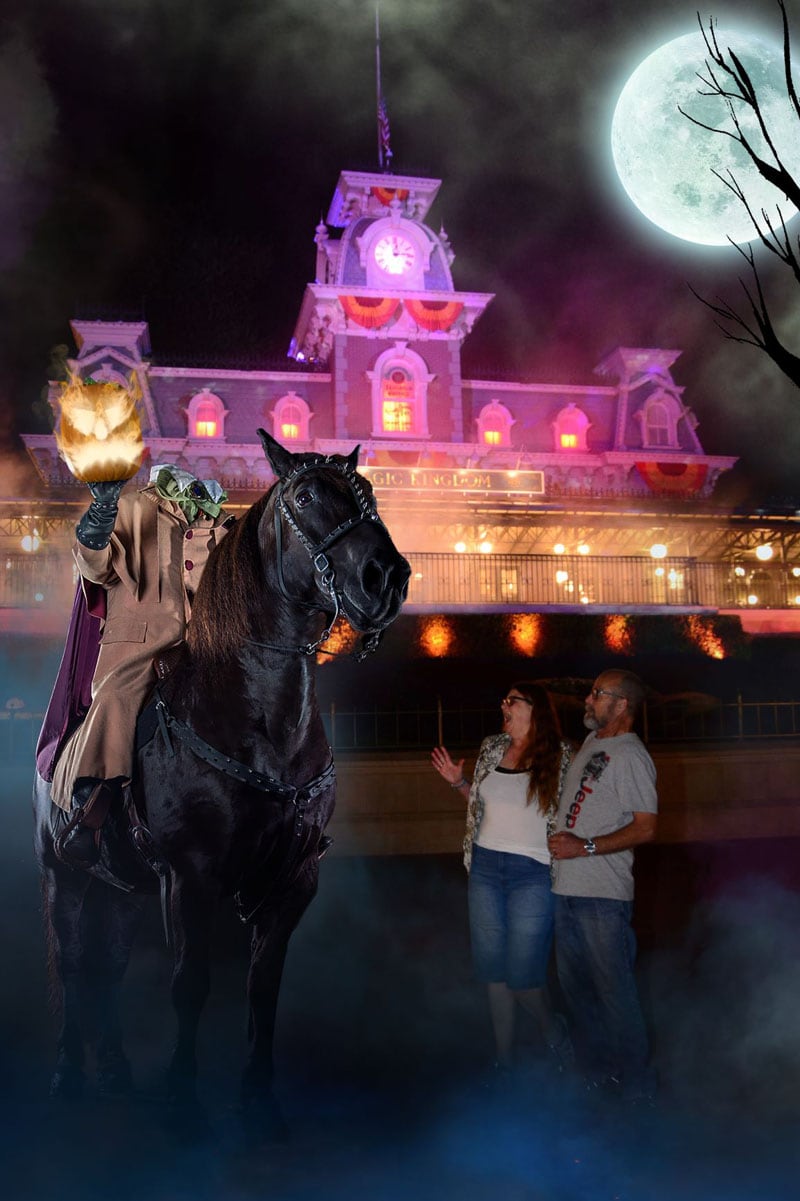 Above: Headless Horseman at Disney for Halloween
Bruce: The holidays are busy, but fun as most of the campers decorate their RV and campsite for the occasion.  We have been at Disney World for the last two Halloweens and it is amazing how creative people are.  RVs are turned into pirate ships and campsites are turned into the Haunted Mansion.  If you like Halloween, you would enjoy Fort Wilderness Campground.  We have never seen another truck camper there during our visits, which is usually during October and January or February.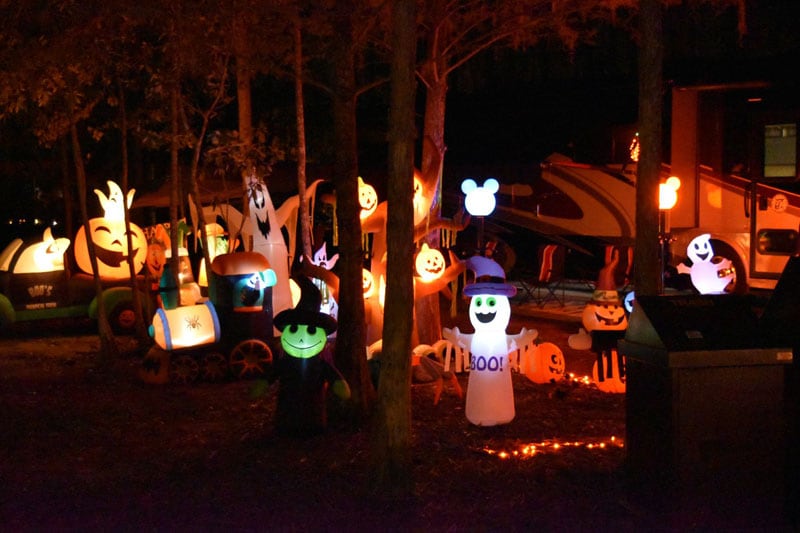 Reservations can be made starting 499-days in advance, which is advised for special events and holidays.  If you want to stay Halloween night it is advised to use a travel agent who specializes in Disney.  We were lucky and snagged Halloween night about a month before our stay two years ago.
Deb: Even though I'm 65 years old, seeing Mickey Mouse still makes me smile.  My folks took me there in December the year the park opened in 1971, and we went back on our honeymoon.  I remember when it wasn't so busy and have great memories of Disney.  Our whole family loves it.  My sister lives nearby and loves it.  Disney just feels like family for me.
When we are there, the rest of the world goes away.  The news isn't on, so we don't hear about horrible things.  We have fun and see nice things.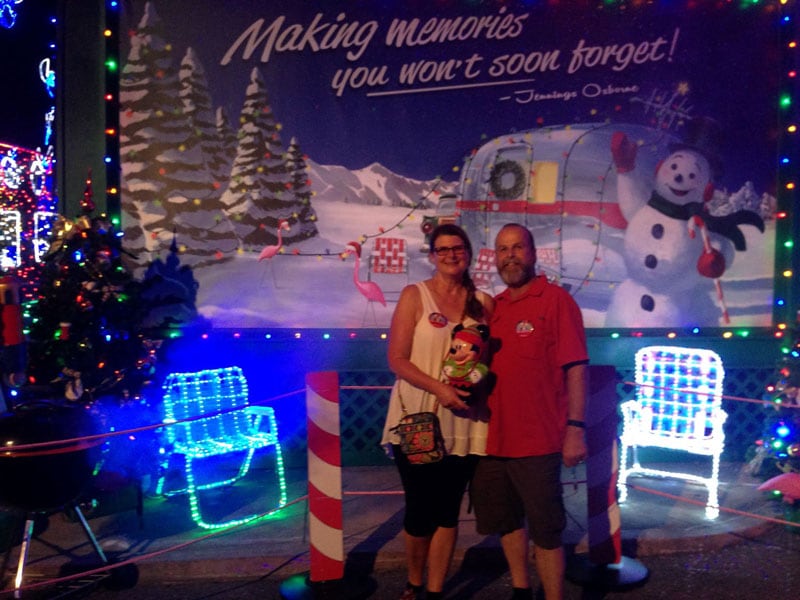 There was a Northeast Truck Camping Jamboree at Disney back in 2013.  We went and had a great time, but it was very expensive, and quite crowded.  Any tips for fellow truck campers who might want to go to Disney?
Deb: It's helpful that we know what to avoid and what times of the day to visit the parks.  You can't let the crowds get to you.  Obviously, Halloween, Christmas and Spring Break are very busy.  You have to spend time planning what you are going to do.
On Facebook there are Disney camper groups.  They have helpful tips and hints.  There are a few key books like, "The Unofficial Guide to Walt Disney World" and, Birnbaum's "The Official Guide to Disney".  I recommend those books.
There's also a website called MouseSavers and it has all sorts of information.  It's important to educate yourself before you go.  For example, right now there is construction going on in the park.  It's not as fun in Epcot because there are walls everywhere.  If you are a newbie, start with one park per day.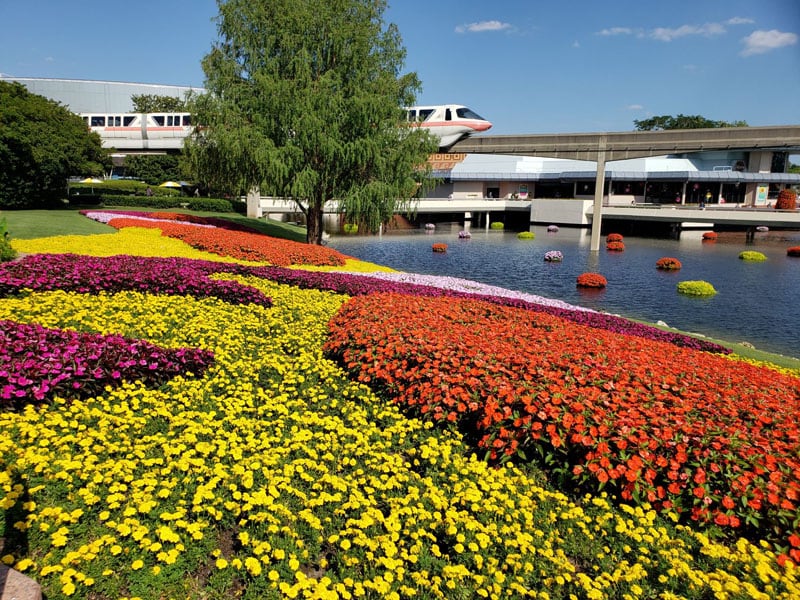 Above: Epcot at Disney in Florida
Any tips for Fort Wilderness Campground?
Deb: With a truck camper, I would get a preferred site because they are up by the docks and you can take the boat to Magic Kingdom.  Then you can take the monorail to Epcot, and then take a boat or Skyliner to Hollywood Studios.  The further away from the docks you are, the more you are using the bus system.  That can take an hour and a half to get to the park.  We like using the boat.
If you don't care about going to the park and just want to stay in the campground, stay in the middle.  That way you are close to the pool, the playground, and the nightly campfire with Chip and Dale.  In the middle there are full hook-up and premium sites.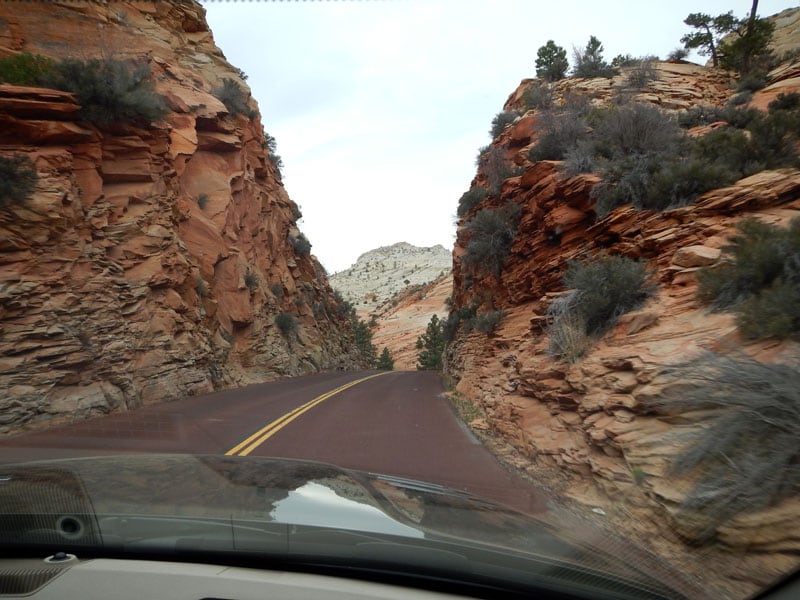 Above: The drive through Zion National Park, Utah
Other than Jeeping and Disney World, what else do you enjoy doing while truck camping?
Bruce: We want to visit as many National Parks as we can.  We pick parks to visit and hopefully can fit others near our travel path.  I enjoy photographing wildlife and the landscapes.  I am also trying night sky photography when we are in dark sky areas.  I still have a lot to learn about that.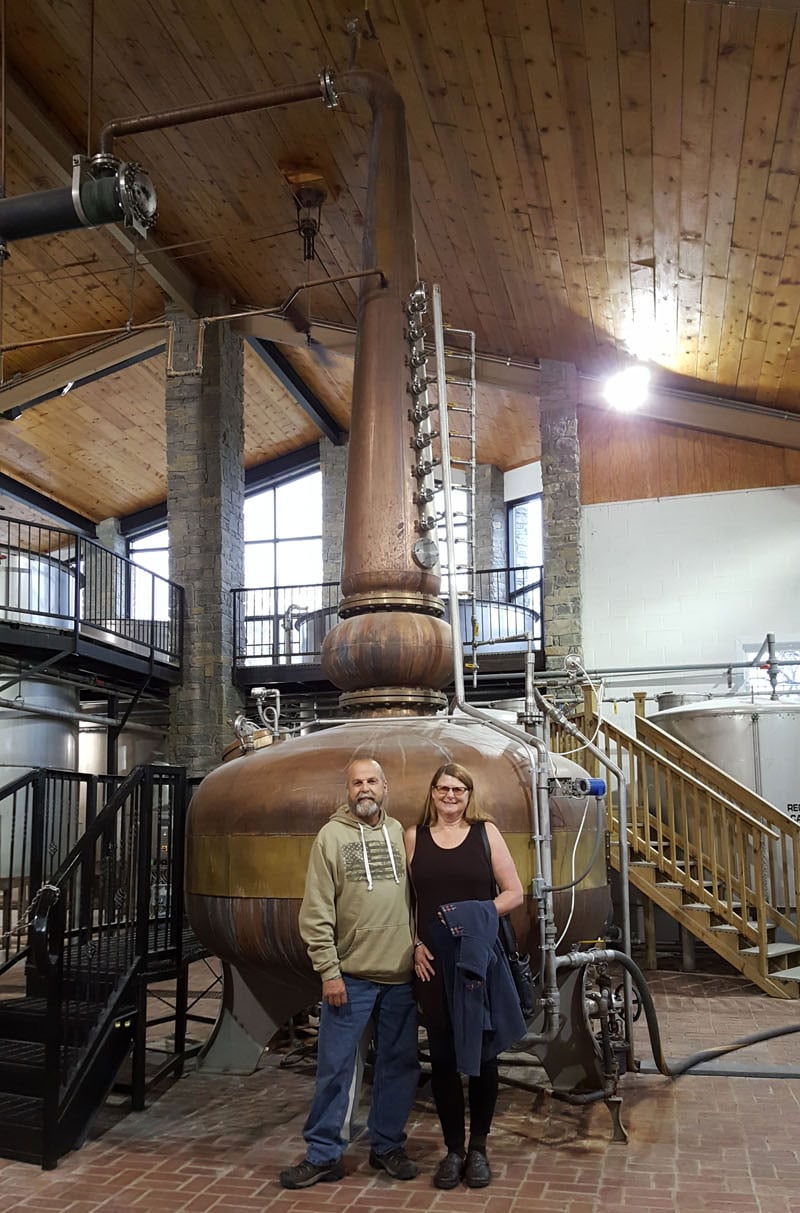 We both enjoy a good Bourbon and visit different distilleries when traveling through Kentucky.  The history behind the distilleries is always interesting.  Some of the distilleries are in very scenic locations with beautiful country driving along the way.
Which National Parks have you visited?
Bruce: Arches National Park is just north of Moab, so we have spent quite a bit of time there.  The sunsets and night sky there are beautiful.  Canyonlands National Park is west of Moab with a 40-minute drive to the Island in the Sky District.  South of town with a 1.5-hour drive is The Needles District.  Both have beautiful vistas.
Deb: We love Capitol Reef National Park.  It's not super busy like the other Utah National Parks.  It has a nice campground with dry camping.  It has a great bakery.  Get up early or all the pies are all gone.  The deer are all over and the sun is shining on the red rocks.  There are great Jeep trails to explore.
Zion and Bryce in Utah are absolutely gorgeous!  Just don't go during Easter Week.  It's like everyone is on vacation.  Go when it's not so busy and then you can drive everywhere you want.  If you go when it's busy you have to take shuttles and it's hard to get around.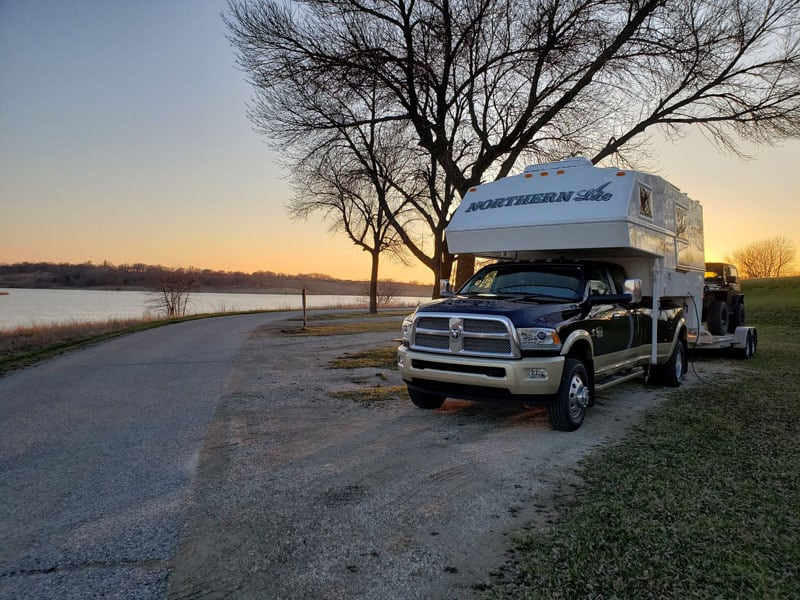 Above: Camping at Lake Anita State Park, Iowa
Jeeping, Disney World, Kentucky Distilleries and National Parks.  You guys are having some serious truck camping fun!  Is there anything else you'd like to add?
Deb: We had never used the Northern Lite's wet bath shower until recently.  Now I like it better than going into a shower stall in some strange place.
We love our camper because we can cook our own meals.  At Disney, we rarely eat in the park.  We'll eat breakfast in the camper and then go into a park.  In the middle of the day we return to have a bigger meal in the camper before we go back in.  We save a lot of money when we go traveling by cooking in the camper.
We also like that we can pull over to eat lunch, and use our own bathroom.  With our non-slide we can pull over, open the entry door, and have full access and use of the camper and bathroom.  There are no slide-outs to deal with.
Bruce: And we can stealth camp because we have no slides.  Just recently we stopped to get supplies and had three different people ask me questions about my camper.  It seems like everywhere we go we always get people looking at our camper.
It makes me feel good that we bought such a nice model.  There are a lot of people who aren't familiar with truck campers.  People will say, "I had a truck camper in the 70s or late 60s" and then marvel at how far truck campers have come.  We are very happy with our Northern Lite.
Bruce and Deborah VanAken's Rig
Truck: 2016 Ram 3500, Laramie Longhorn, crew cab, 4×4, dually, diesel, long bed
Camper: 2019 Northern Lite 10-2LE
Tie-Downs and Turnbuckles: Torklift Tie-Downs and Fastguns
Suspension: None