Linda Norman drove 2,500 miles with her two Golden Retrievers to pick up a custom Alaskan 5.5.  Along the way, someone ate a seat belt, someone barked at Bison, and a surprise snowstorm descended.

As retired military, I keep returning to the field.  My troops and traveling companions are two Golden Retrievers.  This year, a new generation joined the ranks; Preston, a three-year-old male large body, and Charlie, a one-year old female with an expensive appetite for bifocals, among other things.
The three of us present a hard-charging trio on the road.  And the road is the goal, traveling the northern hemisphere reaching beyond the Arctic Circle to the end of the road.  So let's go!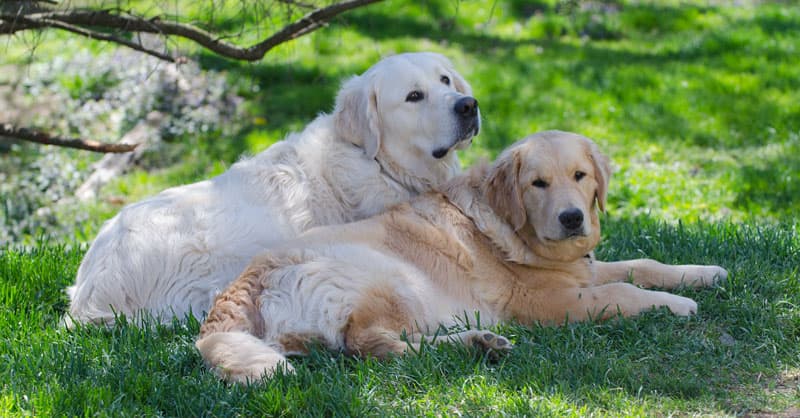 Above: Charlie and Preston, Linda's golden retrievers
Discovering Alaskan
It was time for a new full-size truck, a purchase that opened the door for a new camper.  In my research, I poured over the possibilities.  It's a good thing you can't wear out the digital pages of Truck Camper Magazine because I gave them a work out.
The Alaskan Camper appealed to me as a rugged classic.  During my Alaskan Camper research, I read the new camper announcement for the "2015 Alaskan 6.5" over and over again.  With this model, there was a possible match for a smaller full-size truck.  I also really enjoyed the, "2016 Alaskan Camper 7 Review", and articles from Alaskan owners on their trips and builds.
My favorite TCM article was from Daniel Hall, "An Alaskan in Time".  Daniel offered a heartwarming story about rebuilding a 1958 Alaskan and sharing it with his Great Aunt Irene.  She and her husband, Ron, originated the Alaskan design and the company.
Since the mid-1950s, Alaskan Campers has graced the covers of adventure magazines claiming wide eyes and wandering hearts.  Even famed Airstream founder, Wally Byam had Alaskan Campers along for his caravan adventures.  After all, truck camper rigs can tow a trailer.
Finding The Match
In the process, a potential red flag showed for matching an Alaskan to my selected truck; a Silverado 1500 with a 5.75-foot bed.  Through some fortunate contacts, I was able to reach GM corporate directly and get the essential information I needed.  The forums of Wander the West and Expedition Portal were also helpful in my quest.
Bryan Wheat, President of Alaskan Campers, took the challenge of matching the payload and center of gravity requirements for my new Chevy half-ton truck.  The result was the launch of a new Alaskan Camper model, a custom Alaskan 5.5 CO (5.5-foot cabover).  The extended cab means a full-size mattress upfront.  The shorter 5.5 foot floor length means the tailgate can close with the camper loaded.
Can Alaskan really do that?  You betcha!  I placed an order.
A 13,500 Mile Road Trip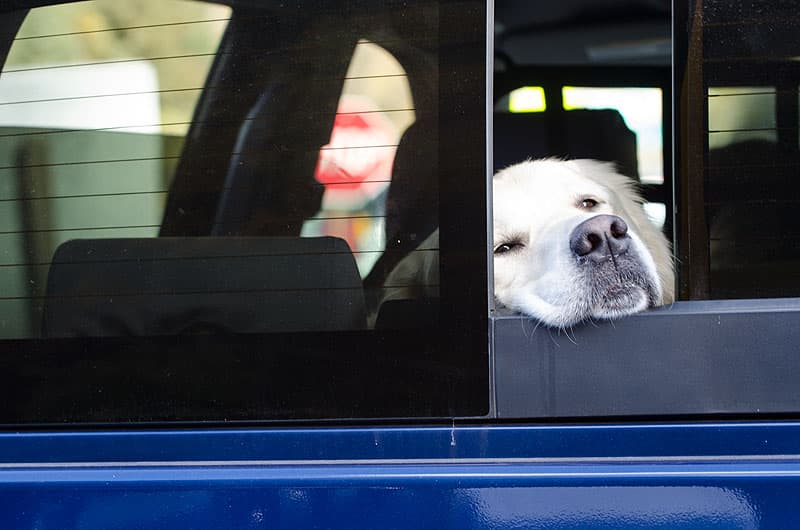 Above: Preston in the truck on the drive out to Alaskan
I don't know what was more exciting; the photos Alaskan Campers was sending as my camper came together, or pulling out the dog-eared map book for a road trip to retrieve it.  The Goldens were excited – any excuse for a ride.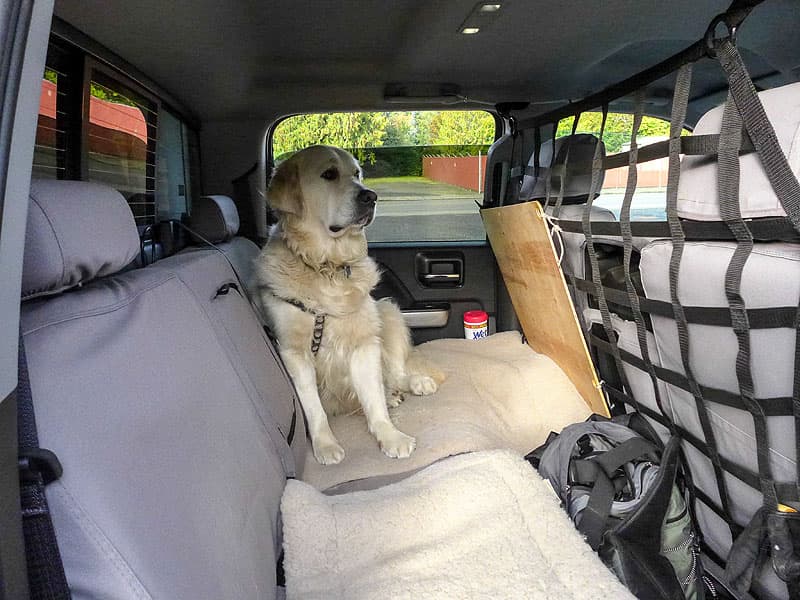 Above: Dog netting protects the dogs in the truck
Drawing from past experience, I chose I-70 and made the cut north on 74 through Peoria Illinois, my old hometown.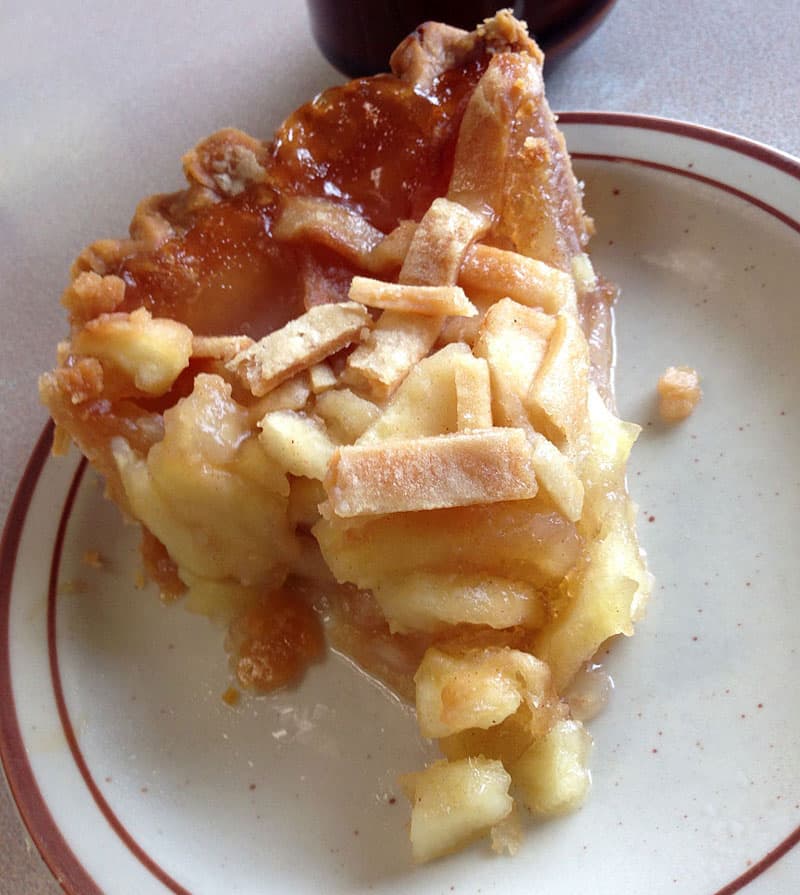 A good food stop is Jubilee Cafe in Kickapoo Creek just outside of Peoria.  I will tempt you with apple pie and tenderloin sandwich images.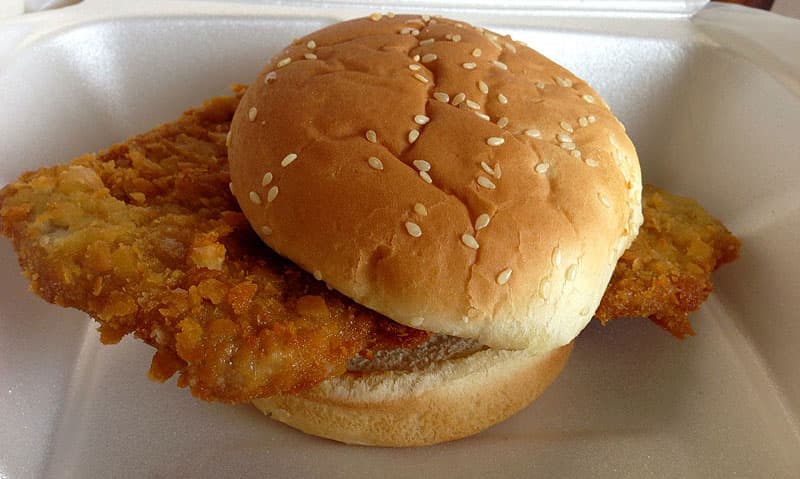 Looks good, doesn't it?  There should be room even for bigger rigs and there is a gas station across the street.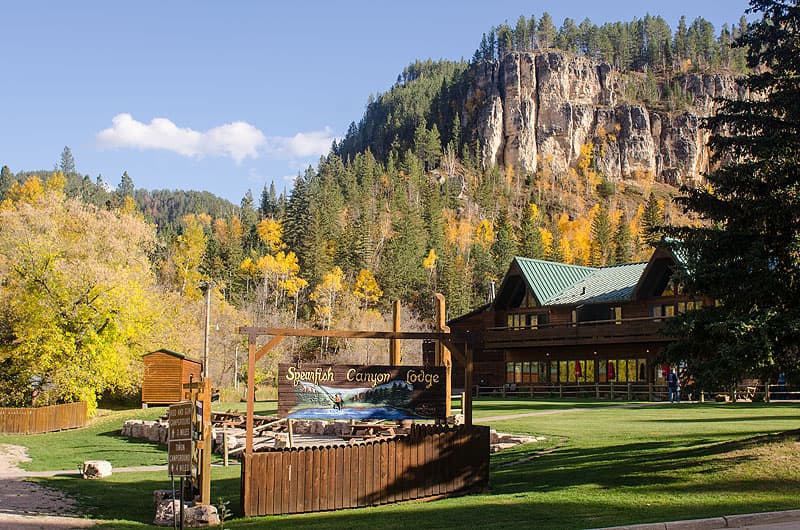 Spearfish Canyon, South Dakota is another must-see place on route 14A (alternate).  Spearfish Canyon is located in the Black Hills and offers hiking trails to waterfalls, beautiful scenery, and fishing.  The Spearfish Canyon Lodge treated me to a cabin and the canyon treated everyone to spectacular fall colors.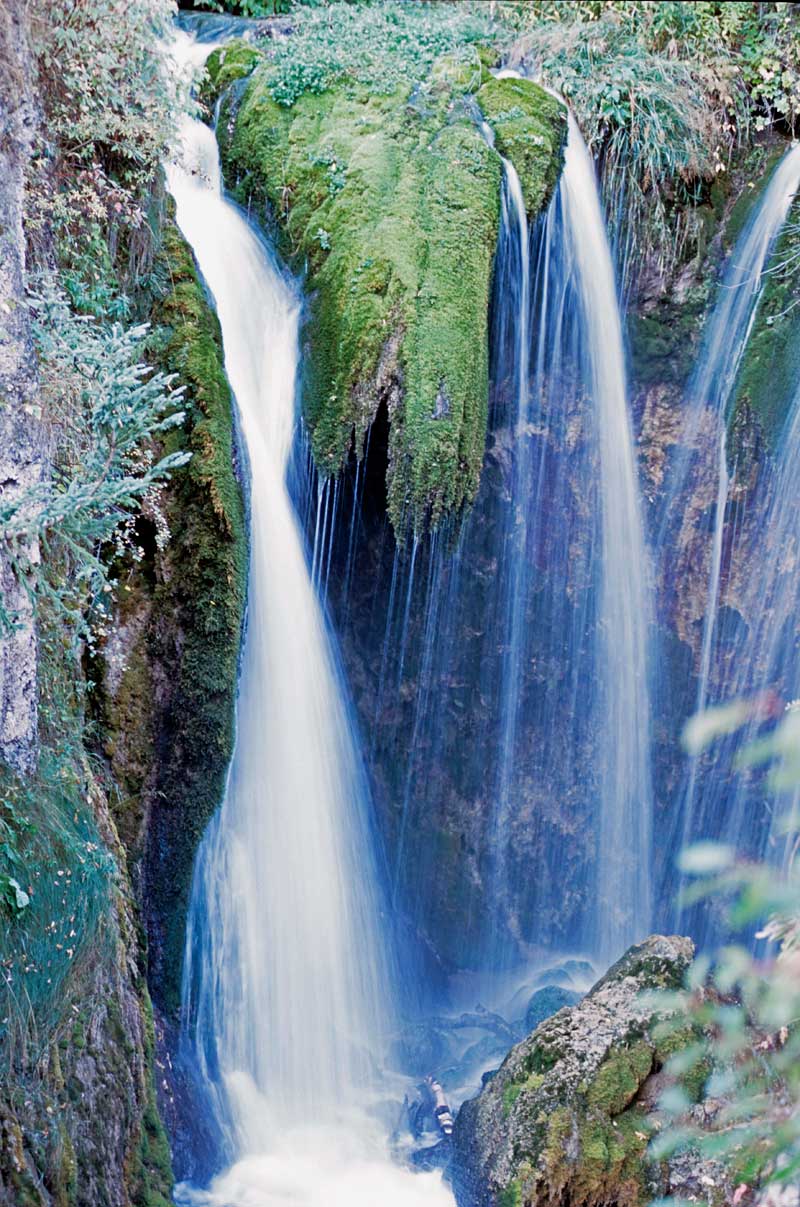 Along I-90, just outside of Bozeman, Montana, is Three Forks and the Montana Wheat company.  If you stop here, be prepared to stand in line for the best fresh bread, sandwiches, apple turnovers, and cinnamon rolls.  If you bake, take home the purest flour in the country.
Arriving At the New Alaskan HQ
Over the Continental Divide pass through snow flurries we continued our pursuit.  We took Highway 12 over the Cascades to Winlock, Washington, the new home of Alaskan Campers.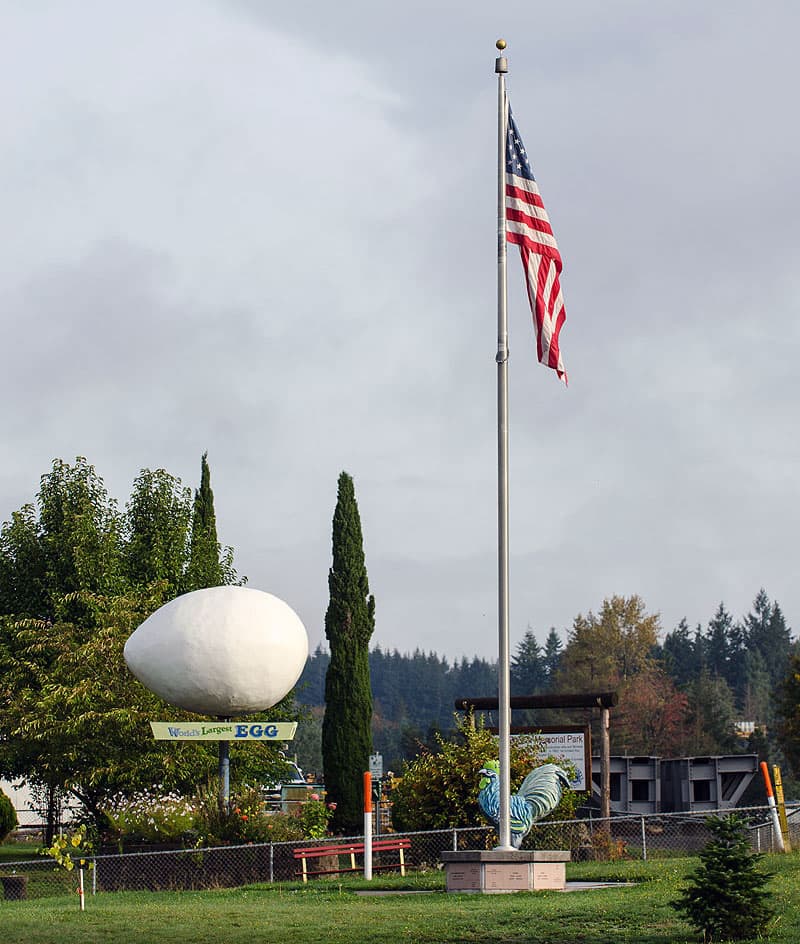 Arriving in the small town, I paused to take in the World's largest egg at the town center.  Winlock was once the largest egg producer in the world.  Now they have a place in the Guinness Book of World Records for their 12-foot, 12,000-pound roadside attraction.
Over the railroad tracks and a right turn is the new location of Alaskan Camper.  The doors opened and Bryan welcomed me into the factory.  I was immediately taken by the large size of the facility; 20,000 square feet, twice the size of the old plant.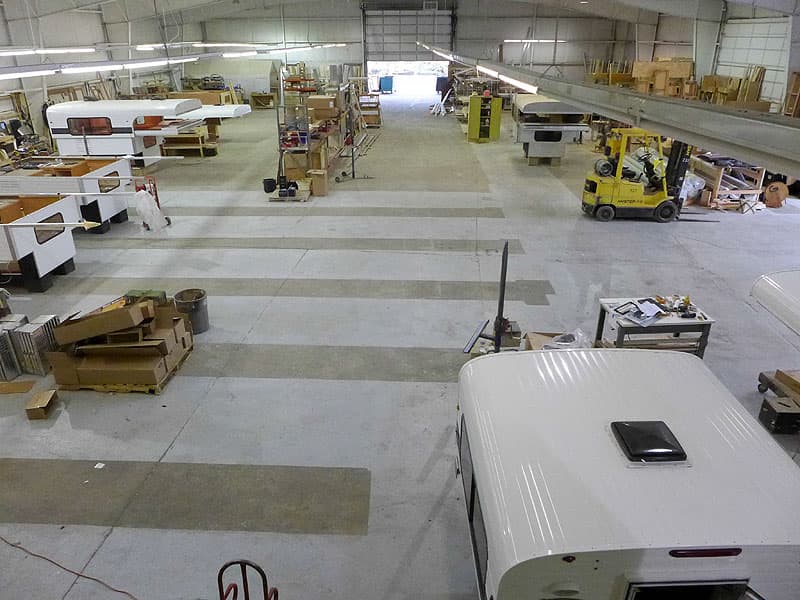 As an old soldier, I also liked the feel of the place.  We call it morale. Easy to see and sense, it is well with this company.  Meeting the twelve member team, I felt like a member of their family.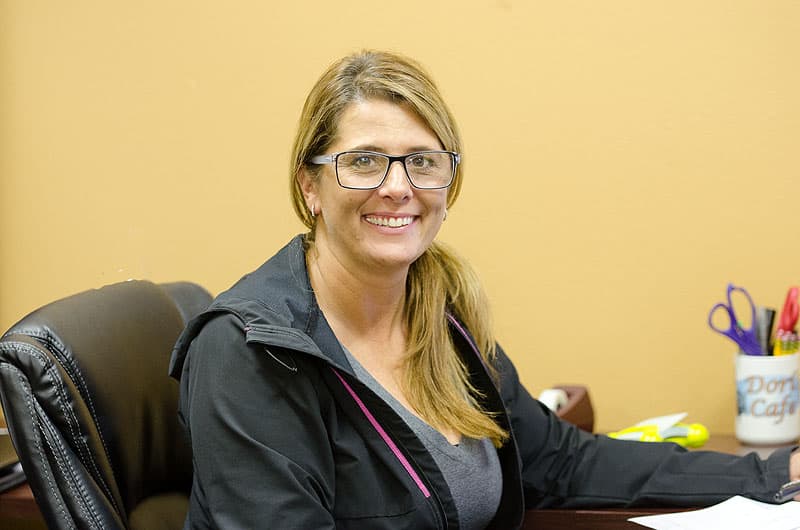 Above: Dorrie Benson, Office Manager, has 13 years experience at Alaskan and is usually the first to answer the phone.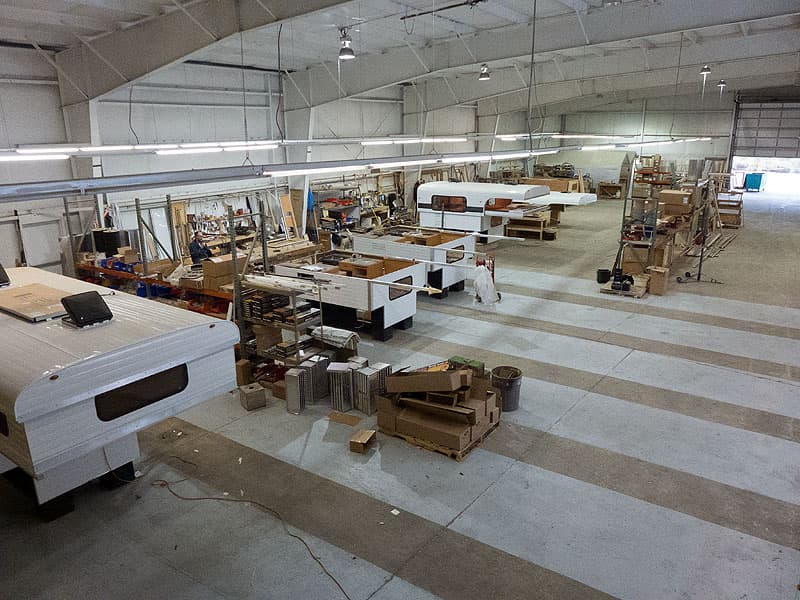 With wood-shop in my veins from my Dad's and Grandfather's shop, I am perfectly happy in the sawdust.  During my visit, Bryan pointed out there are no pre-builds; every Alaskan Camper is custom made one at a time from the bottom up.

Above left to right: John Sawvel, Dave Schmitt, Dalton Giesy, and Jose Rodriguez
As part of the workload, they also recondition old campers.  My camper will be one of those lining up one of these days.  Tree limbs have a way of finding me when I least expect them.  Alaskan owners tend to fit the rough and tumble group with a penchant for the wilderness.
Meeting the Macphersons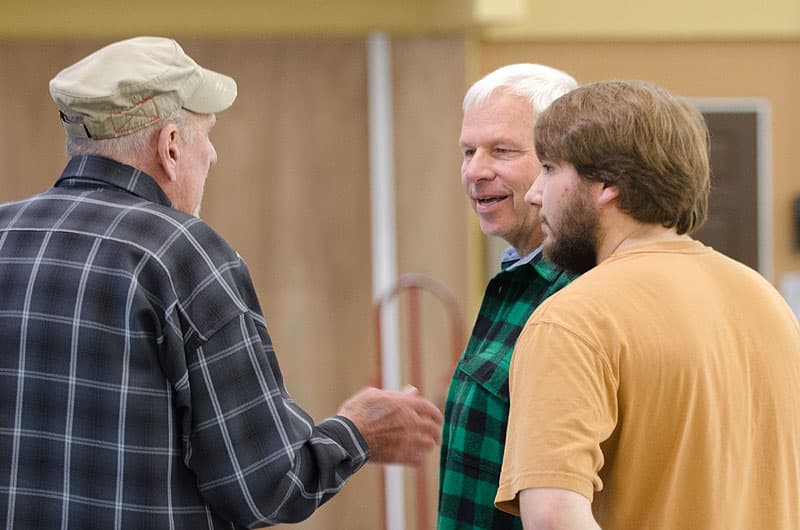 John Macpherson and his son John were visiting Alaskan from Anchorage, Alaska.  John Senior is an Alaskan Camper dealer who also runs a satellite business.  He told me, "Our buyer is well educated about the product", adding that Alaskan had an almost cult following.
John saw a need for the camper when he worked the Exxon Valdez oil spill in 1989 and had to sleep in his truck.  He looked for a truck camper that would take the conditions in Alaska.  After trial and error, he was convinced the Alaskan was the right choice.
To that end, John talked with Don Wheat, Bryan's dad, and placed an order.  In 1992, he agreed to bring more units into Anchorage and became an Alaskan dealer.  After all, he said, "Alaskan Campers should be sold in Alaska".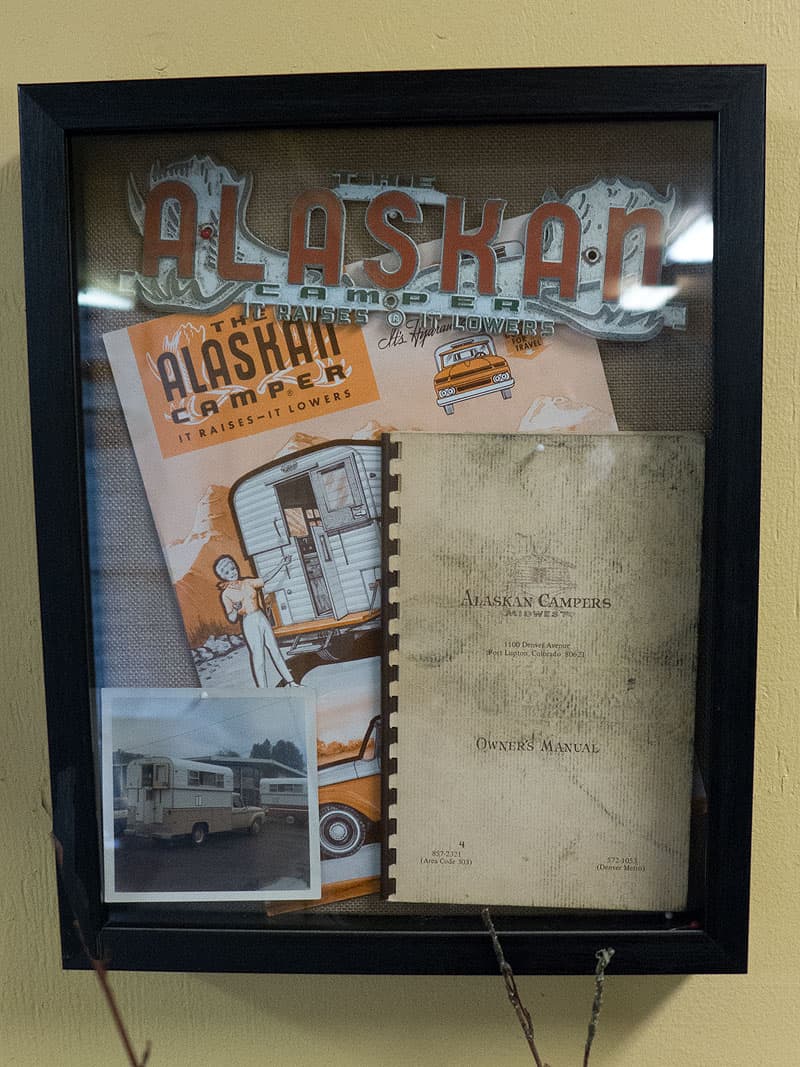 My 2016 Alaskan 5.5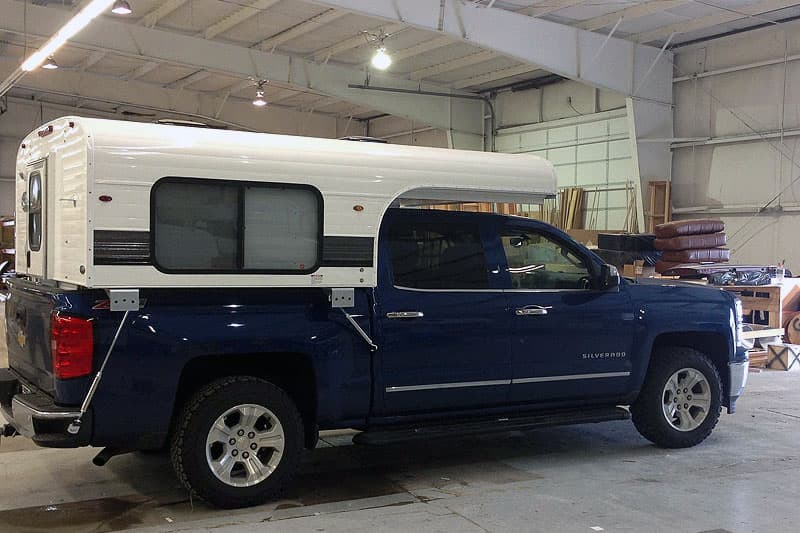 My custom ordered Alaskan Camper has a floor length of 5.5-feet, an extended cabover (55 in x 81 in), and a weight of 1,273 pounds with water and propane.  Overhead clearance with the top down is just 9-feet.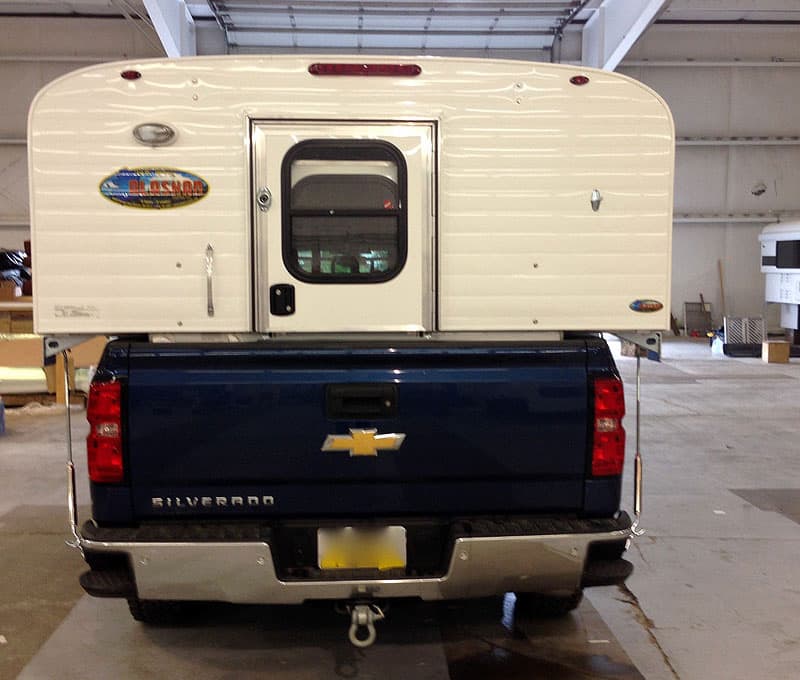 The truck's tailgate remains attached and closes with the camper loaded.
A sturdy set of 24-inch four-step stainless scissor steps attach to the tailgate for easy access even when it is slick outside.  A full-length dutch-door with two windows and a screen makes for easy entry.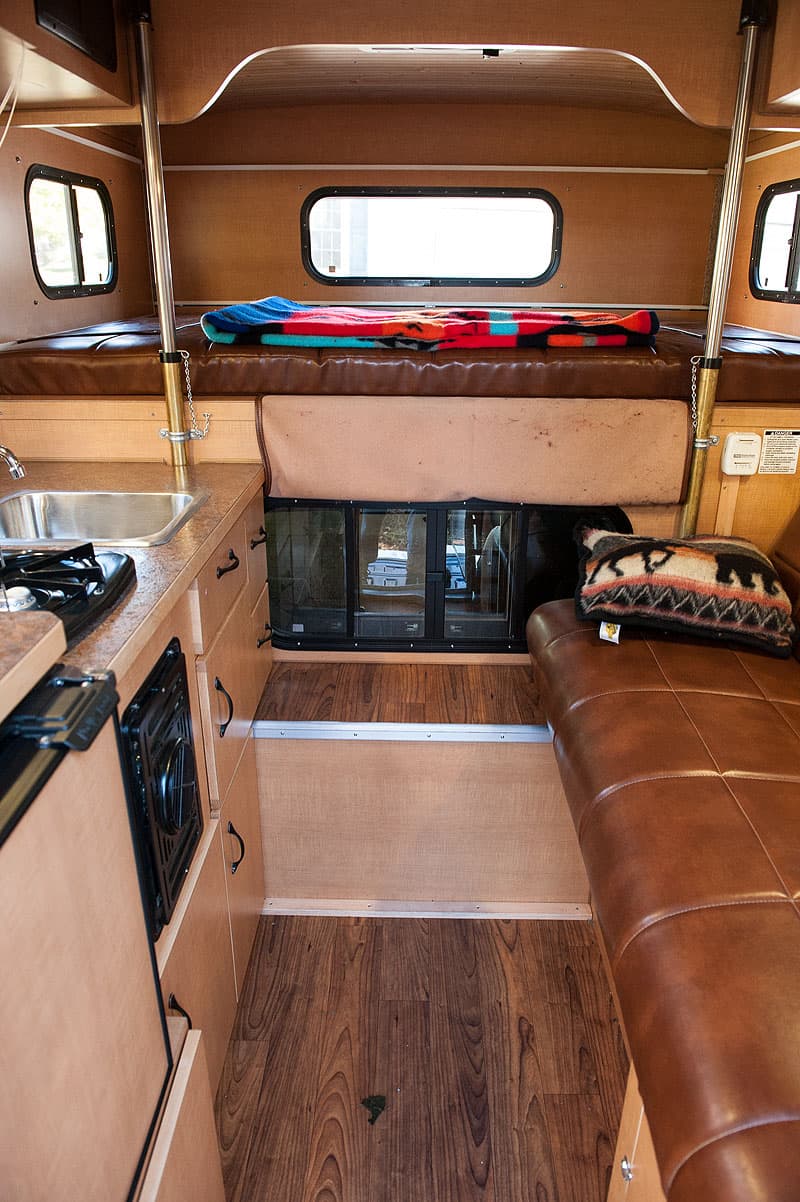 Inside the cabin is warm and inviting with wood all around including the ceiling. Cabinet draws are dovetailed and there is maple facing on kitchen surfaces.  Large windows with screens open you to the outside and two MAXX Air exhaust fans help bring the fresh outside are in.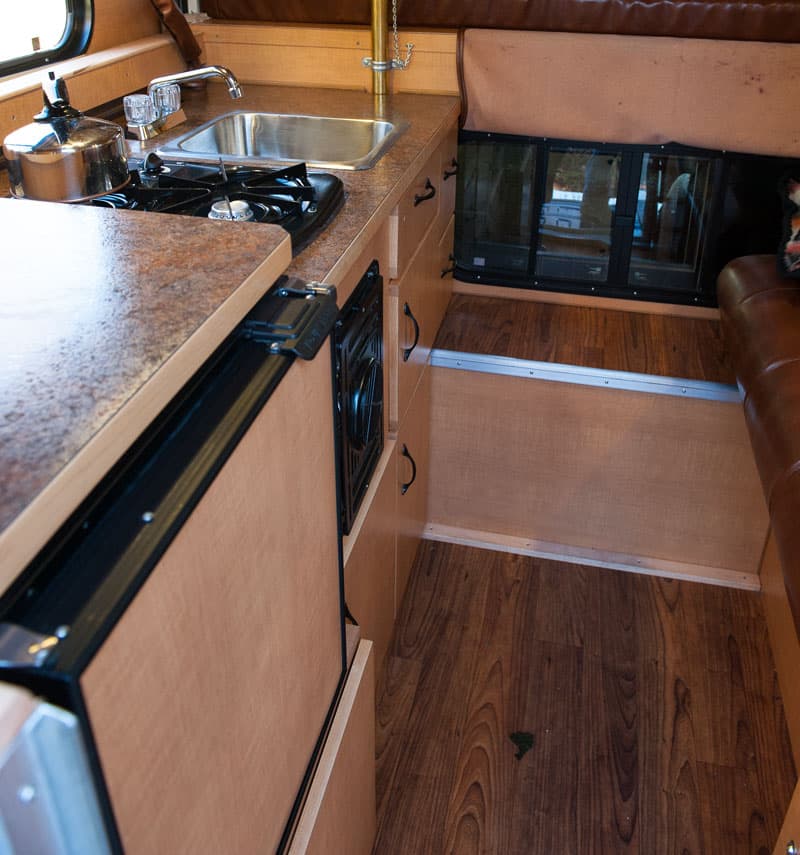 A two-burner propane stove holds the whistling tea kettle.  There is a generous stainless steel sink with a water pump.  A Novakool refrigerator stays cold and freezes ice trays.  There is loads of light to include the cabover with three panels that each hold a window and two with screens.  Mini-blinds make it seem like home.  The mattress is soft and comfortable covered in soft leather.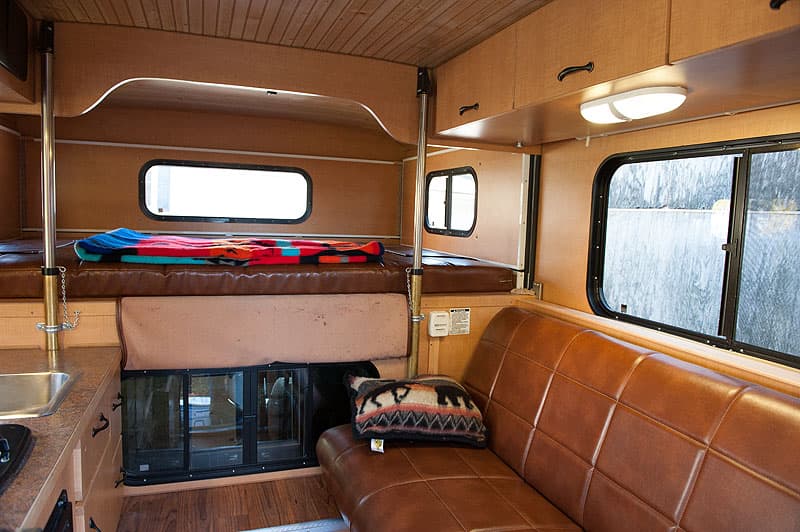 The camper has a cabin feel to it; warm and comfortable.  My favorite feature is the overstuffed soft durable leather couch with springs.  It folds out into a bed and, along with a soft blanket from Yellowstone Park, I am toasty warm.  That warmth sometimes gets an assist from the forced-air furnace, hot tea, and a great book with adventure spilling from the chapters.  If I could just stop falling asleep and loosing my place.
Heading Home Into A Snowstorm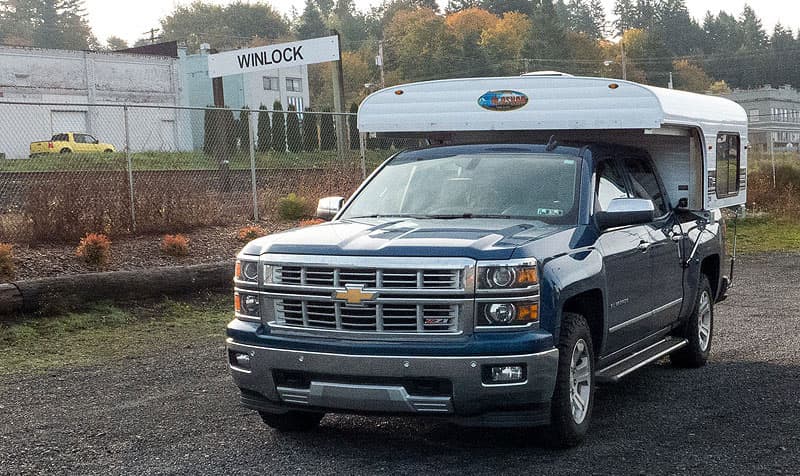 Homeward bound on my maiden voyage, I quickly had to pay attention to the wider camper.  In Winlock, I found an auto parts store and bought extension mirrors for the trip.  The owner installed the tricky devils with elastic bands.
From there I headed to Yellowstone National Park.  If you've read "Travels with Charley" by John Steinbeck, you know that was not a good idea.  While John's Charley howled them out of the park over bears, my Charlie led the retreat over bison.  And Preston added to the loud chorus.  Unfortunately, as the herd pulled into the road, the tourists ahead of us stopped to fill their cameras and we were stuck.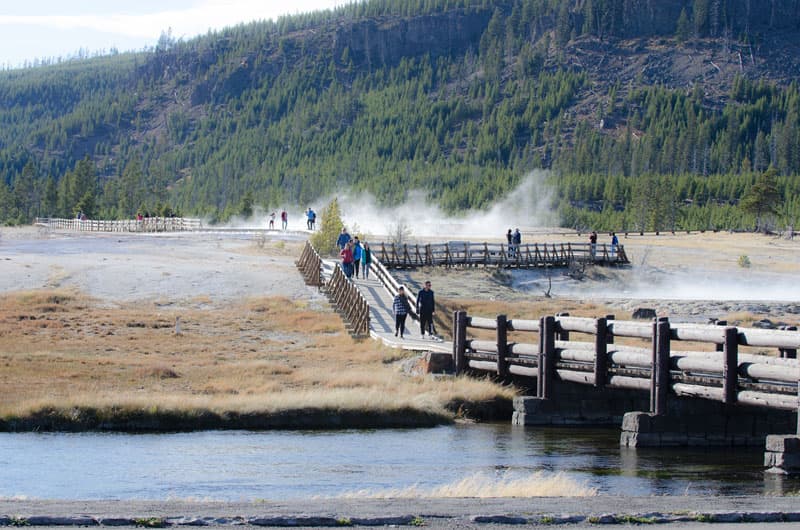 Stopping for animal photographs was put aside for peace in the truck.  I traded-in my plan to stay in the park for staying in West Yellowstone just outside the park.  The width and height of the camper proved a challenge as I caught an edge of a cabin extension and put a character mark into the shiny camper roof.  This mishap enforces why I am glad to have the back-up camera – a life saver.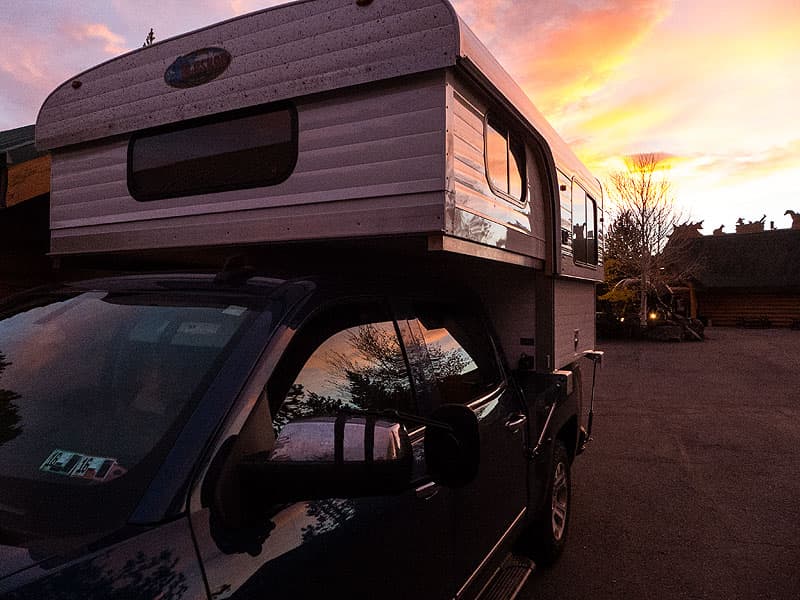 Above: West Yellowstone at sunrise
Another test for the new rig came leaving West Yellowstone and heading up the road.  Once off the 7,000 foot plateau, I was greeted with mean looking clouds that quickly produced a snow storm.  Snow quickly filled the landscape and road.
I had replaced my tires with BF Goodrich All-Terrain T/A KO2s.  The new tires really held the road and were probably aided by the added weight in back.
Ennis, Montana was just 40 minutes up the road on route 287, so I made a stop for dog biscuits.  Ennis happens to have a great local super market, Madison Foods.  Once I touched down in the parking lot, I found it was covered in ice and so was the road I had just traveled.
For more information, I called Art, my fly-fishing buddy back home. Art told me to stay put.  The mountain passes were closing as the whole state was covered in snow. I made a stop at nearby Shedhorn Sports for warmer clothes and, more importantly, boots that could take the ice.  They had great metal grips for the boots.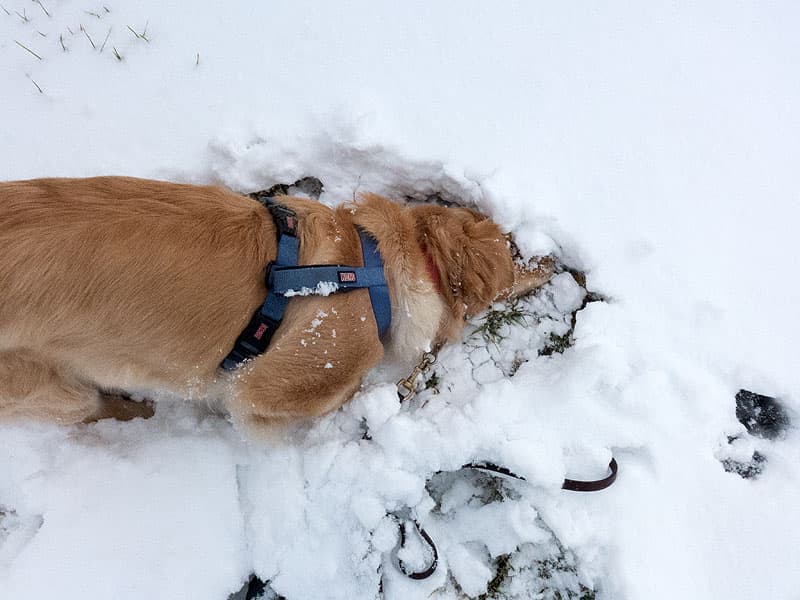 Goldens have to be walked no matter what it is doing outside.  The Ennis Lion's Club Park was a perfect place to try out my new boots and exercise the dogs.  I did this one at a time so I would stay upright.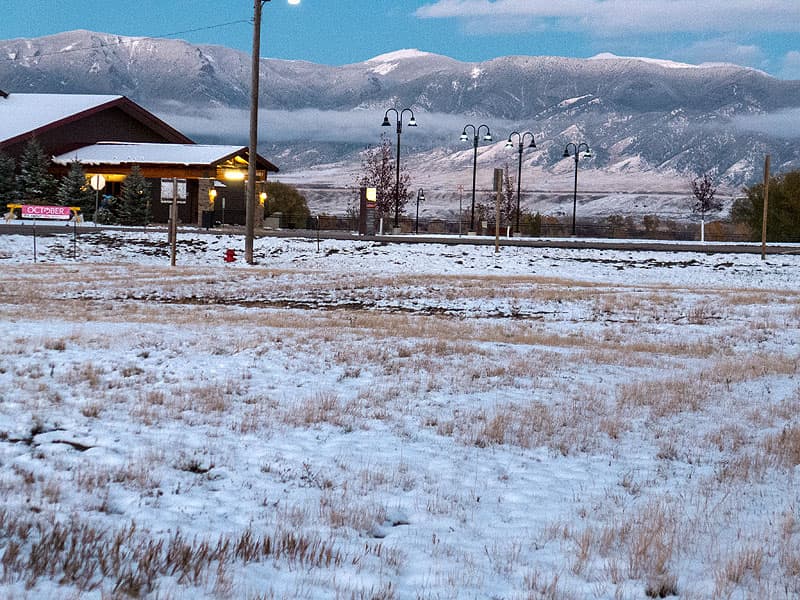 Above: Madison Mountain Range, Ennis, Montana
The locals said, "It is too early for snow".  We were being treated to temperatures hovering around 20 degrees and a further drop that night.  The Alaskan's furnace did its job, and I made sure I vented to avoid condensation.  The next morning brought bright sun and clear open roads.
Newbie Challenges
I am RV-challenged.  Early in the return, I could not lower the camper roof.  The camper roof was up, and I was down.  As hard as my tired mind tried, I just could not get the top down.  How do I get rolling?
Waiting for sunrise made it easier to read the instructions, but still no luck.  It was Sunday and nobody was at Alaskan Campers.  What I did not see in the folder was a second business card with Bryan's cell phone number.  After an internet search and people back home playing detective, I reached Bryan at home.
Bryan answered my call and solved the problem in short order.  I had not put the three front panels down.  I had read "doors" and saw that the back dutch-doors were open, but the instructions were referring to the front panels.
This is embarrassing to admit, but it could happen to somebody else.  I truly benefited from the responsiveness of the company.  Thank you Bryan!
My next challenge was wrestling the horizontal 20-pound propane bottle from the rear propane cabinet.  I made a stop for propane on the way toward Bear Trap Canyon.  Once the attendant and I learned to push the bottle forward to relieve the tension on the wing nut, we got it out for filling.
Not The End
After 19 days and 6,600 miles, we were back home.  The Goldens had their backyard and I would soon have the truck camper safely in place.  That is after the reinforcements were called in, and a very expensive inspection.
It was time for the Chevy to get the annual Pennsylvania inspection and emissions.  Unfortunately, Ms. Charlie had chewed the driver's seat belt connection – she literally ate it.  The belt would click in to place, but the tech said it would pull out.  Two days at the dealership and the bill was $$$—ouch!
Next it was time to put the rig behind my house.  My neighbors, Jack and Jorie, came to the rescue and pulled the "tugboat" into position.  It fits, but I have to watch the old livery stable overhang so that I don't Christen the camper – again.
After taking a deep breath, I am very pleased with the camper.  I am going to work on the ride of the truck which is a bit too bouncy.  With better shocks and possibly other suspension enhancements, I hope to have that tamed.
A gas mileage drop was to be expected.  On the way out, I ran about 19.4 miles per gallon.  Loaded with the camper on the way home, I was getting 13.7 mpg.  Wind was not my friend in this regard, and there is always wind in the west.
Looking back, I would benefit from more instructions whether it is pictures or videos.  And maybe an alarm on the roof panels, not yet invented (tongue-in-cheek).
One might argue that motels are cheaper, but I have Charlie who eats pillow cases, coffee tables, and whatever else strikes her fancy.  Besides, there are not a lot of pet friendly motels en route to Alaska, and those you find are expensive.
Next year is the 75th Anniversary of the Alaskan Highway (ALCAN).  Soon it will be time to load up and move out for a major road trip.  We can't wait.
Lessons Learned:
1. Read the directions.  Dad taught me to crumble and throw away the directions, then build the model battleship.  This does not work for operating truck campers when I am RV challenged.
2. If there is something you want to do, do it now.  This is my Mother's advice. Two health scares this year hit me hard.  Truck Camper Magazine was my go-to reading material and a psychological lift.  I got hooked all over again for the outdoors and a truck camper.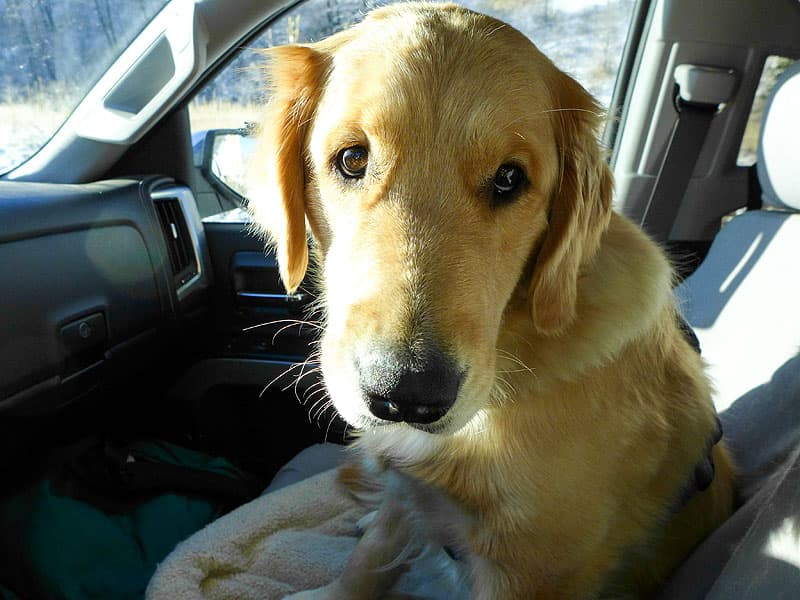 Above: Charlie, the seat belt eater
3. New Goldens need a new plan.  My new Goldens have far different personalities from my last two Golden Retrievers.  For example, before I put the Goldens in the truck at night where they slept quietly and well.  Then new Golden, "Charlie" ate an expensive seat belt.  I now have joint accommodations for me and the Goldens in the Alaskan.  So far, this new plan has been working well.