Daniel Hall's remarkable and heart warming story of restoring a 1958 Alaskan Camper and showing it to Irene Hall, Co-Founder of Alaskan Campers, and Daniel's Great Aunt. …

I grew up on the East Coast and spent a good chunk of my childhood summers tent camping in the Adirondack mountains.  Another significant part of my childhood was spent doing what my dad calls, "driveway boating", working on old boats.
My family always talked about our family history with Alaskan Campers, but we never saw Alaskan Campers in our neck of the woods.  In my young mind, Alaskans were always sort of a mythical beast.  I never got to see or touch an Alaskan Camper until I moved west.
Irene and Don Hall, Founders of Alaskan Campers

Above: Don and Irene with their first camper and Collies, Duke, and Princess – click to enlarge
Long story short, my great aunt and uncle are Irene and Don Hall, Founders of Alaskan Campers.  They lived on the West Coast and we never traveled to see them.  Unfortunately, I never got to meet Don.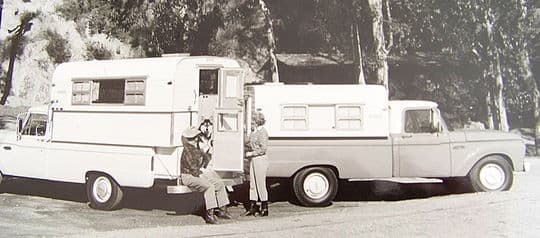 Above: Don and Irene with their dog, Dinny, posing during a advertising shoot – click to enlarge
My family would talk about how Irene and Don started a pickup camper company with a design that raised and lowered with hydraulics.  In the back of my mind, I thought what Don and Irene had done was cool.
Around 2003, Irene contacted my dad – her nephew – and asked if he would like the last Alaskan Camper they built under ownership of the company.  It was an Alaskan Camper built in the 1980s that Irene still had in her possession.  Don had passed away in 1991, and Irene had hung onto it for a while.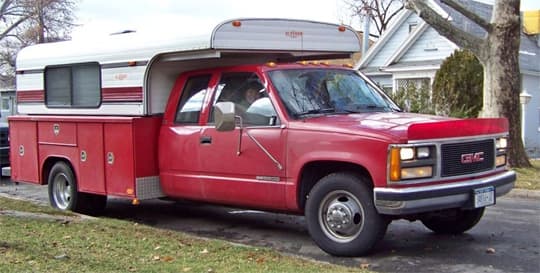 Above: Daniel's parents and their 1988 Alaskan
This was an offer that was impossible for my dad to resist.  My parents flew out to Los Angeles and drove the Alaskan Camper cross-country.  On the way back east, they stopped to see me in Salt Lake City.  That's when I got to see my first Alaskan.  Instantly I knew that I needed one.
Since dad picked up the Alaskan, he has fixed it up, and painted it.  It's a really nice camper.  My parents now use the Alaskan as a mobile hotel that tows old boats with ease for camping in New York's Finger Lakes and Adirondacks.
Great White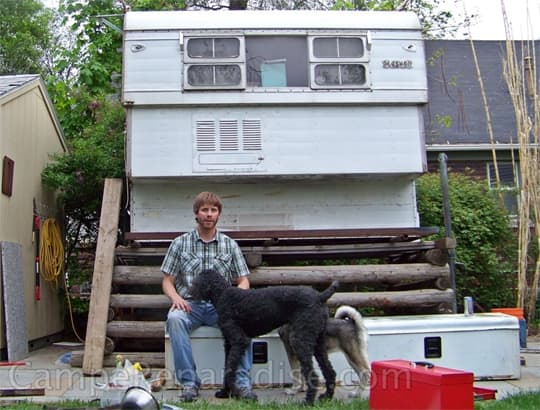 Above: The first day Daniel had his Alaskan, with Charlie and Gigi
With the help of a friend, I eventually bought my own Alaskan Camper in 2010.  It was manufactured in 1958, which was the first year of production for Alaskan Campers.  It was $300 and, like any un-restored vintage camper, a complete basket case.  My friends were very assertive in telling me that I was completely nuts to try and take on this project.  Even Irene, who I'd sent a letter to with a picture of the camper jokingly replied that I'd be better off lighting a match under it.