Daniel Hall's remarkable and heart warming story of restoring a 1958 Alaskan Camper and showing it to Irene Hall, Co-Founder of Alaskan Campers, and Daniel's Great Aunt. …

I grew up on the East Coast and spent a good chunk of my childhood summers tent camping in the Adirondack mountains.  Another significant part of my childhood was spent doing what my dad calls, "driveway boating", working on old boats.
My family always talked about our family history with Alaskan Campers, but we never saw Alaskan Campers in our neck of the woods.  In my young mind, Alaskans were always sort of a mythical beast.  I never got to see or touch an Alaskan Camper until I moved west.
Irene and Don Hall, Founders of Alaskan Campers

Above: Don and Irene with their first camper and Collies, Duke, and Princess – click to enlarge
Long story short, my great aunt and uncle are Irene and Don Hall, Founders of Alaskan Campers.  They lived on the West Coast and we never traveled to see them.  Unfortunately, I never got to meet Don.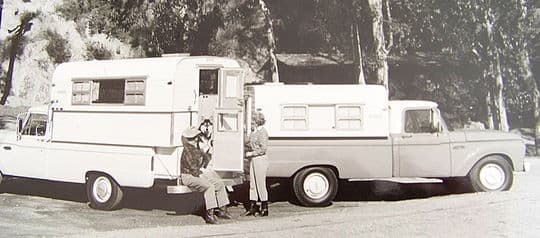 Above: Don and Irene with their dog, Dinny, posing during a advertising shoot – click to enlarge
My family would talk about how Irene and Don started a pickup camper company with a design that raised and lowered with hydraulics.  In the back of my mind, I thought what Don and Irene had done was cool.
Around 2003, Irene contacted my dad – her nephew – and asked if he would like the last Alaskan Camper they built under ownership of the company.  It was an Alaskan Camper built in the 1980s that Irene still had in her possession.  Don had passed away in 1991, and Irene had hung onto it for a while.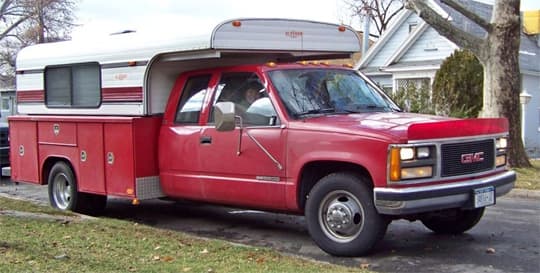 Above: Daniel's parents and their 1988 Alaskan
This was an offer that was impossible for my dad to resist.  My parents flew out to Los Angeles and drove the Alaskan Camper cross-country.  On the way back east, they stopped to see me in Salt Lake City.  That's when I got to see my first Alaskan.  Instantly I knew that I needed one.
Since dad picked up the Alaskan, he has fixed it up, and painted it.  It's a really nice camper.  My parents now use the Alaskan as a mobile hotel that tows old boats with ease for camping in New York's Finger Lakes and Adirondacks.
Great White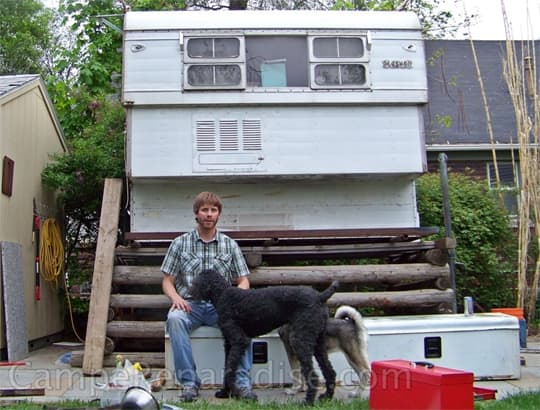 Above: The first day Daniel had his Alaskan, with Charlie and Gigi
With the help of a friend, I eventually bought my own Alaskan Camper in 2010.  It was manufactured in 1958, which was the first year of production for Alaskan Campers.  It was $300 and, like any un-restored vintage camper, a complete basket case.  My friends were very assertive in telling me that I was completely nuts to try and take on this project.  Even Irene, who I'd sent a letter to with a picture of the camper jokingly replied that I'd be better off lighting a match under it.
When I went to pick it up, the camper was sitting on top of an old bench post for support.  It was pretty sketchy.  I had to borrow a truck from a friend to pick it up.   At that point, I was renting and didn't have a garage or tools.  To fund the restoration, I had to sell my car and commute to work on my bicycle.
The truck I later purchased was a 1993 Ford F250 with the International Harvester IDI turbo diesel engine.  Actually, the same friend that found my Alaskan owned the truck, and I know the rest of the previous owners.
I've done a ton of work on the truck to keep it strong and consistently get 18-19 miles per gallon with the camper loaded.  It's not burning vegetable oil yet, but that's in the plans.  I added air bags, a seven gallon air compressor, and a cab controller to quickly level the rig at camp spots.  I can also use the air compressor for air tools, or to inflate tires.
The truck and camper combination is lovingly referred to as, "Great White".
1958 Alaskan Camper Restoration
I undeniably felt a connection with Don and Irene when deconstructing the Alaskan piece by piece.  When I found handwritten markings and measurements, I'd like to think it was Don's writing.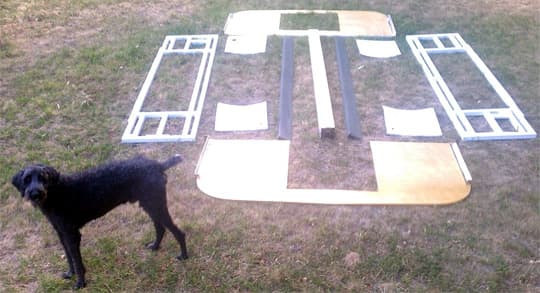 Above: Charlie, the poodle, the only friend that didn't roll his eyes throughout the restoration, and the start of a new Alaskan top
I started by literally taking everything apart.  It was like a buying a LEGO set, taking it apart, and then reassembling it.  I pretty much took the whole camper down to the last screw.
Above: Photos from the restoration.  Click on images for more detail.
I split the camper in two parts – top and bottom – and restored the bottom first.  The top was rotted, so I covered it with a tarp.  The old wood was replaced, and I actually used the rotted old wood as a template.  Once I finished bottom part, I used the old top to make a completely new top using the old top and its pieces as a template.
Above: Photos from the restoration.  Click on images for more detail.
During the reconstruction, I bought a second vintage Alaskan Camper which had some pieces I needed for the first.  The final camper is actually a hybrid of two Alaskans.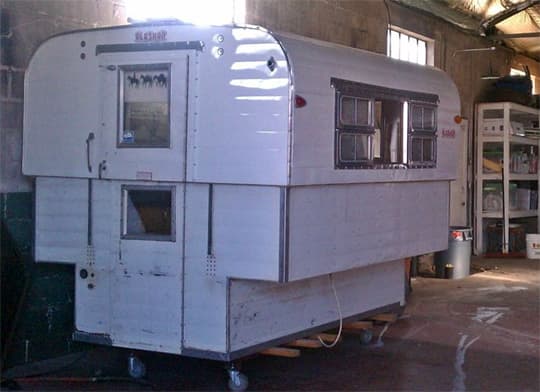 Above: Nothing like the feeling of accomplishment after removing masking tape, the tops paint is still soft
Before I put the final camper together, I got the pieces and components refinished, nickel plated, or brass painted.  That process was expensive, and time consuming.  I also have a stockpile of extra Alaskan parts now, which have already come in handy.
Above: Photos from the restoration.  Click on images for more detail.
Other than a new water pump, everything on my Alaskan Camper is period stuff – right down to the fixtures and door handles.  There are hidden upgrades behind the cabinets, but you can't see them when you're in the camper.  For framing, I did use modern screws, adhesives, and insulation, but those materials are all under the camper skin and interior wood.
My 1958 Alaskan Camper
On the passenger's side there's an ice chest and a closet with a slide-out clothes hanger.  On the driver's side there's a sink and cabinets.  The front of the camper is an east-west face-to-face dinette.  Sitting in the dinette, the windows in the camper create a full panoramic view.  It's a neat layout.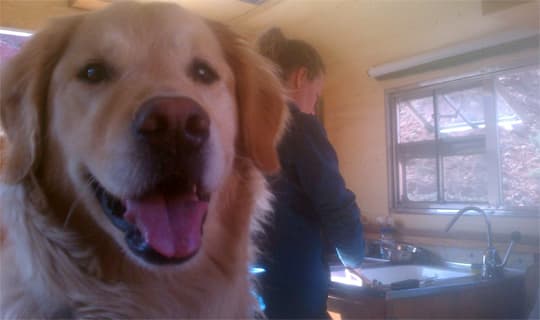 Above: Sophie, Daniel's parent's dog, sitting at the table while Jena prepares food
My Alaskan has a three burner stove, a twenty-one gallon fresh water tank, a hand pump on the sink, an icebox, plenty of storage, and a dinette that turns into a queen size bed.
I have a propane tank mounted to the chassis of the truck.  For heat I have a Wave 3 catalytic propane heater.  The Wave 3 is not hard mounted because I don't want anything modern mounted on the camper interior.  Besides, if I throw some homemade frozen chili on the stove, or heat some water in my vintage kettle, it warms up the entire camper.  The camper is small, and well insulated. It heats up fast.
I also carry a tripod outdoor toilet, which shows the BLM folks that we're self-contained.
Meeting Irene For The First Time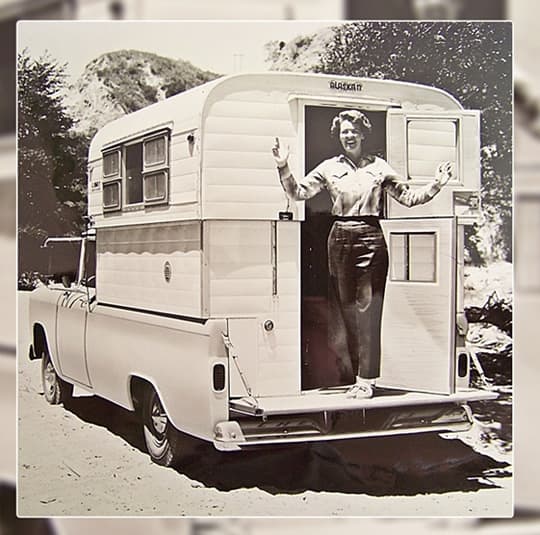 Above: Irene on the tailgate during an advertising photo shoot
Two years after I started working on the 1958 Alaskan, I was about fifty percent of the way done with the restoration.  That's when I mounted the camper on my truck and started using it.  Soon after, I drove to Los Angeles to meet Irene for the first time.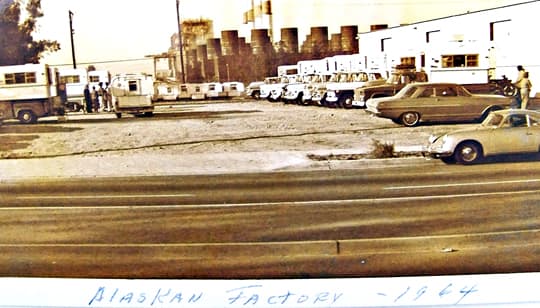 Above: The Alaskan Factory in 1964
Irene was still living in the house that she and Don had built and mortgaged to start the Alaskan Camper business.  When I arrived, Irene walked around the truck, with her hands behind her back, looking at the Alaskan.  She was clearly appreciating it, and reminiscing.  Mounted on my four-wheel drive truck, the camper was too high off the ground for her to climb into.  She could only look in from the back door, but she was impressed.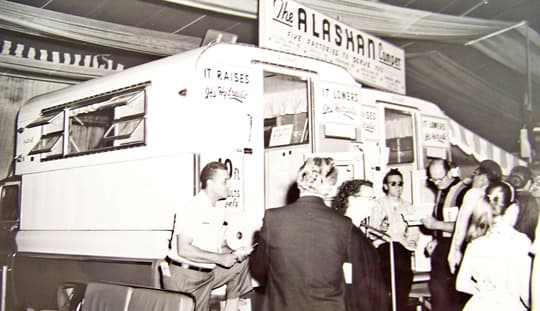 Above: An Alaskan display at a Sportsman outdoor trade show.  They had a display that rotated while the camper automatically raised and lowered
Irene told me that there were not many females in the RV business when she and Don started Alaskan Campers.  She was going to outdoor shows, selling campers, and answering questions people had about campers.  Some people assumed she was just a pretty face, and ended up surprised that she co-owned the company and knew plenty about three-quarter ton trucks, and Alaskan Campers.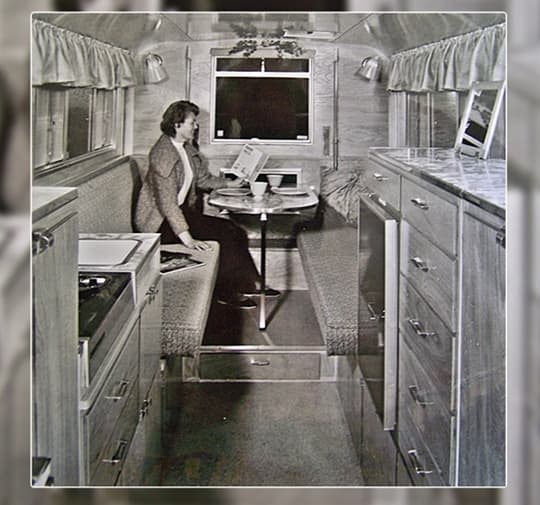 Above: Irene posing for a vintage advertisement
Irene did a lot of the marketing, hand painted the Alaskan emblems on the campers, and did the interior decorating.  Her touch made Alaskan Campers special.  She and Don made the first Alaskan so they could go to Alaska, and provide Irene with the comforts needed in the remote wilderness.  They had high standards and made the camper they wanted.
Finishing the Camper
After meeting Irene, I drove the camper back to Salt Lake and continued working on it for another two years.  Before my own trip to Alaska, I went back to visit with Irene.  This time I had a grand plan to take the Alaskan off the truck so she could sit in it.
I found some camper jacks that Don had stashed behind the house and cleaned them up.  I also located a second set a few miles away and picked them up.  I hadn't told Irene that the Alaskan was on the ground, but encouraged her to come outside to see the fully-restored camper.  She was hesitant, claiming to be quite content in the comforts of her home.
With a little persuasion, she finally headed outside where my father was trimming a large bush.  She began to berate him for working while on vacation, and I reminded her that she was outside to see the Alaskan and pointed it out around the corner.  When she realized that the Alaskan was on the ground she bee-lined for it and completely forgot about dad and the trimmers.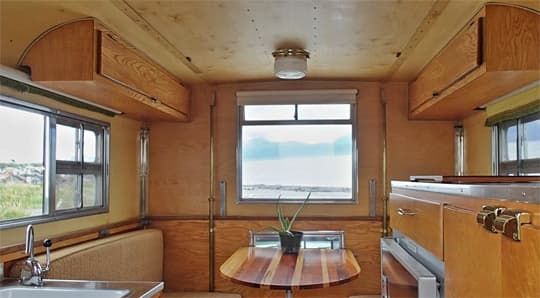 Above: Daniel's Alaskan completely finished, on the beach looking over Kachemak Bay in Homer
It was fantastic sitting inside the 1958 Alaskan with her and sharing all the great memories that the first pop-up truck camper had created and continues to create.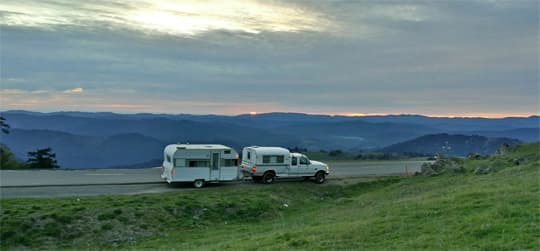 Above: Great White pulling Fernando, a loved 60s canned ham, near Eureka, California on the way to Bend, Oregon
I also think about how all of these Alaskan Campers have brought many people memories.  Every now and then people will stop me on the road and say, "Is that an Alaskan?"  They'll talk about their dad or grandpa having one and the great memories these campers made.
Traveling With the Alaskan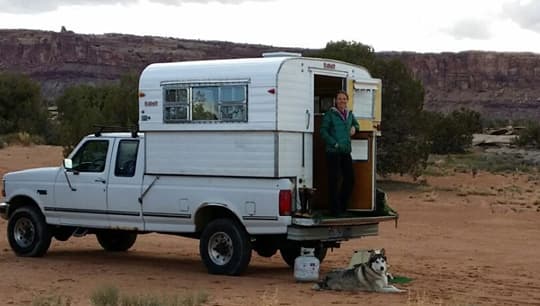 Above: Traveling with the Alaskan – Jena and Gigi in Moab, Utah
My fiancé and I took the Alaskan to Alaska.  I knew I'd take a trip to Alaska sometime, but Jena, who'd lived in Homer and Anchorage, pushed to make it happen sooner than later.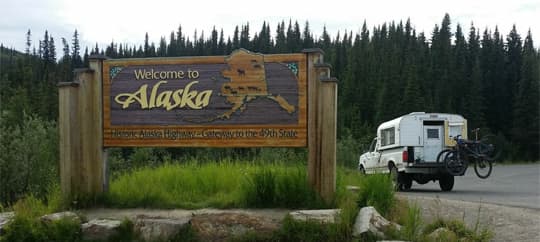 Above: A quick tourist snap at the Canada/Alaskan border, during the hustle to the Mountain Bike Single Speed World Championships
She actually bought me a race registration in Anchorage for the Mountain Bike Single Speed World Championships, which was the catalyst for the whole trip.
I jokingly call it the tour of Napa Auto Part Stores as we seemed to stop at them in every major providence and city.   In fact, on the first day of our trip, the truck spun a wheel bearing outside of Melrose, Montana which consists of a campground, post office, small church, and single-pump gas station/convenience store/bar, and little to no cell reception.  This was on a Friday at 5:00pm.
A local Les Schwab tire runner stopped to see if we needed help, and he radioed a tow truck in from Butte, Montana.  On the ride towards civilization, the expected "all the shops are filled and you'll be staying in town for a few days conversation started" which somehow turned into the driver calling a Ford loving buddy, and sourcing a new HD hub assembly from his other buddy's junkyard that night.
The tow truck driver dropped us off at a random strangers driveway.  That stranger, however, quickly turned into a friend.  He pointed us into town, and then started tearing our front end down.  While that happened, Jena and I took our bikes into town where the Butte Folk Festival was in full swing.
After our share of people watching and delicious fair, we headed back to the truck and were on the road by 10:00pm.  I tipped the generous wrench a few extra bucks and a twelve pack of Genesee Beer.  I try to keep the ice box stocked with my home town favorite.
Above: Photos from Daniel and Jena's Alaska trip – click to enlarge
The Alaska round trip lasted about four weeks, and we stayed in one hotel the whole time.  Thankfully Jena's friends let us camp out in their driveways in Homer – shout out to Homer Sapians – and in Anchorage which helped keep our tight budget in check.
On the way up, we needed to get to the race, so we focused on making good time.  Going back however, we stopped many times throughout the Yukon and interior British Columbia to mountain bike.  That was amazing.
Canada knows how to make excellent trails for all abilities and appreciates the potential of mountain biking.  America sadly looks at mountain biking as hindrance to hikers and equestrian users, and gives priority to off-highway vehicles.
Carcross, Yukon was by far my favorite spot, but White Horse and Merit were excellent too.  Forest fires kept us from riding Smithers, which is supposed to be excellent as well.
The most memorable thing of the trip, besides getting engaged on the Homer Spit, happened in Valdez.  There's a museum there that we stopped in.  While talking to the usher, and weighing the return-on-investment on ticket prices – we were pretty strapped at this point and still had many miles to go – I turned around to see a giant print above the entry door.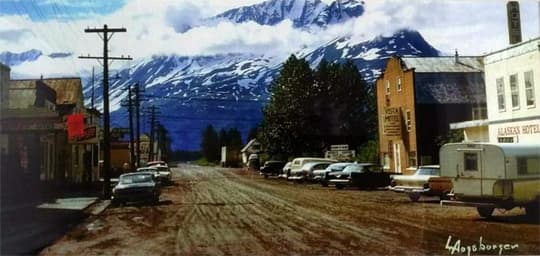 Above: The print that Daniel found in Valdez, Alaska of the Alaskan in front of the Alaskan Hotel
It was a picture of Valdez in 1964, right before the earthquake that triggered fires and leveled the city.  There, sitting in front of the Alaskan Hotel, was an Alaskan Camper.  I asked the usher if they'd had prints of this picture, and they didn't think so.  A bit bummed I joked with Jena about making a distraction so that I could run off with the giant print.  But, then the usher actually found framed prints of which one now proudly hangs in our humble home.
Camper Repairadise
About a year ago, I left the comfort of a cubical job to join the Zininnger family and their foray into the world of restoring vintage campers at Camper Reparadise.  It's been an adventure full of challenges, but everyday I'm either shaping metal, cutting wood, working on the website, making sales, or delivering/picking up vintage campers.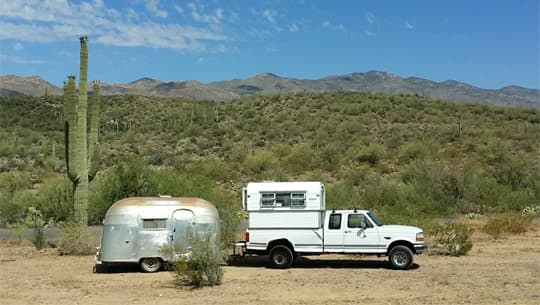 Above: Great White in the southern Arizona desert
It is a nice change from the mundanity of corporate life.  My camper, Great White, also gets a pretty good workout running campers around the West.  It also means I get to explore new mountain bike spots, as I never travel without an extra set of wheels.  You know, in case I need to ride into the nearest town to arrange for a tow.
Above: Great White making more deliveries on the road – click to enlarge
Right now Jena and I are planning on a trip to Baja, Mexico with the Alaskan.  We also hope to take it east sometime, with Newfoundland and Labrador on our radar.  That might be a few years out.  Even further down the road I want to restore a sixties crew cab truck – like a International Travelette or a Ford six pack – to put the camper on.
Irene and Don Hall's Memoirs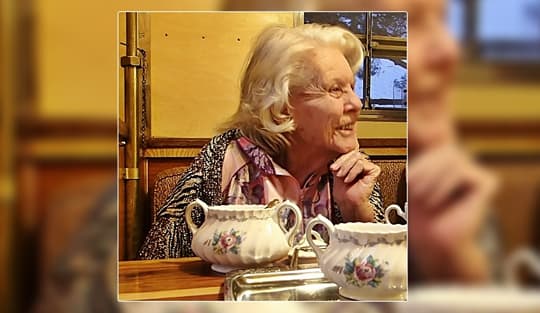 Above: Irene enjoying tea in the Alaskan Camper and sharing stories
Irene is in her late nineties now, and still full of spit and fire.  She's truly an amazing person that helped create the Alaskan Camper brand.  She loves to share stories about the risk and adventures the company brought to both her and Don.  I've sat down with her and started to write a memoir.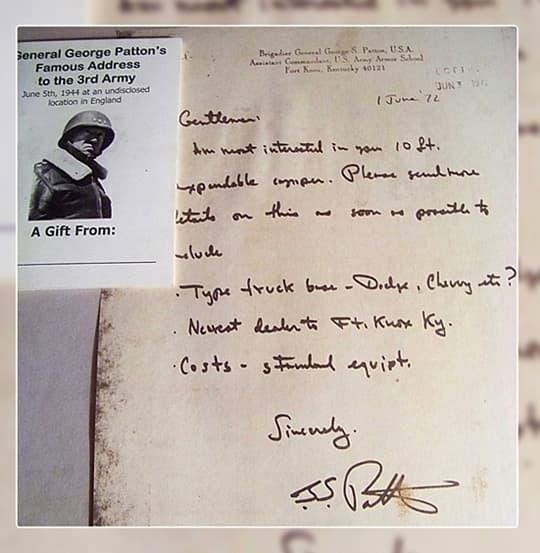 Above: A letter from General George S. Patton, son and namesake of the World War II Commander, and combat veteran of the Korea and Vietnam Wars, asking for truck advice for his Alaskan Camper
Irene has a huge collection of letters from owners who are praising their great campers.  The letters also ask them to keep building their awesome campers.  Owners would send Don and Irene updates from where they were on the road.  Irene also saved promotional photos for the Alaskan Camper business.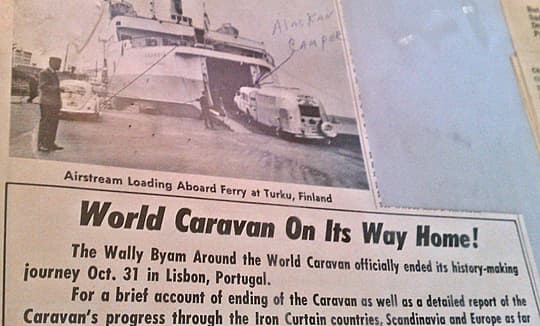 Above: News clipping of Wally Byum's World Caravan with an Alaskan towing an Airstream
I hope to one day publish and share her memoir, because it's definitely worth having.  Every Alaskan owner would enjoy it.  Plus, it keeps the legacy alive.
When I go visit Irene, she keeps asking when I'm going to sell the one I built and get another one.  I am looking forward to someday building another Alaskan.

Above: Great White pulling the smallest Airstream made, a 50s Cruisette, outside of Wendover, Utah