Truck Camper Magazine reveals why they decided to pause full-time truck camping and how the pandemic impacted their truck camping lifestyle.  It all leads to a cover-up, and a long-awaited escape.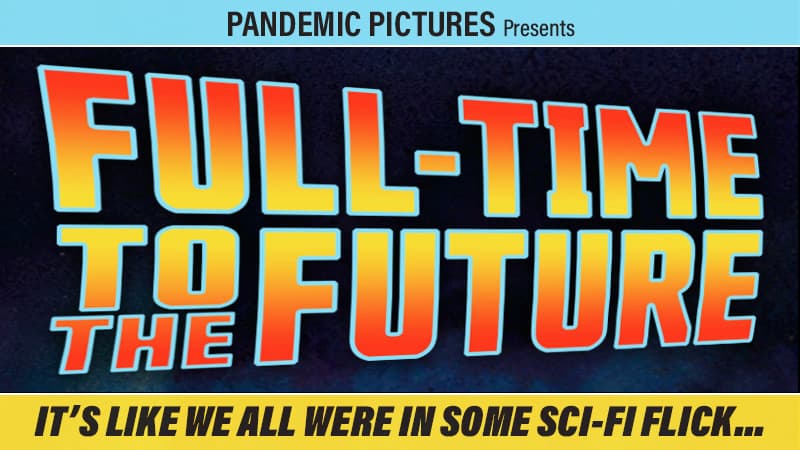 As the publishers of Truck Camper Magazine, our truck camping lifestyle is anything but typical.  For example, we still greatly enjoy exploring national and provincial parks, but most of our travel destinations are either industry related, magazine project focused or meet-ups with fellow truck campers.
To be more specific, we'll go to a factory to photograph a camper, and then visit someone we interviewed at their home or campsite.  Connecting with the truck camper industry and community in person is a big part of makes our jobs rewarding.
In that spirit, we had big plans for 2020.  After winter broke, we had over a dozen folks in Texas and the southwest lined up for truck camping articles and videos.  Then, we would go further west to visit factories and dealerships for camper-specific content.  There is no better way to get a story than to be there, with the people and products.  It's also the most fun.
When the Covid-19 outbreak unraveled in the Spring of 2020, it quickly became clear that our travel plans needed to change.  The concept of driving hundreds of miles to visit and stay with multiple people suddenly became inappropriate.  In theory, we brought our own accommodations and provisions and could keep our distance, but not everyone would appreciate that approach.
Change of Plans
We spend our winters in southern Florida.  Competition for campgrounds in that area can be high, but we have found some favorite spots and don't require hookups or an ocean view.  Give us sunshine and warm weather in January, February, and March and we're right as an afternoon rain.
Angela, Harley, and I were camped in southern Florida as the Covid lobster started to boil.  Campgrounds were closing across the country, states were turning travelers away, camper factories were shutting or disallowing any non-employees to enter, Canada sealed its border, and just about anyone who approached a microphone was telling the public to go home and hunker down.  To put it mildly, these were not the most friendly conditions to be living full-time on the road.
Fortunately for us, we had good friends in Southern Florida who invited us to stay in their 50-foot RV garage.  This structure is truly the Taj Mahal of RV garages with 30-amp power, water, and sewer hookups.  It was weird to stay in a concrete garage (echo… echo… echo…), but it was a safe place to ride out the moment.  Even better, we able to co-quarantine with our friends for about nine weeks and made the most of the situation.  All I can tell you is that we can now make a fantastic pizza, and all six seasons of Bosch are highly recommended.
As the Covid situation dragged on and intensified, it became clear that Angela and I needed a next step.  When our friends suffered a death in their family up north, that moment arrived.  It was late May and rapidly approaching peak summer in Florida.  Daily temperatures averaged in the high 80s with oppressive humidity to match.  The mosquito population exploded, as did the fire ants.  Truck camping in Florida during this time generally means being inside with full hookups and 24-7 air conditioning; possibly for months.  That wasn't happening.
Our situation was compounded by the fact that our beloved cat, Harley, was beginning to fail from cancer.  He had good days and bad, but we knew we couldn't just put him in the truck and start traveling.  We needed to stay close to the veterinarian we were working with, and make Harley as comfortable as possible.  We had no idea how long he would last, but we knew this was his final run.
A day of calls to short-term rentals in the area revealed an unfortunate reality; nobody wants to rent to folks with a cat.  Even when we approached longer-term rentals, the mention of a cat ended the conversation.  One practically hung up on us.
We really needed to find a place to land – a house, apartment, anything – to give Harley and ourselves more space to move around and breathe.  Truck campers are fantastic places to camp from, but they are miserable places to be stuck.
Coming Off the Road
Finally, we decided to look at homes for sale.  This was the absolute last thing we ever would have thought we would be doing, but the circumstances made the decision.
As luck would have it, we had been admiring a south Florida community for several years and a nice condo was available.  It wasn't perfect, but it was priced right and had the features we preferred.  We made an offer and it was accepted.
After our friends went north for the funeral, we were able to stay in the garage for a few more weeks.  The day after we left the RV garage, Harley passed.  That moment is without a doubt the lowest point Angela and I have ever been.  I know many of you understand the loss of a pet.  We were absolutely gutted.
From that point, there were several weeks until closing for our condo.  We spent that time in campgrounds and then a family member's home.  Then, at long last, we were in our condo.  The expression of something being bitter-sweet is often used casually but, being in our new home was truly bitter-sweet.  We were relieved to be stable and settled but devastated over the loss of Harley, and our hard-fought full-time lifestyle.
Home, Again
Our new community has an RV lot for our rig.  With the truck and camper separated, we retrieved our belongings from storage, set up our new home, and shifted gears.  We had a lot to process and needed to navigate the magazine through a rapidly changing business climate.
On a positive note, Angela bought a sewing machine and I started a creative project I've been thinking about for almost a decade.  That's what we all must do when faced with change and adversity.  Process.  Adapt.  And move forward.  If only it were that easy.
Heated Cover Up
It took seven months and a considerable investment to get our camper rebuilt after our 2018 car accident and I wasn't about to have it disintegrate in the Florida sun.
Without knowing how long our rig would be in storage, I reached out to Covercraft about a custom cover.  With our magazine hats still firmly affixed, we used this opportunity to test the cover.
No Regrets
Since making the decision to come off the road as full-timers, we have talked to about a dozen of full-time truck campers and RVers who made the same choice during the pandemic.  Each agonized over the decision, eventually concluding that coming off the road was the best option; at least temporarily.
Let no one believe these choices are easy, or without significant soul searching.  Once a sailor, it's tough to shake the sea.
That said, we have never doubted our decision.  Coming off the road during Covid was the right choice – for us.  Will we sell the condo and return to the full-time lifestyle?  Honestly, I don't think so.  The world has fundamentally changed, as have our perspectives.  Where we were previously comfortable charting into open wilds with no recourse for home, now we feel the need to have a place to return.
That doesn't mean we're not loading the camper and breaking out.  Far from it.
Postscript: We're Back!
I am very happy to report that Angela and I are now back in our truck and camper and out on the open road.  We are regaining our sea legs, visiting family and friends, and rediscovering the freedoms of truck camping that we have long missed.  With vaccines, healing hearts and relentless wanderlust, we're back.
Try and stop us.