We are deeply saddened to report that we lost our beloved cat, Harley White, on Saturday, June 20th. In celebration of Harley's well-lived life, we have some fun and funny stories to share with you.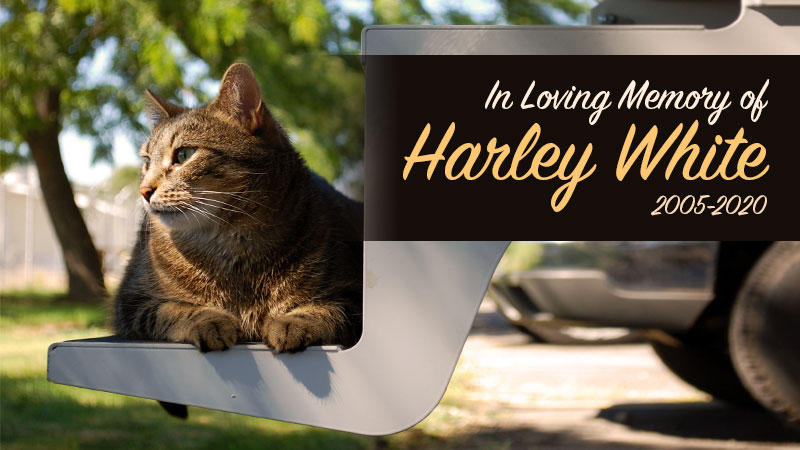 Harley was adopted at The Humane League of Lancaster County (Pennsylvania) in March of 2006. To the best of our knowledge, he was 15-years old at the time of his passing.
Picking Up Harley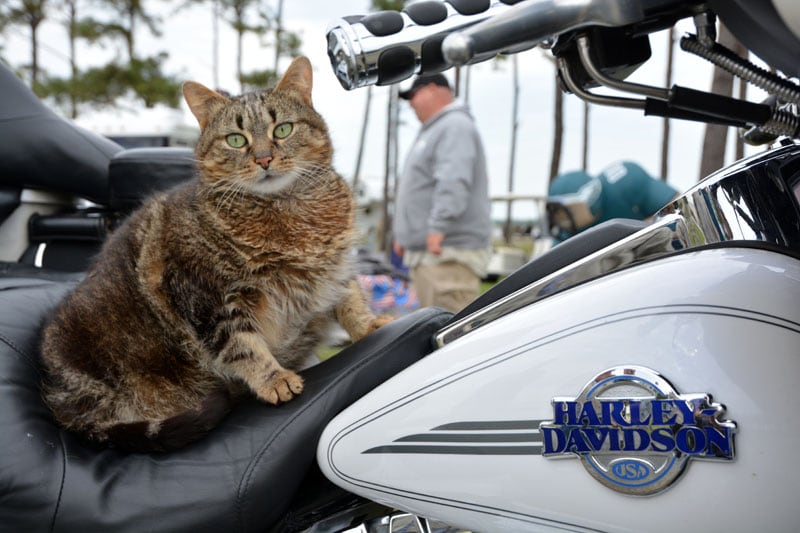 Above: Harley got his name because he purred like a motorcycle.  At the Mid-Atlantic Rally one year Harley got the chance to sit on Gary Whistler's Harley Davidson.
When we returned from our first cross-country truck camping trip in 2006, Angela wanted a cat and I was starting to talk about a truck camper magazine. Guess which came first.
Angela and my sister, Emily, went to the local Humane League and picked out Harley – not by how cute he was, but rather his complete trust to be picked up and held upside down, like a baby.
For anyone who wants to adopt an easy-going and personable cat, this pick-up-and-hold test has proved successful for two cats. I suspect it won't be long before it's three.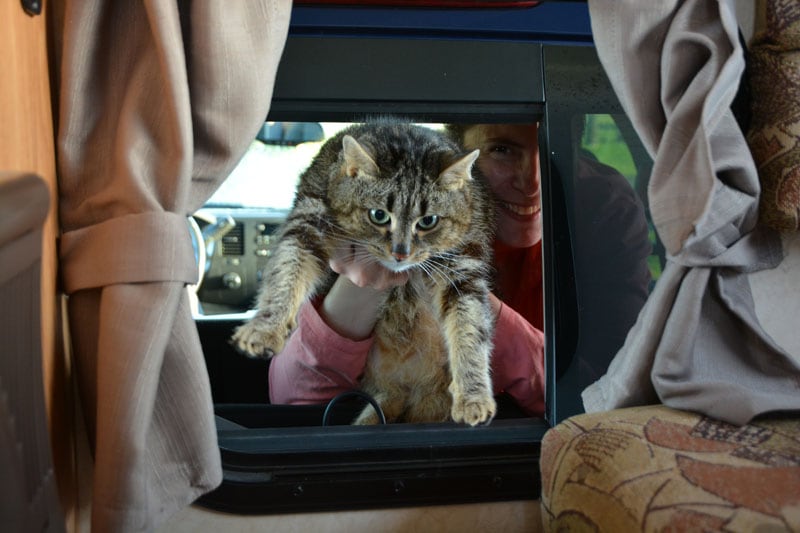 Above: From one of our most famous Harley articles about our trip to Kennedy Space Center and Operation Whisker Sneak
Becoming A Truck Camping Cat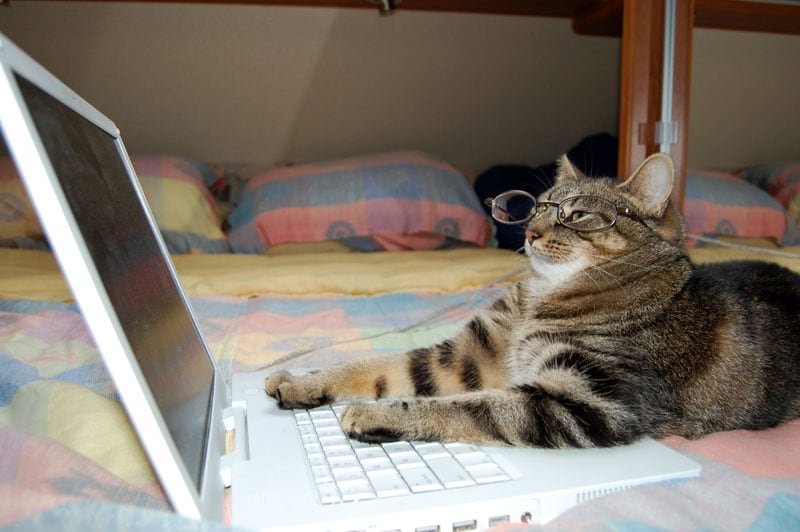 Above: Harley helping out with Truck Camper Magazine
Our first cat, Holly, could not last a 10-minute car ride to the veterinarian without throwing up, and up, and up. In a sad twist, Holly passed away a few months before we bought our first truck and camper.
Harley was seemingly unfazed by short car rides, but there was no way of knowing how he would react to longer drives. If he threw up like Holly, our truck camper dreams could be chucked.
Thankfully, we had nothing to worry about. Not only did Harley enjoy being picked up and held, but he absolutely loved riding in our truck. In fact, he got annoyed when we slowed from highway speeds.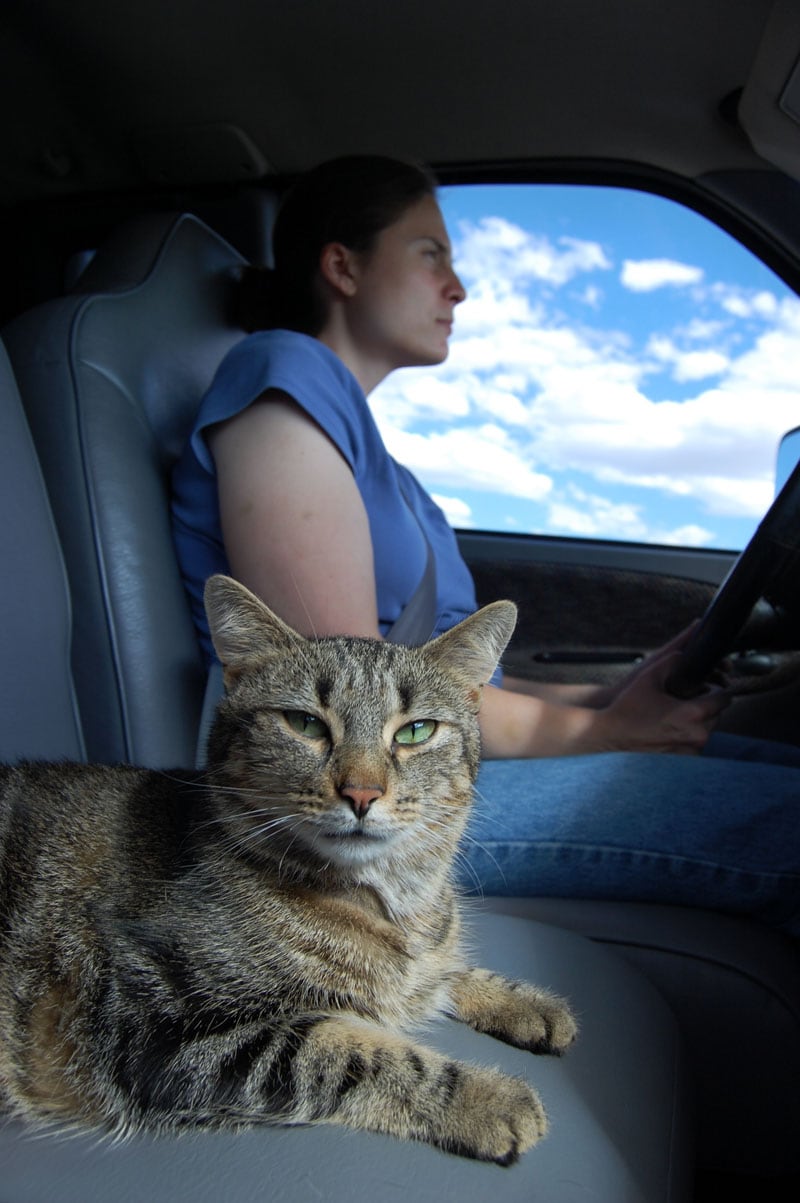 Driving at speed, Harley would sleep, lick himself obsessively and generally kick back and enjoy the ride. When we slowed down for traffic or lights, he would sit up and just give us a stern, "What did you slow down for?" look. Once we starting going again, he would return to sleeping, licking, and relaxing.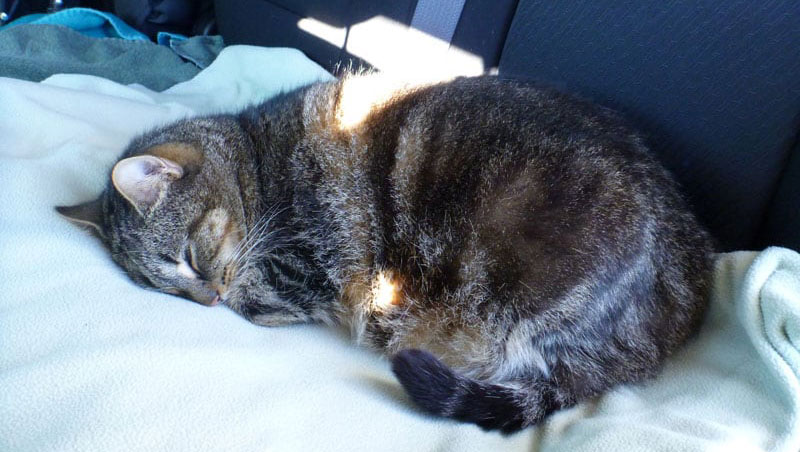 Harley also loved being in a camper. It's like he was born to be, "Harley the Truck Camping Cat". He always will be.
How We Learned Harley Was Canadian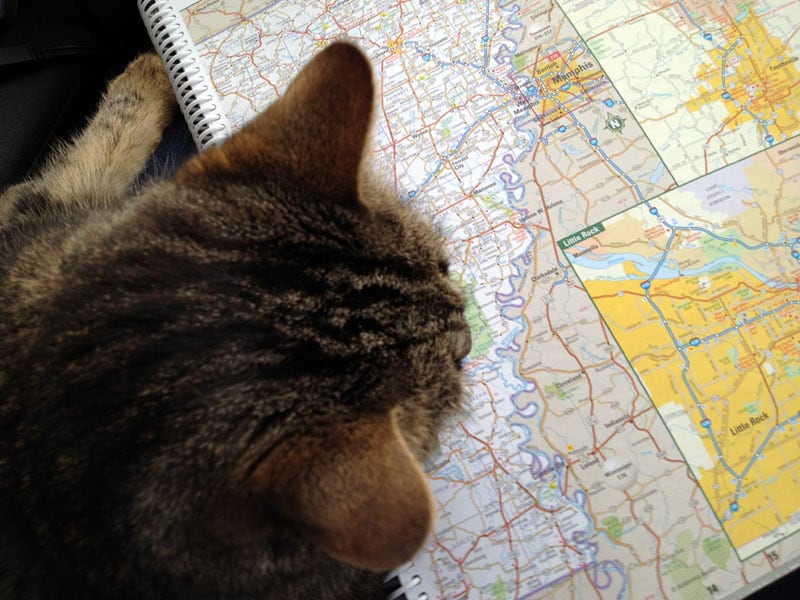 Above: Harley helping us navigate
A few weeks after Harley settled into our home, he started to have intermittent grand mal seizures. Out of the blue, he would lose consciousness and have violent muscle spasms for about a minute.
The seizures started a few weeks apart, but gradually began to happen more often. After testing, our local veterinarian was stumped and sent us to a renowned pet neurologist, Dr. Northington.
Dr. Northington diagnosed Harley with epilepsy and worked with us for months as we experimented with different anticonvulsants and dosages.
Very long story short, we eventually got Harley seizure-free. At the time of his passing, he hadn't had a single seizure in eight years.
Much of the process of figuring out a solution to Harley's seizures happened while we were traveling for Truck Camper Magazine. In fact, the circumstances under which his seizures stopped were rather miraculous.
After a series of particularly bad seizures in Colorado, Utah, and Montana – and two or three emergency vet visits along the way – we crossed into Canada. And the seizures stopped.
It's likely the medicine, which was starting to show progress, happened to hit a therapeutic level at that moment – but the coincidence was inescapable. Not knowing Harley's history before we adopted him, we guessed he was happy to be back home in Canada.
That's why the seizures stopped. Harley was Canadian!
From that point on, we never told Harley he was back in the United States. As far as he knew, he lived in the Canadian Provinces of Pennsylvania and Florida. O Canada.
Forget You Two! How's Harley?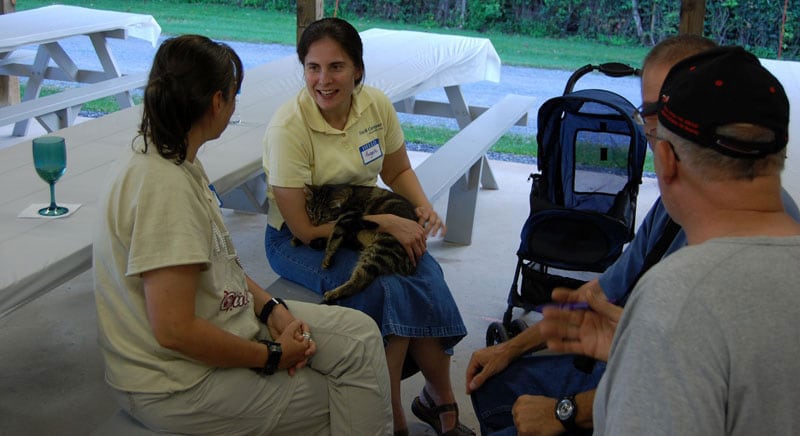 Above: This was at the famous "Clam Jam" Jamboree in Carlisle, Pennsylvania
I started incorporating Harley stories into my writing fairly early in the magazine. That was mostly because he was the only other full-time person on the team – at that time.
I'd wake up thinking, "Oh no! It's a publishing day. What should I write about?" Harley would look at me blankly from the sofa cushion beside me, lick himself, and go back to sleep. He was so helpful.
Anyway, when I would tell stories about Harley folks would write in about how much they enjoyed it. From that feedback, I wrote about Harley more – always in the context of truck camping, and usually because he did something funny. There was plenty of material to pick from.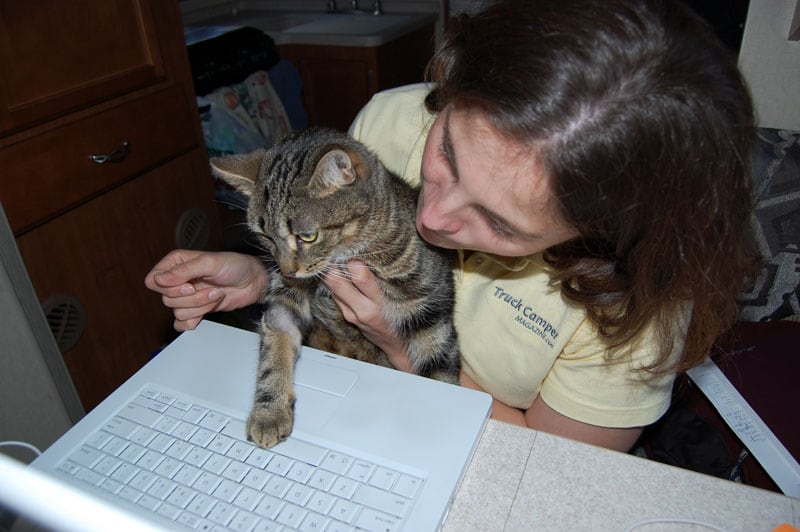 After a while, we started noticing an interesting phenomenon, especially at the truck camper rallies. We would arrive at a rally, step out of our rig, and someone would inevitably say, "Hey, how's Harley doing?"
Not, "Hey guys! How are you doing?" Nope. Evidently we were just Harley's entourage. His handlers. His crew. People were perfectly nice to us when we met them, but they were genuinely thrilled to meet Harley. He was the real rock star. We couldn't agree more.
Cat-Napped Incognito
Since we were attending so many rallies and we didn't like leaving Harley in the camper all the time, Angela bought a cat stroller. I had never heard of such a device before, nor was I terribly pleased when I did. Next thing I knew I was pushing Harley around in a stroller – in public! Lord help me.
Angela got the idea for a cat stroller from Glenda Trunkenbolz of Five Star RV. Glenda ran a cat rescue and happened to have a feline buggy at the 2007 National Truck Camper Show in Ogallala, Nebraska.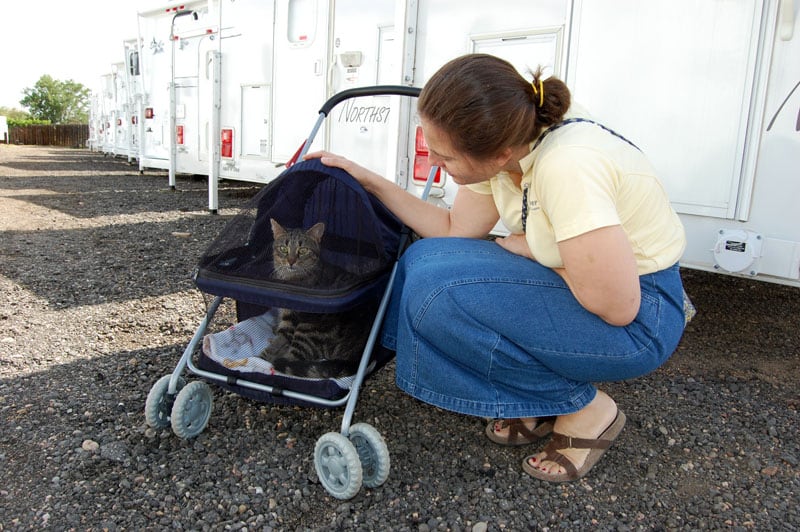 Above: This is actually Glenda's inspirational stroller that Harley tried out first
Thanks to Angela, and Amazon, that same stroller was ready for pick up upon our arrival at S&S Campers in Kalispell, Montana. I'll never forget Doug Sieler, Owner of S&S Campers, saying to me, "Is this your cat stroller?" Ah, yeah.
Anyway, Angela loved rolling Harley around at the rallies. Inside the stroller, Harley could literally be a few feet from a big dog and the dog wouldn't see him. Even more interesting, Harley could care less about the big dog. Unless another animal got in his face, he stayed calm.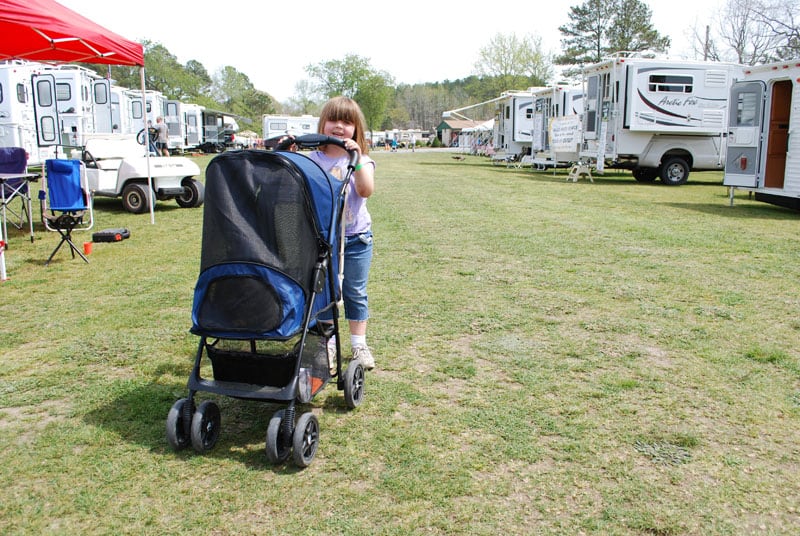 Above: Harley getting cat-napped at the Mid-Atlantic
At one particular Mid-Atlantic Truck Camper Rally, a fellow attendee asked if she could "borrow" Harley. She seemed nice enough so off he went. And went. And went. We were cat-napped! She must have pushed him halfway to Buffalo, the whole time talking to him and looking so happy.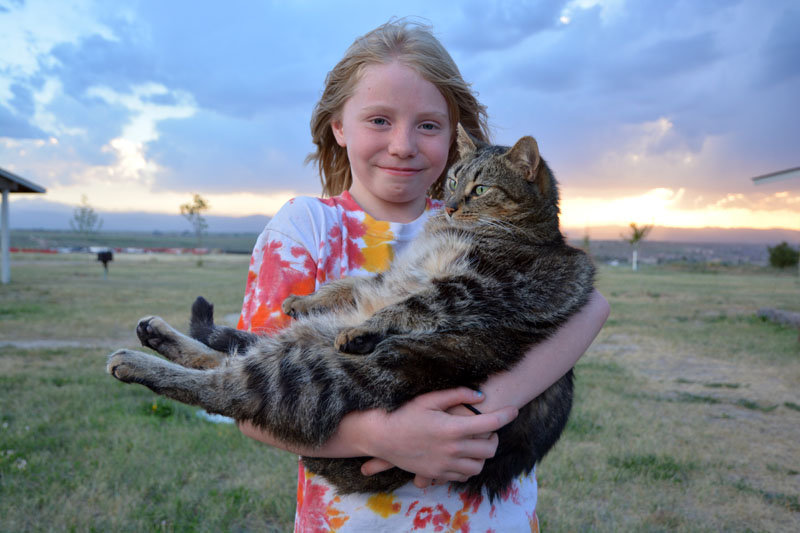 Above: Harley met lots of friends on the road
Funny enough, this wasn't the only time Harley disappeared at a rally. Once at the Gettysburg Rally he was scooped out of his stroller and passed around the busy main pavilion. Evidently, he was totally cool with it. He loved people and was unbelievably trusting. That's one more thing about Harley we will never forget.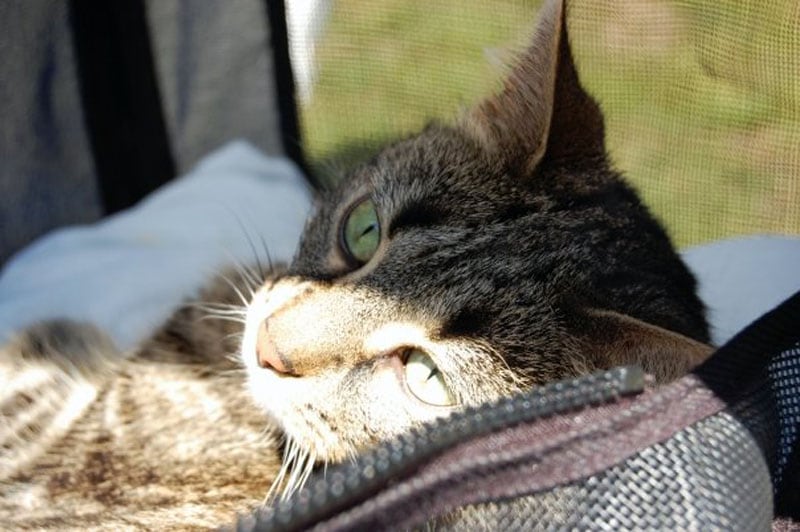 Harley Signature Edition Campers
If you have a camper made between 2007 and 2014, look around the forward base of your dinette, around the lowest cabinet handles, and pay special attention to corners that may jut into the main living space. See any tiny bite marks? You might just own a Harley Signature Edition.
For the first seven years of Truck Camper Magazine, Angela, Harley, and I didn't actually own a truck camper. To learn about the available makes and models, we borrowed dozens of new units for long and short-term demos.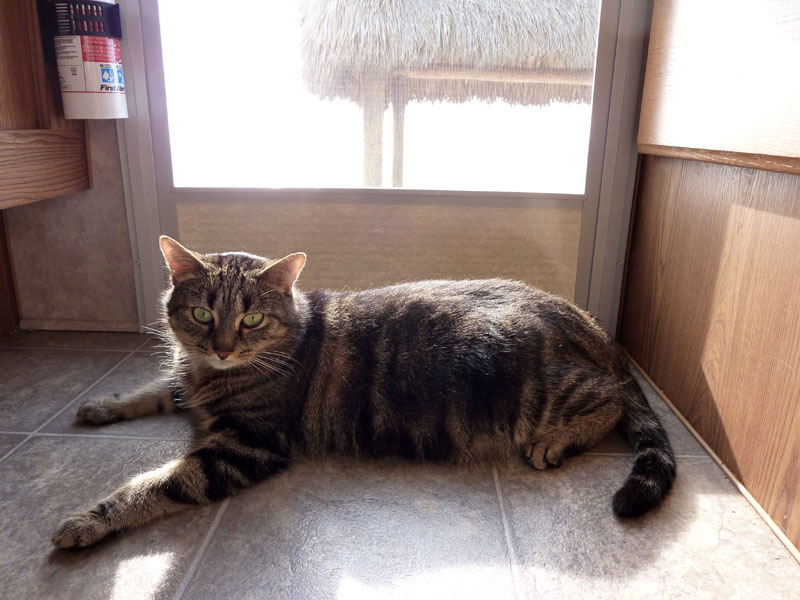 Above: Harley in an Arctic Fox 865
For Harley, constantly changing campers created two challenges. First and foremost we had to figure out where to put his litter box. For the majority of units, we placed his porta-potty in the shower stall or wet bath, but sometimes more creative solutions were required.
Magically, all we had to do was show Harley this new sandbox location once and he remembered. After switching campers I would sometimes reach for the refrigerator's handle instead of the bathroom door, but somehow Harley locked onto his litter location instantly.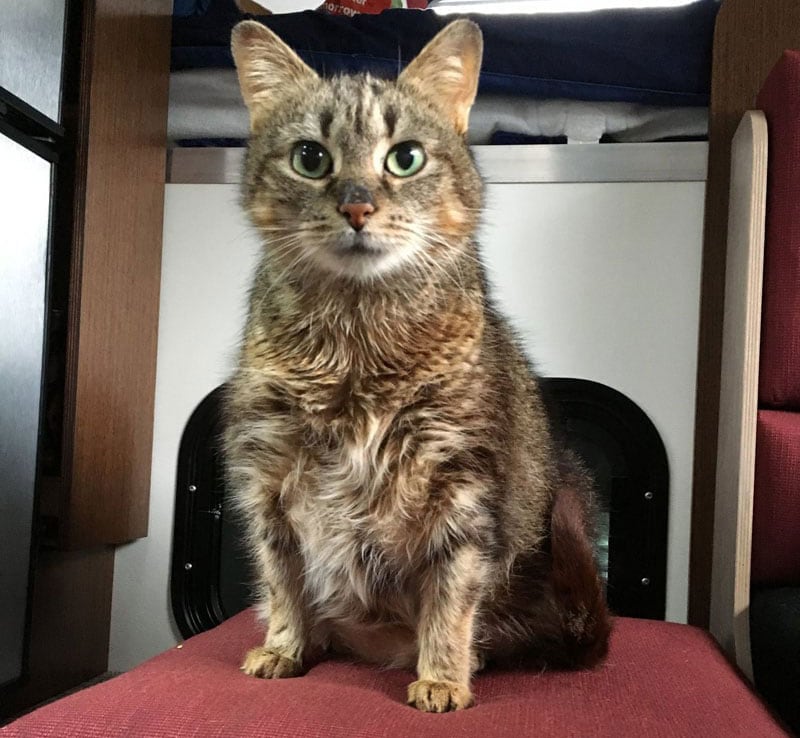 Above: Harley in a 2018 Cirrus 920
The other challenge was Harley's habit of signing the brand new campers – aka biting them somewhere. Let's just say if, in Harley's opinion, we took a little too long to wake up to feed him breakfast, or return to the camper to feed him lunch or dinner – he would get to work.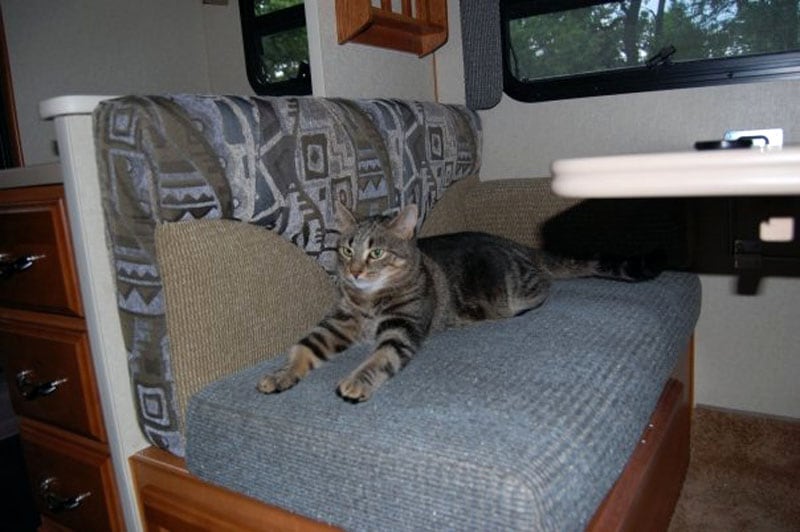 Above: Harley in a 2008 Lance 1055
The most famous example of this was our very first demo camper, a 2008 Lance 1055. After a long afternoon in a factory, we returned to discover one animated and hungry cat. We immediately fed him and everything seemed fine.
That is until I went to use the facilities and discovered what he had done. The soft plastic side flush pull on the toilet was completely bitten – stem to Sunday. I sanded it as smooth as possible, but he really did a number on the old throne pull.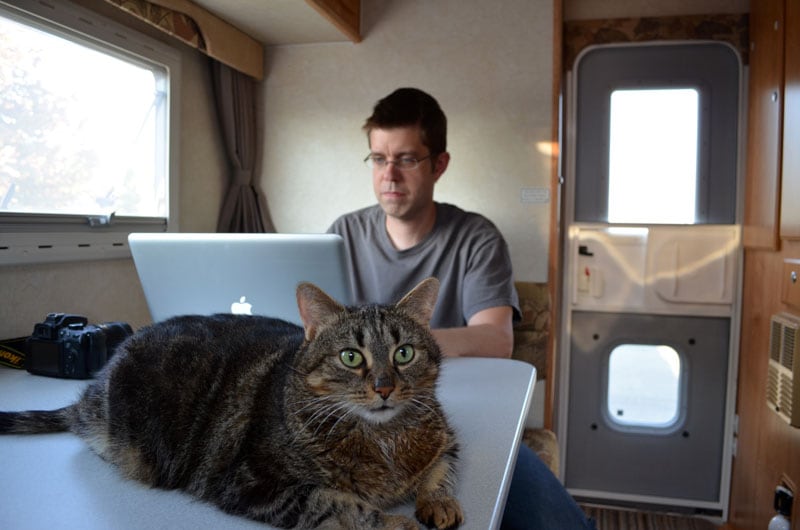 Above: Harley in the 2014 Northstar Arrow U (the second Northstar we borrowed)
If you own a 2008 Lance 1055 and your toilet flush handle is a little smooth… If you have a 2009 Northstar Igloo Model-U with tiny bite marks around the base of the dinette… If you own a camper made between 2007 and 2014 and bought it as a demo… You might just be the owners of a very limited, very special, Harley Signature Edition. Priceless.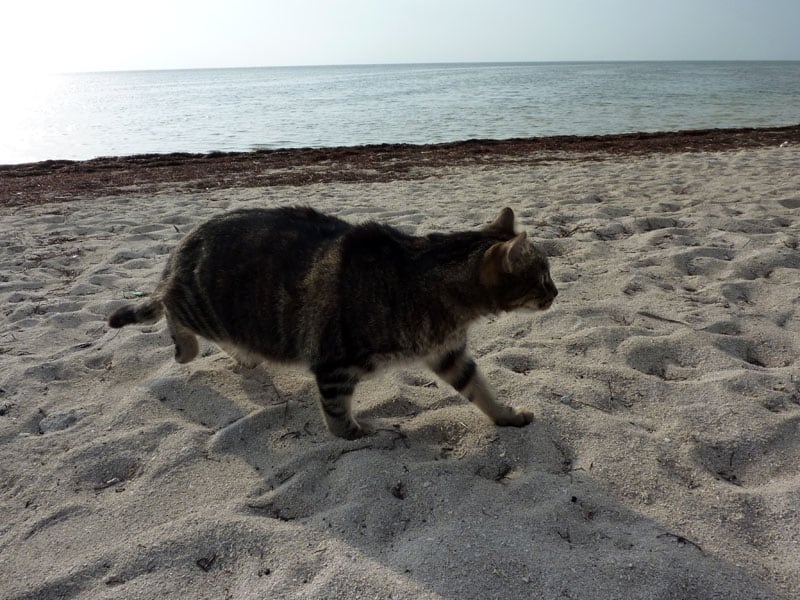 It probably goes without saying that Harley was ridiculously well-traveled. In one six-month period in 2010, he was on Veterans Beach on Little Torch Key, Florida in the winter (see above) and Baker Beach with the Golden Gate Bridge outside of San Francisco, California in the summer (see below). Not too shabby, for a tabby!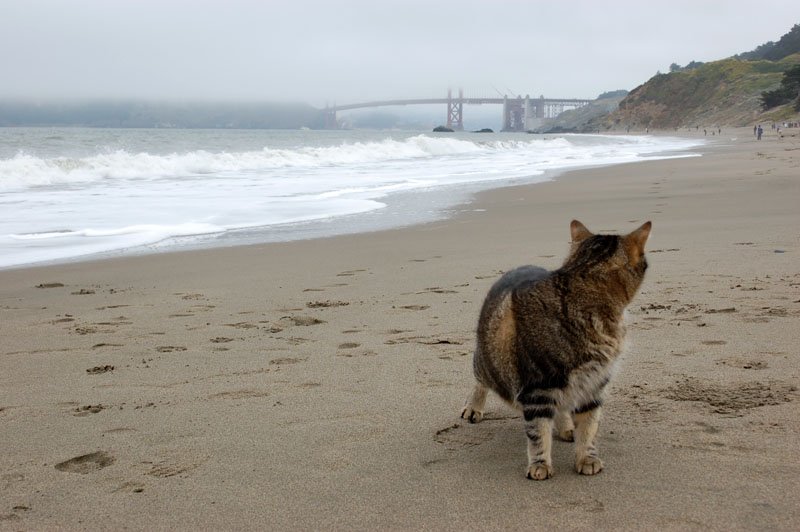 Harley's response to the sandy beach in both locations was the same. He didn't like it. Not one bit. After a quick photo, we put him back in his camper, and he was happy again. Good thing he wasn't adopted by Coastal Living or Surfer Magazine.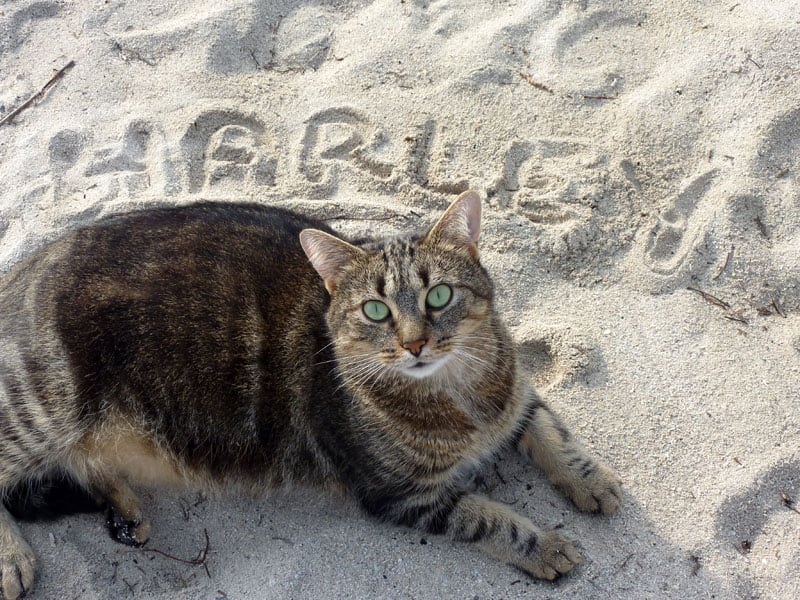 Harley White, CEO of Truck Camper Magazine
One of Harley's longest and best friends was fellow truck camper Carl Goode. Carl always referred to Harley as the CEO of Truck Camper Magazine. Since Truck Camper Magazine didn't officially have a CEO, the title stuck.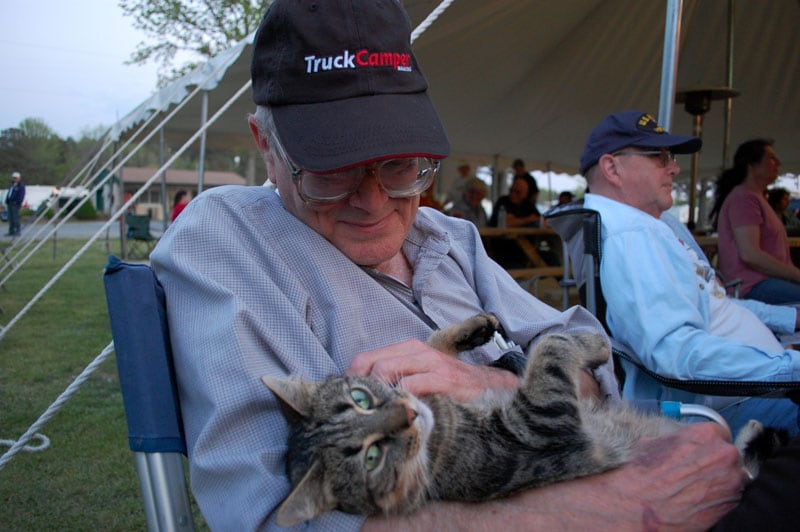 Above: Harley and Carl, one of Harley's most favorite people
At the end of many working days, Carl would come over to our camper and say, "How's the CEO doing?" I know Harley loved it. We did too.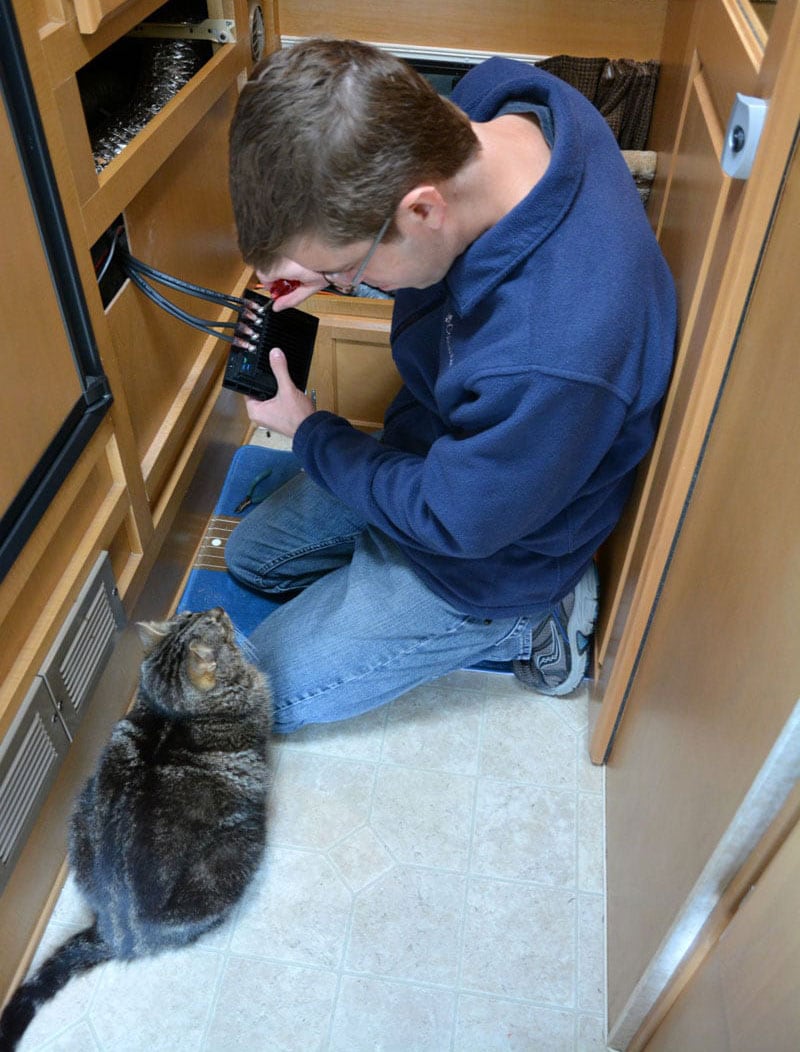 Above: Harley constantly checking up on our work
Harley made so many friends all over the United States and Canada. Everywhere we went, people seemed to instantly connect with him.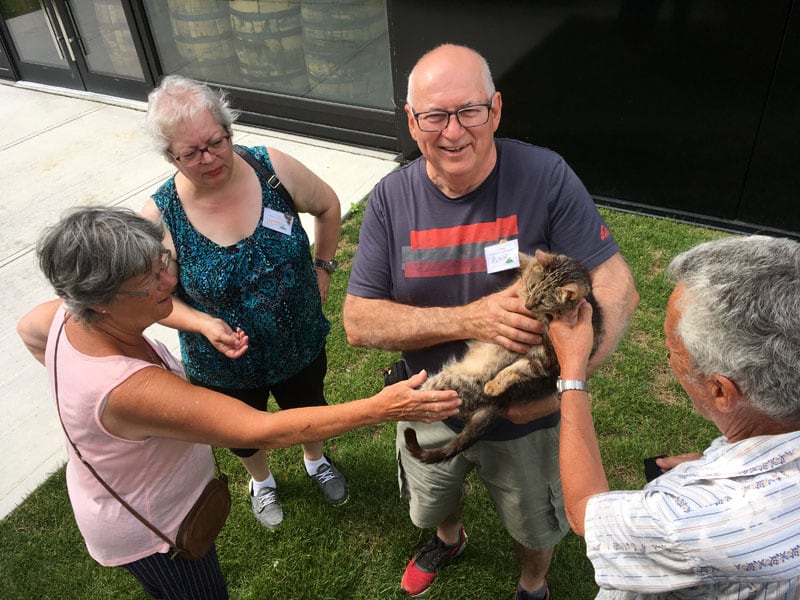 Above: Harley meeting friends at the Quebec Caravan last year
It was so fun to watch folks react to his calm, inviting demeanor. How many times we heard, "He's so relaxed. I've never seen a cat be so calm and friendly." Yes, he was.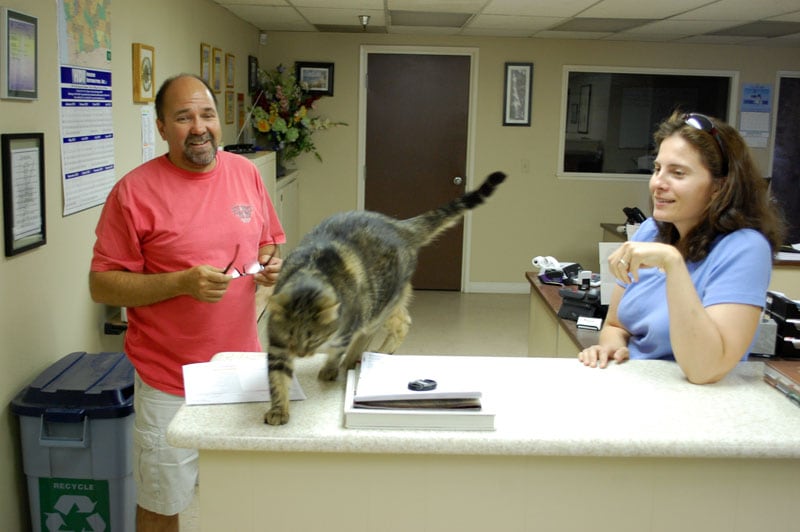 Above: Harley at Adventurer Manufacturing with Burk Morgan
So Many People To Thank For Harley's Care
Harley's health was a complex challenging puzzle from day one. Without the help of dedicated veterinarians, he would have been lost years ago.
Dr. Northington, Metropolitan Veterinary Associates
We arrived at Dr. Northington's office in Valley Forge, Pennsylvania desperate for answers. We had been unsuccessful at controlling Harley's seizures and they were getting worse, and more frequent. Without a solution, Harley would likely not be in the world for long.
Dr. Northington calmly and methodically explained how we were going to work, as a team, to try a range of medications and dosages until we got Harley's epilepsy under control. And we did.
Angela, Harley, and I only met Dr. Northington two or three times, but we will never forget the difference he made in our lives. He was incredibly patient, listened to our feedback, and made quick decisions to move us to a solution. He was fantastic.
Thank you Dr. Northington!
John Wells, Retired Veterinarian and Fellow Truck Camper
Many Northeast Truck Camping Jamboree folks know John as the guy who tows a cannon behind his truck camper. What many might not know is that John is also a retired veterinarian.
John met Harley at a Northeast Truck Camping Jamboree in the fall of 2011, just as Harley was experiencing challenges with his seizure treatments. Together with Dr. Northington, John helped us get Harley back on track. After that course correction, Harley never had another seizure.
John has actively worked with Harley ever since. We would often text John from somewhere in the country with our latest Harley question, and John would always get back to us right away. Right up to these past few weeks, John was there helping us to understand Harley's situation – until there was nothing more any of us could do.
Thank you, John!
Dr. Pendleton, Harrisburg Pike Animal Hospital
We cannot say enough about the patient and focused veterinary care of Dr. Pendleton at Harrisburg Pike Animal Hospital. Dr. Pendleton always took extra time to understand Harley's complex medical history and was a big part of helping him to live to the old cat age of fifteen.
Even better, Dr. Pendleton would call us now and then just to check in on Harley. "How's he doing?" he would ask. In a time when it sometimes feels like people don't care about one another anymore, Dr. Pendleton truly did. We will always be thankful for his help and care.
Thank you Dr. Pendleton!
Dr. Hall and Dr. Van Orsdell, Southwest Veterinary Services
Sadly, Harley's situation became serious at a time when we were not traveling – his favorite thing to do. We were quarantined for Covid-19 in South Florida and doing our part to contain the virus spread.
Thankfully, we found Dr. Hall at Southwest Veterinary Services. Dr. Hall worked with us to diagnose Harley's multiple cancers and make Harley as comfortable as possible. When the toughest day finally arrived, Dr. Van Orsedell was there, like an angel. I don't have anything I can say about that moment, except it was what it needed to be – for Harley.
Goodbye, Dear Friend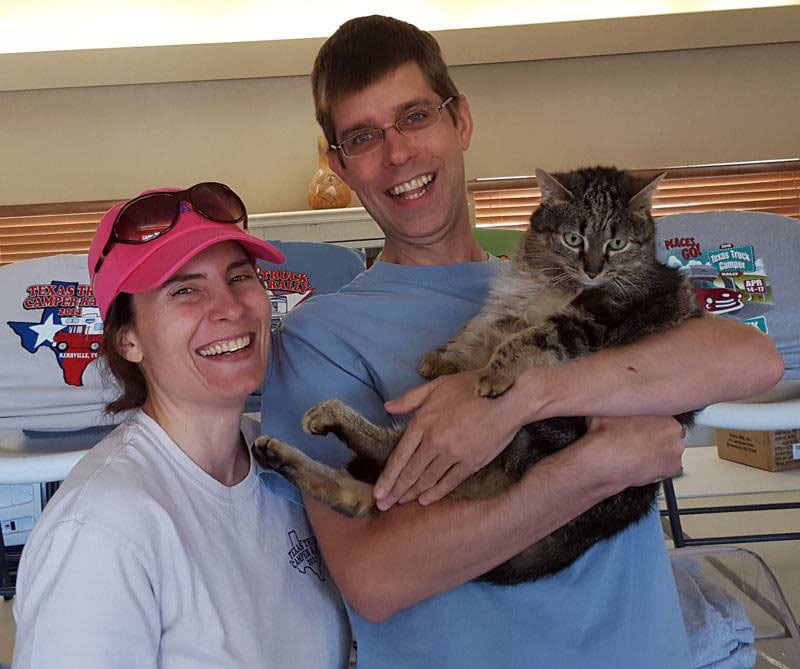 Above: All three of us at the Texas Truck Camper Rally
We had 14-wonderful years with Harley. He had an amazing life, amazing adventures, and amazing friends. Even with his health challenges, he lived to be the ripe old age of 15. That's a good run for a wonderful cat.
We know many of you as fellow pet owners have been through the same heartbreaking experience as we just have. Our beloved pets are some of the best and hardest parts of our lives. Even with the pain of their passing, it is so worth it.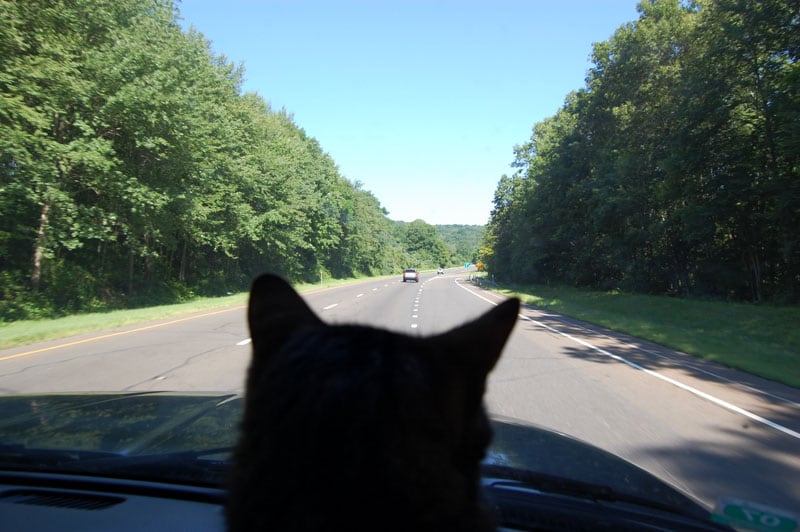 In memory of Harley, and all of our pets, please give your cat or dog an extra hug and scratch behind the ears. And don't forget the treats!
Harley was a huge part of our family and day-to-day life. He will always be a part of us. We are heartbroken, but also so happy that we were able to be part of Harley's life for so long.
Goodbye, dear Harley. We miss you.